How To Pick The Right Pasta For Your Sauce
Believe it or not, there are over 500 pasta shapes in Italy. That's a lot of pasta! Though there aren't nearly as many types of pasta in the aisles of your local grocery store, choosing the right cut for your dish can be a difficult task. We want to help.
In general, the larger pasta shapes with hollows and sauce-hugging curves are best suited for thicker, heartier sauces, while thinner and more delicate strands are used for light oil-based or cream sauces. Some cuts, however, are regional and paired with a certain sauce or dish by tradition. But we don't expect you to be Italian historians while shopping for pasta… that's why we created this simple guide.
Pasta al Forno, or baked pasta, is one of Italy's best-loved traditions. Where once baked pasta was reserved for holidays and special occasions, we now enjoy these warm, cheesy recipes all year long. As for picking the perfect pasta shape, we recommend choosing a short cut—like Penne, Shells or Rigatoni—with hollow middles, twists or scoop-like shapes to capture all the goodness of your baked pasta: sauces, small ingredients and melty cheeses galore.
Recommended Pasta Shapes: Cavatappi, Elbows, Gemelli, Orzo, Penne Rigate, Penne Ziti, Radiatorre, Rigatoni, Shellbows, Shells, Tortiglioni.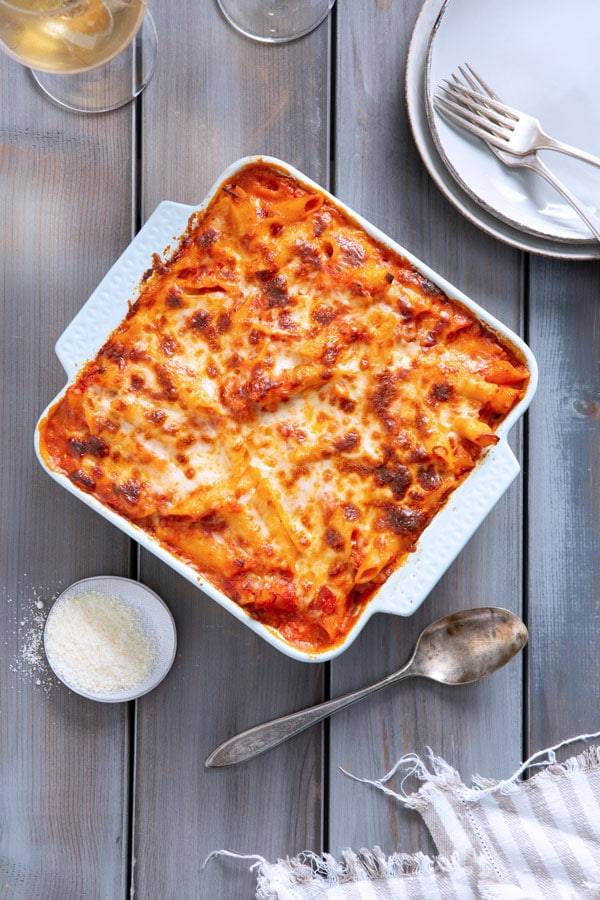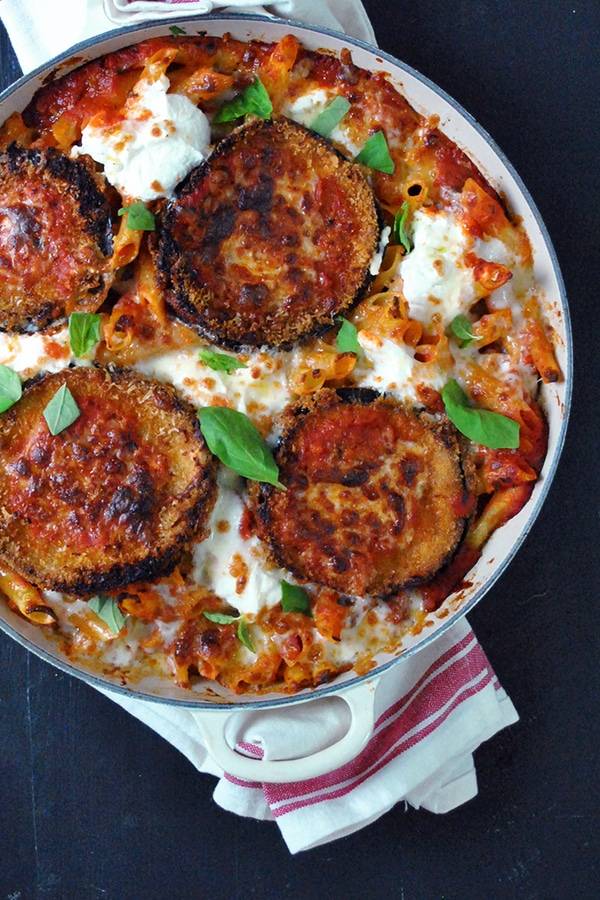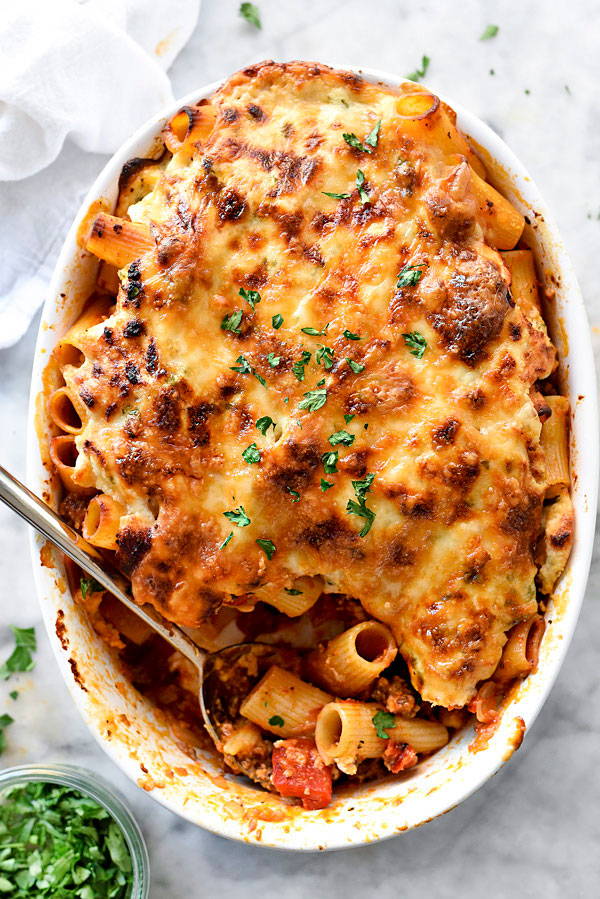 Recipe: Cheesy Baked Ziti
Recipe: Eggplant Parmesan Baked Ziti
Recipe: Baked Sausage and Cheese Rigatoni
Nearly any pasta cut can shine dressed simply with butter or oil and some fresh herbs, but some pasta demands it. We recommend lighter, simpler sauces such as these for the thin and delicate long cuts, like Capellini and Thin Spaghetti, as to not overwhelm their shape. You don't need to stick to thin, long cuts to enjoy an irresistible brown butter sauce or a toss with garlicky olive oil. Fun shapes like Farfalle and Bucatini are an excellent choice too.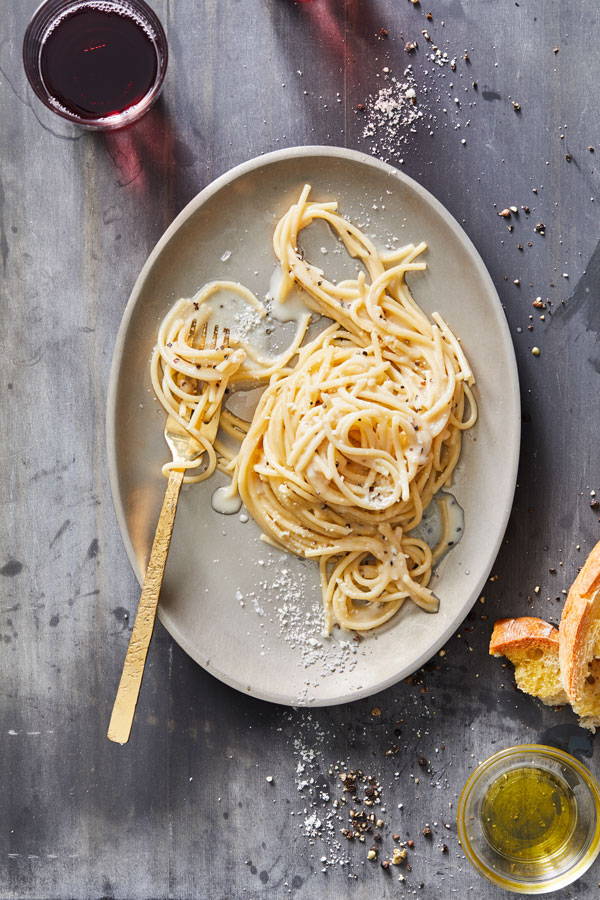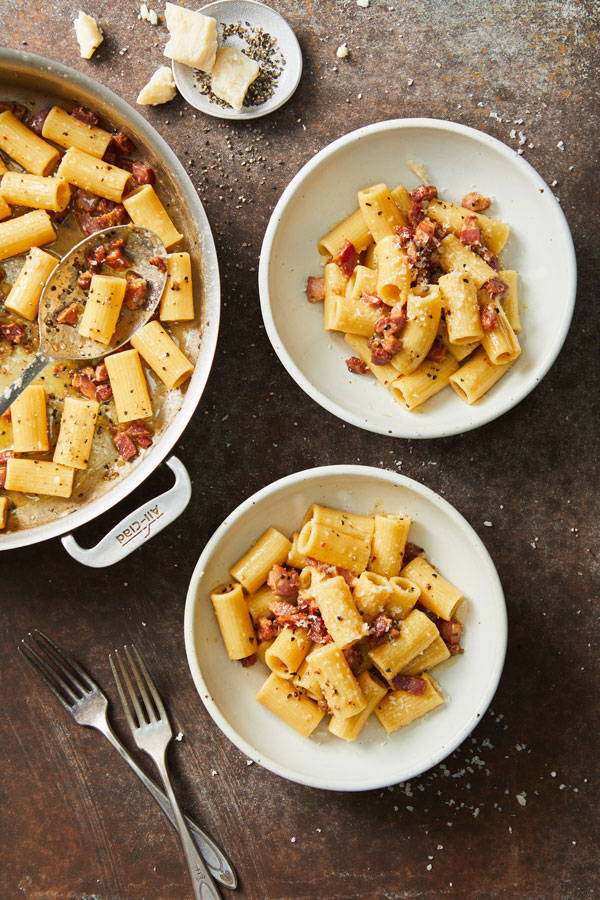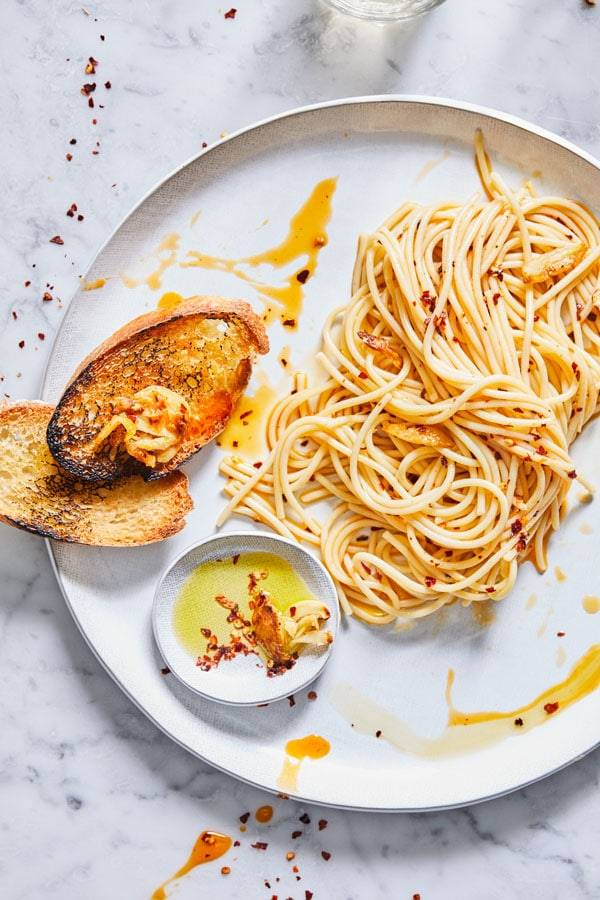 Recipe: Pasta a Cacio e Pepe
Recipe: Pasta alla Gricia
Recipe: Spaghetti all 'Aglio, Olio e Peperoncino
This classic Roman pasta sauce gets its rich, savory flavor from pancetta (or guanciale), eggs and nutty Parmigiano-Reggiano. A kiss of garlic and black pepper are just the right touches to set it off. Traditionally, this prized sauce is served with Spaghetti, but we mix it up every once in a while with a sauce-capturing short cut like Orecchiette or Gemelli.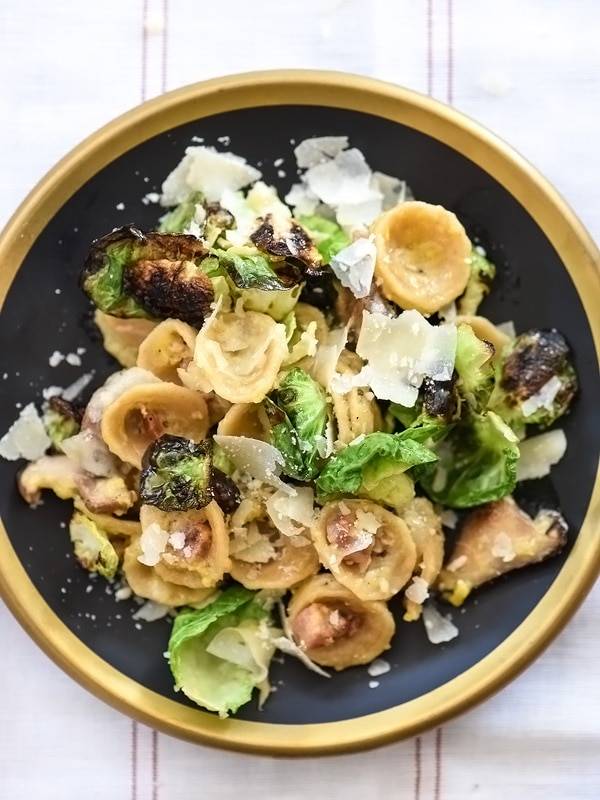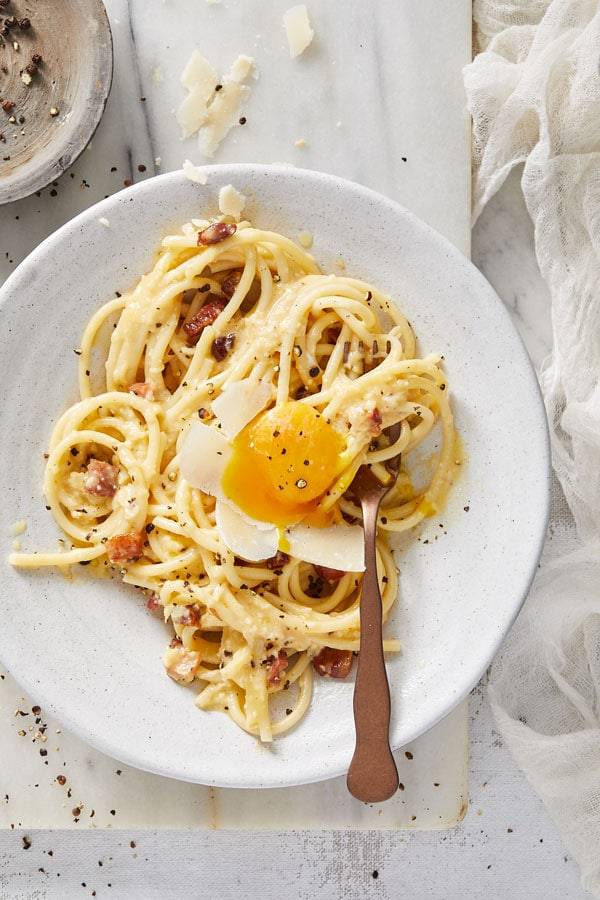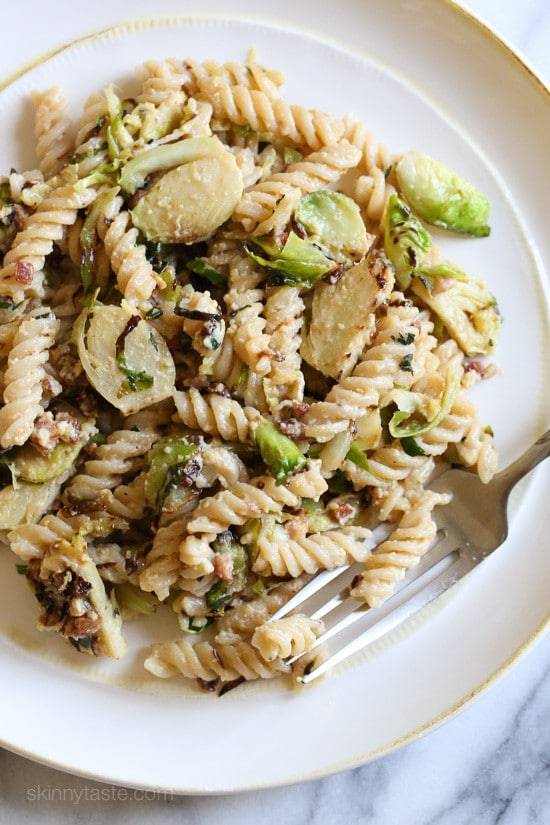 Recipe: Carbonara Pasta with Charred Brussels Sprouts
Recipe: Bucatini alla Carbonara
Recipe: Brussels Sprouts Carbonara
For Cream or Cheese Sauces
Creamy, cheesy and decadent pasta sauces call for sturdy, sauce-capturing noodles that can hold up to their rich goodness. We recommend pasta with sauce-hugging curves, hollows and scoopable shapes to experience the full potential of your creamy, cheesy sauces.
Recommended Pasta Shapes: Cavatappi, Casarecce, Elbows, Gemelli, Farfalle, Fettuccine, Linguine, Mezzi Paccheri, Orecchiette, Penne Rigate, Penne Ziti, Radiatorre, Shellbows, Shells, Spirali.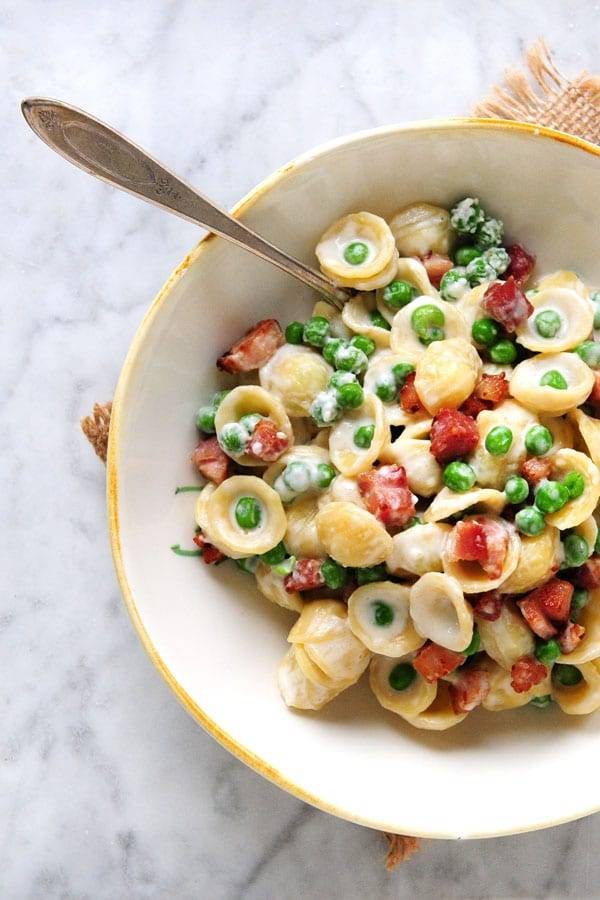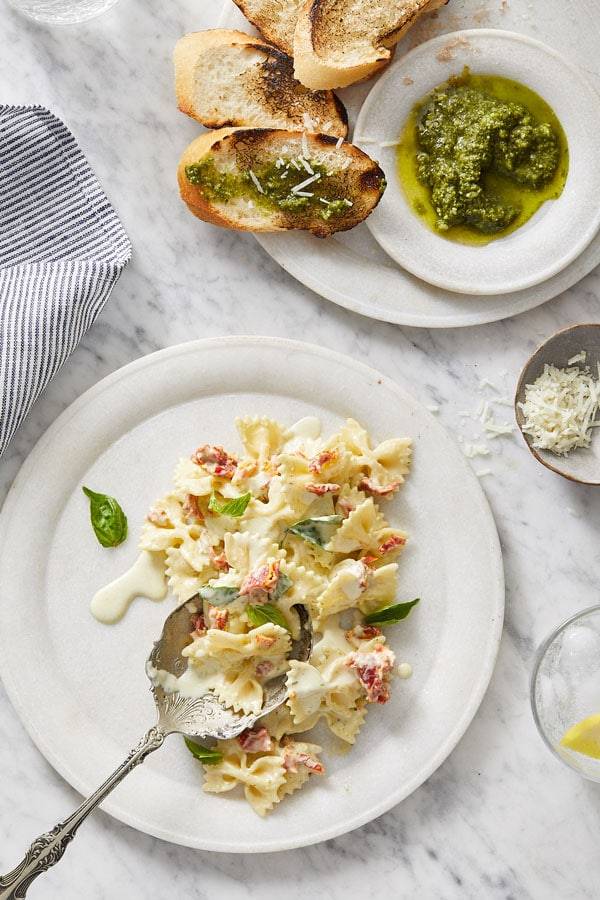 Recipe: 5 Ingredient Pumpkin Alfredo
Recipe: Orecchiette with Peas, Pancetta & Cream
Recipe: Farfalle with Sweet Peas & Prosciutto
The ultimate Italian comfort food, meat sauces and ragùs are hearty, filling and flavorful. Known as Bolognese in Italy, these classic slow-simmered sauces are often a Sunday treat at Nonna's house. If you want to best capture these hearty sauces, serve them with traditional tube-shaped pasta—like Rigatoni and Tortiglioni—or deep scoopable shapes like Shells and Orecchiette.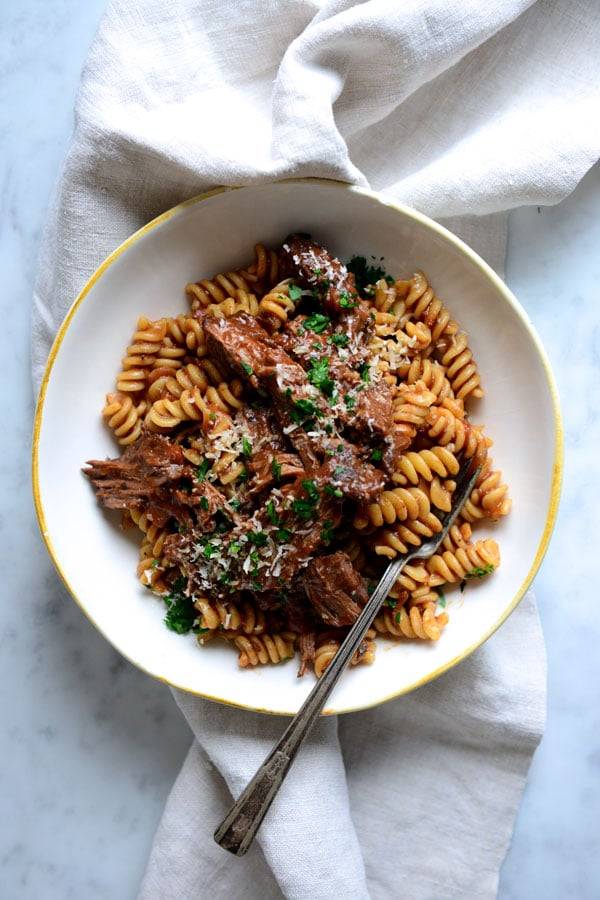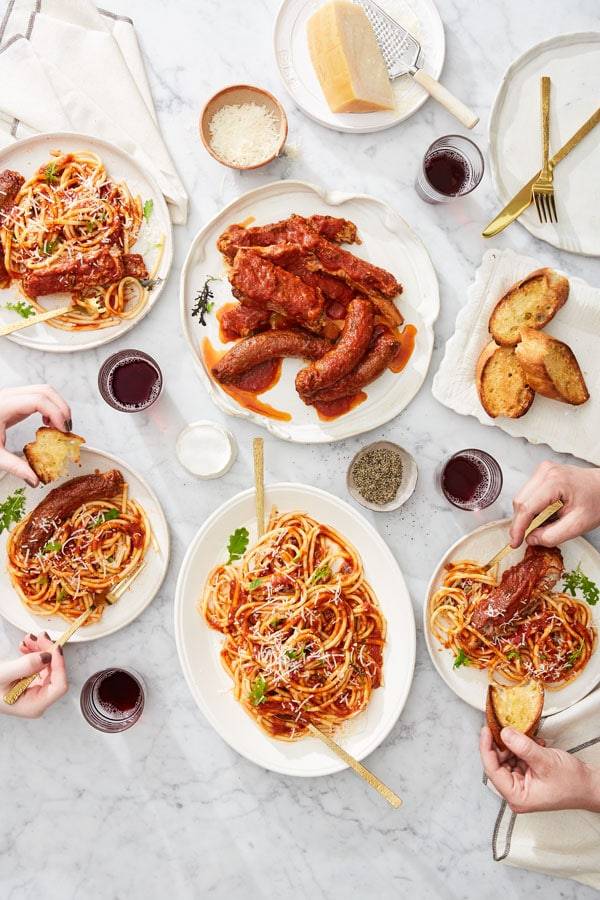 Recipe: Braised Beef Ragù with Fusilli
When it comes to cold picnic pasta, we like to keep things fun. There aren't too many rules for pasta salads, because really, it all depends on what best complements your ingredients. Pastina, such as Orzo and Acini di Pepe, makes for a fun pasta salad combined with other small bites and a zesty vinaigrette. Creamy pasta salads do well with frilly Farfalle, Fusilli and the concave shape of Orecchiette. We grant you permission to get creative… after all, it's picnic time.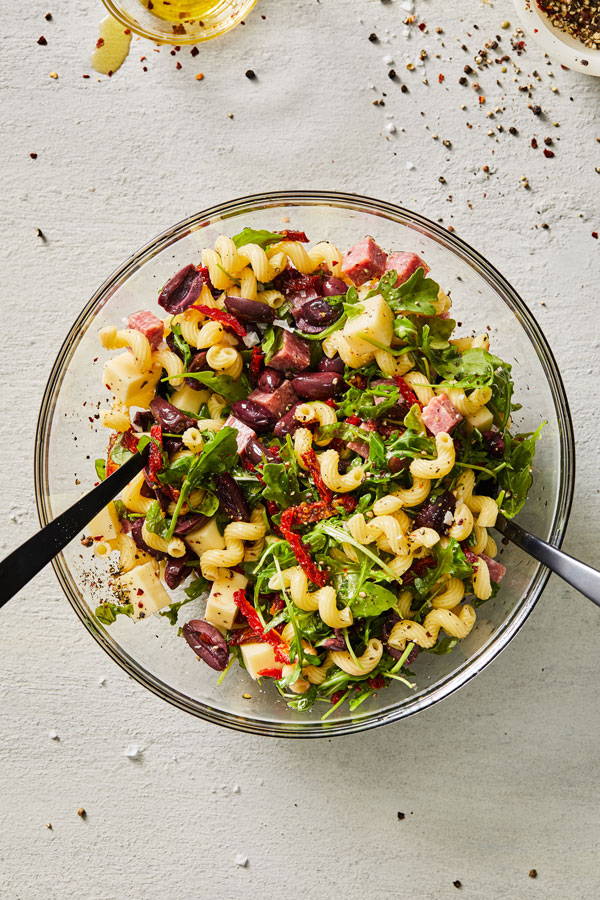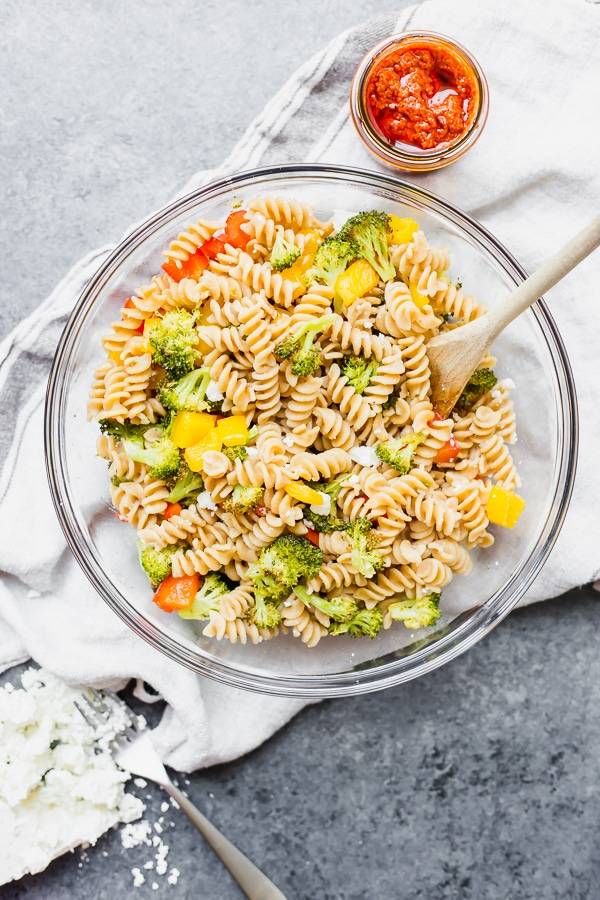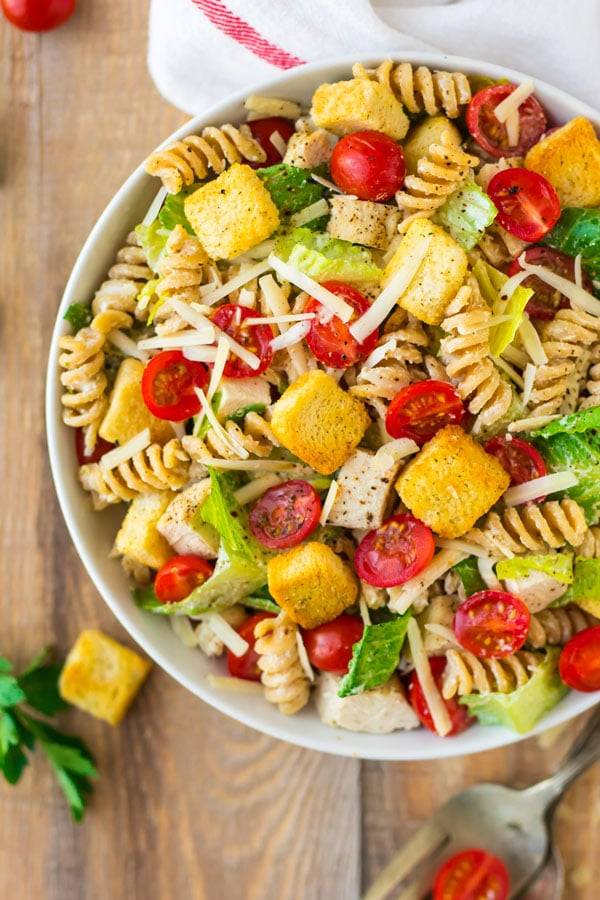 Recipe: Italian Pasta Salad with Cavatappi
Recipe: Spicy Vegetarian Pasta Salad
Recipe: Chicken Caesar Pasta Salad
Pesto is best known as the gorgeously green oil-based herb sauce from Northern Italy. Traditionally made with crushed basil leaves, this fresh and fragrant pasta sauce is served simply and uncooked, so it's best to not overwhelm it with complicated pasta shapes. Like other oil-based sauces, pesto shines best with long cuts of pasta, but also those that will capture its essence, like the corkscrew shape of Fusilli and the concave bowl shape of Orecchiette.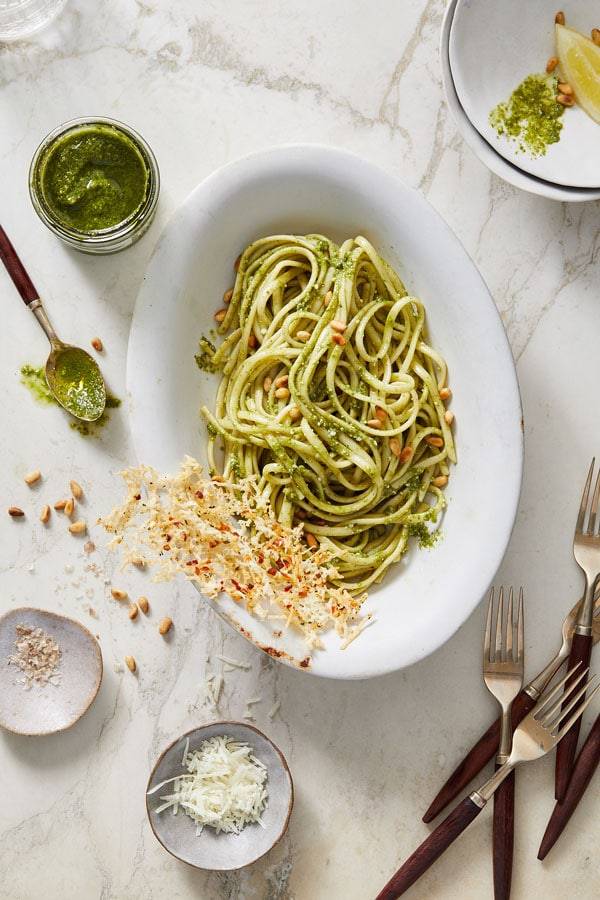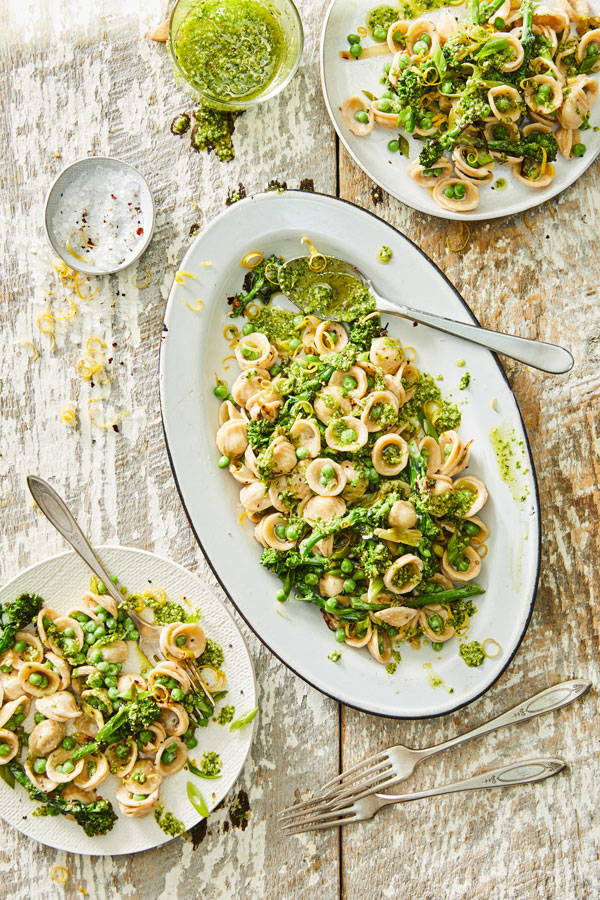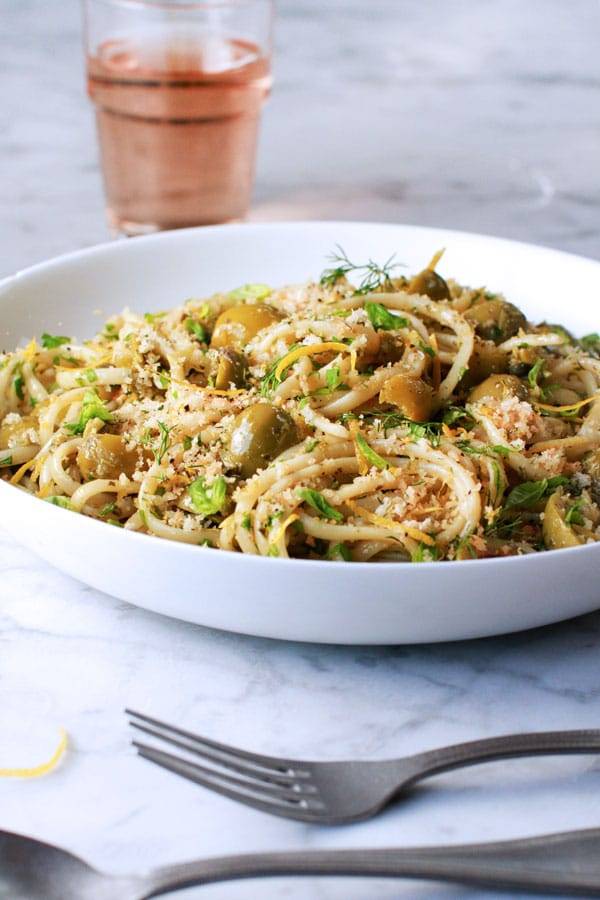 Recipe: Easy Pesto Linguine
Recipe: Three Greens Orecchiette with Pesto
Recipe: Linguine with Olive & Pesto Sauce
Pasta dishes loaded with seafood—such as clams, shrimp, sea scallops, etc.—are hallmarks of coastal Italian cooking. Because seafood-centric sauces tend to be lighter in texture and often oil-based, a more delicate pasta shape is in order. Thin, long cuts with a smooth texture best mimic the light and silky texture of seafood sauces and so we recommend long cuts like Linguine, Capellini (sometimes referred to as "angel hair") and Thin Spaghetti.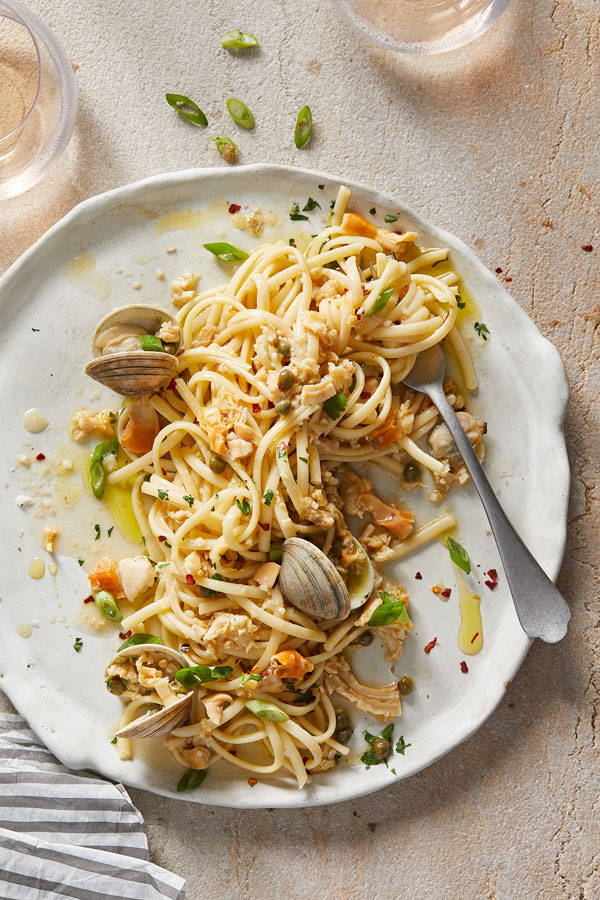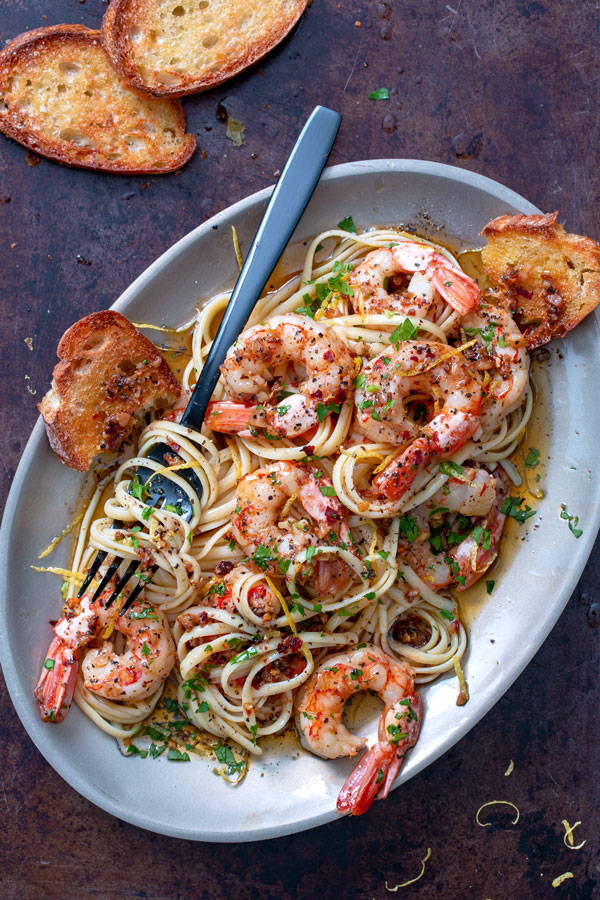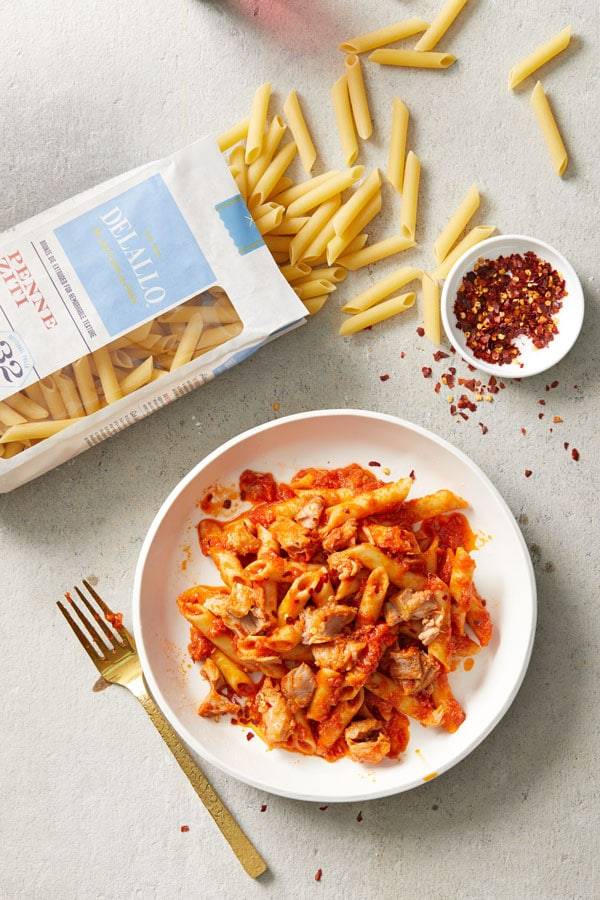 Recipe: Linguine with Clam Sauce
Recipe: Classic Shrimp Scampi
Recipe: Pasta with Tuna Sauce
We might be biased, but we love pasta in nearly all of our broth-based soups. Pasta is a hearty and filling upgrade to cold-weather comfort food, so much so that there is even a category of tiny pasta dedicated to it. Soup cuts, or pastina, like Orzo, Acini di Pepe and Farfalloni are the perfect addition to classics like Minestrone and Pasta Fagioli.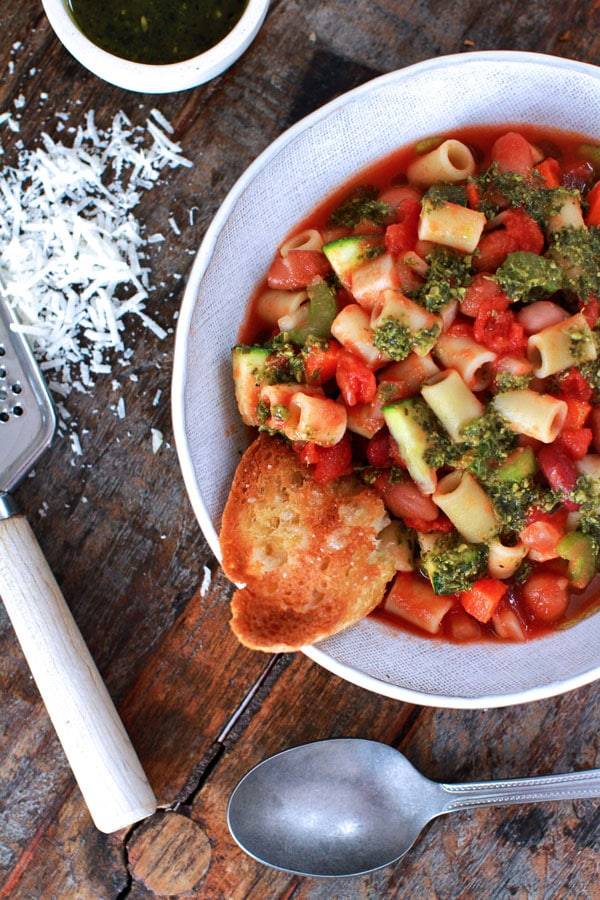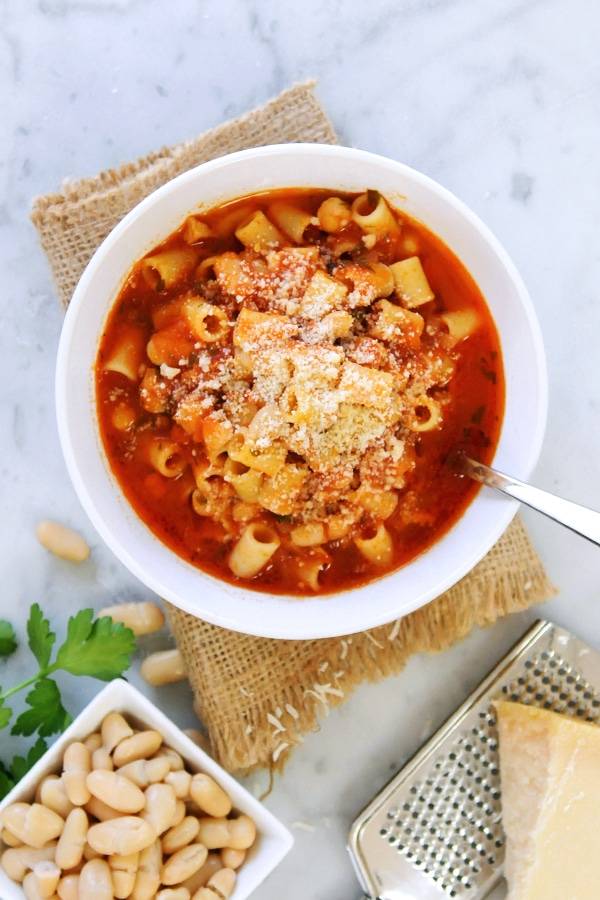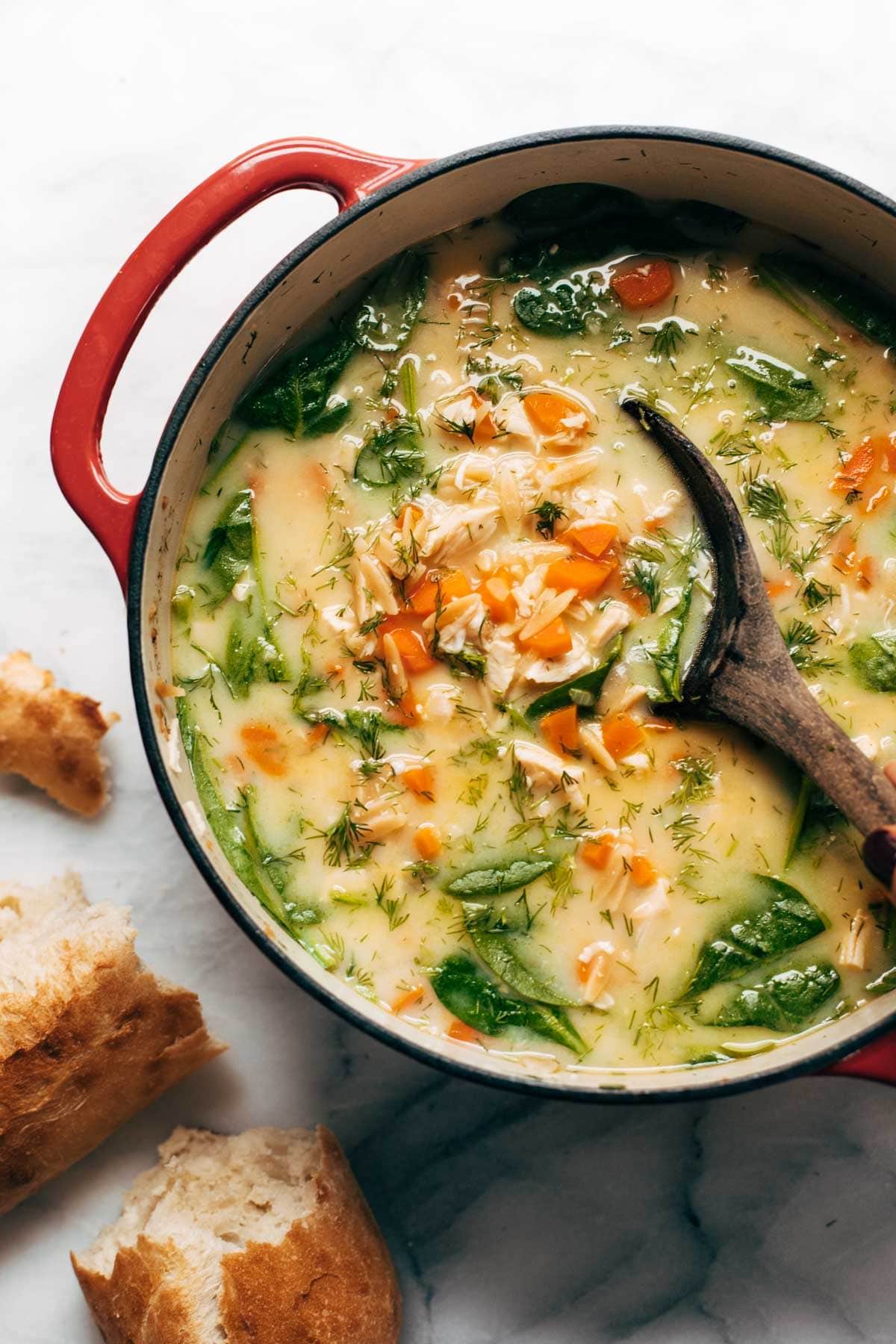 Recipe: Minestrone alla Genovese
Recipe: Chicken Soup with Spinach and Whole-Wheat Acini di Pepe
First, it's important to make the distinction between light and rich tomato sauces. A lighter tomato sauce is fresh—more water than oil—and much like taking a bite of a ripe tomato fresh from the garden. This tomato flavor is a bit more subtle and perfect for more delicate cuts of pasta. We recommend long, thin pasta, such as Capellini and Thin Spaghetti.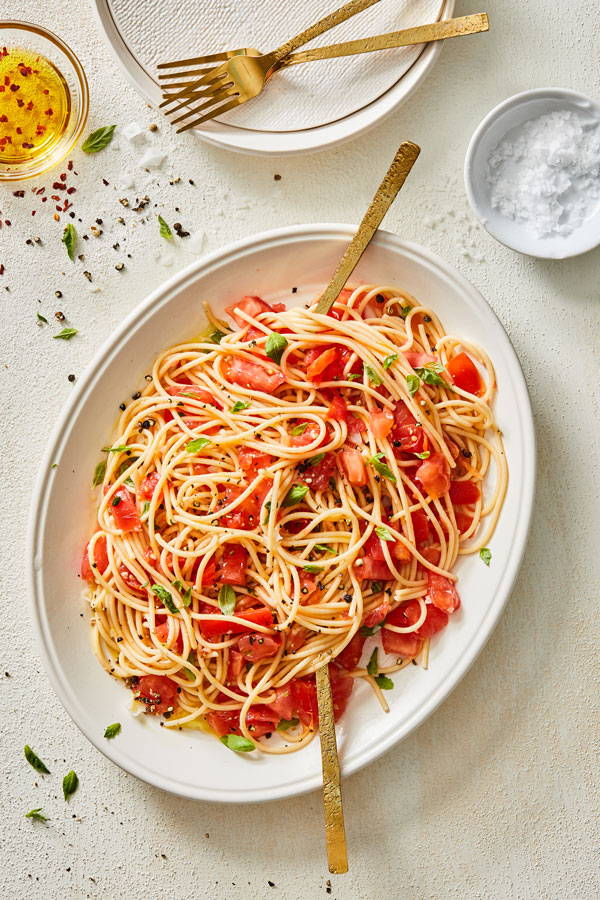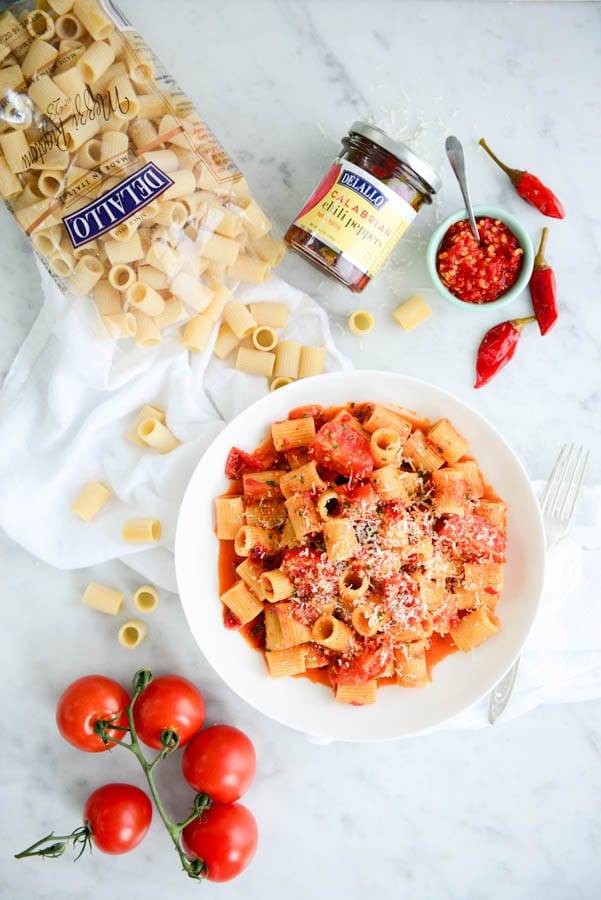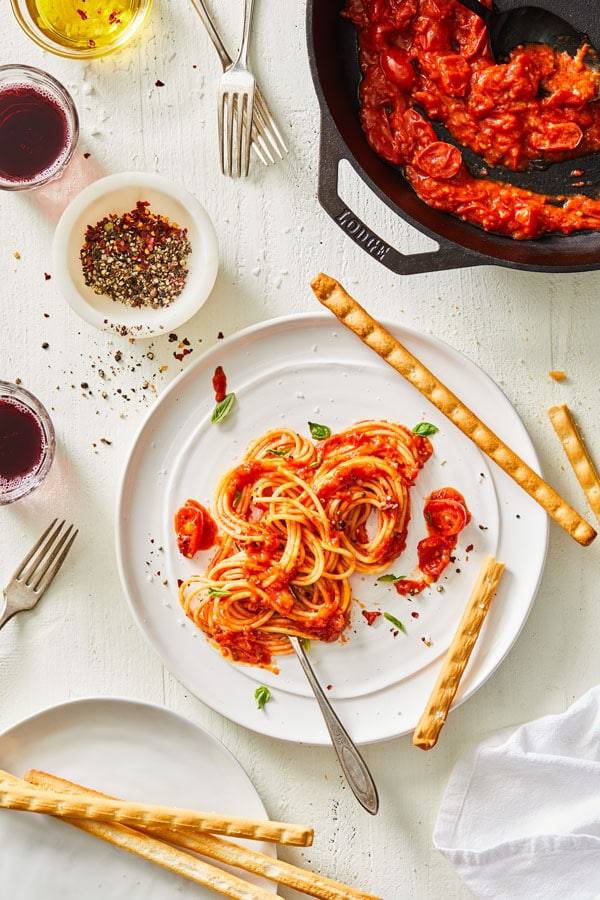 Recipe: No-Cook Fresh Tomato Pasta Sauce
Recipe: Calabrian Chili and Tomato Sauce
Recipe: Homemade Spaghetti Pomodoro
Unlike light tomato sauces with a more delicate, fresh flavor, rich tomato sauces are simmered and so more concentrated for a bold and robust presence. They are more thick and oil-heavy, ready to coat your pasta. Tubular shapes and shapes that will readily capture chunkier sauces are recommended.
Recommended Pasta Shapes: Bucatini, Cavatappi, Elbows, Gemelli, Fusilli, Fusilli col Buco, Linguine, Mezzi Paccheri, Mezzi Rigatoni, Penne Rigate, Penne Ziti, Radiatorre, Rigatoni, Shellbows, Shells, Spaghetti, Spaghetti alla Chitarra, Tortiglioni.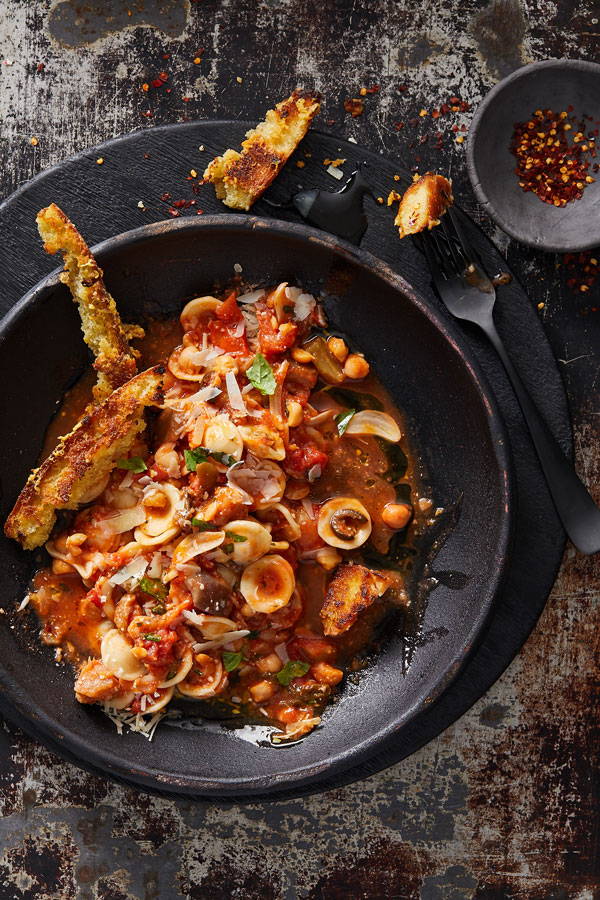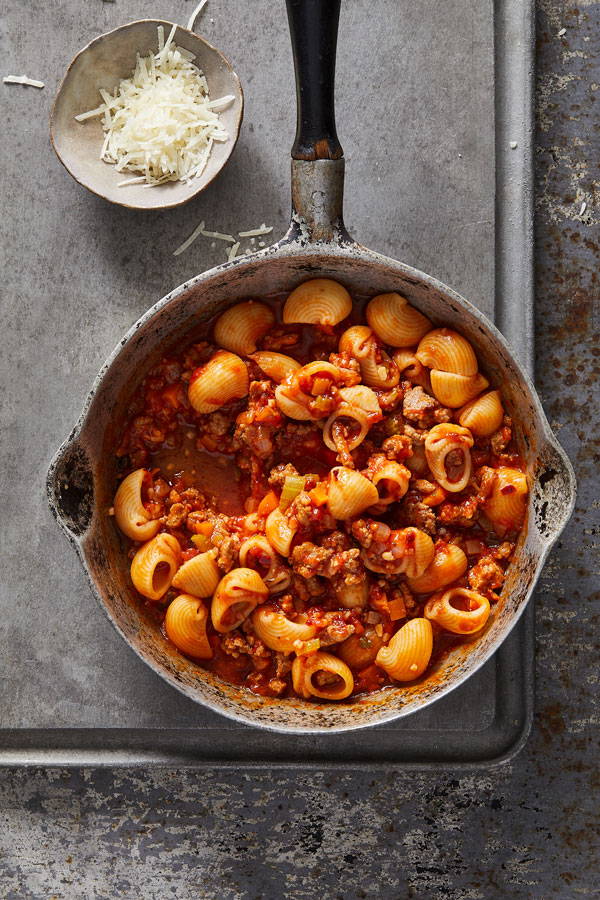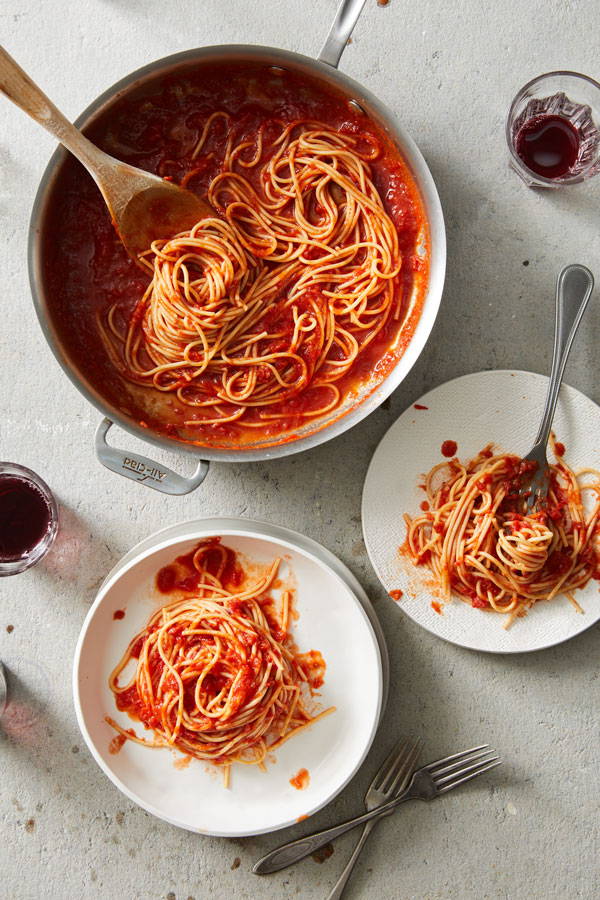 Recipe: Chickpea and Caponata Brothy Pasta
Recipe: Turkey Sausage Pasta
Recipe: Simple Marinara Sauce
So many of our favorite pasta dishes are loaded up with roasted vegetables, briny olives, mushrooms, sun-dried tomatoes, capers… you get the idea. Some sauces are creamy, while others are more like sautés with an herbaceous olive oil base. With so many variations, it's hard to stick to just one style of pasta, but we do have some tips. If your vegetable sauce is oil-based with smaller ingredients or in a thicker creamy sauce, stick to pasta that will best capture those chunkier sauces—scoop-shaped pasta and hollow tubes like Orecchiette, Shells, Rigatoni, Penne, etc.
Recommended Pasta Shapes: Casarecce, Cavatappi, Elbows, Farfalle,Fettuccine, Fusilli, Fusilli col Buco, Linguine, Mezzi Rigatoni, Orecchiette, Penne Rigate, Penne Ziti, Radiatorre, Rigatoni, Shells, Spaghetti, Shellbows, Spirali, Thin Spaghetti.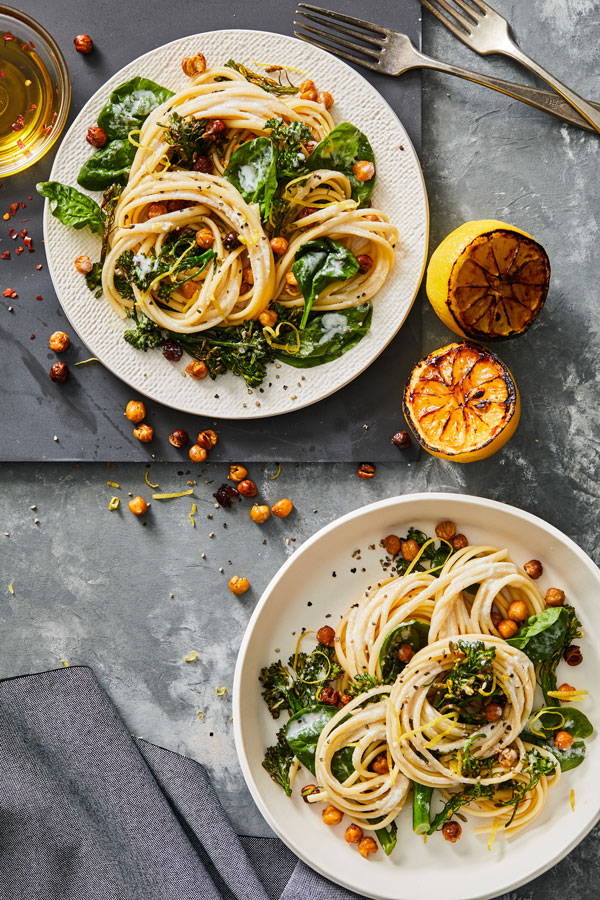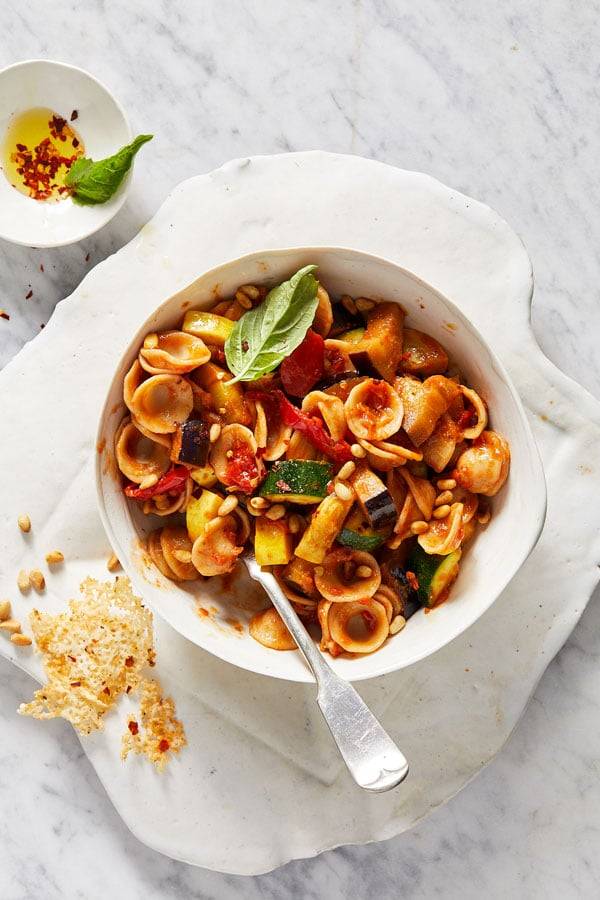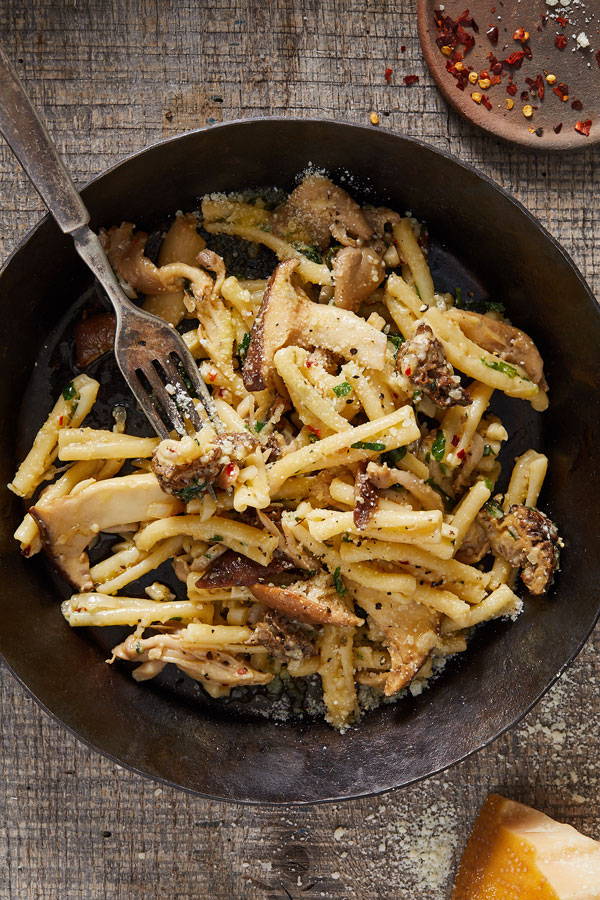 Recipe: Linguine with Chickpeas, Broccolini and Ricotta
Recipe: Orecchiette with Eggplant, Zucchini and Roasted Red Peppers
Recipe: Wild Mushroom Pasta