5 Reasons Why Italian Food Gift Baskets Make the Perfect Gifts
With so many occasions to give and so many people in our lives, shopping for gifts can be exhausting. But don't waste another minute trying to find the perfect gift online. We know what they want: food. Gourmet gift baskets come in so many different varieties and sizes that you're bound to find a thoughtful and unique gourmet gift for everyone on your list. And the best part, all gifts are delivered right to their door. So, whether your people are near or far, convenient gift delivery makes sending gift baskets easier than ever.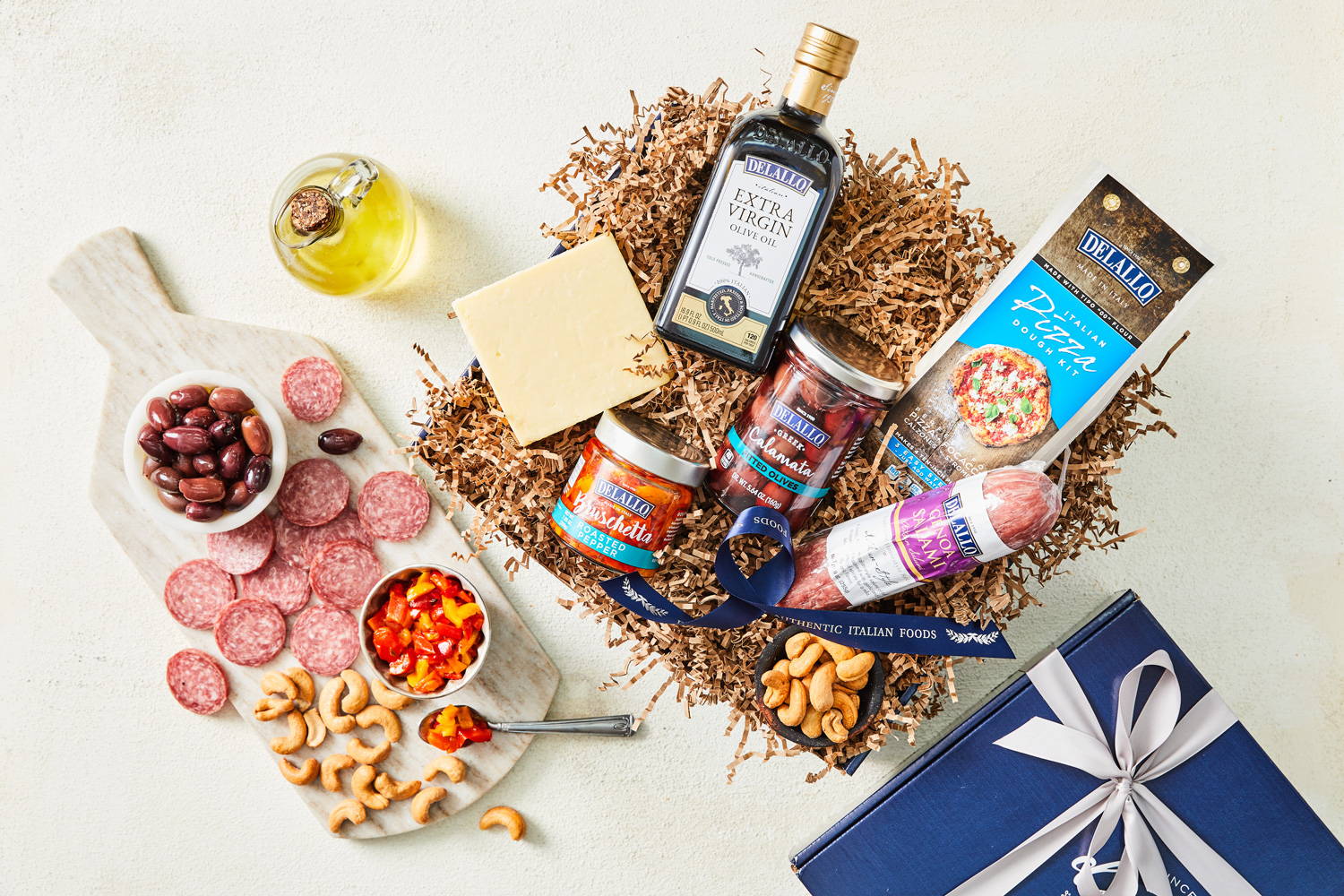 There is something for everyone.




From sweets gift baskets

to

Italian food collections

to tasty

charcuterie gift boxes, there are so many different sizes and types of gift baskets to choose from. Gifts are chosen based on the occasion (Christmas gifts, housewarming gifts, birthday gifts, etc.) and also the tastes of the gift recipient. Does your aunt have a sweet tooth? Then she will love a biscotti gift basket

. Do the in-laws love to host get-togethers? You'll certainly earn some points for sending them a thoughtful

meat and cheese gift basket—specialty cheeses, cured meats, jarred peppers, stuffed olives, crispy gourmet toasts... the works!

The great thing about Italian food gifts is that the love is pretty much universal, so even if you're looking for corporate gift ideas

and don't know the recipient personally, odds are good you'll win them over with Italian food gifts. When it comes to food gifts, there is no such thing as "hard to shop for."
It's time-saving for busy people.

Life can be pretty hectic, but it's never too busy for the important people in your life. Gift baskets are the best of both worlds: thoughtful and unique presents loaded with the foods they love, but with the convenience of shopping online from your couch. When it comes to the holidays, time gets even more scarce and the pressure is on to find the perfect holiday gifts for friends, family, clients and coworkers. You can order online and have gifts delivered directly to their door—how cool is that?

A food presentation guaranteed to wow.



It's no secret that gifting is about more than just what's inside. Presentation is part of the excitement too! That's why food gift baskets are the whole package. They are loaded with small food gifts that are colorful, enticing and beautifully packaged—a natural presentation with no wrapping paper or tacky bows necessary. People love exploring the contents too. Give a gift that is truly an experience.
Efficient delivery and cost effective for groups of any size.



Food gift baskets make the best gifts for families, coworkers, teams and groups of all kinds. Instead of buying individual gifts for everyone, which can really add up, send a basket full of Italian and Mediterranean goodies to share—from specialty Italian grocery items, like imported pasta and olive oil, to cheese board favorites. Not only are they cost effective, but sharing in the excitement and indulging can really bring people together.
They are thoughtful and unique.



Whether you're shopping for a holiday gift, a housewarming gift or thank you gifts for clients, the act of giving should be fun. Food gifts mean you can skip the boring and predictable and give them something memorable. Just the act of gifting food is thoughtful and personal, like a care package that is meant to be enjoyed (and often shared). While food gift baskets are great for celebratory occasions, like birthdays and weddings, they are also a wonderful way to brighten someone's day or send some get well wishes. Don't forget, you can even create customized gift baskets.

Need a little gifting inspiration? Check out our full lineup of gourmet food gifts

or call to chat with our gifting experts to help you find the perfect gift.