How To Make The Perfect Lasagna
It's no secret that lasagna can cure just about anything that ails you.
Right along with pizza and the classic spaghetti and meatballs, this cheesy loaded pasta dish is in the running for star-status-style comfort food—even more so in the winter months when its layers of ooey-gooey goodness are almost better than your favorite sweater. If your nonna didn't grace your Sunday table with a big ol' casserole dish of baked pasta, it's your turn to start the tradition.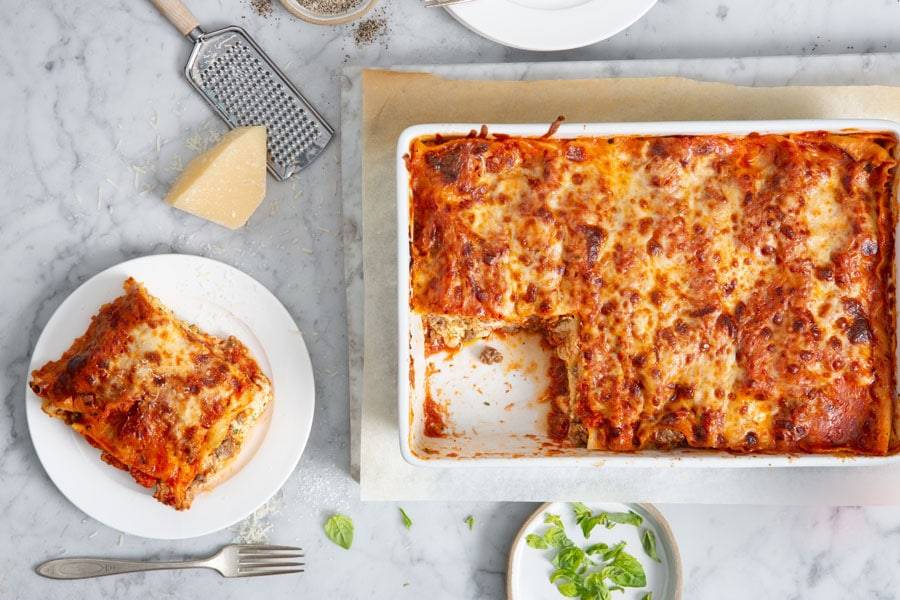 Recipe: Classic Three Cheese Lasagna
---
5 Tips for Perfect Lasagna
No-boil noodles. Sure, they aren't quite "old school," but no-boil noodles make for the ultimate dish of lasagna. While no-boil noodles definitely require a little more sauce (they absorb more liquid when cooking), your cooked noodles will retain a better al dente texture. Besides, it's a great way to save time.
Strain your ricotta. Who likes a runny lasagna? The number one cause of drippy lasagna (besides cutting into it too quickly) is wet ricotta. Strain your ricotta with cheesecloth before you layer up your baked pasta. Ricotta can be strained for up to 24 hours before using.
Mix it up. Have fun with your lasagna and introduce new flavors. Experiment with different combinations of sauces, meats, vegetables and cheeses. Just keep an eye on how much liquid you're using. Keep in mind that vegetables cook down and can create a lot of excess liquid. Try roasting or sautéing your veggies prior to layering.
Get it brown and bubbly. Don't forget to remove the foil covering on your lasagna for the last 15-20 minutes of cook time. As you know, a browned top with bubbling cheese is where it's at!
Be patient, folks. We know you're as eager as we are about cutting into that lasagna, but you have to wait. Let the lasagna rest uncovered for 15-20 minutes to avoid a sloppy mess. Better still (if you have the time), consider making your lasagna a day ahead of time and reheating to serve.
Recipe: Wild Mushroom Lasagna
Recipe: Layered Eggplant Parmigiana Lasagna
Recipe: Alfredo Sweet Potato & Spinach Lasagna with Sausage
Recipe: Classic Three-Cheese Lasagna
Recipe: Roasted Vegetable Lasagna with Marinara
Recipe: Spinach Lasagna Roll-Ups