Olives and Antipasti Toppings for Salads
If you're a fan of Italian food, which I know you are, chances are you have a full-on love affair with antipasti and olives.
To say I'm a fan is an understatement. A dinner prefaced with an olive mix or bruschetta appetizer is my favorite kind of dinner. So much so that I've been known to make meals out of antipasti alone!
And luckily, you can too. There are so many ways that you can incorporate all of the delicious antipasti and olives into your diet, especially this time of year when you can pair them with in-season fruits and veggies.
DeLallo has a ton of antipasti options for any kind of eater, so you're bound to find something you love. My personal favorites are:
And while they're all great on their own, they're even better when incorporated into a meal!
Today, we're going to focus on making light and summery salads, complete with loads of DeLallo antipasti. And if you need some inspo, here are a few of my very favorite ways to use antipasti in summer salads:
First, you can make a salad mostly from antipasti! An antipasto salad is a classic for a reason – it's a delicious, vibrant way to showcase tangy olives, oil-packed veggies, and more.
For instance, this Vegan Antipasti Salad is full of savory olives, roasted tomatoes, DeLallo Mild Pepperoncini, and DeLallo Cannellini Beans for creaminess.
It's tossed in a simple vinaigrette made with DeLallo Extra Virgin Olive Oil, DeLallo Red Wine Vinegar, and seasoning that brings it all together. It's divine as a side or all on its own, and I highly encourage you to bring it to your next picnic or get-together.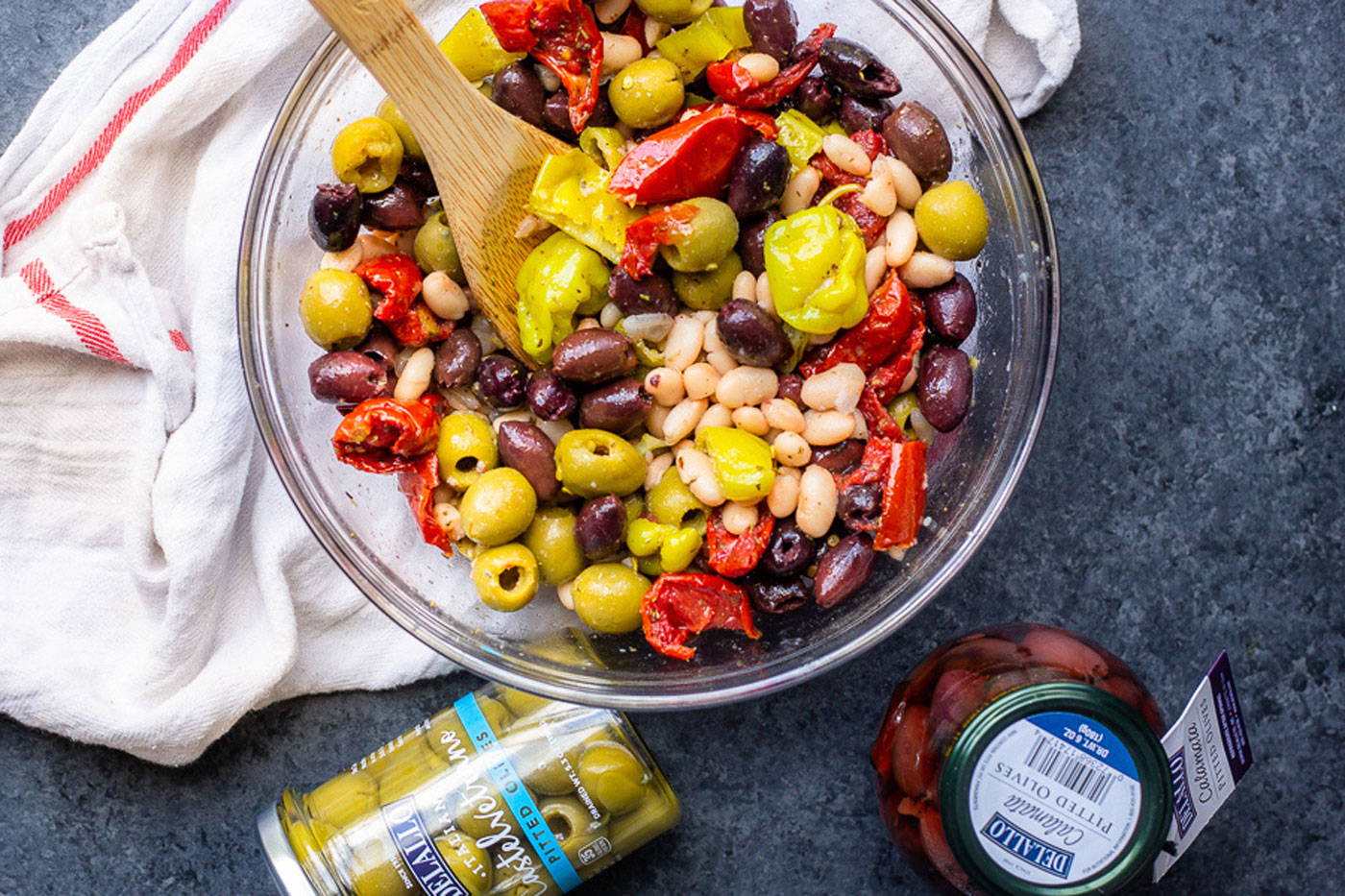 Recipe: Vegan Antipasto Salad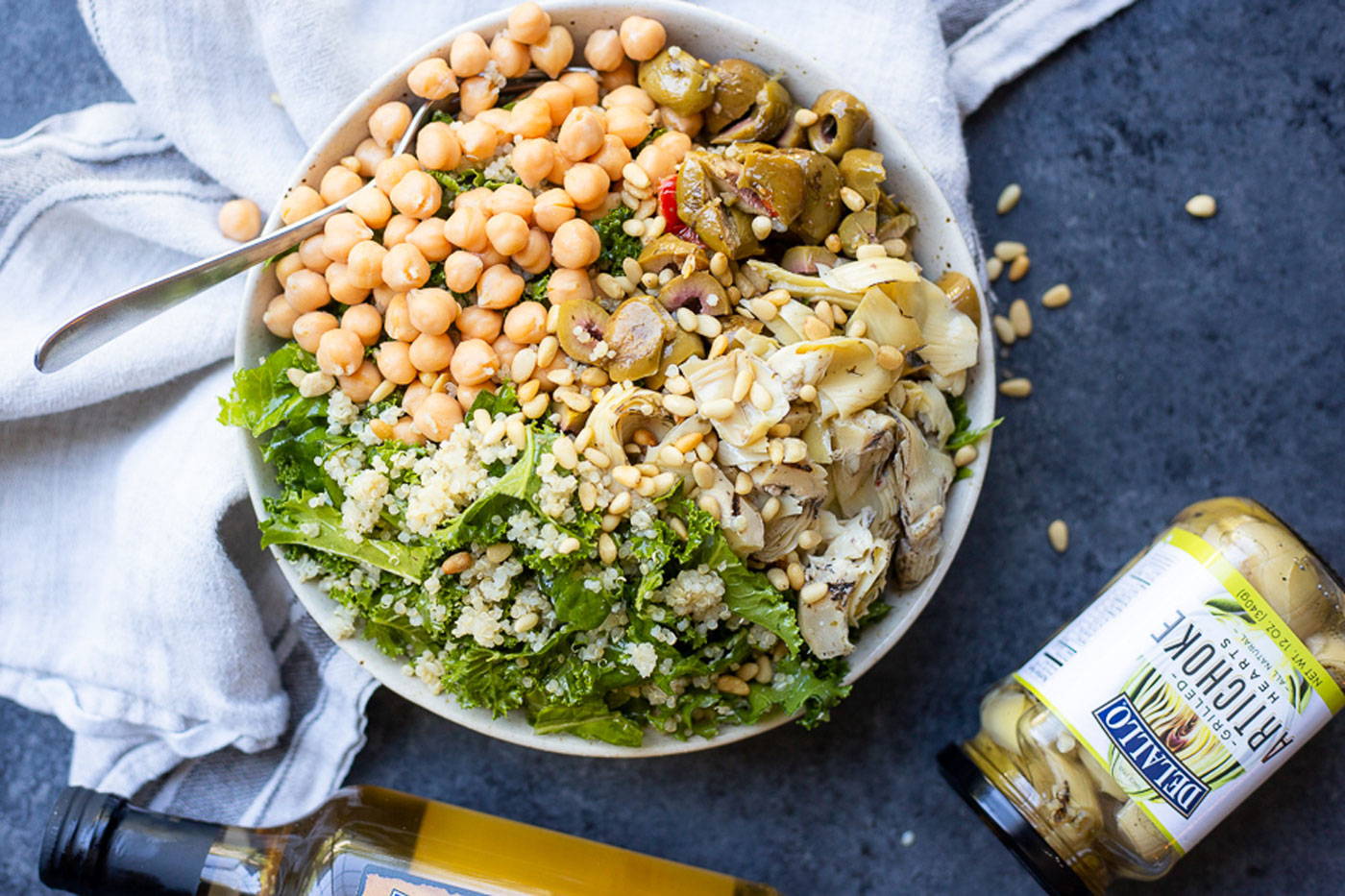 Recipe: Gold & Green Grain Bowl
Last, a bread salad. Aka. Panzanella. With an antipasti twist!
Enter: The Summer Vegetable Panzanella Salad.
We're taking tons of veggies – I used zucchini, yellow squash, radishes, mushrooms, asparagus, and onion -, and marinating them with the flavored oil from DeLallo's Roasted Pepper Bruschetta, some DeLallo Golden Balsamic Vinegar, garlic, salt, and pepper. Then we'll grill 'em, top them with the rest of bruschetta, and break in some DeLallo Rosemary Focaccia Toasts to finish.
It's simple, filling, crunchy, and savory, and it celebrates the very best of summer produce.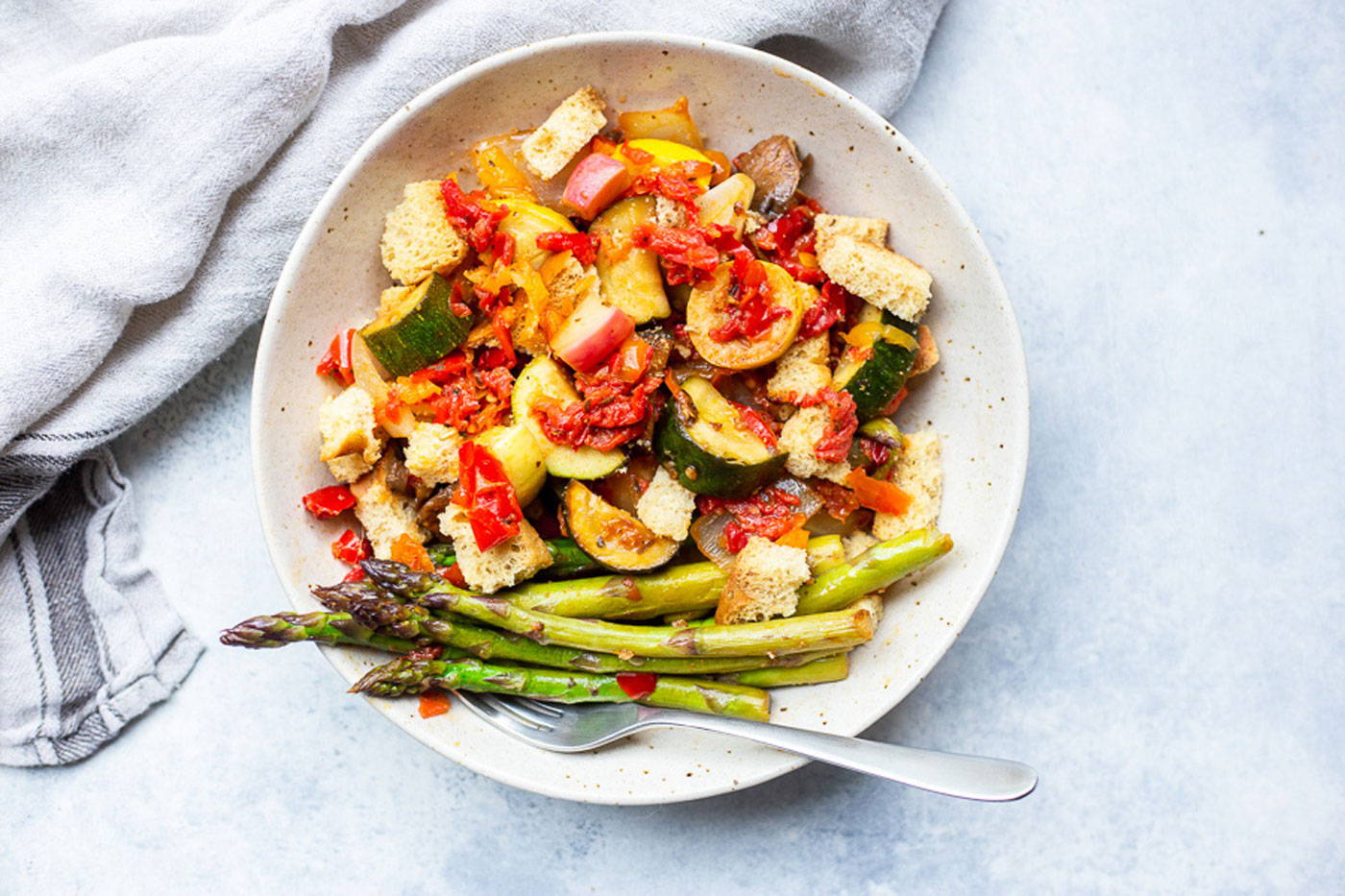 Recipe: Summer Vegetable Panzanella Salad