10 Impressive Corporate Gifts For Clients That Will Keep Your Team Top Of Mind
Show your appreciation with the foods they love! The best corporate gifts for clients, business partners, coworkers and employees should be thoughtful, high quality and made to indulge. If you're looking for business gift ideas beyond the standard ties and fruit baskets, you've come to the right place. As experts in Italian foods and gourmet gifting, we take pride in the quality of our foods, but also in their presentation. Let's face it: when it comes to corporate gifting, presentation matters too.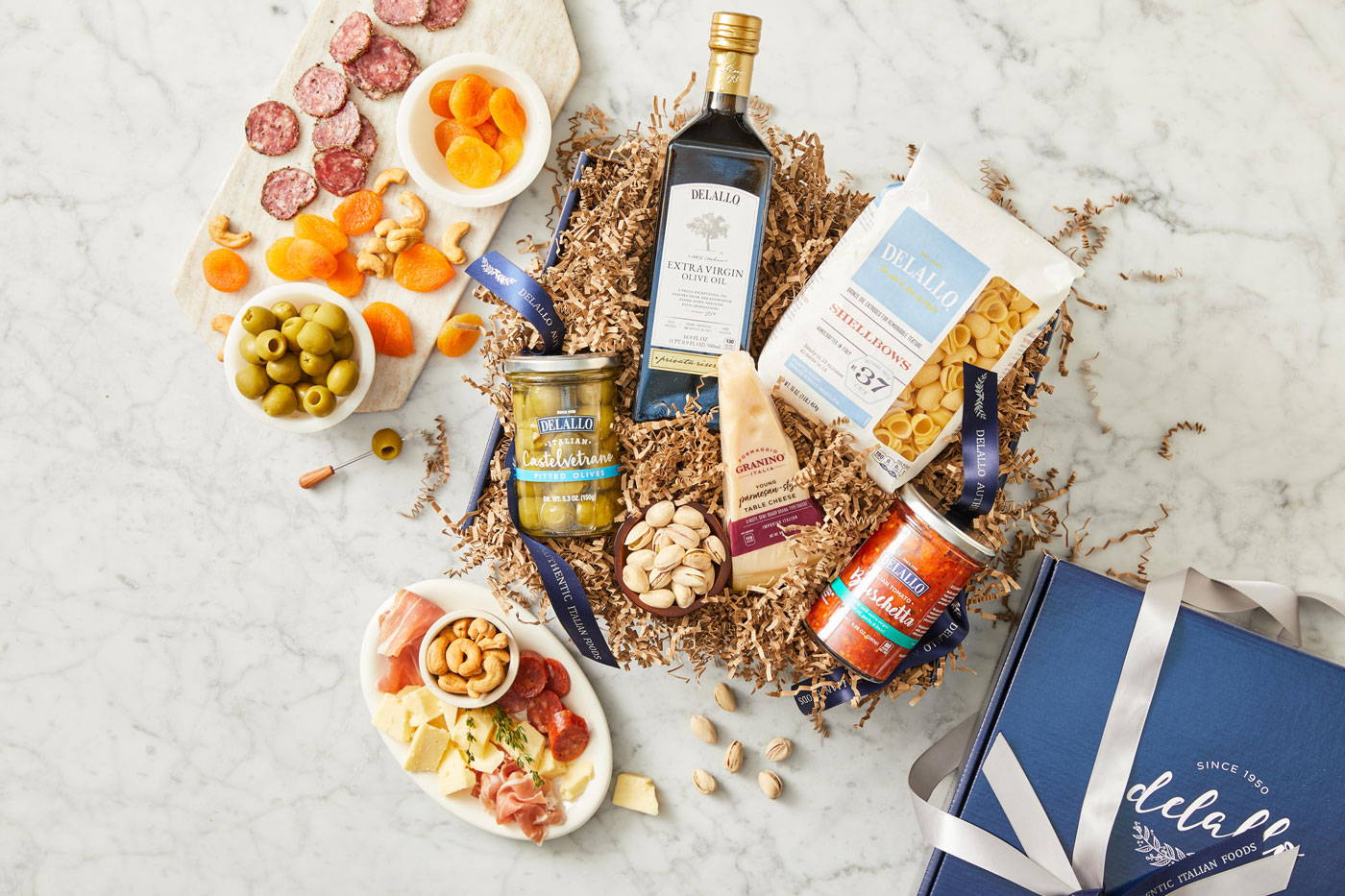 What is corporate gifting and why is it important?
Send high quality corporate gifts to show them their business is important. Corporate gifting is a term that encompasses a number of business gifting occasions—not just gifts for clients, but gifts for your employees too. Within a business, gift giving is the perfect way to celebrate holidays, but also milestones and achievements within your company as a team or individually. Some of these include reaching sales goals, years employed, safety objectives met, increased profits/production, retirement, new products, etc. In these instances, corporate gifts are a thoughtful gifts that show your appreciation and also reward your employees.
Likewise, as leaders, you know how important it is that you extend that same thoughtfulness and appreciation to your business contacts—buyers, investors, partners and teams, to name a few. Sending corporate gifts strengthens business relationships. Something as simple as a gift box can strengthen your relationship, which can benefit you both moving forward. This is why corporate gifting is so important.
When it comes to sending gift baskets on behalf of your business, there are often limitations to what you can give and how much you can spend. Because of this, we recommend a strategy for your corporate gifts for clients. And for this, the corporate gifting experts at DeLallo are ready to help!
What are the best food ideas for corporate gifting?
Italian and Mediterranean foods make the perfect gifts. Just think: some of our fondest memories are made in the kitchen and around the table sharing great food. The vibrant colors, bold flavors and enticing aromas of a gourmet gift box are naturally beautiful and eye-catching. It's no wonder Italian foods are known as favorite corporate gifts for clients, employees and all business contacts. So ditch the predictable professional gifts and give your employees, business partners, clients and coworkers something different this time around. Make an edible impression with gourmet treats that inspire get-togethers and memory-making gatherings.
You can order online or through our dedicated gift concierge.
Instead of pacing the aisles of those impersonal big box department stores for the same old products that your clients and employees pass by on the shelves, browse our many gourmet gift basket options online. You can even shop and schedule delivery right on our website. Time-saving, money-saving... what more could you want? How about the knowledge that you are supporting our family-owned, family-run Italian foods company? Sharing our favorite foods with you has been our passion since day one. That's over 65 years ago. Talk about adding a personal touch!
We offer many options for your corporate gifting needs. Check out how it works. Our collections feature a wide range of sizes and prices with everything from specialty Italian grocery items to biscotti cookies and chocolate covered pretzels to superstar snacking and entertaining gifts loaded with olives and antipasti. You're sure to find something for everyone on your list and for any occasion. Whether you need gifts for work anniversaries, gifts for business achievements, appreciation gifts for customers and clients, office holiday gifts, corporate Christmas gifts or even group thank-you gifts, DeLallo delivers.
You can customize and personalize.
For the most effective and most memorable corporate gifts, you must personalize the professional. There is no better way to thank your employees, coworkers and clients than with a thoughtful, high-quality personalized gift that shows you put in the time and energy. Because of this, presentation is so meaningful, and this is why we offer three ways for you to add a personal touch to your business gift sets... oh, and even better, we do it for free!
First, we give you the ability to include a custom message with each gift. Whether you include a small note, a holiday greeting or a shared memory, words can add context to your gifts and make them all the more meaningful. When it comes to gifting, the presentation can be just as exciting as what is inside. For this reason, we carefully package each gift by-hand in our beautifully designed DeLallo gift boxes. The third way that you can create personalized business gifts with DeLallo is to send us your promotional merchandise to include in your gifts. Simply ship your swag to us and we'll package it right alongside our goodies.
You can select a delivery option that accommodates your needs.
We offer multiple shipping options to accommodate your budget and timeframe. If you like to be on top of your to-do list and shop in advance (like for corporate gifts for the holiday season), you can choose a later ship date at checkout. Order online or call to speak with one of our dedicated corporate gifting experts.