How to Make Italian Tiramisù
If you've ever asked to see the dessert menu at your favorite local Italian restaurant, you know about this iconic Italian treat. Tiramisù is an elegant layered dessert that is easy to make as it is delicious. This deep dive into the famous Italian dessert includes step-by-step instructions on how to make tiramisù with helpful photos and tips.
What is Tiramisù?
The name tiramisù comes from the Italian tiramisù, meaning "pick me up" or "cheer me up." And that's the perfect way to describe this rich and decadent Italian dessert. Tiramisù is a relatively modern dessert and its exact origins in Italy have been debated, but what we know for sure is that you're going to love it.
Tiramisù is a layered no-bake dessert consisting of ladyfingers soaked with coffee and rum, then layered with a whipped mixture of sugar, eggs and the creamy, sweet mascarpone cheese sprinkled with cocoa.
This is the classic dessert, but tiramisù has seen many versions and seasonal adaptations—from Pumpkin Tiramisù to spring-inspired Lemon Tiramisù.
Tiramisù Ingredients
You wouldn't believe how easy it is to whip up this incredible dessert. With just 7 ingredients and no baking, tiramisù is simple treat that is sure to impress.
Espresso Powder:

Instead of fussing with an espresso machine or brewing espresso beans for just a few tablespoons, we suggest using

Instant Espresso Powder

for your tiramisù. The powder dissolves instantly in boiling water. So easy!

Ladyfingers:

These crisp Italian biscuits are light and airy with a subtle sweetness. When dipped or soaked,

ladyfingers

soften and take on the bold, dark espresso flavor that tiramisù is famous for.

Mascarpone: Originating in the region of Lombardy (Northern Italy), mascarpone is a double or triple cream cheese with a spreadable buttery texture and an out-of-this-world flavor. This rich, sweet and silky-smooth cow's milk cheese is an essential ingredient in tiramisù.
Water

Spiced Rum

Cocoa Powder
Step-By Step Instructions
Ingredients:
Eggs

Sugar

Mascarpone

Water

Spiced Rum

Cocoa Powder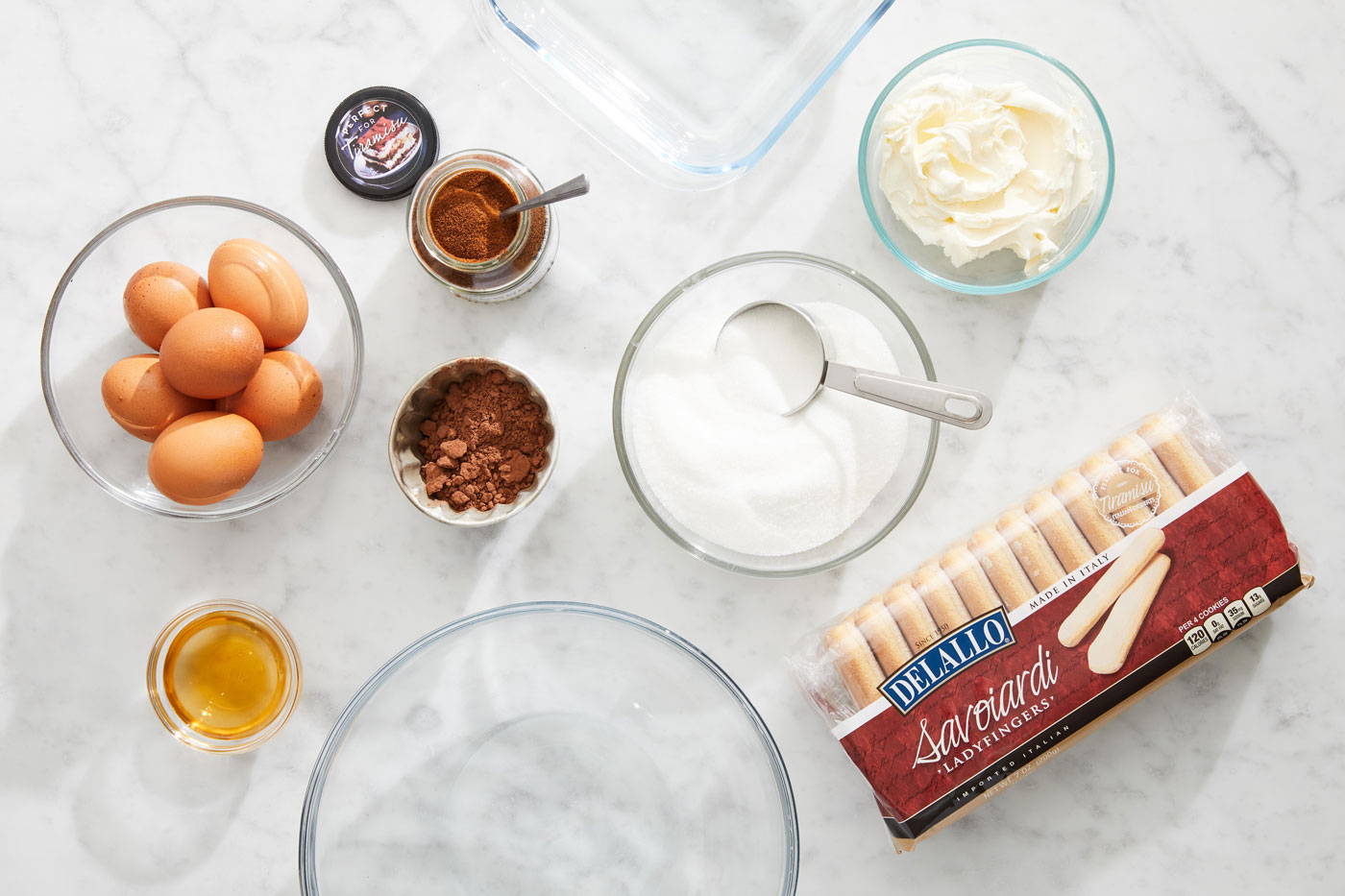 1. In a mixing bowl, whisk 3 egg whites until stiff peaks form. Set aside.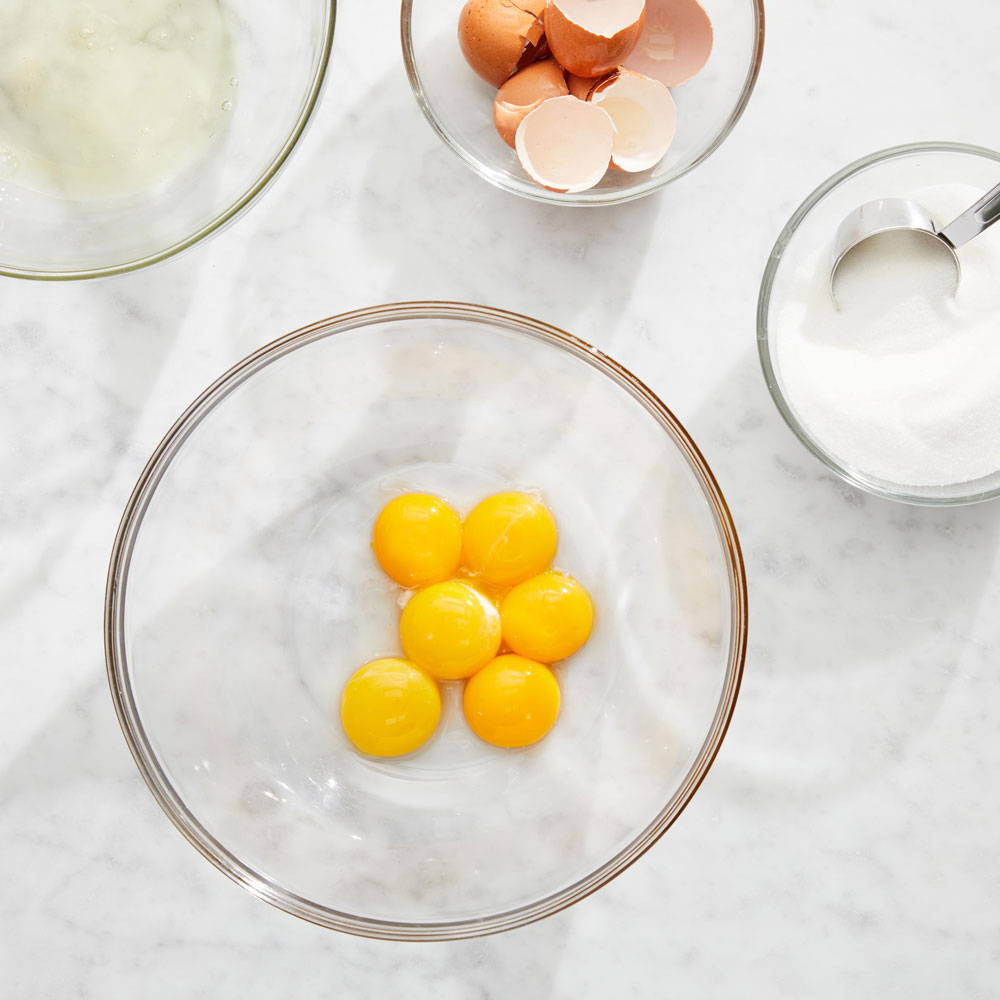 2. In a separate mixing bowl, whisk egg yolks and sugar until thick and pale yellow. This takes about 5 minutes with a hand mixer on medium-high speed.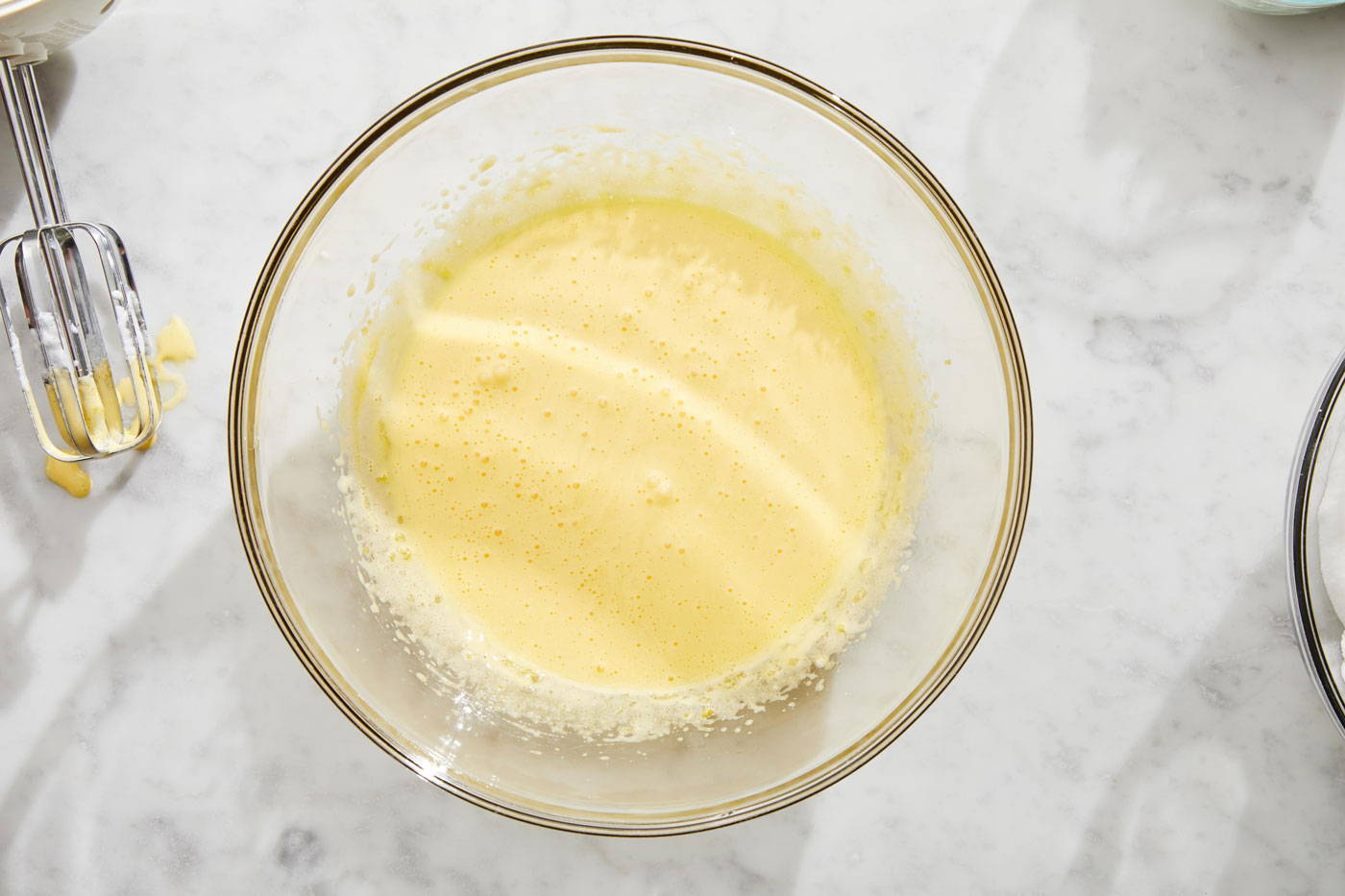 3. Add the mascarpone and whisk until smooth and combined, about 1 to 2 minutes. When you are done mixing, the mascarpone cream should be smooth and creamy, but not airy like whipped cream.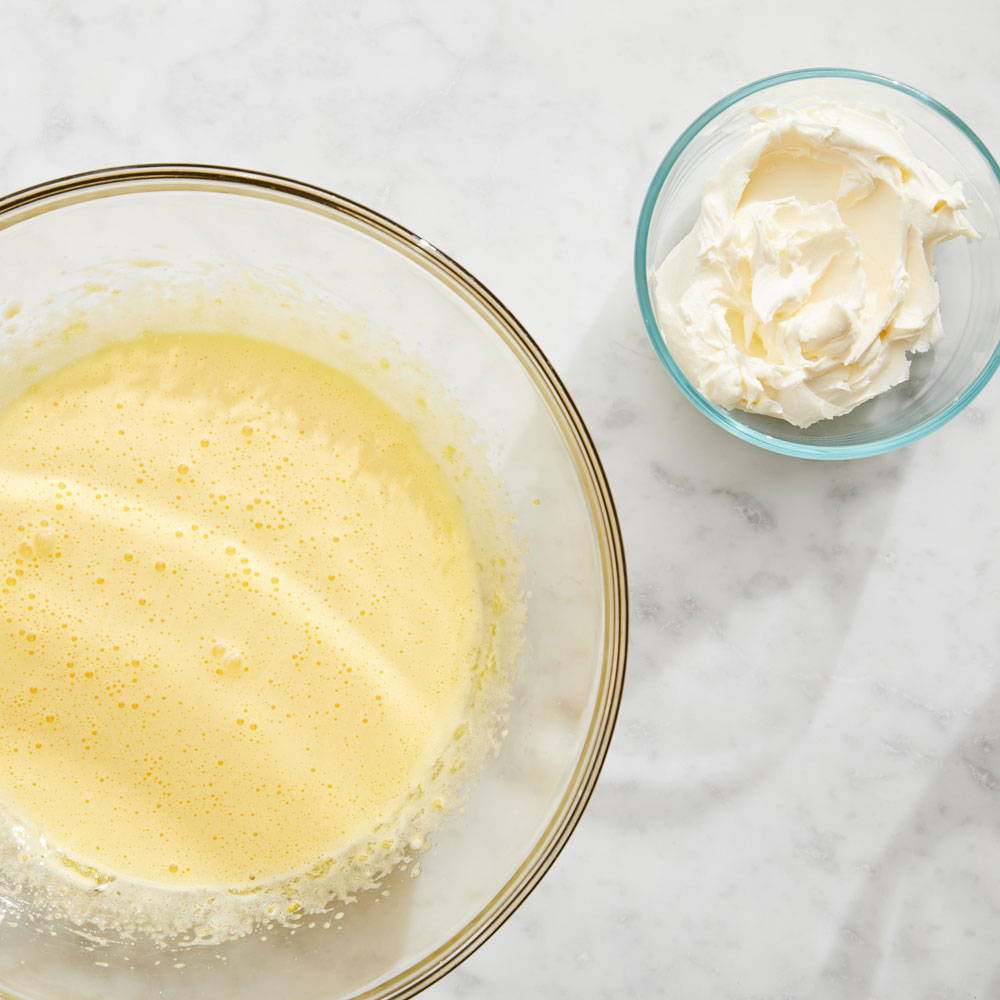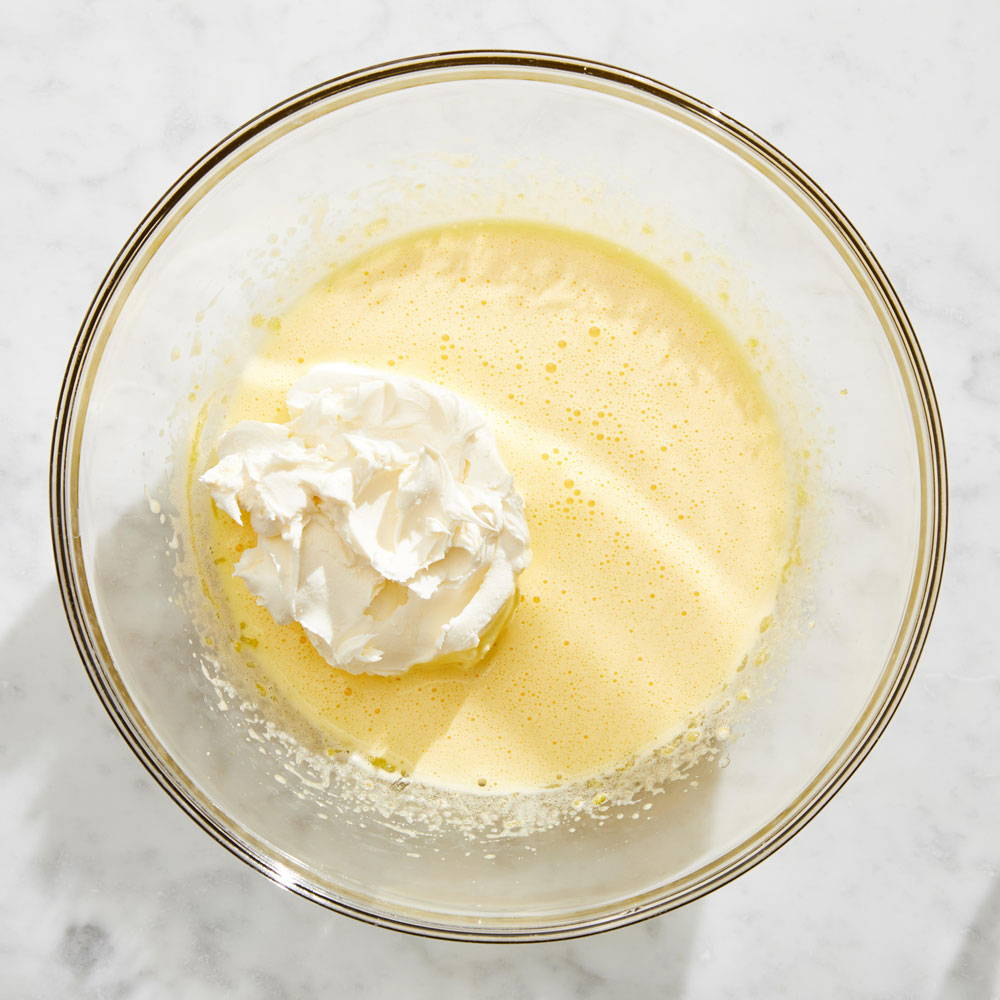 4. Gently and slowly fold egg whites into the mascarpone mixture, careful to maintain their fluffy texture.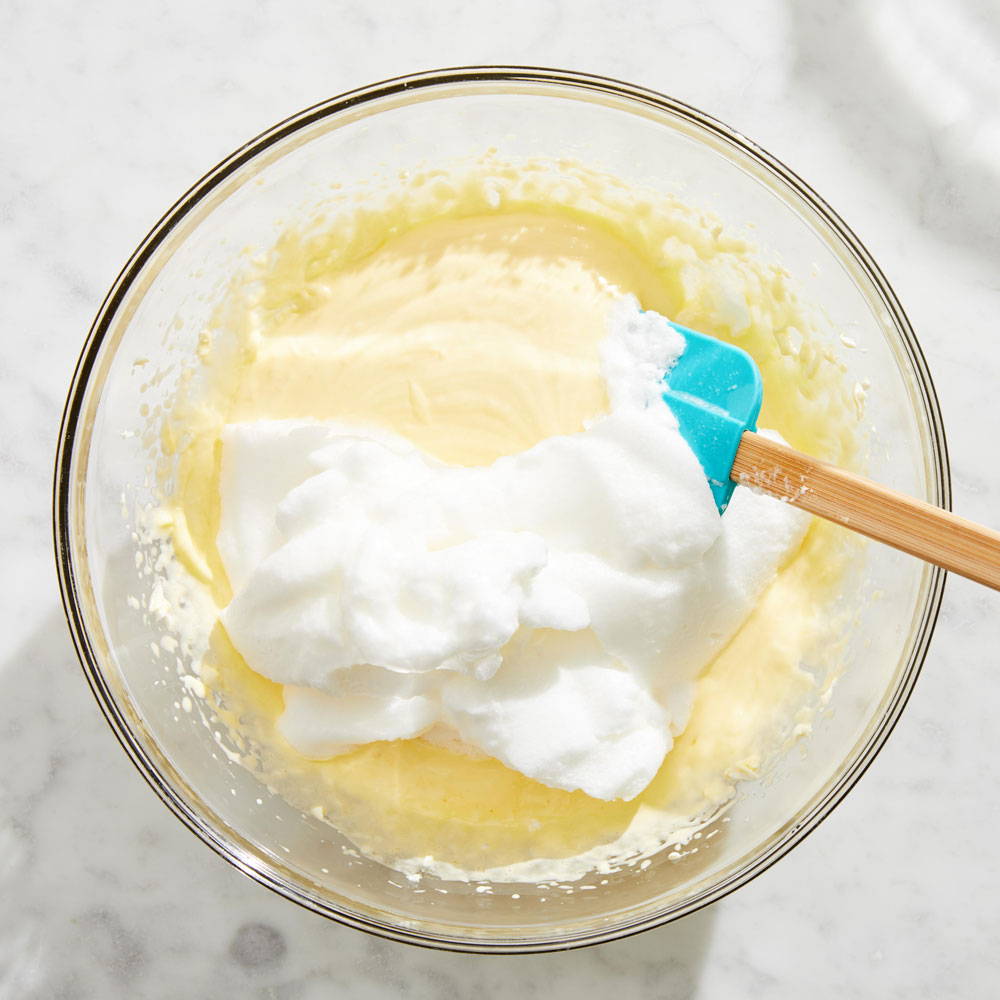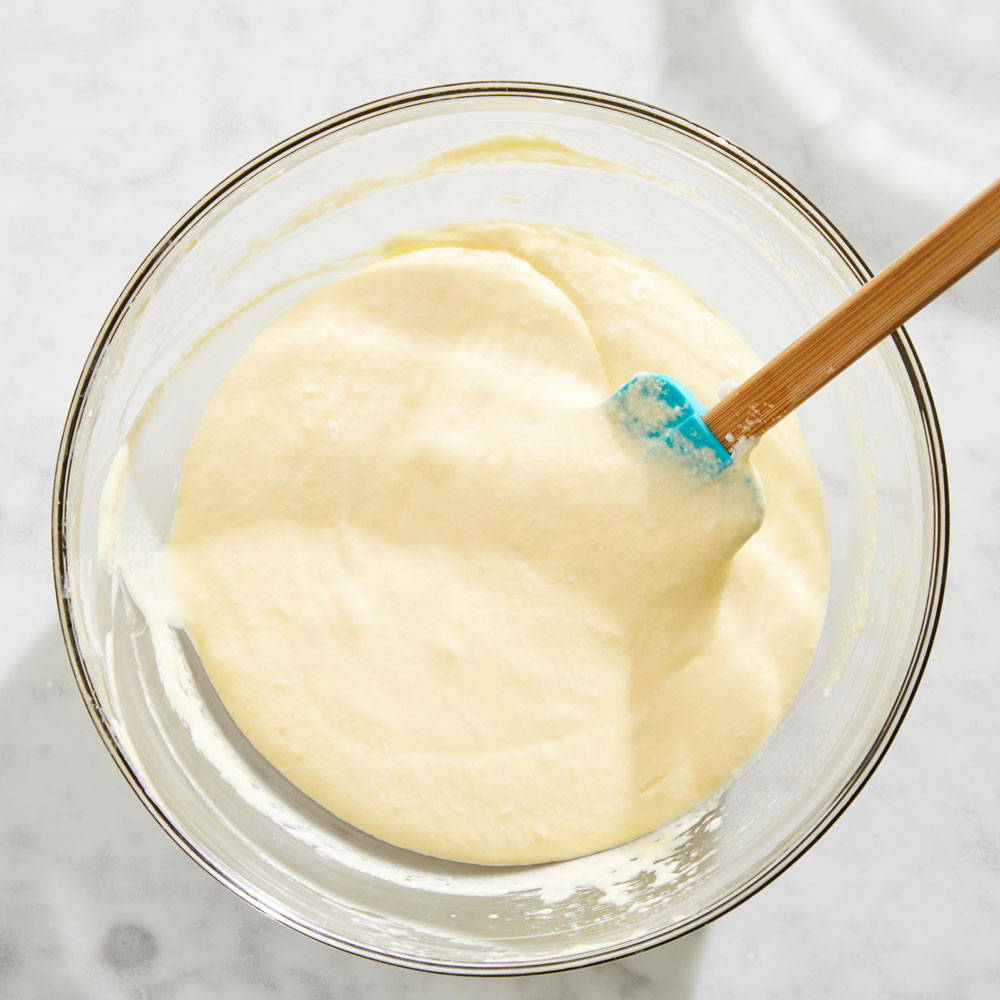 5. Next, add Espresso Powder and water in a medium shallow bowl and stir to combine. Then add the rum to the coffee mixture.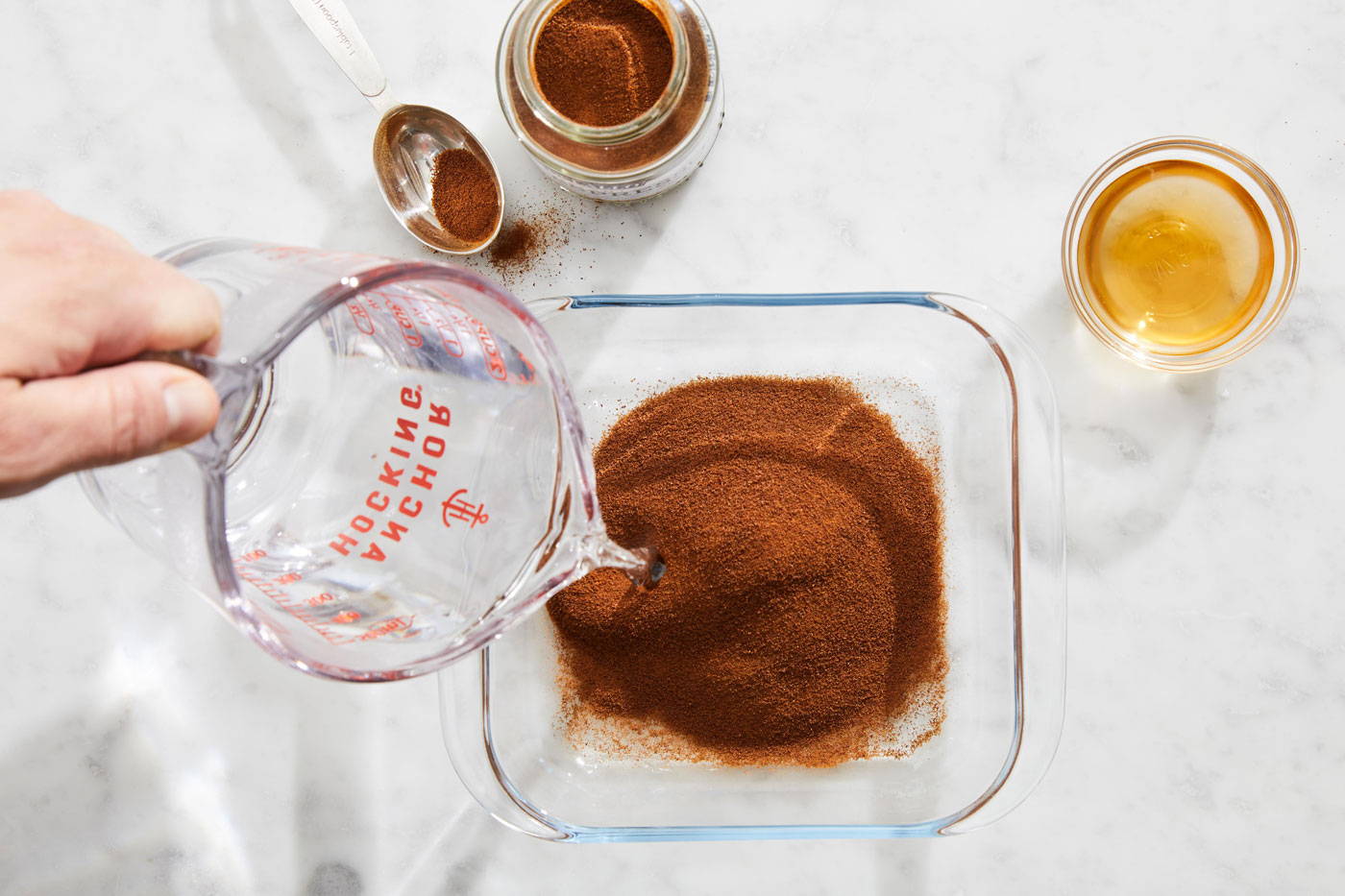 6. Quickly dip each ladyfinger into the coffee, wetting both sides of cookie, but not soaking.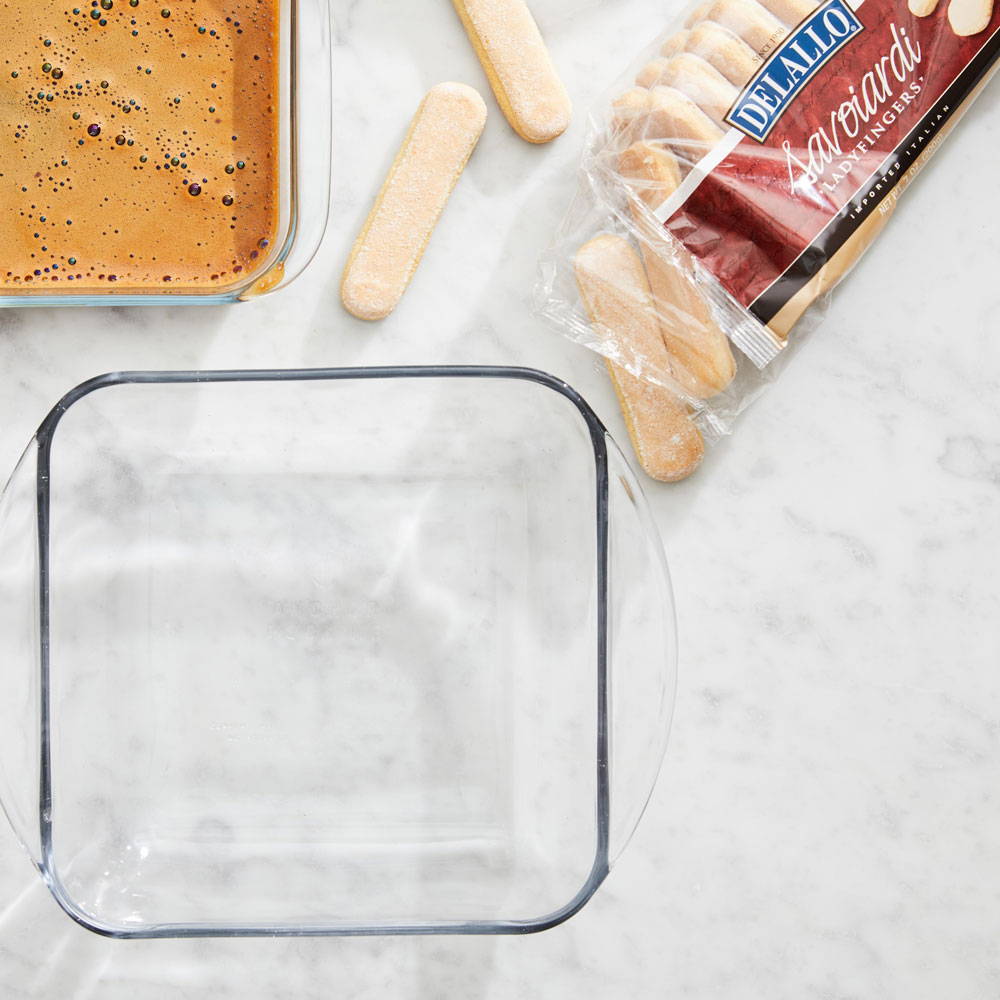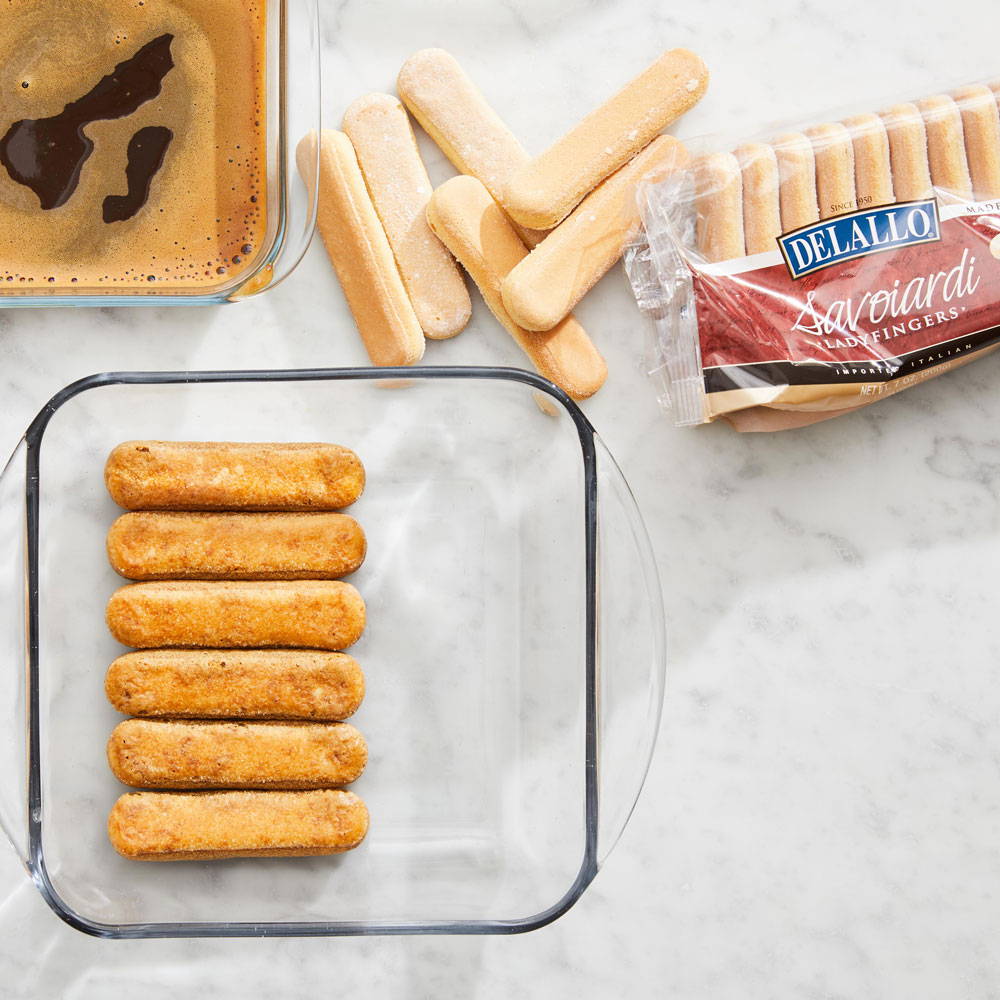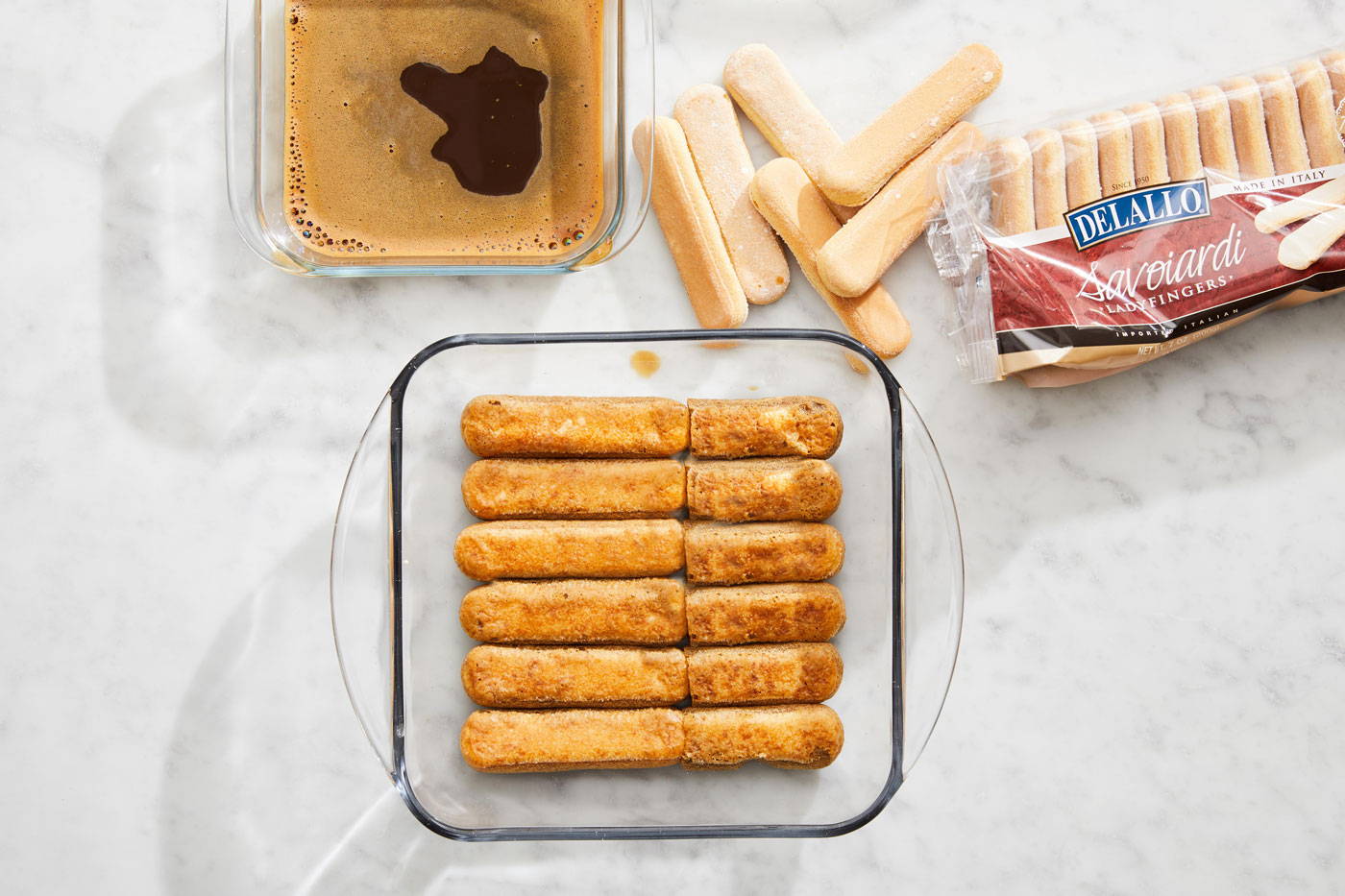 8. Spread 1/3 of mascarpone mixture evenly on top, sprinkle with 1/3 of cocoa powder.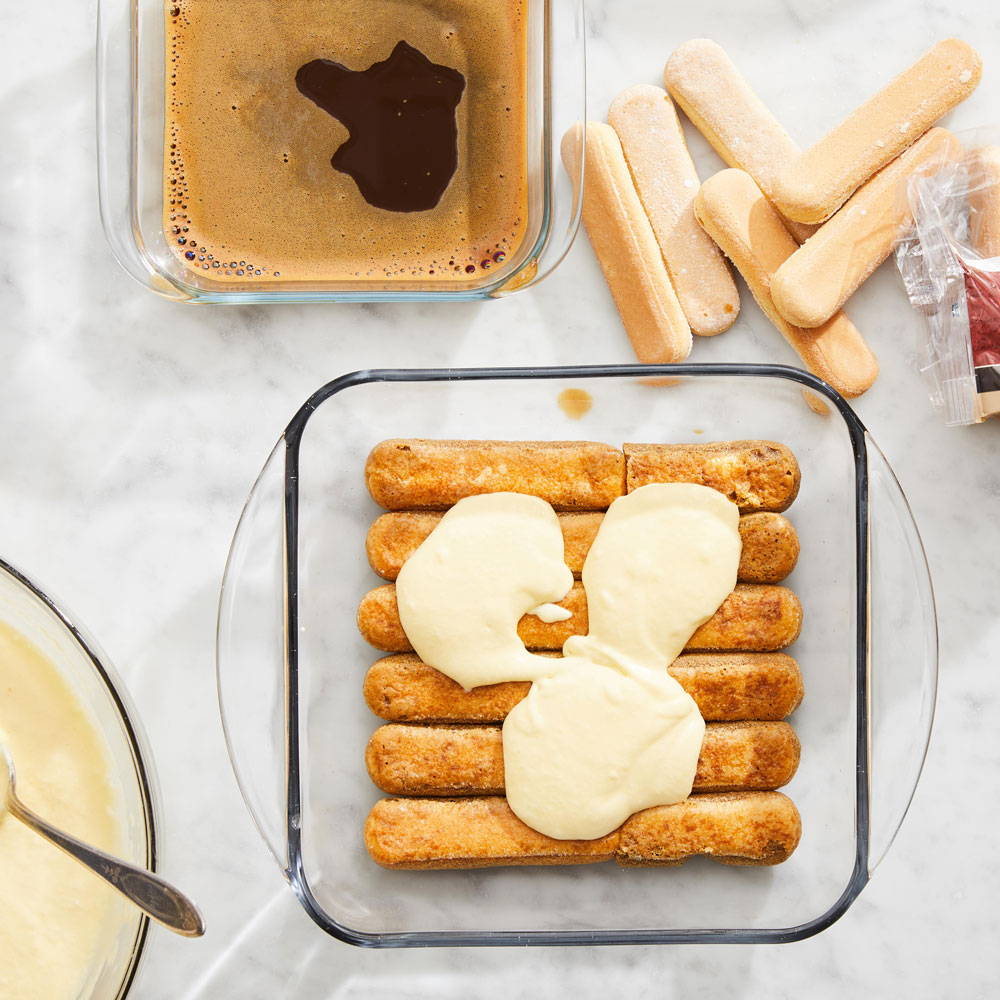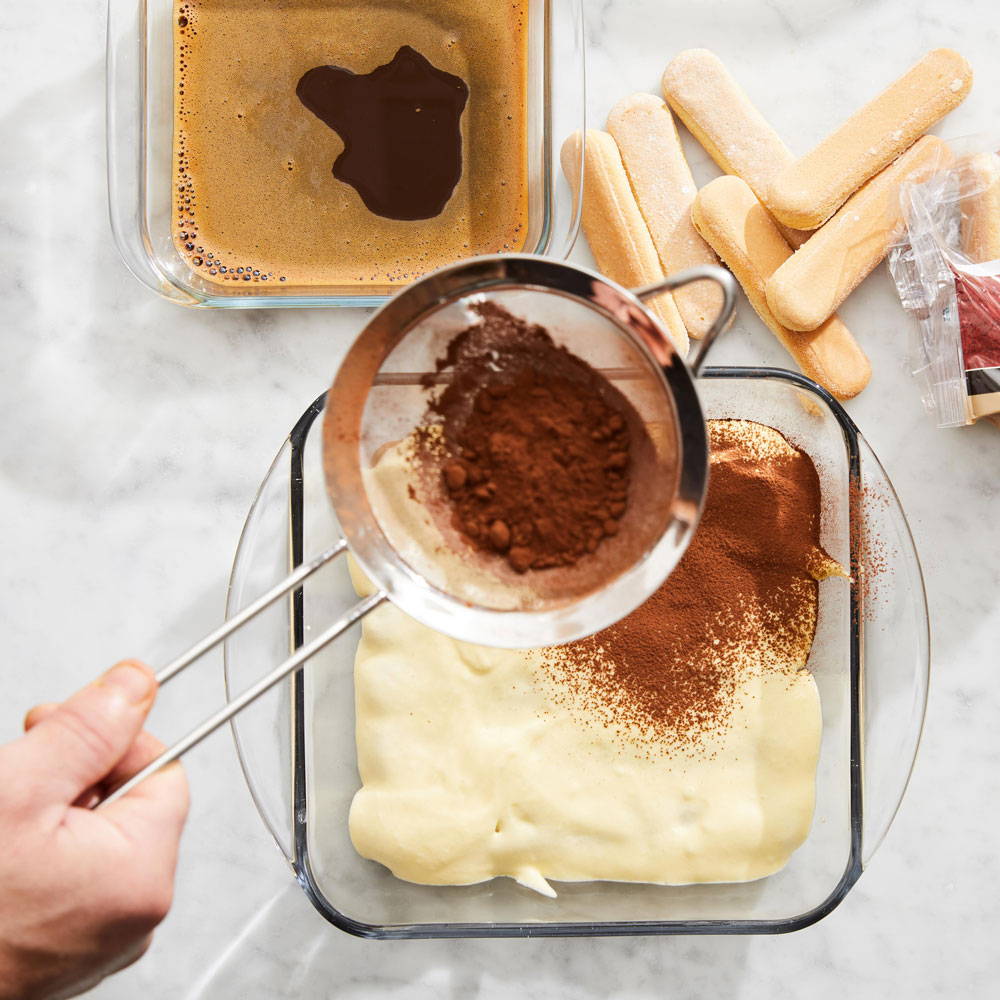 9. Repeat the process of dipping the ladyfingers, arranging them in the casserole, and spreading mascarpone and cocoa powder on top two more times.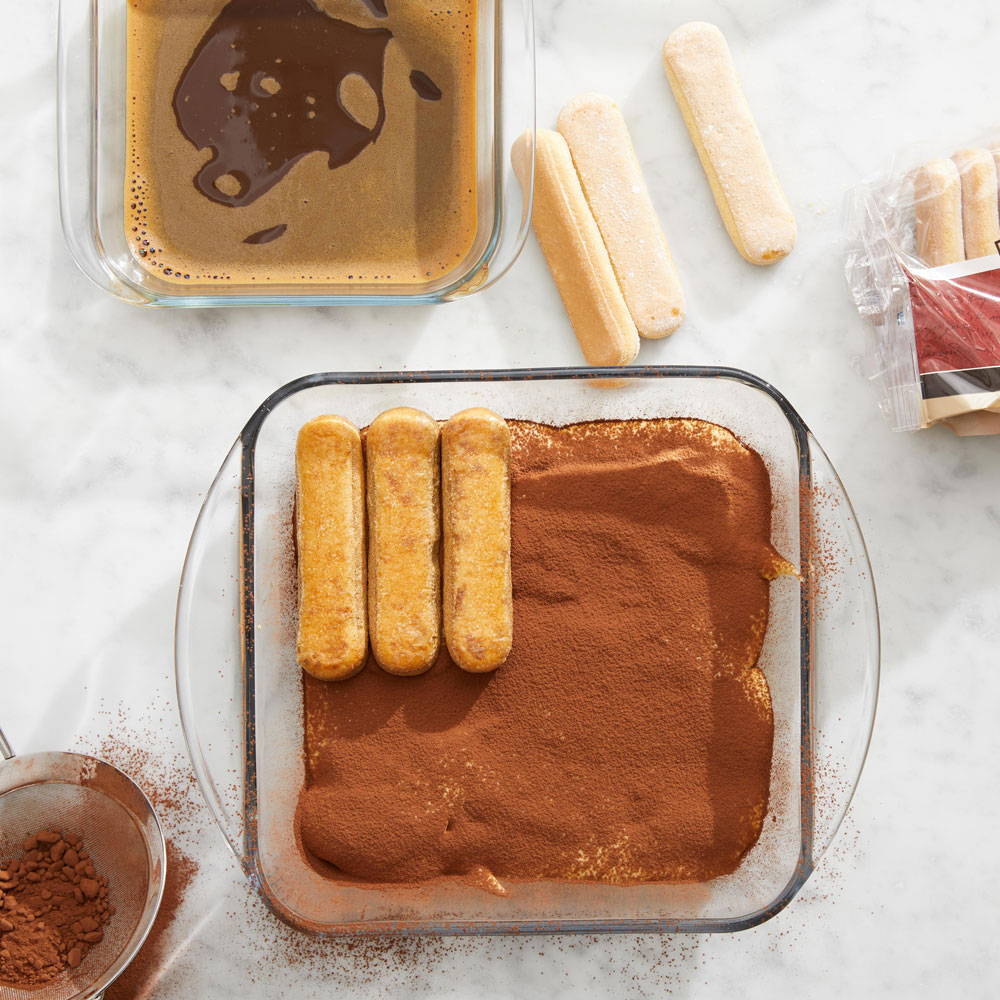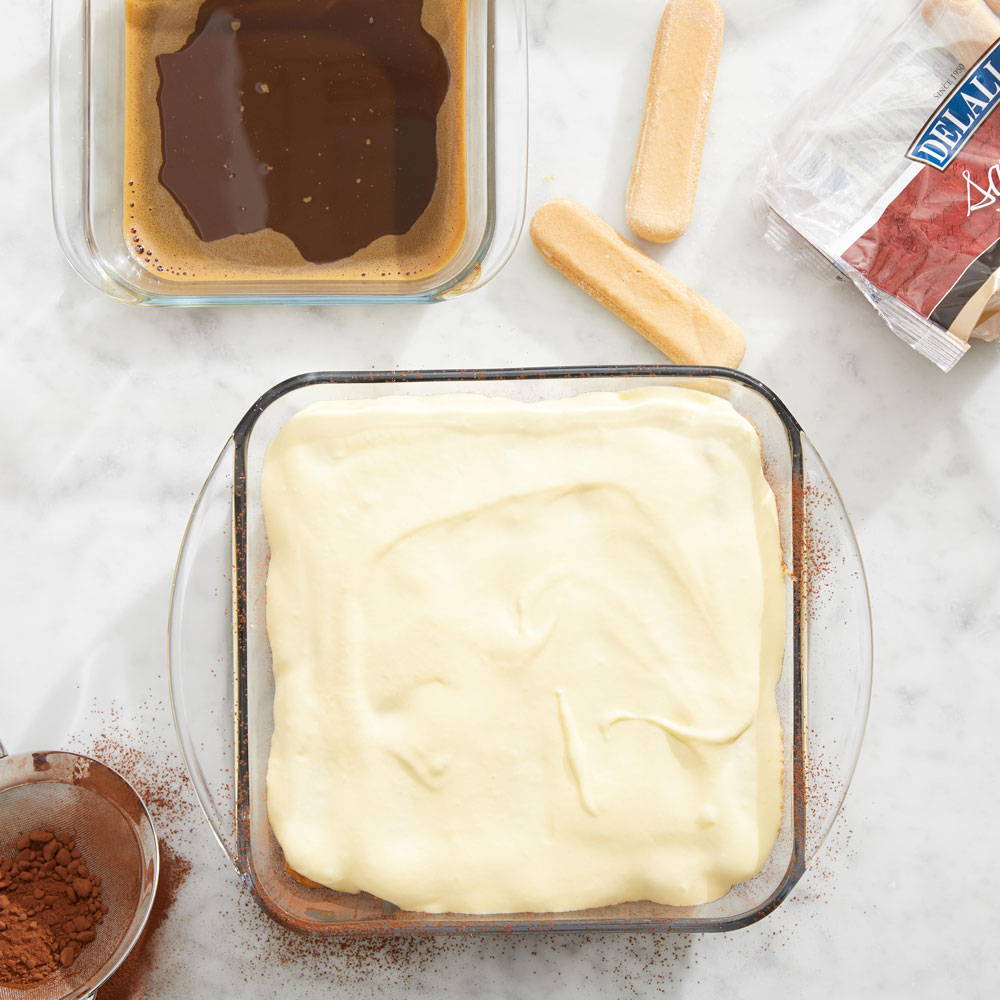 11. Wrap tiramisù with plastic wrap and chill in the refrigerator at least 6 hours before serving.
12. If you want to get fancy, finish the Tiramisù with a layer of whipped cream piped on top and dust with more cocoa powder.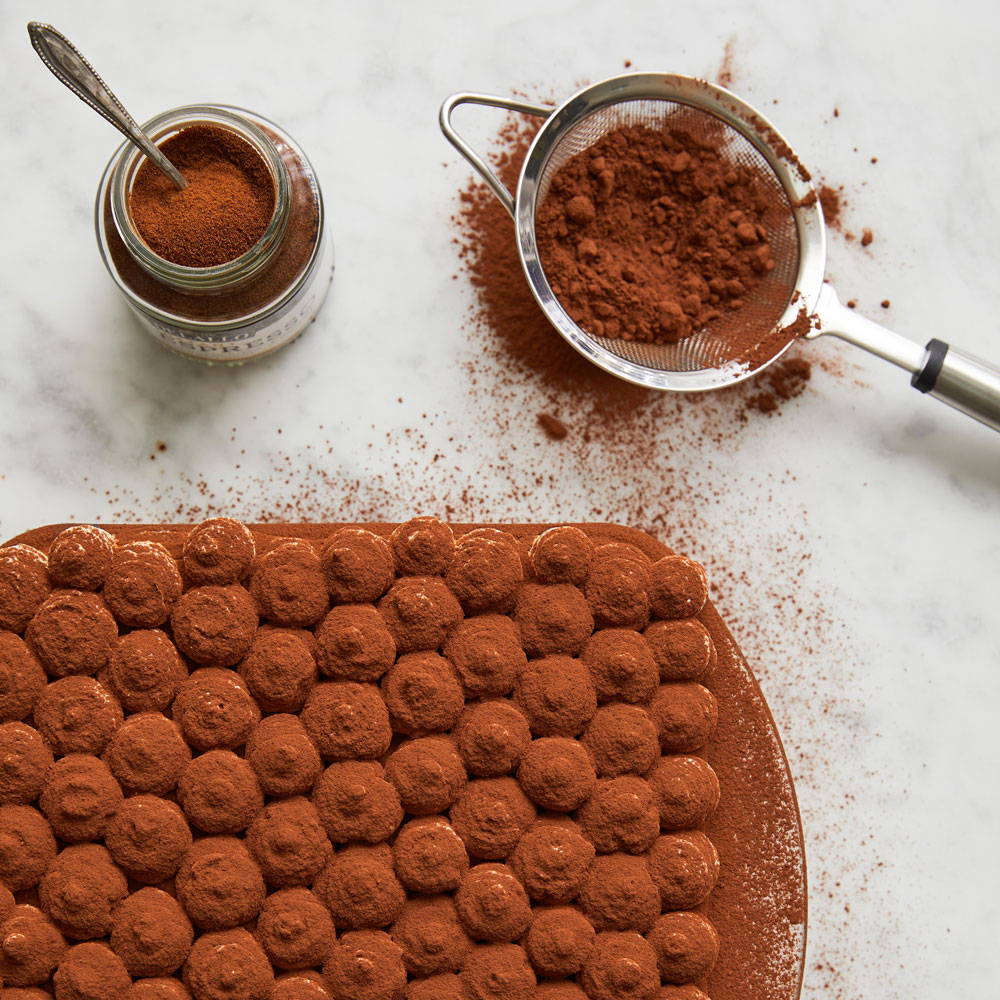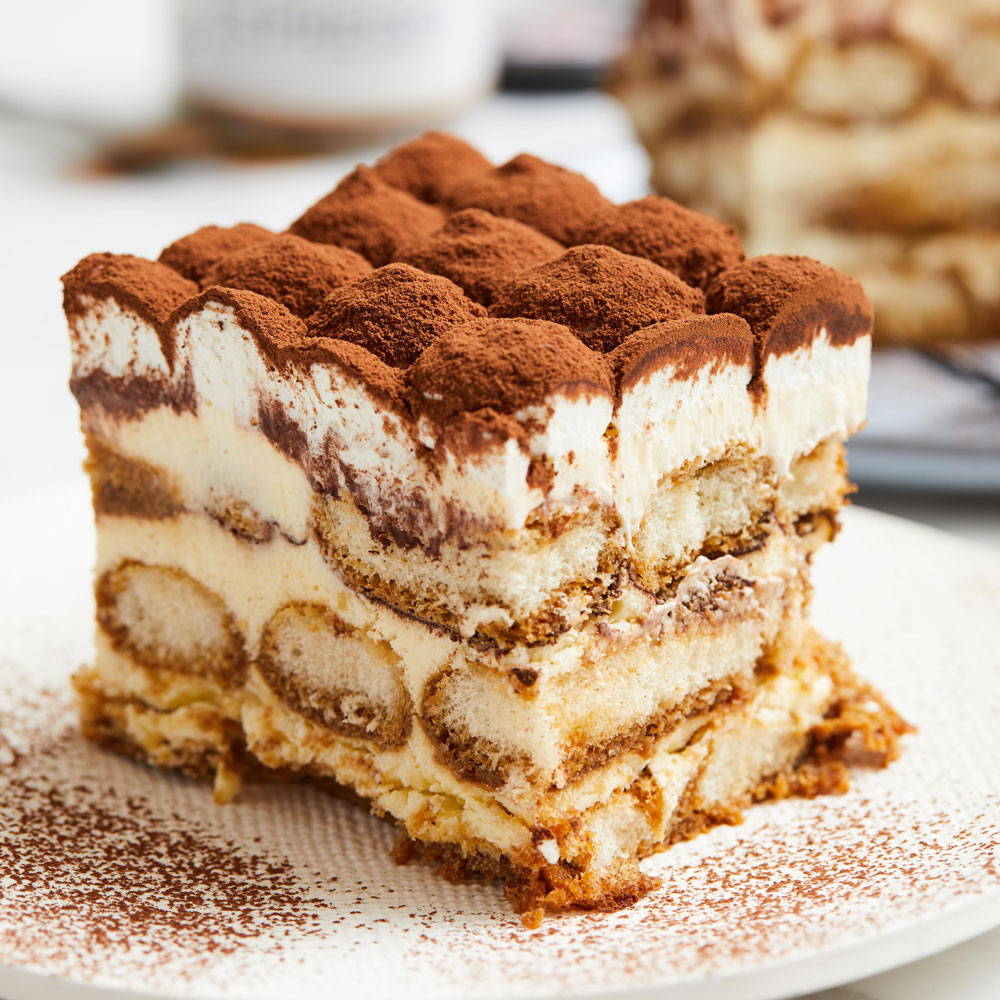 How long will tiramisù keep?
Once made, tiramisù can be kept in the refrigerator for up to 4 days. Tiramisù should not be left out, so once served, leftovers should be refrigerated immediately.
Can I freeze tiramisù?
If wrapped well, tiramisù can be frozen for up to 3 months.
---
Tiramisù Tips
When mixing the mascarpone, don't skimp on the bowl. Use a large mixing bowl.

Always use chilled mascarpone cheese straight from the refrigerator.

Don't soak your ladyfingers too long, just enough to absorb the flavor. Overly wet ladyfingers will create too much liquid in the final dessert.
When storing the tiramisù in the refrigerator, be sure to cover with a lid or wrap tightly with plastic wrap so that no odors from the refrigerator seep into the dessert.
*While it is recommended that the dessert chill for 6 hours before serving, tiramisù tastes best the next day (or overnight). The consistency becomes creamier and the flavors have a chance to fully develop.