2023 Holiday Gift Guide - Italian Gift Basket Ideas For Everyone On Your List
Check out our holiday gift guide to find the perfect gifts for everyone on your list—even the hard-to-buy-for. As experts in entertaining, as well as Italian and Mediterranean foods, DeLallo curates the best food gift baskets online.
No matter what the occasion—from birthday gifts and holiday gifts to thank-you gifts and congratulations gifts, gourmet food baskets are thoughtful ways to send some love to your favorite people. Best of all, you know these unique gift baskets will be enjoyed. No more boring gift ideas like sweaters, ties they won't wear or fruit baskets that spoil before they can eat them. Spread some cheer with the foods they love.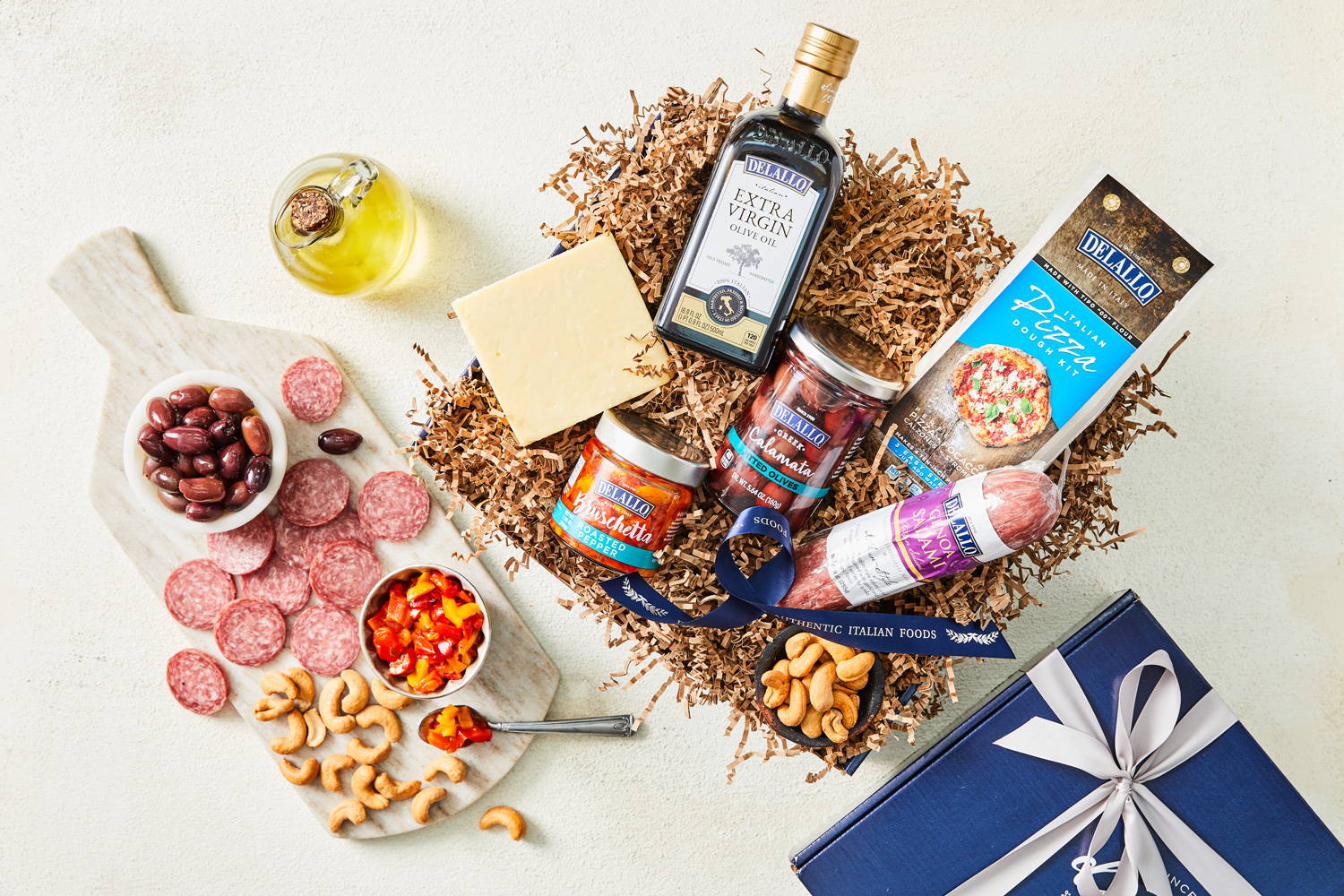 Gifts for Him
We've got the gifts for those special men in your life—whether you're looking for in-law gifts, a gift for dad, a gift for husband, a gift for brother or a gift for your mailman. He might seem hard to shop for, but there is one thing all men can agree upon: great food is always a winning gift idea. Our gift baskets for men feature his favorite gourmet foods, so if you're looking to upgrade his snacking game or to stock his pantry with Italian and Mediterranean ingredients, we got you. Send one of our charcuterie gifts brimming with cured meats and cheeses. And while you're shopping, don't forget a gift for that special woman in your life!

Gifts for Her
When it comes to the women in your life, let's be honest, they appreciate the thought and energy put into gifts just as much as the gifts themselves. That's why we recommend spoiling her with her favorite gourmet goodies. Our edible gift baskets make perfect gifts for moms, gifts for wives, gifts for aunts, gifts for best friends, gifts for daughters... you get the idea. Sometimes the most special occasions are the hardest to shop for—Mother's Day gifts, anniversary gifts, milestone birthday gifts. We get that and that's why we want to help you to pamper her. Our gourmet food gifts are the perfect excuse to enjoy an evening of wine, cheese and meats. And while you're shopping for her, shop gifts for those special men in your life, too!

Gifts for Pizza Lovers
Pizza lovers know that great pizza doesn't come delivered to their door, but is made right in their own kitchen with all the best toppings. Our incredible Italian Pizza Dough Mix makes it super simple to create pizzeria-style pizza at home. The best part about a pizza gift collection is getting to have fun in the kitchen—alone, with friends or even with some little helpers.
Gifts for the Charcuterie Lover

What holiday gift guide would be complete without a savory selection of meat and cheeses? These festive charcuterie gifts are brimming with savory, salty meats and stunning complements—nutty cheeses, olives, crispy gourmet toasts and more. Skip the boring gift ideas and go straight for what they crave.
Gifts for a Group
Gourmet foods are perfect for group or corporate gifting. Whether you're looking for a housewarming gift basket to celebrate your best friend's new digs, a fun gift basket for a group of coworkers or a unique sympathy gift basket for family friends, we've got collections ready to deliver. Italian and Mediterranean foods are made for sharing—from iconic antipasti to traditional apps like bruschetta to Sunday pasta dinners where everyone congregates around the table. Small or large gift baskets available.