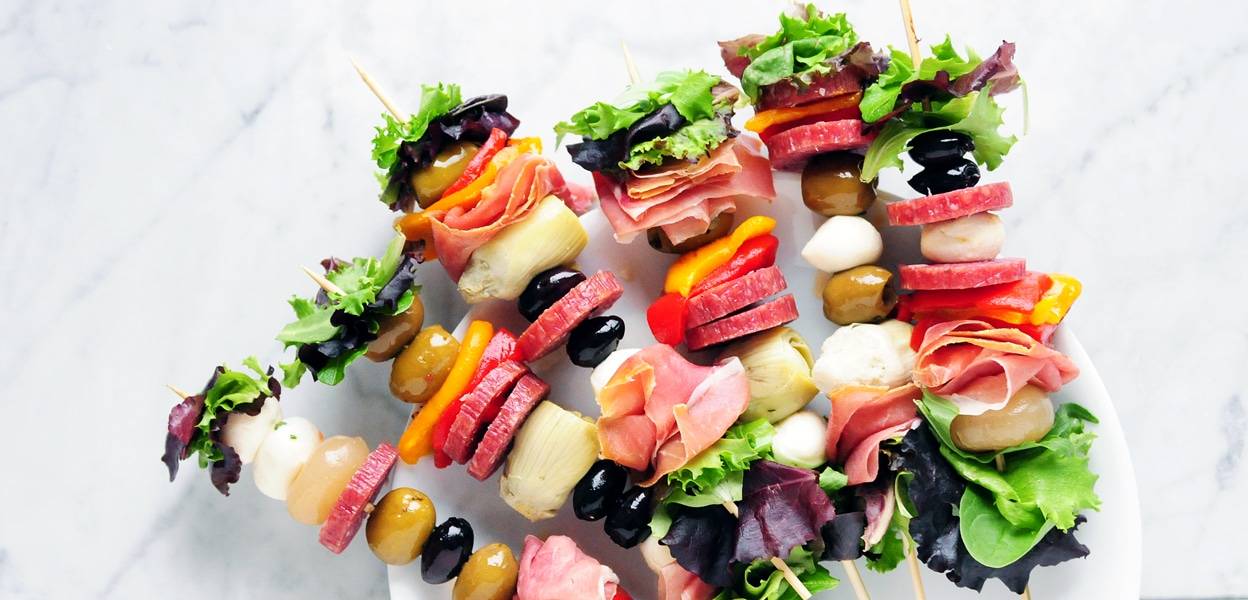 Some of the most elaborate, eye-catching appetizers just might be the simplest to prepare. With a basic knowledge of complementary flavors, some tasty Italian ingredients and a few skewers, you can bring everyone to the table. Not only are these beautiful antipasti creations a great way to bring together sweet and savory Italian flavors, but also, they are easy to enjoy—from finger foods to elegant appetizers in minutes.
Go Fresh with Herbs: Not only do fresh herbs like basil, parsley and oregano enhance flavor, but they also give your presentation some vibrant color.

Spice Things Up… or Not: Some like it hot, but some don't. Offer a range of savory flavors and heat to accommodate any crew. Remember piquant items are best paired with mild, creamy cheeses to cushion some of that heat.

Become BFFs with the Olive Bar: The crisp and fresh-tasting items on the bar are perfect for skewering. Some of these already-prepared combinations include different ingredients, such as Garlic and Pepper Antipasto, giving you more ways to flavor your skewers. Let those best-loved Mediterranean flavors inspire your spread.

Choose What Will Stick! Though most foods can be threaded, keep in mind that some just won't stay on a stick! Super crumbly cheeses and fragile, cracker-like starches should be avoided. But do serve them on the side. (We like to butt ingredients up against each other to keep them a little more stable.)

Bring On the Drizzles: For added flavor and texture, brush your antipasti with extra virgin olive oil, drizzle with balsamic glaze or dollop with pesto. Adding a generous sprinkle of grated greats like Parmigiano-Reggiano or Romano will take your apps to the next level.

You Dip, They Dip: People love to dip. It's true. So don't be afraid to serve up your skewers with a complementary side of sauce. A little dip goes a long way. What about a creamy pesto?
Artichoke Hearts + Mortadella + Parmigiano-Reggiano + Crushed Pistachios

Artichoke Hearts + Roasted Tomatoes + Asiago + Fresh Basil

Cipolline Balsamic Onions + Parmigiano-Reggiano + Honeycrisp Apple Slices

Calamata Olives + Cucumber + Grape Tomatoes + Manouri + Oregano

Calamata Olives + Feta + Watermelon + Fresh Mint

Garlic & Pepper Antipasto, Genoa salami and sharp provolone

Piccante Green Pitted Olives + Sharp White Cheddar + Toasted Bread Cubes

Oil-Cured Olives + Orange Segments + Ricotta Salata

Olives Gigante + Mozzarella + Fresh Basil + Roasted Red Peppers + Modenacrem Balsamic Glaze

Olives Gigante + Goat Cheese + Roasted Piquillo Peppers

Italian Aglio Pitted Green Olives + Pepperoni + Hot Pepper Cheese

Blue Cheese Stuffed Olives + Pepperazzi™ Peppers + Genoa salami