The Best Authentic Pasta Primavera
Nothing says "spring" like Pasta Primavera.
If you love vegetables as much as we do, you know that a veggie-loaded pasta dish is the perfect way to celebrate the warmer days. Spring means a lot of things—rain, blooming flowers, longer days… but it's also a great time for recipes using our favorite spring vegetables and seasonal flavors. Pasta Primavera is like a delicious reward after emerging from the cold, long winter months.
As you know, Pasta Primavera isn't just a pasta dish for spring and summer meals, but a tasty idea for anytime you could use a large pot of penne pasta tossed with your favorite vegetables. It's colorful, flavorful and a comfort food you can feel good about. Whether you have a ton of vegetables to use up or are just craving a healthier comfort food, this recipe is one to keep in the recipe box.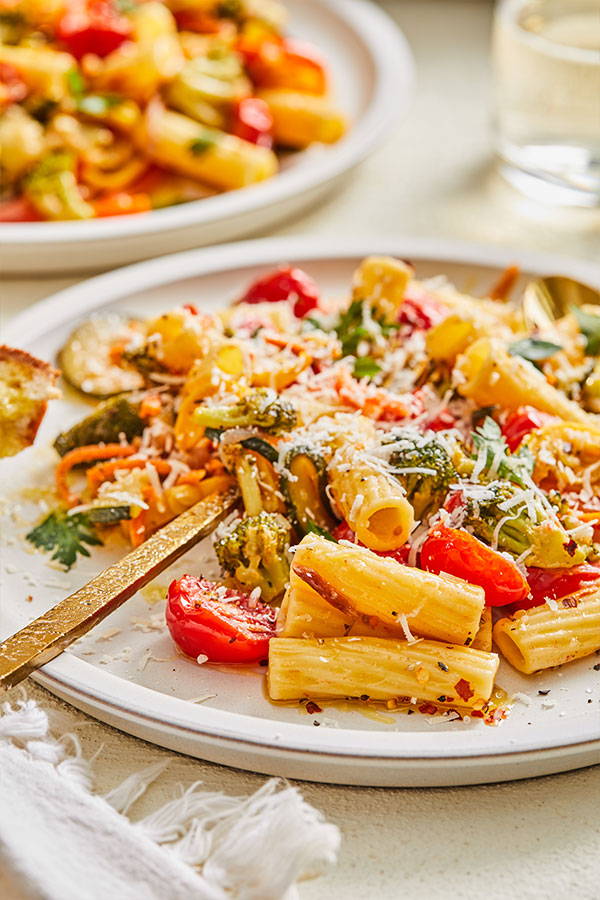 Pasta Primavera is a colorful Italian-American pasta dish made with pasta and fresh vegetables in a lighter cream sauce. While it may sound Italian—Primavera is Italian for "spring"—this classic pasta is actually an American dish that was first served in New York City, in the 1970s. It is said the New York Times published the recipe a few years later and made this veggie-loaded pasta the popular dish that it is today. The original recipe was made with spaghetti pasta and featured a rich sauce of butter and cream cheese. These days, though, Pasta Primavera can refer to many vegetable pasta recipes with a creamy sauce that often feature Penne Pasta.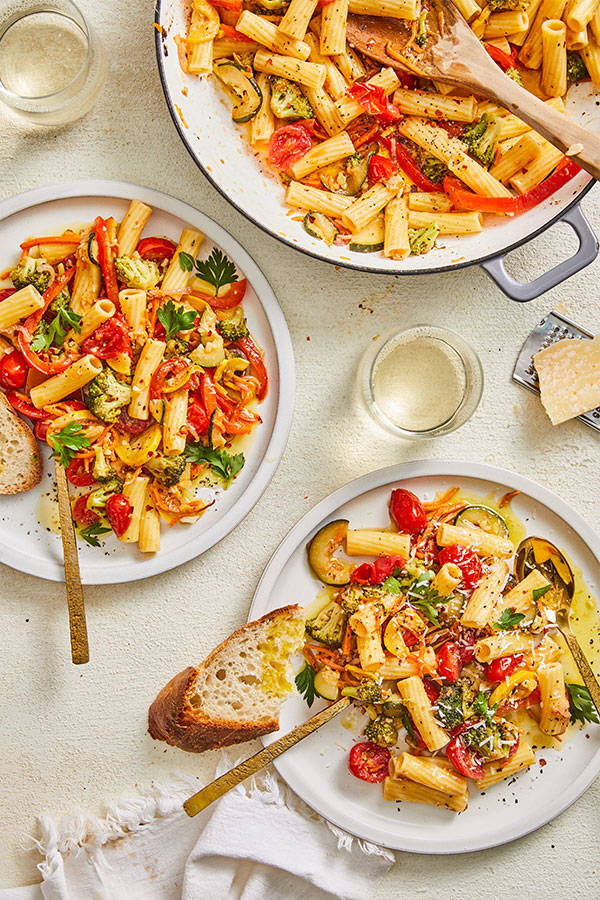 Why You'll Love This Pasta Primavera Recipe
Pasta Primavera is the best of both worlds. It is both a satisfying comfort food with a rich and delicious cream sauce and a vegetable-loaded meal. It's a comfort food featuring healthy veggies—a win-win! It's a great way to get kids to eat their vegetables. Besides this, Pasta Primavera is super simple to make and is perfect for spring and summer weeknight meals. You can use up garden vegetables or those taking up space in your crisper drawer. You're going to love how colorful it is and how it can work for a casual dinner or a get-together.
The Ingredients You Will Need To Make Pasta Primavera
Pasta: You can use just about any pasta shape you like. The original Pasta Primavera was made with Spaghetti, but it is most commonly served with Penne Rigate. Choose from traditional semolina pasta, Whole-Wheat Pasta or Gluten-Free Pasta.
Extra Virgin Olive Oil: Choose a great EVOO for this pasta dish. A recipe can only be as good as its ingredients!
Vegetables: This pasta dish is made with a lot of fresh vegetables. We use carrots, broccoli, onion, bell pepper, squash and zucchini. You can't really go wrong with whichever vegetables you choose, so pick your favorites!
Seasoning: Italian seasoning brings some extra flavor to this veggie pasta.
Garlic: Bring on the garlic! Add a little or a lot, depending on your tastes.
Tomatoes: The grape tomatoes become soft and burst open to release their juices and coat the pasta.
Lemon Juice: Fresh lemon juice gives this pasta dish a bright flavor alongside the fresh vegetables.
Parmesan Cheese: The final sprinkling of Parmesan cheese adds a salty, savory finish and a bit of creaminess.
Parsley: A sprinkle of fresh chopped parsley is the perfect herby flavor to round out this dish.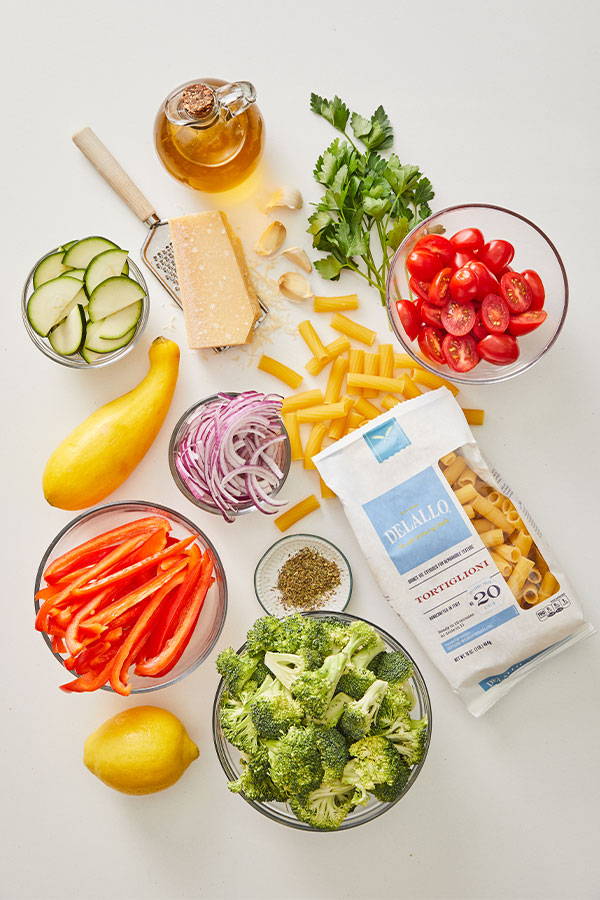 How To Make Pasta Primavera
1. Cook the pasta.

Cook the pasta for that signature al dente texture. Reserve ½ cup of the starchy pasta cooking water to finish the sauce.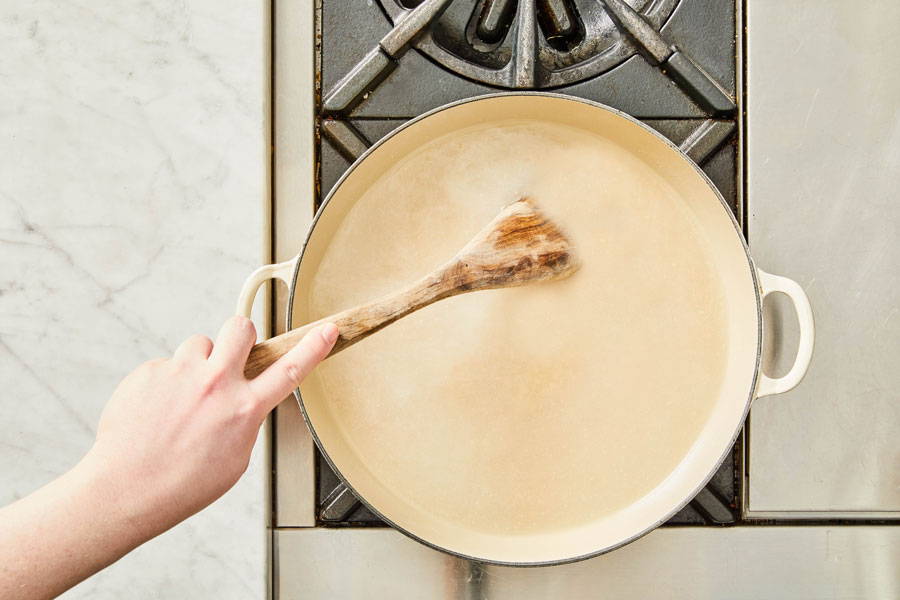 2. Sauté the vegetables.

Prep the vegetables first. Next, sauté them in extra virgin olive oil until vegetables are soft. Depending on which vegetables you use, some may require longer cook times. Add those to the pan first.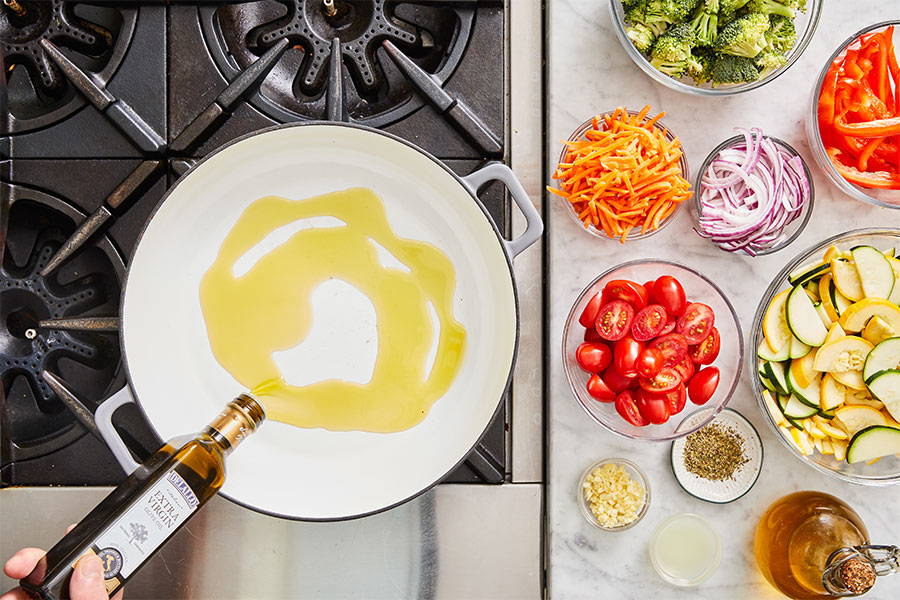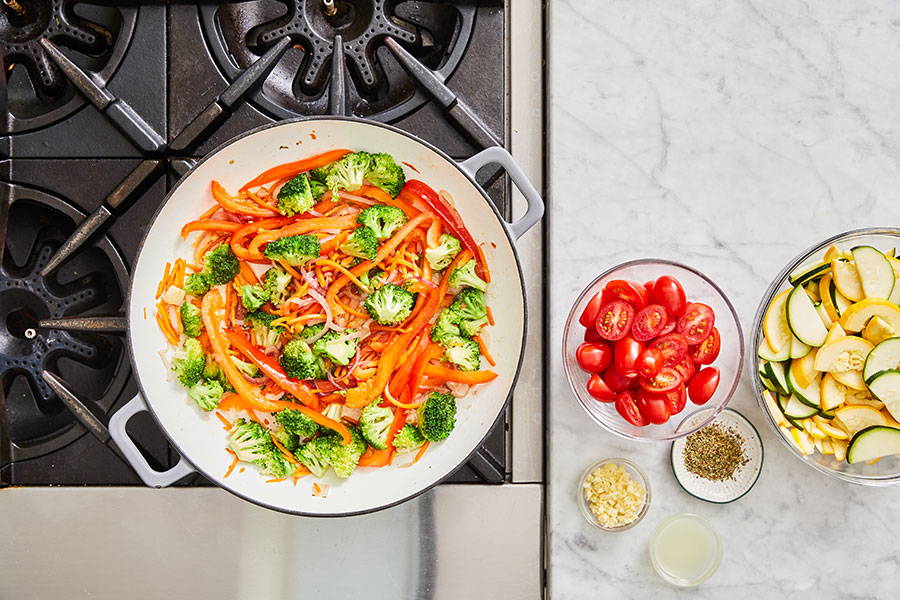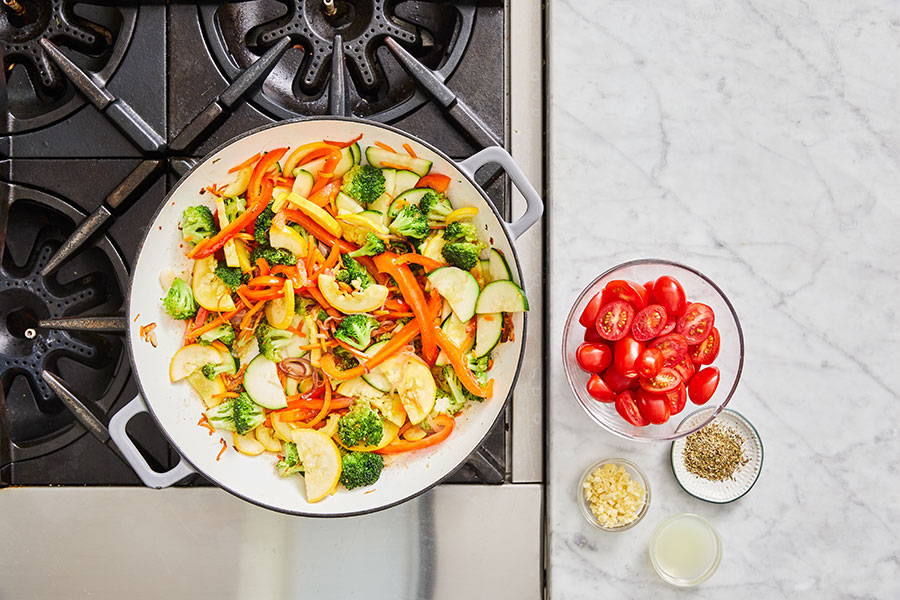 3. Finish the sauce.

Add tomatoes, garlic and seasonings to the pan. Cook together to marry flavors.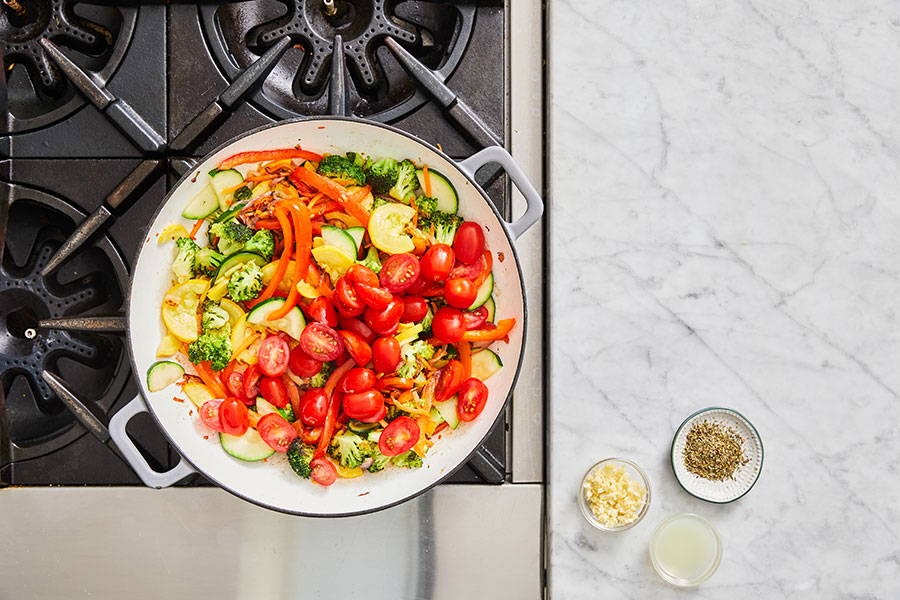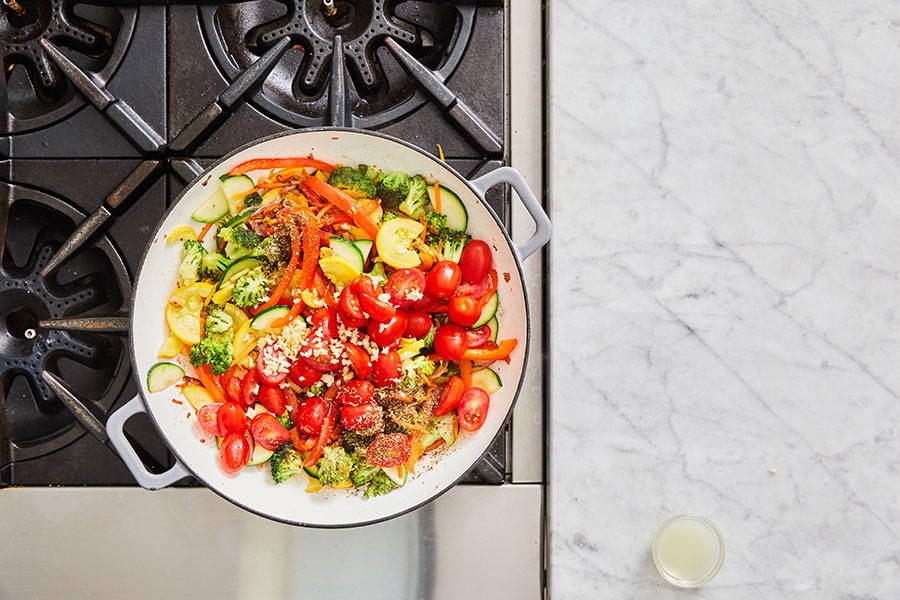 4. Add the pasta.

Stir in the pasta and cook together. Season with salt, pepper (to taste) and lemon juice. Stir in a little of the pasta water a time until your sauce becomes just the right amount of creamy.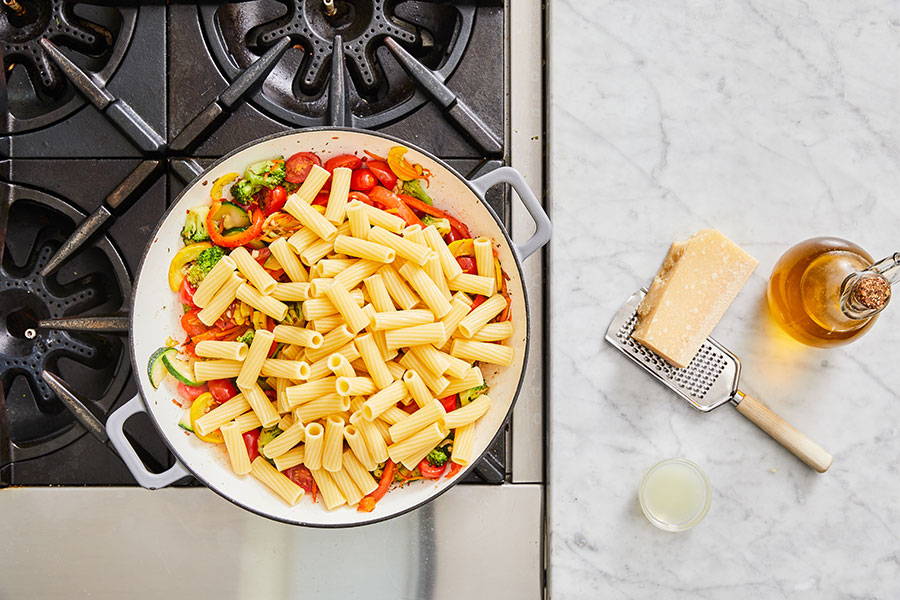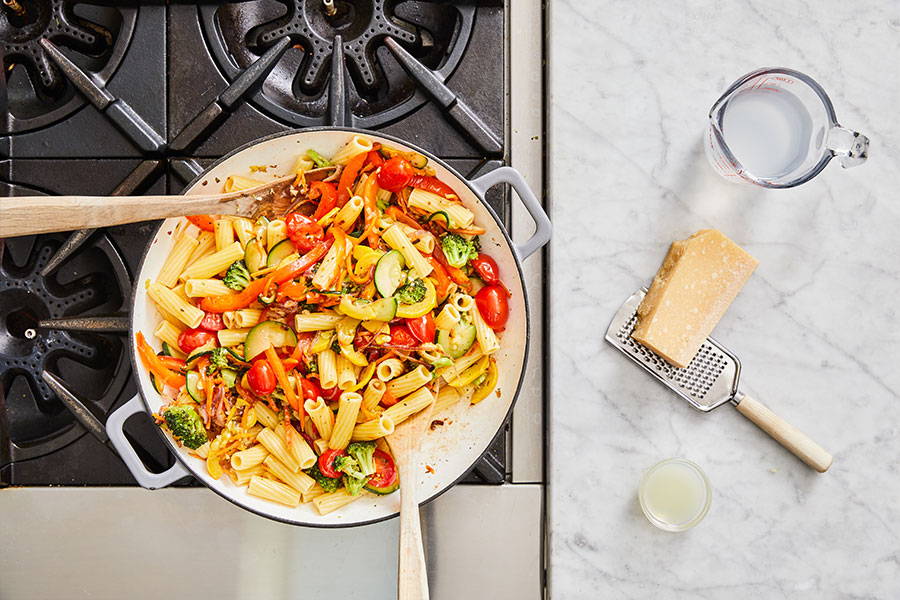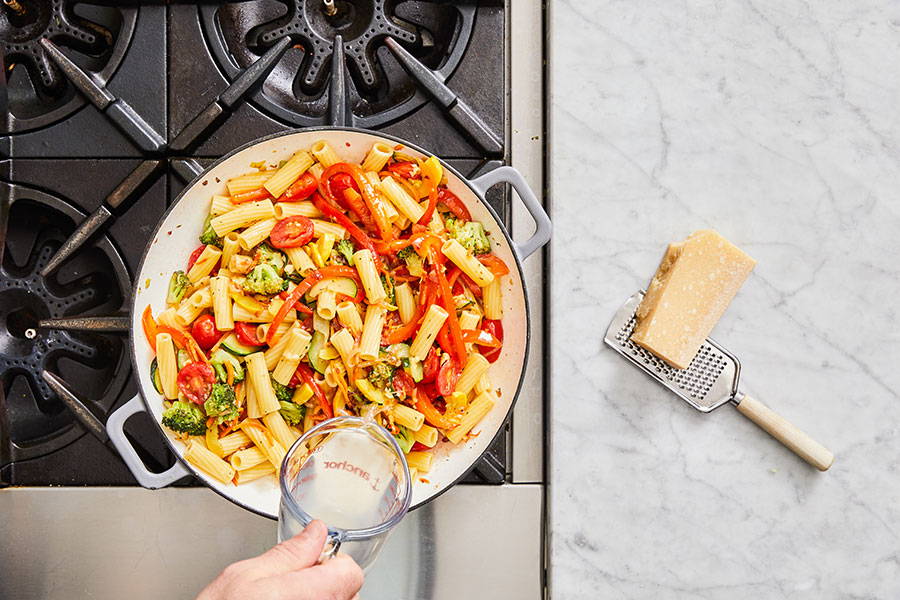 5. Serve.
Sprinkle with Parmesan cheese and fresh chopped parsley. Serve!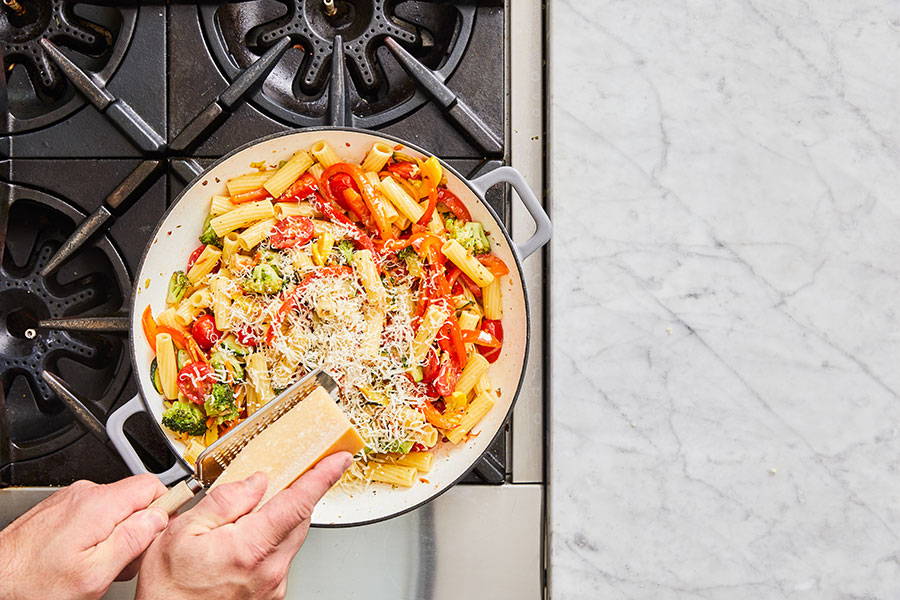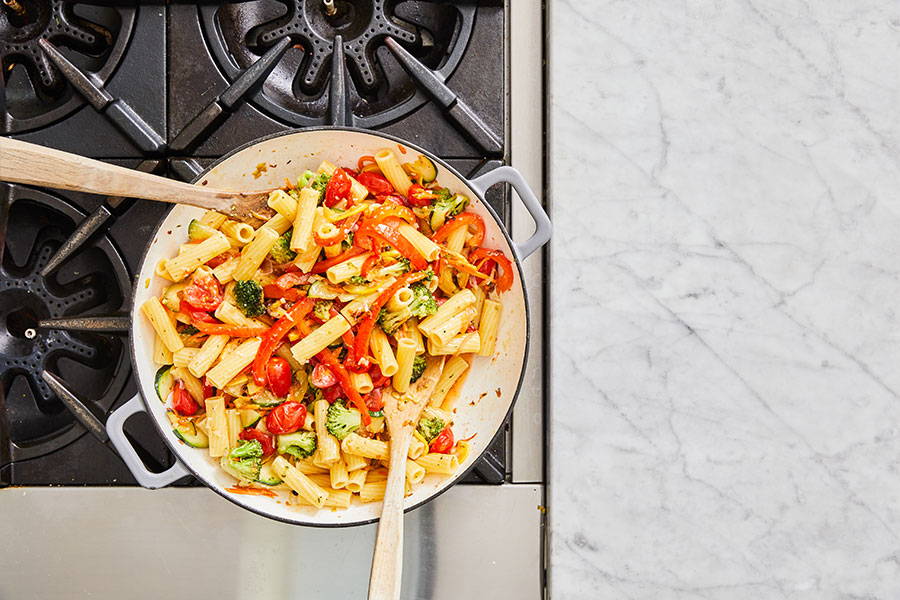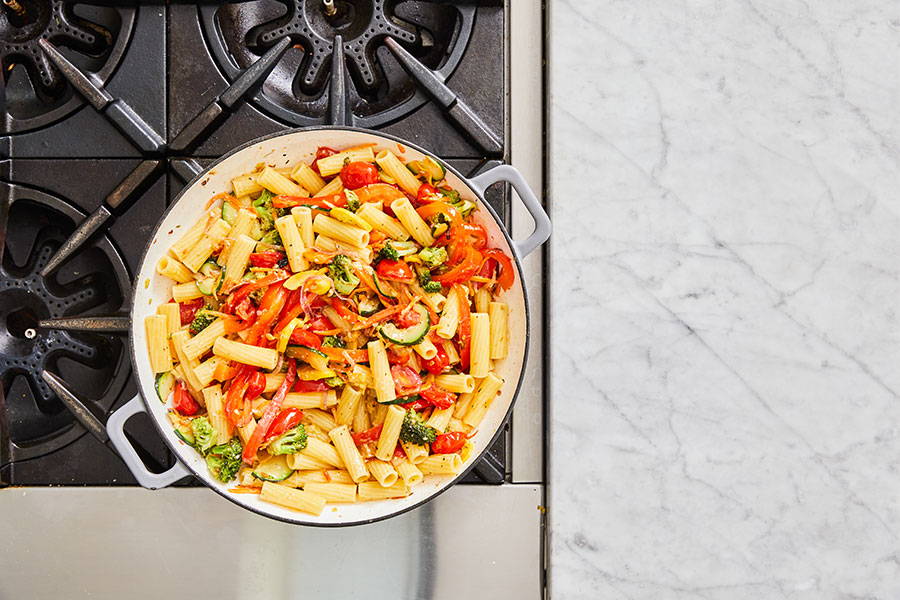 Best Pasta Cuts For Primavera
You can use nearly any type of pasta for your Pasta Primavera. Typically we use Penne Pasta, sometimes referred to as Penne Primavera. Here are some of our suggestions:
Penne

Tortiglioni

Penne Ziti

Spaghetti

Rigatoni

Farfalle, or Bow Tie Pasta
Store leftovers in the refrigerator in an airtight container for up to 4 days. We do not recommend freezing this dish, as the texture of the vegetables will become quite mushy.
Reheat leftovers on the stovetop over a low temperature. Add a little water, if needed.
Cooking Tips
Always salt your pasta cooking water.

Be sure to cook pasta for al dente texture. Mushy noodles will not stand up to the chunky nature of this pasta dish.

Cook vegetables until they just soften. Don't overcook them.

More cheese, please! Be generous with the Parmesan.
Substitutions and Additions

Add a protein. Pasta Primavera is a great foundation for a rotisserie chicken, grilled chicken breasts or sautéed shrimp.
Choose your favorite vegetables. This Pasta Primavera recipe can be adapted to include any number of fresh vegetables: squash, broccoli, snap peas, carrots, green beans, asparagus, Brussels sprouts—to name a few.
Sauce variations. For a richer, creamier sauce, try an Alfredo-style cheese sauce. To up the herbaceous flavor of this Primavera recipe, add some Basil Pesto Sauce.
Where Does Pasta Primavera Come From?
The story is that Pasta Primavera was created in the 1970s in New York City. Soon after it was served, the New York Times did a piece on it. This helped it rise to popularity and become the vegetable pasta we know and love today—with many variations along the way.
Is Primavera A White Sauce?
This Pasta Primavera recipe does not include heavy cream or butter and so it would not be considered a "white sauce." The creaminess of this recipe is due to the addition of starchy pasta water and final sprinkling of Parmesan cheese. Some Pasta Primavera recipes include cream, butter, cream cheese, etc., and so, may be considered a white sauce.
Is Pasta Primavera Healthy?
Pasta Primavera can be considered a healthy dish, depending on how it is prepared. This recipe does not include any heavy cream or butter, which makes it a great choice for a healthy pasta dish. Extra virgin olive oil is a key part of the Mediterranean diet, loaded with antioxidants and "good" fats. You can make this pasta dish with Whole-Wheat Pasta to up its nutritional value.
Is Pasta Primavera Vegan?
Some Pasta Primavera dishes can be vegan. It depends on the variation. To create a vegan Pasta Primavera dish, skip the Parmesan cheese in this recipe.
Is Pasta Primavera Served Hot Or Cold?
Pasta Primavera is a hot pasta dish that is served hot.
Can I Make This Dish Ahead Of Time?
Yes, you can make Pasta Primavera ahead of time, though we do not recommend making the sauce ahead of time. Refrigerating and reheating this sauce will change the taste and especially the texture of the pasta dish. The vegetables are likely to become mushy.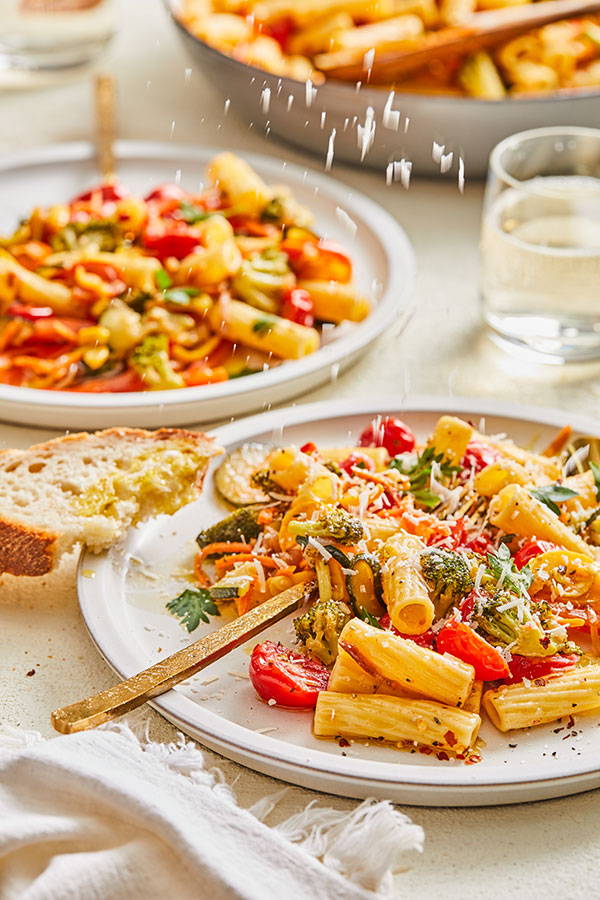 The Best Authentic Pasta Primavera
Ingredients
1 (1-pound) package

DeLallo Tortiglioni

,

Penne Rigate

or

Farfalle

½ red onion, diced

1 ½ cups matchstick carrots

2 cups small broccoli florets

1 red bell pepper, sliced into strips

1 yellow squash, sliced into quarters

1 zucchini, sliced into quarters

4 cloves garlic, minced

1 cup grape tomatoes, halved

2 teaspoons Italian herb seasoning

Salt and pepper to taste

Freshly chopped parsley
Bring a large pot of salted water to a boil. Cook pasta according to package instructions for al dente texture. Drain, reserving ½ cup of pasta cooking water.

Meanwhile, heat the oil in a large skillet over medium-high heat. Add the onion and the carrots. Sauté for 2 minutes.

Add the broccoli florets and the bell pepper. Sauté together for 2 minutes. Add the squash and the zucchini. Sauté for an additional 3 to 4 minutes, or until the vegetables soften.

Stir in the tomatoes, the garlic and the seasoning. Cook together for 2 more minutes.

Add the cooked pasta to the skillet with the vegetables. Toss to combine. Add the salt and pepper. Drizzle with lemon juice. Add the pasta water, a little at a time, for the desired consistency.

Serve topped with Parmesan cheese and fresh parsley.
pasta primavera, pasta primavera recipe, primavera pasta, recipe for pasta primavera