4 Ways with a Classic Italian Meal
We're just going to come out and say it: we're in love with beans and greens.
Maybe it's because we're from Pittsburgh, where beans and greens (or Scarola e Fagoli) is a staple dish on every Italian restaurant's menu. Or maybe it's because the dish is hearty and filling and easy to prepare. Or maybe it's that irresistible combination of bitter brothy greens and nutty, tender cannellini beans. We're thinking it's all of the above.
From what we can tell, beans and greens made its way to the States (and to Pittsburgh) from Southern Italy in the late 1800s. This was during the World War I era, so it makes sense that beans and greens would become so popular—a dish featuring few, inexpensive ingredients with a hearty, filling presence. In fact, like other seemingly simple yet hearty Italian dishes (risotto, polenta, etc.)—beans and greens were known as "peasant food," since you could feed a lot inexpensively.
If you've never had beans and greens, you're in for a treat. Traditionally, this savory comfort food is served simply with crusty Italian bread and a sprinkle of Parmigiano-Reggiano, but there's more than one way to enjoy this versatile dish. While you can serve it up as a meal or side on its own, beans and greens make an excellent brothy soup or addition to pasta. Add some protein like crumbled or sliced Italian sausage to take it to the next level. Looking for a Meatless Monday meal? Sub out the chicken broth for a vegetable base. You can decide how spicy and garlicky you like it by adjusting the red pepper flakes and the chopped garlic to your tastes.
We love the classic combination of escarole and cannellini beans—it is, of course, the OG—but you know how we like to switch it up and experiment in the kitchen. Check out some of these tasty variations on the traditional Beans and Greens recipe.
This classic Italian dish features tender, meaty cannellini beans with savory sautéed escarole in a broth flavored with garlic and spicy red pepper flakes. Serve it with crusty Italian bread and a generous sprinkle of Parmigiano-Reggiano cheese.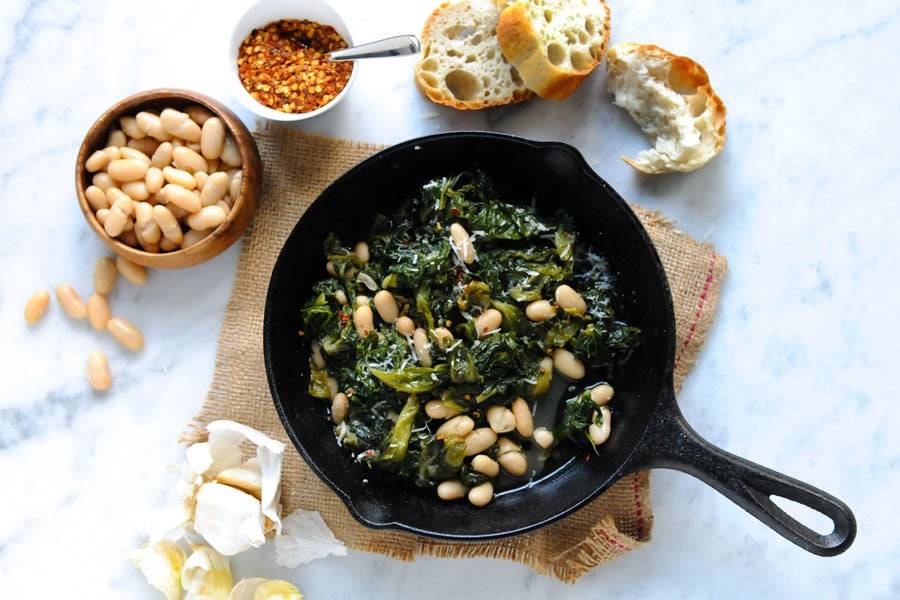 Turn your favorite garlicky greens and white beans into an incredible pasta dish with this colorful recipe. It'll fill you up and impress your dinner guests. (Don't forget the loaf of crusty Italian bread!)
We transform this traditional Italian recipe into a hearty dish with a spicy kick. The combination of garlicky escarole, meaty white beans and spicy Italian sausage is almost too good to be true.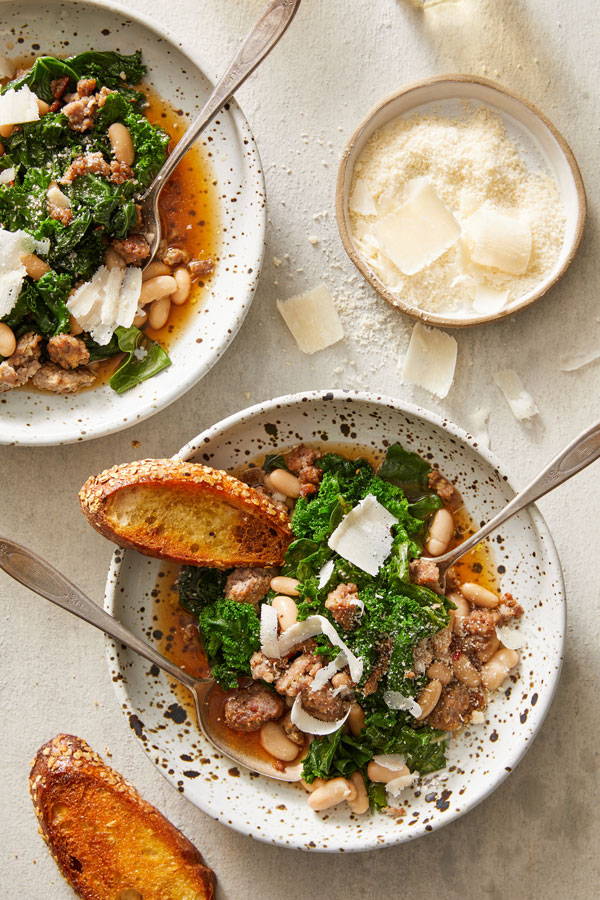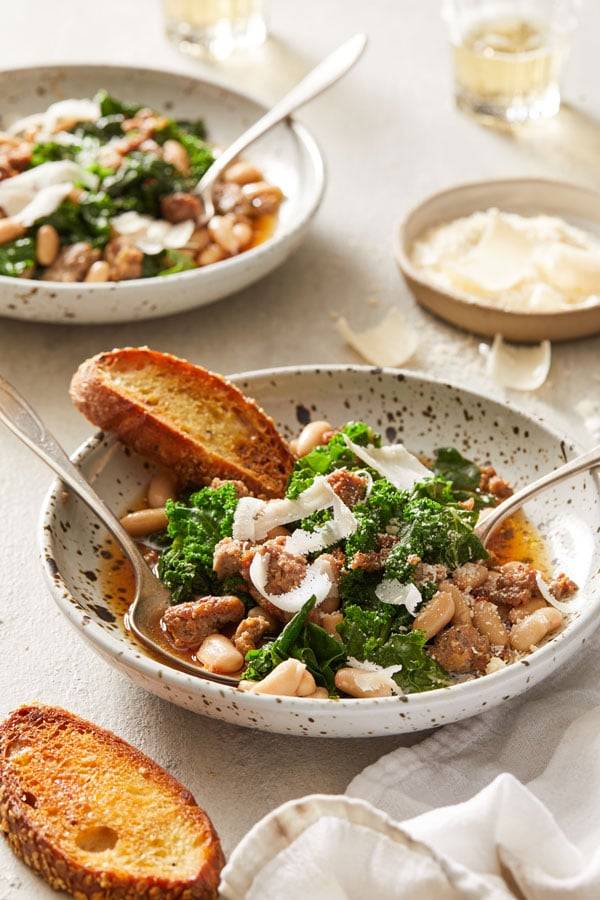 We start with an Italian favorite, beans and greens, and create a hearty and flavorful pasta dish featuring hot Italian sausage, tomato passata, sautéed greens and our twisted Tortiglioni pasta. Make it your go-to weeknight pasta dish.