Shop Our Pasta Collection

AUTHENTIC ITALIAN PASTA

Shop Our Pasta Collection




AUTHENTIC ITALIAN PASTA



WE DRY OUR PASTA SLOWLY AT LOW TEMPERATURES
to reproduce the traditional way of making pasta. This method respects the ingredients, preserving the pasta's color, texture and aroma.
COOKS TO THE PERFECT AL DENTE
The perfect al dente bite is achieved when pasta cooks to a tender exterior balanced by a firm bite with a fleck of white at its core.
Pasta Tips, Tricks and Recipe Information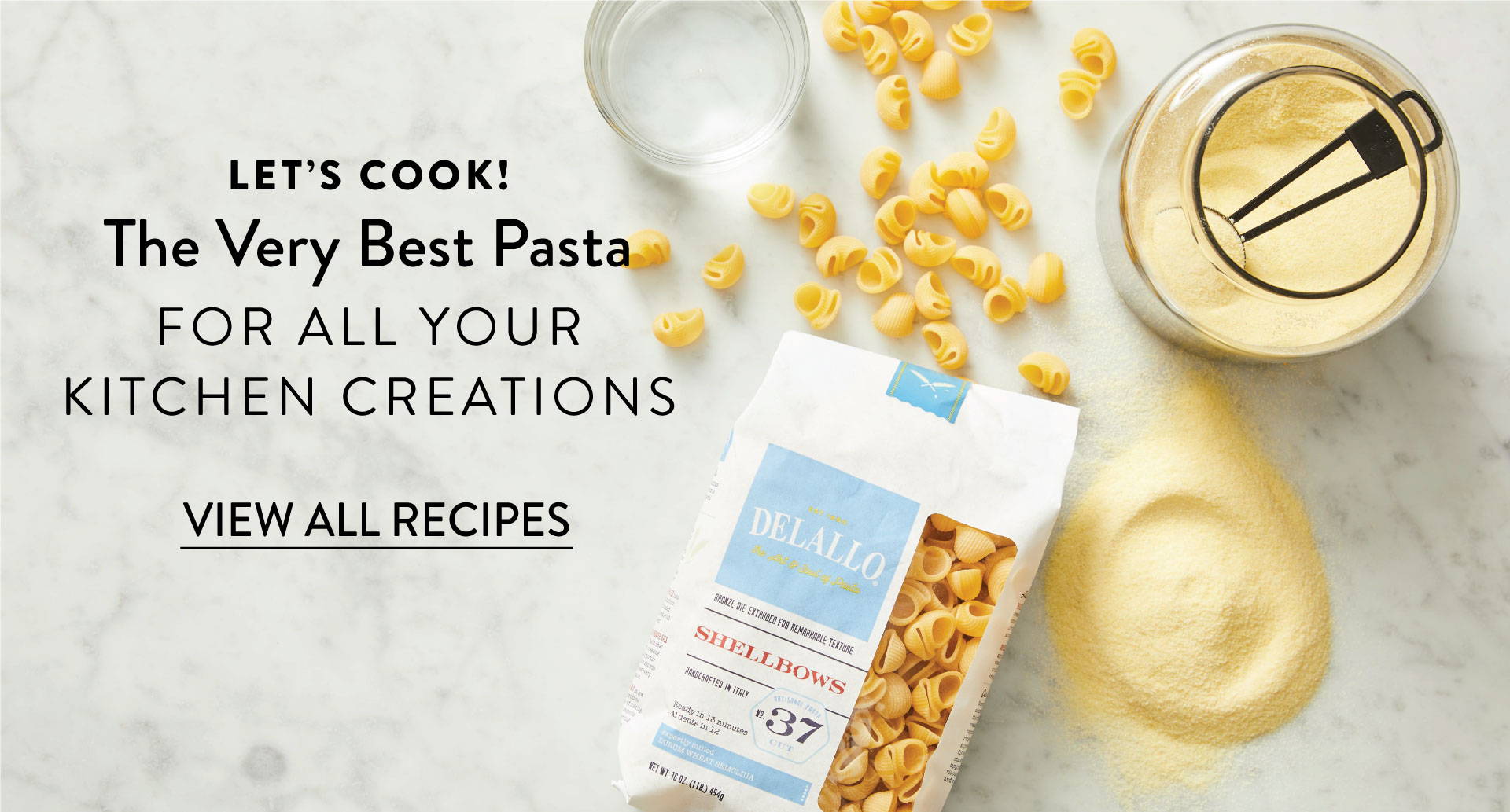 Pasta Tips, Tricks and Recipe Information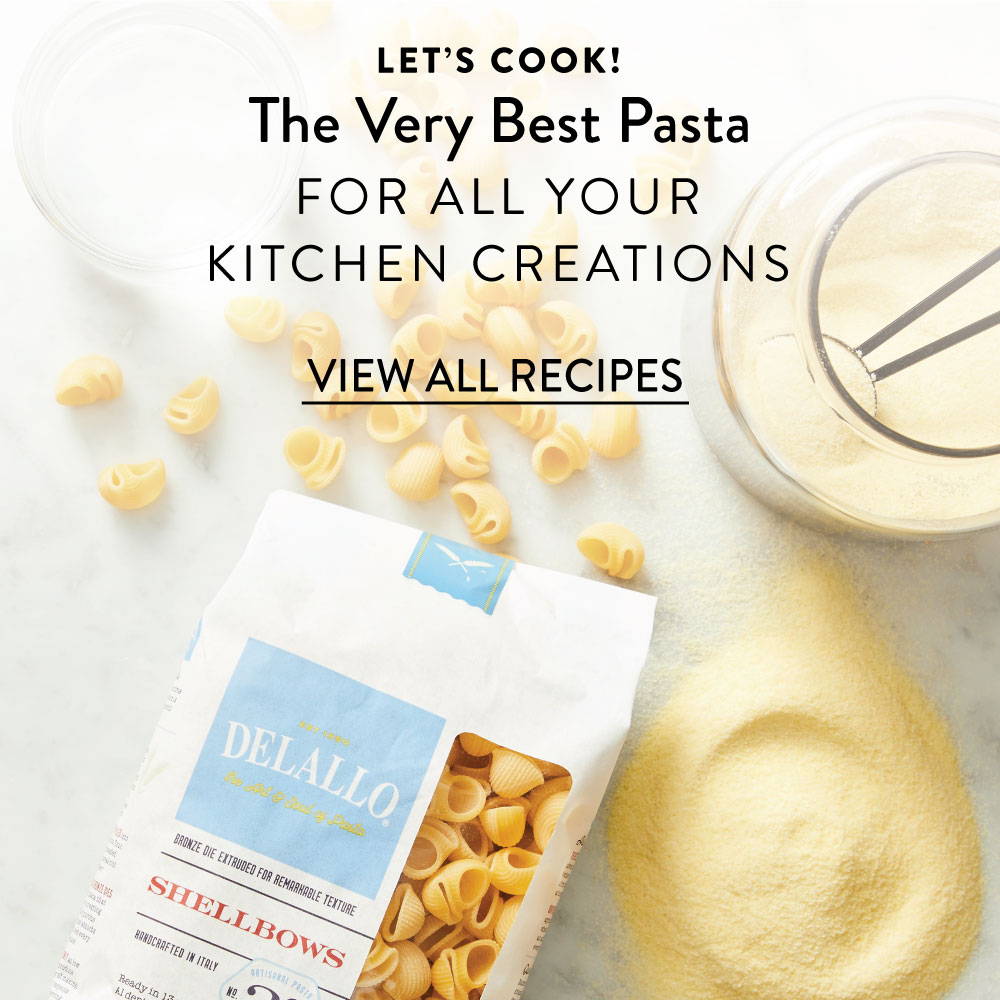 Pasta Tips, Tricks and Recipe Information
---
More Than Just A Pantry Staple

Great Italian pasta is essential to life. From comfort food classics like mac and cheese to that iconic plate of spaghetti and meatballs, pasta is a versatile ingredient that is always in-season. With artisanal methods and generations of pasta-making experience, we bring the best of Italian pasta to your plate with a variety and shape for every pasta recipe. Best of all, our pasta is made true to tradition with simply wheat and water—never enriched flours, preservatives or dyes.
The Best Pasta Brand In The Country

For an authentic Italian pasta unmatched in taste, texture and presentation, look no further than the DeLallo name. To start, DeLallo Pasta comes from the birthplace of pasta, a region just south of Naples, in the Campania region. It is produced in one of the oldest pastaficios in Italy, in fact, with origins that date back to 1795.
DeLallo Pasta is made simply, true to tradition, with the highest quality ingredients and artisanal pasta-making methods. Our pasta begins as superior durum wheat, which is expertly milled and then combined with natural spring water. Artisanal bronze dies are used to extrude the pasta dough, giving it a rougher surface texture perfect for capturing sauces. The last step is slow drying at low temperatures. This ensures the pasta retains its flavor, texture and nutrients.
A Complete Guide - Choosing Pasta Shapes For Your Sauce

Did you know the many ways in which pasta is shaped determines how well it will work in your pasta dishes? From the hollow elbows of your favorite mac and cheese recipe to the long ribbons of the classic fettuccine alfredo, each cut of pasta has its ideal sauce pairing. Find out how to best showcase your pasta shapes in our guide, How To: Choose the Right Pasta Cut.
DeLallo Pasta: FAQ

What are the 5 pasta types?
Short cuts, like Rigatoni or Gemelli, include tubular shapes and twists ready to capture chunky sauces and small ingredients. Long cuts, like spaghetti and fettuccine, are perfect for soaking up olive oil and smooth tomato sauces. Pastina, otherwise known as soup cuts, are the tiniest pasta. Think Orzo or Ditalini. These small but mighty pasta cuts are famous for their role in broth-based soups like Italian Wedding Soup and Pasta Fagioli. Ravioli and Tortellini are great examples of stuffed pasta, or pasta that has been pinched around a flavorful filling. The last category of pasta are special shapes that include wildcards like lasagna and gnocchi.
How can I tell if pasta is high quality?
There are a couple of ways that you can tell if your pasta is of superior quality. First, check out the label to be sure it's made in Italy. Italy is the birthplace of pasta but it is also home to the most producers and consumers of pasta. Next, scan the ingredient list. It should be a relatively short one that includes durum wheat semolina—the best wheat for pasta-making. Be wary of any additives or preservatives. Look for a rougher surface texture that appears almost sandy, not shiny. This means the pasta was extruded with artisanal bronze dies and not heated Teflon, which will produce pasta faster but zap it of its flavors and cook-up texture. Pasta should be slowly dried at low temperatures. Another artisanal method that helps pasta retain its flavors, nutrients and beloved al dente texture.
What is real pasta made from?
The importance of flour in pasta-making cannot be overlooked. Semolina made from coarsely ground durum wheat is the idea, as in DeLallo Pasta. This semolina is chosen for its specifications to include a high gluten index along with its gluten and protein content. These factors determine its sturdiness, aroma and how well it cooks up.
What is the general rule in cooking pasta?
Cooking pasta isn't an exact science. While there are many factors that go into it, there are a few solid helpful tips to keep in mind. In our article, How To: Cook Perfect Pasta, we give you everything you need to know about cooking up the perfect al dente pasta.