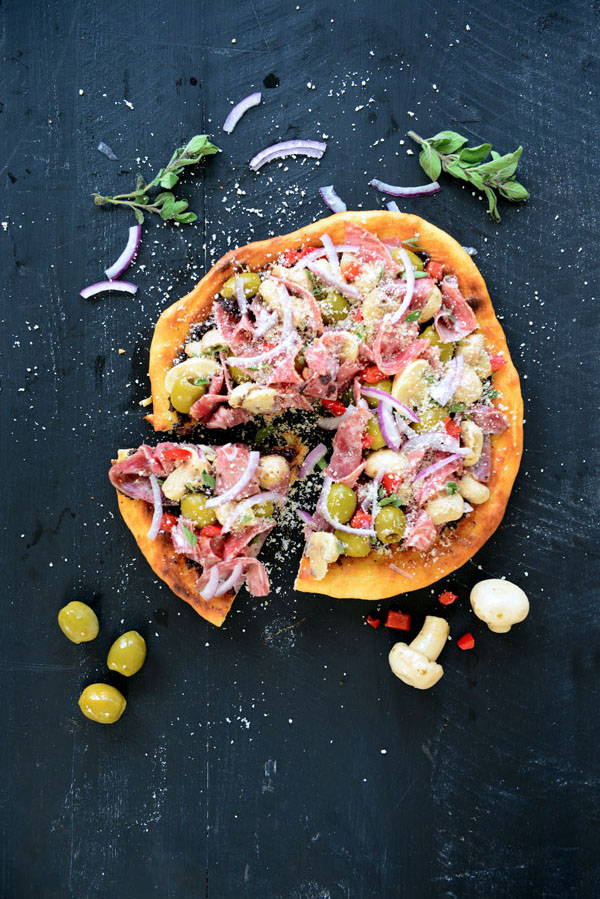 Antipasto Pizza
Need a little pizza inspiration? Try Antipasto Pizza! There's always time for a classic cheese or pepperoni pizza, but sometimes, we want a little more out of our pizza night recipe. Create an easy from-scratch dough using our DeLallo Italian Pizza Dough Kit, then visit your local deli's Olive & Antipasto Bar for some superstar Mediterranean toppings. More than just before-meal bites, Antipasto Pizzas are marinated goodies offer bold, briny, zesty, sharp, fiery, tangy, tart flavors ready to jazz up your kitchen creations—especially your homemade pizza pies. The olive bar is the perfect opportunity to explore new flavors and discover new flavor combinations.
INGREDIENTS
DIRECTIONS
Combine flour mix and yeast packet in a large mixing bowl with 1 1/4 cups lukewarm water. Stir with a fork until dough begins to form.
Knead by hand for 3 minutes, or until dough is soft and smooth. Transfer to a clean, lightly oiled bowl and cover tightly with plastic wrap. Allow the dough to rise in a warm place until doubled, about 45 minutes. (After this step, you can refrigerate for use within 1-3 days.)
Preheat oven to 450˚F. Cut dough in half and roll out into 2 circles on a floured surface. Using a fork, poke small holes into dough and brush oil on each surface.
Bake in oven 10-12 minutes until dough is golden brown. Remove from oven and cool for 15 minutes.
Evenly spread olive tapenade on cooked pizza crust.
Layer pizza with mushrooms, olives and salami.
Top with red onion and sprinkle with oregano and grated cheese.
Slice and serve.