Baked Chicken Meatballs With Creamy Parmesan Orzo
Looking for a new pasta night hit? This chicken meatballs with orzo recipe is everything you've been dreaming of… herbaceous homemade chicken meatballs and lovable orzo pasta in an irresistible Parmesan cream sauce. Sometimes you want something more than that predictable plate of spaghetti and meatballs.
What you may not realize is that you can enjoy a from-scratch pasta dinner on even the busiest weeknight. This chicken meatballs with orzo recipe is a quick and easy meal that your whole family is going to request again and again. Served in a creamy, buttery Parmesan sauce with your favorite tiny cut of pasta, orzo, these herbaceous chicken meatballs are super easy to make, yet BIG on flavor.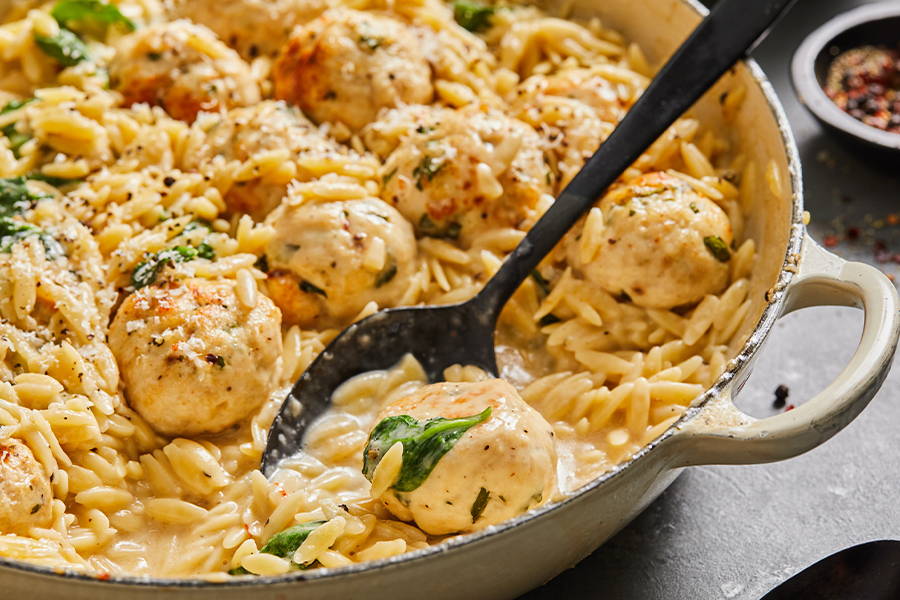 What Is Chicken Meatballs With Orzo?
Chicken meatballs with orzo is a satisfying pasta dish starring the famously small, but mighty orzo pasta. The herbaceous chicken meatballs are made with ground chicken, Pecorino Romano cheese and fresh herbs. All is dressed in a dazzling, buttery Parmesan cream sauce for an incredibly filling, hearty pasta dinner in under an hour—start to finish.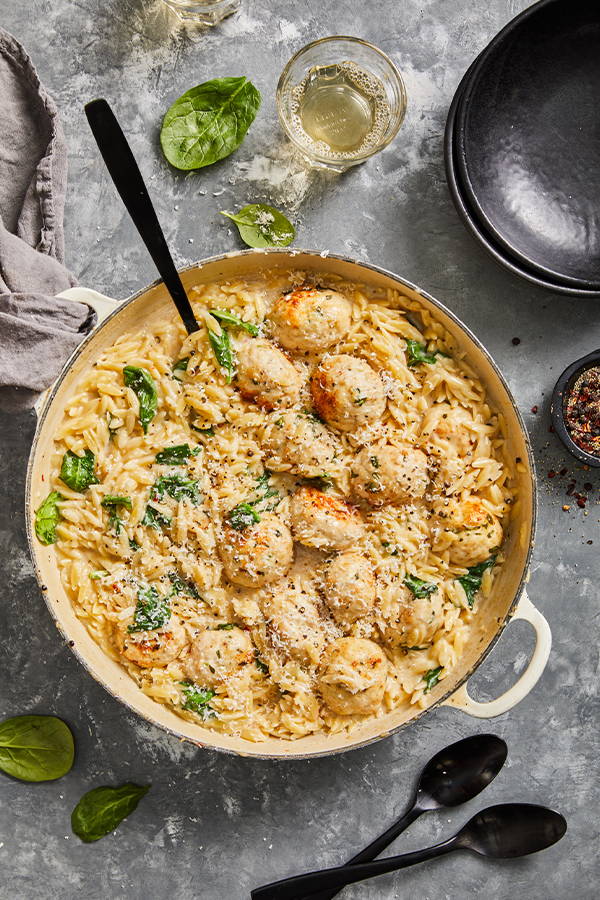 Why You'll Love This Chicken Meatballs With Orzo Recipe
This flavor-packed pasta recipe is hearty enough to feed a crowd but easy enough to serve up on a Wednesday. Homemade meatballs are worth the extra effort, and though these are from-scratch, they take no time at all. The creamy, buttery Parmesan cheese sauce is irresistible and the perfect complement to the herbaceous chicken meatballs. Everyone in the family is going to run to the table for a large bowl of this pasta night creation.
The Ingredients You Will Need To Make Chicken Meatballs With Orzo
Seasoned Breadcrumbs: We use seasoned breadcrumbs for our meatballs. Breadcrumbs add to the soft, tender texture of your meatballs. The extra seasoning is an easy way to add some oomph.
Ground Chicken: You can buy ground chicken at the grocery store or you can grind your own at home. Some prefer ground chicken thighs. The higher fat content will give it a more moist texture.
Pecorino Romano Cheese: Pecorino is a sheep's milk cheese with a pleasantly tangy, sharp, salty flavor perfect for adding some Italian flair to these chicken meatballs. We recommend using less salt in dishes that use a hard Italian cheese like Pecorino or Parmigiano-Reggiano.
Fresh Herbs: Fresh herbs are always preferred. In this chicken meatballs recipe, the herbs really add some powerful flavor.
Pasta: Orzo is a tiny pasta, or pastina, known for its feature in your favorite Italian soups, but more than that, orzo has become an iconic pasta shape that shines in pasta salads, grain bowls, cheesy baked pasta dishes and more. We love orzo in this recipe, but you can totally swap it out for your favorite pasta cut.
Heavy Cream: Creamy pasta sauces are all about strategy
Parmesan Cheese: We love how grated Parmesan cheese melds into the cream to create a beautifully flavorful sauce.
Spinach: Earthy greens add another dimension to this creamy pasta recipe… but also some added nutrients. What's not to love?
How To Make Chicken Meatballs With Orzo
1. Make the meatballs.

Create the chicken meatballs by combining ingredients in a large bowl. Form the mixture into about 15 meatballs. Bake them on a parchment lined baking sheet.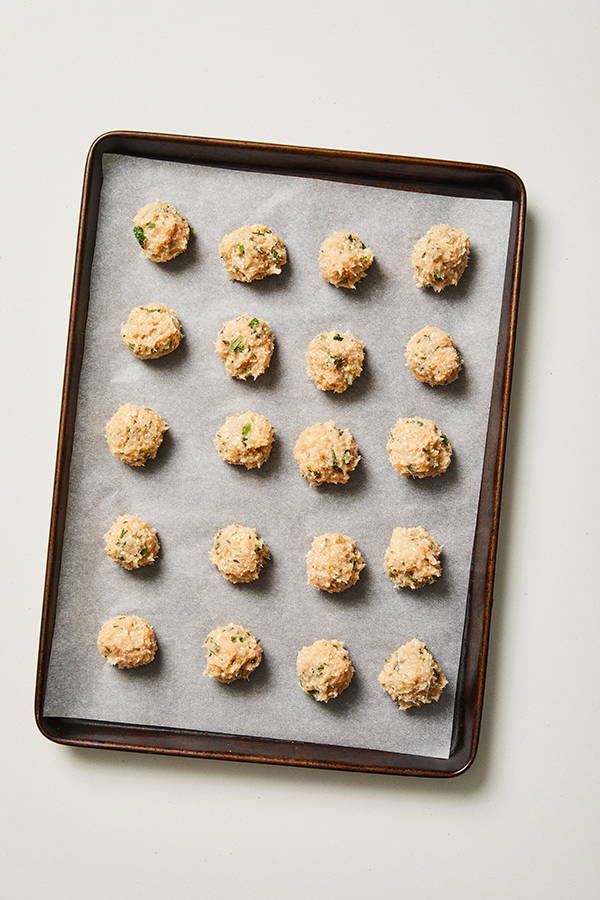 2. Create the pasta.

While the meatballs bake, melt the butter in a large saucepan on the stovetop. Add the shallots. Once the shallots become soft, add the orzo and white wine. Once simmering, add the chicken stock and bring back to a simmer.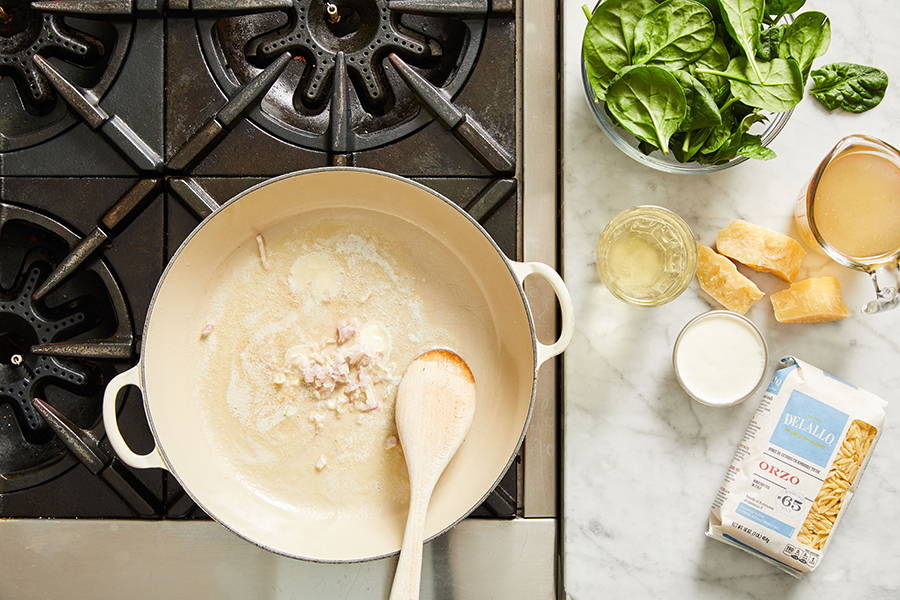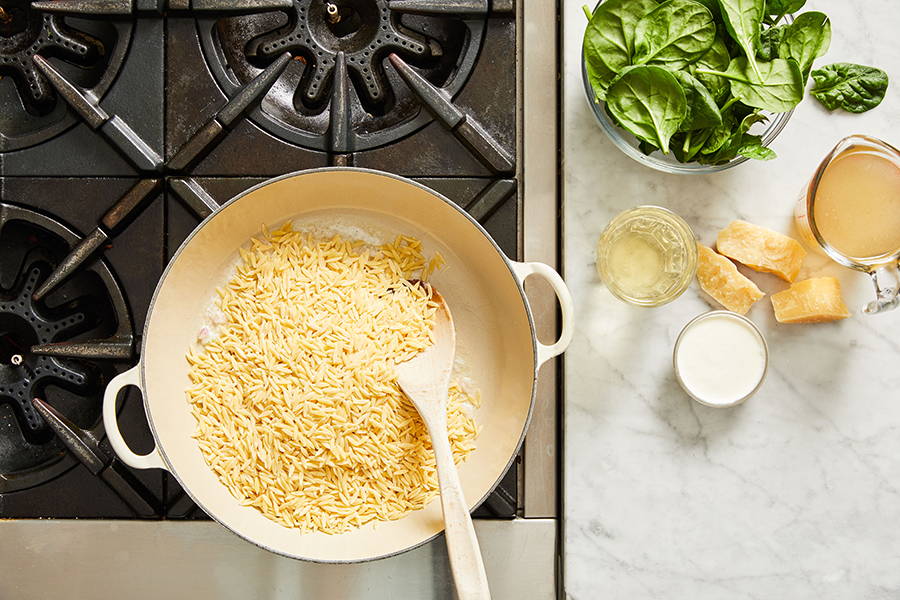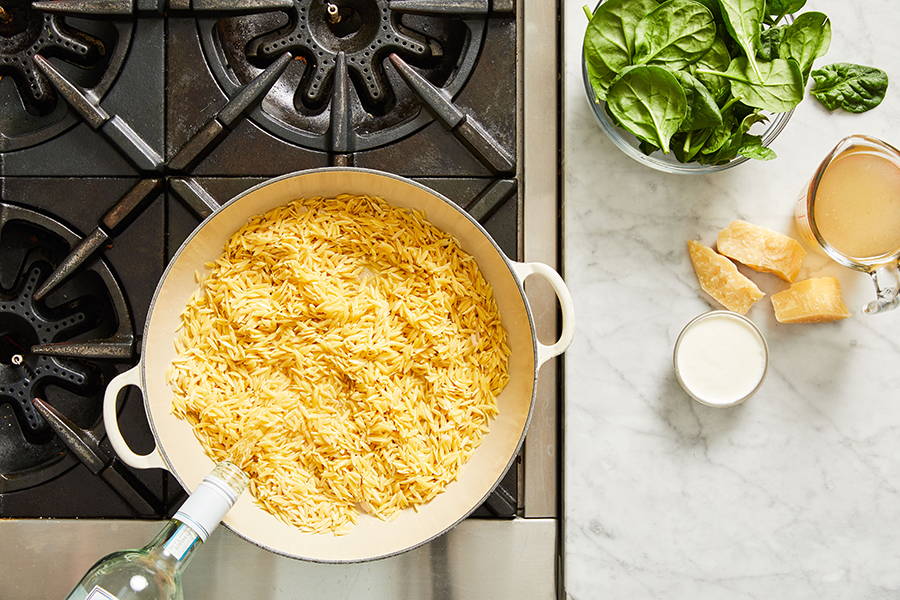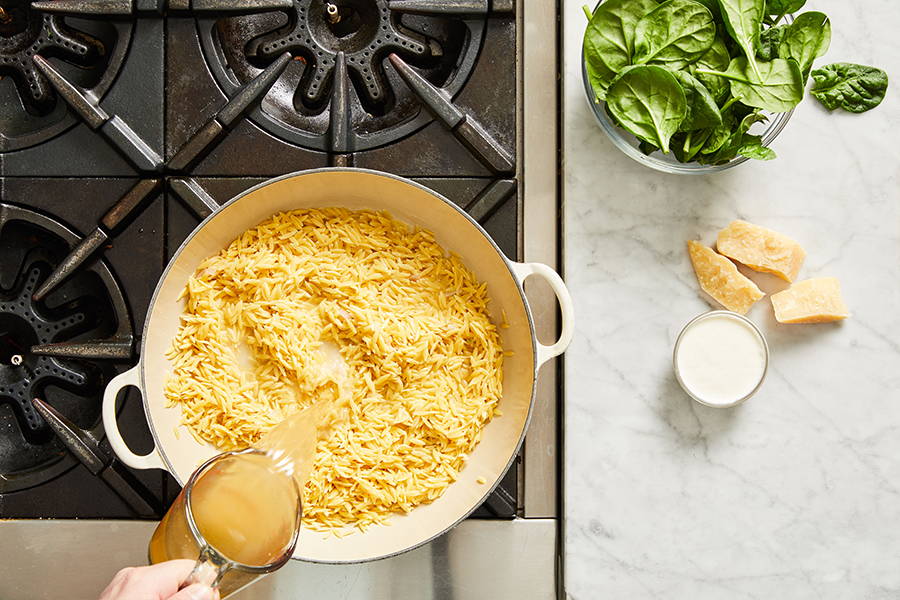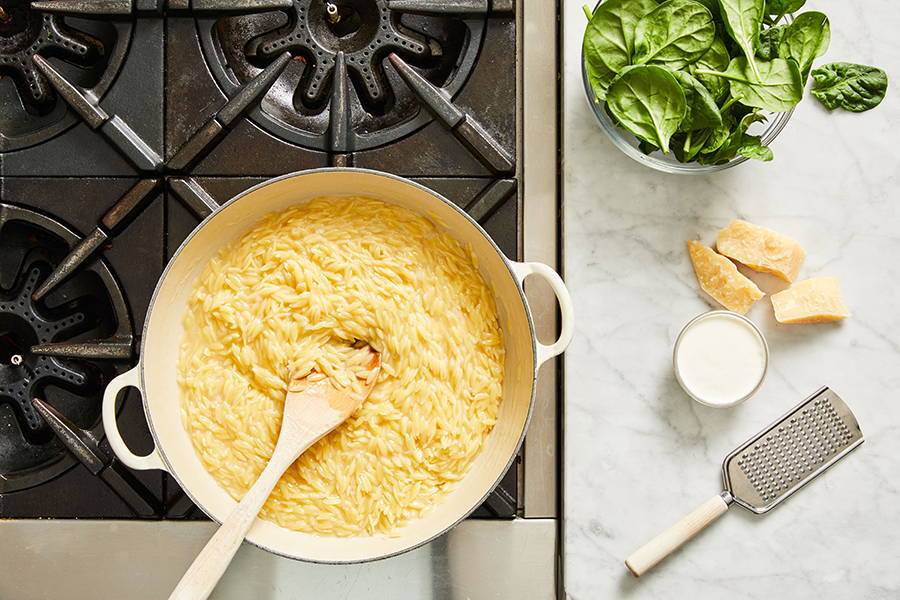 3. Make it creamy.

Stir in the cream and Parmesan. Continue to simmer. Add the spinach and cook until wilted.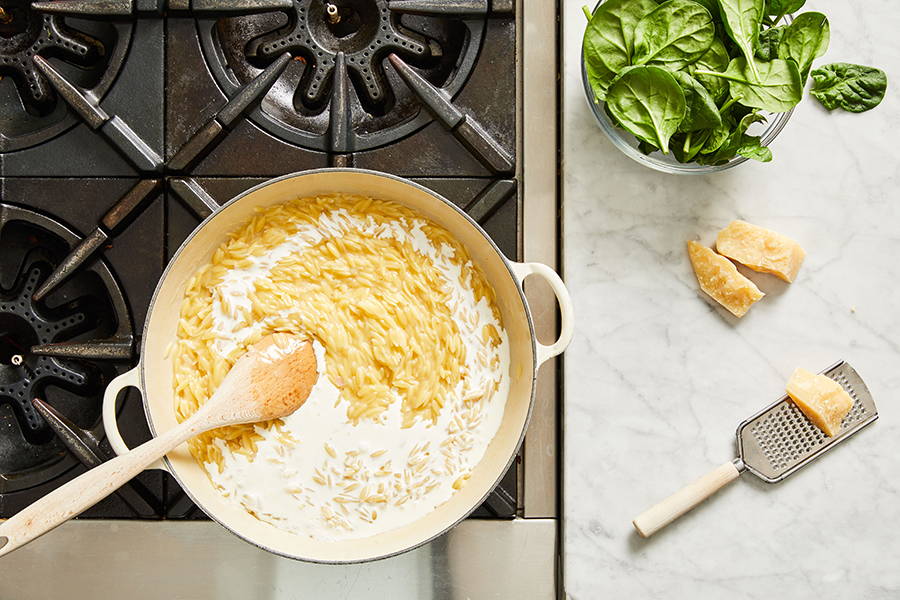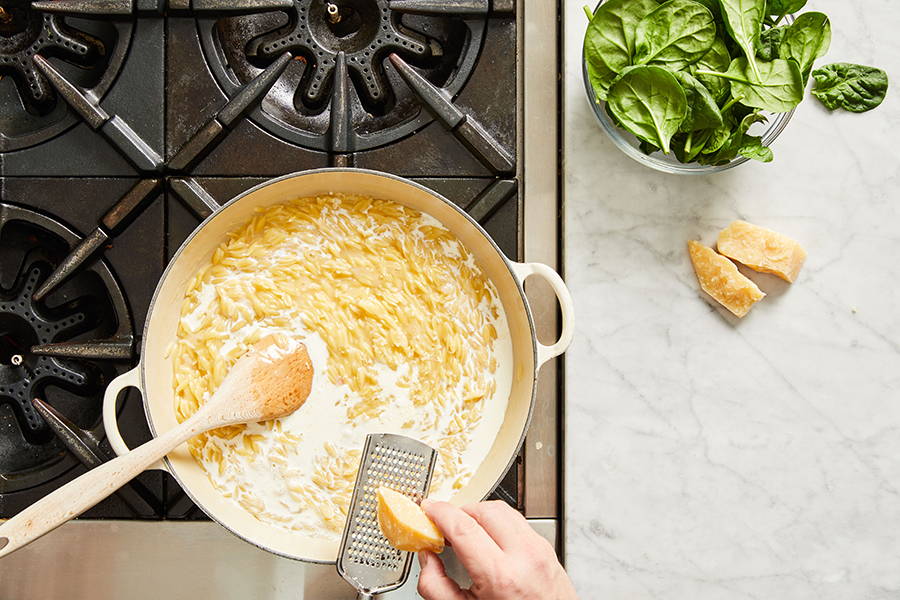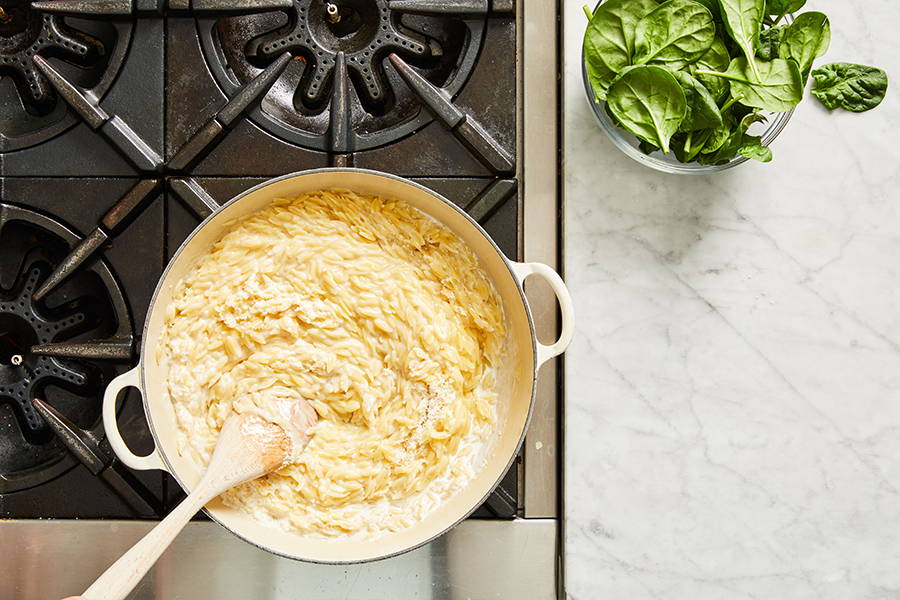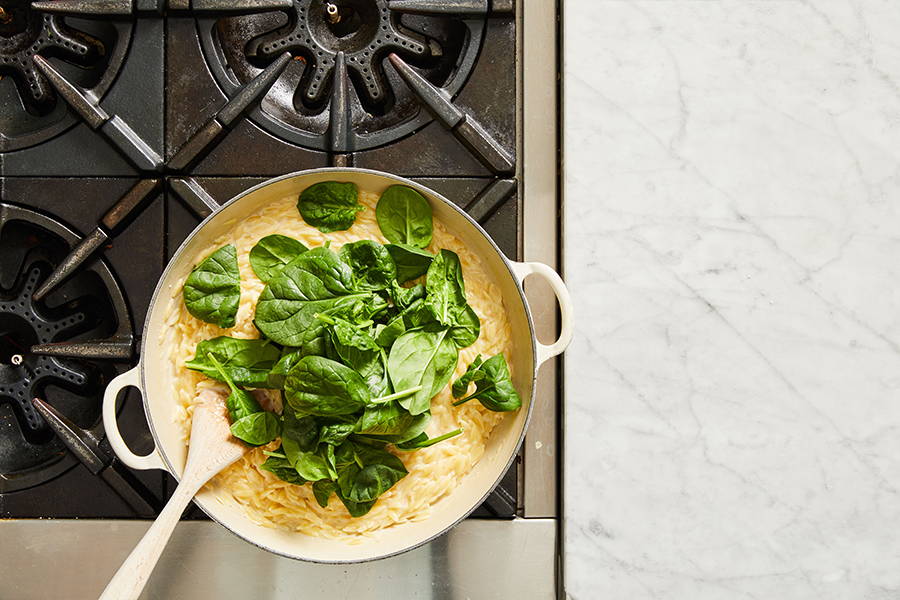 4. Finish the dish.

Once the spinach is wilted, add the chicken meatballs to the pan. Sprinkle with black pepper and more Parmesan. Serve immediately.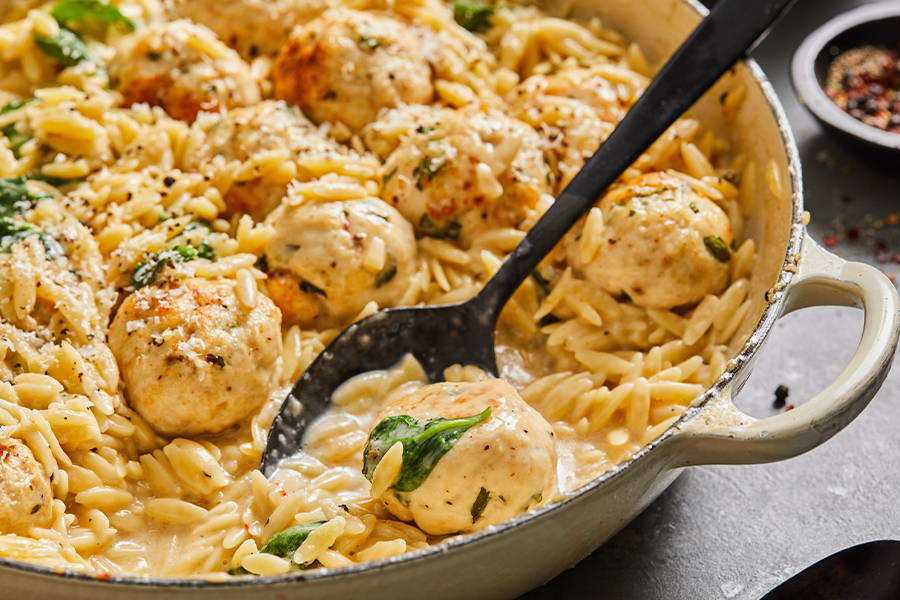 Watch how easy it is to make!
Use a scoop or spoon to measure out chicken meatballs so that you get identically sized meatballs. This way, they will all cook up at the same speed.
Don't overdo the handling of the meatballs. Too much time taken to form them will result in tough meatballs.
Store leftovers in an airtight container in the refrigerator for up to 3 days. Reheat on the stovetop over a low heat. Add a splash of water or milk to prevent it from drying out.
We don't recommend storing cream sauces in the freezer, however, as they often separate upon thawing and reheating.
What To Serve With Chicken Meatballs With Orzo
If you're feeling a classic pasta night, serve this dish of chicken meatballs with orzo alongside a fresh garden salad or roasted veggies and toasty garlic bread. We love this dish with roasted veggies.
Chicken Meatballs With Orzo: FAQ
Are Chicken Meatballs Healthy?
Ground chicken is high in protein, but low in saturated fat. In some cases, you can choose the percentage of fat content. We recommend no higher than 93% lean.
Can I Use Ground Turkey Or Ground Beef Instead?
Yes, you can change up the recipe to use ground turkey or ground beef, but we prefer chicken for this recipe.
Can I Use Another Pasta Cut Instead Of Orzo?
Yes, you can use any cut of pasta you like as long as it is a high quality pasta. Try it with a long cut of pasta like fettuccine or spaghetti. Or go for a short cut like penne rigate or fusilli.
How Long Do Leftovers Last?
If you have leftovers, chicken meatballs with orzo can be stored in an airtight container in the refrigerator for up to 3 days.
Can I Make This Dish Ahead Of Time?
We don't recommend making the whole dish ahead of time, but you can make the chicken meatballs ahead of time. Keep them stored in the refrigerator in an airtight container for up to 24 hours ahead of time. Cooked meatballs can be cooled and then packed up and frozen in an airtight freezer container.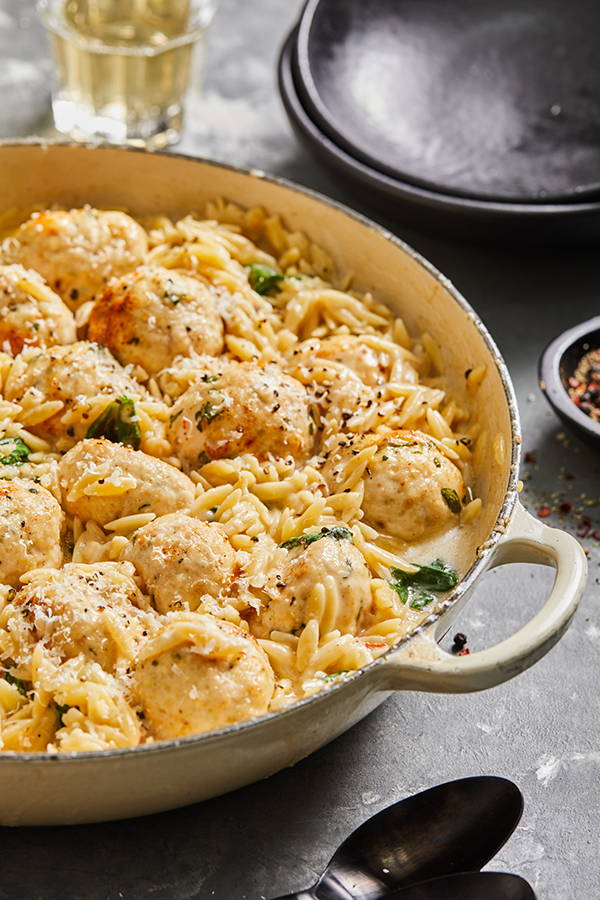 Baked Chicken Meatballs With Creamy Parmesan Orzo

Ingredients
Herby Meatballs:
Creamy Orzo:
2 tablespoons butter

1 shallot, thinly sliced

1 cup dry

DeLallo Orzo

1 cup dry white wine

1 ½ cups chicken stock

⅓ cup heavy cream

¼ cup

grated Parmesan cheese

, plus more for serving

2 cups fresh spinach

Freshly cracked black pepper
Preheat the oven to 450°F. Line a sheet pan with a piece of lightly oiled parchment paper.




To create the chicken meatballs, combine the breadcrumbs, ground chicken, egg, Pecorino Romano, garlic, sage, parsley, thyme and salt in a large bowl. Mix until incorporated.




Form the mixture into approximately 15-16 (2-ounce) meatballs, packing them tightly. Place them onto the prepared sheet pan. Drizzle with olive oil. Place them on the top rack and bake for 25-30 minutes, until golden and cooked through completely.




Meanwhile, melt the butter in a large saucepan over medium heat. Once melted, add the shallots and season with a pinch of salt. Cook for 2 minutes.




Stir in the orzo pasta. Pour in the white wine and bring to a simmer. Cook for 2 minutes. Stir in the chicken stock. Bring back to a simmer, and then, reduce the heat to medium-low. Cook for 6 more minutes, stirring often.




Stir in the heavy cream and Parmesan cheese. Bring to a simmer to allow the cheese to melt. Add the spinach. Cook until wilted. Season with salt to taste.




Add the cooked chicken meatballs. Serve sprinkled with freshly cracked black pepper and more grated Parmesan.
chicken meatballs with orzo, creamy orzo recipe, baked chicken meatballs, parmesan cream sauce