Chicken Pastina Soup (Brodo Di Pollo Con Pastina)
Chicken Pastina Soup is an Italian tradition ready to warm up you and your family any night of the week—it's that easy! Ready to serve in an hour, this tasty soup recipe features Acini di Pepe pastina and shredded chicken breasts in a chicken stock flavored with onions, carrots and celery. We can't think of a better way to cozy up!
If you love soup as much as we do, then practically every season is soup season. Chicken Pastina Soup is one of our go-to soup recipes especially when feeding a crowd. The small pasta shapes are a fan-favorite with the kids and the big flavors are a win with the grownups. Chicken Pastina soup is one for the recipe box.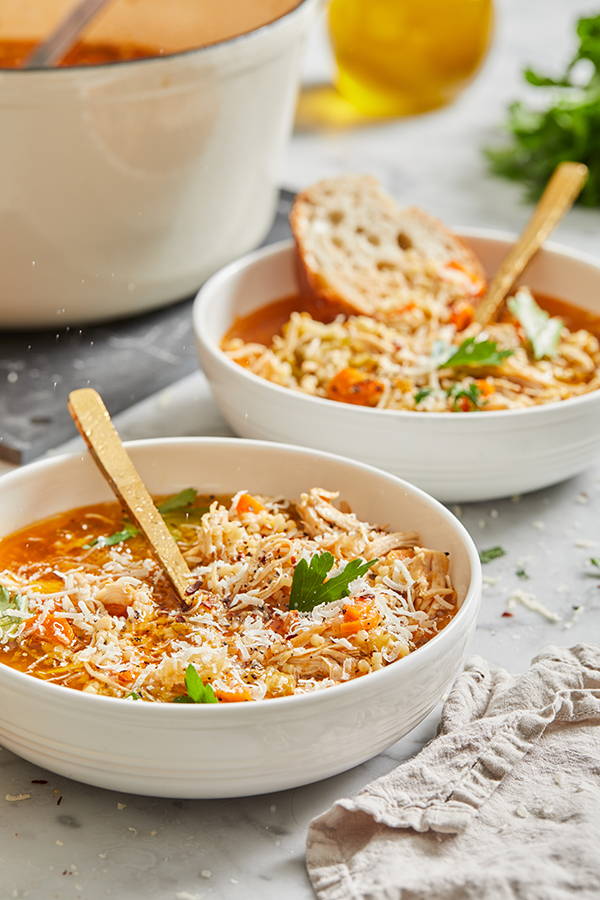 In Italian, pastina means "small pasta." Pastina is a word used to describe small pasta shapes (1-2 mm) in general. This tiny pasta has a soft spot in the hearts of many Italians. Because of its size, pastina is typically served as a kid's first pasta in Italy. Pastina has made its way to the U.S. and is a large part of Italian-American eating, too. Like traditionally sized pasta, pastina is made with durum wheat semolina and sometimes gluten-free and whole-wheat varieties. Cuts such as Stelline, Ditalini and Acini di Pepe are popular in soup recipes, cold pasta salads and colorful side dishes as a substitute for rice.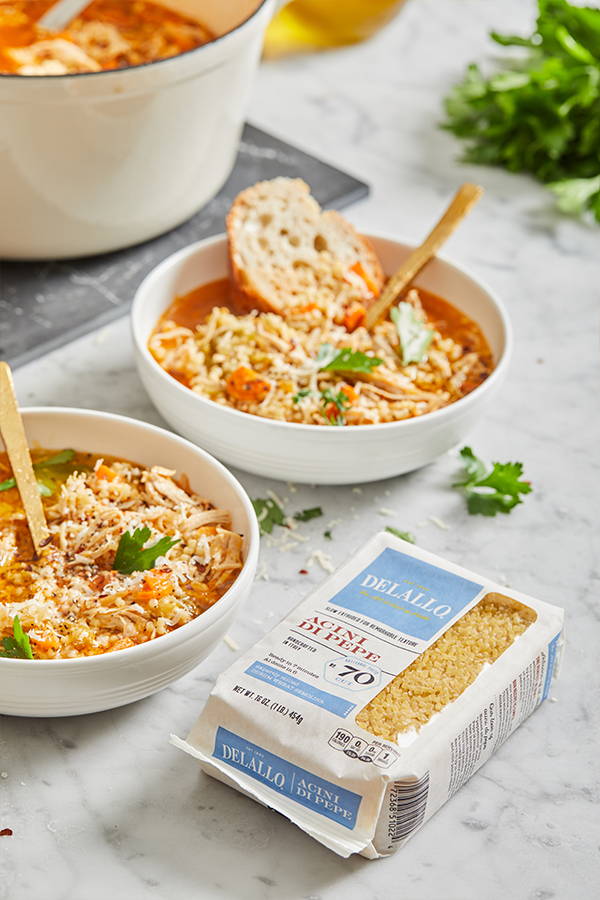 What Is Chicken Pastina Soup?
Chicken Pastina Soup is an Italian soup along the lines of a chicken noodle soup but with some tomato flavor and small pasta shapes—Acini di Pepe, in our recipe—instead of chunkier noodles or pasta. This soup features shredded chicken, chicken stock, extra virgin olive oil, Acini di Pepe pastina, onions, carrots and celery. We top it off with fresh chopped parsley and grated Parmesan cheese.
Why You'll Love This Chicken Pastina Soup Recipe
There are many reasons to love Chicken Pastina Soup. First, soup is a hearty, filling comfort food loaded with chicken, veggies and pastina. It is especially appreciated during the chilly and cold seasons. This homemade soup is also easy to make. Between prep time and cook time, this tasty Italian pastina soup recipe is done in about an hour. Best yet, Chicken Pastina Soup is loved by all—even the younger ones in your crew. The small pasta shapes make this recipe a kid-friendly favorite.
The Ingredients You Will Need To Make Chicken Pastina Soup
Chicken Pastina Soup is a tasty from-scratch soup recipe that includes fresh ingredients as well as common pantry ingredients you may already have on-hand. Here are the key ingredients.
Extra Virgin Olive Oil: We might be biased, but we will always recommend an authentic, high-quality extra virgin olive oil for your recipes. When you put in the time and energy to create a homemade soup, don't ruin it with subpar ingredients.
Chicken Breasts: We recommend boneless, skinless chicken breasts to keep this recipe simple. You can also use rotisserie chicken to add more flavor to your Chicken Pastina Soup. Whichever chicken you use, be sure to shred it well.
Fresh Vegetables: A sauté of these fresh vegetables creates an incredibly flavorful base for this chicken soup. We take for granted how much flavor such seemingly simple veggies can create.
Garlic: Fresh garlic is a powerful herb. Some people like a lot of garlic, but we prefer not to let it overpower our recipes. You can use more or less garlic depending on your tastes.
Tomato Paste: This is the ingredient that really sets this Italian soup recipe apart from a standard chicken noodle soup recipe. The addition of bright, tangy tomato adds a new dimension to this iconic comfort food.
Chicken Stock: We prefer a low sodium chicken stock so that we can control the saltiness of the soup. You can also create your own homemade chicken broth or stock for this recipe.
Acini di Pepe: This recipe calls for this specific pastina, but you can choose any shape. Consider Stelline, Ditalini or any other tiny cut of pasta.
Fresh Parsley: Fresh herbs get added at the end of cook time. They get just enough heat to become fragrant, but not overcooked.
Grated Parmesan: The nutty, sharp, salty flavors of this famous Italian cheese is the perfect way to top off this Italian soup recipe.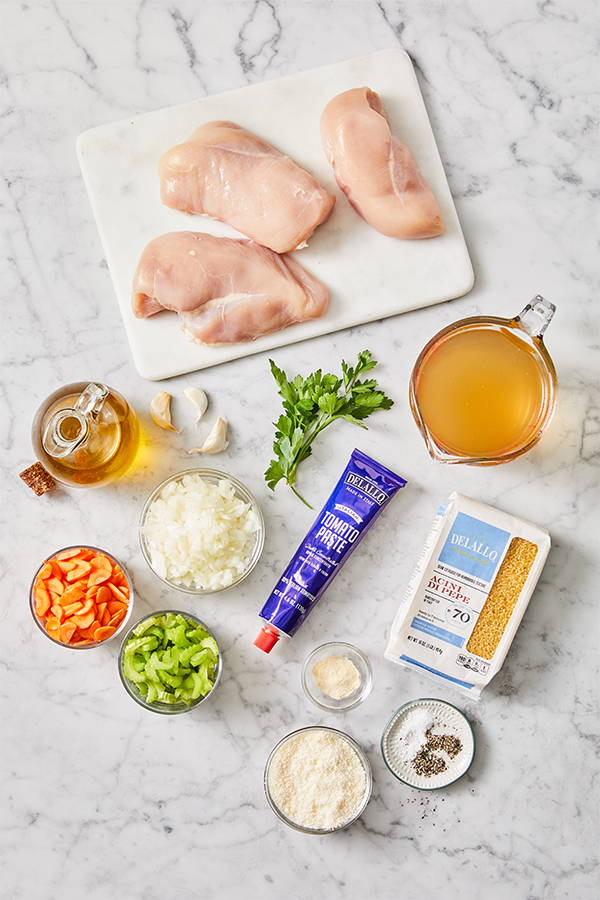 ---
How To Make Chicken Pastina Soup
1. Cook the chicken.

Season chicken simply. Sear the breasts and then bake them at 375˚F for 20 minutes.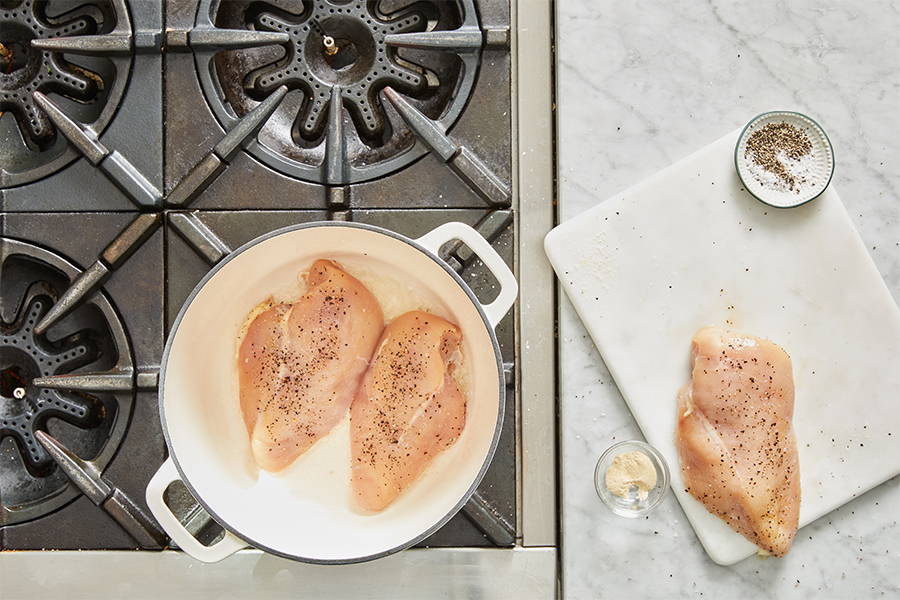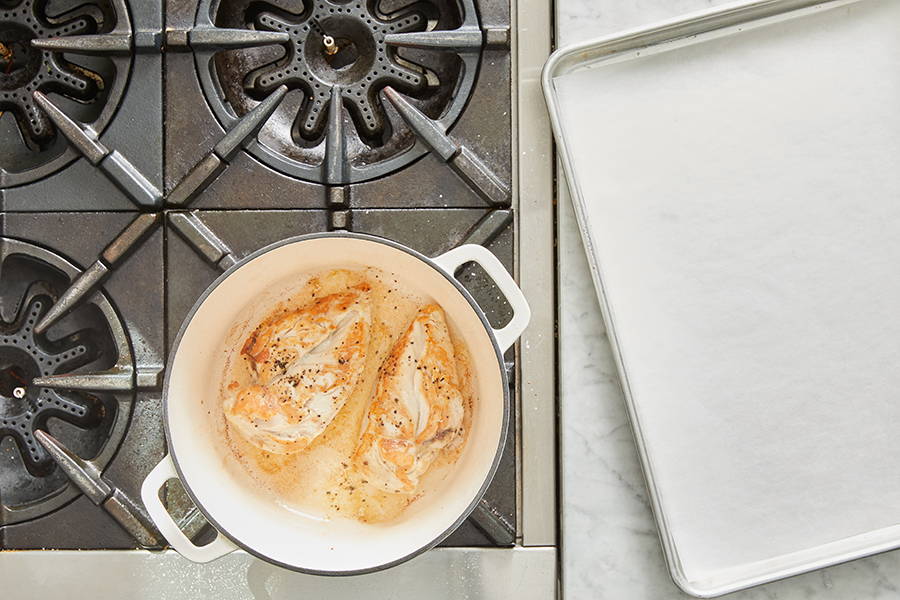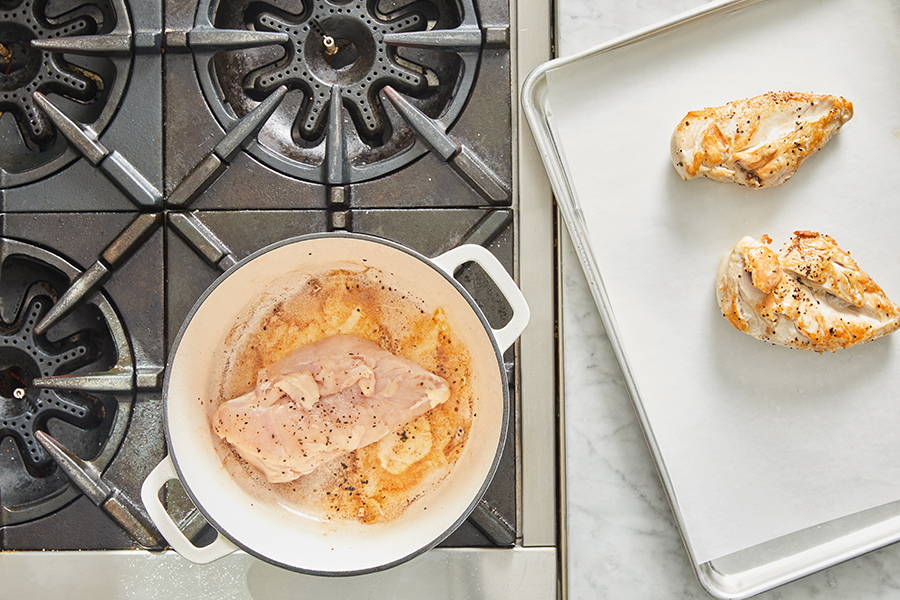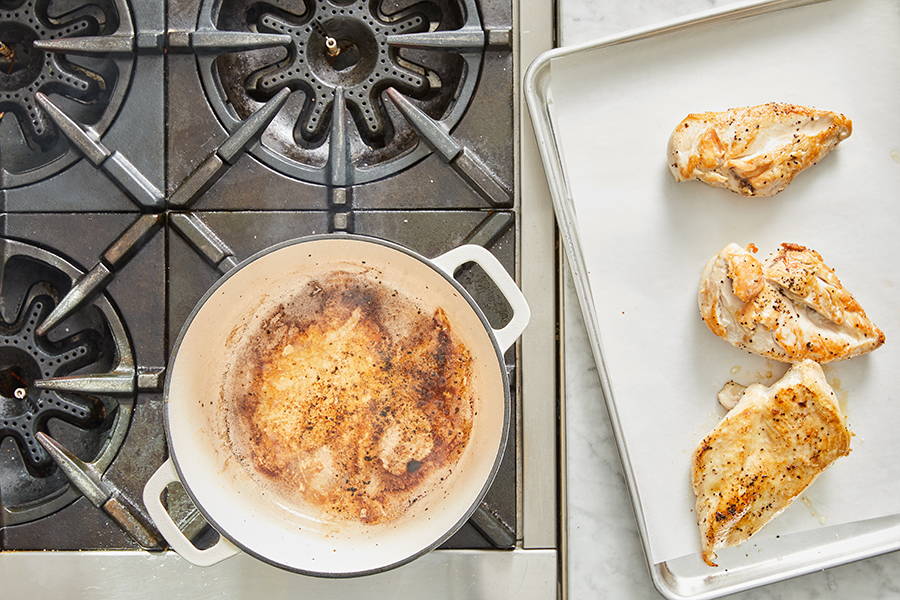 2. Create the soup base.

While the chicken cooks, sauté the onions, celery, carrots and garlic in the olive oil until soft and fragrant.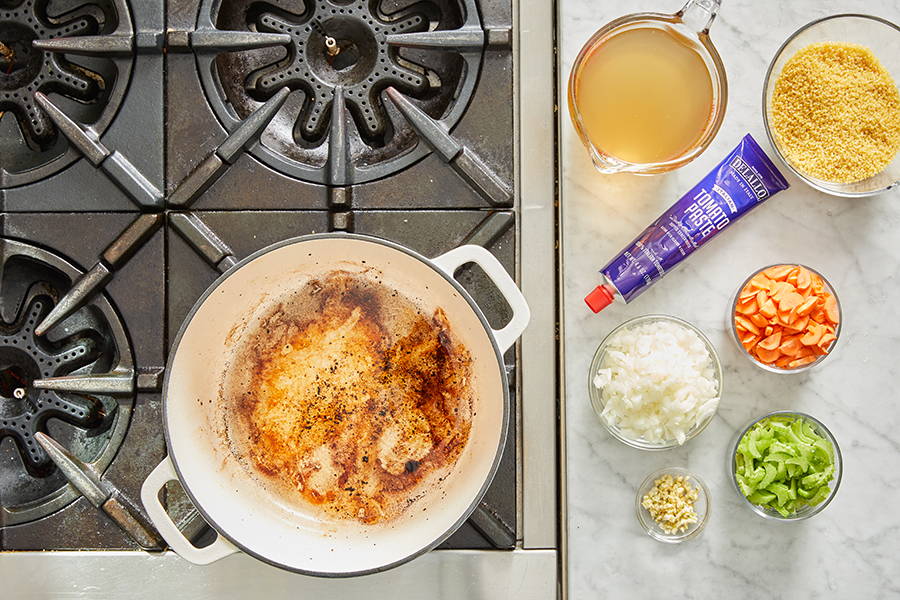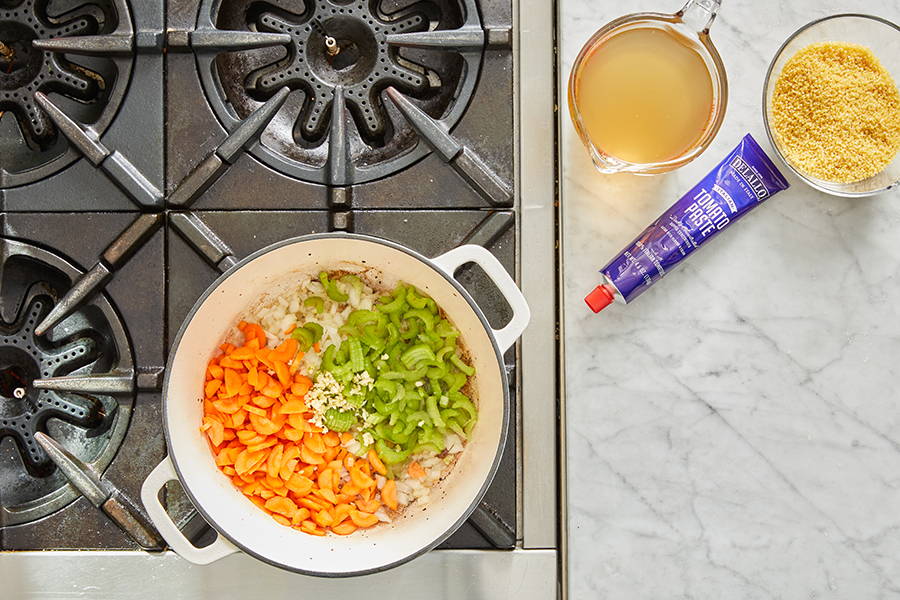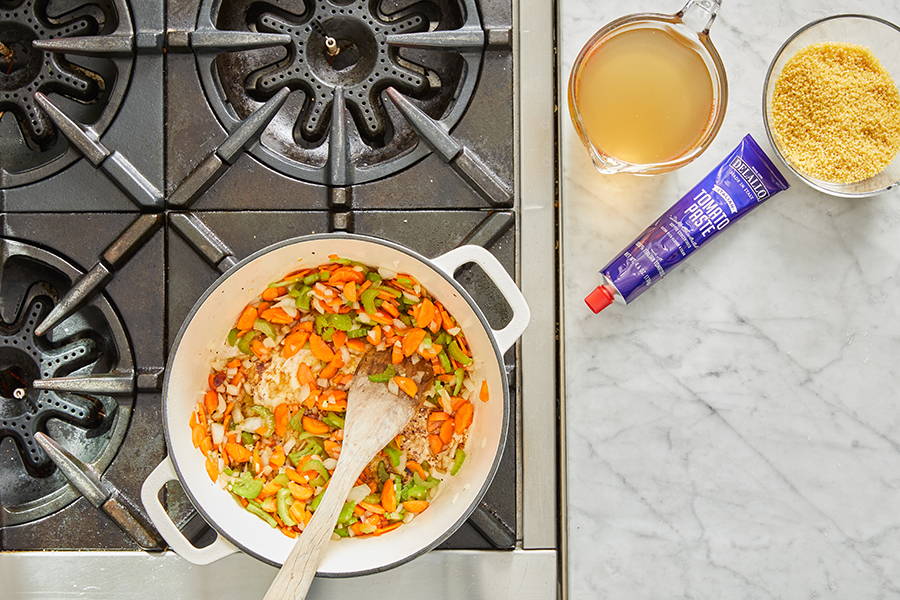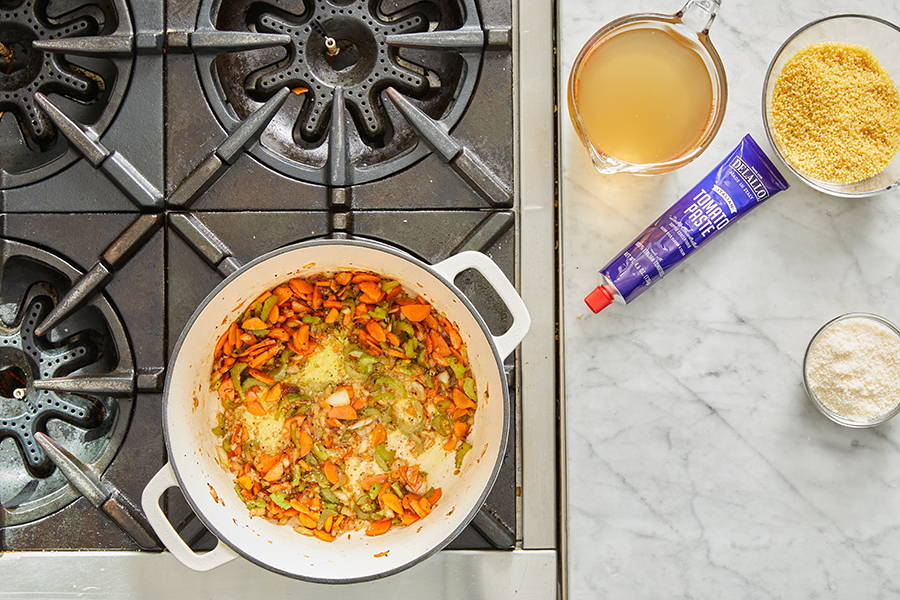 3. Make the soup.

Add the tomato paste and stir. Once all the vegetables are coated, add the chicken stock and bring it all to a boil.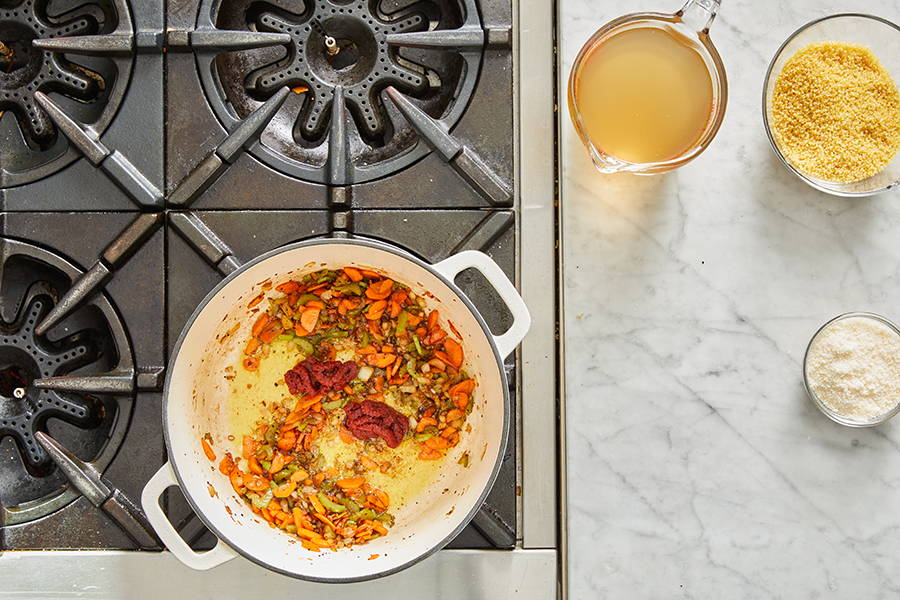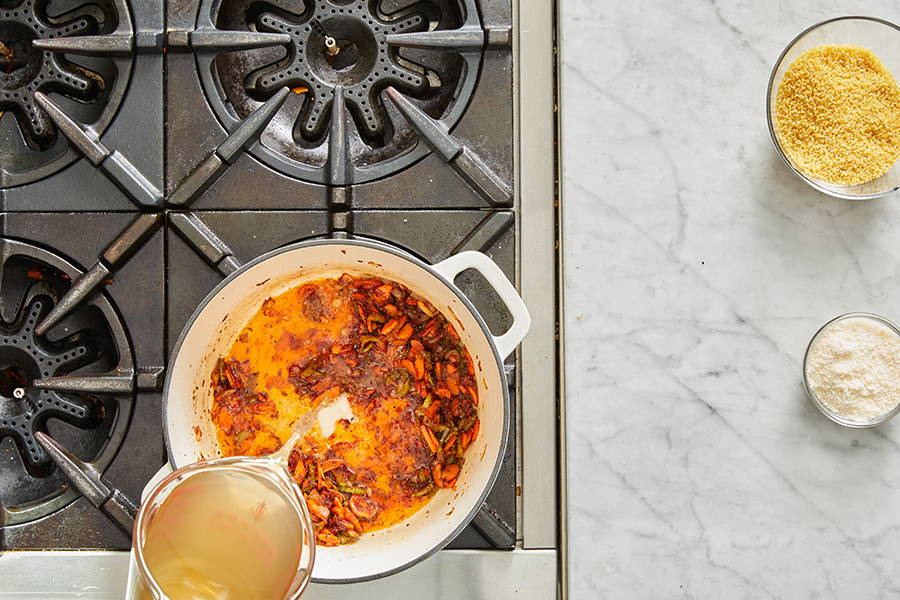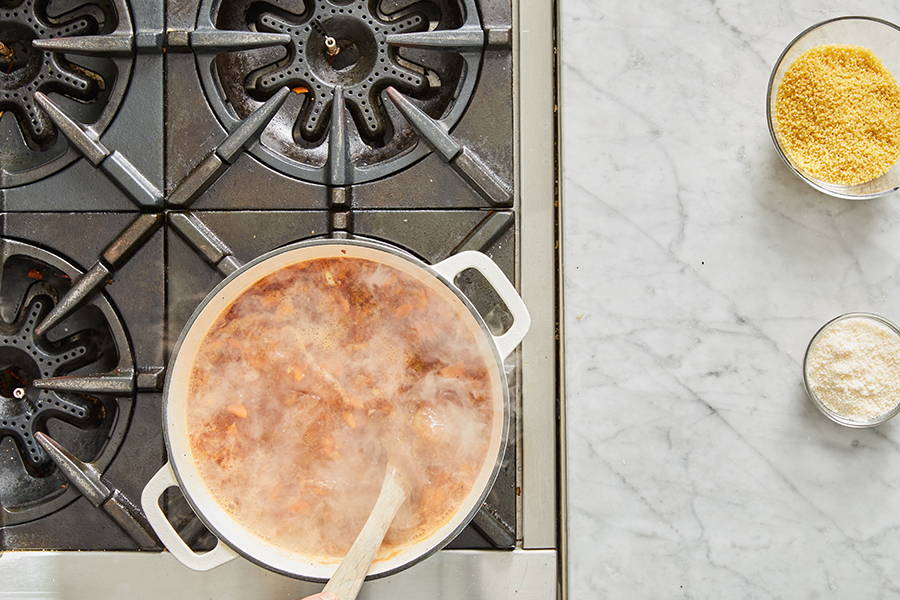 4. Add the pasta.

Stir in uncooked Acini di Pepe. The pasta will cook right there in the soup.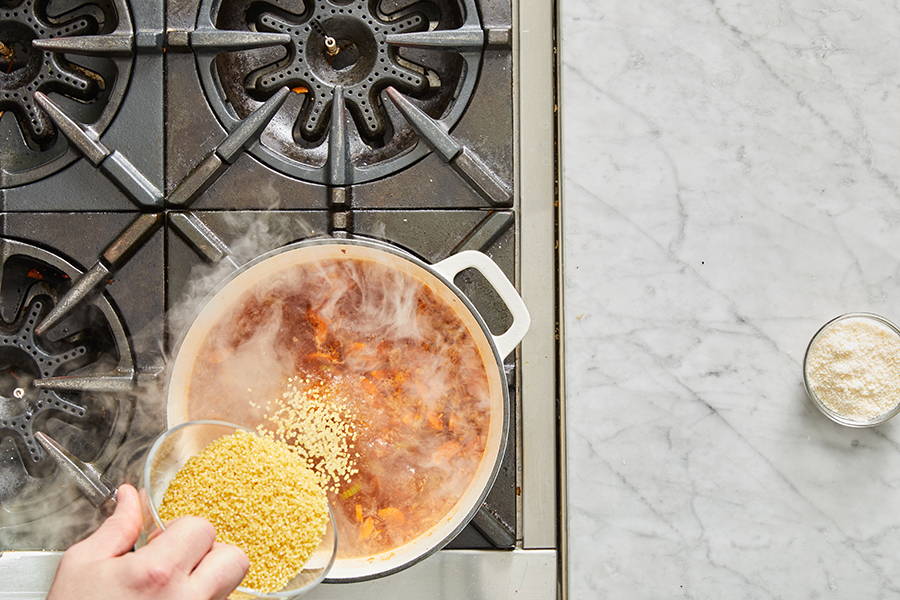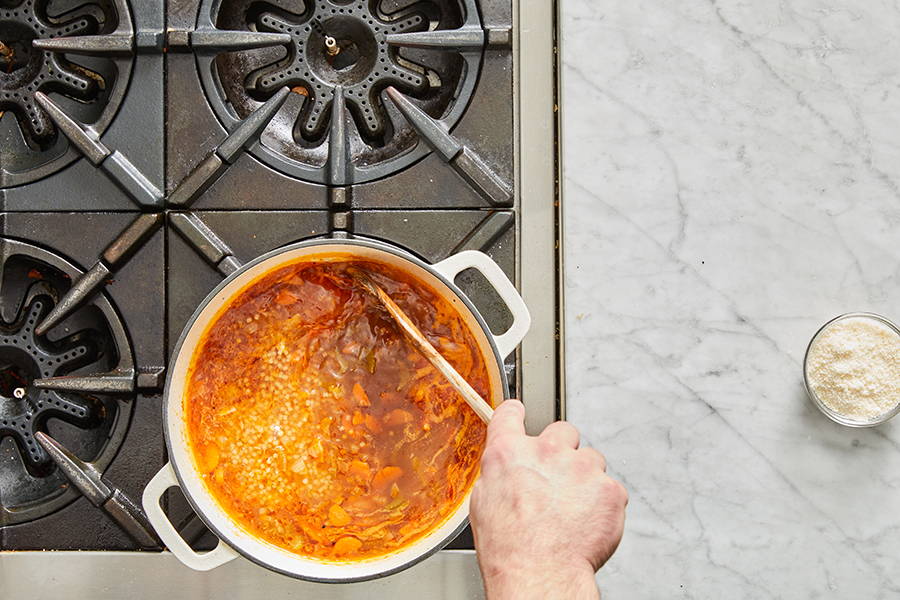 5. Shred the chicken.
Once the chicken has cooled, shred the chicken. Add it to the soup pot. Cook in the soup until fully heated.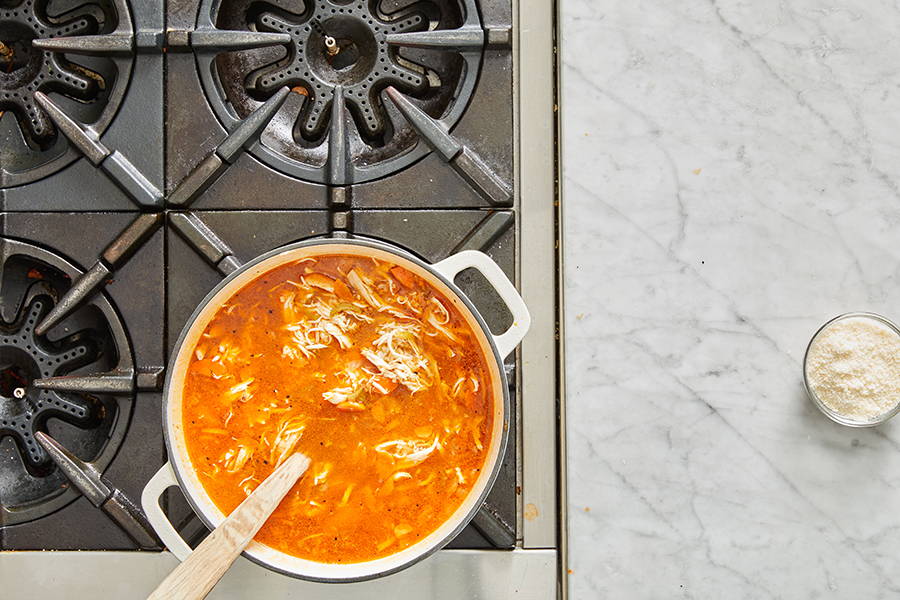 6. Finish and serve.
Serve the soup topped off with fresh chopped parsley and grated Parmesan cheese.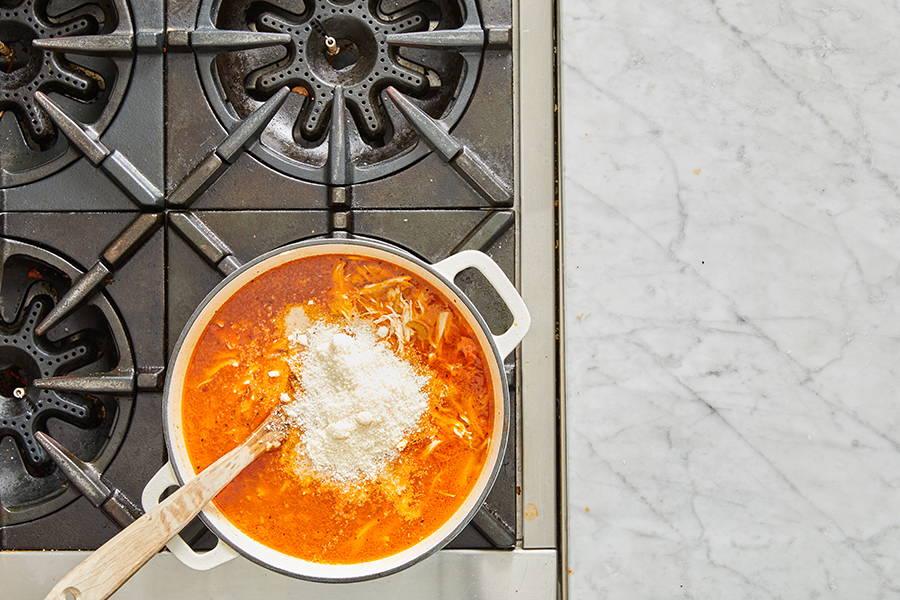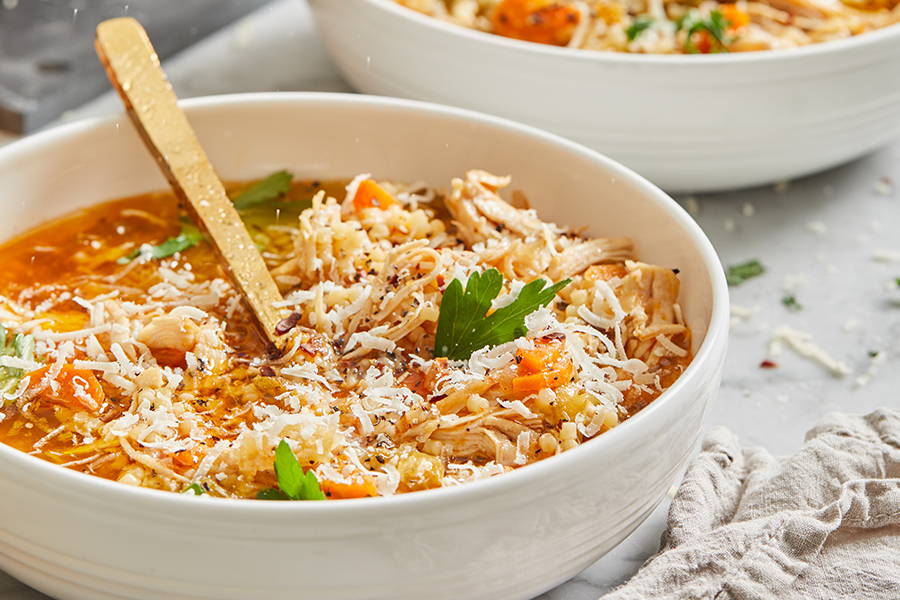 ---
Store soup leftovers in the refrigerator in an air-tight container for up to 3 days. Reheat on the stovetop in a pot over low heat.
Leftovers can be frozen, but it is not advised, as the pasta will certainly become mushy and the dish will ultimately lose its integrity. We recommend removing the pasta before you freeze it. This soup can be stored in an airtight freezer container for up to 3 months. Reheat by simmering over low heat on the stovetop.
Substitutions And Additions
You can use any type of pastina you like—pasta shapes and types. Feel free to swap out the traditional Acini di Pepe pastina for a gluten-free or a whole-wheat pastina.
Add some more smoky roasted flavor with rotisserie chicken. Just substitute the shredded chicken breasts for rotisserie chicken. Be sure to remove the skin before adding it to the soup.
To make this soup vegetarian, use a vegetable broth instead of chicken stock and skip the shredded chicken.
Chicken thighs can be used in place of chicken breasts. Thighs are a bit thinner and so they will cook more quickly. Be sure they are fully cooked and no longer pink inside.
What To Serve With Chicken Pastina Soup
Serve Chicken Pastina Soup with a leafy green salad and crusty Italian bread for a well-rounded meal.
Chicken Pastina Soup: FAQ

What Is Acini Di Pepe?
Acini di Pepe is a small pasta shape known as a pastina. It was named for its round "peppercorn" shape" and is best known for its starring role in the classic Italian Wedding Soup. Because of its tiny shape, it is a great pasta for soups and couscous-style side dishes. Acini di Pepe is a small pasta made with durum wheat semolina.
Do I Have To Cook The Pasta Before Adding To The Chicken Soup?
Chicken Pastina Soup does not require you to cook the pasta prior to adding it to the pot. In this recipe, the pastina, Acini di Pepe, cooks right in the stock. No extra pot necessary for this easy weeknight pastina soup.
How Do I Shred Chicken?
Shredding chicken for your Chicken Pastina Soup is easy! There are two ways you can go about it. First, you can use the more traditional method by using two forks to pull apart the meat. The other option is to use a stand mixer on low with a paddle attachment. But if you don't feel like cleaning up more equipment, it isn't necessary to use a mixer.
Can I Add A Squeeze Of The Lemon To The Soup?
Yes, if you like lemon, you can add a squeeze of fresh lemon juice to this Chicken Pastina Soup recipe. Try a little at a time and taste to check it.
Is Chicken Pastina Soup The Same As Italian Chicken Soup?
Chicken Pastina Soup can be referred to as an Italian-style chicken soup. This recipe features all the classic chicken noodle soup ingredients such as shredded chicken breasts, chicken stock, onions, carrots and celery, but with Acini di Pepe pastina instead of chunky noodles. We also top it off with an Italian cheese, grated Parmesan.
Can I Make This Dish Ahead Of Time?
Yes, you can make Chicken Pastina Soup earlier in the day and serve it up later. Store the shredded chicken in a separate container and keep all in the refrigerator. We do not recommend cooking the pastina ahead until you are just about to serve the soup. Heat up the soup to a boil in a pot. Once boiling, add the pastina and cook for 10 minutes. At this point you can add the shredded chicken and grated Parmesan.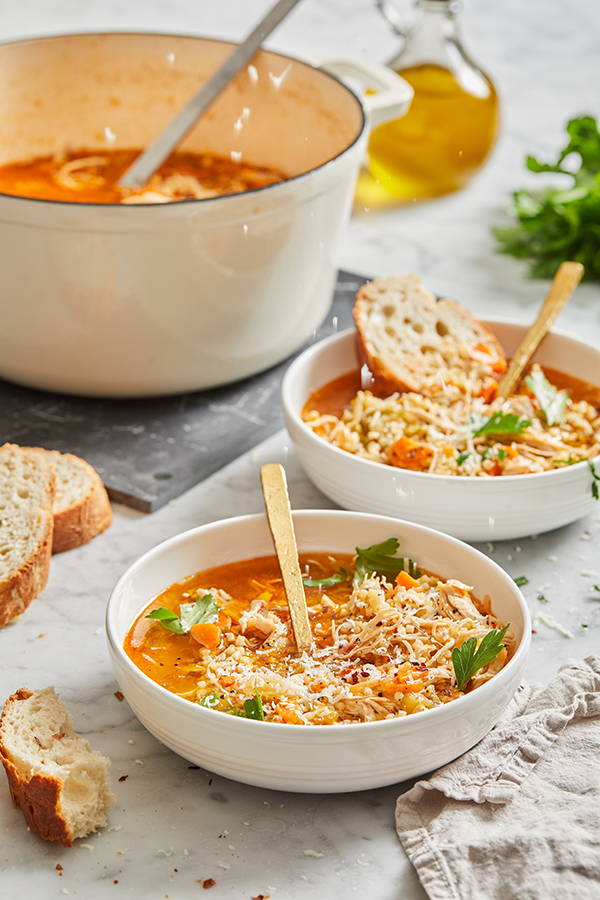 Chicken Pastina Soup (Brodo Di Pollo Con Pastina)
Ingredients
4 tablespoons

DeLallo Extra Virgin Olive Oil

, divided


2 pounds boneless skinless chicken breasts

½ teaspoon garlic powder

¼ teaspoon pepper

¼ teaspoon salt

1 onion, diced

3 celery sticks, cut in half moons

3 carrots, peeled and cut in half moons

3 cloves garlic

2 teaspoon

DeLallo Tomato Paste

6 cups chicken stock

3 cups water

½ pound

DeLallo Acini di Pepe

Fresh chopped parsley for finishing

Freshly grated Parmesan cheese
Heat oven to 375˚F.

Pat and dry chicken. Season all sides with garlic powder, salt and pepper.

Heat 2 tablespoons of the olive oil in a large heavy-bottomed soup pan over medium-high heat. Cook the chicken breasts for 5 minutes per side, or until cooked through.

Remove chicken from pan and place on a baking sheet. Bake for 20 minutes. Remove from the oven. Allow to cool for 10 minutes.

Meanwhile, heat the remaining oil in the same soup pot. Add onion and cook until translucent, about 5 minutes. Add celery and carrots. Cook until soft, about 7-8 minutes. Add garlic and cook until fragrant, about 1 minute.

Add tomato paste and stir until vegetable mixture is coated. Add chicken stock and water to the pot and bring to a boil. Add pastina to the stock and reduce heat. Cook for 10 minutes.

While the pastina is cooking, shred the chicken. Add chicken to the soup. Cook until warmed through. Add the cheese and the parsley. Cook together for another 5 minutes.

Remove from heat and serve.
chicken pastina soup, chicken soup pastina, chicken soup with pastina, pastina soup recipe, italian soup recipe, soup recipe