Quick Creamy Garlic Pasta
Creamy Garlic Pasta is the creamy pasta recipe you and the family have been craving. The best news is that this delicious pasta dish cooks up in just 20 minutes.
Not quite an Alfredo, the rich cream sauce uses mascarpone instead of hard Italian cheeses like Romano or Parmesan cheeses. Smooth, sweet mascarpone cheese comes together with heavy cream to create a hearty cream sauce with the ultimate velvety smooth texture and rich flavor. The addition of lemon zest and fresh thyme give this pasta dish a bright and herby kick—the perfect balance to its creamy, cheesy goodness.
This creamy garlic sauce wouldn't be complete without just the right kind of pasta. Tagliatelle egg pasta is rich and sturdy, ready to twirl up that delicious garlicky cream sauce. Long cuts of pasta like spaghetti, bucatini and fettuccine are ideal for hearty cheese and cream sauces.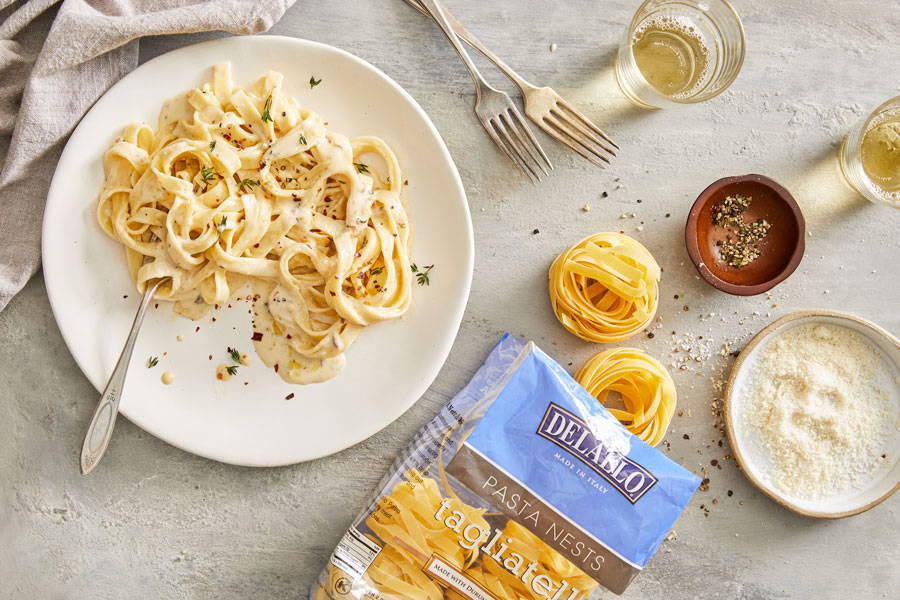 What Is Creamy Garlic Pasta?
Creamy Garlic Pasta is an easy weeknight pasta recipe that features rich, golden ribbons of egg pasta dressed in an irresistibly creamy, garlicky cheese sauce. We use smooth, sweet mascarpone cheese for a velvety texture and decadent cheesy flavor. The whole dish cooks up in 20 minutes and requires just a few quality ingredients.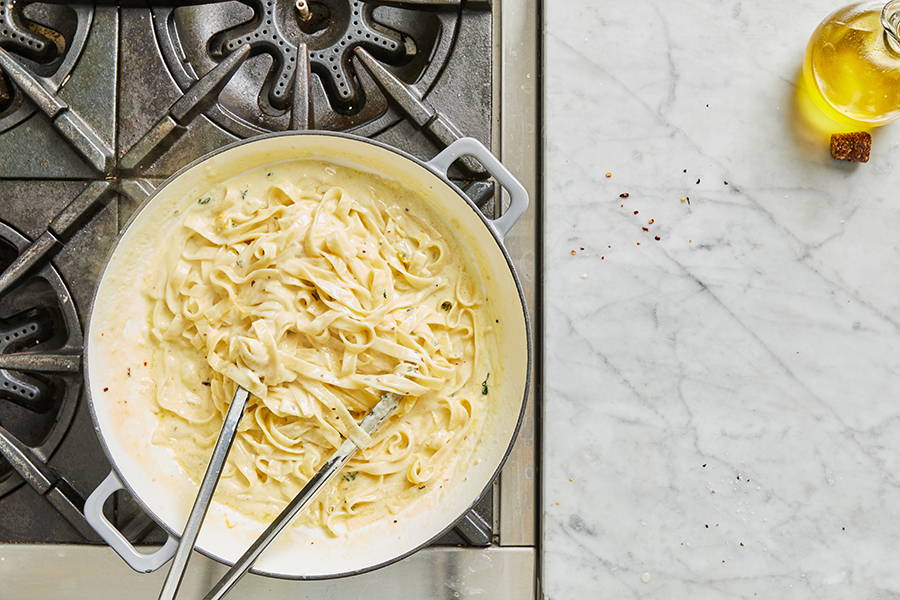 Why You'll Love This Creamy Garlic Pasta Recipe
There is so much to love about this flavorful pasta dish. Creamy Garlic Pasta is the perfect weeknight meal. It is super easy to prep and cooks up in just 20 minutes. The cream sauce is irresistibly garlicky and made with just a few simple ingredients, including the smooth and decadent Italian mascarpone cheese. The best part about this incredible pasta recipe is that you can enjoy it as a meatless pasta or introduce any number of proteins or vegetables. It's a great way to use up leftover veggies, chicken breasts, scallops, Italian sausage and just about any other items you may have in your refrigerator.
The Ingredients You Will Need To Make Creamy Garlic Pasta
Egg Pasta: Tagliatelle is a thinner noodle than fettuccine, but made with egg and semolina. This pasta is sturdy and rich with a golden hue. It makes a great pasta for cream sauces.
Olive Oil: Olive oil is a key component of most Italian meals. We always suggest choosing a high quality oil, so as to honor your recipes.
Fresh Garlic: Cloves of fresh garlic are at the heart of this cream sauce. Use a garlic press to mince the garlic.
Heavy Cream: Heavy cream will help you to achieve the ideal thick and creamy texture. This is the best choice, but you can swap with half and half if you need to.
Mascarpone Cheese: Rich, creamy and sweet, this Italian cheese gives this garlicky cream sauce a super smooth texture and deliciously complex flavor.
Lemon Zest: This fresh and simple citrus brightens up this cheesy sauce without an overpowering lemon flavor. You can use a dash of lemon juice, if that's all you have.
Fresh Thyme: Fresh herbs should never be cooked, so always add them last. Stirring the fresh thyme in at the end of this pasta dish ensures its best flavor.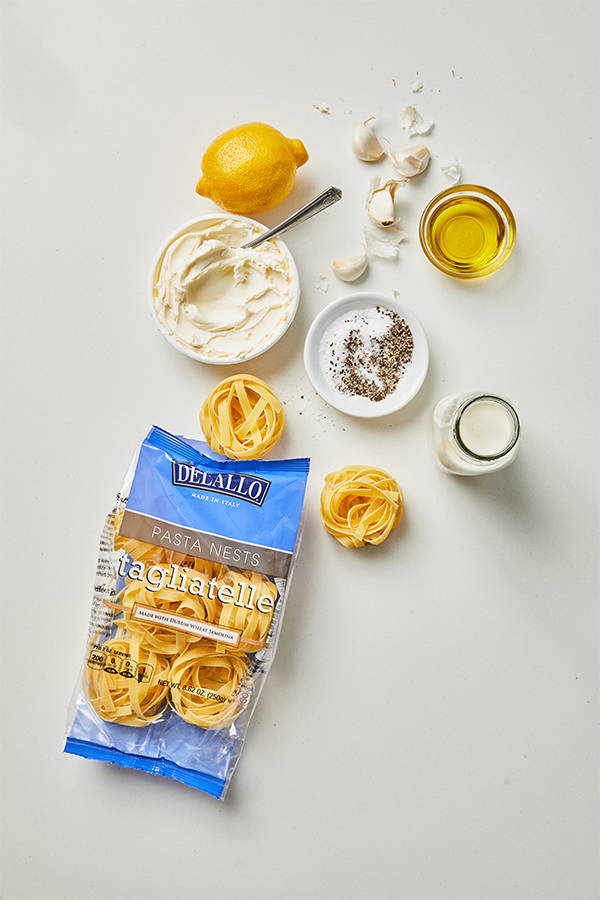 ---
How To Make Creamy Garlic Pasta
1. Cook the pasta.

Be sure to follow package instructions to cook for that signature al dente texture.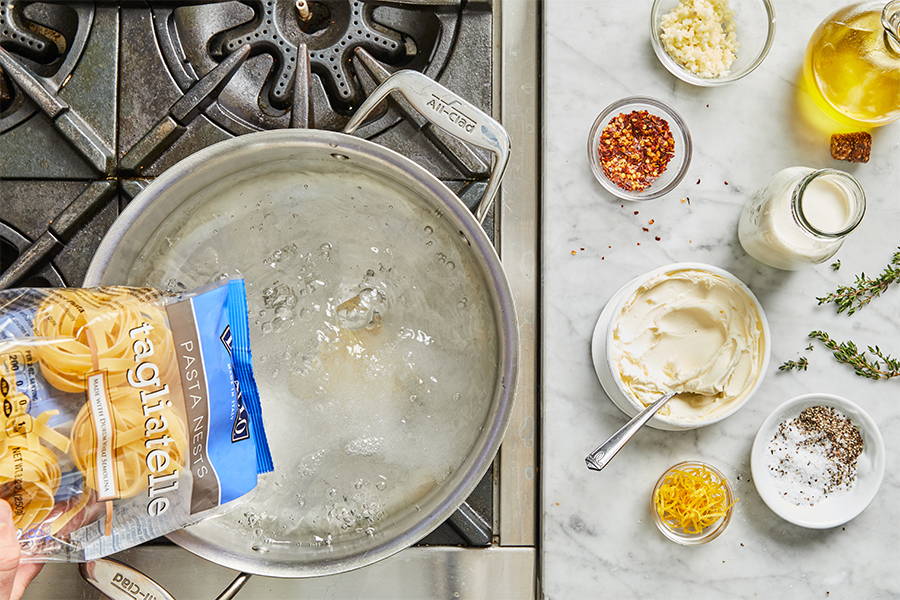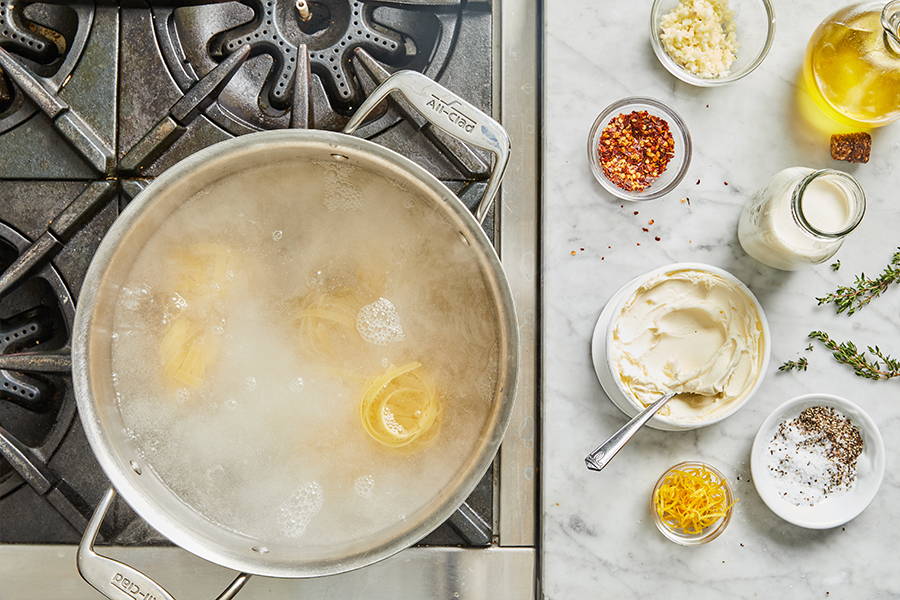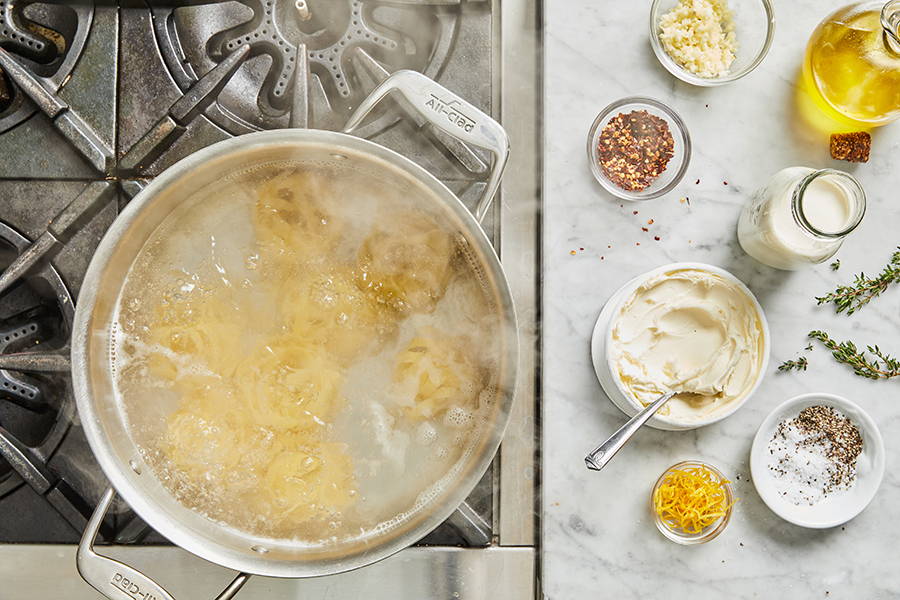 2. Create the sauce.

Sauté the garlic in oil. Stir in the cheese and heavy cream. Cook until the sauce thickens.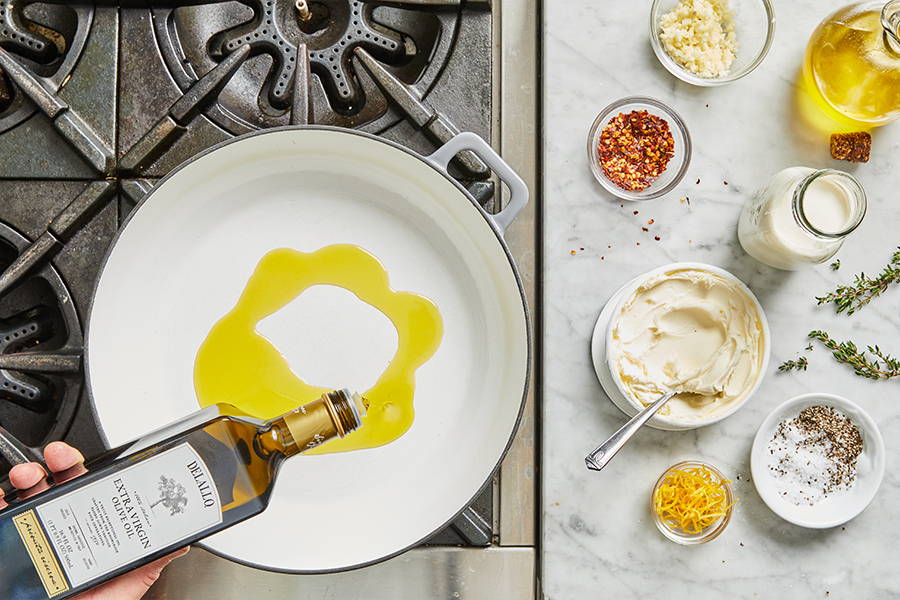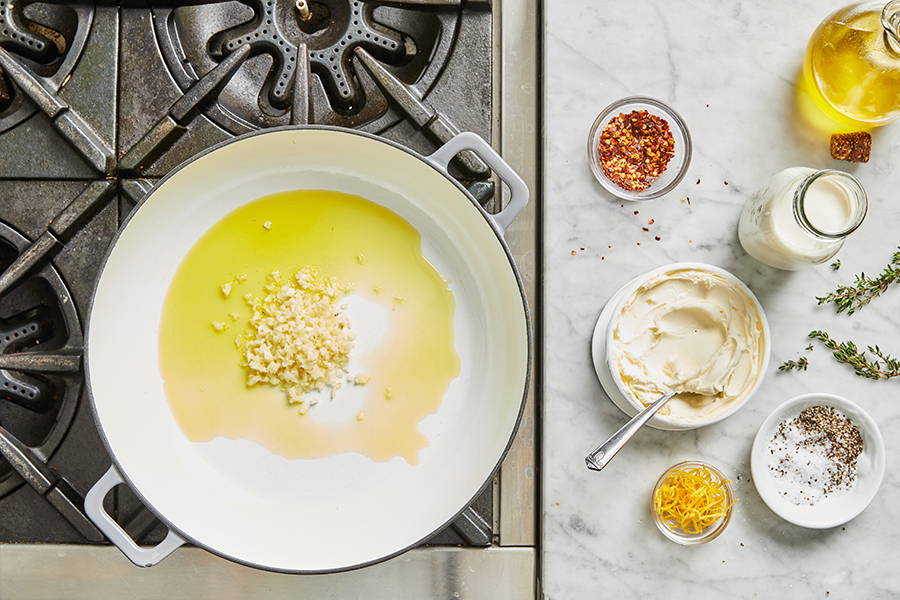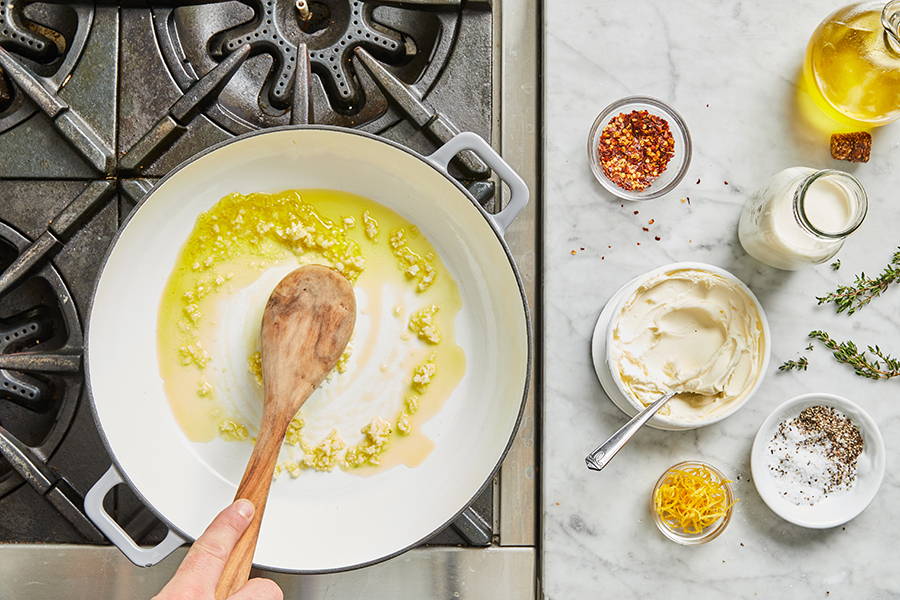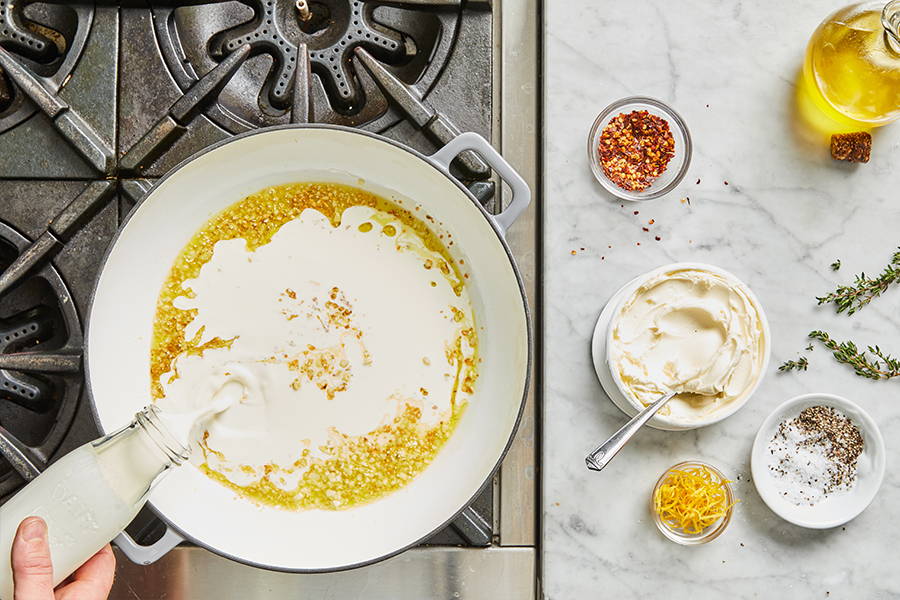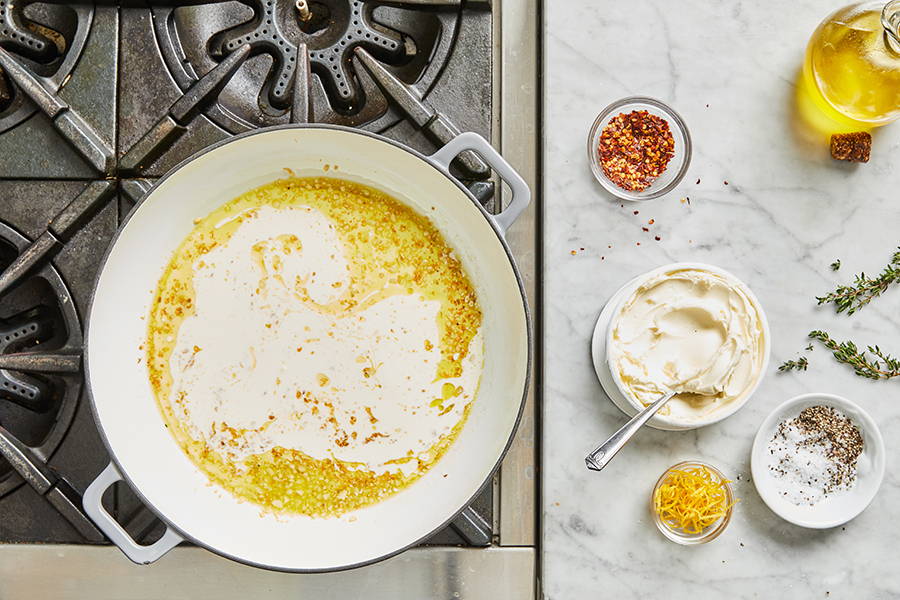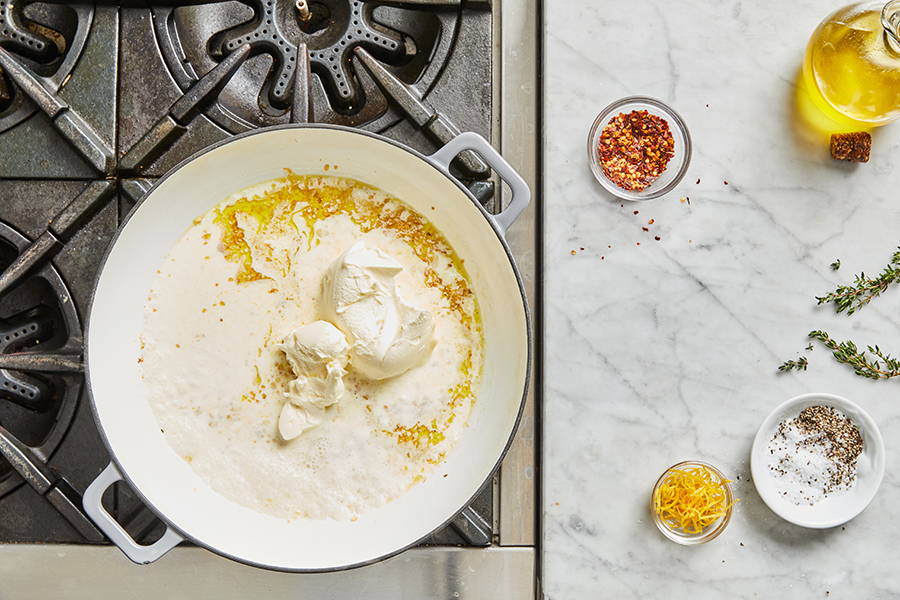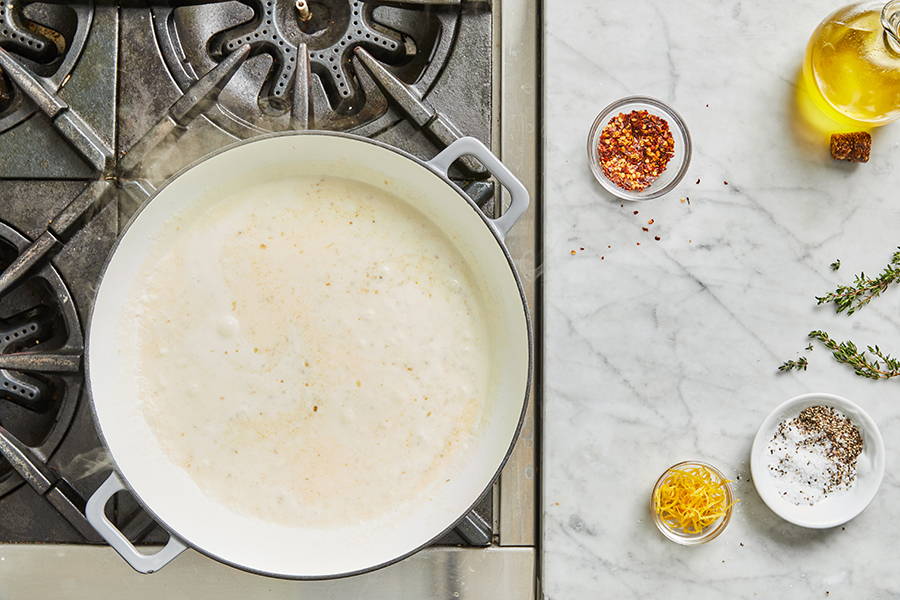 3. Add cooked pasta to the pan.

Stir to coat. Top with the lemon zest, fresh thyme and seasonings.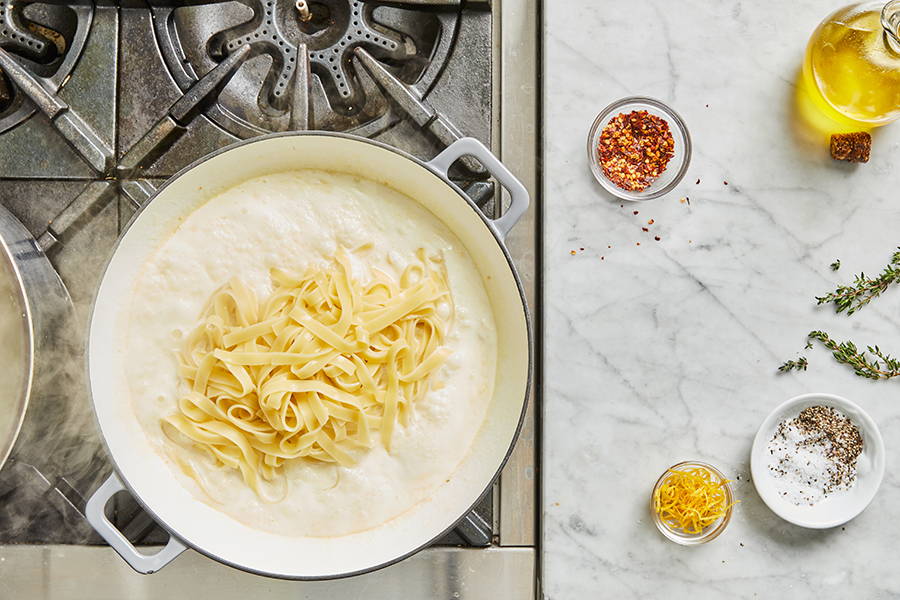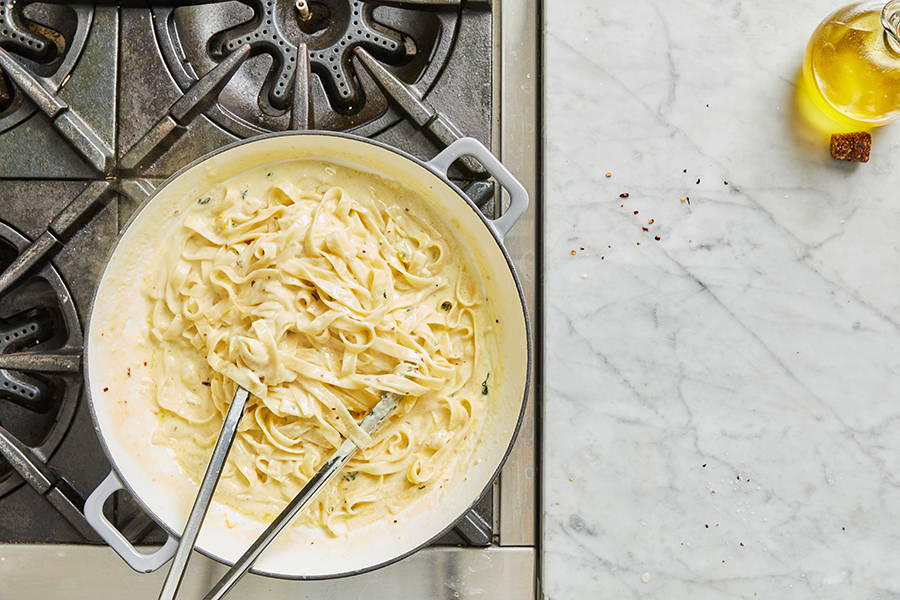 Watch How to Make Creamy Garlic Pasta
---
Top Preparation, Cooking, Serving, And Storage Tips
Before storing leftover pasta, be sure to allow it to cool down first. Creamy Garlic Pasta can be stored in an air-tight container in the refrigerator for up to 3 days. This pasta can be reheated in the microwave or on the stovetop. We do not recommend freezing this pasta. Like all cream sauces, there is a chance of separation upon reheating.
What To Serve With Creamy Garlic Pasta
Creamy garlic pasta is an easy pasta recipe that everyone is going to love. Like most pasta dishes, it can be served with many sides and leafy green salads. Plate it with steamed, lightly seasoned veggies like asparagus, Brussels sprouts or broccoli. Don't forget the garlic toast!
Add a protein! This creamy garlicky pasta recipe is great as a meatless option, but can also be the foundation to a number of variations. Add in chicken breasts or shredded rotisserie chicken. If you love seafood, upgrade Creamy Garlic Pasta with scallops or shrimp.
Can I Use Cream Cheese Instead Of Mascarpone?
Yes, you can use cream cheese instead of mascarpone cheese, if that is all you can find at the grocery store. However, cream cheese does not have the same flavor complexity as mascarpone does. Cream cheese is also more tangy than mascarpone, so keep that in mind when trying to swap it out in this pasta recipe.
Can I Use Chicken Stock Instead Of Mascarpone?
No, chicken stock can not be used to replace mascarpone cheese in this pasta recipe. Chicken stock is just a broth and will not give your sauce the creamy texture or the same cheesy rich flavor. Without the mascarpone cheese, your sauce will not thicken.
What Other Seasonings Can I Add To This Pasta Dish?
We love using red chili pepper flakes to spice up this recipe, but there are other seasonings you can use to flavor your Creamy Garlic Pasta. Don't be afraid to try some out and experiment. We love a sprinkle of Cajun seasoning or a spoonful of your favorite bruschetta or pesto sauce for an easy way to introduce some flavor. Whichever seasoning you choose, be careful not to make the final pasta dish too salty.
The Recipe Does Not Call For Grated Cheese, Can I Incorporate Parmesan?
Yes, you can add Parmesan cheese to this Creamy Garlic Pasta recipe. Top off the pasta dish with a hearty sprinkle before serving for an added sharp, nutty flavor. If you do use Parmesan cheese in this recipe, hold back on some of the salt, as this cheese brings a saltiness of its own.
Can I Make This Pasta Dish Ahead Of Time?
While you can make this pasta ahead of time, it is not recommended. Cream sauces are best when served immediately. For the optimal taste and texture, Creamy Garlic Pasta should be prepared right before your feast. Reheating cream sauces can cause the sauce to separate.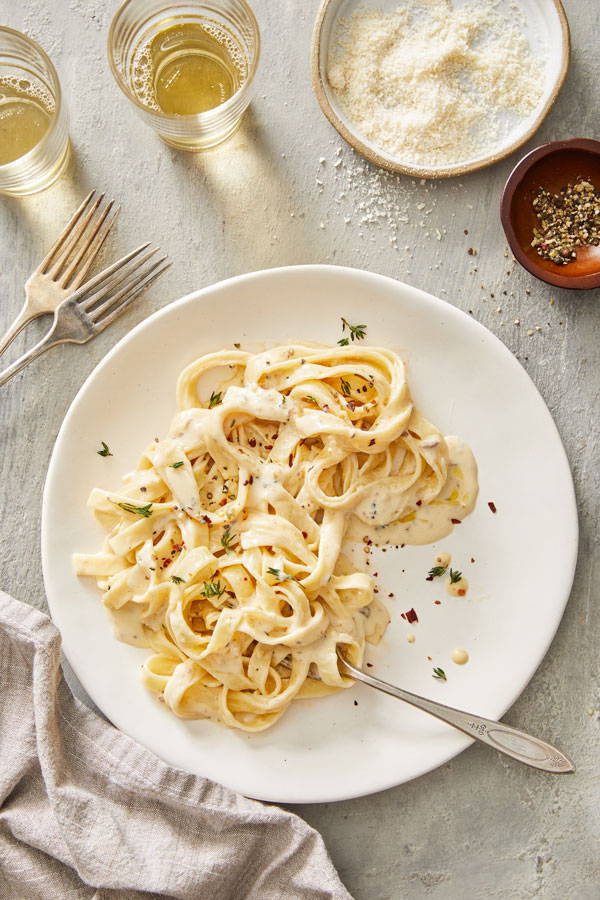 Quick Creamy Garlic Pasta


Ingredients
2 cloves garlic, minced

½ cup heavy cream

½ cup mascarpone

Salt and pepper to taste

Zest from 1 lemon, optional

Pinch of red pepper flakes, optional

1 teaspoon chopped thyme, optional
Bring a large pot of salted water to a boil. Cook pasta according to package instructions. Drain, reserving about ½ cup of pasta water.

Heat oil in a large skillet. Add the garlic and cook for 2 minutes. Stir in the heavy cream and mascarpone cheese. Cook until the sauce starts to thicken, stirring continuously, about 5 minutes.

Add the tagliatelle to the skillet and toss to coat. Top with lemon zest, pepper flakes and thyme, optional. Season with salt and pepper to taste. Serve immediately.
Note: Add hot pasta-cooking water if necessary for desired consistency.
creamy garlic pasta, creamy garlic pasta recipe, garlic cream pasta, mascarpone pasta, mascarpone pasta sauce