You are 4 ingredients away from a super simple Baked Spaghetti recipe.
Familiar and comforting, spaghetti is a staple in many households. Whether you dress it in meat sauce or your favorite jar of spaghetti sauce, spaghetti is a go-to for even the pickiest of eaters. If you're looking for something different, but something everyone will love just as much, Baked Spaghetti is it.
Simple, yet satisfying, this Baked Spaghetti recipe is loaded with deliciously melty cheeses and so easy to whip up. So bust out your casserole dish and get ready for the mad dash to the dinner table.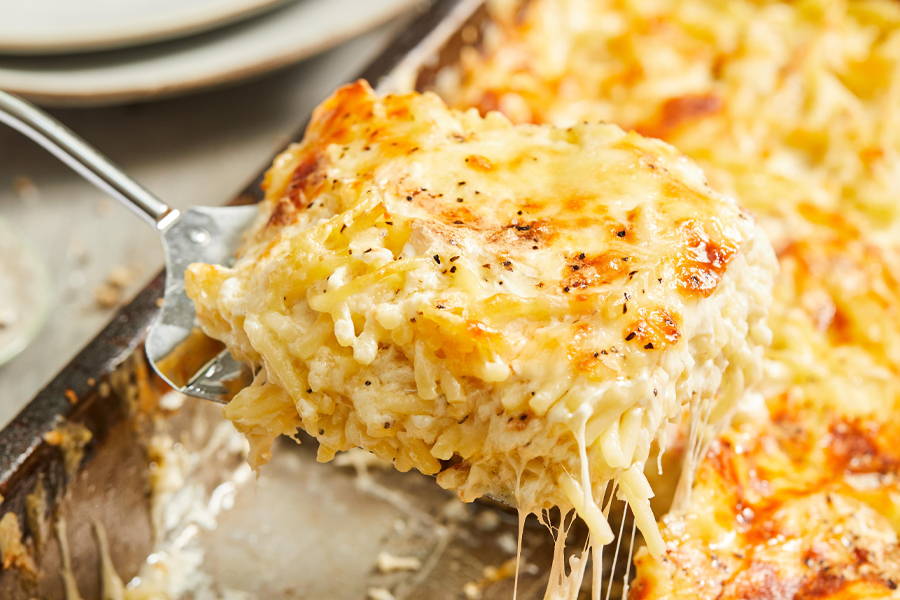 Baked Spaghetti is a baked pasta dish that features that well-known long cut of pasta, spaghetti, along with three melty cheeses. We love it with Fontina, Gruyére and mozzarella cheese, but you can choose other melting cheeses for your Baked Spaghetti recipe. Everything comes together in a casserole dish and bakes up until hot and bubbly.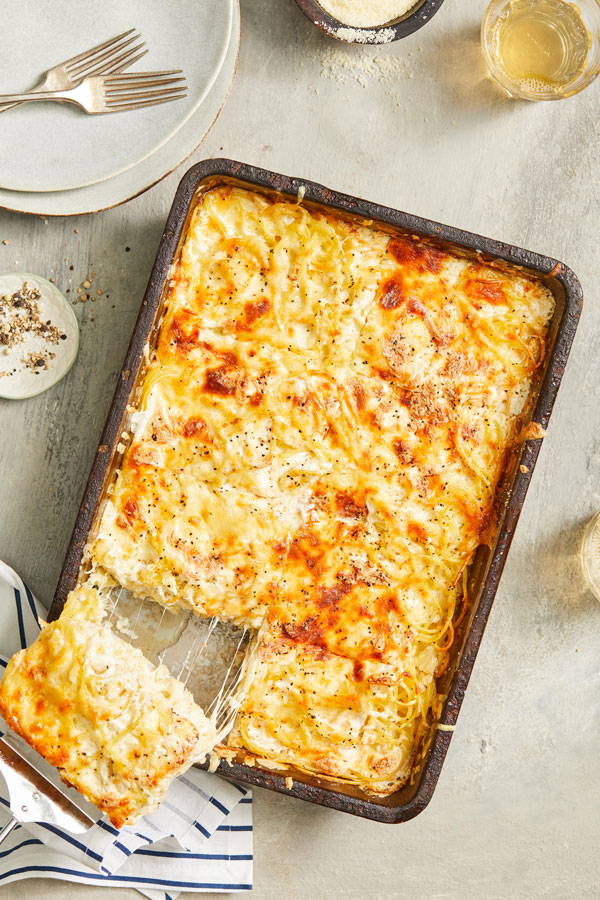 How Is Baked Spaghetti Different?
Unlike classic stovetop pasta creations, Baked Spaghetti is a baked pasta recipe that features the famous long cut of pasta in a cheesy casserole but without the typical spaghetti sauce. Instead the flavor is rich, cheesy and buttery.
Why You'll Love This Baked Spaghetti Recipe
If you love spaghetti (and who doesn't love spaghetti?), you are sure to love this Baked Spaghetti recipe. Besides being cheesy and delicious, this baked pasta recipe is super simple. A win-win! Once you throw it together in a baking dish, the oven does all the work. In a real hurry? You can make it ahead of time, store it covered in the refrigerator, and then bake when ready to eat.
The Ingredients You Will Need To Make Baked Spaghetti
Pasta: The long thing spaghetti noodles make this lasagna-type casserole a more unique dish. You can use other pasta shapes, but we recommend spaghetti for this one.
Cheeses: The cheese selection is everything to this Baked Spaghetti recipe, so we were sure to choose cheeses that are super melty and brown up nice in the oven. Also, keep in mind the flavor profiles of your cheeses. The combination of buttery sweet mozzarella cheese, tangy Fontina and rich Gruyére is the perfect harmony for an irresistibly cheesy pasta bake like this one.
How To Make Baked Spaghetti
Prepare the dish: Butter a baking dish or casserole dish and preheat the oven.
Cook the pasta: Cook the pasta according to package instructions. Drain and rinse to prevent sticking. Lay out the noodles to dry. If you don't thoroughly cool and dry the noodles, your baked spaghetti casserole can become watery. You also do not want the cheese to melt before you bake the spaghetti.
Assemble the casserole: Layer the cooled pasta with the cheeses in a baking dish. Season with salt and pepper.
Bake the spaghetti: Bake the spaghetti mixture for about 40 minutes. It should become hot and bubbly and the top layer of cheeses will become golden brown.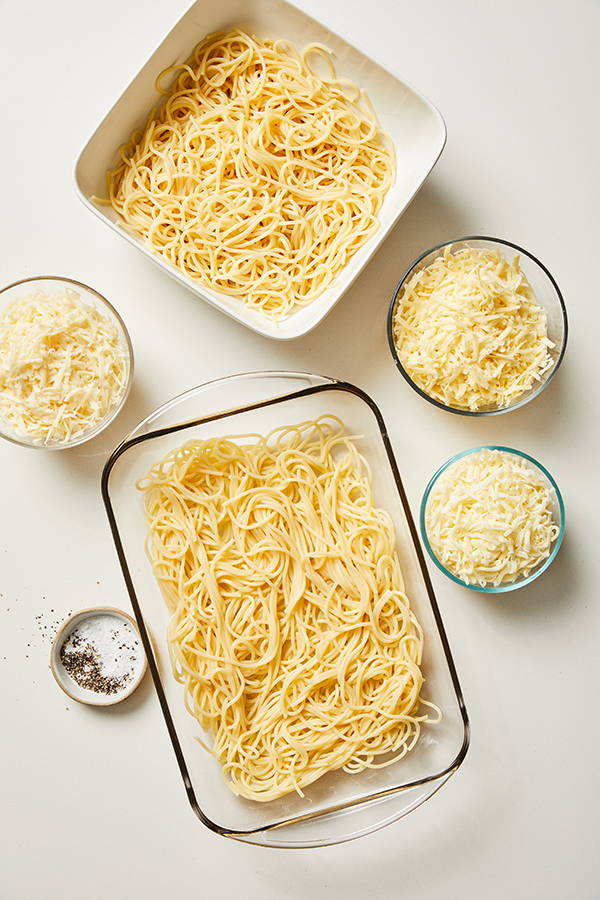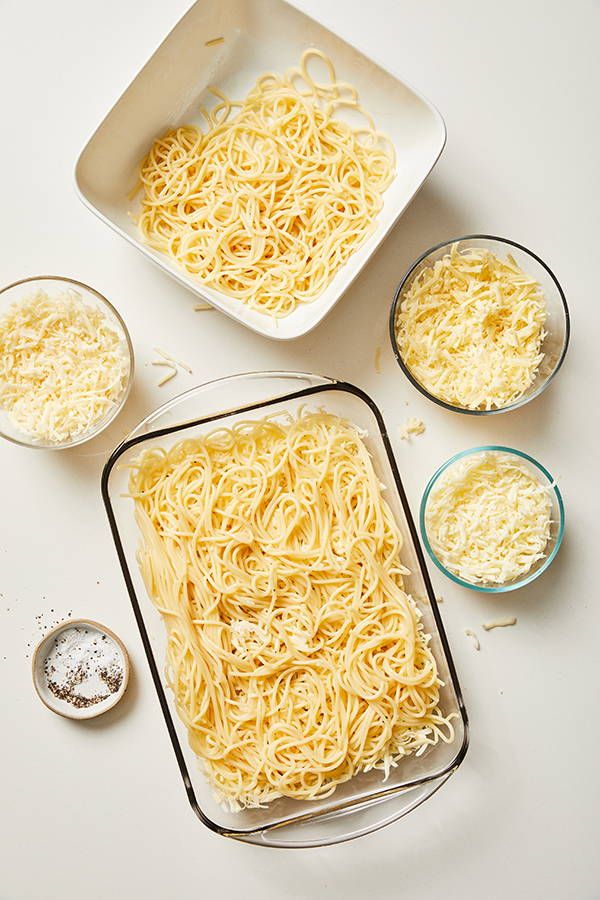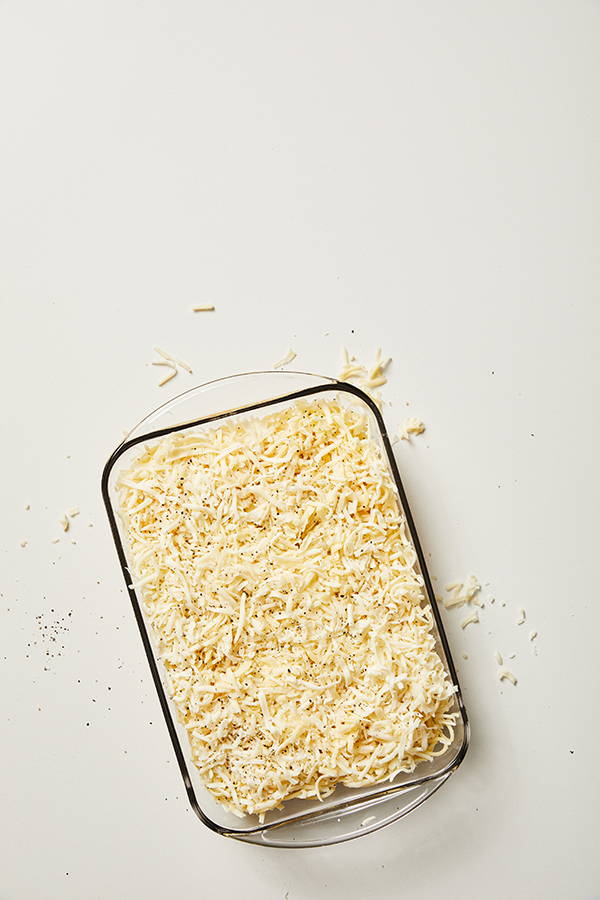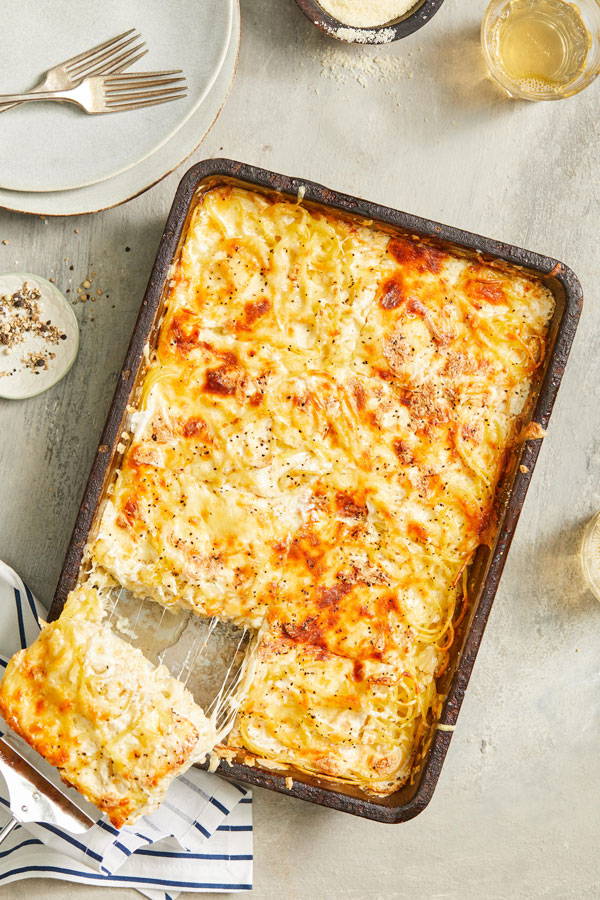 ---
Store leftover Baked Spaghetti in the refrigerator in an airtight container for up to 3 days. You can store it in the freezer too, but the cheeses may separate upon thawing and reheating. This dish is best served immediately. You can reheat leftovers in the microwave or covered in the oven at 350 F˚ until hot.
Substitutions And Additions
For this easy Baked Spaghetti recipe, you can choose to mix up the cheeses. Just be sure you swap with other meltable cheeses like Colby, Monterey Jack, provolone or Cheddar.
What To Serve With Baked Spaghetti
This recipe begs to be served family-style with a table full of guests and some classic sides. Serve Baked Spaghetti with a colorful leafy green salad. Go all out with olives, pepperoncini peppers, artichokes and the works. Top it off with a light olive oil and vinegar dressing. Most every pasta recipe needs a bread complement like crusty Italian bread or garlicky breadsticks.
Do You Have To Cook Pasta Before Baking?
Yes, you have to cook the pasta first. There is not enough water or heat to cook the pasta with the spaghetti in the casserole. To achieve just the right al dente texture, pasta should be cooked and checked for doneness. This cannot be done in the oven.
Why Is Baked Spaghetti Watery?
Your baked spaghetti can become watery if your noodles were not dried and cooled before mixing with cheeses and cooking. Otherwise, your spaghetti should not be watery.
Can I Make This Pasta Dish Ahead Of Time?
Yes, you can make Baked Spaghetti ahead of time. Cover the assembled casserole in plastic wrap and wait to bake it. Store in the refrigerator for up to 2 days. Proceed with baking instructions. You may need to add 10-20 minutes to the bake time when cooking a refrigerated casserole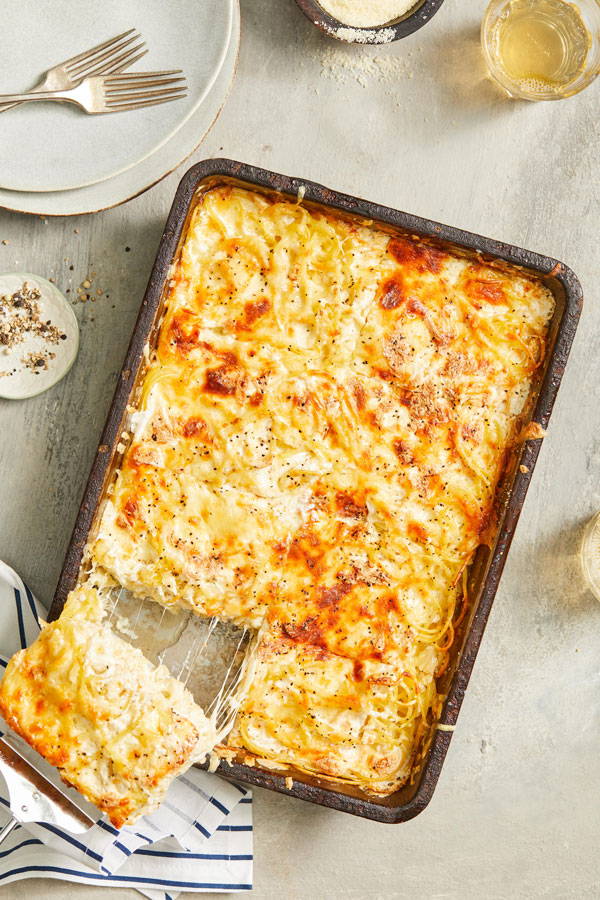 Ingredients
¾ pound Fontina cheese, shredded

½ pound mozzarella cheese, shredded

½ pound Gruyére cheese, shredded

Salt and pepper to taste
Preheat the oven to 350°F. Lightly butter a 13" x 9" baking dish.

Bring a large pot of salted water to a boil. Cook the pasta according to package instructions. Drain and rinse to prevent sticking.

Spread spaghetti on a baking sheet lined with parchment paper to cool.

Meanwhile, in a large bowl, combine the cheeses.

In an even layer, spread 1/3 of the spaghetti in the prepared baking dish. Sprinkle 1/3 of the mixed cheeses and season with salt and pepper. Repeat with 2 more layers.

Bake the spaghetti until heated through and the cheesy top becomes bubbly and golden brown, about 40 minutes.

Remove from the oven. Allow to rest for 5 minutes before serving.
baked spaghetti, baked spaghetti recipe, recipe for baked spaghetti, baked speghetti, spaghetti bake