The Ultimate Lobster Mac and Cheese

If you looked up "comfort food" in the dictionary, you just might find a picture of this Lobster Mac and Cheese. We aren't kidding! This incredible baked pasta recipe combines succulent lobster with al dente Shellbows in a rich Havarti and Gruyère cheese sauce. Oh, and don't forget that buttery breadcrumb topping.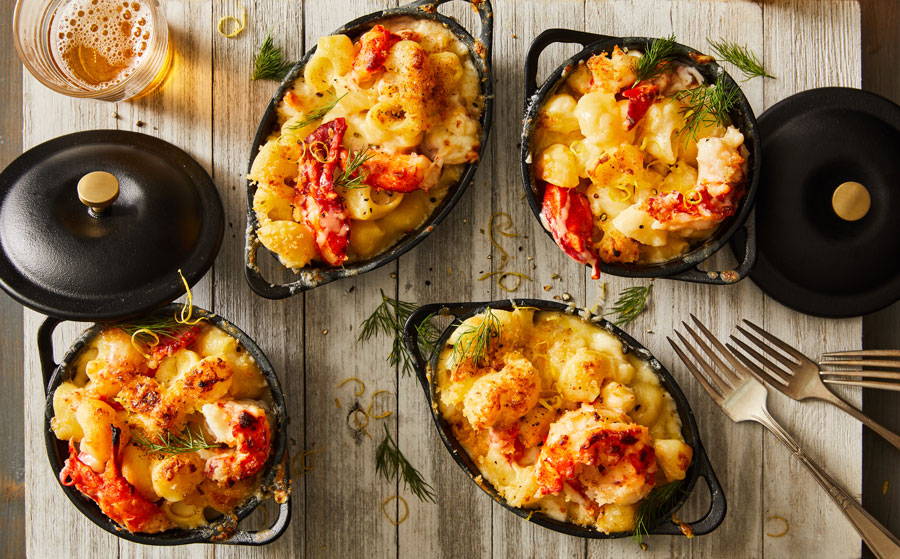 What is Lobster Macaroni and Cheese?

Lobster Mac and Cheese is a decadent seafood pasta bake featuring buttery bites of lobster, a rich cheese sauce and perfectly al dente pasta beneath a buttery Panko breadcrumb topping. There's no question: Lobster Mac and Cheese is the ultimate comfort food.
Why You'll Love Lobster Mac And Cheese

What's not to love? Most of us grew up loving macaroni and cheese. Think of this lobster-loaded variation as the much anticipated adult upgrade. This creamy, dreamy pasta bake features our Shellbows pasta with a blend of ooey gooey cheeses, melt-in-your-mouth lobster and a crisp buttery breadcrumb topping. Besides it being incredibly delicious, Lobster Mac and Cheese is easy to make too. You can serve it up as a weeknight dinner, as an impressive weekend meal or as part of a holiday feast.
The Ingredients You Will Need To Make Lobster Mac And Cheese

Pasta: Our Shellbows are a Shells and Elbows hybrid. Their curved hollows are the perfect pasta shape for scooping up the creamy cheese sauce and bites of lobster.
Butter: Bring on the butter. Some butter is used in the rich and creamy cheese sauce, while some is used to toast the Panko breadcrumbs for a delectable topping.
Flour: All-purpose flour helps to thicken up the cheese sauce a bit.
Milk: We recommend using whole (full fat) milk for a creamier sauce that comes together well.
Cheese: You can certainly get creative with your cheeses, as long as they have a higher fat content and melt easily. Though Cheddar cheese is popular, we prefer Havarti and Gruyère cheeses for our cheese sauce.
Spices: Freshly ground pepper and nutmeg add a depth of flavor to the final dish.
Lobster: Choose freshly cooked lobster, lobster tails or even frozen lobster meat if you're in a pinch.
Breadcrumbs: Panko breadcrumbs make for an excellent crispy gratin-style topping.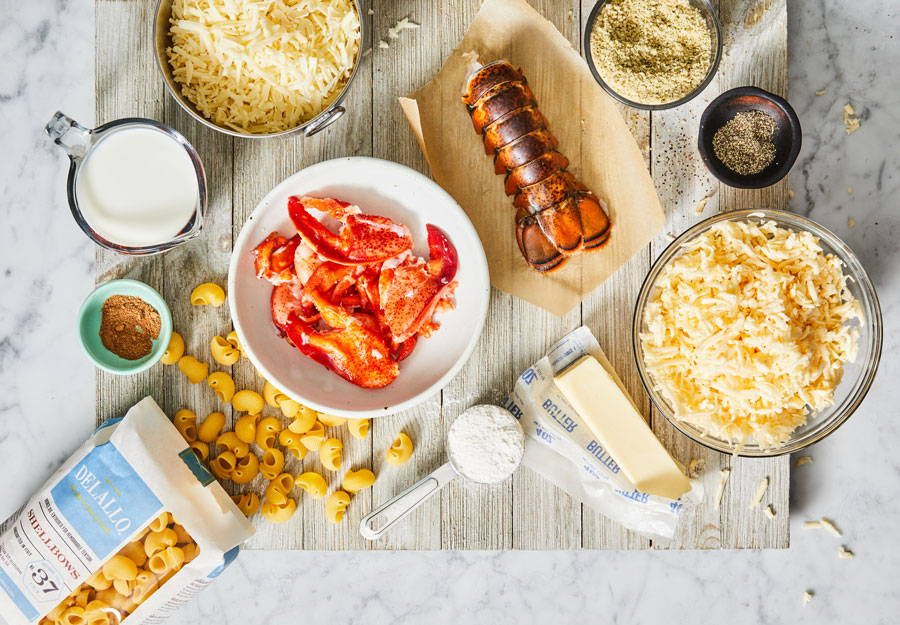 ---
How to Make Lobster Mac And Cheese In 4 Steps

1. Cook the pasta.

Begin by cooking the pasta according to the package instructions.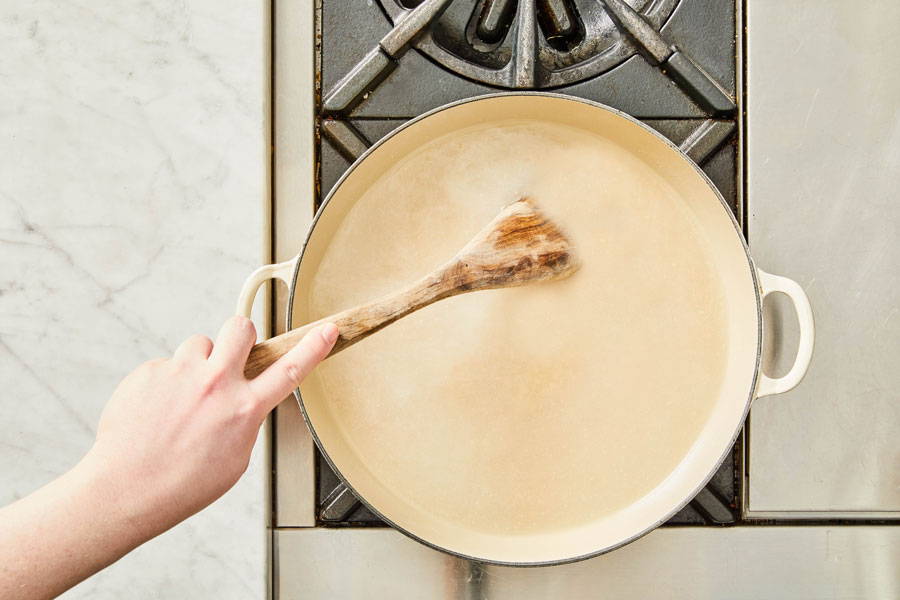 2. Create the cheese sauce.

Melt the butter in a large oven-proof pot or Dutch oven. Stir in the flour. Once lightly browned, add the milk. Remove the pot from the heat and add the cheeses and spices. Continually whisk during the whole process to combine well and prevent milk from sticking to the pot. The resulting sauce should be thick and smooth.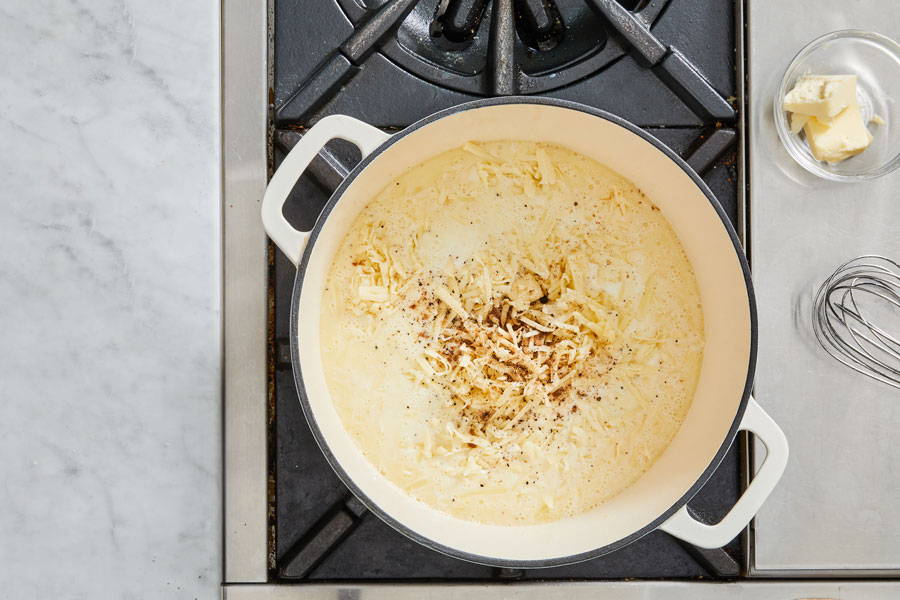 3. Introduce the ingredients.

Add the cooked pasta and the lobster to the pot. Stir to combine. Keep mac and cheese in the Dutch oven, or evenly distribute into 6 gratin dishes.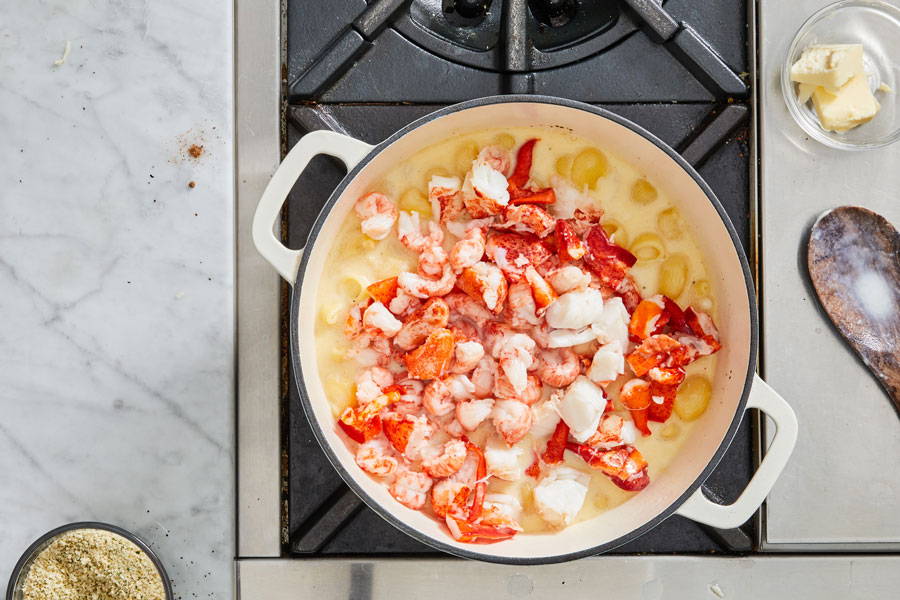 4. Finish and serve.

Melt the remaining 2 tablespoons of butter in the pot. Stir in the breadcrumbs. Top the mac and cheese with the toasted breadcrumbs and bake for 30-35 minutes or until the sauce is bubbly and the pasta golden brown on the top. Serve immediately.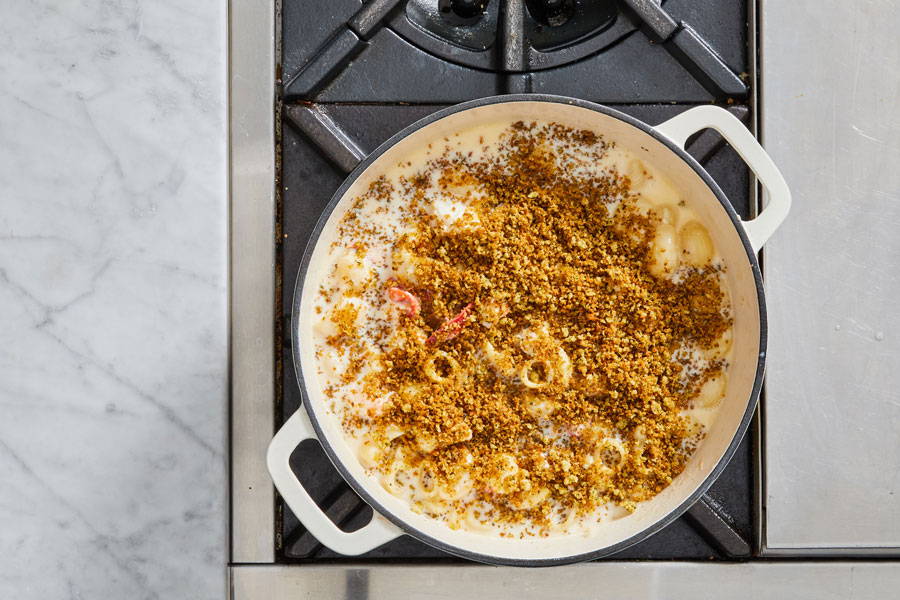 ---
What To Look For When Buying Lobster Tail

Typically, there are two kinds of lobster tails that are sold in grocery stores: cold water and warm water lobster tails. Choose the cold water lobster tails! Even though the price tag is a bit higher, they are going to offer the best flavor and texture. Warm lobster tails often become too soft when cooking and have an unpleasant smell to them.
Quick Tips for Buying Lobster Tails:
Be sure that the label explicitly states "cold water" lobster tails. If it doesn't say, ask!

If there are many brands, pick the most expensive. Trust us! It'll be worth it!

Avoid brown spots, gray or yellow flesh and any discoloration of the lobster meat.

Check the label for "sodium tripolyphosphate." It's a preservative, which allows lobster meat to be kept longer. This denotes a not-so-fresh lobster. Avoid it, if possible.

Buy frozen tails and don't thaw until you're just about to cook them.

Buy lobster tails ranging in a size from about 6 - 12 ounces for a good quantity of meat with the ideal texture.

Expert tip: Lobster tails are usually less expensive during winter.
Different Ways Of Cooking Lobster Tails

If you're wondering how to cook lobster tails, there is more than one way to get the job done. Choose a way that works for you, your time frame and your kitchen setup. No matter which way you choose, lobster tails are easy and take less than 10 minutes to cook.
Bake: Cook lobster in the oven at an average and consistent heat. It's super easy but it takes a bit longer than broiling.
Boil: The easiest and quickest way to cook lobster tails is to boil them in a large pot of water for just a few minutes. Though it's the easiest, the lobster loses some of its flavor this way.

Broil: For a quick and easy way to get tender and succulent lobster every time, cook lobster in the oven very close to the top burners on high heat. (This is our preferred method for most recipes that include lobster.)
Grill: If you have a grill and the conditions are right, grilled lobster is an excellent choice. Whether you use a gas grill or a charcoal grill, this method imparts an irresistible smoky sweetness.

Poach: Cook the lobster by simmering in butter directly on the stovetop. This method creates a rich, buttery flavor.
What To Serve With Lobster Mac And Cheese

Now that you're dishing out the ultimate creamy baked pasta, you might be wondering how to serve it up. Sure, a hearty bowl of Lobster Mac and Cheese can certainly stand on its own, but we love any occasion to make it a well-rounded meal. Here are some of our favorites:
Fresh Salads

Vegetable Sides

Crusty Bread
Can you freeze Lobster Mac And Cheese? Yes, but make sure it is at room temperature before putting in a freezer storage container.
How long does Lobster Mac And Cheese last in the freezer? Up to 3 months.

Can you make Lobster Mac And Cheese in advance? Yes, but it is best served warm. You can make it in advance, bring it to room temperature and then store in a sealed or covered container in the refrigerator for up to 2 days.
Lobster Mac And Cheese: FAQ

Which part of the lobster do I use in the Lobster Mac And Cheese?

You can use any of the edible meat from the lobster, but we used meat from the tail and claws for this recipe.
How do I reheat Lobster Mac And Cheese?
Place the macaroni & cheese into an oven-safe dish. Make sure to only take out what you're going to use. Add 1 tablespoon of milk per cup of mac and cheese and mix to incorporate as much as possible. Cover the dish with aluminum foil and place in the oven at 300°F for 20 minutes, or until heated through.

Can I substitute other seafood if I do not have lobster?
Monkfish, crayfish, crab, or langoustines do an excellent job of mimicking the flavor and texture of lobster. You can also try scallops, shrimp or clams.

What is the best cheese to use for Macaroni And Cheese?
We recommend not using pre-shredded cheeses, because they are coated with flour. The shreds are more difficult to melt and combine in your sauce. You can get creative with your cheese selection depending on your tastes: Cheddar cheese, Fontina, Monterey Jack, Pepper Jack, Smoked Gouda, Gruyère and more.
How long does Lobster Mac And Cheese last in the fridge?
Leftovers can be kept in a sealed container in the refrigerator for 3 to 4 days. Reheat in the oven or the microwave.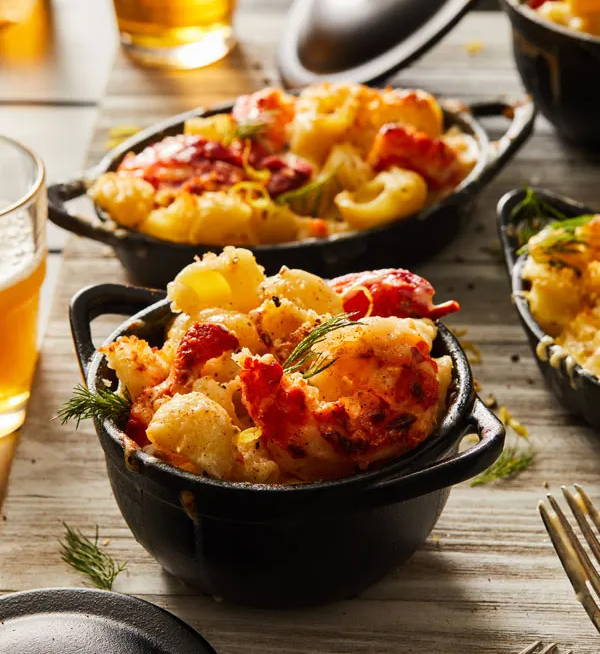 The Ultimate Lobster Mac and Cheese


Ingredients
1 (16-ounce) package

DeLallo Shellbows Pasta

8 tablespoons butter (1 stick), divided

½ cup all-purpose flour

4 cups whole milk

12 ounces Gruyère cheese, grated

8 ounces Havarti cheese, grated

½ teaspoon freshly ground pepper

½ teaspoon nutmeg

1 ½ pounds cooked lobster meat
Preheat the oven to 375˚F.

Bring a large pot of salted water to a boil. Cook pasta according to package instructions. Drain.

Meanwhile, melt 6 tablespoons of butter in a large pot. Whisk in flour and cook until lightly browned, about 2 minutes. Whisk in the milk and continue to whisk until thickened and smooth, about another 2-3 minutes.

Remove the pot from the heat and add the cheeses, pepper and nutmeg. Stir in the cooked pasta and lobster to coat. Divide between 6 individual gratin dishes.

Melt the remaining 2 tablespoons of butter in the pot. Stir in the breadcrumbs. Top gratin dishes with buttery breadcrumbs and bake for 30-35 minutes or until the sauce is bubbly and the pasta is browned on the top.

Serve immediately.
lobster mac and cheese, lobster mac and cheese recipe, lobster mac n cheese, lobster mac
Also great for mac and cheese...