Creamy Pasta With Pancetta And Peas
Pasta with pancetta and peas is a quick and easy pasta recipe you'll want in your busy weeknight toolbox. Bites of salty, crispy pancetta meet up with sweet green peas in a buttery cream sauce that will have your family flying to the dinner table. Don't forget the orecchiette! There is something about orecchiette pasta that really takes it all up a notch. These small pasta discs, named for their "little ear" shape, are perfect for scooping up small bits of ingredients… like the pancetta and peas in this one.
The best part? This tasty Italian pasta dish comes together in 30 minutes. So don't skip out on a great meal just because you have a lot to do. Pasta with Pancetta and Peas is an easy pasta recipe that you'll be swooning over in no time.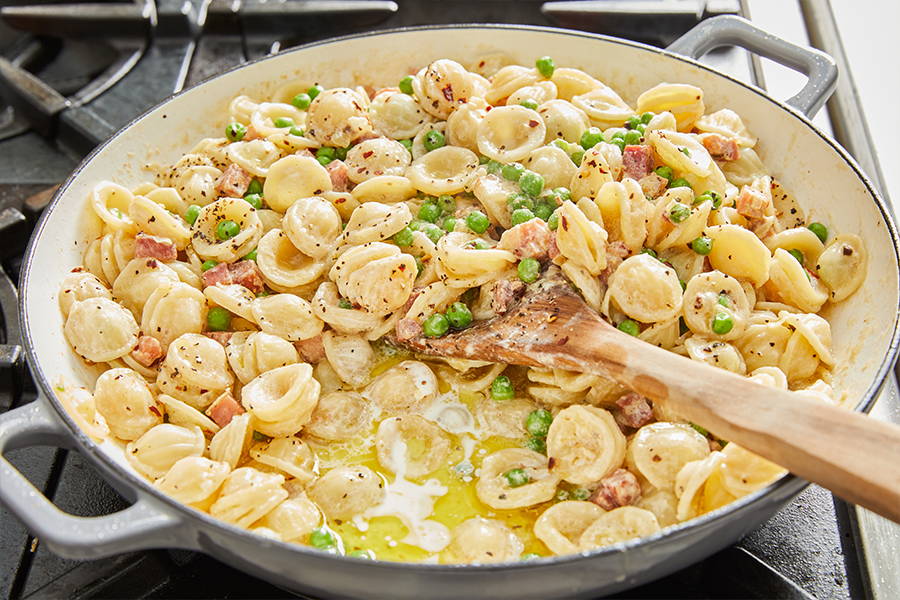 What Is Pasta With Pancetta And Peas?
Pasta with Pancetta and Peas is a quick and easy pasta recipe featuring just a few simple, quality ingredients. Orecchiette pasta is dressed in a tasty cream sauce that gets its flavor from savory pancetta, or cured pork belly, and nutty Parmigiano-Reggiano cheese. The dish is studded with sweet green peas for a pop of color and fresh flavor.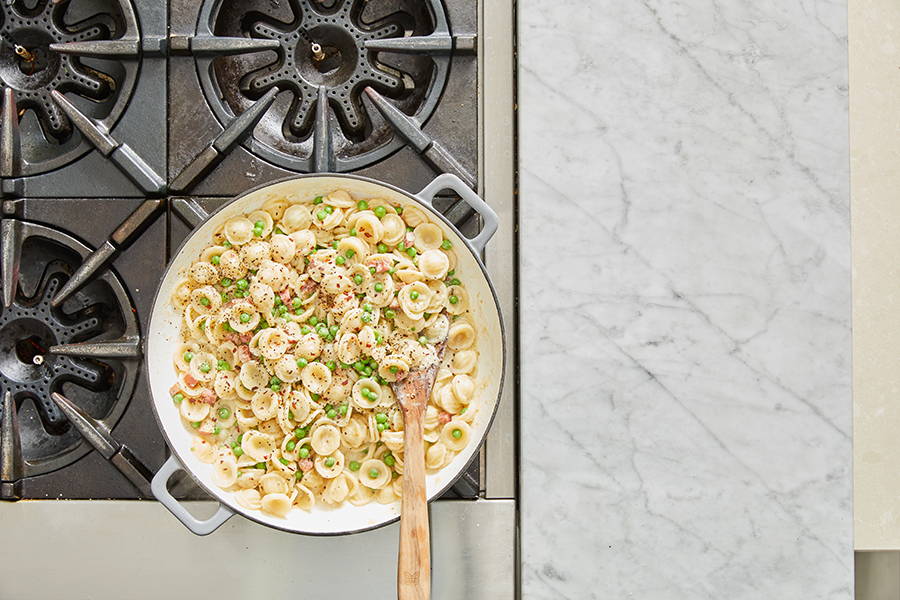 The Ingredients You Will Need To Make Pasta With Pancetta And Peas
Pancetta: Because it has been cured with salt and spices, pork belly brings a prized salty, savory flavor to your pasta dishes. Pancetta is the pork belly of choice for this Pasta with Pancetta and Peas recipe. Bacon can be used, but it adds a smoky flavor to the final dish.
Peas: You can use frozen peas to make this pasta recipe easier, but fresh peas are the best option for flavor and texture.
Parmesan: Grated Parmesan cheese, or the Italian Parmigiano-Reggiano, is a sharp, salty hard cheese. We love Parmesan best, but other hard Italian cheeses can be used instead. Try Pecorino Romano or Asiago.
Pasta: While you can use other pasta shapes, like long cuts such as fettuccine and spaghetti, but we love orecchiette pasta for this one. Orecchiette are the perfect pasta for scooping up bits of ingredients like the peas and pancetta. Shells, farfalle and fusilli are some other options for short cuts.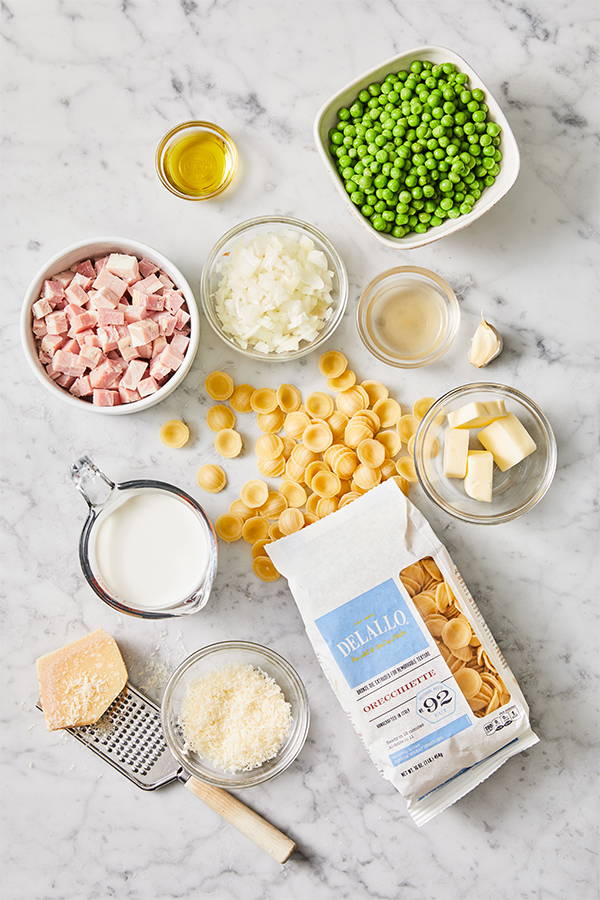 ---
How To Make Pasta With Pancetta And Peas
1. Cook the pasta.

Cook orecchiette pasta according to package instructions for that signature al dente texture.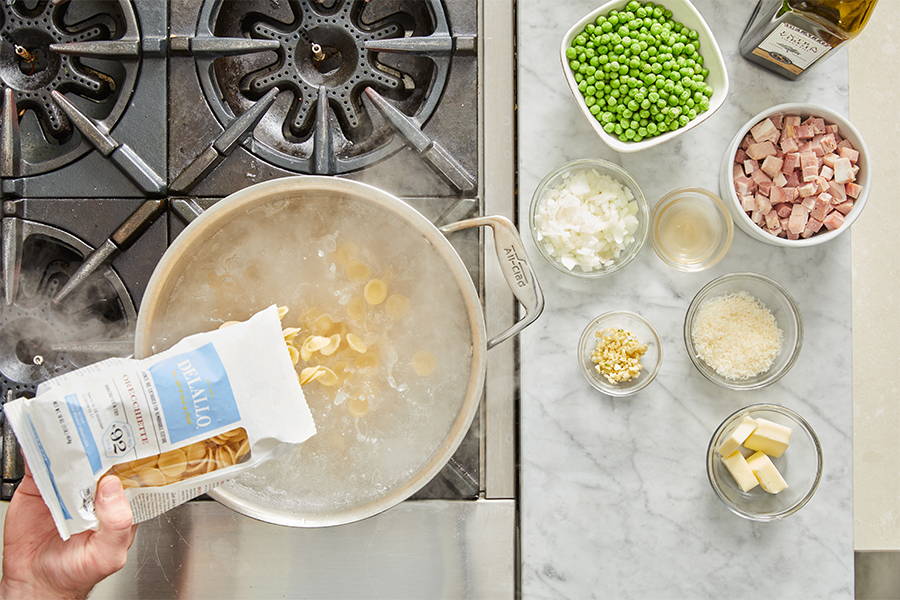 2. Sauté the pancetta.

First, heat the olive oil and garlic in a saucepan. Once hot, add the pancetta and cook until crispy and golden brown. Set aside.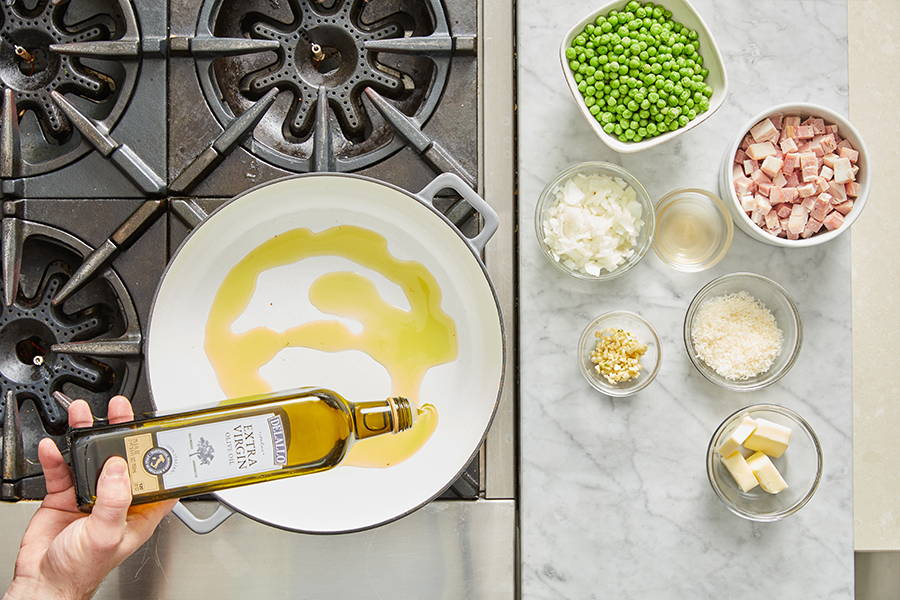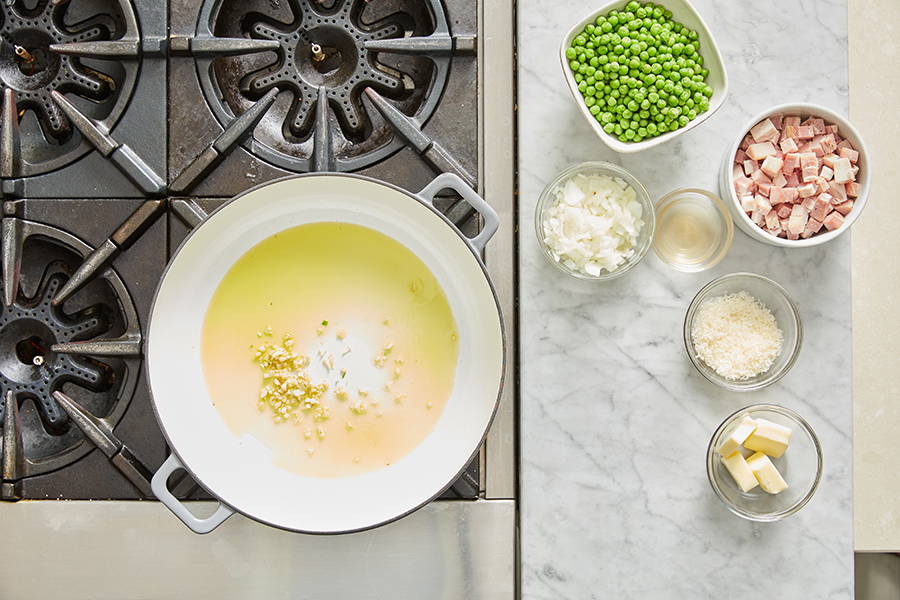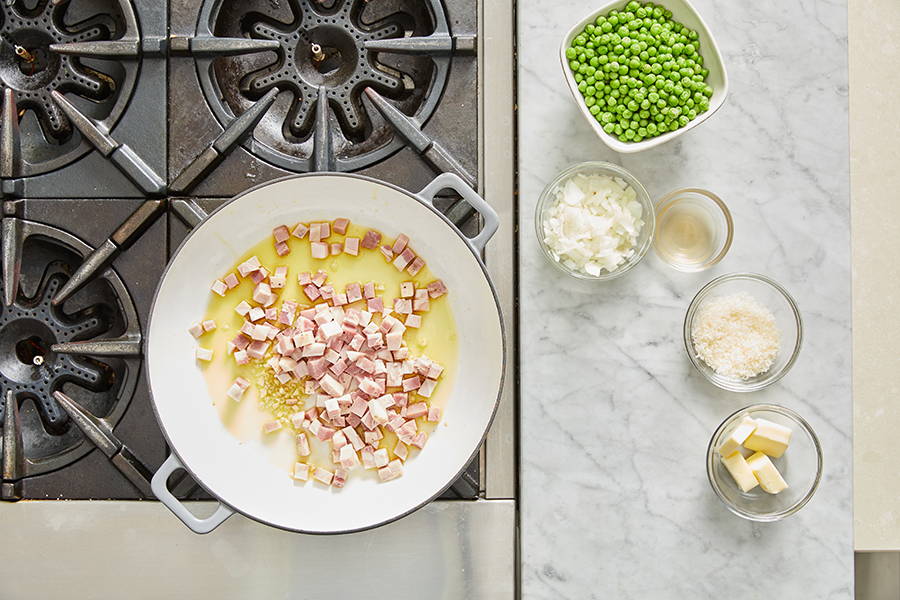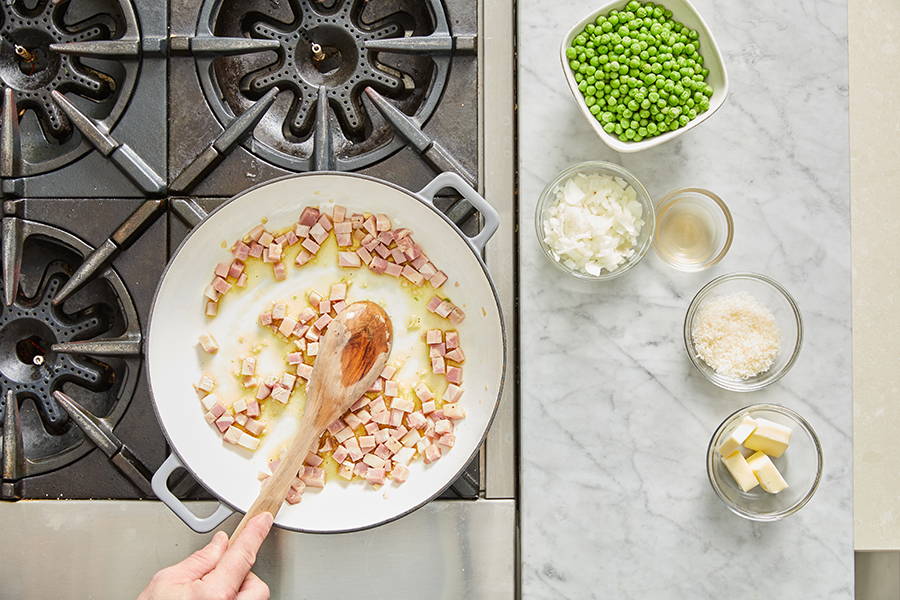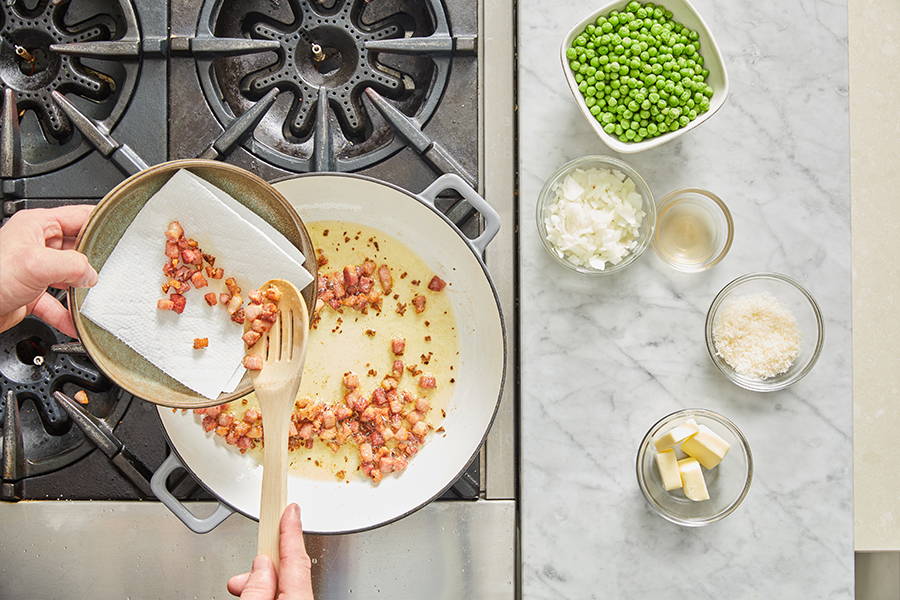 3. Make the sauce.

Using the same pan with those savory pan drippings, add butter and once melted add the onion. Once soft, add the chicken stock, salt and pepper. Return the pancetta to the pan and cook together for 2 minutes.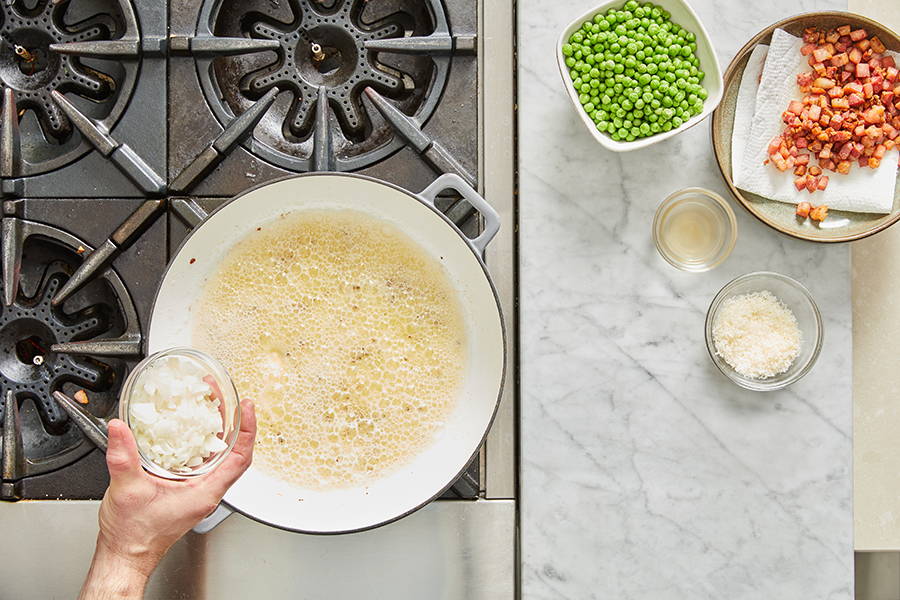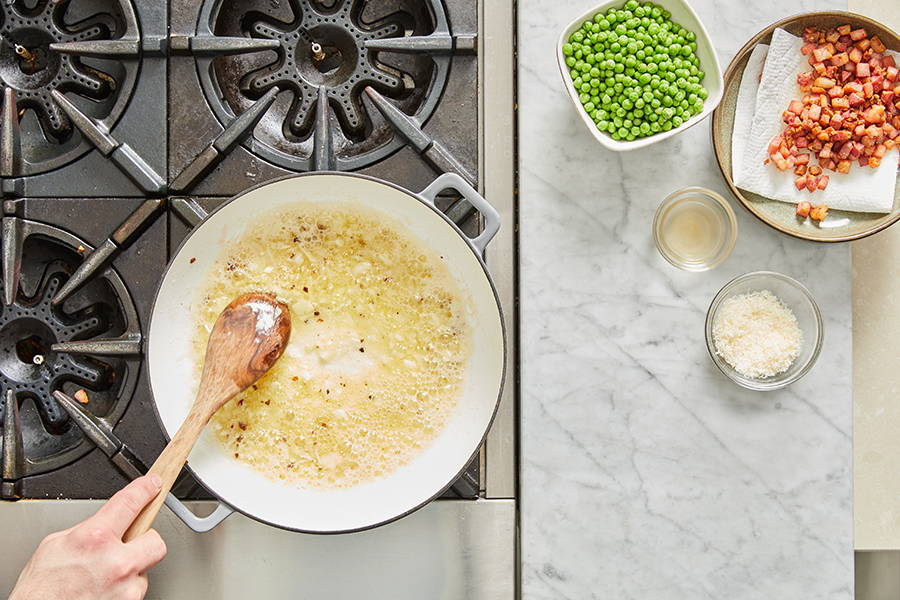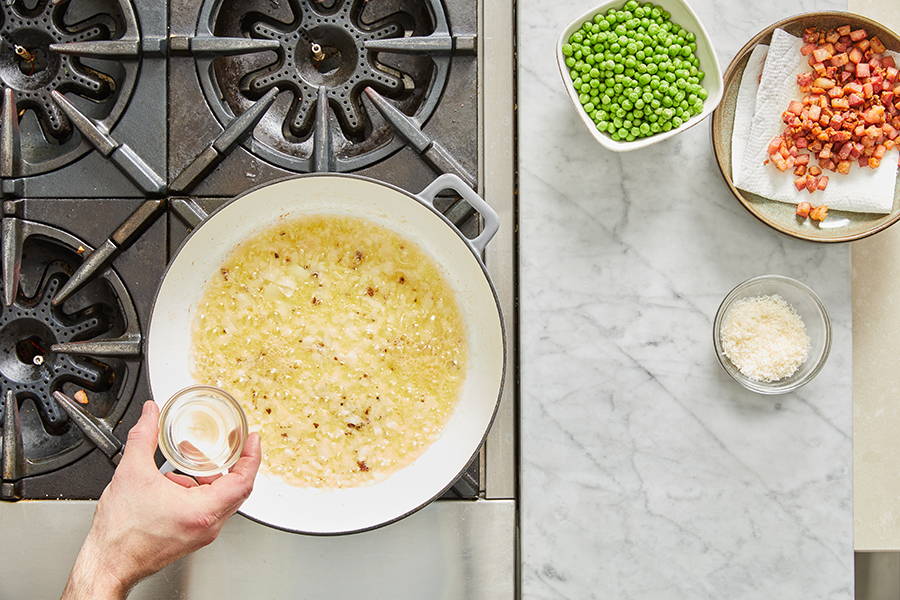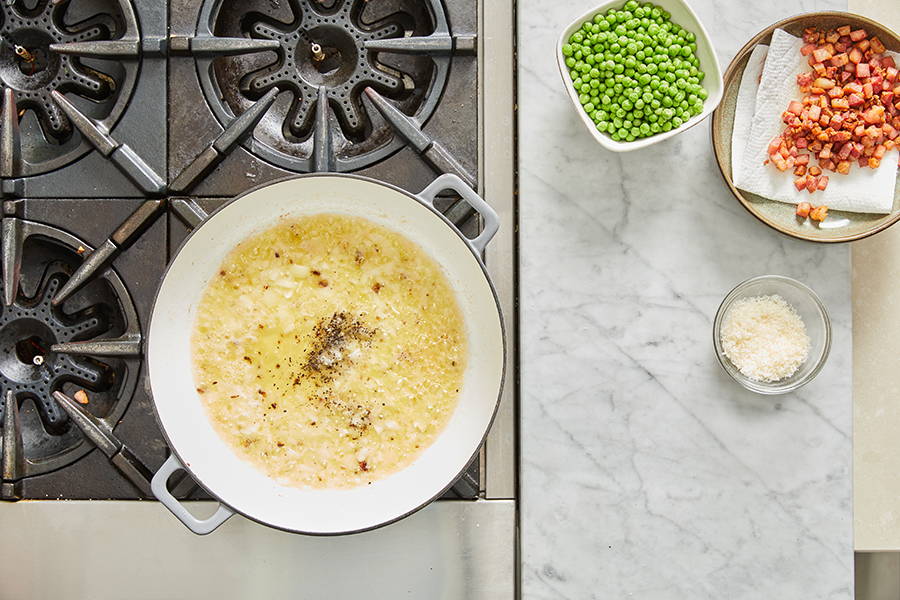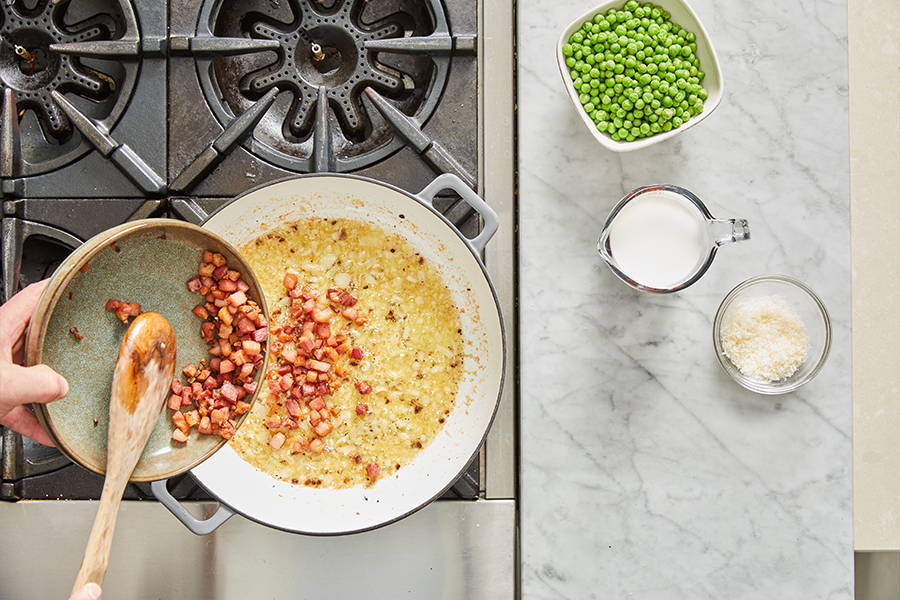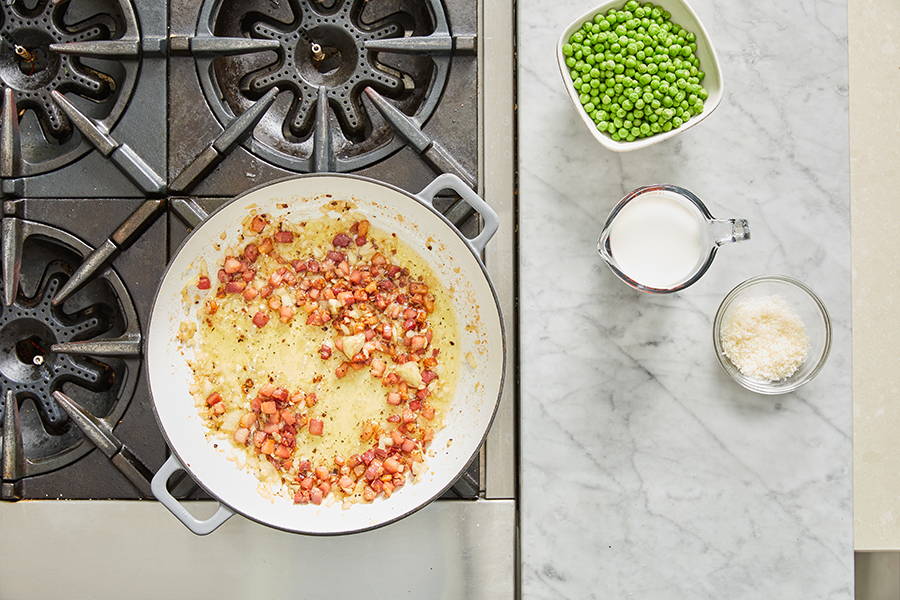 4. Add the cream.

Reduce the heat to a low setting and slowly add the cream. Stirring continuously to prevent burning, simmer for 5 minutes. Sauce should be thickened a bit.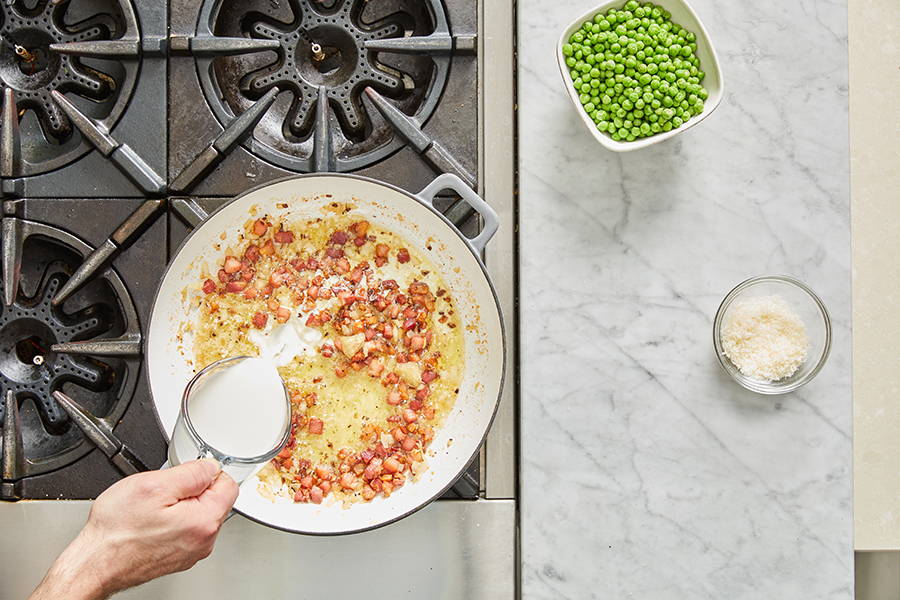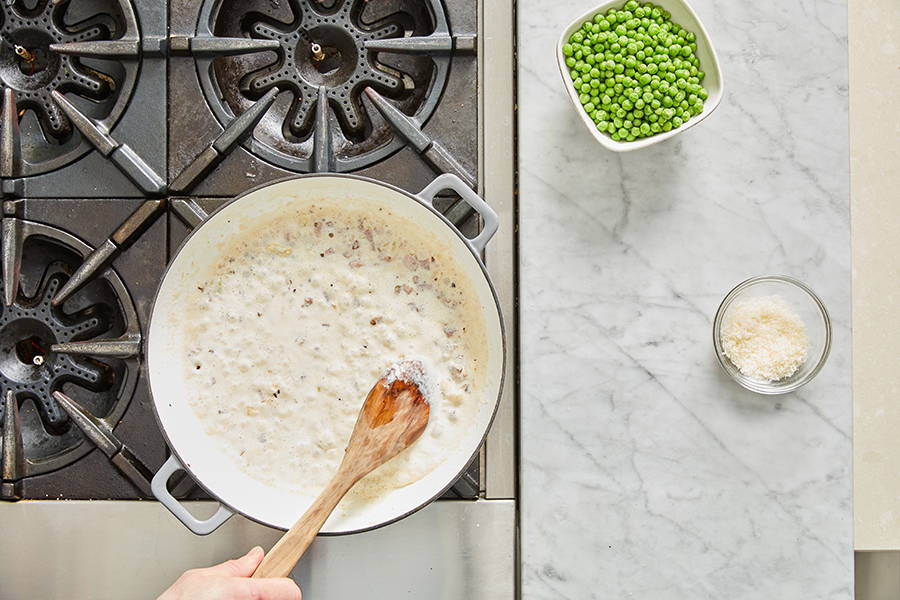 5. Finish the dish.
Mix in the pasta, peas and cheese. Serve!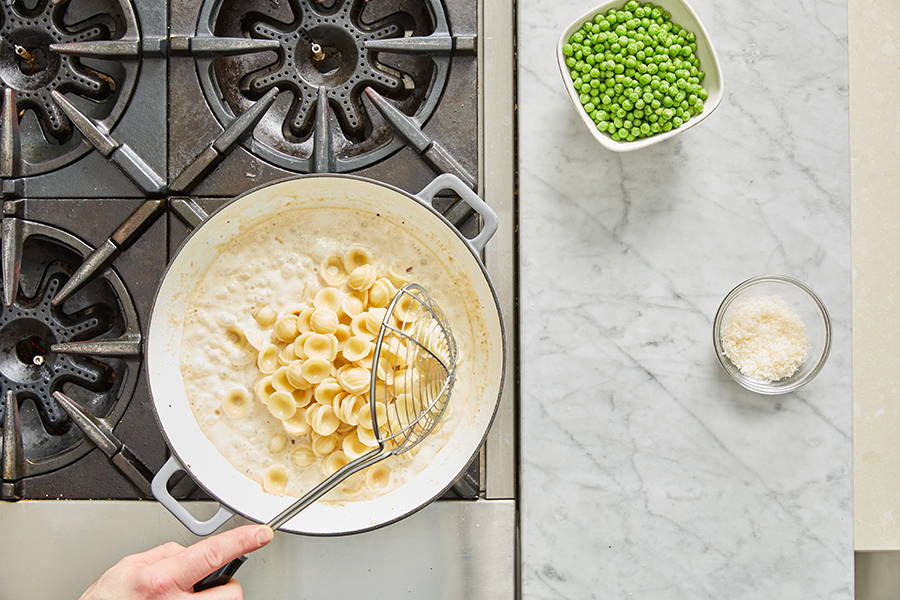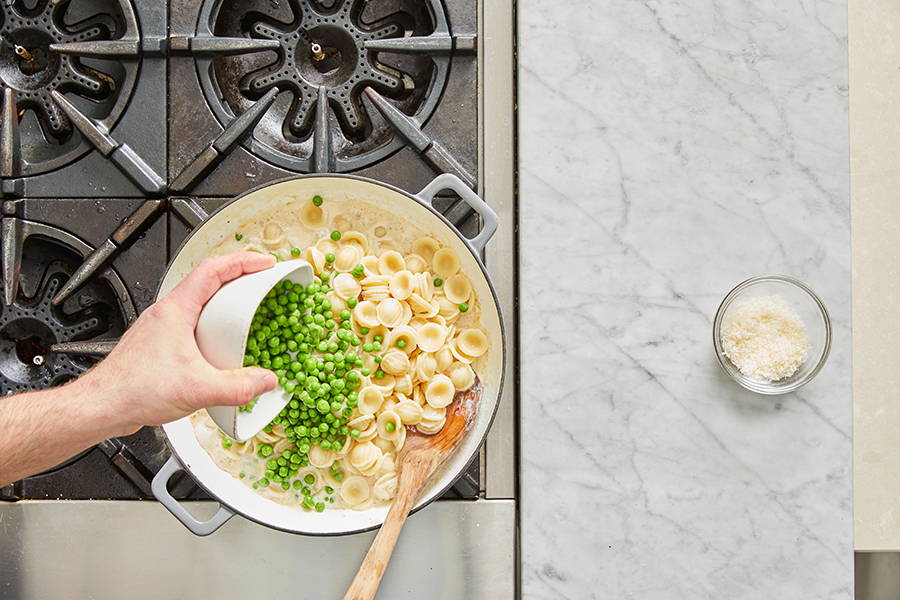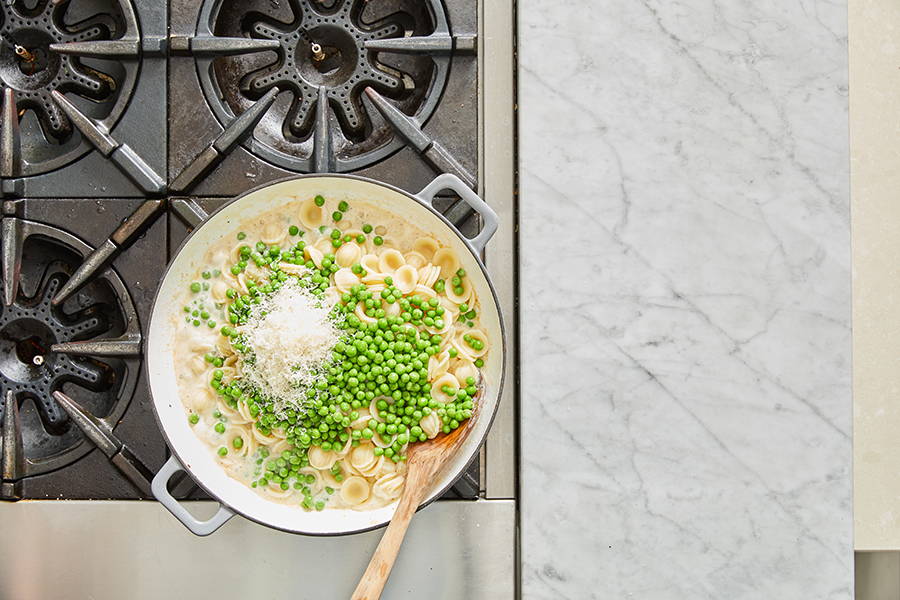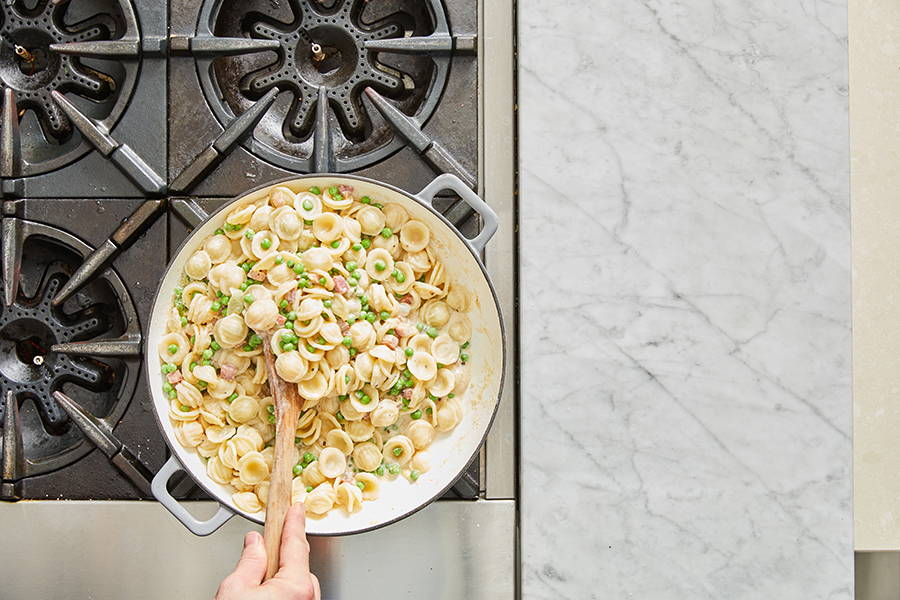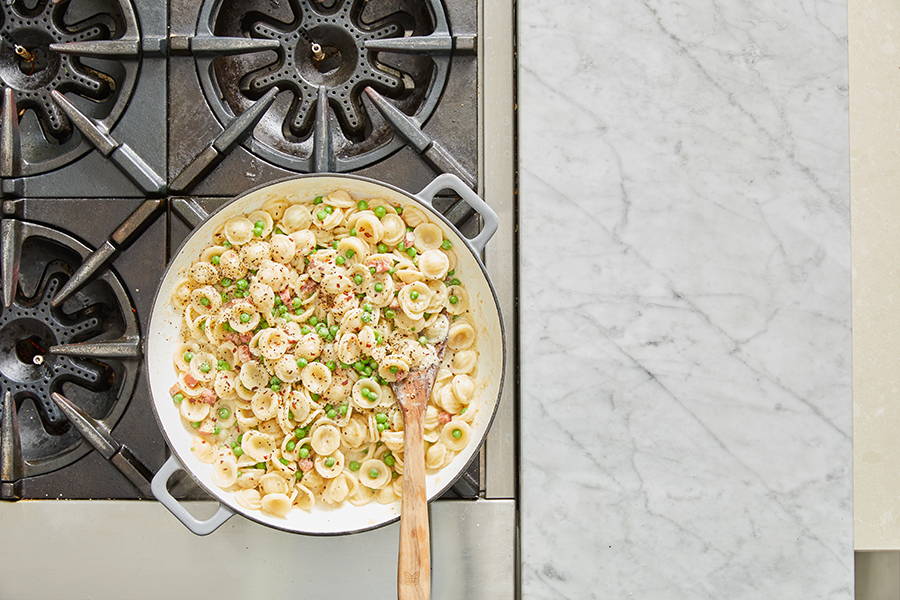 Watch How to Make Creamy Pasta with Pancetta and Peas
---
Store leftovers in an airtight container in the refrigerator for up to 3 days. To reheat, slowly heat up the pasta in a pot on the stovetop. Add a splash of milk or water to the pot and cover so the pasta does not dry out.
We do not recommend freezing this pasta dish, as cream sauces tend to separate when thawing and reheating.
Substitutions And Additions
To create a gluten-free variation of Pasta with Pancetta and Peas, swap out the traditional semolina pasta made with wheat flour for a gluten-free option.
To make this easy pasta dish vegetarian, remove the pancetta or substitute with a plant-based bacon option.
To load up on the veggies, add asparagus, sweet red bell pepper, broccoli and just about any vegetable you like.
To make this dish dairy-free, use a high-fat plant-based milk. You can use nutritional yeast and a splash of lemon juice to replace the Parmesan.
What To Serve With Pasta With Pancetta And Peas
Keep it classic and serve this easy pasta with a colorful leafy green salad and some crusty Italian bread. If you want to make it a heartier meal, serve Pasta with Pancetta and Peas alongside salmon or baked chicken.
Pasta With Pancetta And Peas: FAQ
What Is Orecchiette Pasta?
Orecchiette is a short cut of pasta named for its "little ear" shape. Hailing from Southern Italy, these concave discs are the perfect scoops for capturing sauces and smaller ingredients.
What Is Pancetta?
Pancetta is an Italian salt-cured pork belly that is known for bringing its savory, salty flavor to so many delicious recipes. Like pancetta, bacon is also pork belly, but with a distinct smoky flavor. In some cases, it might be easier to find bacon at your local grocery store, but pancetta is the better option for this dish.
Can I Make This Pasta Dish Ahead Of Time?
Pasta with Pancetta and Peas is not a dish you can make ahead of time. Cream sauces like these are all about timing, getting the flavor and texture just right. The good news is that this dish is easy to make and comes together in just 30 minutes.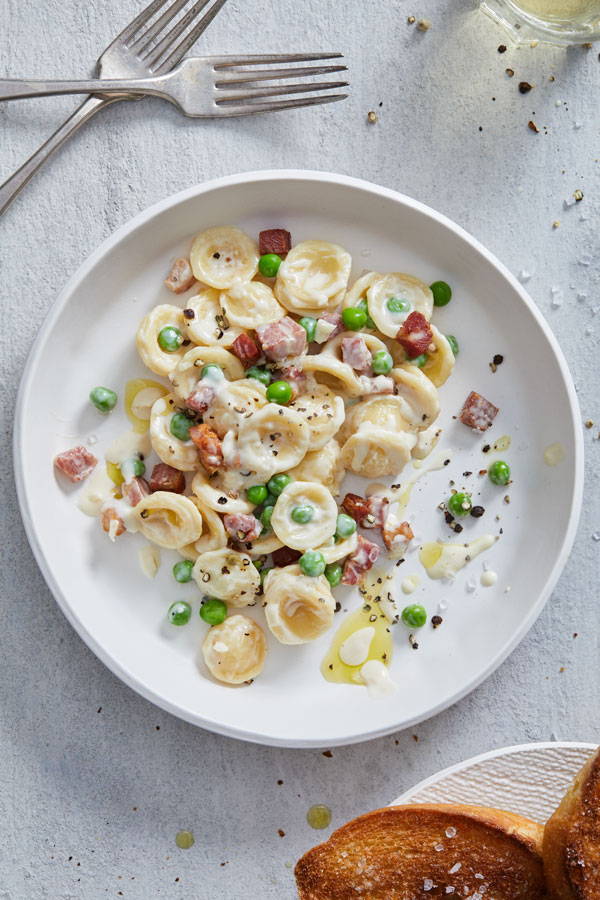 Creamy Pasta With Pancetta And Peas
Ingredients
1 tablespoon Delallo Extra Virgin Olive Oil

1 clove garlic, finely minced

1/2 pound pancetta, cut 1/4-inch thick, then cubed into small pieces

4 tablespoons butter

1 small white onion, finely diced

2 tablespoons chicken stock or water

1 cup light cream

2 cups frozen peas, thawed

1/4 cup grated Parmigiano-Reggiano cheese

Salt and pepper to taste
Bring a large pot of salted water to a boil. Cook pasta according to package instructions.

Meanwhile, in a large saucepan, heat the olive oil and garlic on a medium setting. Add the pancetta to the pan and cook until golden brown. Transfer pancetta to a dish and set aside.

In the same pan, melt butter. Add onions and cook until soft and translucent. Add chicken stock and season with salt and pepper. Stir in pancetta and cook for 2 minutes. Reduce heat to low and add cream. Simmer for 5 minutes until slightly thickened.

Add the hot cooked pasta to the pan. Mix well to coat. Stir in the peas and cheese.

Serve immediately.
pasta with pancetta and peas, pasta with peas and pancetta, pancetta peas pasta, pancetta and peas recipe, creamy pasta recipe