Made with 85% potato, DeLallo Potato Gnocchi are light and airy with a savory flavor, bringing the rich tradition of Northern Italy to every bite. Serve gnocchi simply sautéed with butter and sage, dressed with olive oil and Parmigiano-Reggiano, tossed with basil pesto or partnered with a hearty meat ragú. There's no wrong way to enjoy.
Product Features
Made in Italy with over 85% potato.

Classic Northern Italian staple

Light, pillowy texture and rich potato flavor.

Versatile pasta great with everything from simple sauces of butter and herb to heartier ragu and Alfredo.

DeLallo potato gnocchi is made in an egg and nut free facility.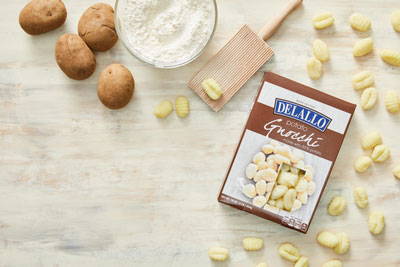 We're here to say: give your pantry something to brag about. When you shop for your pantry pasta, go for the good stuff: our gnocchi is made in Italy, and with over 85% potato, it's the most authentic Italian gnocchi you can get in a box.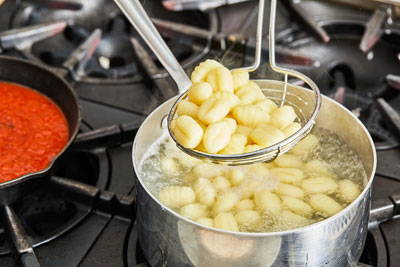 These light, airy potato dumplings glow gorgeously in a simple sauce of warm butter and Parmigiano-Reggiano—spiked with a sprout of fresh sage. By the time gnocchi are belly-up in boiling water, they are done and ready to be tossed with jeweled drops of extra virgin olive oil, cool cuts of tomato and fresh basil.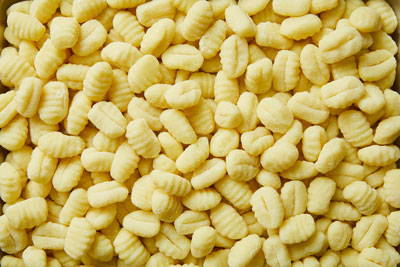 Wait...what about homemade gnocchi?
It's easier than ever to make homemade gnocchi with our Gnocchi Kit. If you're the hands-on type and you love to make things from scratch, you're going to love how easy it is to create your own potato gnocchi. It includes everything you need—just add water.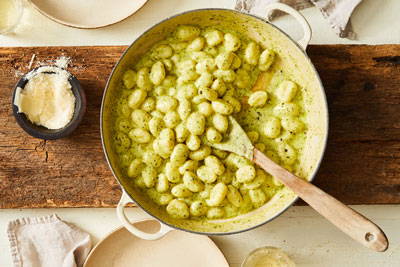 Pair Gnocchi with your favorite sauce:
From simple butter and herb sauces to chunky meaty ragùs to best-loved jarred sauces like our Pomodoro Fresco, gnocchi sauce options are as diverse as they are delicious. And don't stop there, gnocchi also inspire some yummy cheesy skillet pasta and baked pasta recipes.
---

---