The Best Cannoli Filling (Cannoli Cream)
Ready to create an authentic tasting cannoli filling for your homemade cannoli creations? If you love this tasty Italian dessert as much as we do, you don't want to wait until your next trip to an Italian bakery. This recipe for cannoli filling is so simple, you can make it every time a craving strikes and skip the bakery. Whether you're making them for a special occasion, like Christmas or Nonna's birthday, or just for you to enjoy at home with your favorite people, this cannoli filling recipe will have you on your way to an incredible Italian dessert.
Smooth, light and sweet, this scrumptious ricotta filling is the perfect partner to the delicious contrast of crisp cannoli pastry. You can make homemade cannoli shells or pick up some DeLallo Cannoli Pastry Shells. Either way, you are on your way to one of the most beloved Italian desserts with this cannoli cream recipe.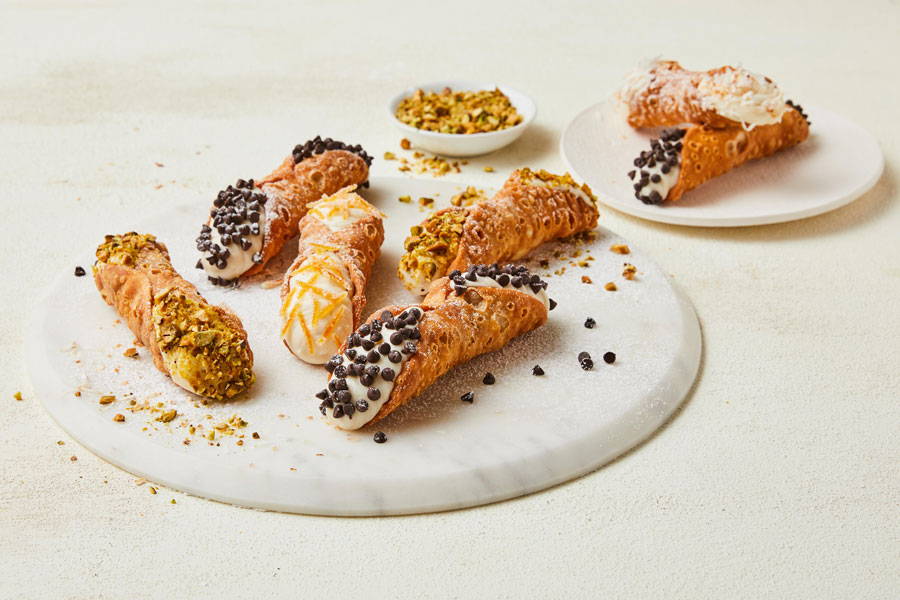 Shop DeLallo Cannoli Shells:
Cannoli (cannolo is the singular form of the word) are a popular Italian dessert consisting of crispy tube-shaped pastries filled with a sweet ricotta filling. Cannoli comes from the word "little tube," describing its hollow shape. With Sicilian origins, this beloved Italian dessert can be made in many variations including cannoli toppings such as mini chocolate chips, chopped pistachios, orange zest, rainbow sprinkles, dark chocolate and more. Homemade cannoli can be shaped using a cannoli mold, but you can also buy premade pastry shells to fill with a pastry bag on your own.
Where Does Cannoli Come From?
Cannoli is an iconic Italian dessert believed to have originated in the Palmero and Messina regions of Sicily. While Sicilians are apt to claim the beloved dessert, it is possible that cannoli can be traced much further back—all the way to the occupation of the Moors in Italy. Still, present day Sicilian bakers take pride in their cannoli.
What Is Cannoli Filling (Cannoli Cream)?
Traditionally, cannoli filling is a sweet, simple filling made with ricotta cheese and powdered sugar. We also use vanilla and a hint of cinnamon in our cannoli filling recipe. Once the filling is piped into your cannoli pastry shells, you can top it with any number of toppings. This cannoli cream can also be used as a sweet dessert filling for sandwich cookies, cakes and more.
Why You'll Love This Cannoli Filling Recipe
Cannoli filling is a fresh and flavorful dessert filling made simply with fresh ricotta cheese and powdered sugar. You will love it because it has a delicate sweetness and a light, creamy texture.
The Ingredients You Will Need To Make Cannoli Filling
Ricotta Cheese: We recommend whole-milk ricotta for that classic cannoli flavor and texture. Be sure it is well drained (at least 30 minutes) or else your cannoli cream filling may become runny, leading to soggy cannoli.
Powdered Sugar: Don't overdo it with the powdered sugar. If you use too much powdered sugar, you drown out the flavor of the ricotta cheese.
Vanilla: We always recommend pure vanilla extract, especially when using uncooked. Its flavor will shine through best.
Cinnamon: A touch of cinnamon adds a depth of flavor to this cannoli filling.
Mini Chocolate Chips: Cannoli are best with mini chips. These small chips are easier to use in your pastry bag.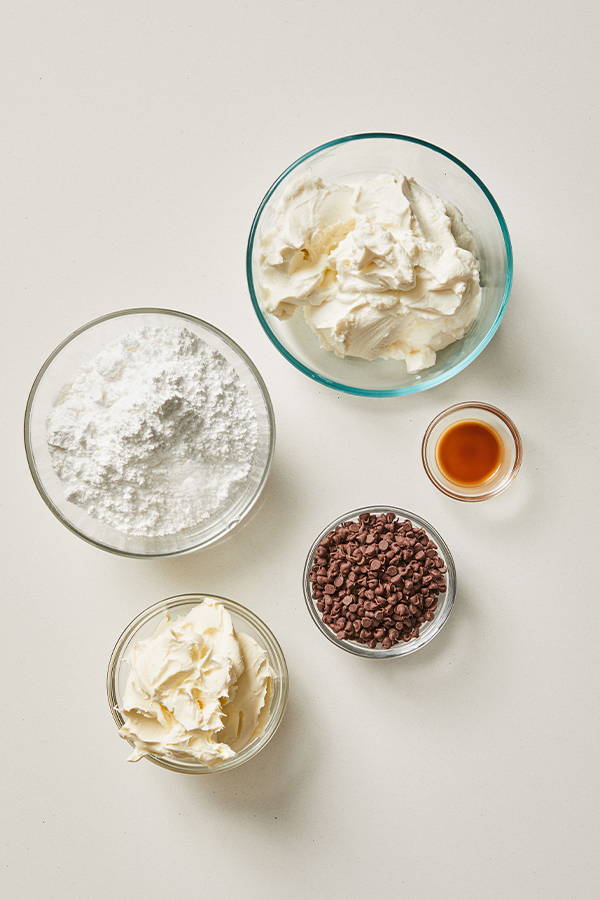 ---
How To Make Cannoli Filling
1. Drain the ricotta.

This is an important step, because without draining the ricotta, you will end up with a runny filling that will make your cannoli shells soggy.
2. Combine ingredients.

Combine ingredients in a mixing bowl. Fold in the mini chocolate chips.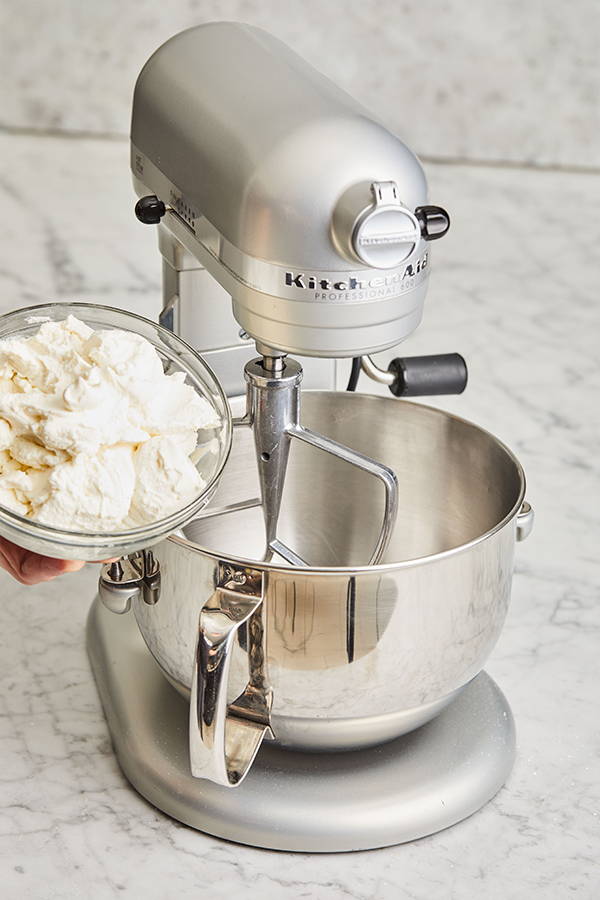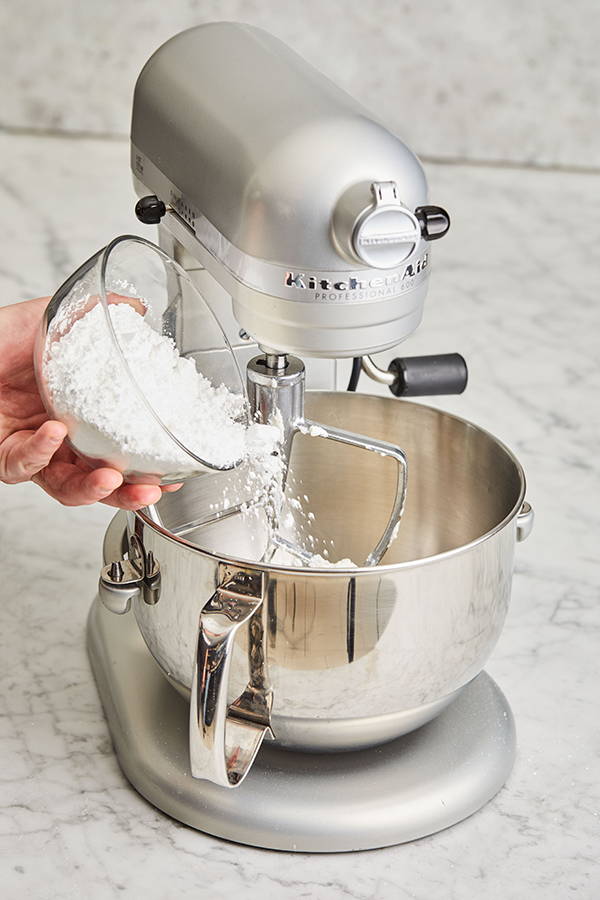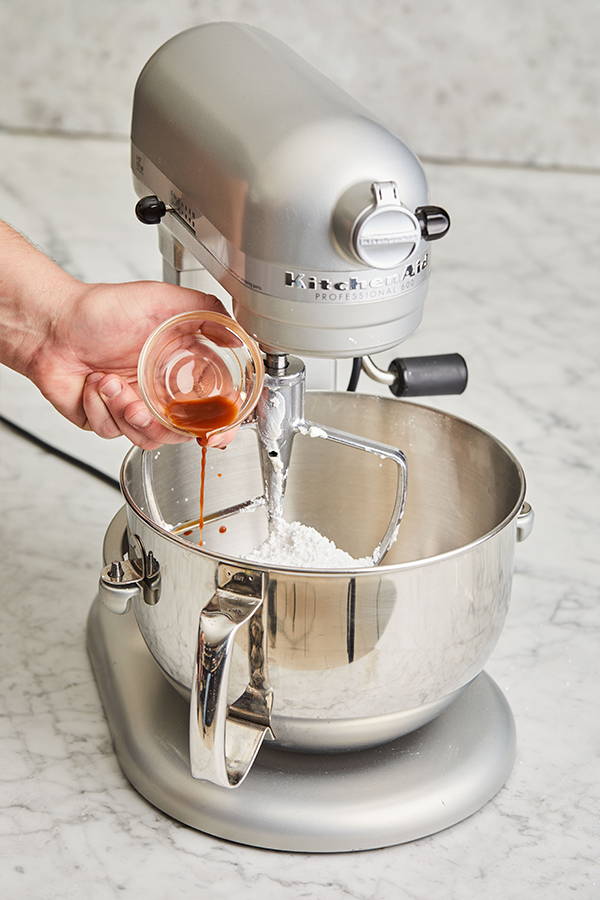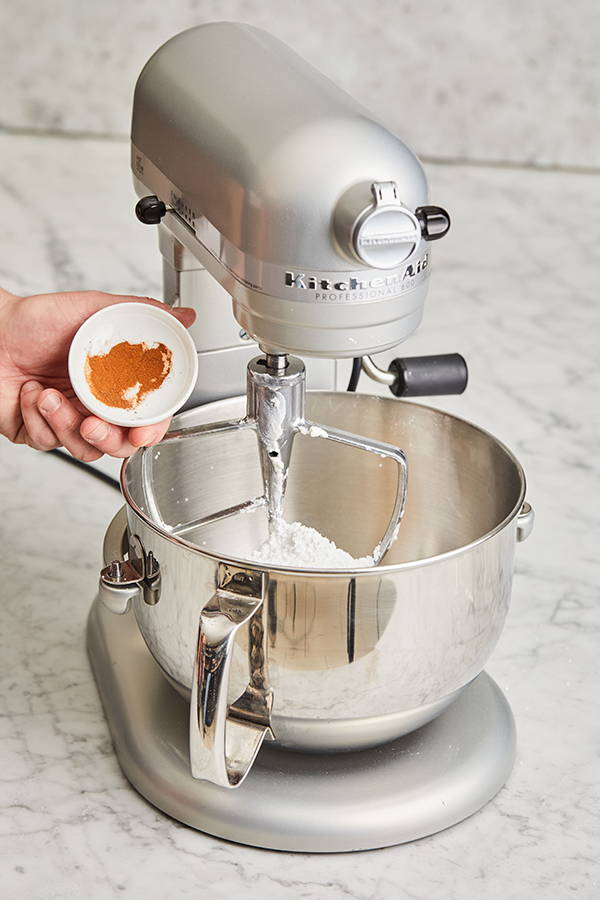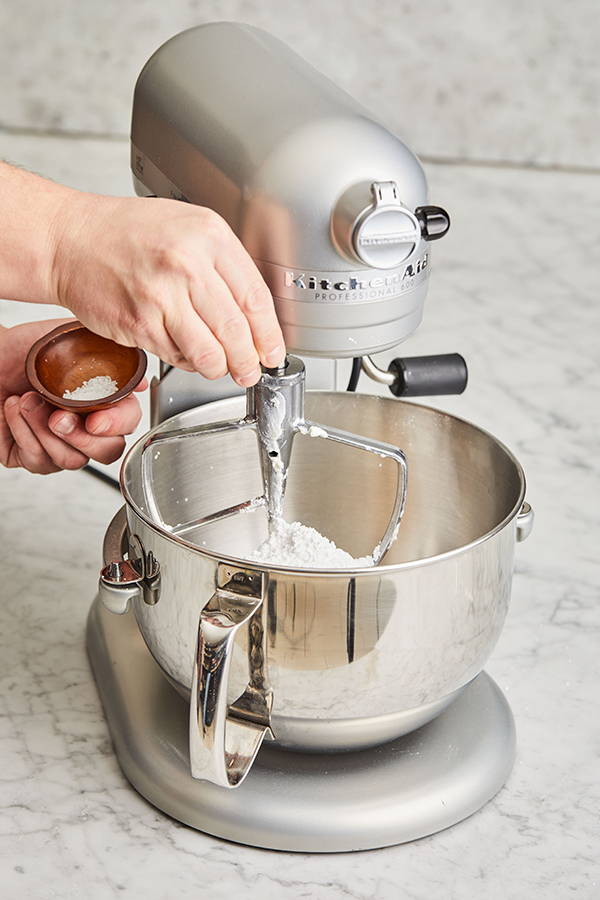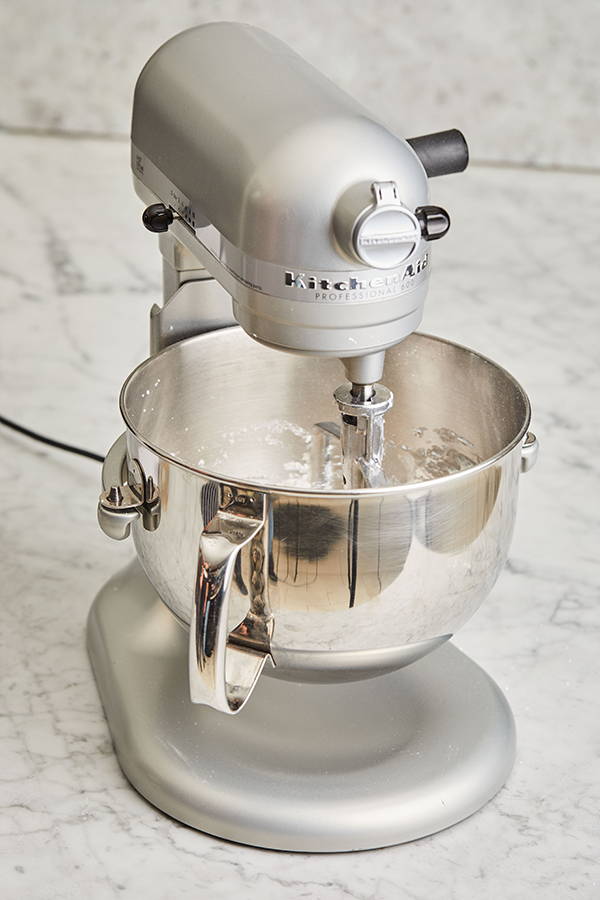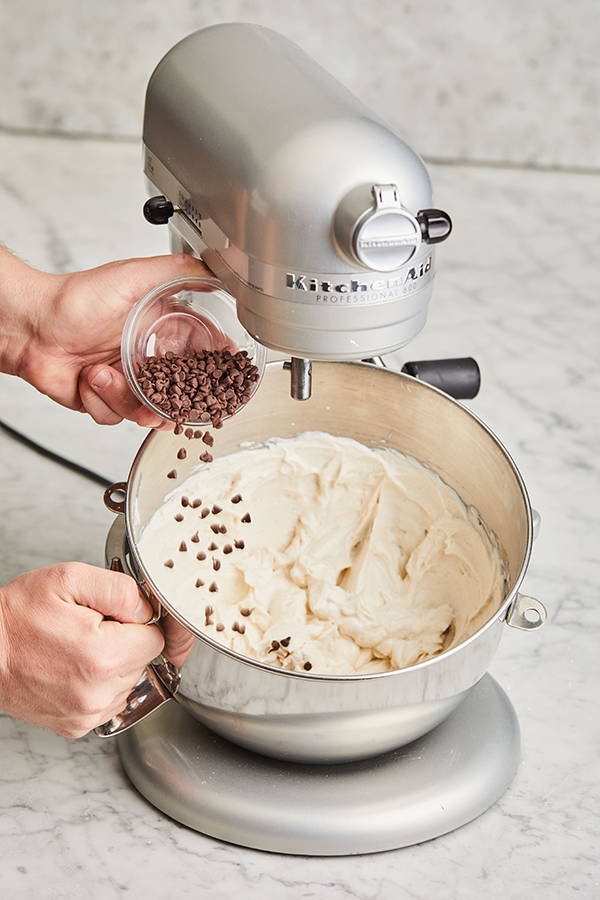 3. Place the filling in a pastry bag.

Pipe the filling into each cannoli shell.
4. Garnish.

Dip each end of each cannolo into the mini chocolate chips and gently dust with powdered sugar.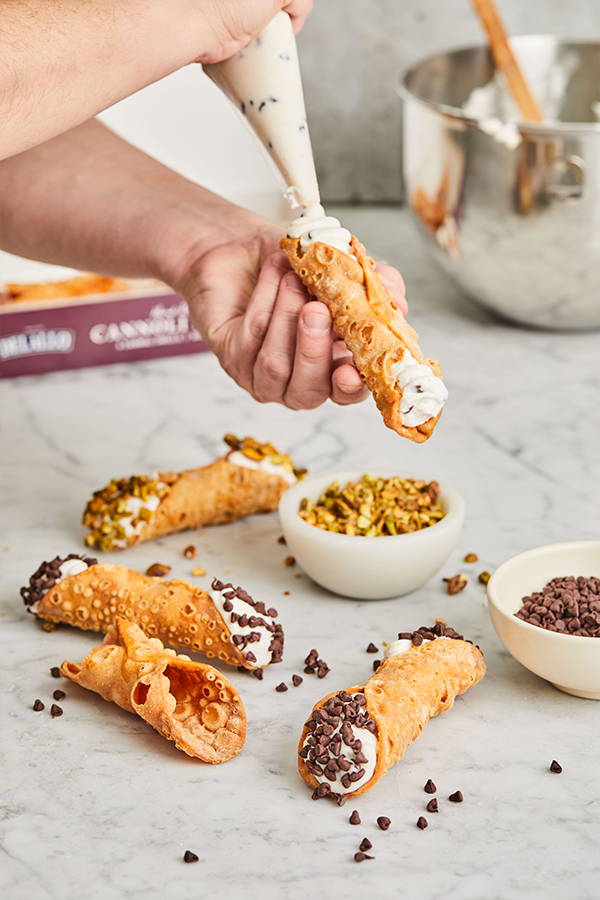 ---
Different Cannoli Filling Flavors And Topping Ideas
There are so many ways to dress and decorate your cannoli pastries. If you want a bit of tangy bright citrus, add some orange zest or lemon to your cannoli filling. Candied citrus is also popular. Try nuts like chopped pistachios or peanuts. Instead of mini chocolate chips, you can use dark chocolate shavings or chopped pieces. Don't be afraid to be creative with this one.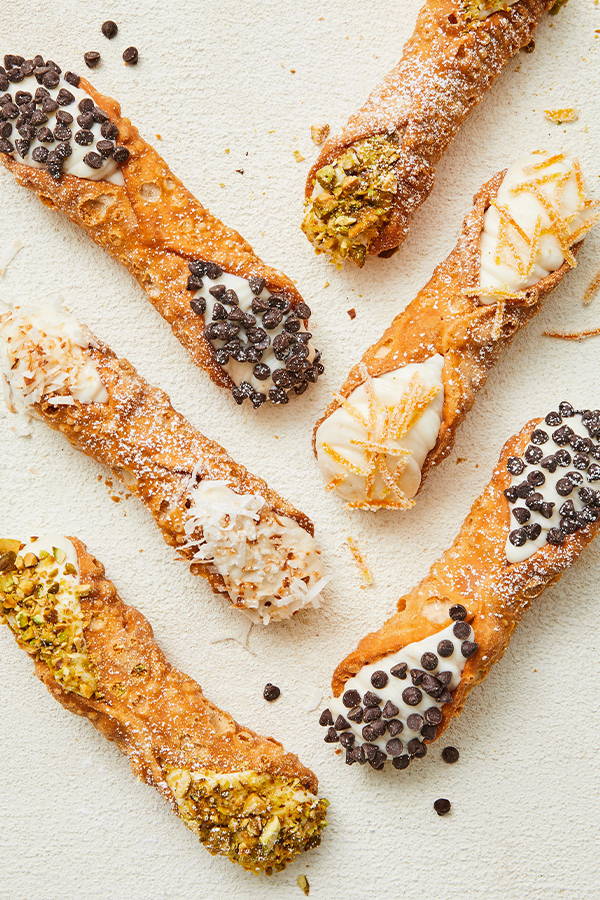 Top Preparation, Serving, And Storage Tips
Cannoli filling should be used soon after making it. Ricotta is a fresh cheese that depends upon its fresh nature to create the ideal taste and texture in most recipes. Since this is a delicate pastry, we do not recommend storing prepared cannoli filling for any length of time in the refrigerator or the freezer.
If necessary, this cannoli cream filling will be safe in the refrigerator in an airtight container for no more than two days. Even still, the quality of your cannoli will depend upon fresh filling, so we do not recommend making it in advance.
We do not recommend storing cannoli filling in the freezer. Upon thawing and reheating, the ricotta cheese will separate and become unusable in your Italian dessert.
Can I Prepare Cannoli A Few Days Ahead?
No, we do not recommend preparing cannoli filling that far in advance. Cannoli filling is made with ricotta cheese, a fresh cheese that relies on its fresh nature to achieve the ideal taste and texture. Prepare this Cannoli Filling recipe prior to making and serving your cannoli.
How Do I Keep Filled Cannoli From Getting Soggy?
Cannoli will become soggy for mainly two reasons. If the ricotta is not drained properly, there will be too much liquid in the cannoli filling, which will make your pastry shells soggy. Filling the cannoli too soon before serving can also give the bottom of your pastries a soggy texture. Beware of these two things.
Is Cannoli Filling The Same As Cannoli Cream?
Yes, cannoli filling is creamy in texture, so sometimes it is referred to as "cannoli cream." Some cannoli filling recipes even include whipping cream, giving it a more whipped-cream-like texture.
How Do I Thicken Up The Filling?
This question is tricky, because there are a few ways to tackle a runny filling. Some prefer to grind up a couple of almonds into powder, some use gelatin and others add more powdered sugar to the mix.
Can I Use Cottage Cheese Instead Of Ricotta Cheese?
We do not recommend substituting the ricotta cheese. That said, if you have to, cottage cheese is a close match.
Can I Use Cream Cheese Instead Of Ricotta Cheese?
We do not recommend substituting the ricotta cheese with cream cheese. Cream cheese is denser in texture with a stronger, richer flavor than ricotta. Traditional cannoli have a filling that is light in texture and sweet but mild.
Can I Use Mascarpone Instead Of Ricotta Cheese?
Like our thoughts on cream cheese, substituting the ricotta for mascarpone cheese is not ideal. This will make your cannoli filling more flavorful and dense. If you prefer the flavors and textures of traditional cannoli, do not substitute.
Do I Eat Cannoli Warm Or Cold?
Cannoli are traditionally served at room temperature with a cool filling. If making homemade cannoli shells, they must be totally cooled before filling.
What Does Cannoli Mean In Italian?
The word cannoli means "little tube" in Italian referring to the hollow tube shape of its fillable pastry shell.
Do Italians Eat Cannoli For Breakfast?
In Italy, breakfast consists mostly of breads and baked goods. This includes cannoli, of course. Italians enjoy their breakfast treats with espresso, coffee, cappuccino or tea. Pastry items such as cannoli are sold at cafes for just this reason.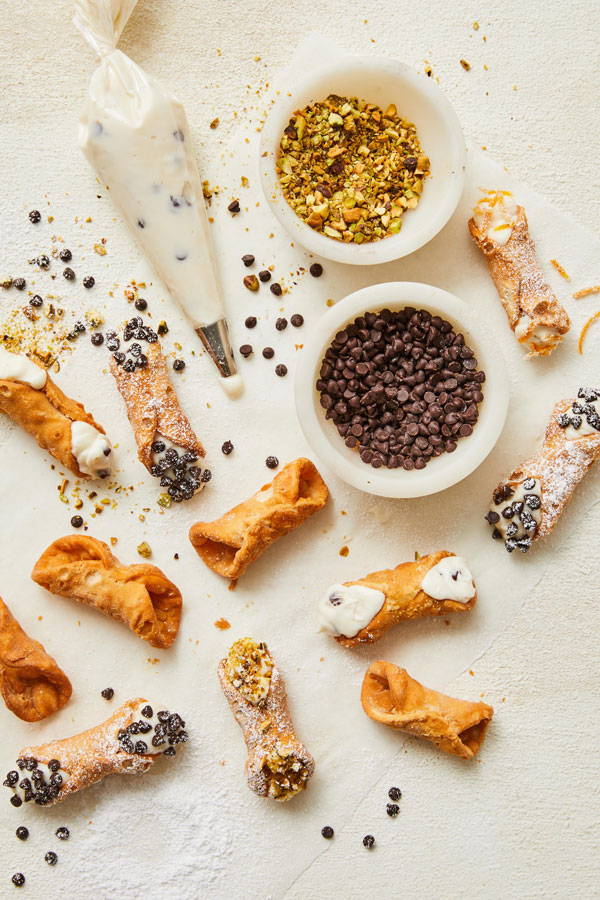 The Best Cannoli Filling (Cannoli Cream)

Ingredients
1 (32-ounce) container whole milk ricotta cheese, drained

1 ½ cups powdered sugar, plus more for garnish (optional)

2 ½ teaspoons vanilla

½ teaspoon salt

Pinch of cinnamon

½ cup mini chocolate chips, plus more for garnish (optional)
To drain the ricotta, line a fine mesh strainer with cheesecloth. Place the strainer over a bowl and add the ricotta to the strainer. Let the ricotta drain in the fridge for 2 hours or up to overnight.

In a mixing bowl fold and stir together drained ricotta, sugar, vanilla, salt, and cinnamon.

Add the chocolate chips and stir to combine.

Transfer the mixture into a piping bag fitted with a large round tip. Pipe filling into cannoli shells.

Dip each end of each cannolo into chocolate chips, if desired, and gently dust the filled and decorated cannoli with powdered sugar.

Arrange them on a tray and serve!
cannoli filling, cannoli filling recipe, how to make cannoli filling, ricotta cannoli filling