The Best Chicken Gnocchi Soup
Looking for something tasty to warm you up? This Chicken Gnocchi Soup is a cold-weather comfort food recipe that the whole family will love. Starring pillowy potato gnocchi, shredded chicken breasts, spinach and fresh veggies in a creamy chicken broth, this cozy-up classic is sure to be your new favorite soup.
What Is Chicken Gnocchi Soup?
Chicken Gnocchi Soup is a creamy, hearty take on that classic chicken noodle soup you love. It is made with shredded chicken breast, carrots, celery, spinach and potato gnocchi in a rich creamy broth. Potato gnocchi is the perfect tender, bite-sized pasta for this filling comfort food recipe. Use DeLallo Potato Gnocchi from the grocery store or create your own from scratch. Either way, this cold-weather soup recipe is sure to be a new family favorite.
Why You'll Love This Chicken Gnocchi Soup Recipe
Think of this Chicken Gnocchi Soup as a grown-up version of the beloved childhood classic, Chicken Noodle Soup. Like that soup, this recipe is sure to warm you up, fill you up and dish out comfort by the spoonful. This version includes your favorite Italian pasta, potato gnocchi, and a rich and creamy base. It's not just for grownups, though. Everyone in the family is going to love this one. And it's super simple to make, so you can enjoy a hearty winter soup any night of the week.
The Key Ingredients You Will Need To Make Chicken Gnocchi Soup
Chicken Breasts: We recommend shredded chicken breasts, but you can also pick up a rotisserie chicken from the market and shred this.
Vegetables: The addition of carrots, celery and onion add a sweet flavor.
Garlic: This popular Italian herb adds a robust flavor, adding to the complexity of the final dish.
Potato Gnocchi: Pillowy potato pasta are the epitome of comfort food. Make you own homemade or pick up a box of DeLallo Potato Gnocchi.
Chicken Stock: Vary the amount of chicken stock to change the consistency of the soup.
Heavy Cream: This is what gives the soup a creamy texture and richer flavor.
Fresh Spinach: Tender, earthy spinach is a great complement to the creaminess of this soup. Fresh leaves are best. Chop them if they are too big.
---
How To Make Chicken Gnocchi Soup
1. Cook the gnocchi.

Cook according to package instructions. Drain and rinse to prevent sticking, then set aside.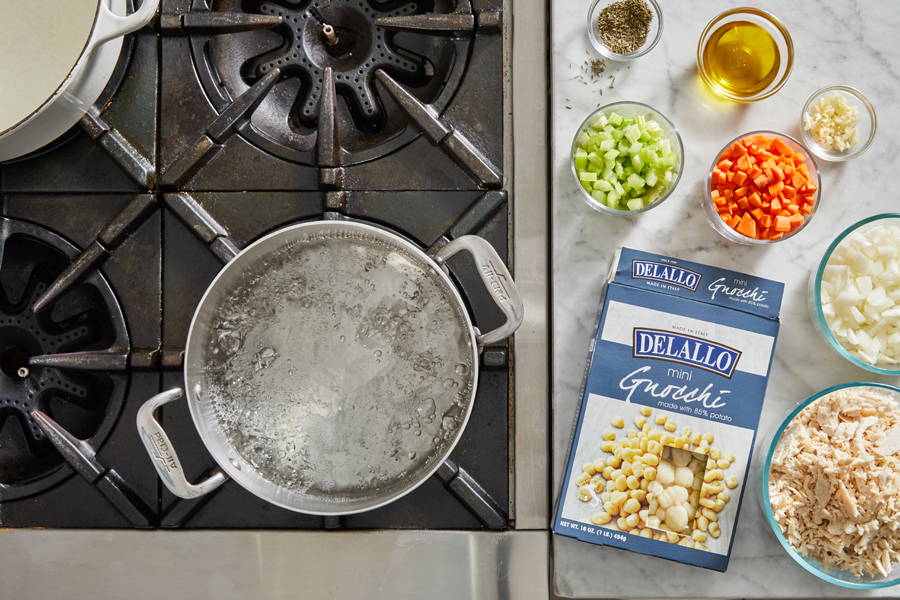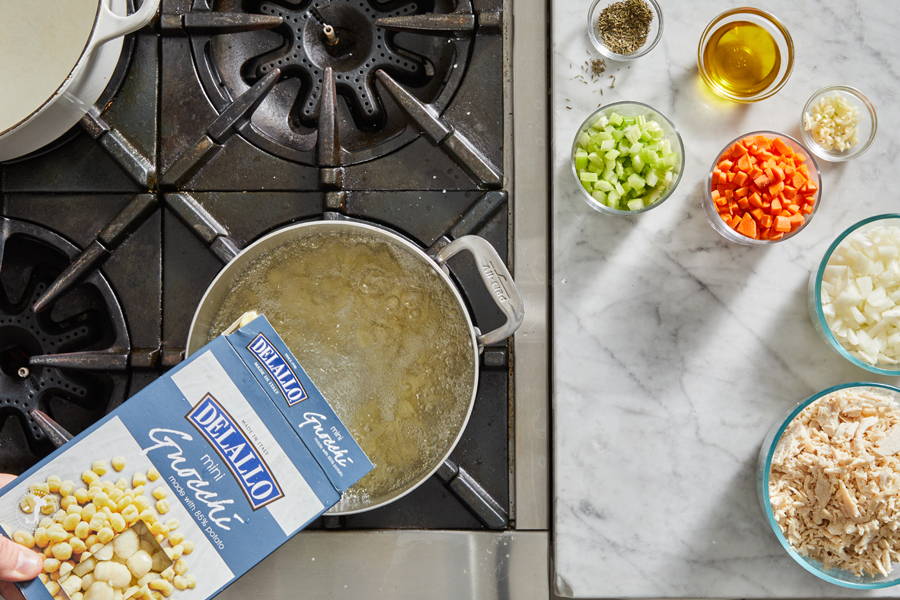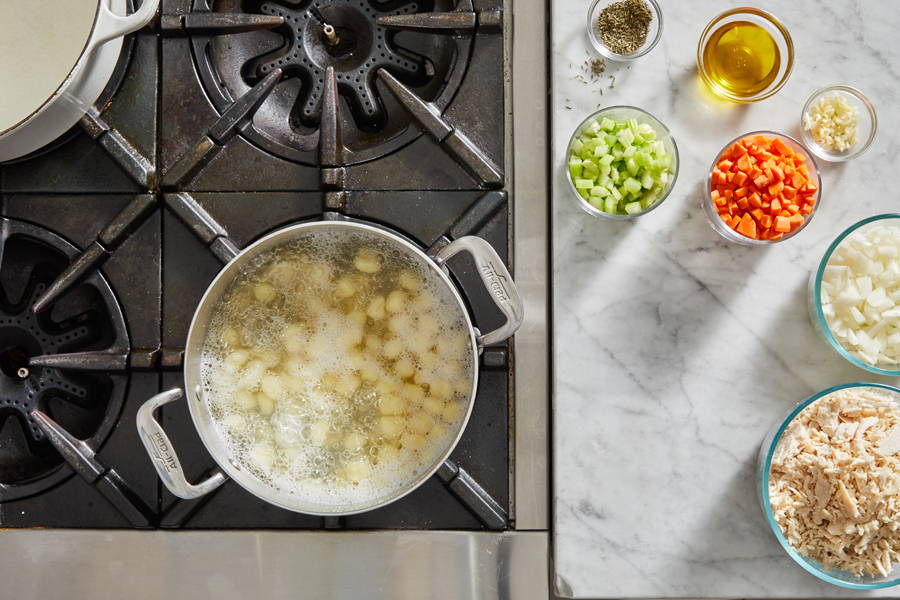 2. Sauté the vegetables.

In a large pot, sauté the carrots, celery, garlic and onion.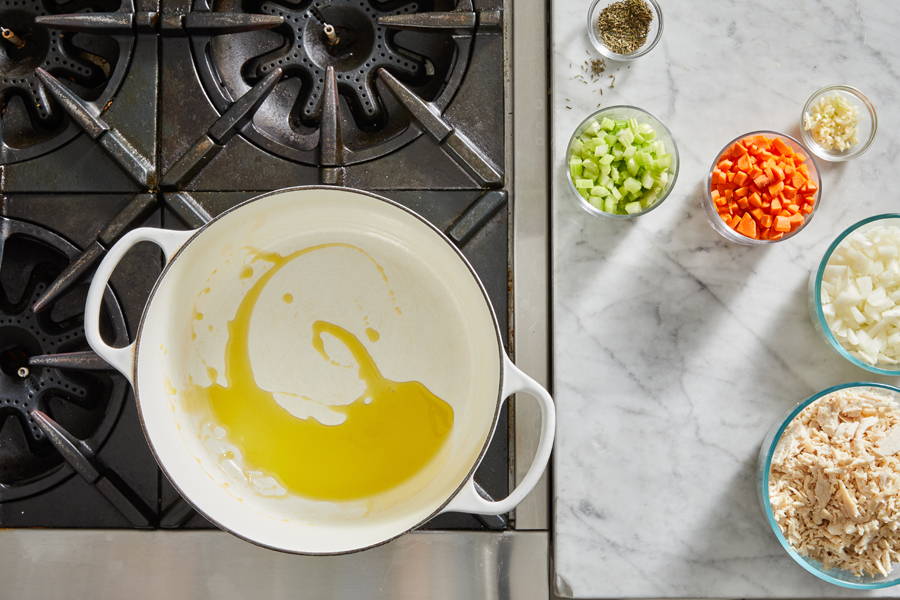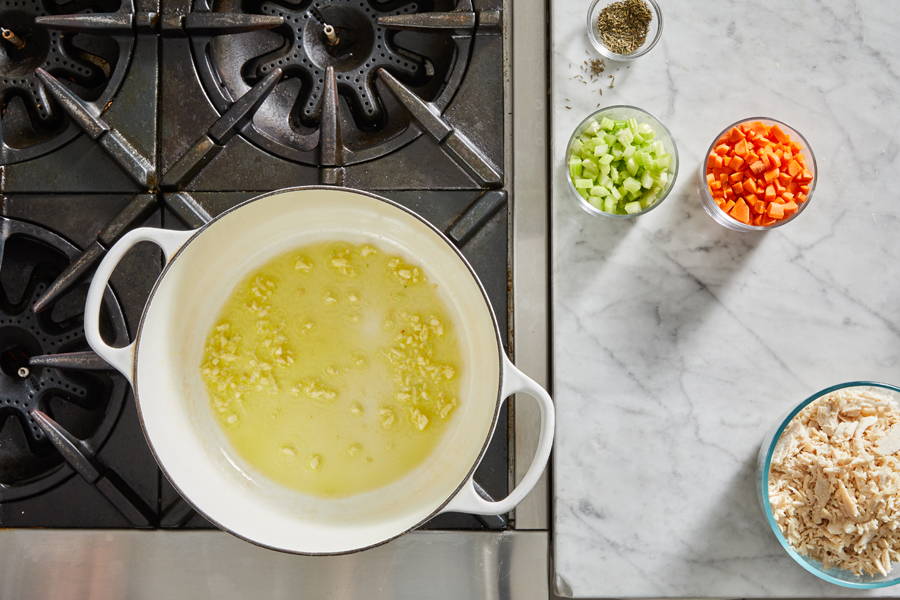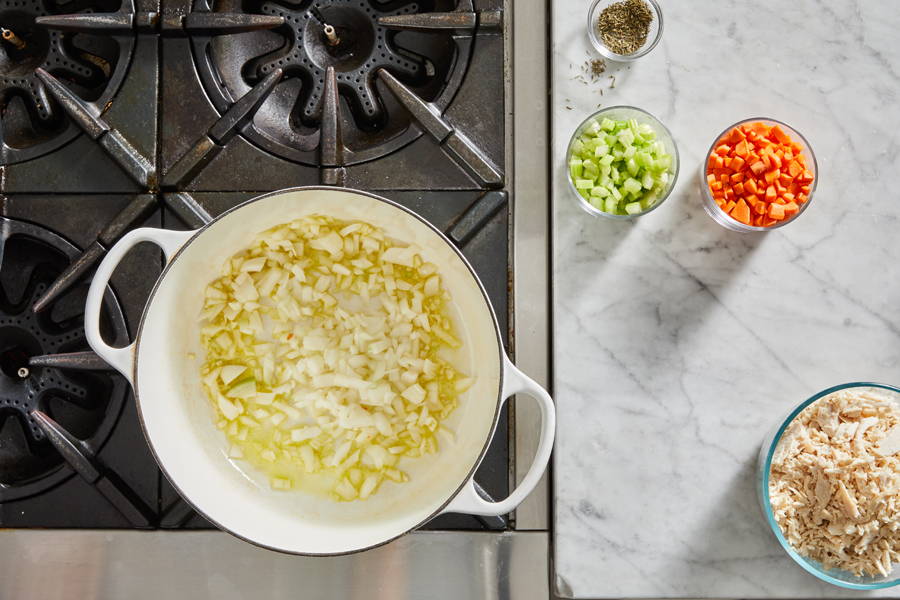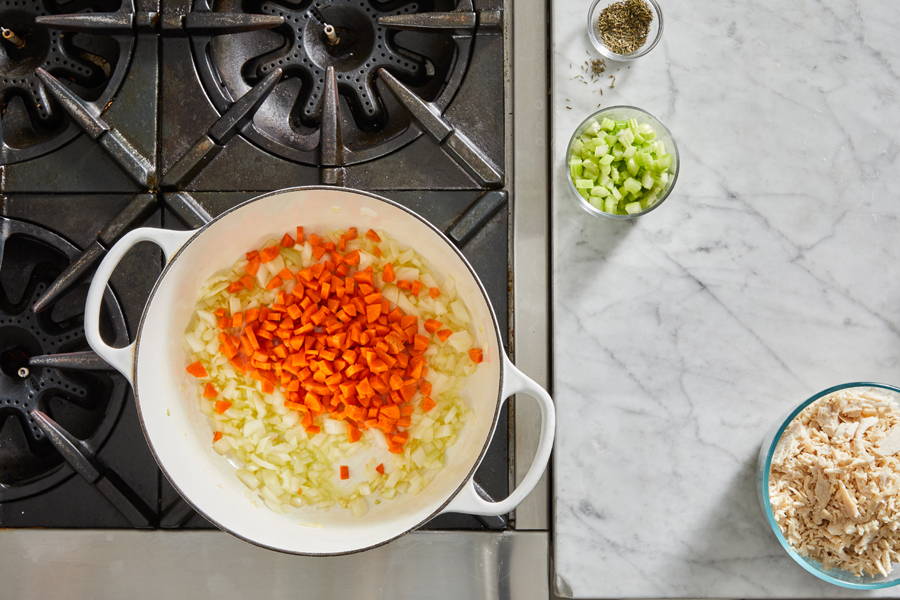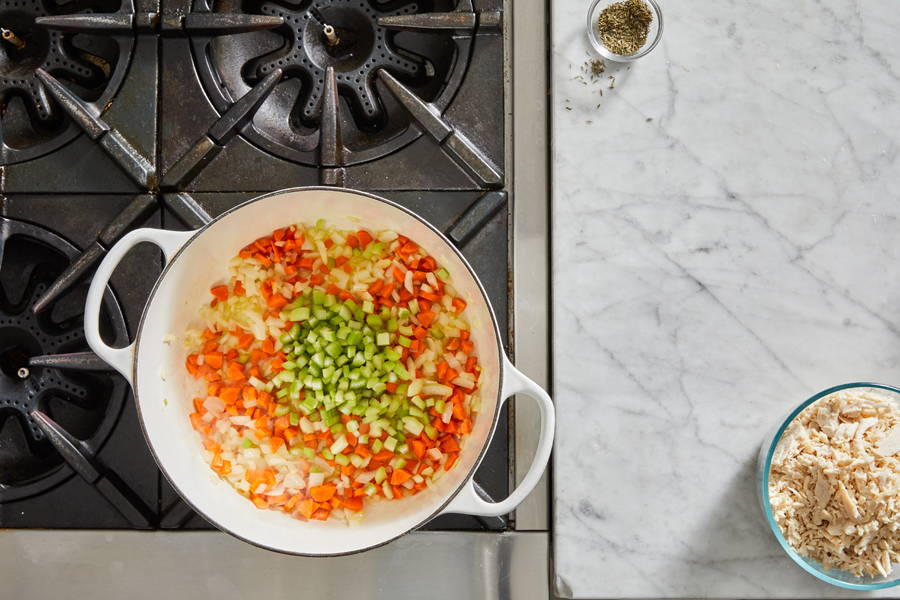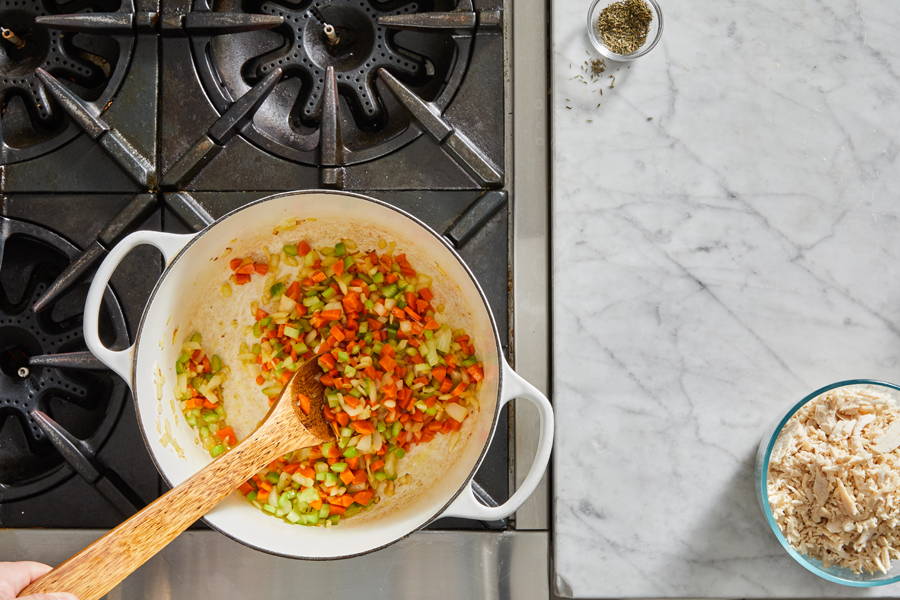 3. Flavor the shredded chicken.

Add the chicken to the pot with the vegetables. This will give the chicken some flavor.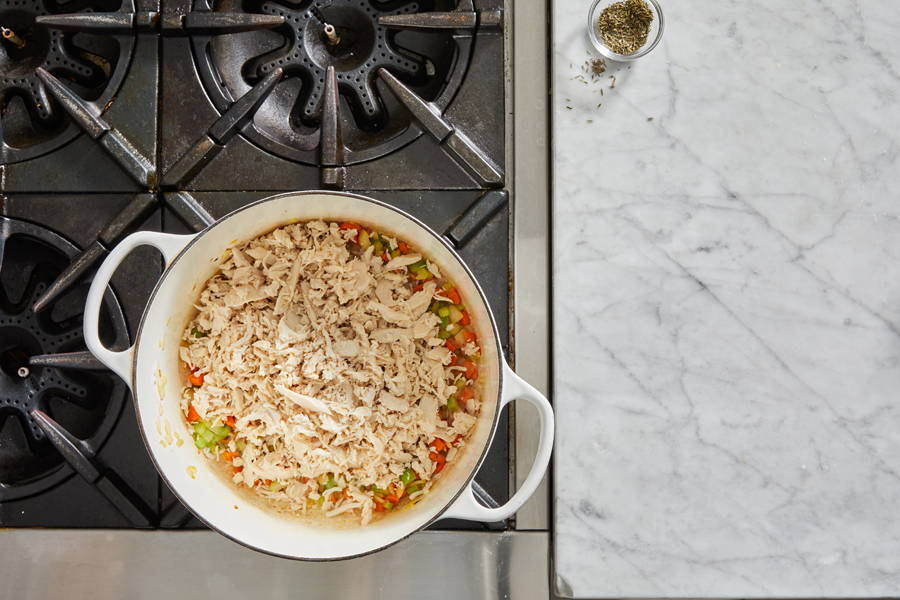 4. Simmer the soup.

Add seasonings and chicken stock to the pan, then bring to a boil. Simmer together for 15 minutes.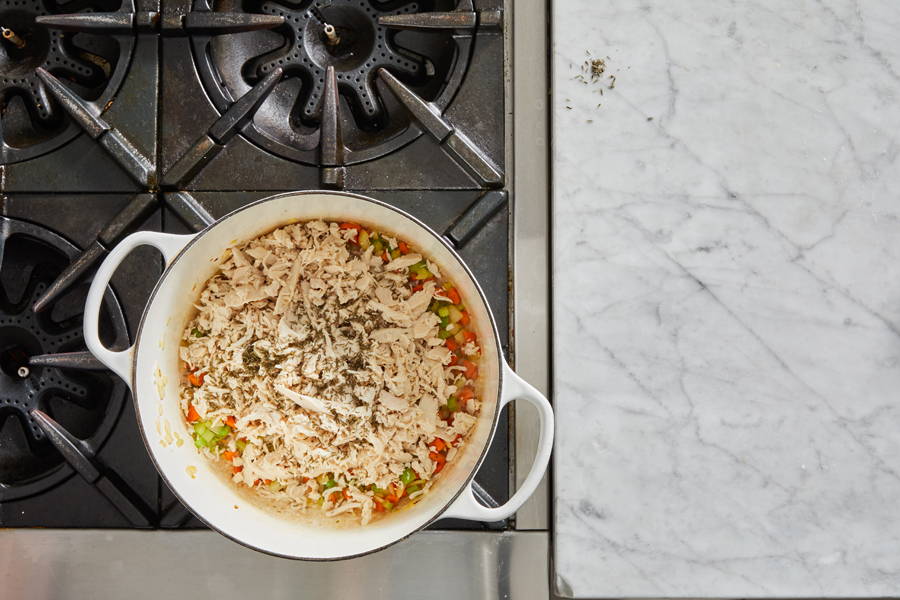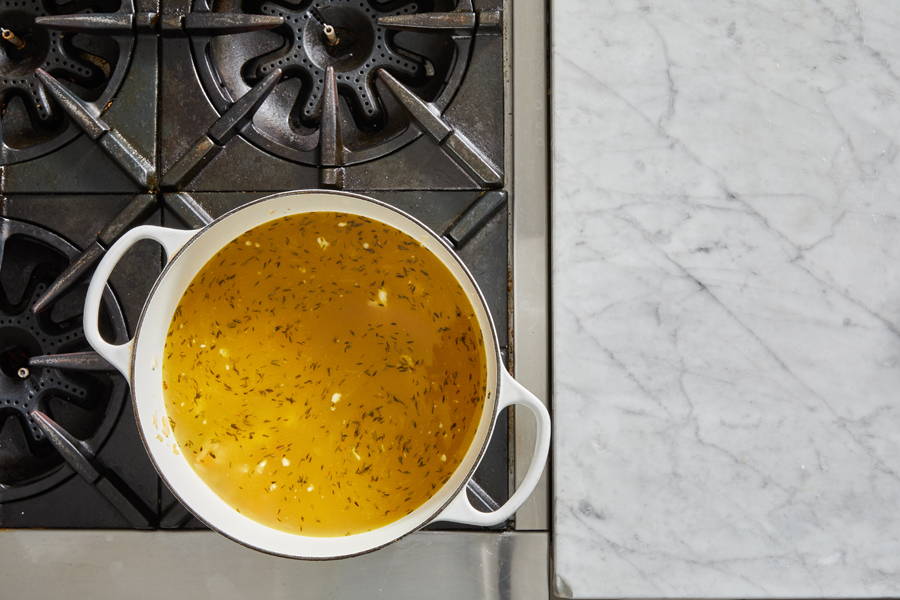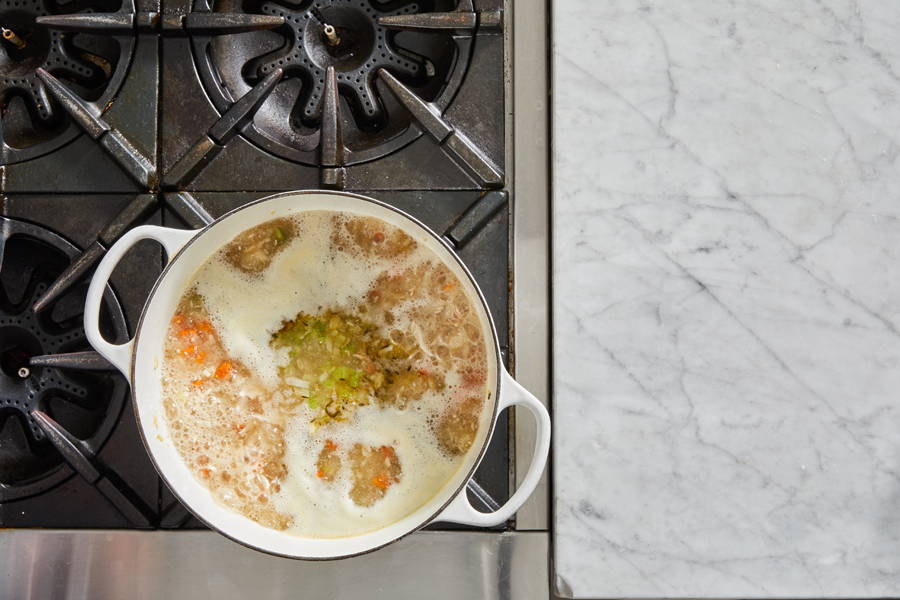 5. Stir in the cream.

Add the cream and simmer together for another 10 minutes or until desired thickness is reached.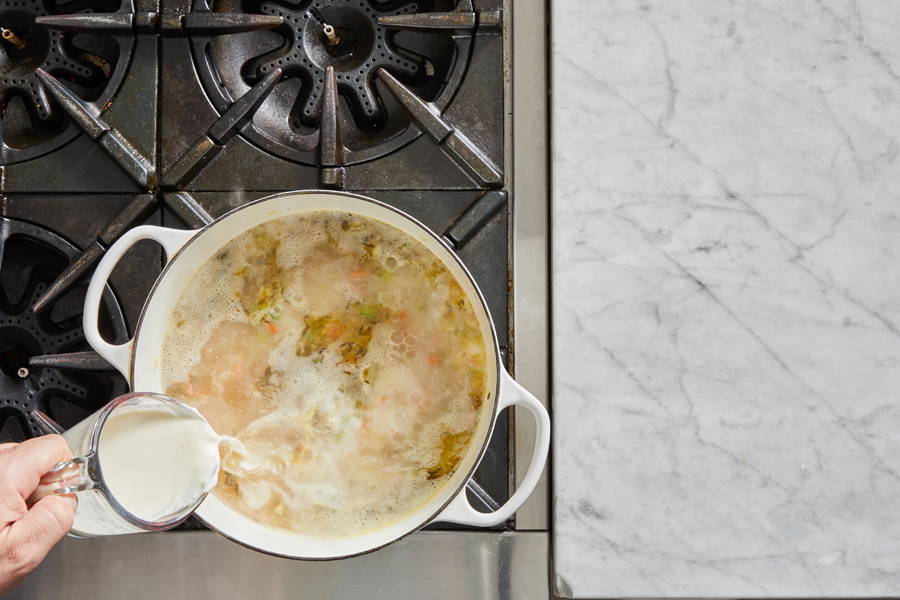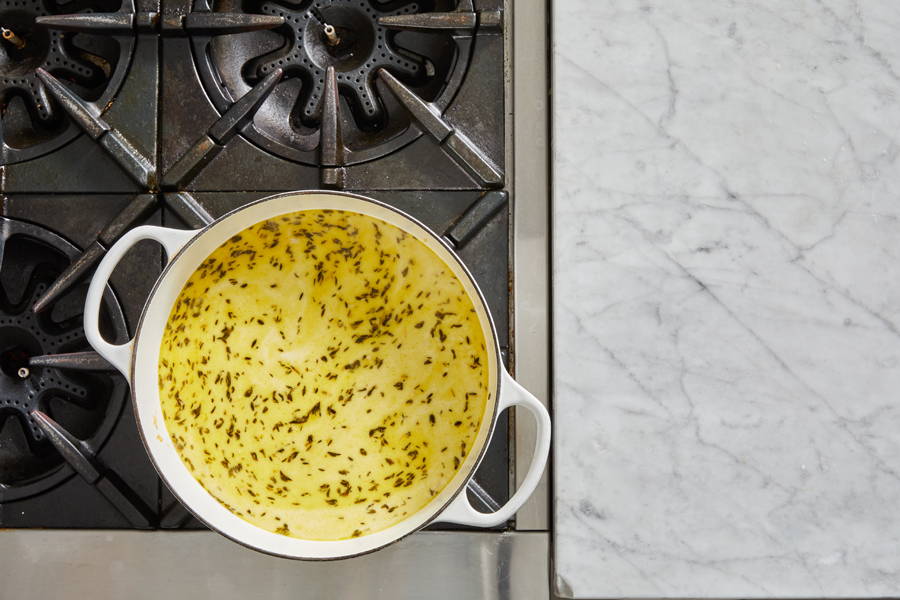 6. Complete the dish.
Remove the pot from the heat. Stir in the cooked gnocchi and spinach. Serve immediately.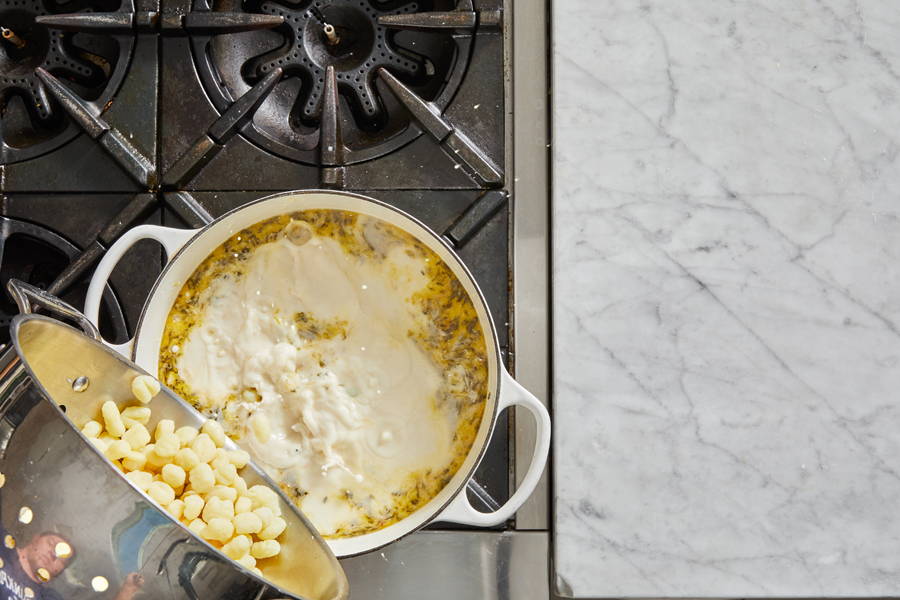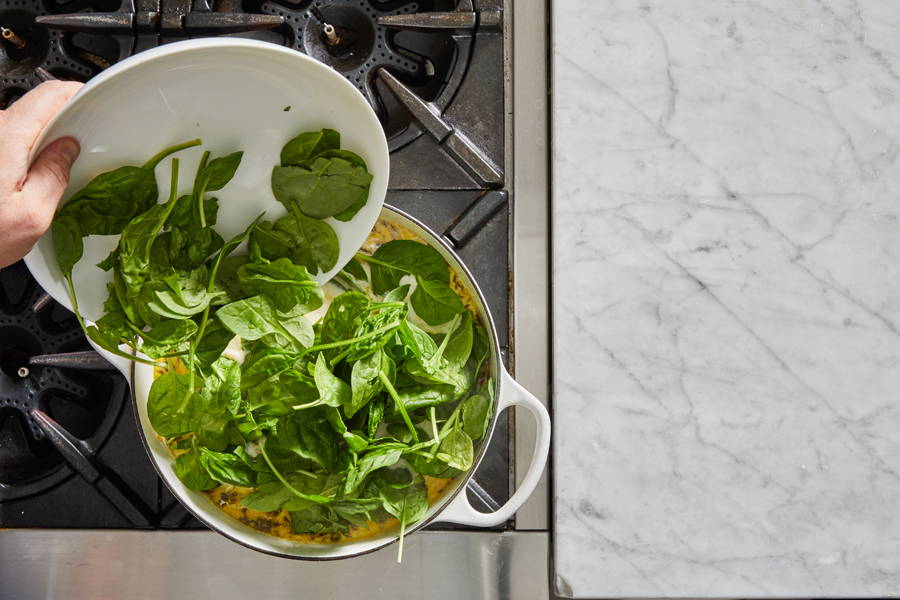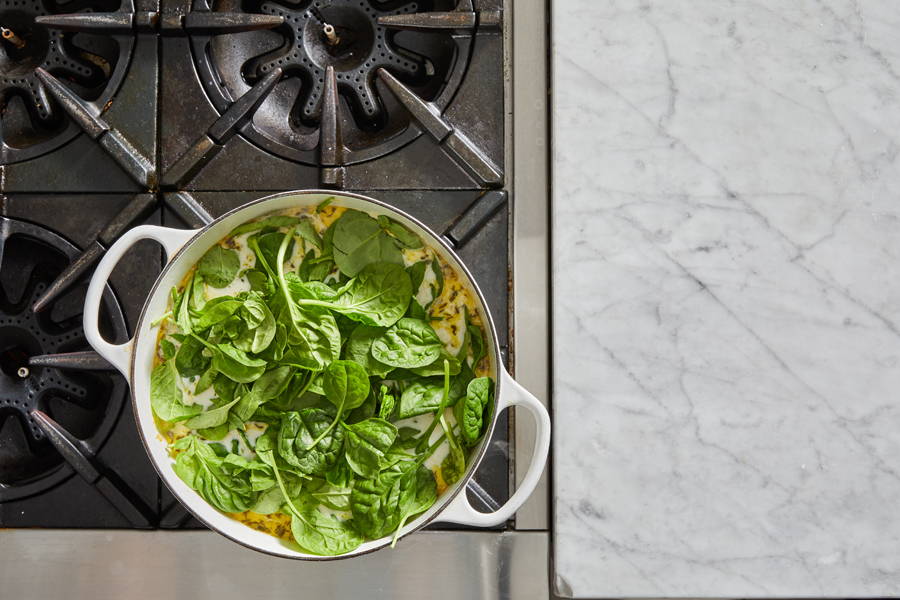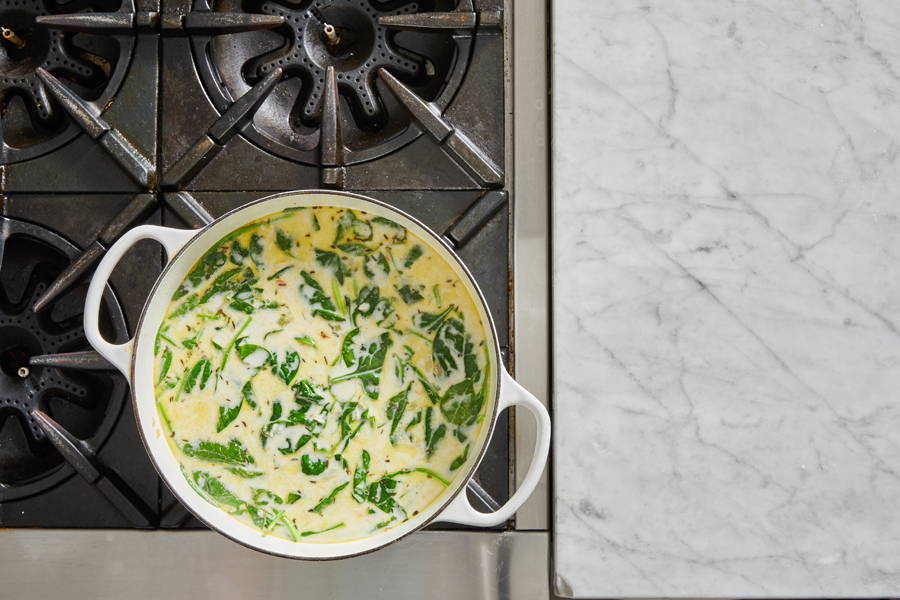 ---
Top Serving And Storage Tips
Store in an airtight container and refrigerate for up to 2 days.
You can freeze this soup for up to 3 months. If you do freeze this soup, just know that creamy, dairy-based soups don't maintain the same consistency upon reheating.
Reheat the soup in a pot on the stove over a low heat. This will help to keep some of its creaminess.
Chicken Gnocchi Soup: FAQ
What Do I Serve With Chicken Gnocchi Soup?
Serve Chicken Gnocchi Soup with a fresh salad for a colorful contrast. We also recommend serving it with a generous side of breadsticks or garlic toast.
Can I Make Chicken Gnocchi Soup In The Slow Cooker [Crockpot]?
Yes, you can make Chicken Gnocchi Soup in the crockpot, or slow cooker. We recommend sautèing the vegetables first for the flavor. Add all ingredients to the crock pot except for the gnocchi, cream and spinach. Cook on low for 3 hours. Add the gnocchi about 30 minutes before cook time is up. Stir in the cream and spinach. Once the spinach wilts, serve.
Can I Make Chicken Gnocchi Soup In An Instant Pot?
This is not a recipe made for the Instant Pot.
Is Chicken Gnocchi Soup Healthy?
No, Chicken Gnocchi Soup is not a diet-specific recipe. You can make substitutions for a healthier recipe, depending on your dietary needs. For instance, you can substitute Potato Gnocchi for Gluten-Free Gnocchi to create a gluten-free recipe.
Is Chicken Gnocchi Soup Gluten Free?
No, Chicken Gnocchi Soup is not gluten-free. Though gnocchi is made with potato, it still contains the semolina (wheat flour) used in traditional pasta making. To make this recipe gluten-free, you can use Gluten-Free Gnocchi.
Will Gnocchi Get Soggy In Soup?
Yes, which is why we cook gnocchi outside of the soup. Then, we add the gnocchi to the soup just before serving.
Can I Make And Use Homemade Gnocchi Instead Of Store-Bought Gnocchi?
Yes, you can make homemade gnocchi for this Chicken Gnocchi Soup recipe. Follow our Easy Homemade Potato recipe.
How Do I Thicken The Soup If It Needs It?
As a general rule, to thick soups, you can add flour or cornstarch. We recommend only a little a time. In a small bowl, mix a tablespoon of flour or cornstarch with 2-3 tablespoons of the hot soup. Once combined, still it back into the soup pot and bring to a simmer. Cook together for about 2 minutes. This will cook out any of the starchy flavor too.
How Do I Make The Soup, Especially The Leftovers, More Soupy And Less Thick?
To make the texture thinner, add more chicken broth—a little at a time.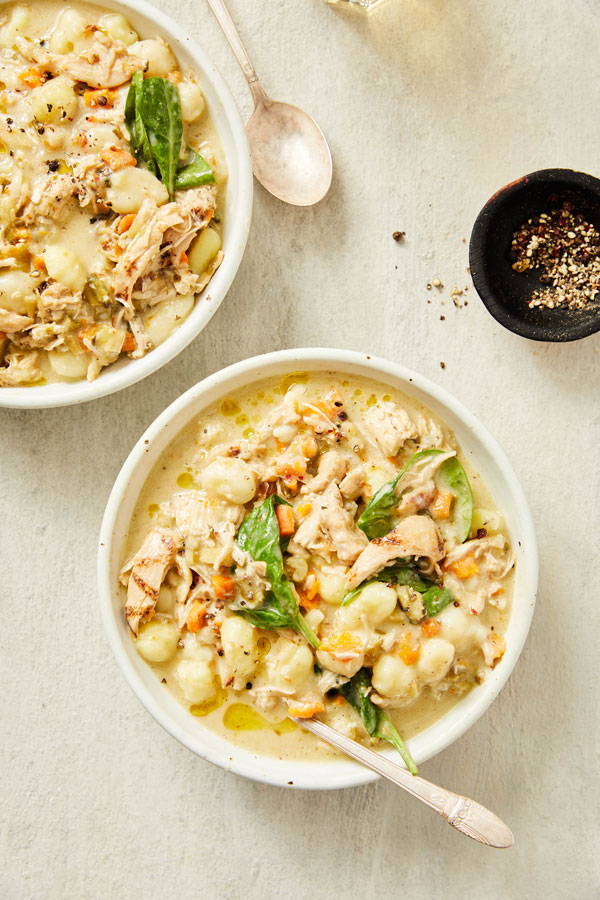 The Best Chicken Gnocchi Soup

Ingredients
4 chicken breasts, cooked and shredded (or one rotisserie chicken shredded)

2 tablespoons DeLallo Extra Virgin Olive Oil

2 stalks celery, diced

1 onion, diced

2 cloves garlic, minced

2 carrots, diced

1 teaspoon salt

1 teaspoon pepper

1 teaspoon dried thyme

6 cups chicken stock

1 (1-pound) package DeLallo Potato Gnocchi

2 cups heavy cream

2 cups fresh spinach
Bring a large pot of salted water to a boil. Cook gnocchi according to package instructions. Drain in a colander and rinse briefly with cold water. Set aside.

Heat oil in a large pot over medium-high heat. Add celery, onion, garlic and carrots. Sauté until vegetables are translucent, about 10 minutes.

Add shredded chicken. Sauté for another 5 minutes

Add salt, pepper, thyme and chicken stock. Bring to a boil and then simmer for 15 minutes.

Stir in cream and continue to simmer for another 10 minutes or until desired thickness.

Remove from heat. Stir in the cooked gnocchi and spinach. Serve immediately.
chicken gnocchi soup, chicken and gnocchi soup, olive garden chicken gnocchi soup, chicken gnocchi soup recipe, chicken & gnocchi soup, soup recipe