If you've ever had Muffaletta Olive Salad, you might be wondering how you can recreate such an irresistibly bold and tangy condiment at home. Our Muffaletta recipe is super simple and features a colorful mix of chopped pickled vegetables and briny olives with savory salami and provolone. Don't forget the extra virgin olive oil!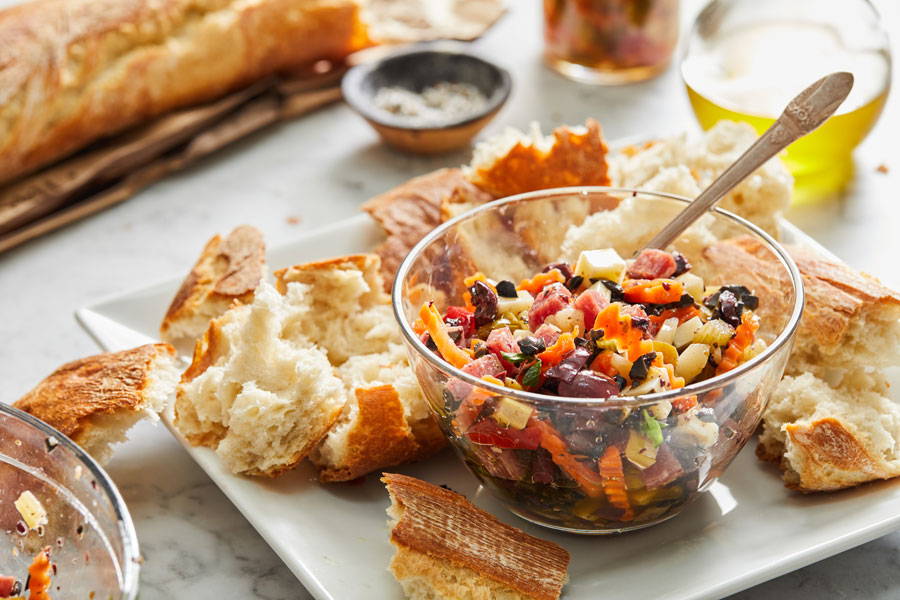 Traditionally, Muffaletta refers to round Sicilian sesame bread. Over the years, however, after the iconic invention of the Muffaletta Sandwich in New Orleans (1906), Muffaletta refers mostly to the olive salad featured on that prized sandwich. Muffaletta Olive Salad is a signature olive and antipasto salad featuring briny green olives, black ripe olives, pickled vegetables (like those in a jar of DeLallo Giardiniera), oregano, garlic and extra virgin olive oil. All ingredients are chopped up, similar to a relish, then allowed to marinate for 24 hours or more.
Why is it called Muffaletta?

The term muffaletta actually refers to the round loaves of Sicilian sesame bread. This bread was the foundation of the original Muffaletta Sandwich, so over time, the name became synonymous with the popular sandwich.
Where did Muffaletta originate?

Muffaletta has its origins in Sicily, while the Muffaletta Sandwich itself is a creation straight out of New Orleans. The sandwich features the It was invented by Salvatore Lupo, an Italian immigrant of Central Grocery in the early 1900s.
What is the difference between Muffaletta and Giardiniera?

Muffaletta is a chopped, relish-like condiment featuring many olives and crisp pickled vegetables. Its texture is more like a bruschetta or tapenade. Giardiniera, on the other hand, is a mix of cauliflower florets, carrots, bell peppers and celery, which may or may not include olives. Giardiniera isn't chopped up like a condiment, but best enjoyed as an antipasto or a garnish served alongside salads, sandwiches and more.
Why You'll Love Muffaletta Olive Salad

If you love the bold and brilliant flavors of Mediterranean cuisine, you're sure to love Muffaletta Olive Salad. It harmoniously combines your favorite crisp, briny, tangy, tart and savory flavors in one easy-to-love condiment. Not only can you use Muffaletta Olive Salad on sandwiches, but you can top crostini, scoop up with pita chips, dazzle pizzas and flatbreads… the uses are endless!
The Ingredients You Will Need To Make Muffaletta Olive Salad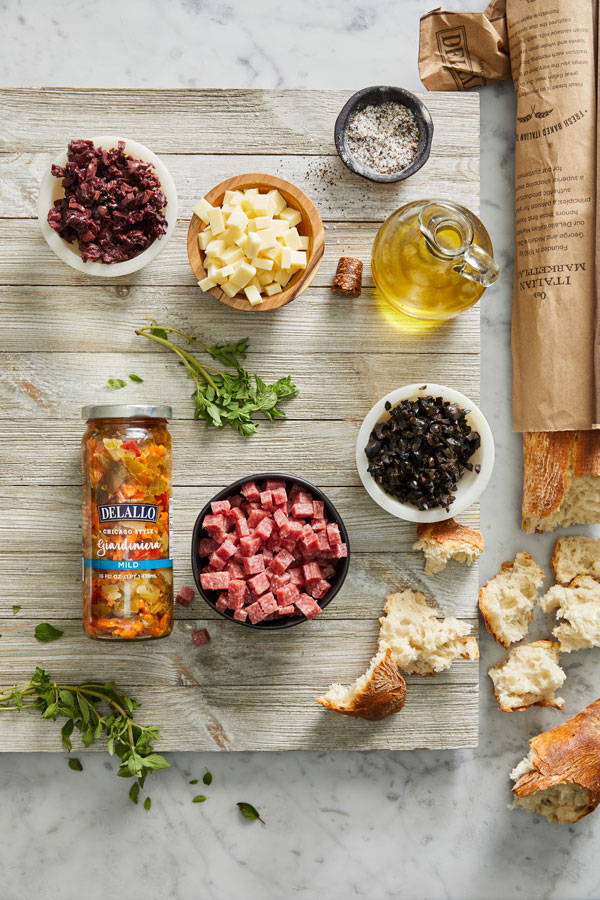 ---
How to Make Muffaletta Olive Salad in 3 Easy Steps

1. Chop Ingredients

Chop all ingredients to desired texture.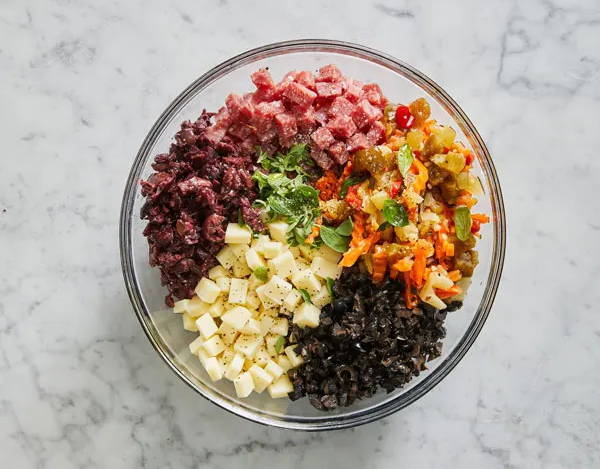 2. Combine
Combine in a mixing bowl with olive oil.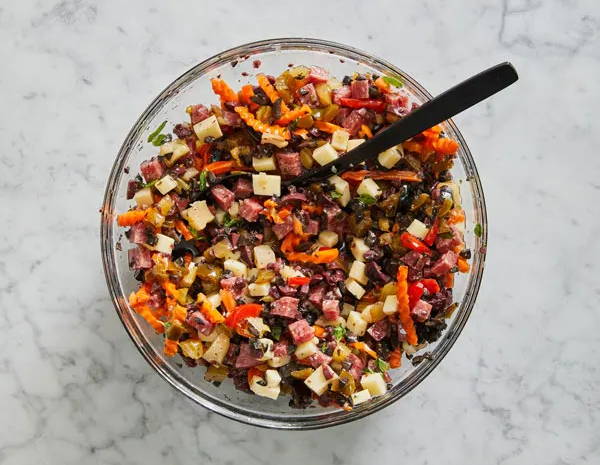 3. Finish and Serve

Toss well to coat.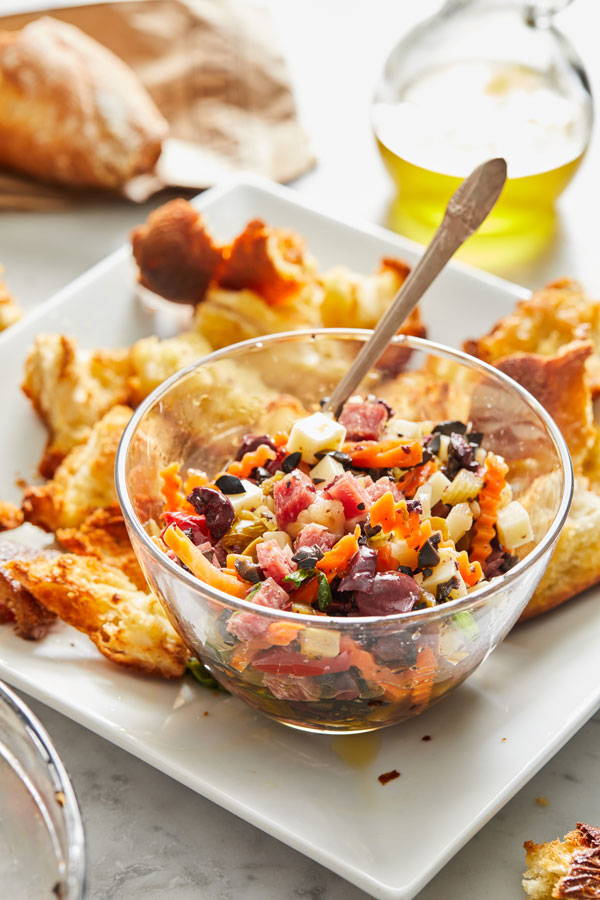 ---
What is a Muffaletta sandwich?

The Muffaletta Sandwich starts with round Sicilian sesame loaves that are split and loaded with cured meats, provolone and the bright and briny olive salad.
What is in a Muffaletta sandwich?

The Muffaletta Sandwich was invented at one of New Orleans oldest markets, the Central Grocery. Sicilian immigrants working at the nearby farmer's market would buy salami, ham, cheese, olive salad and Muffuletta bread and eat them separately. The owner of the grocery suggested they cut the bread and combine all of the various antipasti inside like a sandwich, and the Muffuletta sandwich was born.
Top Serving and Storage Tip and Tricks

Muffaletta olive salad is delicious not only as the topping of the famous sandwich, but is great on grilled hot dogs, burgers, and any deli sandwich. It is also great as an appetizer, an addition to a pasta salad or added to scrambled eggs for a zingy breakfast!
Store the salad in an air tight container in the refrigerator for up to 2 weeks.

Muffaletta Olive Salad: FAQ

How do I store Muffaletta Olive Salad?
Be sure to cover and refrigerate muffaletta to keep it fresh and crisp.
How long does Muffaletta Olive Salad last in the fridge?
Up to 2 weeks.
What if I'm missing or can't find an ingredient for Muffaletta Olive Salad?
You can get creative. Use different olives, pickled vegetables, salumi or cheeses. Thyme or mixed Italian seasoning are great substitutes for oregano.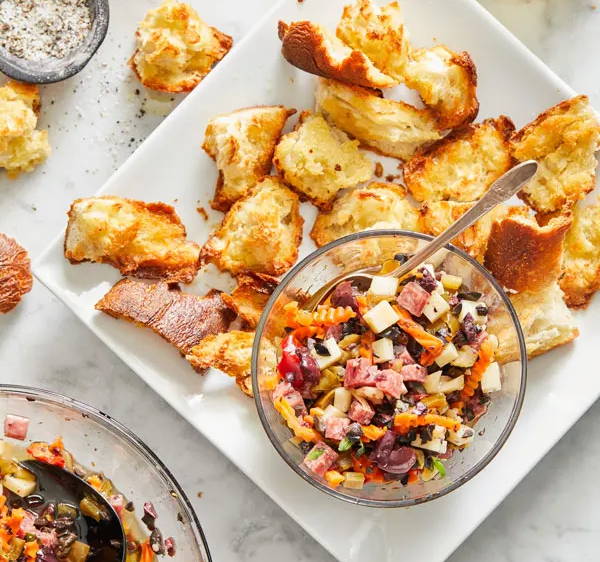 Ingredients
Mix all ingredients together in a medium bowl. Serve with crusty bread or pita chips.
Keywords:
muffuletta olive salad, olive salad for muffuletta, muffuletta recipe, muffuletta sandwich, muffaletta olive salad, olive salad for muffaletta, muffaletta recipe, muffaletta sandwich