Pasta alla Gricia is one of the beloved, though lesser-known, Italian classic pasta dishes. A traditional Pasta alla Gricia recipe like this one combines just a handful of flavor-packed ingredients to create a truly delicious pasta that everyone in the family will love. It's rich and savory with a surprising complexity. You just have to give it a try!
Often compared to Cacio e Pepe, this classic Roman pasta dish features savory pancetta, freshly ground black pepper, irresistibly salty and sharp Pecorino Romano cheese, smashed garlic and that famous tubular pasta, Rigatoni. Some think of Pasta alla Gricia as an egg-less carbonara, or a tomato-less Amatriciana—all of which are classic pastas of Rome.
Like any great recipe made with just a few ingredients… the real secret is in the technique. Don't drain the pasta water without saving some first. Pasta alla Gricia calls for reserved pasta water to achieve that perfect smooth texture that coats every noodle. Who knew that some starchy pasta water could take pasta night to the next level?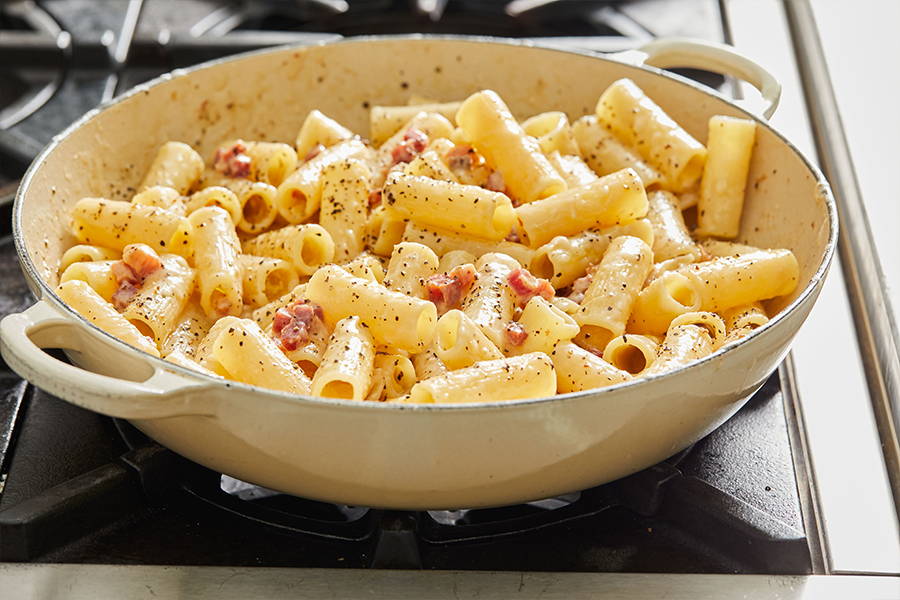 What Is Pasta Alla Gricia?
Pasta alla Gricia is a staple Roman pasta dish that features a simple, yet flavorful, sauce consisting of extra virgin olive oil, pancetta (or guanciale), smashed garlic, freshly ground black pepper, a bold Pecorino Romano cheese and starchy pasta water. The rigatoni pasta, in this Pasta alla Gricia recipe, is a great pasta shape for capturing chunks of pancetta. You can think of Pasta alla Gricia as a Carbonara, but without the eggs.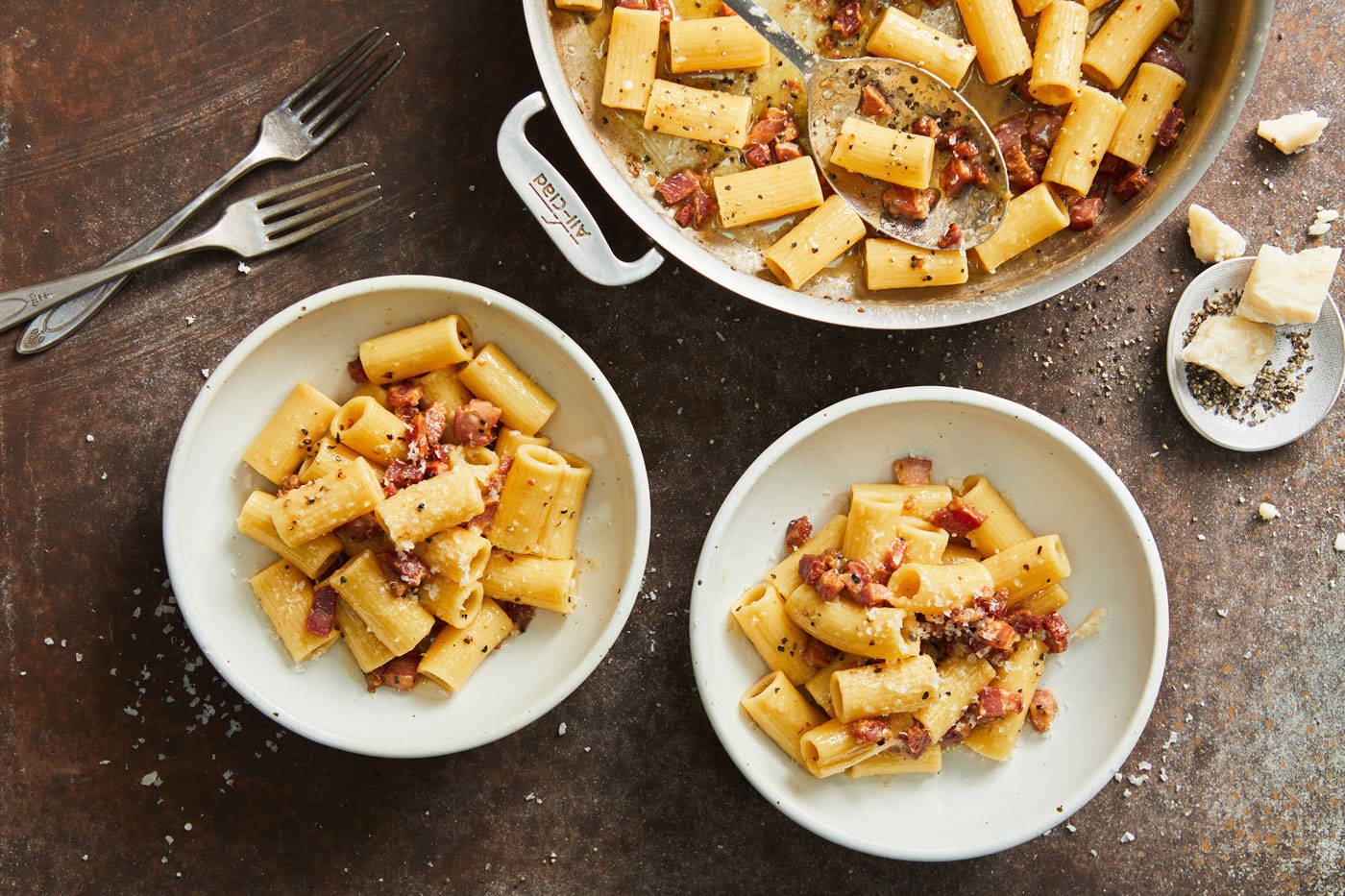 What Does "Alla Gricia" Mean In Italian?
The name alla Gricia refers to the small town of its birth in the Lazio countryside, Grisciano.
Pasta Alla Gricia Origins
Pasta alla Gricia is an iconic Roman pasta dish. More specifically, this ancient recipe is of the Amatrice area. Some call it Amatriciana Bianca, or "White Amatriciana," as it is very similar to the classic pasta dish, but without the tomatoes. Though it cannot be confirmed, many think of Amatriciana as the descendent of Pasta alla Gricia—a pasta dish that came to be before the cultivation of tomatoes in Italy.
Why You'll Love This Pasta Alla Gricia Recipe
Though Pasta alla Gricia is an underrated pasta dish—especially when compared with its close Roman cousins: Pasta all'Amatriciana, Cacio e Pepe and Carbonara—there are so many reasons to love it. For one, this pasta dish requires just a few ingredients. Even with its small ingredient list, Pasta all Gricia takes just under 20 minutes to make, meaning it's an excellent choice for busy weeknights. What is most amazing is how good it is. The pork fat combined with freshly ground black pepper and that sharp, pleasingly salty Pecorino Romano creates layers of savory, rich flavors.
The Ingredients You Will Need To Make Pasta Alla Gricia
Pasta: The most common pasta shapes for Pasta alla Gricia are rigatoni, spaghetti or bucatini, but there is no right or wrong answer here. Just choose a great quality pasta that will cook up to that signature al dente texture.
Olive Oil: When your recipe calls for just a few ingredients, make those ingredients count. Extra virgin olive oil comes from the first press of raw olives so it takes on a fresher, fruitier flavor. A lesser quality oil can ruin your pasta.
Fresh Garlic: Don't overdo it with the garlic. Just enough fresh garlic will give your pasta a pleasing aroma, but it shouldn't overpower your other ingredients.
Black Pepper: Freshly ground black pepper is the way to go. It really does make all the difference. We even recommend a coarser ground for this Pasta alla Gricia recipe.
Pork Fat: We like pancetta or guanciale for our Pasta alla Gricia. Guanciale is the name for cured pork cheek, another pork with a high fat-to-meat ratio. It adds a funkier, more intense pork flavor than pancetta, which some people prefer. Others use bacon, another pork fat, because it is easier to come by, but bacon will add a smoky flavor that may overtake your pasta. It's certainly a matter of taste. Either way, the pork fat is part of what makes this recipe what it is, so choose wisely!
Pecorino Romano: This aged sheep's milk cheese is popular in Roman cuisine. It has a sharp, tangy flavor with a pleasant saltiness that adds another dimension to the final dish. Be sure to grate the Pecorino Romano cheese finely so it melts perfectly.
Pasta Water: We include this as a main ingredient, because that starchy pasta water is certainly a key ingredient in the final dish.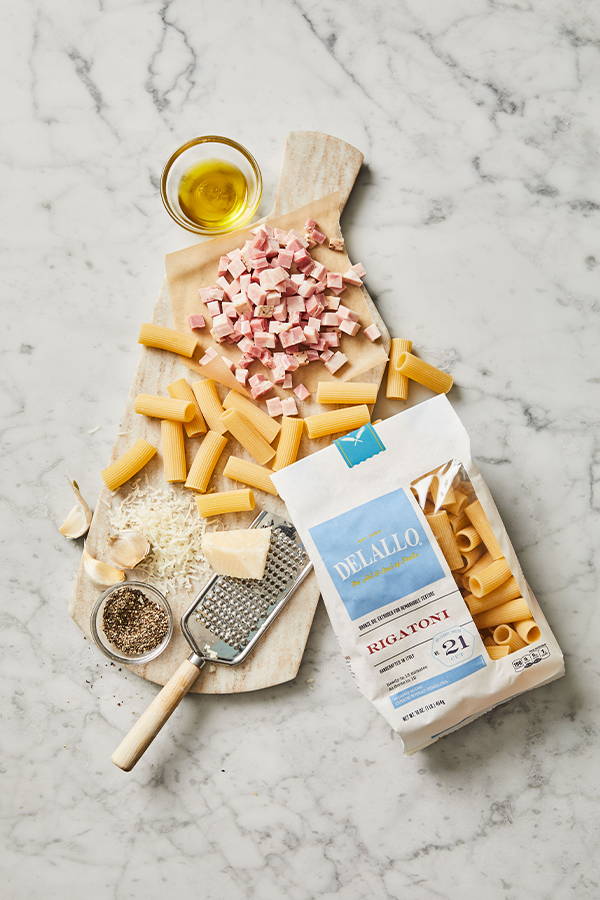 ---
How To Make Pasta Alla Gricia
1. Cook the pasta.

Cook the rigatoni according to package instructions for an al dente texture. Before draining, reserve 1 ½ cups of the starchy pasta water.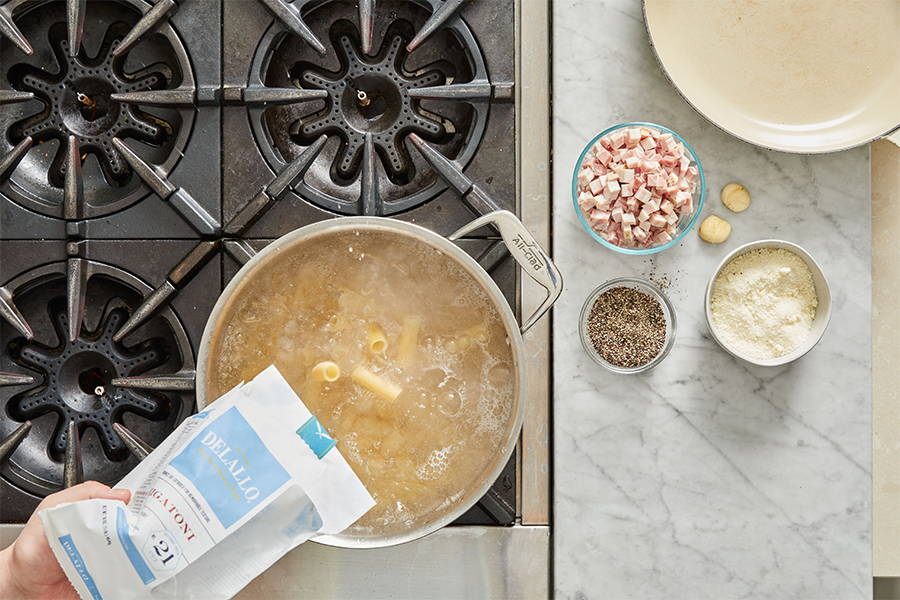 2. Sauté the pancetta.
While the pasta cooks, sauté the pancetta and garlic in olive oil until the pancetta begins to brown and crisp. Remove the garlic once it begins to soften and before it browns. Season with pepper.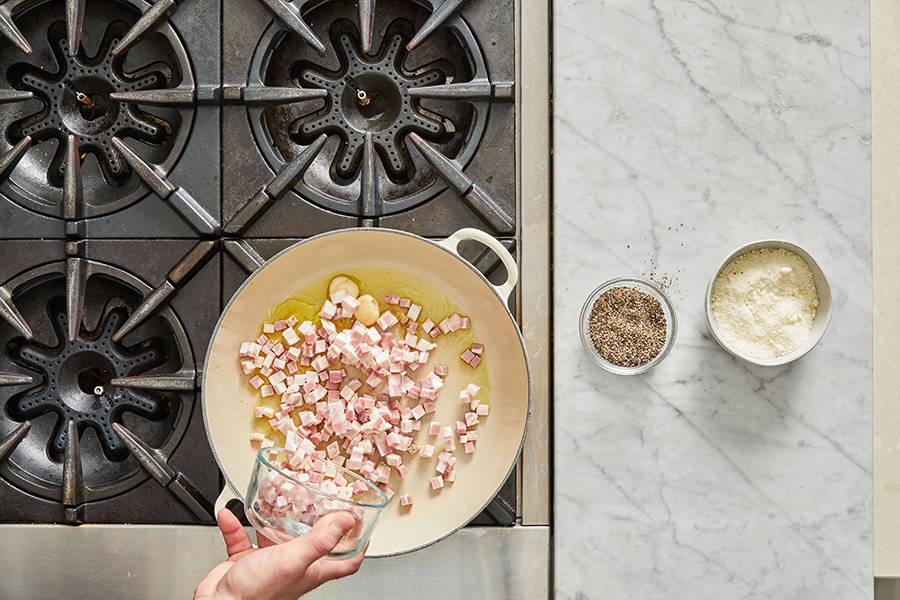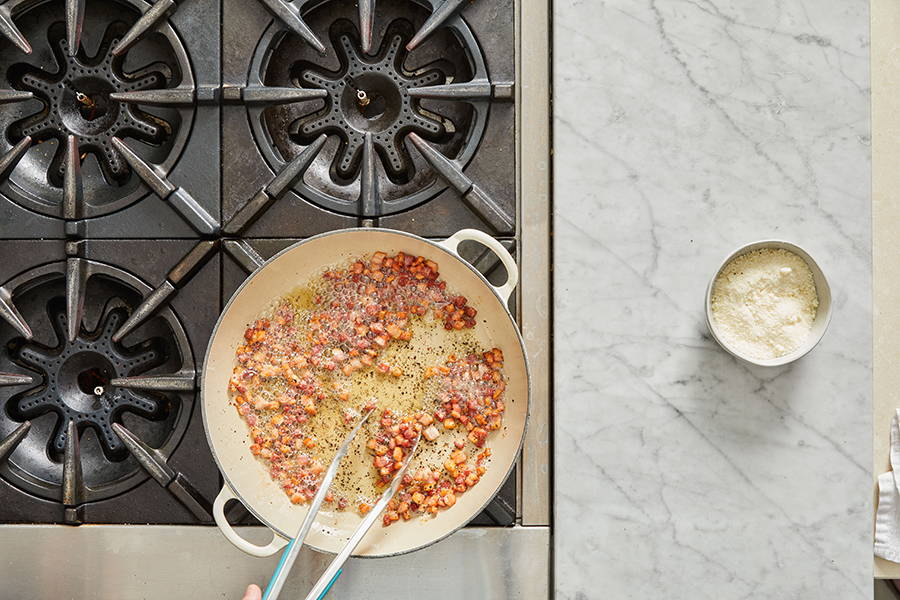 3. Create the sauce.

Add the hot pasta cooking water to the pan with the pancetta. Stir to thicken the sauce. It should become glossy.
4. Add the pasta.

Add the hot pasta to the pan and stir to coat. Stir in the cheese until melted. Add more pasta water, if necessary to loosen the sauce and coat the pasta.
5. Serve
Serve sprinkled with more freshly grated Pecorino Romano cheese.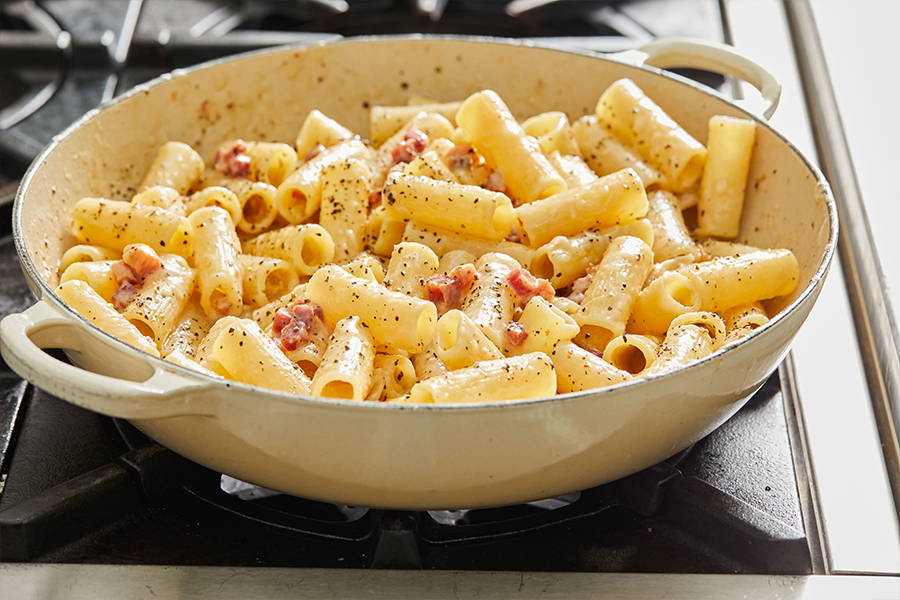 ---
Watch How Easy it is to Make Pasta Alla Gricia
Best Pasta Cuts For Pasta Alla Gricia
Pasta alla Gricia is often served up with Rigatoni or a long cut like spaghetti and bucatini. We like rigatoni pasta, because its hollows are perfect for scooping up chewy, crisp bits of pancetta. More than the shape of the pasta, the most important characteristic is its texture. Be sure to cook your pasta for that tender, but yielding, bite known as al dente.
Best Cured Meats For Pasta Alla Gricia
Pasta alla Gricia is traditionally made with a high-fat pork like guanciale (pork cheek) or pancetta. Guanciale is more intense in flavor, but not always available at the market. Pancetta is not cured as long as the guanciale, but it's the option we love best. Its pork flavor can really shine in this application. Of course, some folks lean toward using bacon, but bacon will give your Pasta alla Gricia recipe a noticeable smoky flavor. No matter what you choose, this dish is delicious!
Top Preparation, Cooking, Serving, And Storage Tips
If you have leftovers of Pasta alla Gricia, you can store them in the refrigerator in an airtight container for up to 5 days. To reheat the pasta, add a splash of water, then cover and heat on the stovetop on a lower setting.
What Is The Difference Between Pasta Alla Gricia And Amatriciana?
Some say Pasta alla Gricia came first and is the ancestor of Amatriciana. Amatriciana is another classic Roman pasta dish, but relies on tomatoes and a splash of wine for its flavors.
What Is The Difference Between Pasta Alla Gricia And Carbonara?
Like Carbonara, Pasta alla Gricia is a classic pasta dish that originates in Rome. However, Carbonara is made with eggs and extra egg yolks, which gives it its signature slick and creamy texture.
Can I Make Gluten-Free Pasta Alla Gricia?
To make Pasta alla Gricia gluten-free, choose a gluten-free pasta. DeLallo offers two varieties of Gluten-Free Pasta: a corn and rice blend and a whole grain brown rice. Both come in a myriad of cuts. An authentic Pecorino Romano cheese with no fillers will not contain gluten, so the rest of this recipe is gluten free.
Can I Use Other Types Of Cheese?
Pasta alla Gricia is a classic Roman pasta dish, and so Pecorino Romano is the hard Italian cheese of choice. That said, you can substitute with Parmesan-Reggiano cheese in a pinch, but it will not have the same flavor.
Can I Make This Pasta Dish Ahead Of Time?
Pasta alla Gricia is not a make-ahead pasta dish. It should be made and eaten right away. Fortunately, this tasty pasta cooks up in under 20 minutes, so it can be ready very quickly.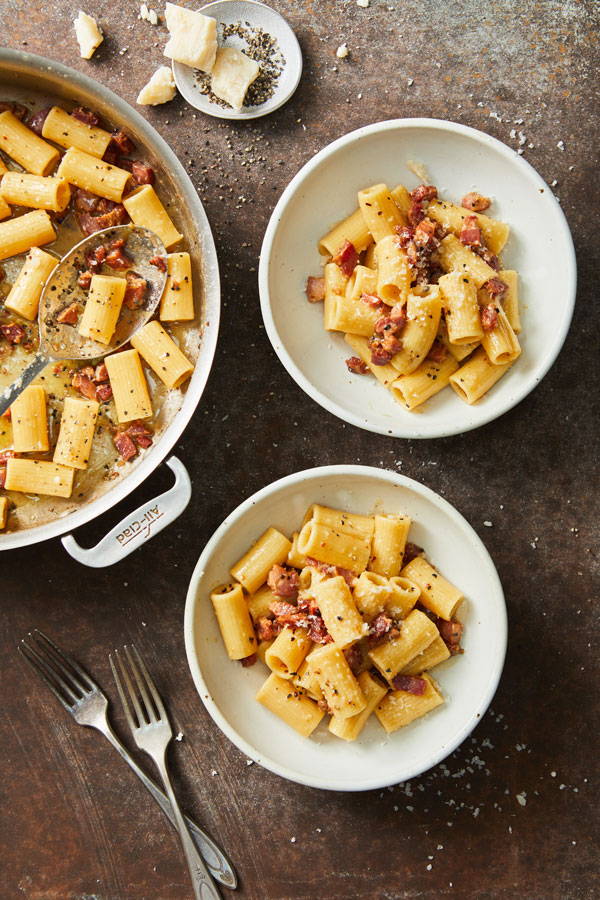 Ingredients
Bring a large pot of salted water to a boil for pasta. Cook according to package instructions, reserving 1 1/2 cups of hot pasta cooking water.

While pasta cooks, heat olive oil on a medium-low setting in a large saucepan. Stirring often, cook pancetta with garlic until pancetta begins to brown and crisp, about 10-15 minutes. Remove and discard garlic once it begins to soften and before the pancetta is done cooking. Season with black pepper.

Add 1 cup of the pasta cooking water to the saucepan with the pancetta. Turn up the heat to high and cook for about 1 minute to create a thick, glossy sauce.

Toss hot pasta in the pan with sauce to coat. Stir in cheese until melted and combined. Add more pasta cooking water as needed to coat the pasta.

Serve sprinkled with freshly grated Pecorino Romano cheese.
Pasta, classic italian, quick and easy