The Best Bucatini Carbonara
Bucatini Carbonara, or Bucatini alla Carbonara, is a classic Italian pasta dish made with just a few simple, but high quality ingredients. Like so many great recipes, this traditional Carbonara is all about timing and method.
What is most notable about Bucatini Carbonara is how the hot pasta cooks the eggs during the end of cook time, giving the final dish an irresistibly smooth, slick texture and added richness. The addition of a nutty, salty hard Italian cheese—like Parmesan or Pecorino Romano—and freshly ground black pepper add to the authentic flavor of this traditional Carbonara sauce.
If you're looking for an authentic Italian pasta dish that is sure to impress, our Bucatini Carbonara recipe gives the impression of a fancy fine dining experience in just 30 minutes.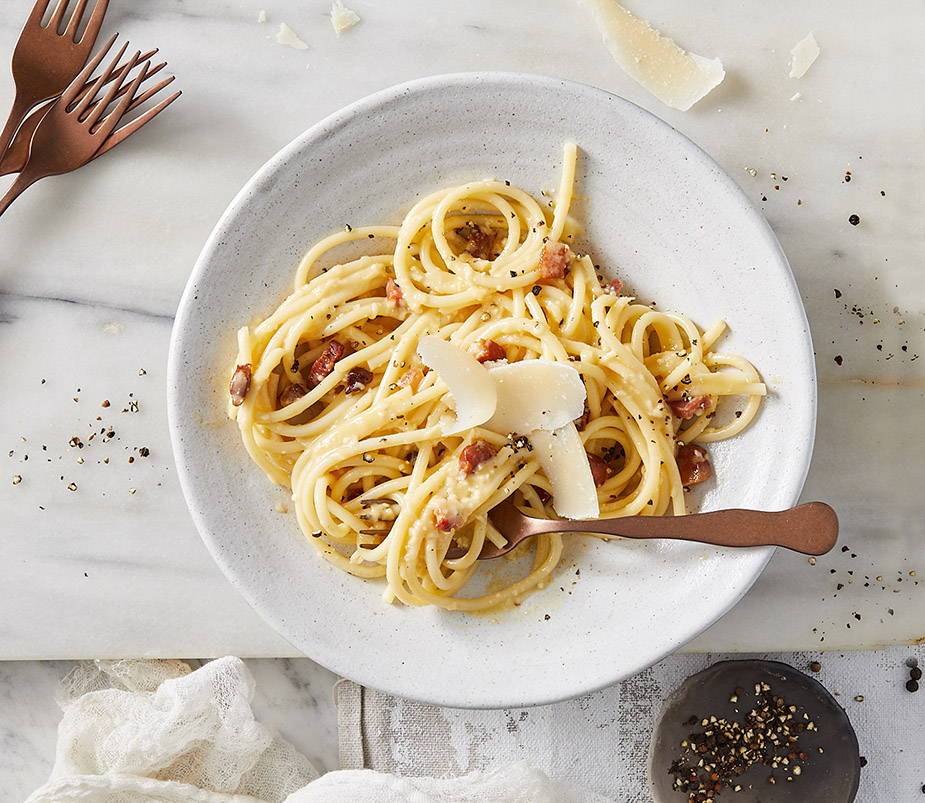 Carbone means "coal" in Italian and Carbonara is translated as the "coal man's wife." Bucatini
Carbonara refers to bucatini as the coal man's wife would have prepared it. A traditional Carbonara recipe calls for only a perfectly al dente pasta, guanciale, egg and cheese, but we love to add more flavor with some hot pepper and crushed garlic.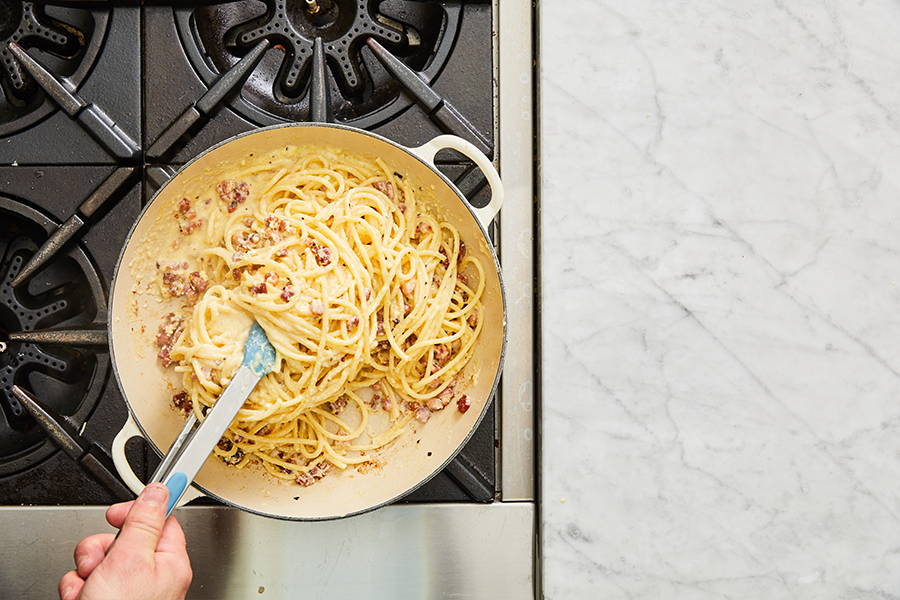 What Is Bucatini Carbonara?
Bucatini Carbonara is a classic Italian recipe where Carbonara refers to the style or sauce. This sauce is made simply with guanciale (a pork fat), eggs and Pecorino Romano cheese. Bucatini is a long cut of pasta with a tiny hole running down its center, similar to a straw. This incredible pasta is the perfect partner for the famously slick and flavorful Carbonara sauce.
Why You'll Love This Bucatini Carbonara Recipe
When was the last time you had a truly authentic Italian pasta recipe? Bucatini Carbonara brings the heart of Italian cuisine to your kitchen: a short ingredient list of simple, high-quality ingredients in the perfect harmony of flavors. Not only is it totally gratifying to create a from-scratch pasta dish, but this one takes 30 minutes or less. So serve it up as a weeknight pasta dinner or a weekend meal to impress. Above all, the complexity of such simple flavors make this traditional Carbonara recipe a delicious meal that everyone will love.
The Ingredients You Will Need To Make Bucatini Carbonara
Eggs: A common misconception is that traditional Carbonara includes raw eggs in its final dish. The eggs and egg yolks in this dish are used to coat the pasta and give it a slick, almost creamy, texture. Eggs are stirred in at the end of cook time and cook up while being twirled alongside the hot pasta.
Hard Italian Cheese: We love to use Parmigiano-Reggiano or Parmesan cheese, but for a more sharp, salty flavor, Pecorino Romano is a great stand-in.
Olive Oil: Like most Italian recipes, Bucatini Carbonara calls for a quality olive oil. As the foundation of so many great recipes, olive oil adds a certain flavor and aroma to your creations and can greatly affect the taste of your final dish.
Garlic: The addition of fresh garlic (and the optional Chili Pepper Flakes) gives this dish a bolder, more spicy flavor. We don't like to overdo it with the garlic, but love how the garlicky kick plays into the rich eggy sauce.
Pancetta: Adding pancetta, or guanciale, to your Carbonara gives it an irresistible savory flavor that really works well with this dish. You can use bacon, if that is all you have on-hand, but bacon also brings a smokiness to the dish. We prefer pancetta or guanciale in this case.
Bucatini Pasta: Whatever you do, make sure you cook your pasta for just the right al dente texture. This dish does not present well with a mushy pasta. Oh, and save that hot pasta water for finishing your dish. It helps to coat each noodle.
Salt and Pepper: This recipes is one of those instances where freshly ground black pepper makes all the difference. We highly recommend it!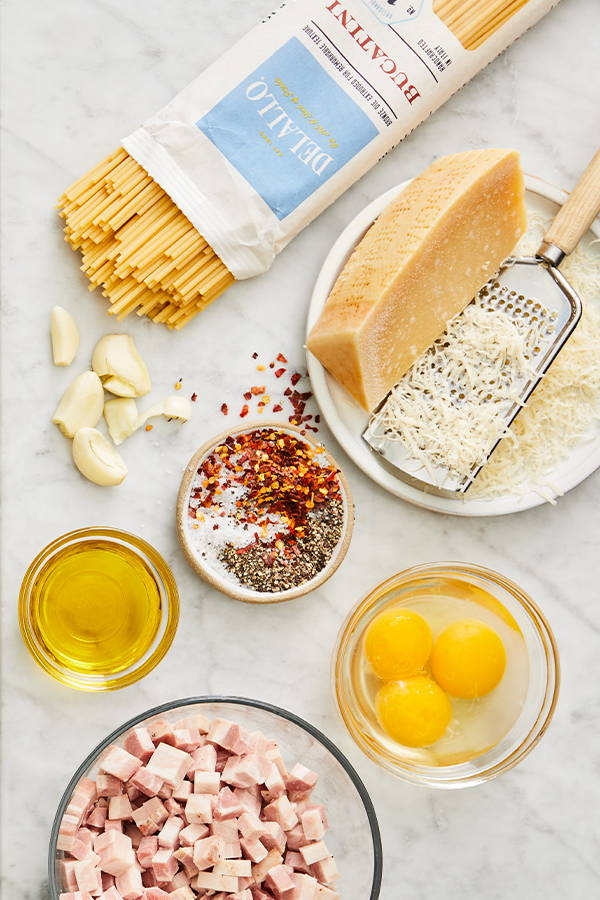 How To Make Bucatini Carbonara
1. Prepare the egg mixture.

Beat the eggs, cheese, salt and pepper in a serving bowl and set aside.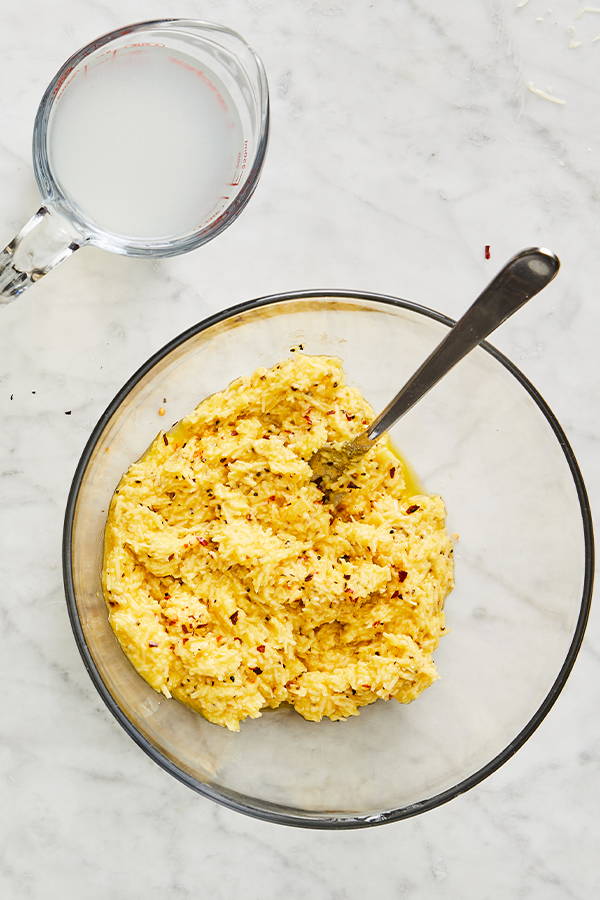 2. Sauté the garlic and pancetta.
Heat the olive oil in a pan. Sauté the garlic, then the pancetta. Season with chili pepper flakes.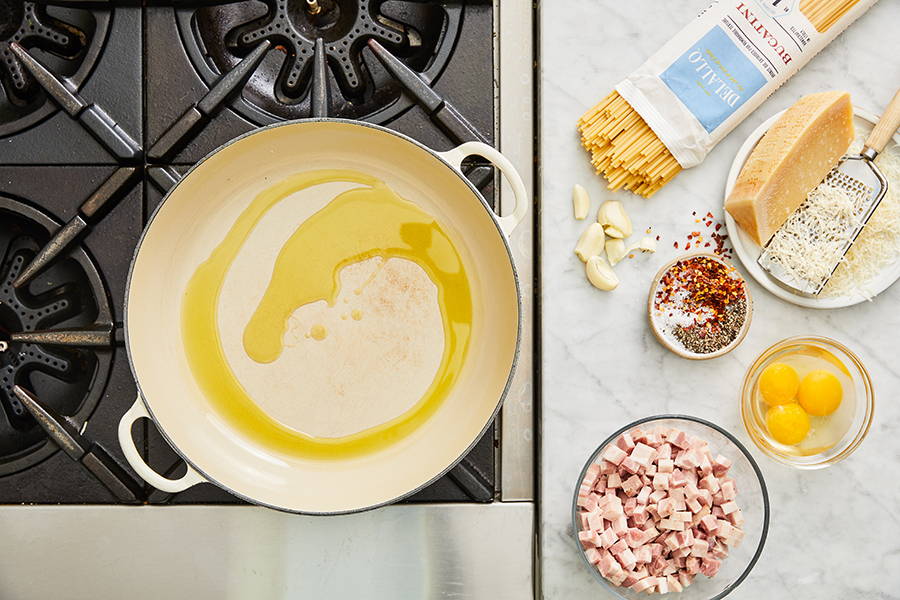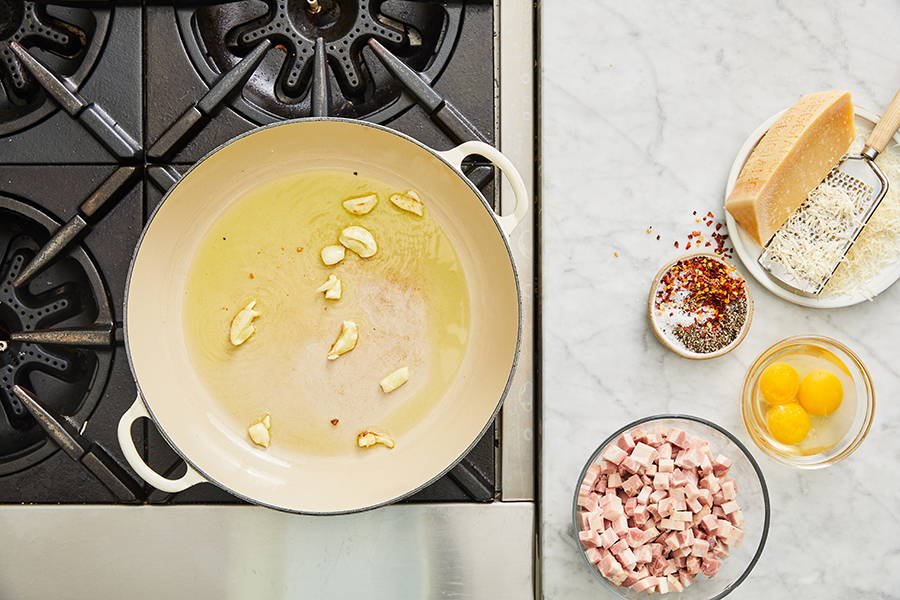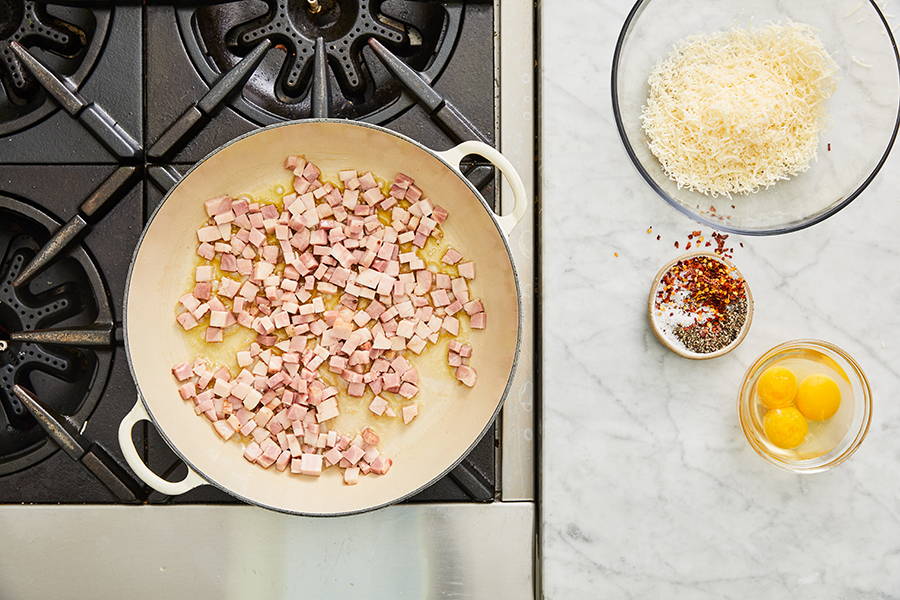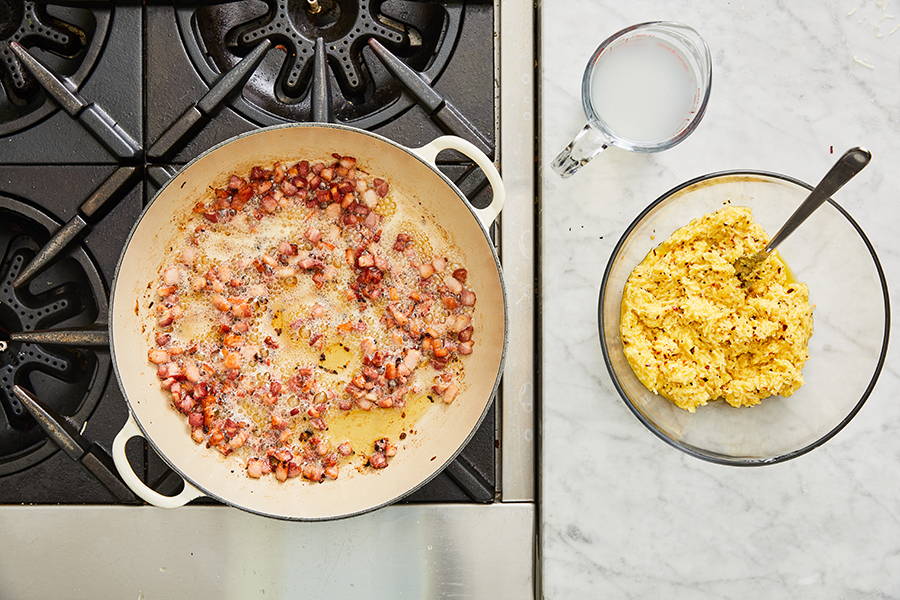 3. Cook the pasta.

Boil the pasta in a large pot of salted water. Cook for that signature al dente texture. Before draining the pasta, save some hot pasta water for finishing the sauce.
4. Bring it all together.

Immediately add the hot pasta and the pancetta with oil to the large serving bowl with the egg mixture. Toss to coat. At this stage, add a splash of the hot pasta water (or more) to help coat your pasta.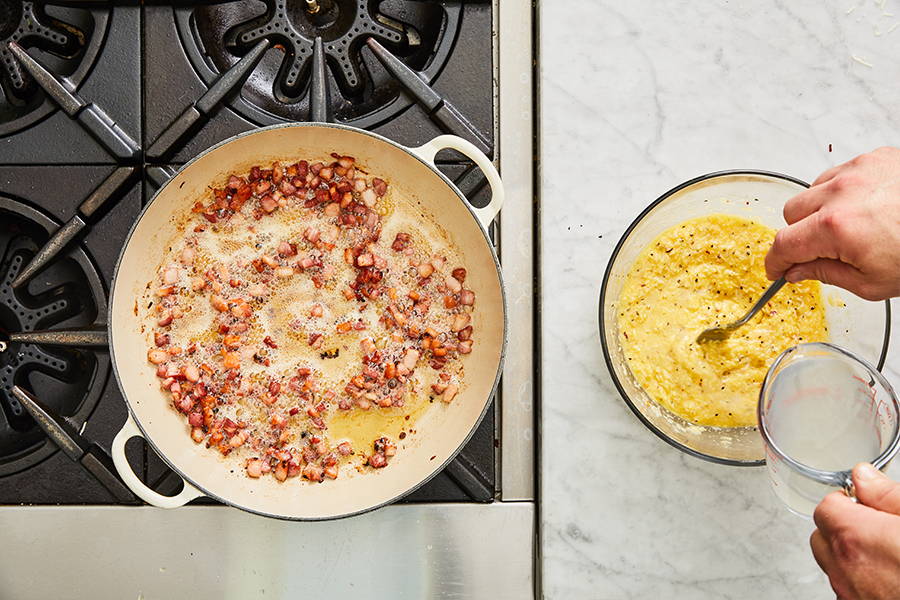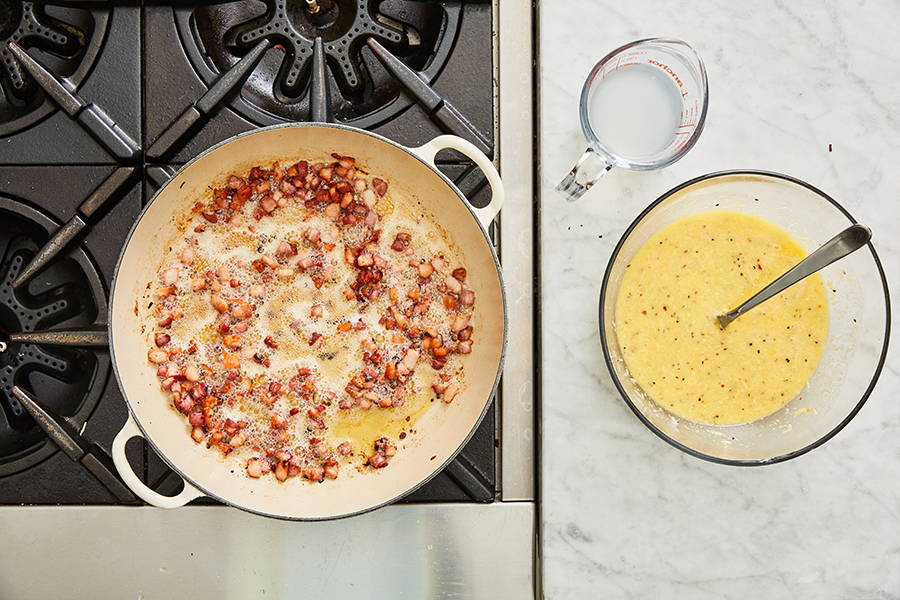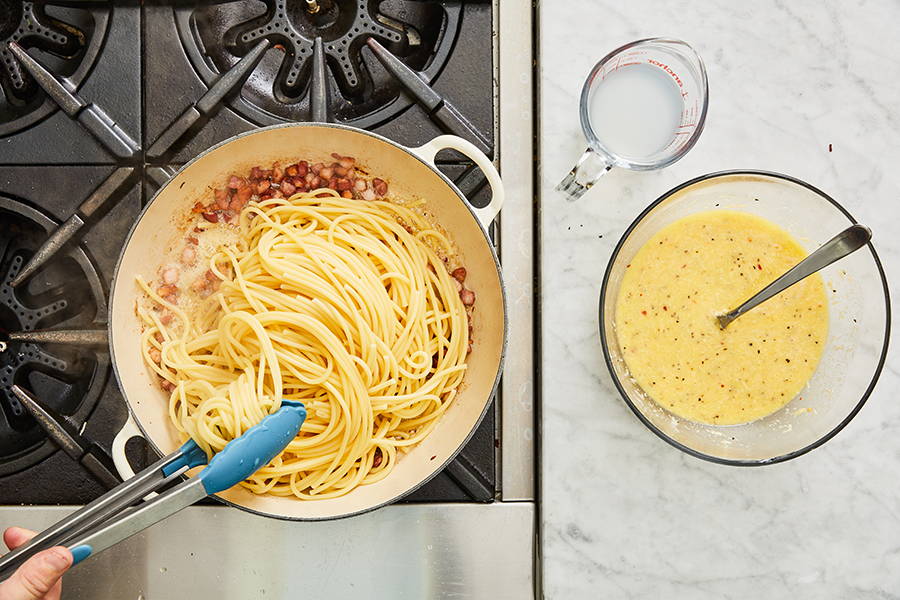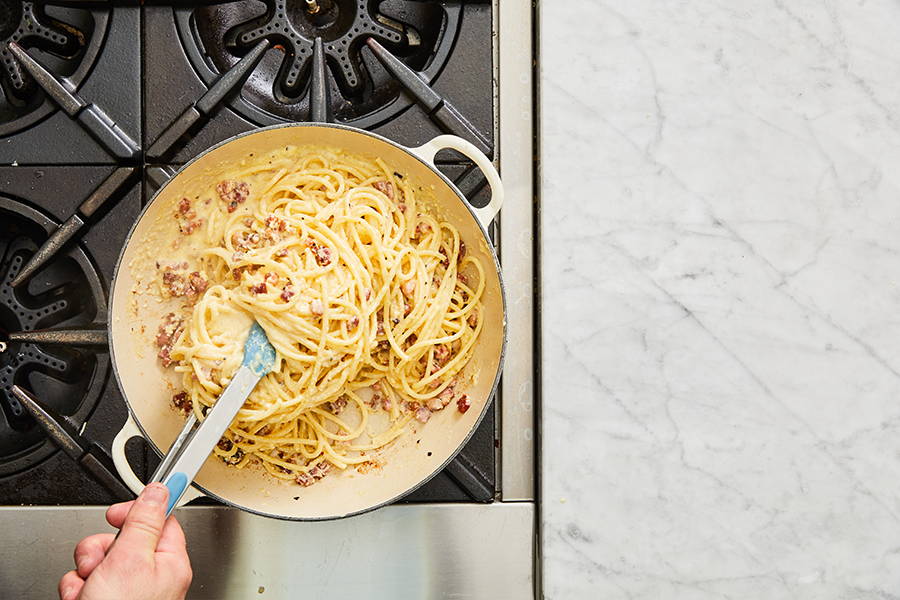 5. Serve!

Serve sprinkled with cheese.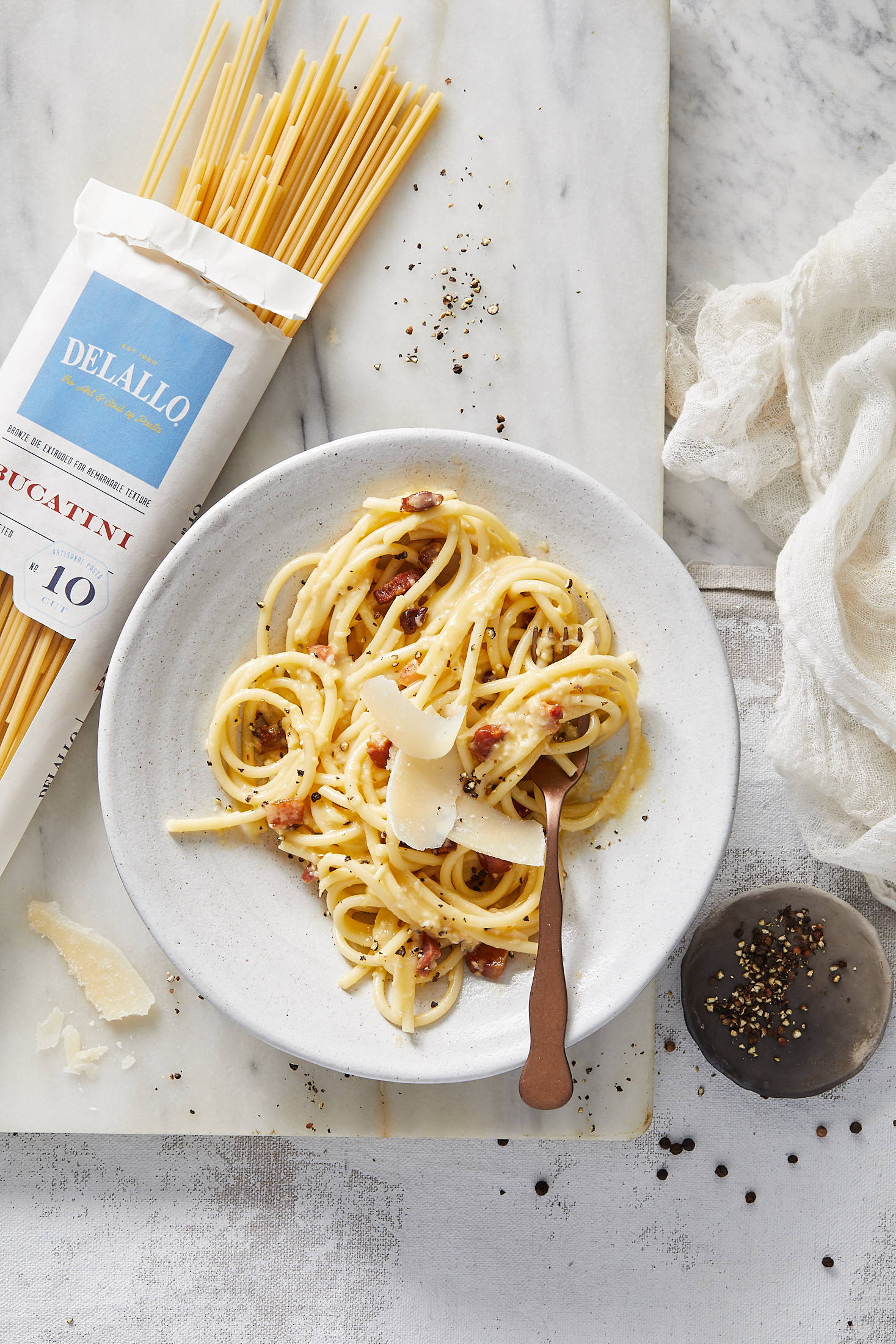 Top Preparation, Cooking, Serving, And Storage Tips
Bucatini Carbonara is not a pasta that holds up great to storing and reheating, so we do not recommend making a ton of leftovers if you can help it. If you have leftovers, though, you can store them safely in the refrigerator in an airtight container for 2-3 days. To reheat, place pasta on the stovetop over low heat.
Can I Make Bucatini Carbonara In Advance?
We do not recommend making this pasta dish in advance, as the sauce is not likely to hold up to reheating. Bucatini Carbonara is a dish best served hot from the pan, as the taste and texture is dependent on a very specific technique when cooking the eggs.
How Do I Make Sure The Carbonara Sauce Comes Out Smooth And Silky?
The ideal silky-smooth texture of a great Carbonara comes from the technique used to cook the eggs. This is why you do not add the egg mixture to the pan to cook. You risk scrambling or curdling them. First, introduce the hot pasta to the serving bowl with the egg mixture. Once you combine, add the hot pasta water slowly. The slow cooking of the raw eggs is what gives this pasta dish its famously slick texture.
Can I Use A Traditional Bacon Instead Of Pancetta?
While you can use bacon instead of pancetta (or guanciale) in your Carbonara, the differences between them matter to the final flavors of your dish. Both are made from pork belly, but pancetta is salt-cured and bacon is smoked. We find that the bacon can overpower the subtlety of this pasta dish with its smoky flavor, but you may like that in your creation.
Why Is Bucatini A Great Pasta Cut To Use To Make Carbonara?
Bucatini is a great pasta cut for Carbonara, because it is a long cut with a lot of surface area and a hole down its center perfect for sucking up slick sauces like this one. Unlike spaghetti or capellini, bucatini is thicker and more sturdy, so it can aptly stand up to cooking the eggs. This pasta dish does not do well with a mushy pasta.
Can I Use Another Type Of Pasta To Make Carbonara?
We recommend using a long cut of pasta for your Carbonara/Even if you do not use Bucatini specifically, choose a sturdier pasta that will withstand the stirring required to cook the eggs. Thin and flimsy noodles, like fettuccine, will likely break apart during this technique.
Why Is There No Cream In Carbonara?
Carbonara is not a cream sauce. Traditional Carbonara is a pasta sauce that gets its famously smooth, silky texture from the special way eggs (with extra egg yolks added) are cooked in the hot pasta itself. There is also the addition of hard Italian cheeses like Pecorino Romano or Parmigiano-Reggiano that add to the smoothness.
Can I Use Pecorino Romano Cheese Instead Of Parmesan In The Carbonara?
Yes, any hard Italian cheese is an excellent substitution. It all depends on your tastes. The sheep's milk cheese, Pecorino Romano, gives your Carbonara a sharper, more salty flavor. Parmigiano-Reggiano is milder with a nuttier flavor.
Is The Egg Preparation And Incorporation Into The Carbonara Safe?
Yes, the final Carbonara pasta dish does not include raw eggs. For this recipe, the egg mixture is cooked with addition of the hot pasta and by stirring in some hot pasta water. If it makes you feel safer, you can add the eggs with the pasta to the hot pan once it has been removed from the heat. However, if the pan is too hot, the eggs will cook up too quickly and scramble them. We do not recommend this method.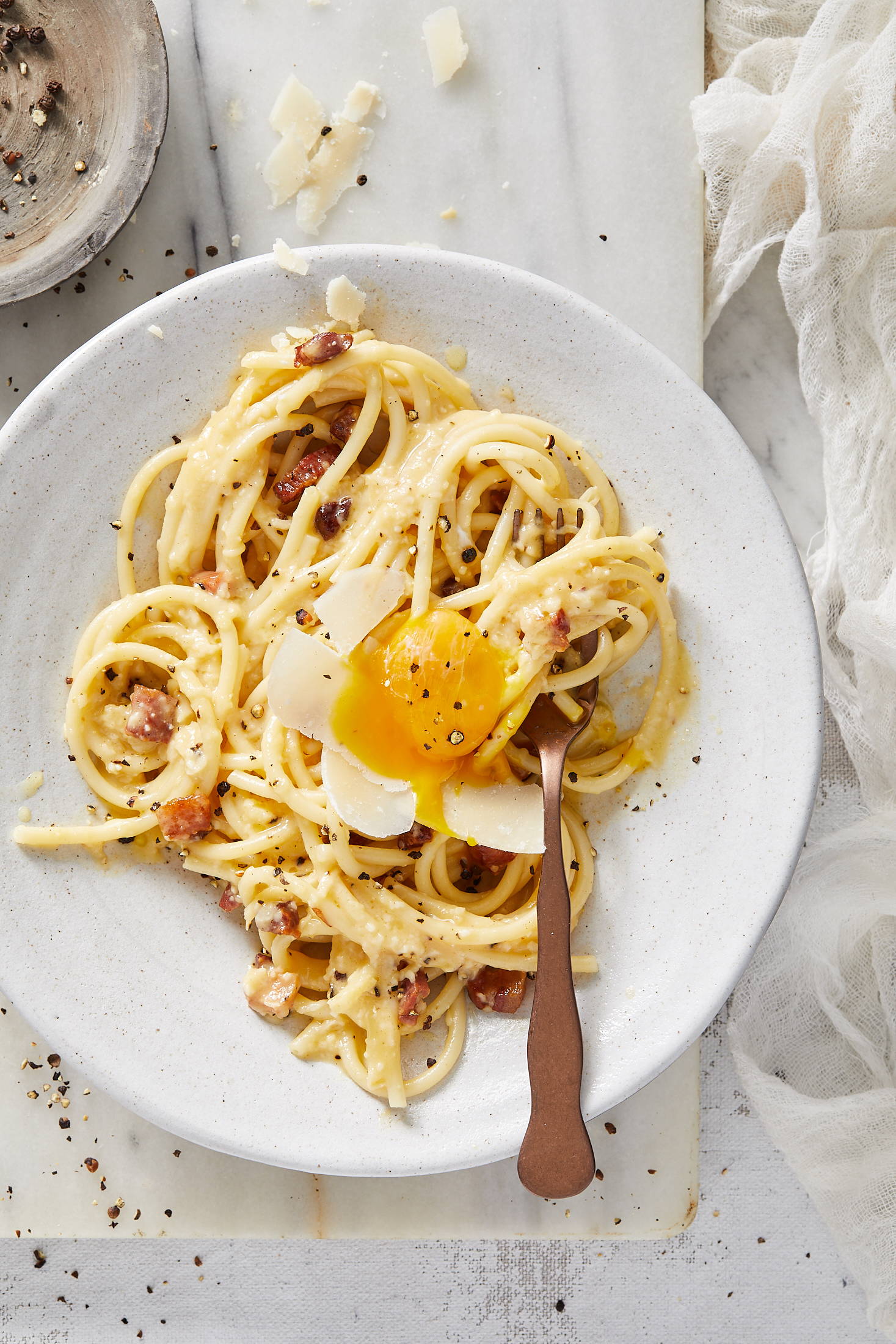 The Best Bucatini Carbonara

Ingredients
1 egg, plus 2 additional egg yolks


3 cloves garlic, smashed

1/2 pound pancetta, diced

Crushed chili pepper flakes

Freshly ground black pepper
In a large serving bowl, beat eggs and cheese to combine. Add salt and pepper. Set aside.

Heat the olive oil and garlic in a large saucepan. Once the garlic begins to turn golden, remove from the oil and discard. Add pancetta to the pan. Sauté pancetta until it becomes golden brown, about 6 minutes. Season with hot chili flakes to taste.

Meanwhile bring 5 quarts of salted water to a boil. Cook the pasta according to package instruction. Drain, reserving 2 cups of the pasta water to finish sauce.

Combine hot pasta and pancetta with oil in a serving bowl with the egg and cheese. Toss to coat and to gently cook the eggs with the heat of the pasta. Once combined, add about 1/4 cup of the reserved hot pasta water and toss. If the pasta appears too dry, add another splash of pasta water.

Serve immediately sprinkled with additional cheese.

Note: If you have concerns over the raw egg, you can always return the pasta back to the hot pan and cook over heat while stirring for 2 minutes.
bucatini carbonara, bucatini alla carbonara, carbonara bucatini, carbonara bucatini recipe, carbonara recipe