The Best Authentic Homemade Vodka Sauce
This is the only homemade vodka sauce recipe you'll ever need. Listed on menus as Penne alla Vodka, as it is often served with Penne Ziti pasta, this Italian-American classic is sometimes referred to by its informal name: "Pink Sauce." No matter what you call it, this creamy tomato pasta sauce really is pure magic. The unforgettable marriage of heavy cream and rich, tangy tomatoes is like no other. And the vodka? Just a touch brings out the incredible depth of each ingredient without adding any alcohol flavor of its own.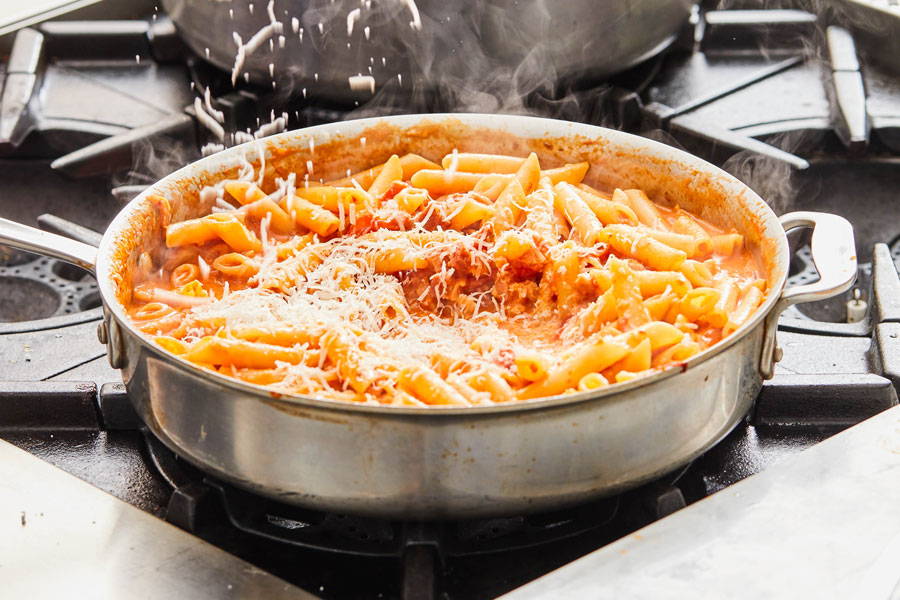 Vodka Sauce is an Italian-American pasta sauce that boasts a robust tomato flavor with the smooth, velvety texture of a cream sauce. You may see it as "Penne alla Vodka" on a menu or referred to simply as "Pink Sauce," because of its pink hue (the combination of tomatoes and cream). If you've never had it before, imagine a decadent cream sauce, such as Alfredo, coming together with a bold, bright marinara. The marriage of flavors is simply harmonious!
While there are many variations of the prized Pink Sauce, our homemade vodka sauce features hand-crushed tomatoes, chopped onions, heavy cream, a bit of pork fat, grated Parmesan, crushed red pepper flakes—and of course, a splash of vodka. The vodka isn't meant to flavor the sauce, but enhance the flavors of the sauce.
There is a lot of debate surrounding the origins of Vodka Sauce, but we won't go there. All you need to know is that it is an incredible pasta sauce that everyone in the family will love.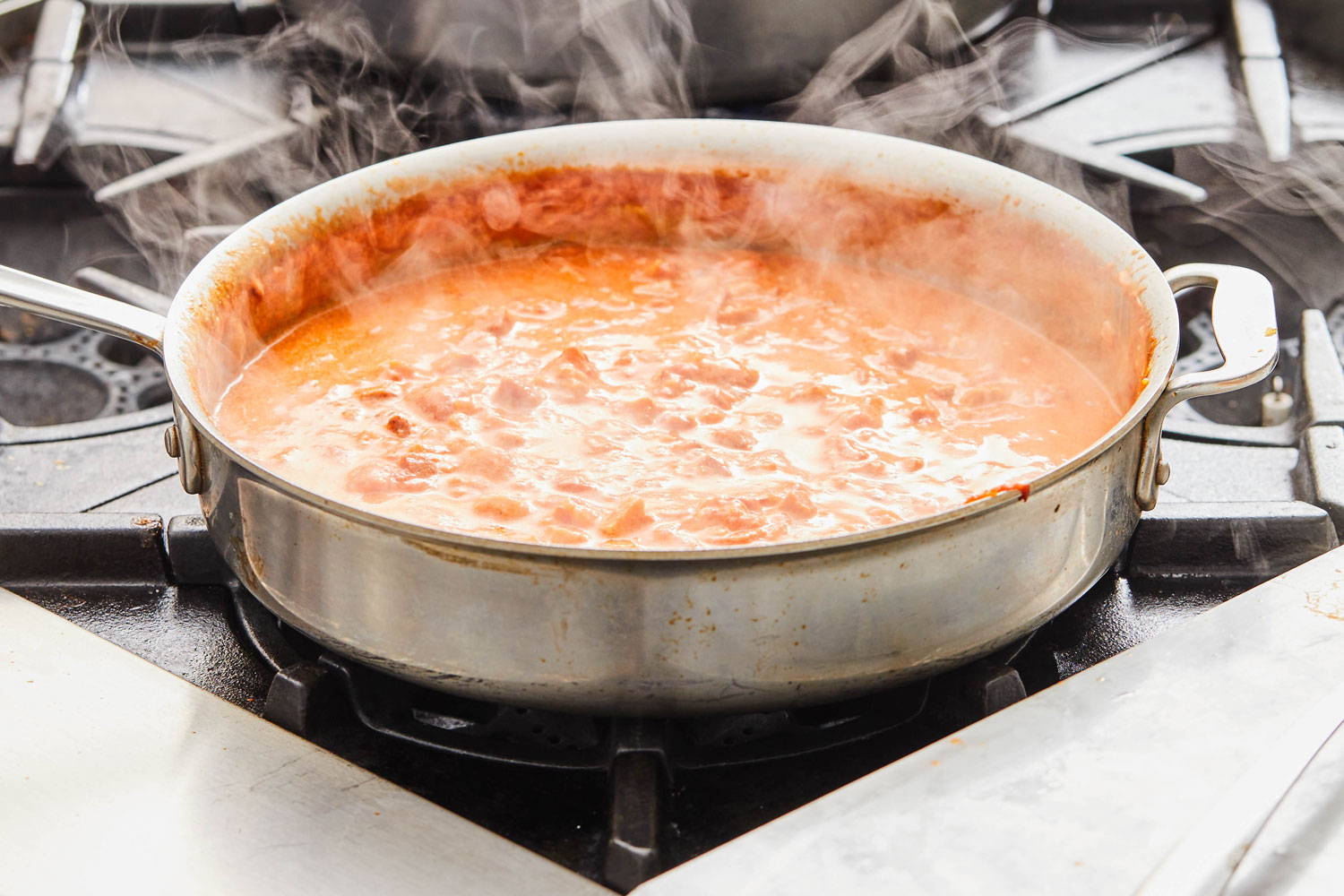 Why is there vodka in vodka sauce anyway?

If you've ever deglazed a saucepan with wine, you know that alcohol is a great way to bring out the flavors in your sauce recipes. This is how vodka works in this particular case. The alcohol adds a sharpness and a heat that mellows the rich, sweet flavors of the tomatoes and the cream. This brings out their complexity without any alcohol taste. You cannot taste vodka or alcohol in the sauce. The vodka's alcohol content evaporates as it cooks, so it doesn't leave behind any vodka or alcohol flavor in the final dish.
The vodka absolutely matters to the flavors of the final dish, so if you feel the urge to skip it, don't! We promise it won't be the same.
Why You'll Love Vodka Sauce (What does it taste like? And why is it so special?)

Looking for a great premade vodka sauce? We've got you covered!
The Ingredients You Will Need To Make Homemade Vodka Sauce

Pork Fat: There isn't much pork fat can't do, and in this case, it adds a salty, savory flavor that really adds to the sweet, creamy tomato sauce. We love pancetta for this reason, but if you'd like an added smokiness, bacon just may be your pork fat of choice. If you're looking for a vegetarian vodka sauce recipe, just skip the meat here.
Onions: Chopped onions are sautéed for a mellow sweet addition to the sauce. They are so fine and cooked through that they blend into the sauce completely without a chunky texture.
Crushed Red Pepper Flakes: Crushed red pepper flakes add a bit of zip and flavor without any real heat.
Tomatoes: The tomatoes here are vital to a great homemade vodka sauce. Our San Marzano Style Tomatoes are the perfect sauce tomatoes. With few seeds and firm tomato pieces, they are excellent for crushing and blending together into a sauce. San Marzano tomatoes are famously rich and bright, ready to stand up to the heavy cream in this recipe.
Vodka: The brand of vodka isn't important, as it burns off in the process. The alcohol here is what matters most. Just ½ cup of vodka enhances the flavors of this sauce without imparting any alcohol taste. Don't skip this step!
Heavy Cream: This silky, miky ingredient is just what you need to tame that tangy tomato flavor.
Grated Parmesan: When you create an authentic Italian meal of just a few ingredients, the quality of those ingredients really matters. We recommend the sharp, nutty bite of freshly grated Parmigiano-Reggiano to complement this creamy tomato sauce.
Pasta: Sure, any cuts of pasta will do, but if you want your sauce living its best life, choose the right shape. While Penne Ziti or Penne Rigate are the most popular, any short cut of pasta with ample sauce-capturing hollows and ridges will do. Just be sure to cook your pasta al dente, so it holds up in your sauce.
---
How to Make Vodka Sauce in 4 Steps

1. A flavorful foundation.

Cook the pancetta with the onions and crushed pepper until fragrant and slightly caramelized.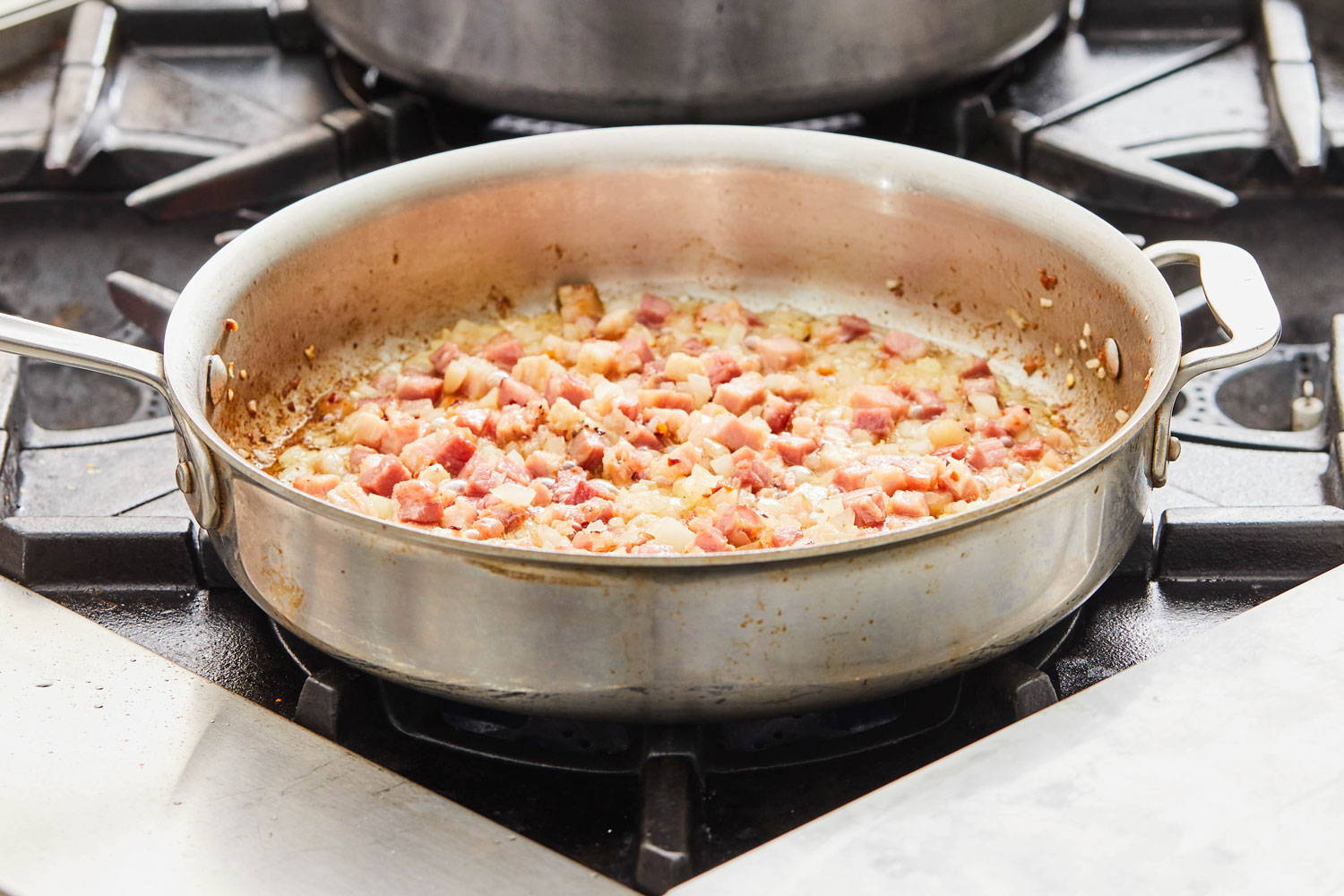 2. Create the sauce.

Introduce the main ingredients and then simmer for 15 minutes. Stir in the cheese last.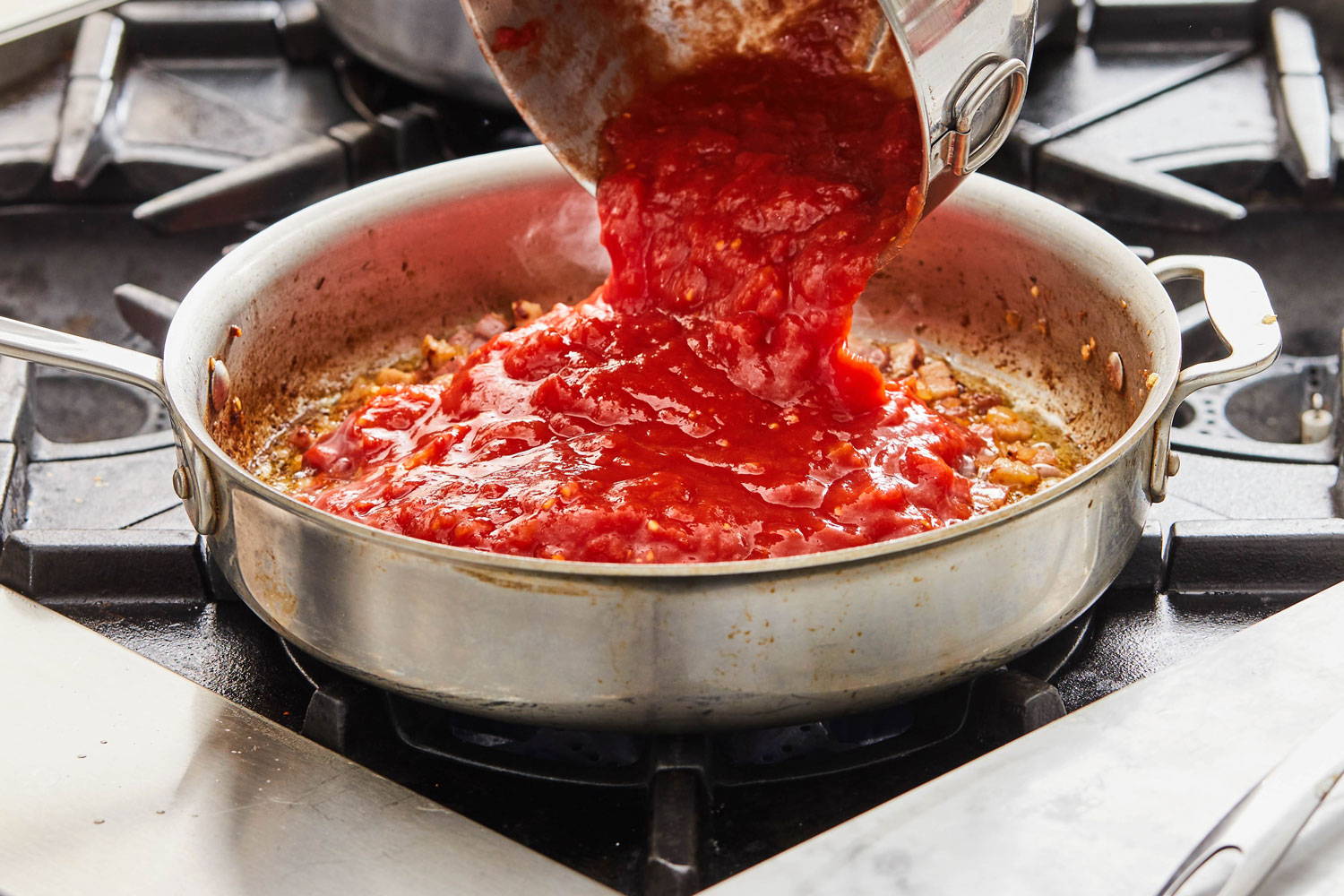 3. Cook the pasta.

Cook for an al dente texture and save some of that hot pasta cooking water to finish your sauce.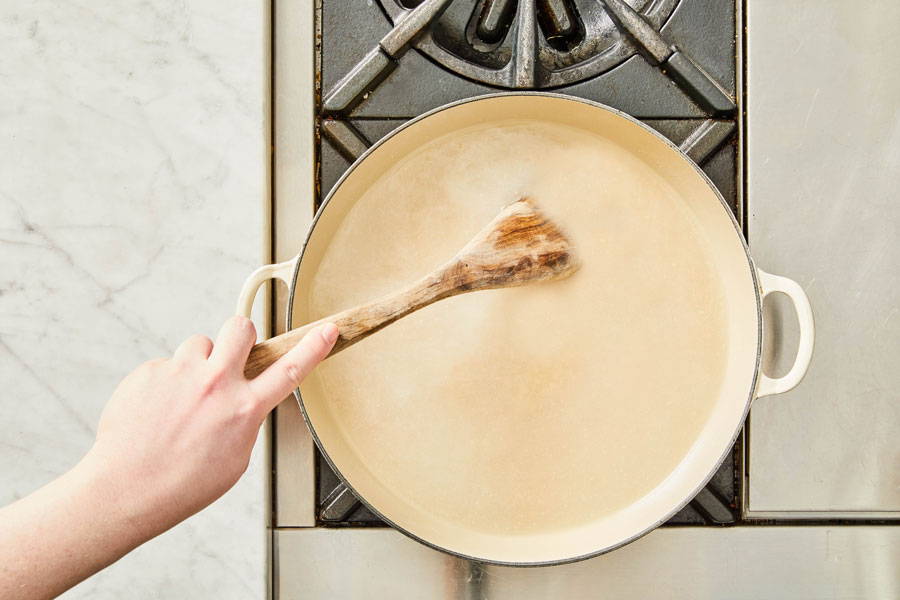 4. Add pasta to the pan.

Combine pasta with sauce and cook together for about 2 minutes to marry flavors. Add a little pasta water at a time for desired consistency.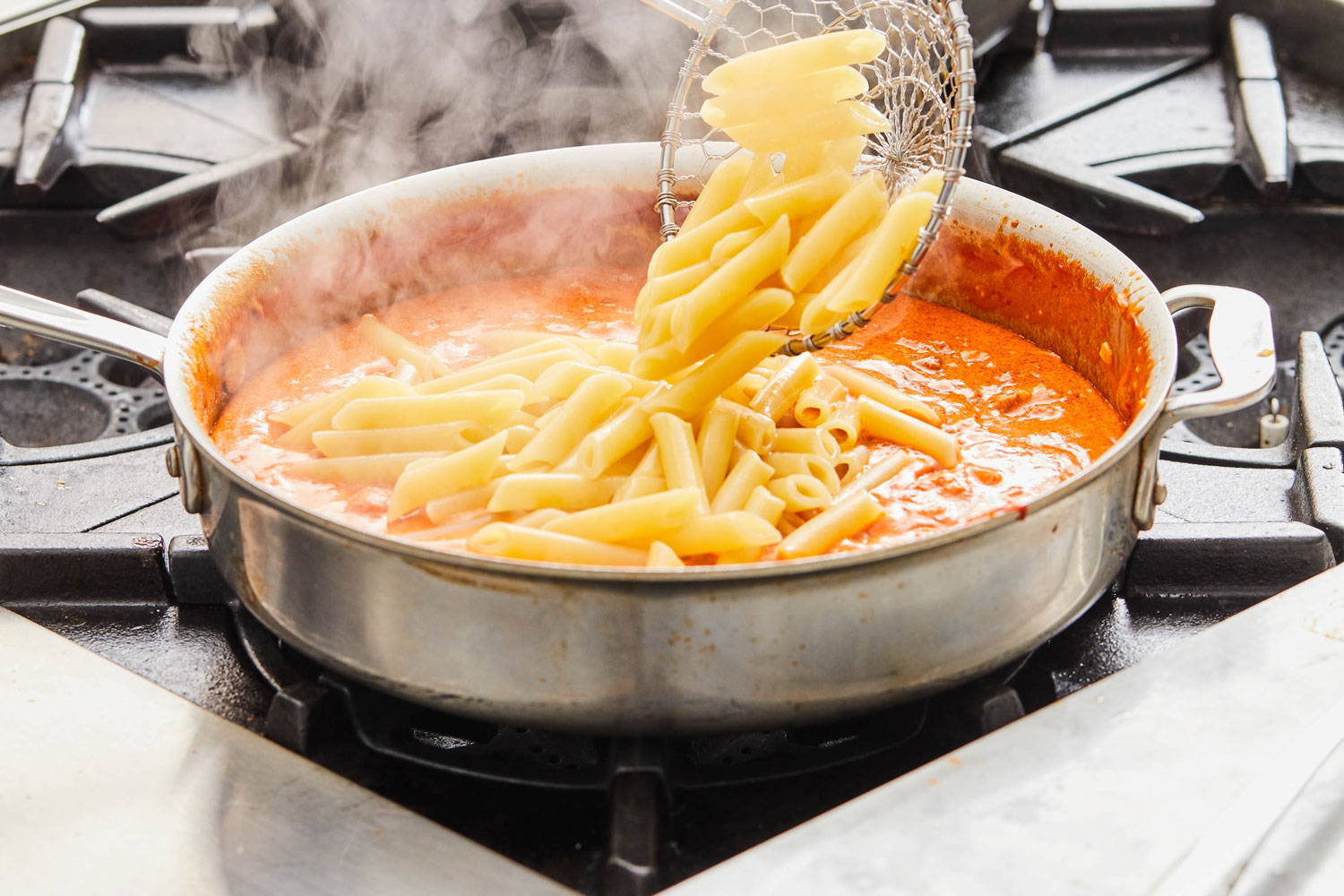 ---
What To Serve With Vodka Sauce

Vodka Sauce is great with Penne Ziti, but you can create a much more elaborate pasta creation with hot or sweet Italian sausage, classic meatballs or mini meatballs or chicken. The dish of pasta and sauce can be complemented with a leafy green salad, roasted vegetables, sautéed greens, garlic bread and more.
The Best Pasta To Pair With Vodka Sauce

Traditionally, Vodka Sauce is served with Penne Ziti pasta, as named in the dish Penne alla Vodka. Its tube shape is perfect for trapping sauce, making each bite taste as great as the last. Stick to short cuts of pasta with twirls and hollows. A firmer shape cooked to that perfect al dente texture ensures your noodles will stand up to this creamy tomato sauce.
Don't forget about your favorite pillowy potato pasta, Gnocchi. For a pasta dish made for cozying up to, Gnocchi and Vodka Sauce are the comfort food combination of your dreams.
Get Fresh with Herbs: Add new flavors like smashed

garlic

, fresh herbs from the garden.
Add Proteins: Make your Homemade Vodka Sauce a well-rounded meal with meatballs, sliced rounds of Italian sausage, chicken or shrimp. For vegetarian-friendly protein options, try cannellini beans or garbanzo beans (chickpeas).
Spice It Up: Introduce spicy Calabrian Chili Peppers, more crushed red pepper flakes or other spicy ingredients to add some heat to your Vodka Sauce.

Vodka-Free Version: Make this pasta sauce without vodka. You can use a mix of water and lemon juice to kick up the flavor of your creamy tomato sauce. It won't be the same, but it will help bring out the acidity of your tomatoes.
Make Ahead
Vodka Sauce can be made in advance up to 5 days and stored in an air-tight container in the refrigerator. The pasta can be cooked ahead of time as well and stored separately in an air-tight container for up to 3 days in the refrigerator.
When it comes time to serve, heat the sauce in a large saucepan on a medium-low setting to simmer, stirring occasionally. Once the sauce is warmed through, about 8-10 minutes, stir in the cooked pasta. Cook together for 3-5 minutes until pasta is warmed.
Freezer Storage
To make the sauce ahead of time and freeze, make the sauce up until the addition of the cream. Store this tomato sauce in the freezer in an air-tight container for up to 3 months. When ready to use, thaw in the refrigerator first. Heat in a sauce pan and add the cream once warmed through. Continue on with the recipe from there.
Homemade Vodka Sauce: FAQ

Is vodka sauce supposed to be spicy?

A vodka tomato sauce typically doesn't have an overly spicy taste. It has a warming, mellow flavor with mild heat. If you want to make a spicy homemade vodka sauce with an intense spicy flavor, add more crushed red pepper flakes or chopped Calabrian Chili Peppers. For spicy vodka sauce recipes, try these: Spicy Vodka Sauce or Spicy Calabrian Vodka Sauce.

Can I use milk instead of heavy cream?
Yes, you can. The best substitutes are whole milk and butter, evaporated milk plus a pinch of baking soda or half-and-half.

Can I use whipping cream instead of heavy cream?
Since they are the same product, you can use heavy whipping cream and heavy cream interchangeably. Both are a versatile, all-purpose product for adding thick, creamy elements to sauces.

Can I use cream cheese or sour cream instead of heavy cream?
Yes, you can. Use the same amount of either as it calls for in the recipe. However, sour cream can curdle, so wait for the tomato sauce to finish cooking before adding.
Can I make a vodka sauce dairy free?
Just because you're dairy-free doesn't mean you can't enjoy this creamy tomato pasta sauce. You can experiment with nut milks and the like to find a suitable replacement for the heavy cream, or you can try this incredible Vegan Vodka Sauce recipe.
How long does vodka sauce last in the fridge?
Vodka sauce keeps well in the fridge for at least 4-5 days! Simply prepare the sauce fully, then rest on the counter long enough to cool all the way to room temperature. Transfer to an airtight container, store in the fridge, and use as you would any other jarred pasta sauce.
Can kids eat vodka sauce?
Yes, a vodka pasta sauce should be safe for children, if cooked thoroughly. Traditional vodka sauce uses such a small amount of alcohol that it should evaporate out during cooking.
Can I eat vodka sauce while pregnant?

Dishes with sauces made with alcohol – e.g. pasta (or penne) a la vodka, white or red wine sauce or gravy, chocolate sauces with rum, brandy, etc. are usually low on alcohol, and serving sizes are small. They're all safe to eat in moderation, in pregnancy. But you should check with your doctor before making or eating pasta with vodka sauce.
Is vodka sauce a mix of marinara sauce and alfredo?

No. Alfredo sauce mixed with marinara sauce is known as pink sauce. While pink sauce and vodka sauce are both types of tomato sauce, they are not the same thing.
What is the difference between marinara sauce and vodka sauce?

A marinara sauce differs from a vodka sauce on the basis of the ingredients used. There is nothing but tomatoes, garlic, olive oil, and herbs in the marinara sauce. Whereas in vodka sauce, there is vodka, cream, and herbs and spices like basil and oregano. Vodka alters the flavor of the sauce in a pleasing way. It adds a touch of heat and a bit of a sharp bite that help balance out the sweetness of the tomatoes and the cream.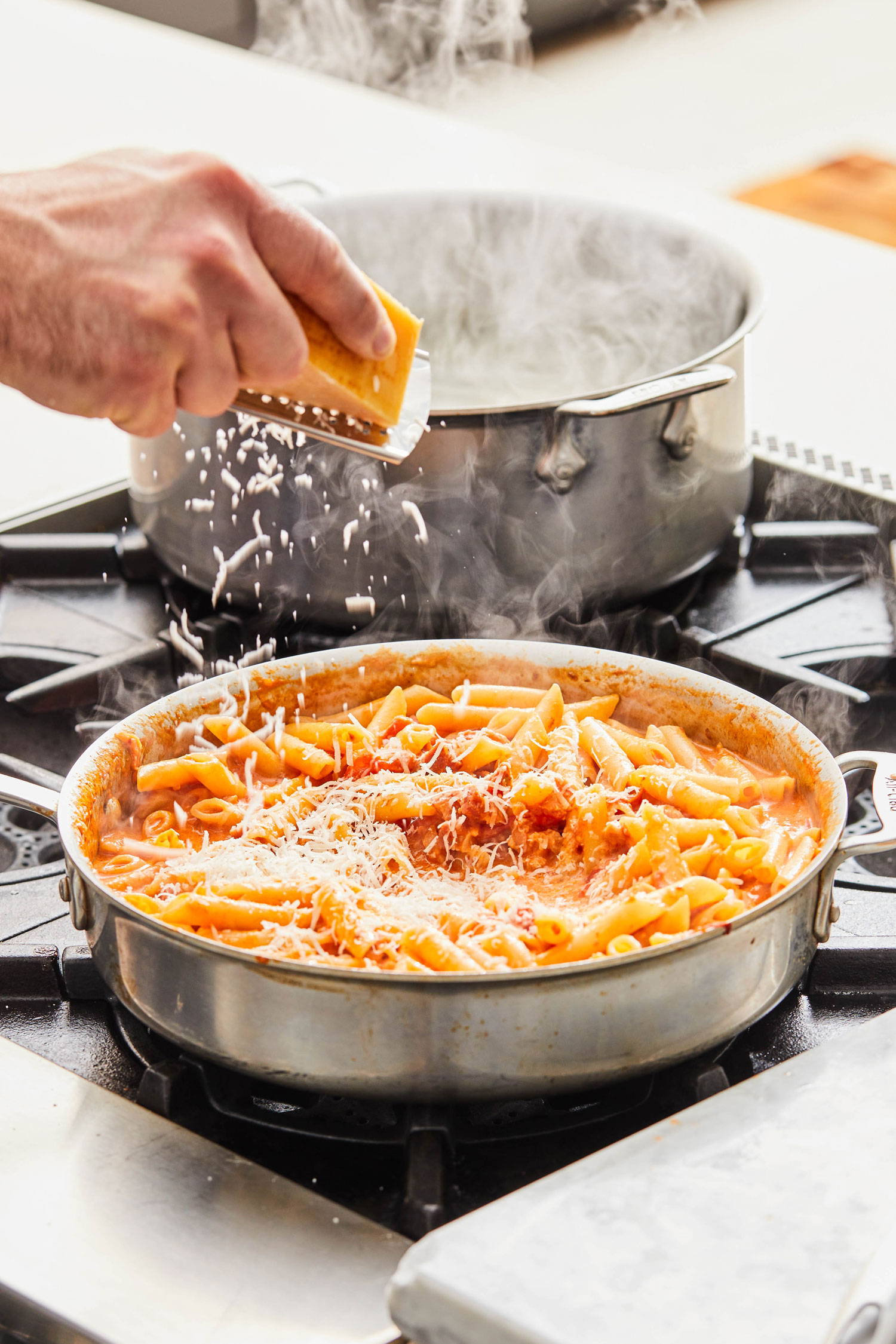 The Best Authentic Homemade Vodka Sauce
Ingredients
In a large skillet, cook the pancetta over medium-high heat until the fat is rendered and just beginning to brown, about 4 minutes. Add the onions and crushed red pepper; saute until soft and slightly caramelized, about 6 minutes.

Add the vodka and cook until reduced, 2 to 3 minutes. Add the tomatoes and stir well to combine. Cook for 15 minutes, then add the cream, and continue cooking until thickened, about 2 minutes. Remove from the heat and stir in the cheese.

In the meantime, cook the pasta in a large pot of salted, boiling water until just al dente. Drain in a colander, reserving 1 cup of pasta water for sauce. Toss the hot pasta in the skillet with the sauce to combine. Cook for about 2 minutes, adding reserved pasta water to loosen sauce, if desired.

Serve topped with grated Parmigiano-Reggiano.
Keywords: homemade vodka sauce, homemade vodka sauce recipe, vodka sauce ingredients, best vodka sauce, how to make vodka sauce