5 Recipes To Make With Orecchiette
Orecchiette, translated as "little ears" in Italian, is a small, ear-shaped pasta that originated in southern Italy. We love to pair orecchiette with rich, creamy sauces and rustic vegetables, because the small, indented shape makes it perfect for scooping extra flavor into every bite. Try these five orecchiette recipes to get a taste of why these little ears are one of our favorite pasta shapes.
Our Organic Whole-Wheat Orecchiette is perfect scooping up small bits of ingredients. That's why it's ideal for vegetable pasta dishes. The hearty whole-wheat pasta stands up to the earthy eggplant and zucchini chunks. Roasted Red Pepper Bruschetta, crushed tomatoes and traditional basil pesto come together to create a zippy tomato sauce that will have veggie-lovers coming back for a second helping.
If you're looking to get your greens in, this recipe will do the trick. We combine our lovable Whole-Wheat Orecchiette with your favorite green veggies—sweet peas, broccoli rabe and chopped green onion. Top it off with our Simply Pesto® Traditional Basil Sauce and you have a killer pasta dish on your hands.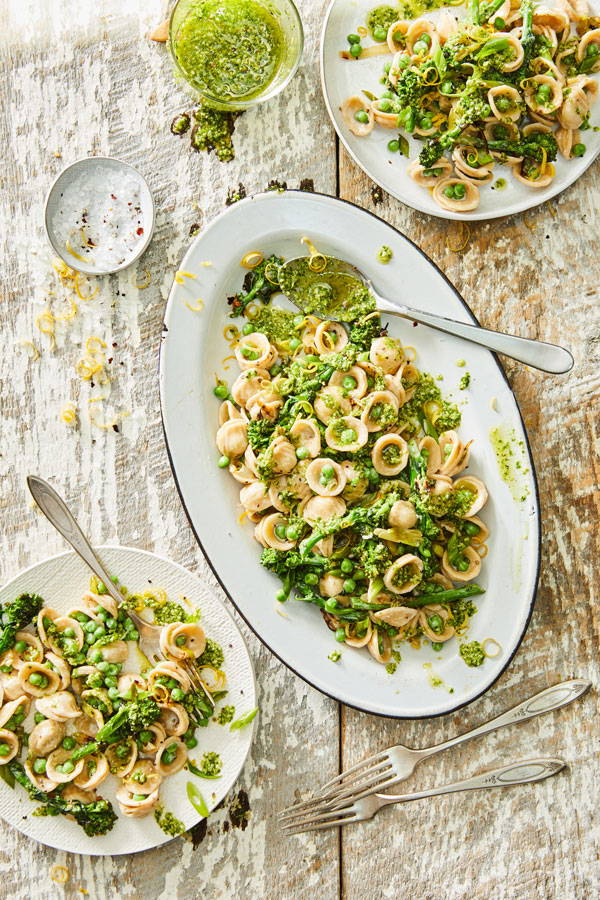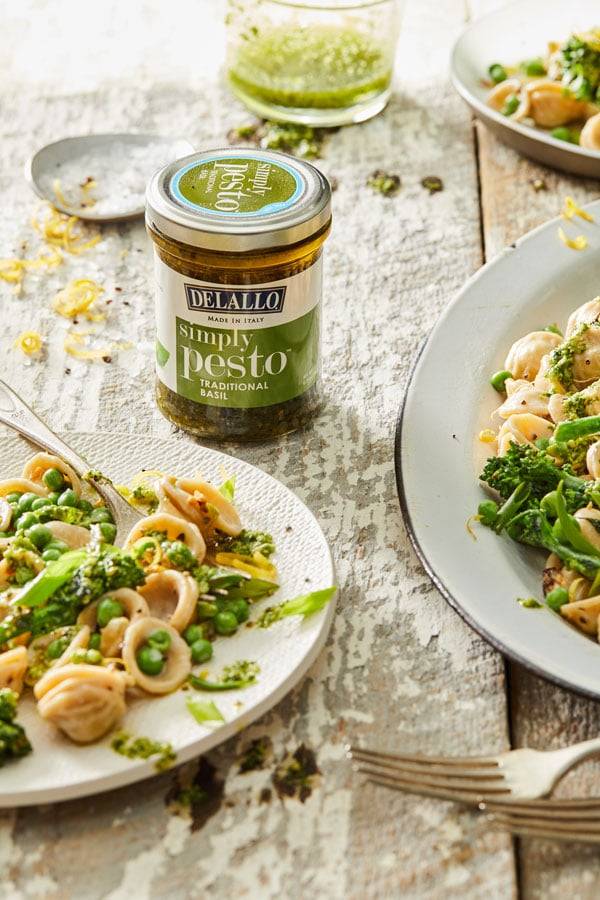 This dish is another example of how these bite-sized orecchiette can shine. In this one, the small, ear-shaped pasta adds the perfect burst of chewy texture alongside a brothy sauce of chickpeas, tomatoes and tangys Eggplant Caponata. This protein-packed pasta sauce is perfect for meatless Monday, but it's so delicious you might want it every night of the week.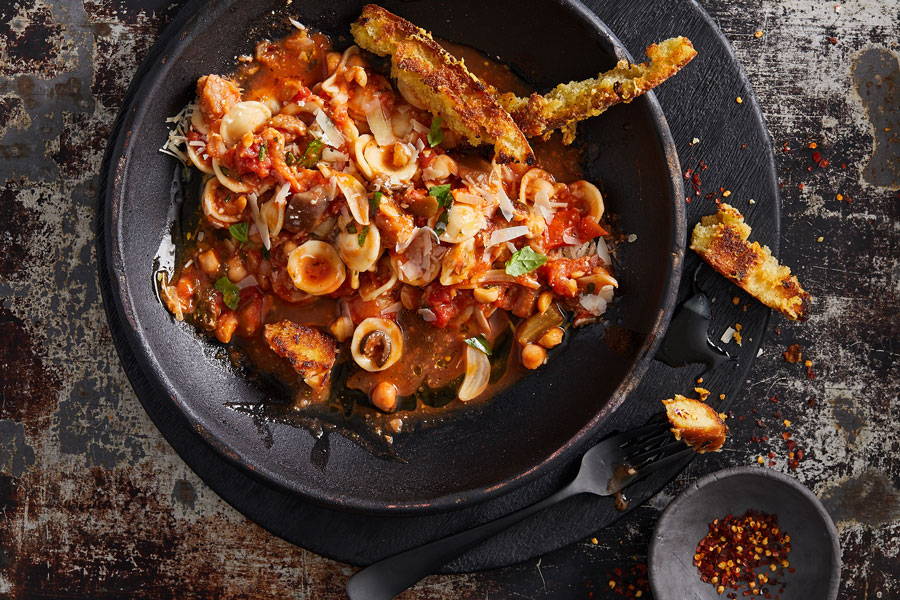 This dish features some of our favorite Italian flavors. Spicy pork sausage, tender stalks of broccoli rabe and sharp Granino cheese, all served alongside al dente orecchiette pasta.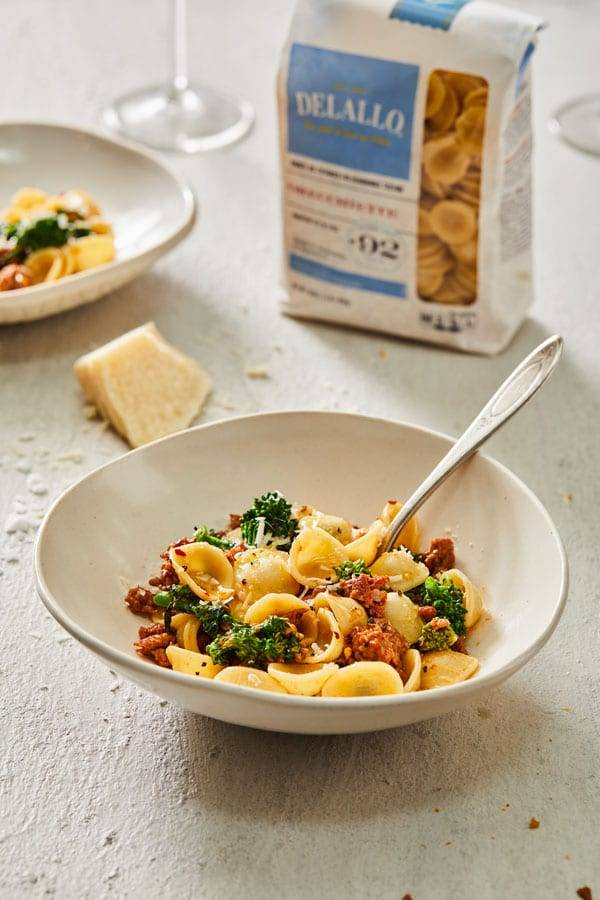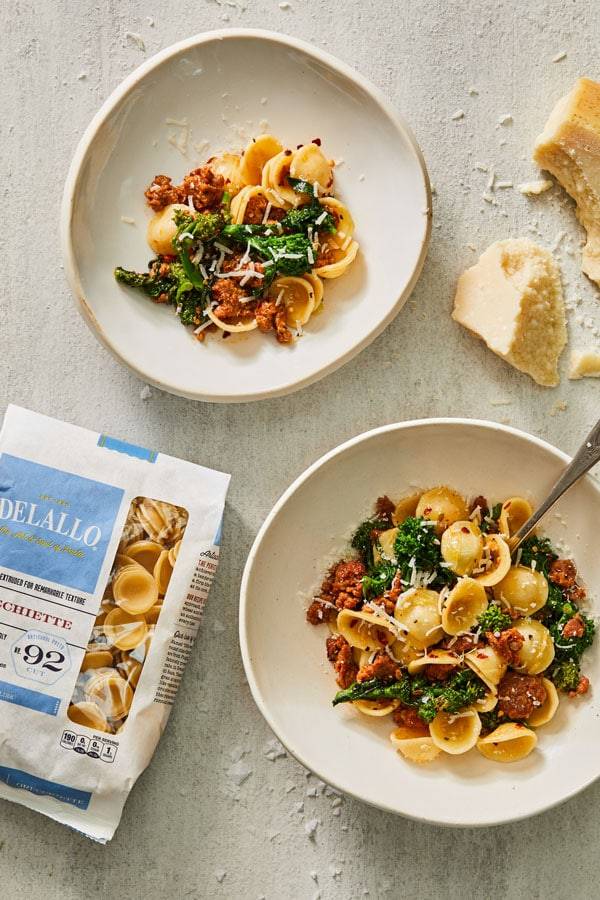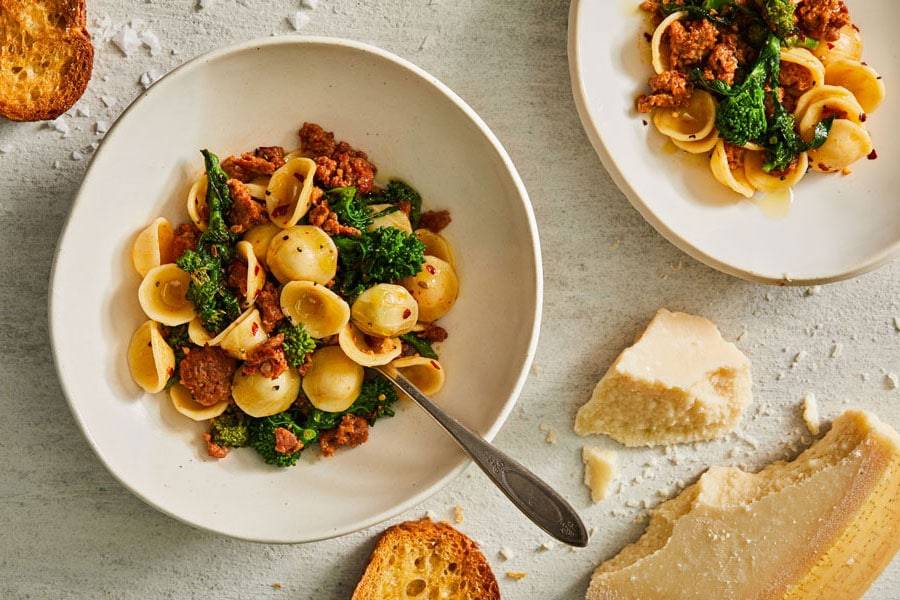 This recipe delivers the perfect marriage of textures and flavors. We dress chewy orecchiette pasta in a creamy, cheesy sauce with flecks of salty chopped pancetta and bursts of sweetness from green peas. These tender "little ears" are great for scooping up the sweet green peas and crispy pancetta for the best flavor in each bite.