Pasta is a year-round staple in Italian cuisine. With so many cuts to choose from and an endless number of sauces and preparations, pasta dishes can go from simple weeknight dinners to fine dining for special occasions—and everything in between. DeLallo's wheat-free options give you a healthy way to enjoy your favorite recipes without sacrificing the beloved taste and texture of authentic Italian pasta. Shop DeLallo Gluten-Free Pasta!
Authentic Italian Pasta for Everyone
From colorful picnic pasta salads to nonna's cheesy baked ziti, some of our most unforgettable meals and recipes feature pasta. It's no wonder this Italian staple has become a classic ingredient in nearly every kitchen. Versatile as it is delicious, pasta is made to shine in hearty, warm-weather recipes, as well as summery salads tossed with fresh veggies and homemade dressings.
No matter what your reason for choosing a wheat-free lifestyle, you shouldn't have to go pasta-less! And that's why we created our line of Italian Gluten-Free Pasta. Expertly crafted with top-quality grains (with no GMOs!) sourced from Northern Italy and generations of pasta-making experience (just like our Traditional Semolina and Organic Whole Wheat!), our Gluten-Free Pasta comes in two tasty varieties: Corn & Rice and Whole Grain Brown Rice.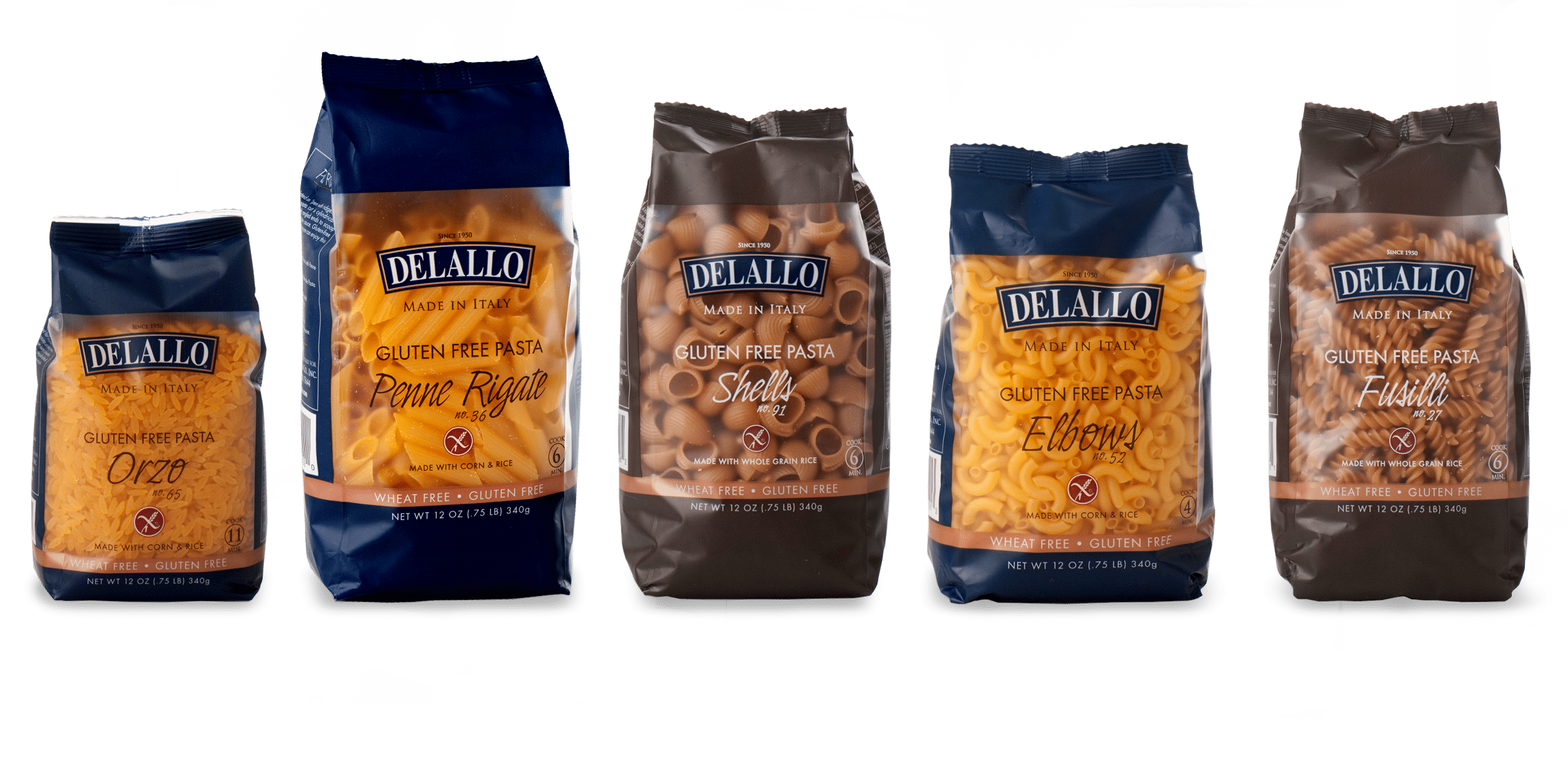 Rich with Tradition
If anyone knows the importance of great Italian pasta, it's DeLallo. Driven by a life-long passion for authentic Italian cuisine, we've dedicated ourselves to sharing the foods we love with you. This is why it's so important for us to bring a wheat-free option to the table. Developed first for taste, texture and that signature al dente bite, our Gluten-Free Pasta is everything you love about traditional Italian pasta, but made for all to enjoy. What's not to love?
Our pasta facility is located deep in the heart of Puglia, Italy. Both a molino and pastificio (mill and pasta factory), this site is dedicated solely to wheat-free products. What this means to you? There is no risk of cross-contamination. And because everything happens in one facility—from milling grains, to kneading dough and forming pasta—we can guarantee the ultimate in quality and consistency.
Wheat-Free in the Italian Kitchen
Besides the pasta itself, many of the spotlighted ingredients found in your favorite pasta recipes are often free of gluten naturally. Think: fresh seasonal veggies, rich sun-kissed tomatoes, extra virgin olive oil, meats, cheeses, etc. Always be careful, though, to inspect ingredient lists and do your research. Sometimes starches and other hidden ingredients may be overlooked in meal planning.
We've gathered up some of our favorite pasta and sauce recipes—perfect for the wheat-conscious consumer. Simply substitute traditional pasta with our new line of Gluten-Free Pasta. Each variety comes in an assortment of shapes to keep your creativity in the kitchen.
DeLallo Gluten-Free Pasta Recipes