The All-Inclusive Wine, Cheese & Olive Pairing Guide
This isn't about chips and dip.
We're about to amp up your entertaining game a bit. Whether you're setting the stage for the meal to come or entertaining with a colorful cheese board of your favorite olives, antipasti, meats and cheeses, knowing how to mix and match flavors is essential.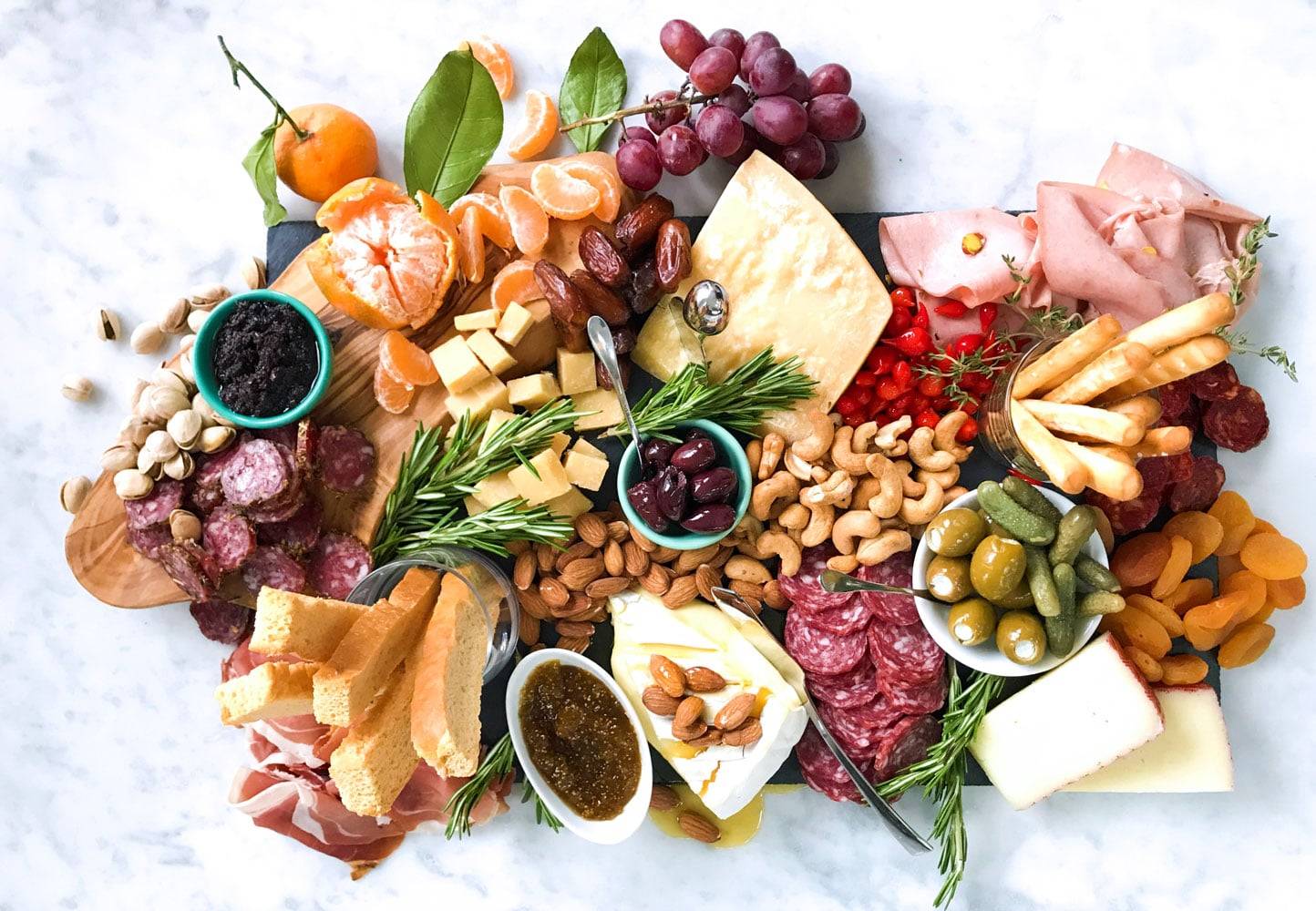 What's so amazing about entertaining with pairings? It's both easy and impressive. Eye-catching olive and antipasto items come together in artful ways, complementing wines and cocktails, specialty cheeses and cured Italian meats.
Still, it might seem overwhelming at first. As if hosting weren't stressful enough, creating a delicious harmony of flavor combinations is complex. It is a science. Good thing we've rounded up some simple tips and insight from our DeLallo experts.
Know Your Cheeses
From super-sharp aged varieties to young fresh types, cheese can make all the difference to your antipasto lineup. Cheese runs the gamut of delicate to bold, much like wine, but with an intricate middle ground of surprising textures, aromas and notes.
As it ages, a cheese's moisture evaporates leaving behind the most flavorful elements, protein and fat. This is why older cheeses tend to boast big flavor. Some of the characteristics an older cheese might develop: nutty and earthy (Parmigiano-Reggiano), gooey and rich (Brie) and irresistibly pungent (Gorgonzola). Young or fresh cheeses, like ricotta and chèvre, aren't aged and are mostly mild with a soft texture. Fresh cheeses can be bright and citrusy or sweet and tangy. All of these flavors make for interesting pairings with your favorite wines.
Firm/Hard
Cheddar, Swiss, Parmigiano-Reggiano
A broad range of flavors and textures, firm and hard cheeses can be anywhere from sharp to earthy to mellow with a bite that ranges from elastic to hard with little moisture. The longer the aging, the more piquant and hard they become.
Pairs perfectly with big-bodied wines such as Malbecs and Cabernet Sauvignons.
Semi-Soft
Fontina, Havarti, Cheddar
Made with whole milk to create rich, buttery, mellow flavors and a pliable melt-in-your-mouth texture. Many semi-soft cheeses are infused with peppers or spices.
Pairs perfectly with medium-bodied wines like Cabernet Franc.
Fresh
Mascarpone, Ricotta, Feta, Chèvre
With no aging, fresh or unripened cheeses are typically moist with a soft, creamy texture and mild flavor. These cheeses are meant to be eaten quickly once made.
Pairs perfectly with lighter wines such as Sauvignon Blanc or Pinot Noir.
Blue
Stilton, Gorgonzola, Roquefort
Famous for its signature molding and marbling, blues vary greatly in texture and taste. These cheeses can be creamy, crumbly or dense with piquant, meaty or mild flavors.
Pairs perfectly with full-bodied wines like Merlot or Cabernet Sauvignon.
Soft (Bloomy Rind)
Brie, Camembert, Brillat Savarin
Ripened for a short period of time, bloomy rind cheeses are soft and creamy with a distinct white and fluffy rind, or bloom, boasting rich, earthy and buttery flavors.
Pairs perfectly with chardonnay or bubbly champagne.
Soft (Washed Rind)
Taleggio, Limburger, Epoisses de Bourgogne
These "stinky" cheeses are known for their pungent aroma, moist texture and big, meaty flavors. The orange-brown crust is typically not for eating, though, so stick to the flesh of the cheese, which ranges from oozy and runny to grainy and dense.
Pairs perfectly with other big flavors like strong oaky Rieslings and Pinot Noir.
Tips for Creating a Superstar Antipasto Spread
Who doesn't love a good theme? If you're really into impressing your guests with your vast knowledge of antipasti, you could stick to one region of Italy (like Calabria in the south, where bold, garlicky and spicy flavors reign) or country. For instance, try a Greek-themed spread featuring Calamata olives, lemony hummus, feta cheese and a fruity red wine.

Mix it up. Try medleys and mixes with and without olives. Better yet, offer some irresistibly mellow, buttery olives for the newbies. (Bella di Cerignola and Castelvetrano olives have been known to convert quite a few anti-olive foodies.)

Spice things up but remember… not everyone likes it hot. Offer a range of spiciness for your whole crew. Keep in mind that soft creamy cheeses are a great way to cushion the heat.

Add a fresh dimension with sliced apples or pears, a medley of berries and crisp veggies to brighten your offerings. Dried fruits and nuts are also a great way to introduce new flavors and textures.

Starches, for the win! Gourmet crackers, crispy toasts, crusty breads, snappy breadsticks… you name it. Breads and crackers are a great way to cleanse the palate in between bold, briny olives and sharp cheeses. Besides that, they make great vehicles for dips, salsas and relishes.

Bring on the drizzles and dips. Upgrade your cheese plates and antipasto platters with easy condiments like balsamic glaze, pesto, mustards, marmalade, jams and more.

A little extra goes a long way if you have the time to include a prepped item or two—a cheesy baked dip, a savory tart or a creamy salad dish. We suggest something easy to make and easy to eat.

Perfect placement. Now it's time to make it shine with an artful arrangement. Use plates, cheeseboards and shiny serving utensils to really make your pairings pop. Let it be natural. Anything too organized and your guests won't want to disturb it! Make it inviting and easy to access.