The Best Spaghetti Alla Nerano
Have you ever heard of Spaghetti alla Nerano?
Recently, in his show Searching for Italy, Stanley Tucci called Spaghetti alla Nerano "life changing," calling attention to this lesser known Italian pasta dish and shining some much deserved light on its greatness. This pasta dish originated in the small village of Nerano, Italy, of the Sorrento Peninsula, where it was first made by restaurant owner Maria Grazia.
At its heart, Spaghetti alla Nerano is a relatively simple vegetable pasta dish consisting of fried zucchini slices, al dente spaghetti noodles, fresh basil and Parmigiano-Reggiano. But there is nothing simple about the incredible flavors of this iconic Italian pasta recipe. The toasted, nutty flavors of the crisp fried zucchini rounds shine in combination with sharp Parmigiano-Reggiano cheese and fragrant fresh basil leaves.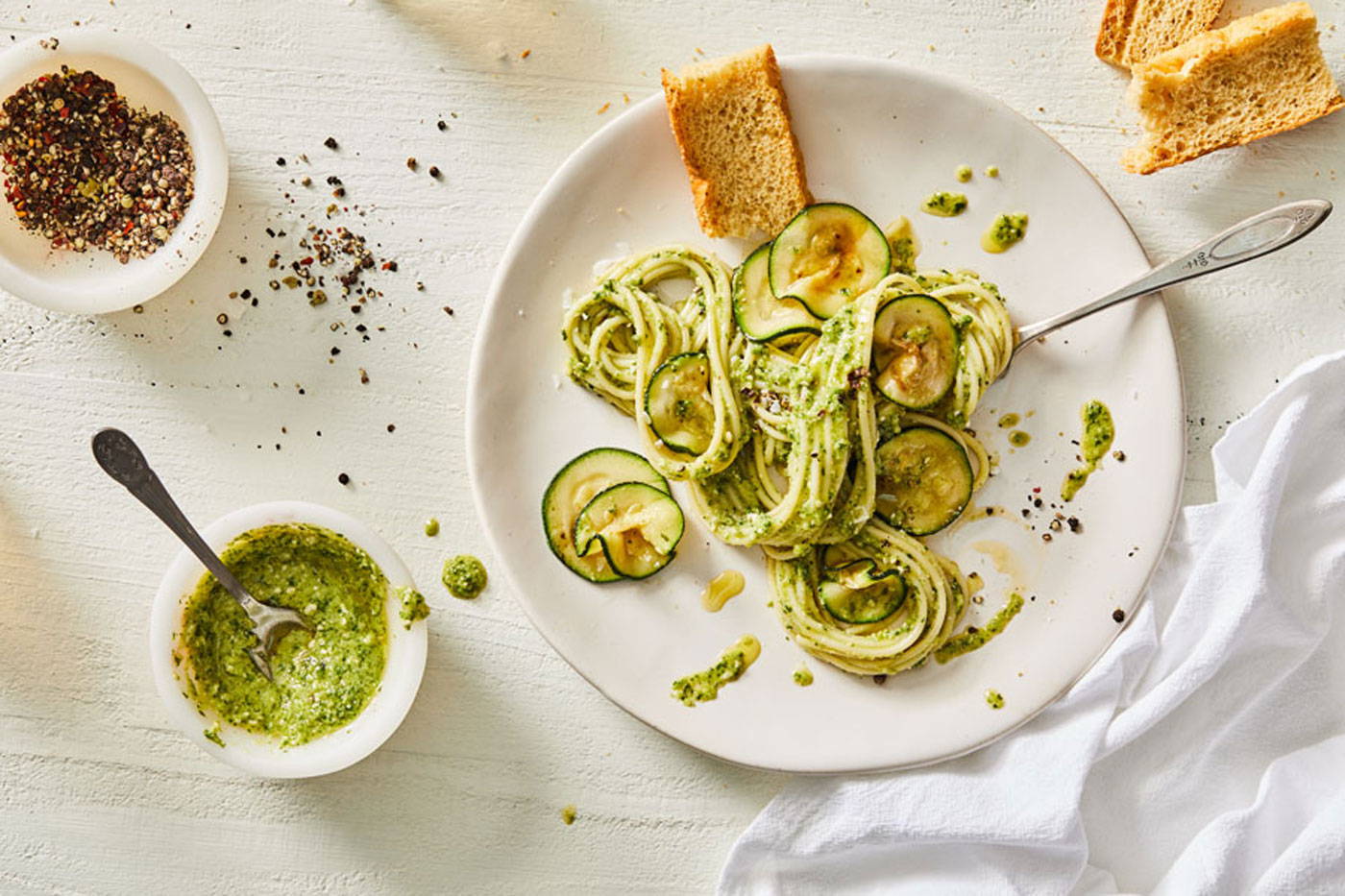 What Is Spaghetti Alla Nerano?
Spaghetti alla Nerano is an Italian pasta dish featuring fried zucchini slices, fresh basil, al dente spaghetti and a flavorful Italian cheese such as grated Provolone del Monaco or Parmigiano-Reggiano. The story goes that this prized pasta dish was invented by Maria Grazia in the 1950's in the village of Nerano of the Sorrento Peninsula. There are many variations of Spaghetti alla Nerano out there. For instance, some recipes call for extra virgin olive oil, while others use sunflower oil to fry the zucchini slices. The Italian cheese used in this pasta dish also varies. Provolone del Monaco, from Naples, is a popular choice for Spaghetti alla Nerano: a semi-hard cow's cheese with a pleasant spiciness.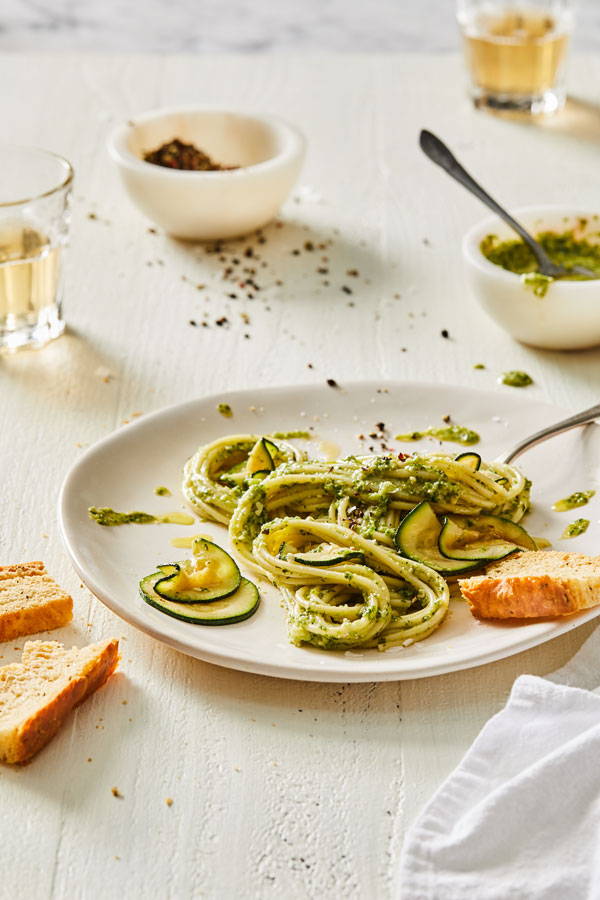 Why You'll Love This Spaghetti Alla Nerano Recipe
There are so many reasons to love Spaghetti alla Nerano. For one, this vegetable pasta dish is the perfect example of authentic Italian cuisine: unique, simple yet full of flavor. With just a handful of quality ingredients, this timeless pasta recipe comes together in no time, making it an excellent weeknight meal idea—especially great for putting to work that summer zucchini from the garden. We love how easy it is to create a restaurant-quality pasta dish with loads of gourmet flavors. The fried zucchini slices bring a toasty, nutty sweetness to the pasta dish that is like no other. The fresh basil adds just the right amount of herbaceous, fragrant flavor. Spaghetti alla Nerano proves that you don't need a long list of ingredients to accomplish big flavors.
The Ingredients You Will Need To Make Spaghetti Alla Nerano
Extra virgin olive oil: The traditional Spaghetti alla Norena recipe is made with extra virgin olive oil. We recommend using a good one since there are only a few ingredients and the flavor will really shine through.
Garlic: We use just enough garlic to flavor the oil and discard the clove. If you love garlic, add more. You can even add minced garlic to the final dish for more garlicky flavor.
Zucchini: Be sure to slice your zucchini thinly. You can use a mandoline to make it easier. If they are too thick, they will absorb too much oil.

Pasta: Spaghetti is the number one choice here—it's even in the name of the dish. Still, you can change up the pasta shape for this recipe. You can try another long cut like Linguine or Capellini. Short cuts of pasta are also an option: Farfalle, Penne Rigate or Fusilli to name a few. Just be sure you do not overcook the pasta. Strive for that tender but chewy al dente texture.

Cheese: Traditionally, the Spaghetti alla Nerano is made with Provolone del Monaco DOP. This is a spicier provolone that isn't always easy to find outside of Italy. We love this recipe with Parmigiano-Reggiano, but you can also substitute with another sharp Provolone cheese or Caciocavallo.
Basil: The perfect herby sweetness to finish this vegetable pasta. It must be fresh.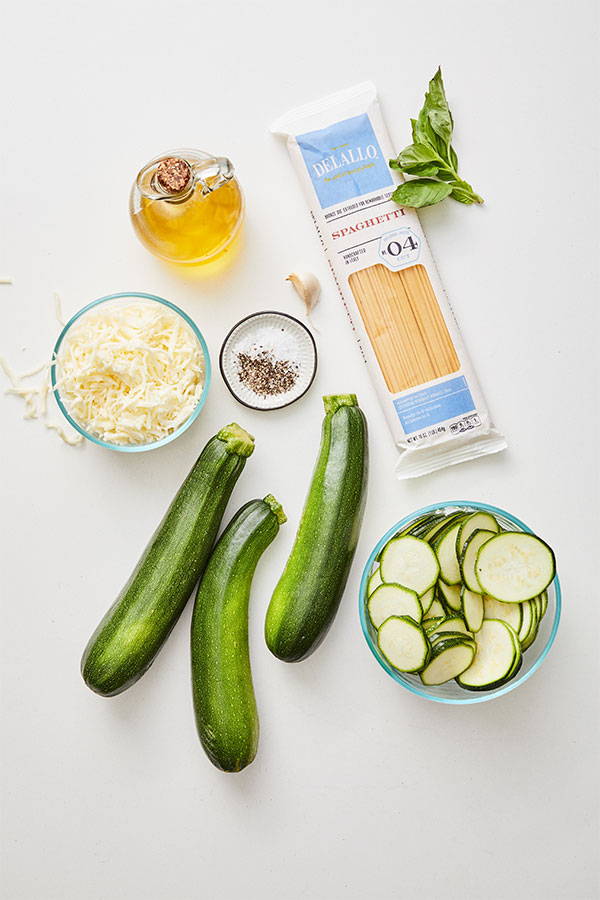 How To Make Spaghetti Alla Nerano
1. Flavor the oil.

Heat the olive oil in a wide skillet. Add the garlic to flavor the oil. Once golden, discard.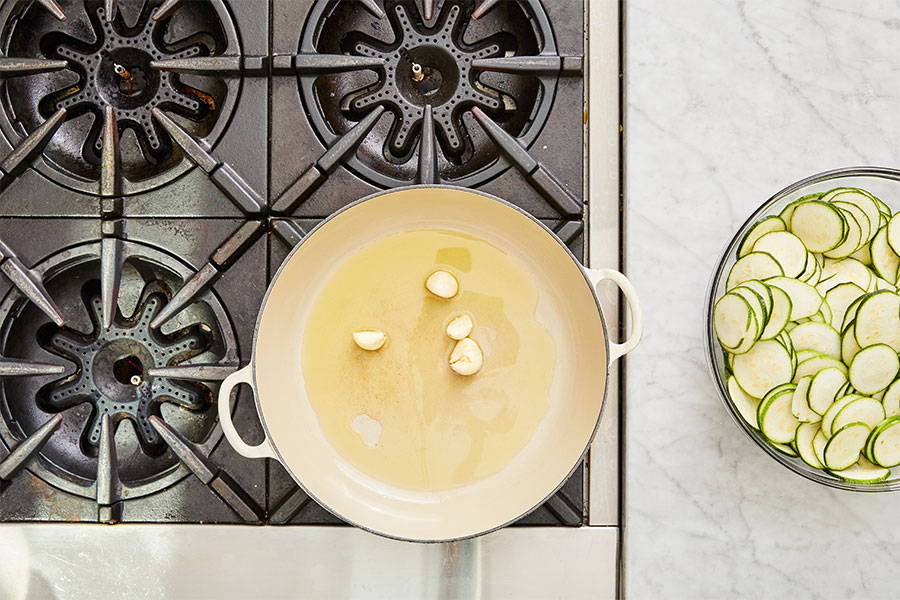 2. Cook the zucchini.

Add the zucchini to the skillet. Cook until tender and golden, but not browned. Transfer to a paper-towel-lined plate to soak up the excess oil. Sprinkle with salt.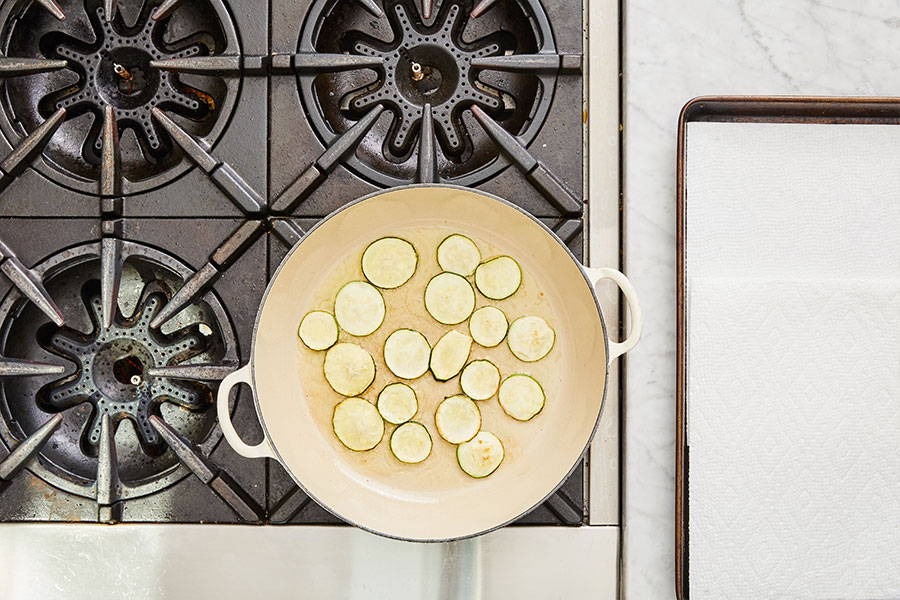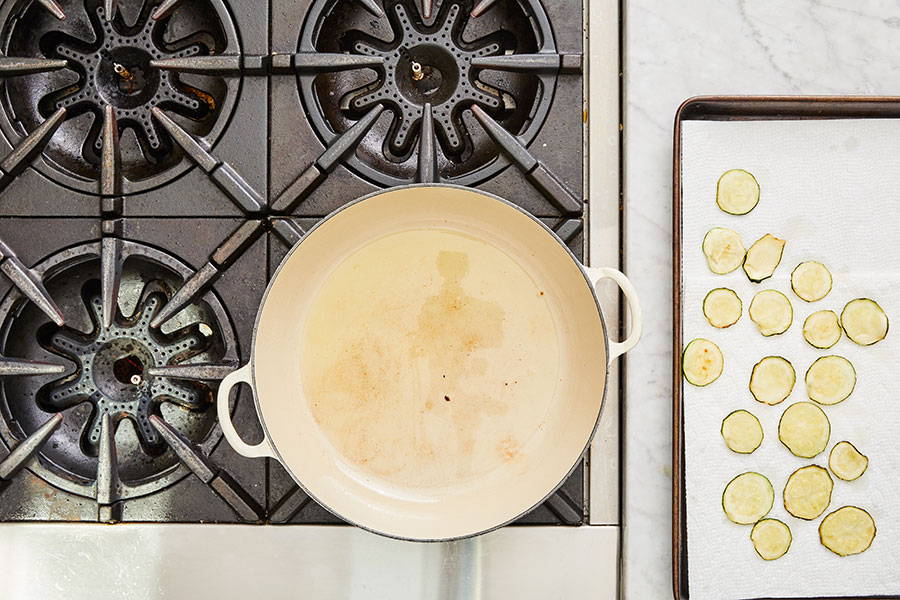 3. Cook the pasta.

Cook the pasta for that signature al dente bite. Reserve 1 cup of pasta water to finish the sauce.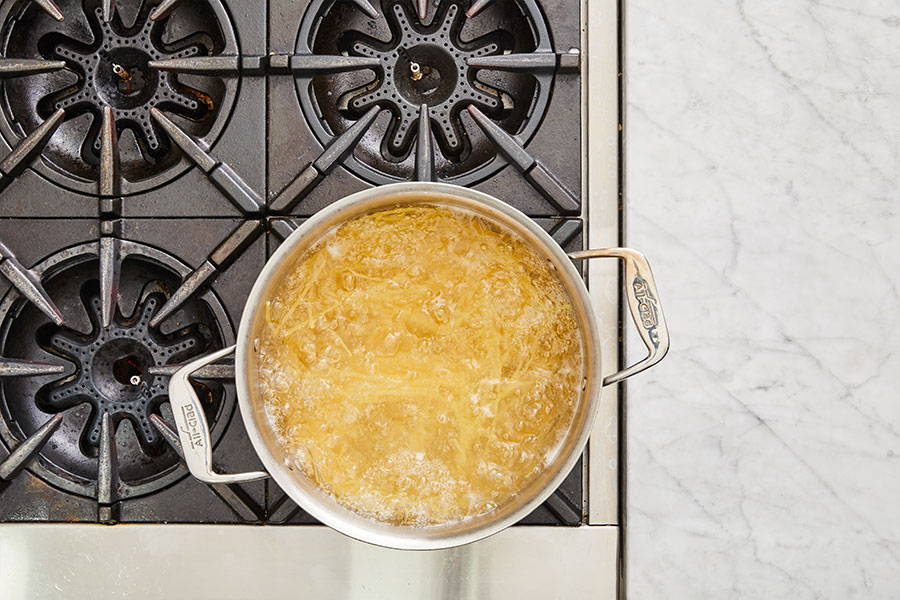 4. Create the sauce.

In a blender, combine ⅓ of the zucchini and ¼ cup of the pasta water. Add more or less pasta water for desired consistency.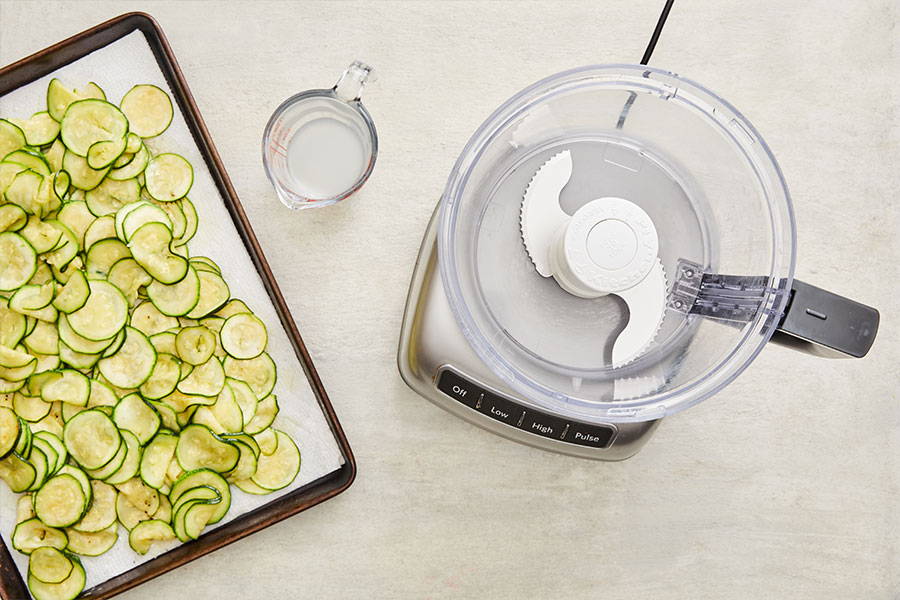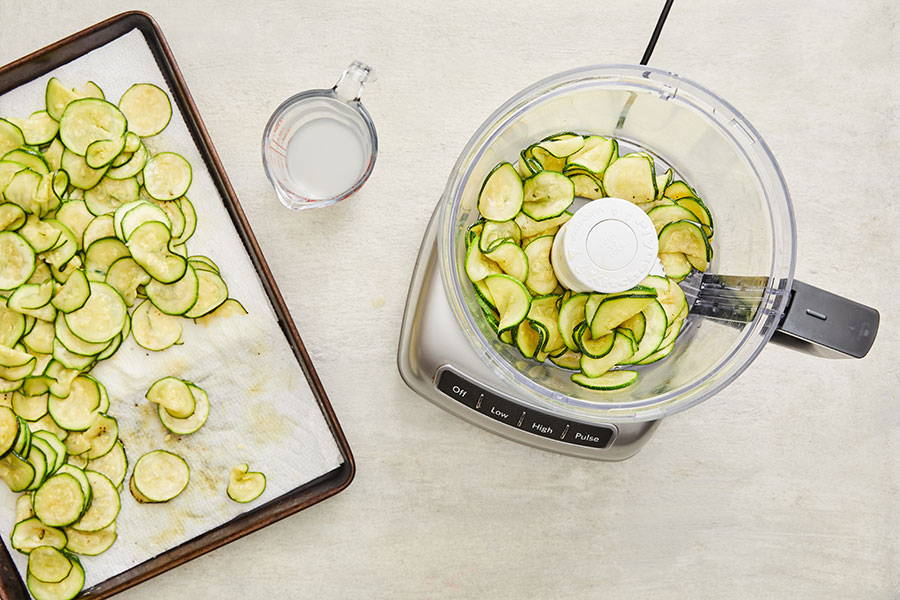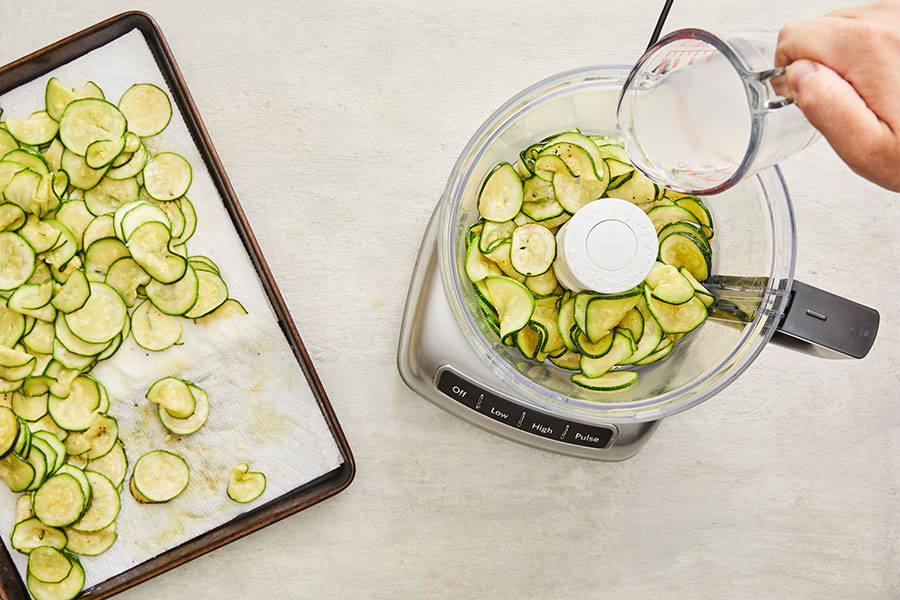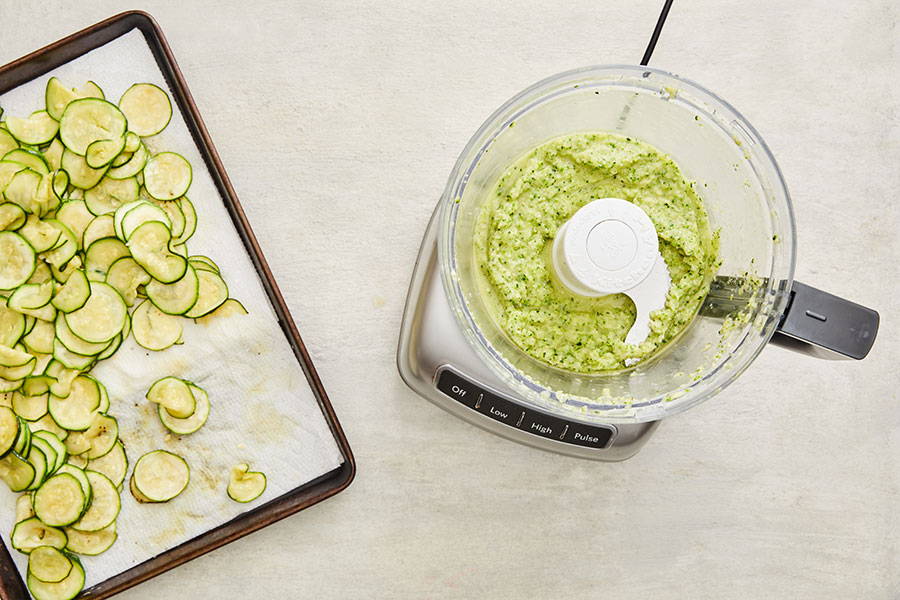 5. Bring it together.

Toss the sauce with the hot pasta and zucchini. Stir in the grated cheese until it melts into a creamy sauce.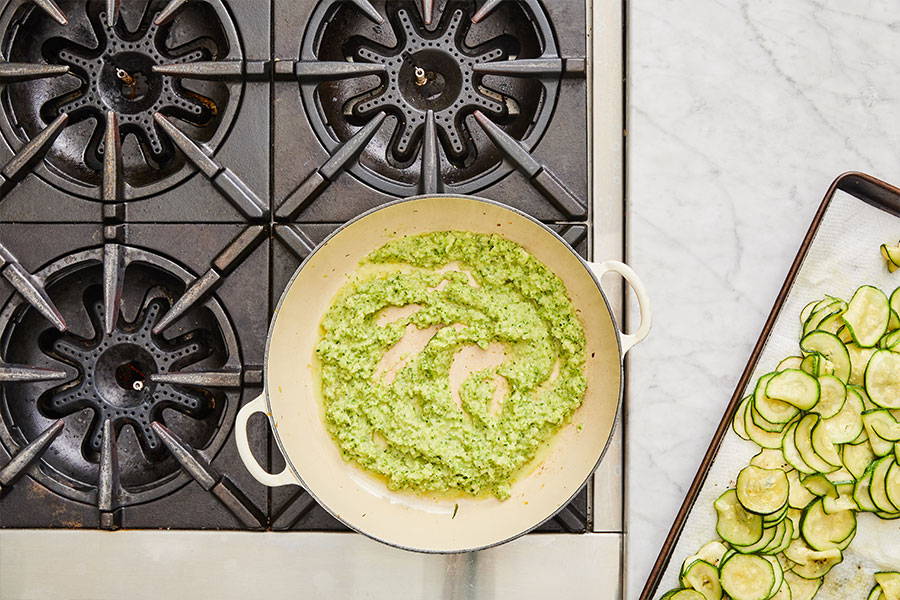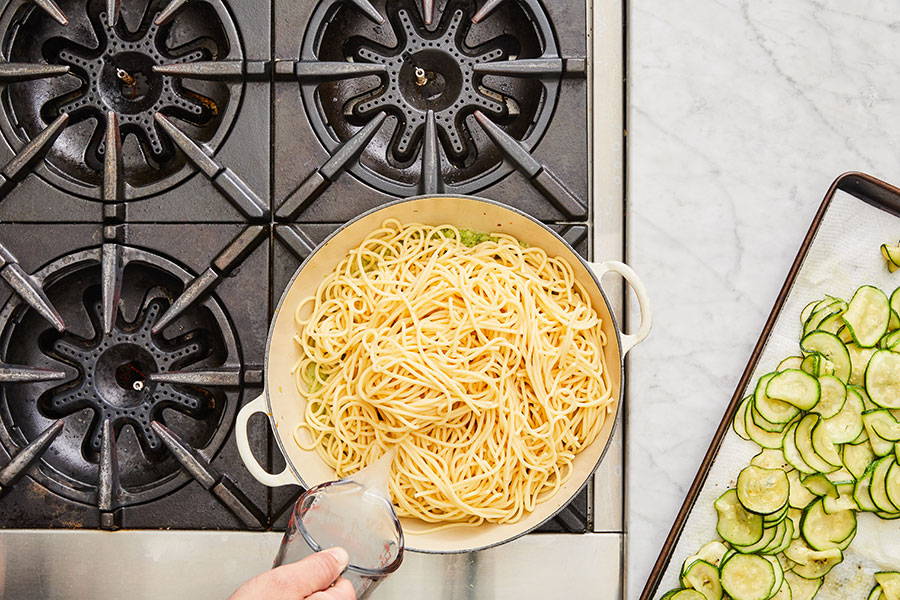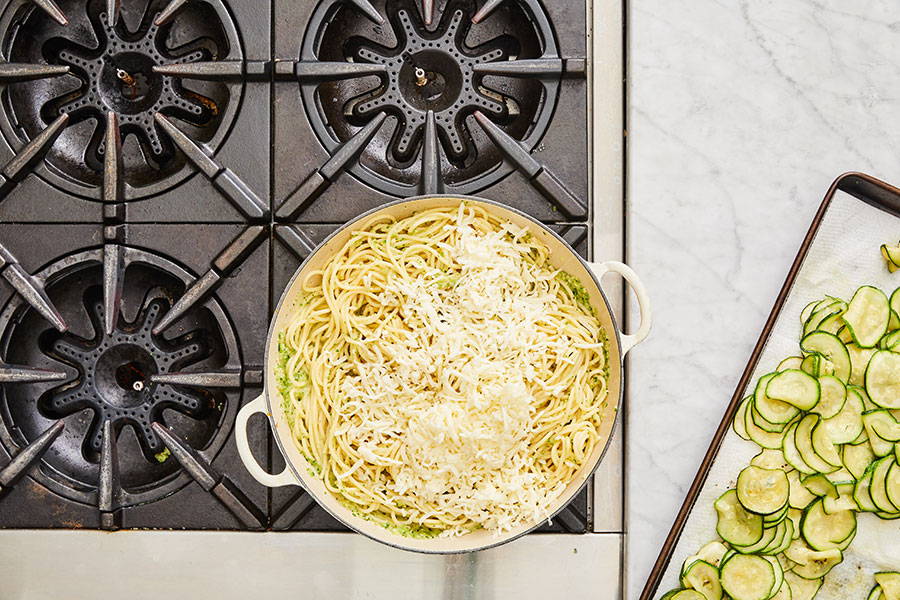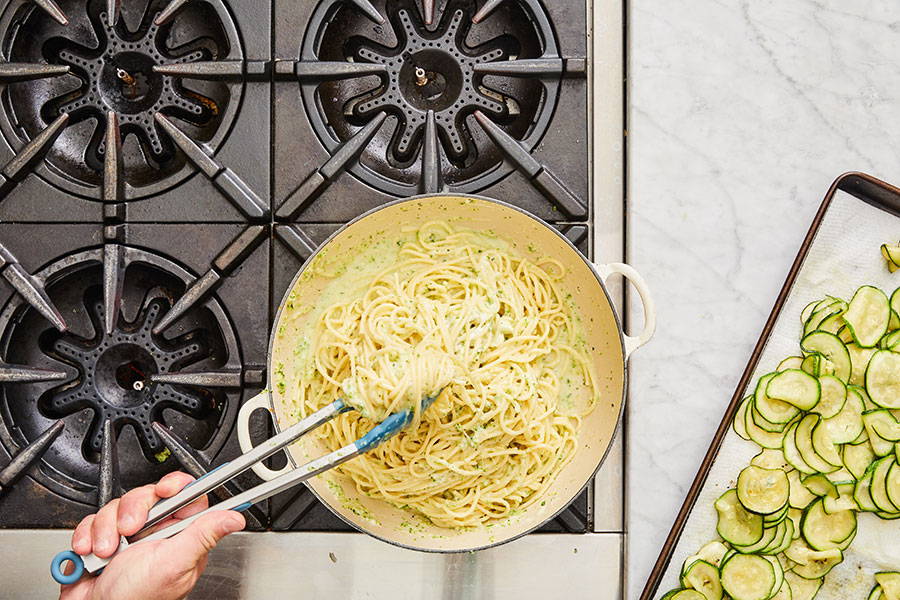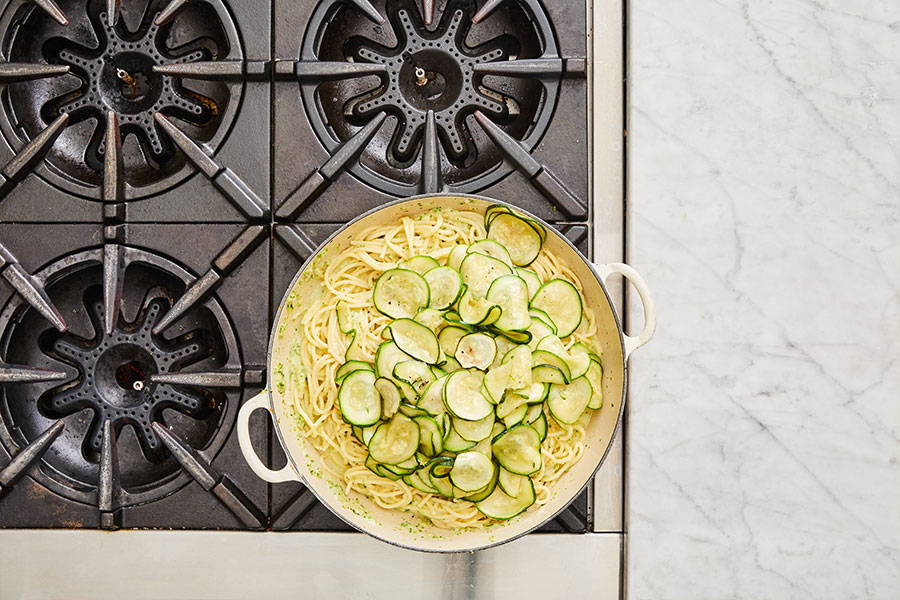 6. Serve
Sprinkle with chopped basil leaves and serve.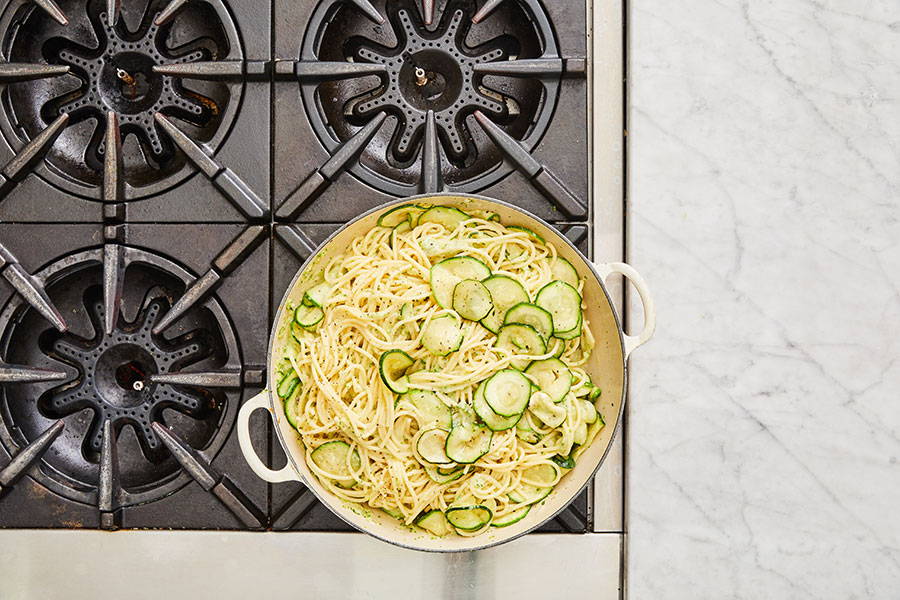 Do not rinse the pasta. Rinsing hot pasta removes its starches. The starchiness of the pasta and of the added pasta water is what gives this great Italian pasta dish its creamy texture.
This recipe is not great for leftovers. We do not recommend reheating this dish, as it loses much of its flavor and texture. If you do decide to store the leftovers, they can be refrigerated in an airtight container for up to 4 days. Reheat in a pot at a low temperature. Add a little water so as to keep it moist.
Substitutions And Additions
This recipe is super simple and allows you to get creative. Here are some of our suggestions:
Add some flavor with aromatics or additional herbs like onions, shallots and minced garlic.

Up your vegetable game different colors and varieties of squash, mushrooms or carrots.

Spice it up with some hot pepper oil or red hot chili pepper flakes.
Top it off with toasted garlicky breadcrumbs.
Make it a gluten-free Spaghetti alla Nerano pasta dish.

Switch up the cheese to mozzarella, provolone You can even use a meltable vegan cheese to make it a vegan pasta Nerano dish.
What To Serve With Spaghetti Alla Nerano
We recommend serving up Spaghetti alla Nerano with a crisp garden salad with plenty of leafy greens and a hearty loaf of crusty Italian bread. Make it a heartier meal and serve this veggie pasta recipe with grilled chicken or seafood.
Spaghetti Alla Nerano: FAQ

What Does Nerano Mean In Italian?
Nerano is a small Italian village on the Sorrento Peninsula, where Pasta Nerano was first created in the 1950's.
Is Pasta Alla Nerano A Traditional Dish?
No, Pasta alla Nerano is not considered a traditional Italian dish with a long history. It is a relatively modern recipe that originated in the town of Nerano, located on the Amalfi Coast of Italy. While Pasta alla Nerano may not be considered a traditional Italian dish, it has gained popularity and is now commonly found in restaurants both in Italy and internationally. It is appreciated for its simplicity, freshness, and the way it highlights the flavors of zucchini in a comforting and satisfying pasta dish.
Is Spaghetti Alla Nerano Vegetarian?
Yes, Spaghetti alla Nerano is a vegetarian pasta dish. It is made simply with zucchini, garlic, extra virgin olive oil, basil and cheese. It is a great pasta dish for a Meatless Monday meal idea.
Is Spaghetti Alla Nerano Vegan?
No, Spaghetti alla Nerano is not vegan as it is made with Italian cheese. Substitute the cheese for a melty vegan cheese to make it a vegan pasta recipe.
Can I Make This Gluten Free?
Yes, Pasta alla Nerano can be made gluten free with a great-tasting gluten-free Italian pasta.
Can I Make This Dish Ahead Of Time?
This dish is simple to prepare and should be done when you are about to serve it up. This dish falls flat in flavor and texture when you attempt to reheat, so we do not recommend it for Pasta alla Nerano.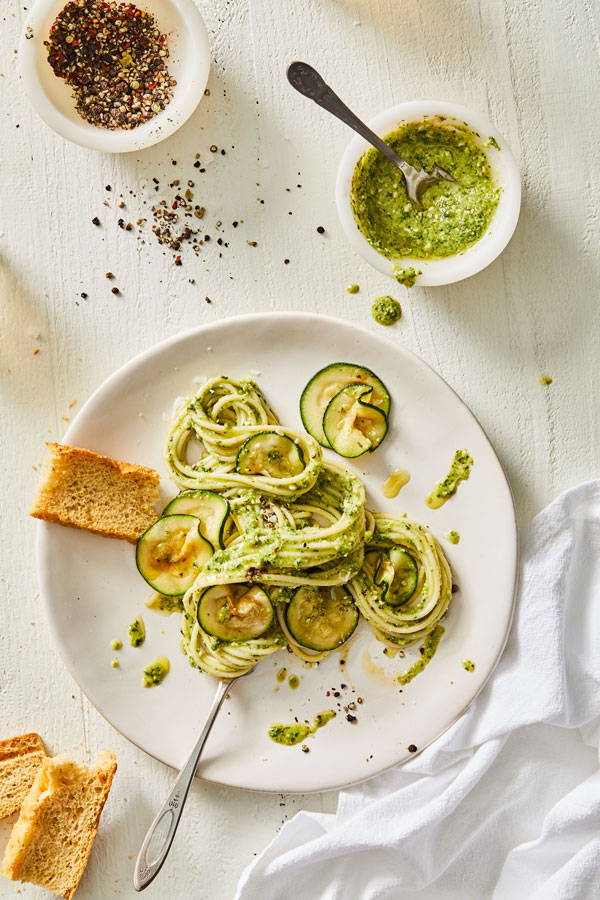 The Best Spaghetti Alla Nerano

Ingredients
1 clove garlic, smashed

5 zucchini, sliced into very thin rounds

1/2 pound grated provolone or Parmesan cheese

1 handful fresh basil leaves, chopped

Salt
Heat the oil in a wide skillet over medium heat. Add the garlic clove and sauté until the garlic is golden and fragrant. Remove the garlic and discard. Add the zucchini slices to the skillet. Cook zucchini until tender but not browned. Once tender, transfer the zucchini slices to a paper-towel-lined plate to absorb the excess oil. Sprinkle lightly with salt.

Meanwhile, bring a large pot of salted water to a boil. Cook pasta according to package instructions for al dente texture. Drain cooked pasta, reserving 1 cup of hot pasta water.

In a food processor or blender, blend together 1/3 of the zucchini and 1/4 cup pasta water. Pour the purèe into a large serving bowl.

Add the spaghetti, zucchini rounds and hot pasta water to the bowl. Gently stir together to combine.

Mix in the grated cheese. Continue until the cheese has melted into a creamy sauce. Add more pasta water if needed.

Serve topped with basil.
Tip: If you are a garlic fan, puree the reserved clove with the zucchini.
spaghetti alla nerano, spaghetti alla nerano recipe, pasta alla nerano, zucchini pasta recipe