Cooking with Canned Tomatoes
Canned tomatoes are easily one of the most valuable items in your pantry, but which tomatoes work best in your recipe? Do you need fresh tomatoes to make a great sauce? In this article, we explore the best canned tomatoes (including the best Italian canned tomatoes), how to make pasta sauce from canned tomatoes and other recipes using canned tomatoes that you'll want in your recipe box.
Fresh Tomatoes vs. Canned Tomatoes
Which are better for cooking, fresh tomatoes or canned tomatoes? The answer to this age-old question just might just surprise you.
Fresh tomatoes are more firm in texture with a brighter flavor. While this makes them ideal for salads and sandwiches, fresh tomatoes are not the best option for cooking. To be clear, we are talking about the standard-sized tomatoes that peak in mid-to-late summer—meaning that for the rest of the year, you are buying off-season tomatoes or tomatoes that have done some serious traveling. Though there's nothing wrong with using those tomatoes in fresh applications, especially when in-season, the quality of canned tomatoes is undoubtedly better. This is why canned tomatoes are the best tomatoes for pasta sauces, stews, soups and pizzas.
There are couple of reasons why canned tomatoes are better for cooking. To start, a canned tomato is a tomato that's always in season. These tomatoes are harvested at the peak of ripeness—the moment they achieve that ideal taste, texture and color. But then, instead of being carted away to the produce shelves across the country, these tomatoes are packed quickly to capture those desirable characteristics. This means canned tomatoes are not just good, but also, consistent. And really, who wants a wildcard in the kitchen? If you are like us, you would rather not gamble on the flavor of your tomato sauce.
Now that we've cleared up the fresh tomato vs. canned tomato debate, let's talk about the types of canned tomatoes and how to use them in your creations.
---
We can't talk about canned tomatoes without mentioning the prized Italian San Marzano tomato. Are San Marzano Tomatoes really the best canned tomatoes? Can you tell the difference in the final dish? The answer to these questions is an emphatic "yes!"
Grown in the lush volcanic soil of Mt. Vesuvius, San Marzano tomatoes are easy to spot with a vibrant red hue and a slender, oblong shape. They are known for their uniquely bright and balanced flavor—one that is rich but with less acidity than the average tomato. But there's more. San Marzano canned tomatoes are perfect for sauces, because they boast a delicate and meaty flesh, fewer seeds and a low water content. For all of these reasons, they melt beautifully into sauces.
Beware of imposters! Because of their specialized growing methods and popularity, true San Marzano tomatoes aren't always so easy to spot. There are plenty of imposters out there, so how can you tell if you are buying the real deal? Look for the D.O.P. seal on the label.
Click here for more about San Marzano tomatoes, including how to shop for San Marzano canned tomatoes and some of our favorite recipes for San Marzano tomatoes.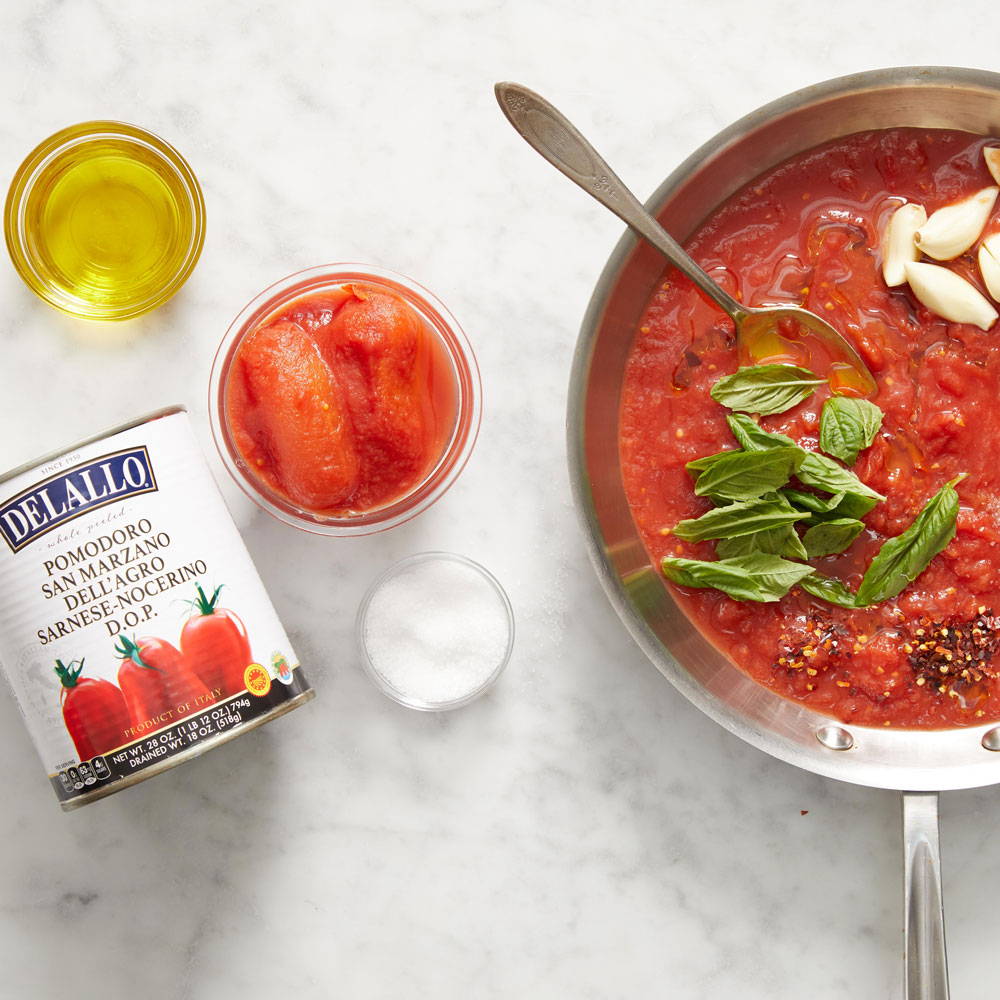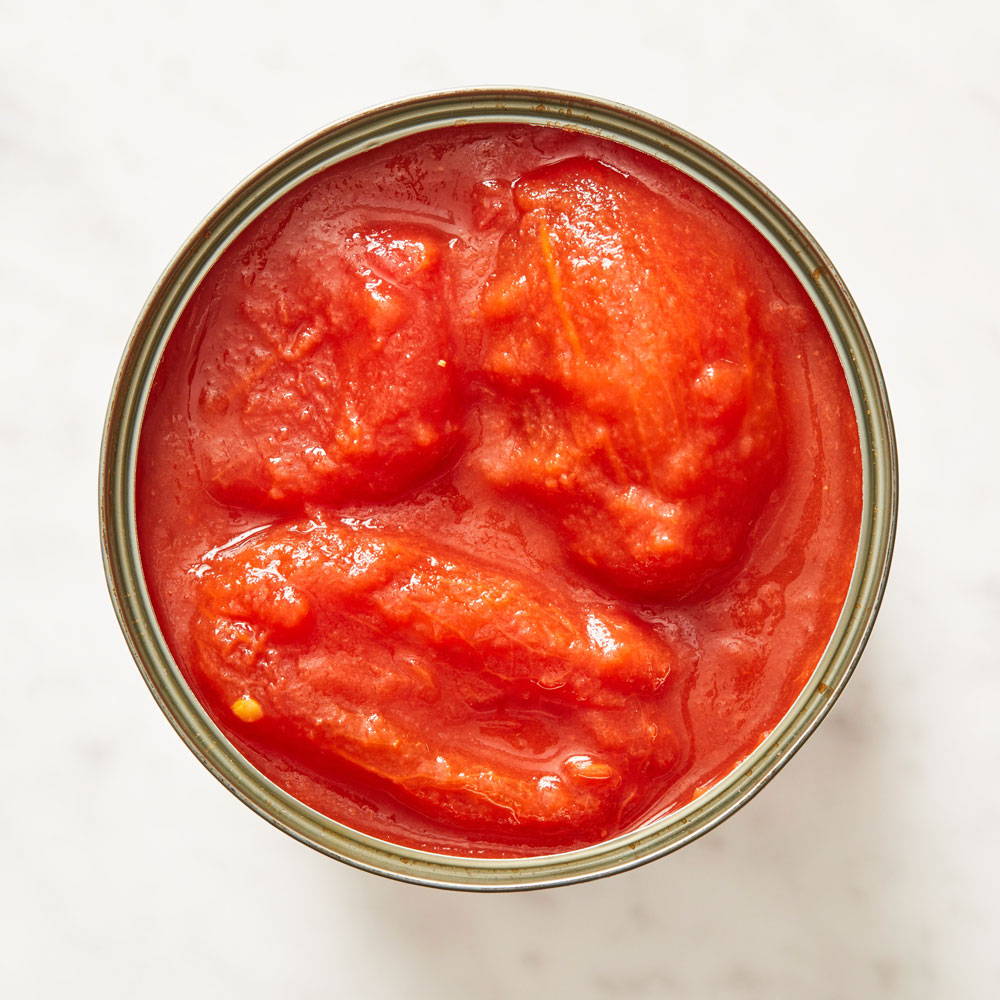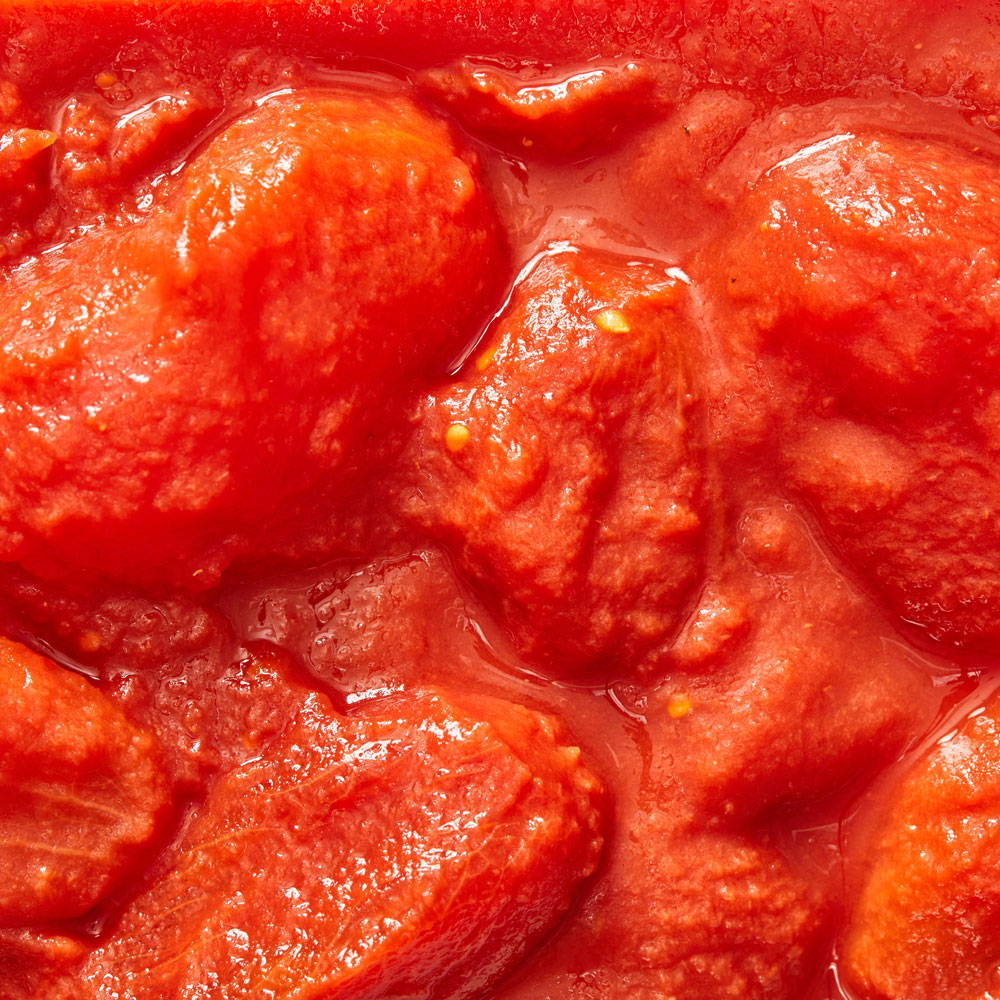 Whole peeled tomatoes come packed whole in juice or purée with only their skins removed. They are super hand­y—the ultimate pantry tomato—since they can be made into any other canned tomato product your recipe might call for. Use them whole, crushed by-hand, chopped up or pulsed in a food processor to create a purée. Whole peeled tomatoes break down more slowly, making them perfect for slow-simmered sauces, stews and soups.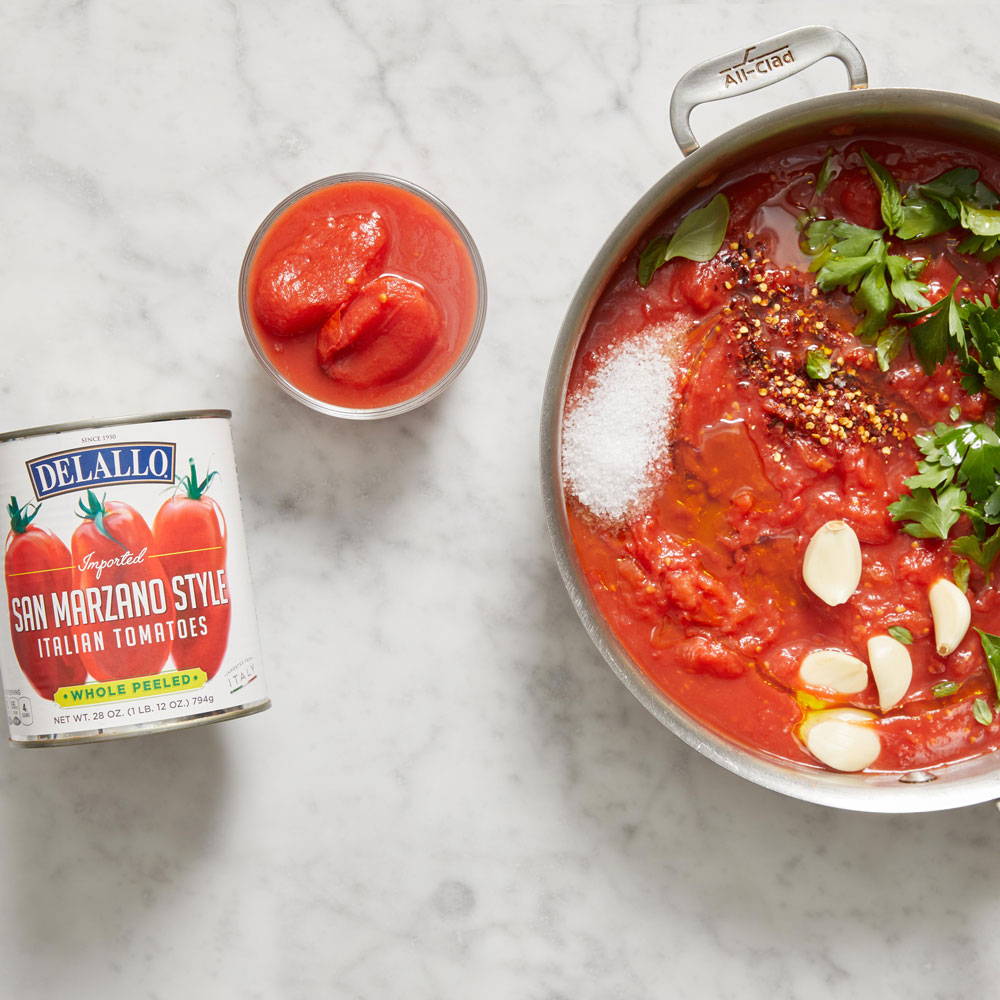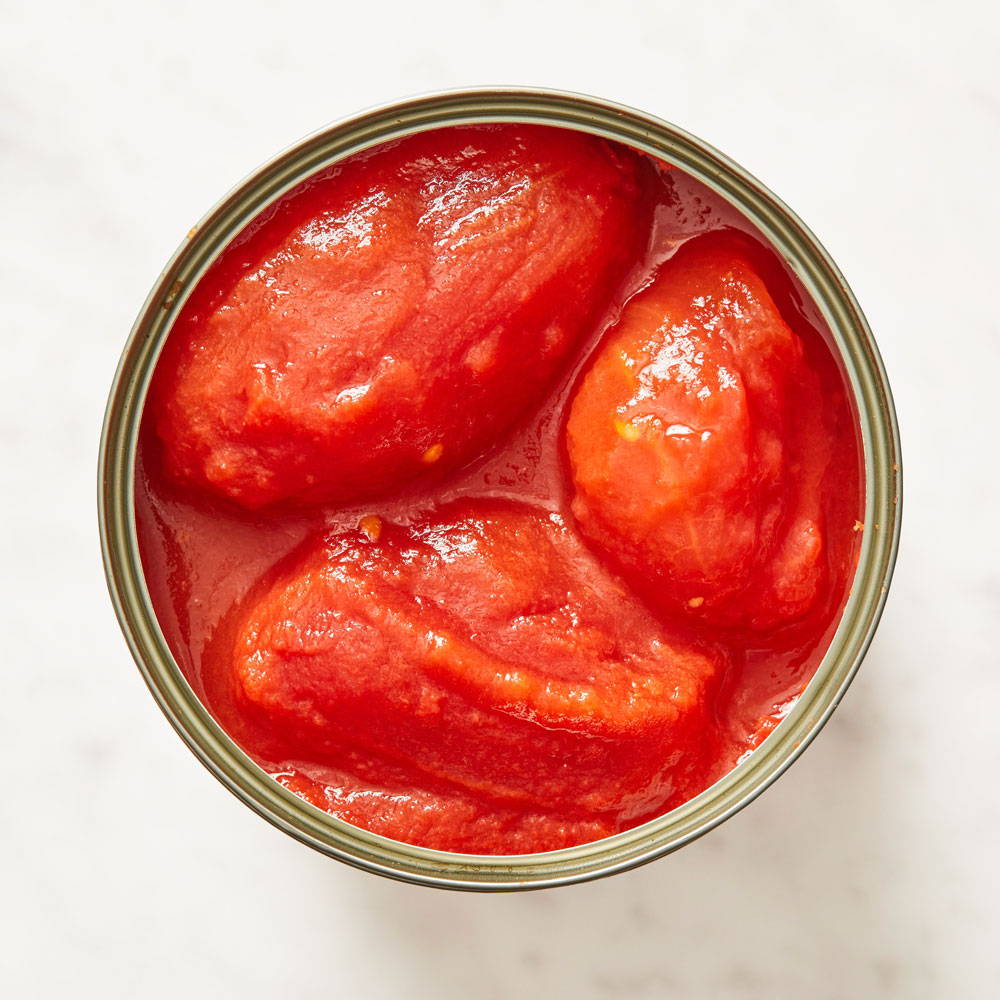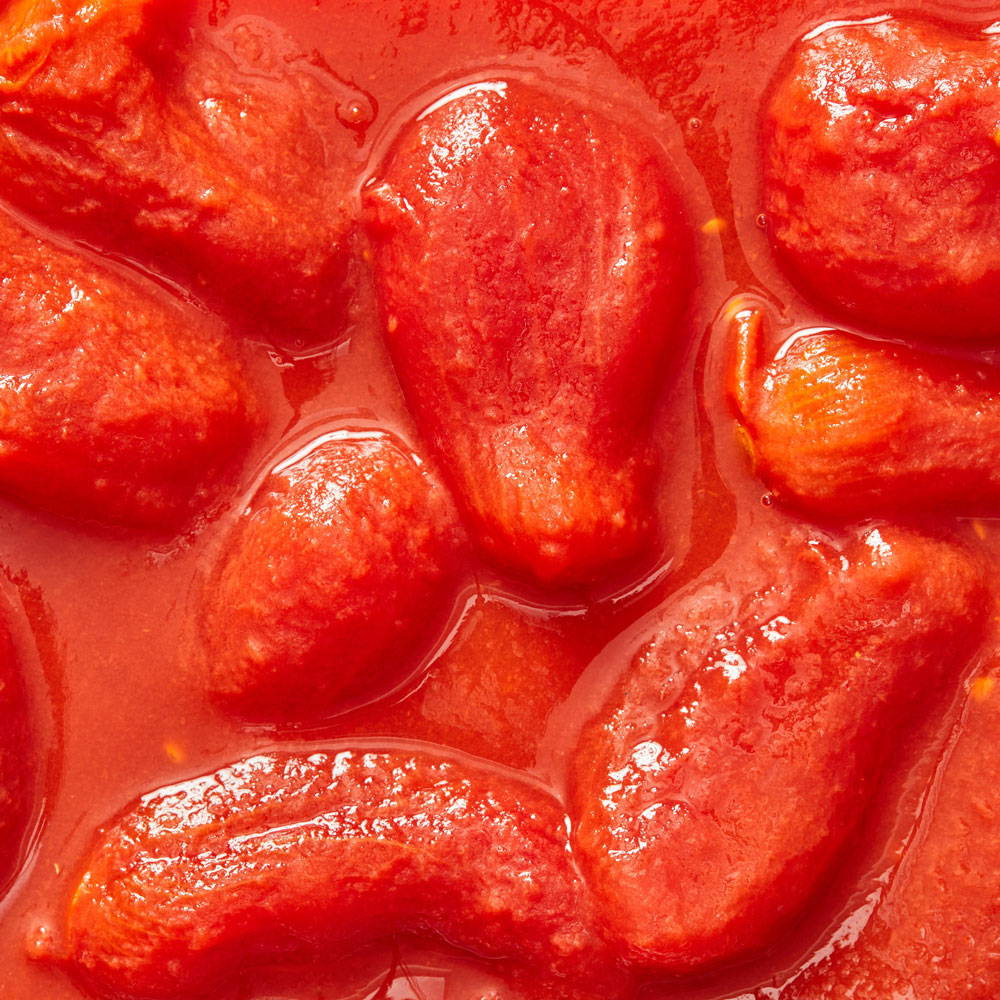 Passata is an Italian tradition that arose from the desire to enjoy tomatoes all year long. But what is passata exactly? Known also as "tomato purée" or "strained tomatoes," this versatile tomato product is made up of tomatoes that have been crushed, puréed and then strained. Passata is thicker than crushed or diced tomatoes, since there is less liquid in the product. Large tomato pieces, as well as skins and seeds, are removed completely without the use of heat (which can degrade the flavor.) The resulting product is bright red with a smooth texture and an incredible fresh tomato flavor.
Generally speaking, passata can be used in any recipe that calls for canned tomatoes. Keep in mind, though, that passata is thicker in texture with a more intense flavor. Passata really shines in recipes that require a smoother consistency (without bits of tomato): soups, light pasta sauces, pizza sauces and stews are few examples. With less liquid content, passata cuts down on simmer time too, making it perfect for quick-cook sauces.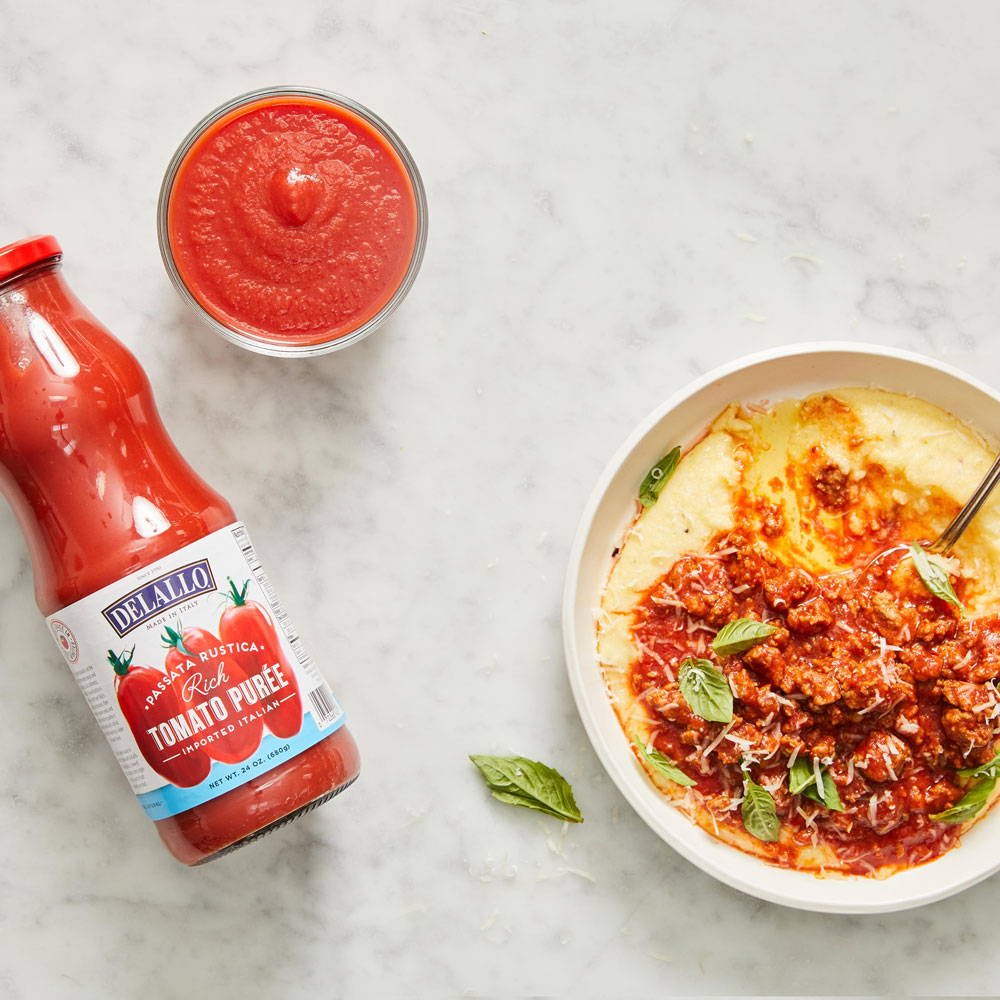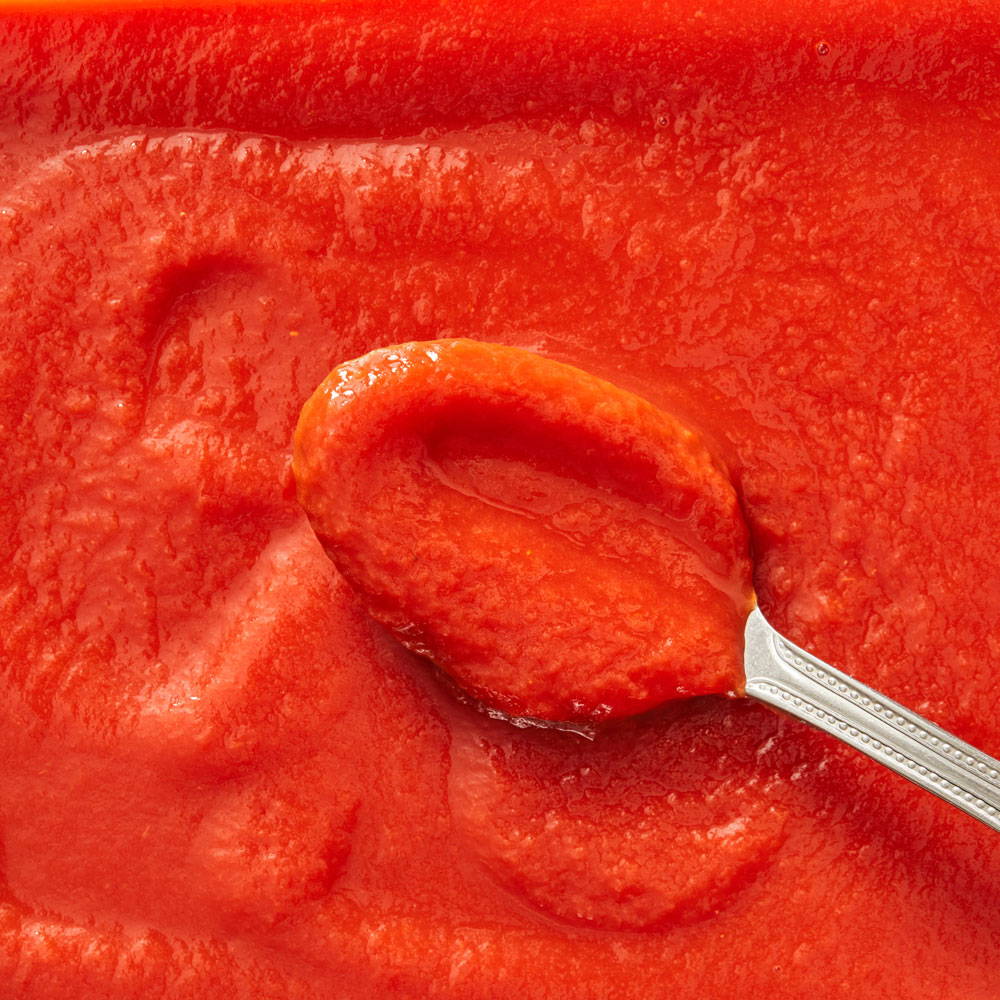 Crushed tomatoes are one step beyond whole peeled tomatoes, making them more convenient for recipes that require tomatoes to be broken down, like pasta sauces and soups. Like whole peeled tomatoes, they are packed in tomato juice or purée and boast a bright tomato flavor, but their texture is somewhere in between diced tomatoes and tomato sauce. The consistency is pourable but with small chunks of tomato that break down with some simmering, so it's great for pasta sauces and soups.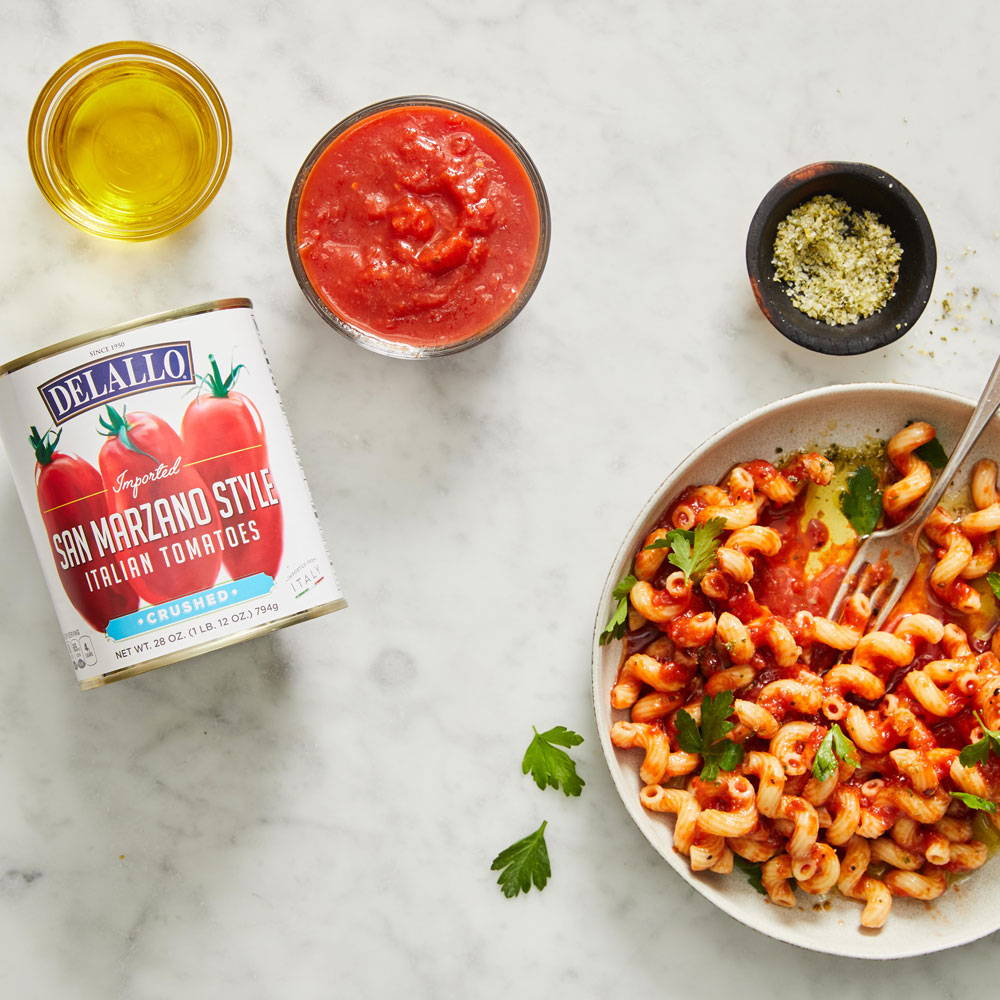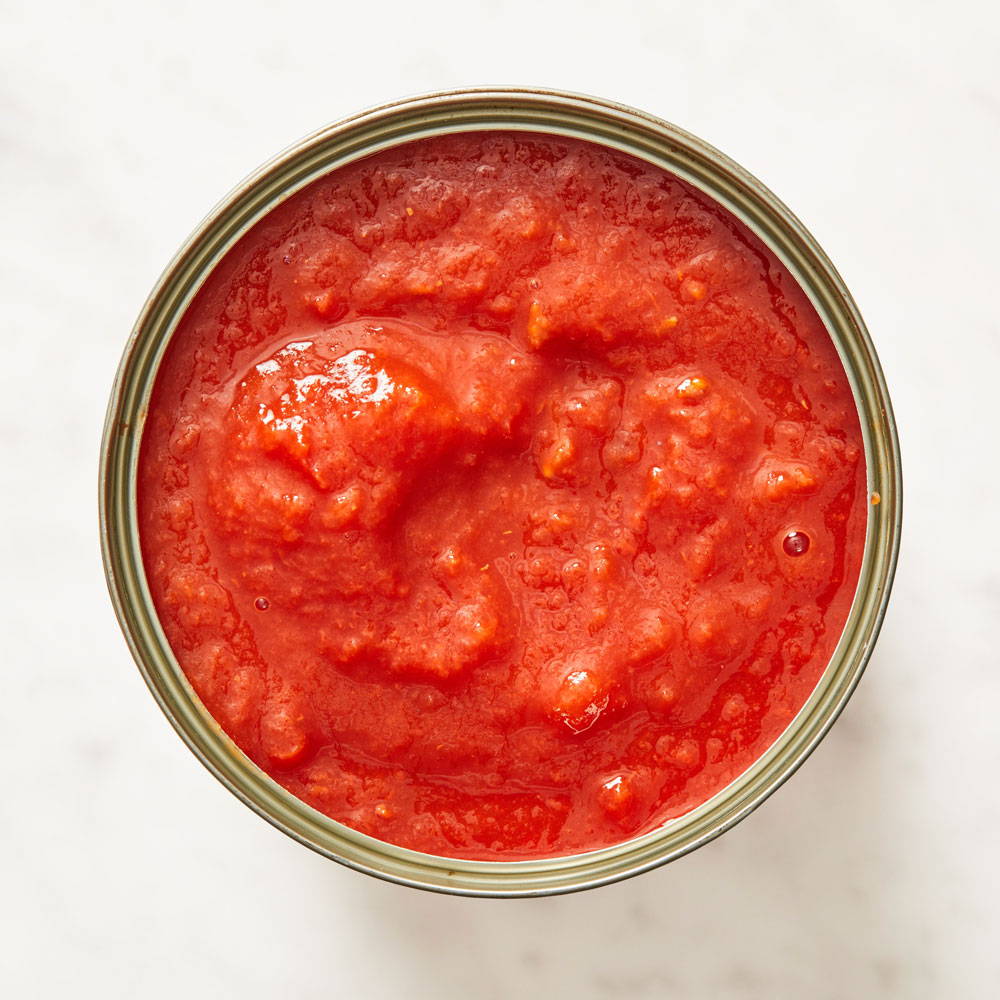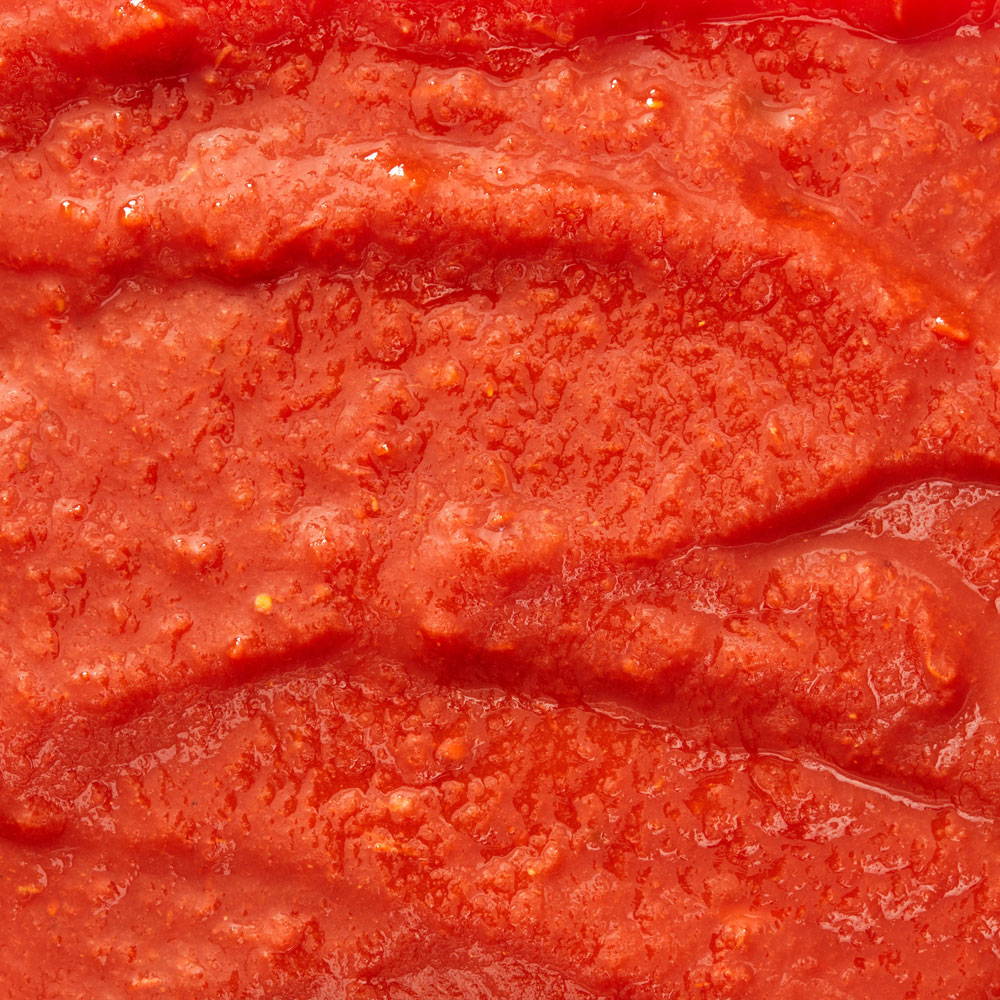 If you love chunkier tomatoes in your recipes, you want diced tomatoes. This style begins as fresh tomatoes that are cut into small pieces and then packed with tomato juice. Citric acid and calcium chloride are added so that tomatoes will keep their firm cut shape. Diced tomatoes are the ideal canned tomato for creations that require a chunkier tomato presence like chili recipes, slow-simmered ragù pasta sauces, homemade salsas and classic manicotti and lasagna recipes—to name a few.
For an added smoky-sweet flavor, get your hands on some fire-roasted diced tomatoes. We love them in salsas, chilis and any recipe with a Southwestern or Tex-Mex flair.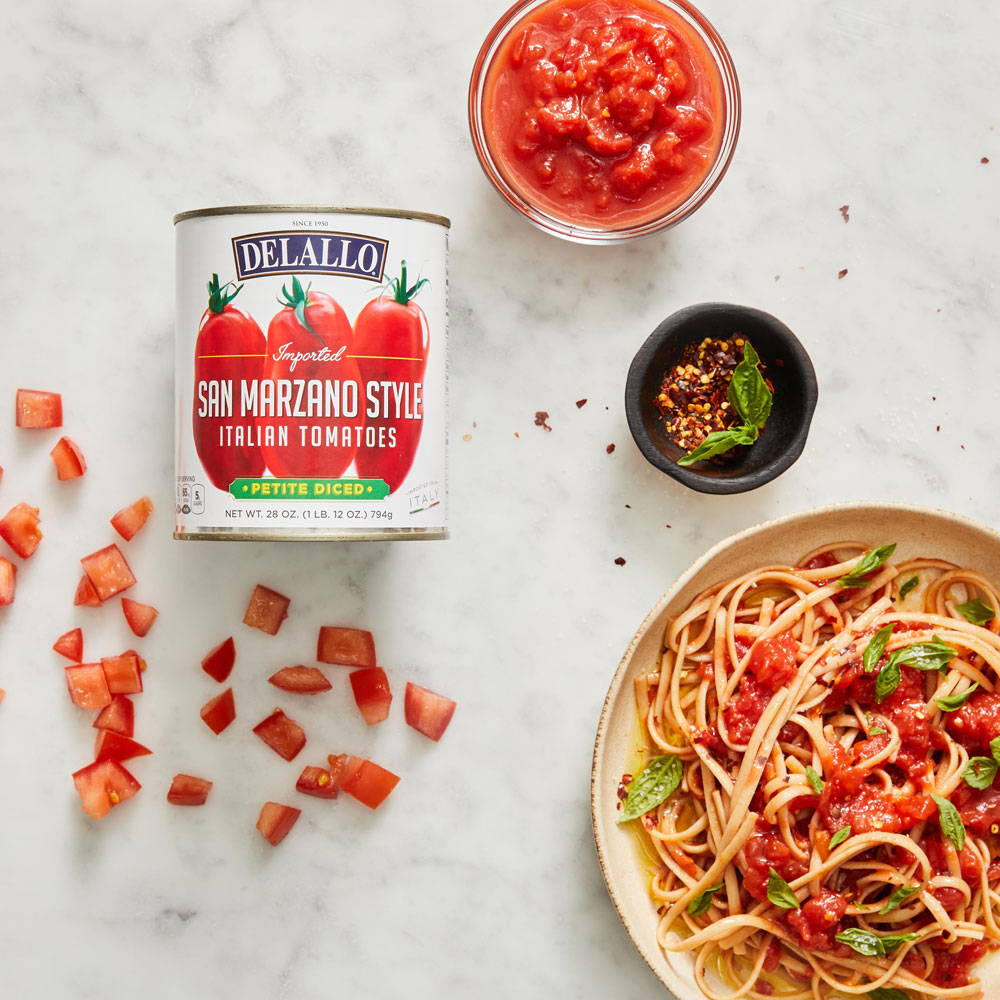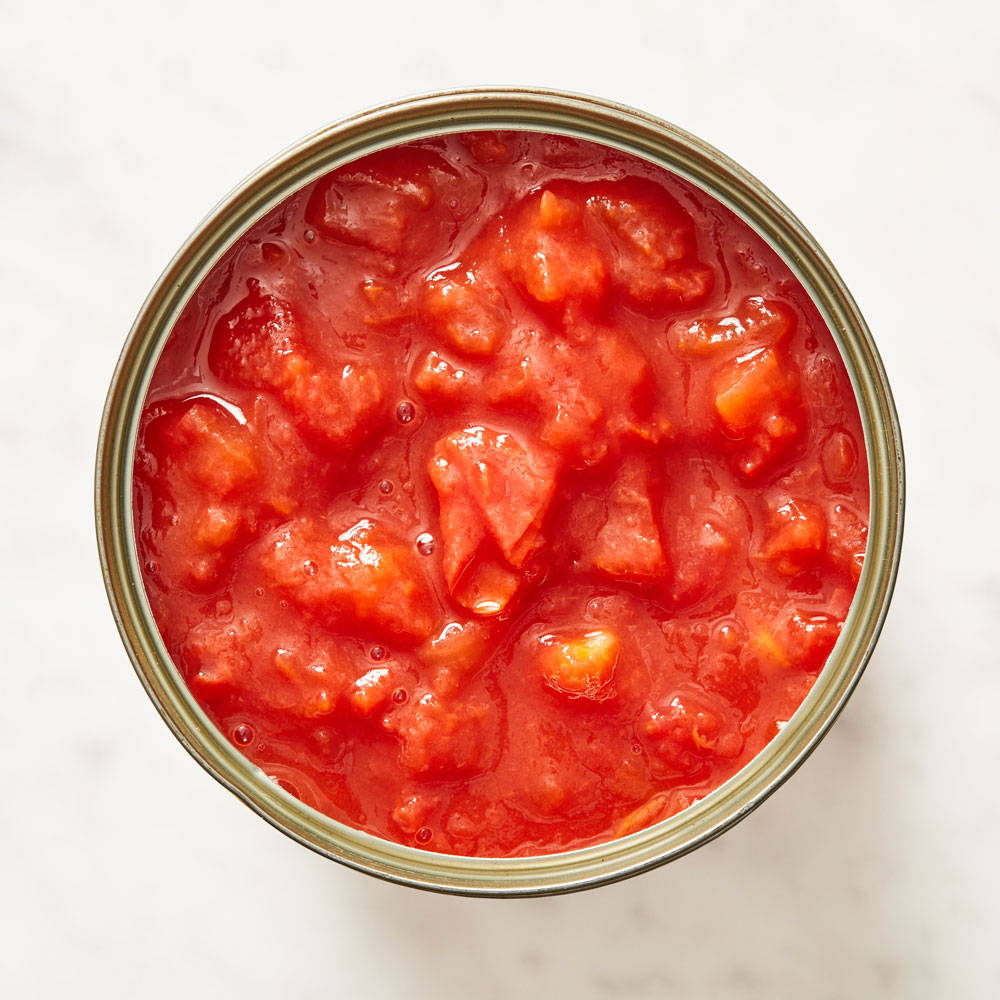 Tomato paste is the ultimate concentrated tomato flavor. Tomatoes are cooked down until their juices have evaporated, resulting in a deep red color with a paste consistency and a super-rich tomato flavor. When thinking about how to use concentrated tomato paste, just remember: a little tomato paste goes a long way in your recipes. Just a spoonful or two adds an irresistibly rich umami tomato flavor and thickens up whatever it is you're creating. So just what is tomato paste used for?
Traditionally speaking, tomato paste is the foundation of many classic Italian pasta sauces. It's usually introduced at the beginning of a sauce recipe along with a soffritto, or sauté of chopped vegetables in olive oil. We recommend buying tomato paste in a tube, so you can use a little or a lot when needed. Tomato paste adds a deep flavor, color and richness to sauces, soups, stews, beans and marinades, but it also enhances the presence of other tomato flavors in a dish. Some people even use it to add a rosy hue to their creations. It's easy to see why this pantry staple is so invaluable.
Tomato purée vs. Tomato Paste. People often confuse the two. While both of these products are thicker, more flavorful tomato products with lower amounts of water content, purée and paste are very different. Tomato purée, or passata, is a smooth, pourable product that has been strained, not been heated. Its flavor is bright and fresh. Tomato paste, however, is a thick concentrate of cooked down tomatoes. With a paste consistency, this tomato product must be spooned out of the can.
Tomato sauce is easy to find on the shelf, because like tomato paste, it typically comes in smaller cans. To create tomato sauce, tomatoes are slow-cooked and blended for a smooth texture. Unlike tomato paste, though, tomato sauce has a pourable consistency. This makes it the perfect tomato-y base for a number of everyday recipes. We love tomato sauce for creating homemade dipping sauces, pizza sauces and barbecue sauces, but it can also be used in more unique recipes like Indian dishes, baked egg dishes and spicy chili recipes.
Note: Tomato sauce is not a heat-and-serve pasta sauce. Some confuse the two, but it is not a seasoned, stand-alone sauce for your noodles.
As the name implies, these tomatoes have been cooked. They are usually seasoned with herbs, spices and sugar. Recipes vary from brand to brand, so be sure to read what you're getting. The tomatoes here are softer and sweeter. Stewed tomatoes should not be subbed for plain tomato products, as the seasonings will surely affect the flavors in the final dish.