How to Make Hummus
These days, a plate of hummus served with crudités or crackers can be found on almost any appetizer table. And for good reason. This Middle Eastern blend of creamy chickpeas, earthy tahini, and spices is healthy, easy to make, and almost everyone loves it. The other great thing about it? Once you know how to make hummus, you don't even need a recipe to create a creamy, delicious dip every time.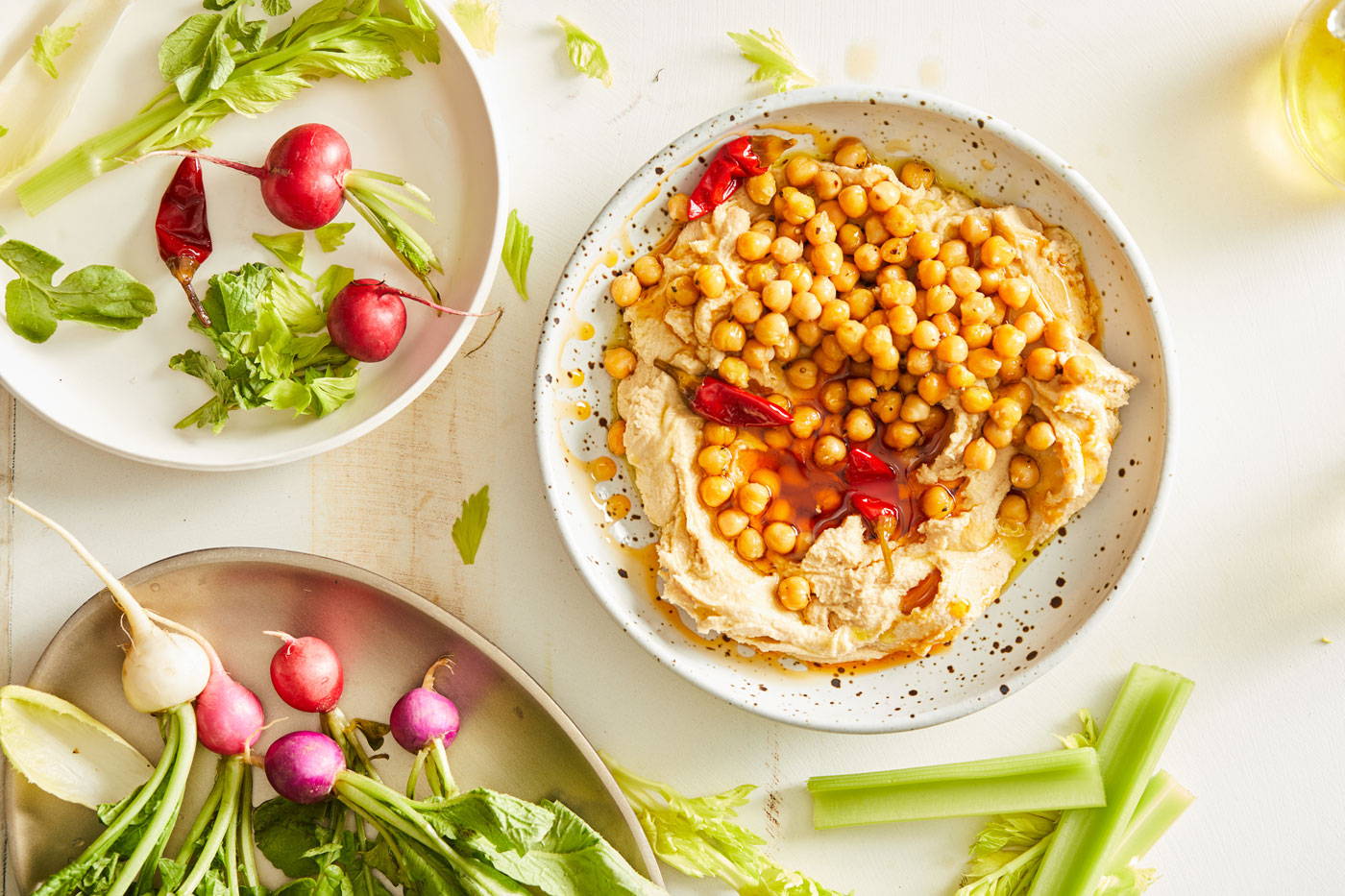 Recipe: Spicy Chickpea Hummus
How to Make Hummus From Scratch
Before we break this down into steps, it's worth mentioning that there are plenty of strategies for making hummus. For this basic hummus recipe, we want to keep it simple with canned chickpeas and store-bought tahini, although some people prefer to cook the chickpeas and make tahini from scratch. Here's what you'll need:
2 cans of chickpeas (15 ounces)

4 tablespoons tahini paste

½ a lemon, juiced

1 small clove of garlic, chopped

1 teaspoon salt

Olive oil

Paprika
To serve: pita triangles, crackers, and raw vegetables, such as carrot sticks, cucumber slices, or pepper strips.
Step 1. Drain and rinse the chickpeas. If you have time, remove the skins by rubbing your hands over the chickpeas while rinsing them with cold water. This yields smoother hummus in the end.
Step 2. Place chickpeas in your food processor and add tahini paste, lemon juice, garlic, and salt.
Step 3. Blend the ingredients until smooth. Now you have hummus!
Step 4. Scrape the hummus into a serving bowl and adjust the seasonings. If you want to make it smoother, stir in a few teaspoons of olive oil or extra lemon juice.
Step 5. Top the hummus with a drizzle of olive oil and a sprinkle of paprika. Serve with pita triangles, crackers, and vegetables.
Other tips for making hummus:
If you prefer to use homemade chickpeas, allow yourself plenty of time. Start by soaking the beans overnight (about 10 to 12 hours). Then place them in a pot and cover them with cold water. Bring the water to a boil and allow the chickpeas to simmer until done–it will take at least an hour!

In this basic hummus recipe, we only use salt and paprika to season the dip. However, you can experiment with any spices you like, including cumin, basil, or oregano.

For vegetable hummus, blend in roasted red peppers, roasted beets, sundried tomatoes, or even artichokes.

You can make a nuttier hummus by blending in pine nuts, walnuts, or toasted almonds.

If you have time, allow the hummus to sit overnight before serving. This allows the flavors to develop, resulting in tastier hummus.
How to Make Garden Greek Hummus Dip From Scratch
Once you know how to make hummus from scratch, it's fun to personalize your recipe by experimenting with new flavors. This Greek-inspired hummus dip uses feta, olives, and peppers to add Mediterranean flair to your basic hummus recipe. Here's how you make it:
Step 1. You need to start with about 16 ounces of classic hummus. You can make hummus from scratch using the recipe above, or purchase a container at your local grocery store.
Step 2. Drain and chop a 7-ounce container of DeLallo Jumbo Pitted Calamata Olives.
Step 3. Chop 1/4 cup of DeLallo Roasted Red Peppers.
Step 4. Chop 1/4 cup DeLallo Whole Mild Pepperoncini.
Step 5. Dice 1 large tomato.
Step 6. Dice 1 small cucumber.
Step 7. Spread an even layer of hummus at the bottom of a shallow serving dish.
Step 8. Sprinkle hummus dip with olives, roasted red peppers, pepperoncini, tomato, and cucumber. Top the dip with 1/2 cup of DeLallo Imported Greek Feta.
Step 9. Garnish your Greek Garden Hummus Dip with fresh chopped oregano and serve with pita.