Easy and Delicious Pizza Toast

If you love pizza, you're going to love Pizza Toast. This quick and easy Pizza Toast recipe is an upgrade from the basic toasted bread with marinara and shredded mozzarella cheese. We fancy up our toast with superstar pizza toppings like fresh burrata, pesto and grated Parmigiano-Reggiano for a light lunch, weeknight meal or after school snack everyone is going to love.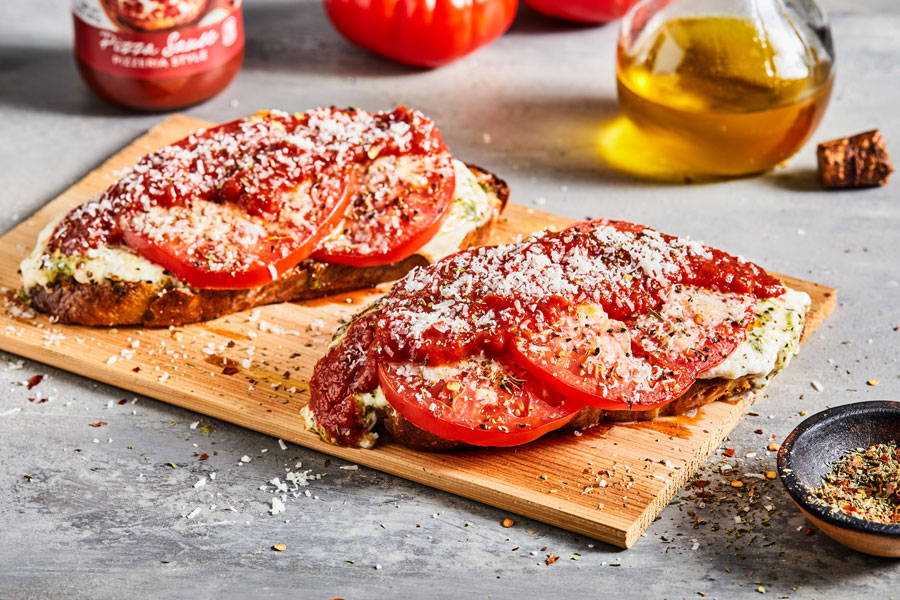 Fun, Fast and Flexible For A Busy Weeknight or After-School Snack
Who doesn't love pizza? What if we said you could skip the pizza dough and create an incredibly easy pizza recipe in minutes? Pizza toast can be as simple as pizza sauce, cheese and pepperoni on slices of bread or it can be decked out with fresh mozzarella cheese, basil leaves, slices of tomato and a drizzle of pesto. Serve it as a weekday meal, easy lunch or the ultimate after-school snack. Pizza toast is fun and easy to prepare and can even be prepared ahead of time. Simply freeze prepared pizza toasts in individual freezer bags for a quick heat up.
Burrata cheese

Parmigiano Reggiano

Italian seasoning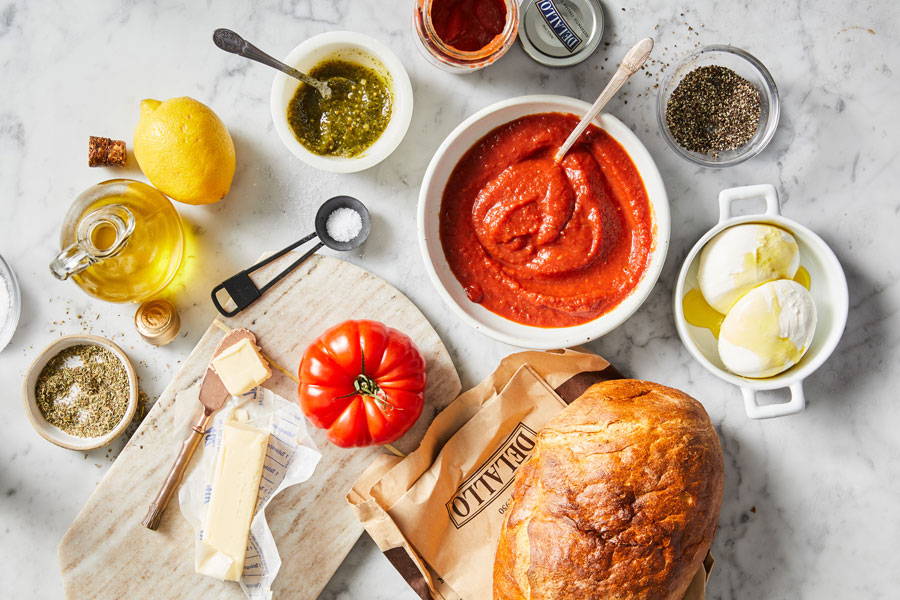 ---
How to Make Pizza Dough in 4 Easy Steps

1. Toast the bread
Butter and toast both sides of the bread. Think: grilled cheese.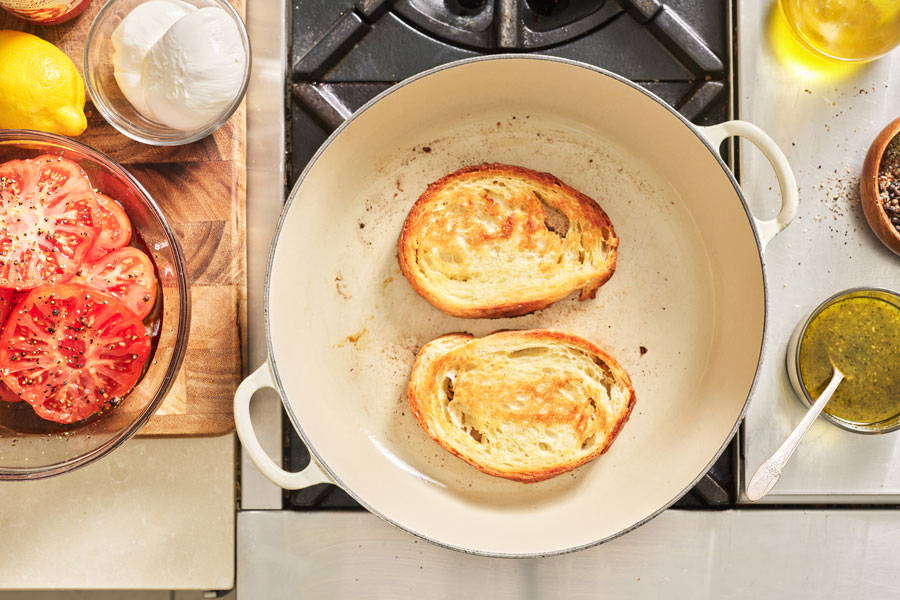 2. Add Toppings
Layer on the toppings. We started with burrata then sauce, cheese and toppings.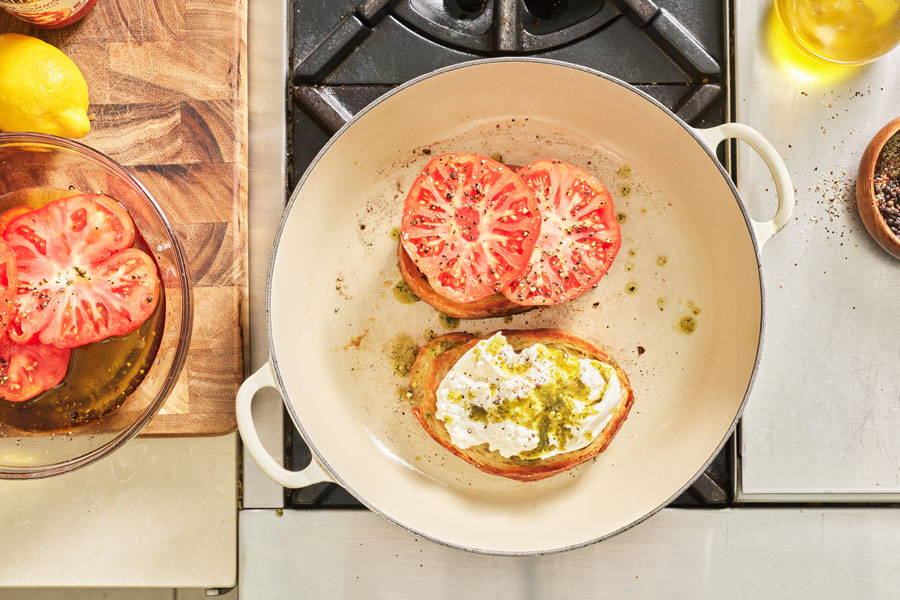 3. Bake
Preheat oven at 375˚F. Arrange pizza toast on baking sheet. Bake for 12-15 minutes or until cheese gets bubbly and begins to brown.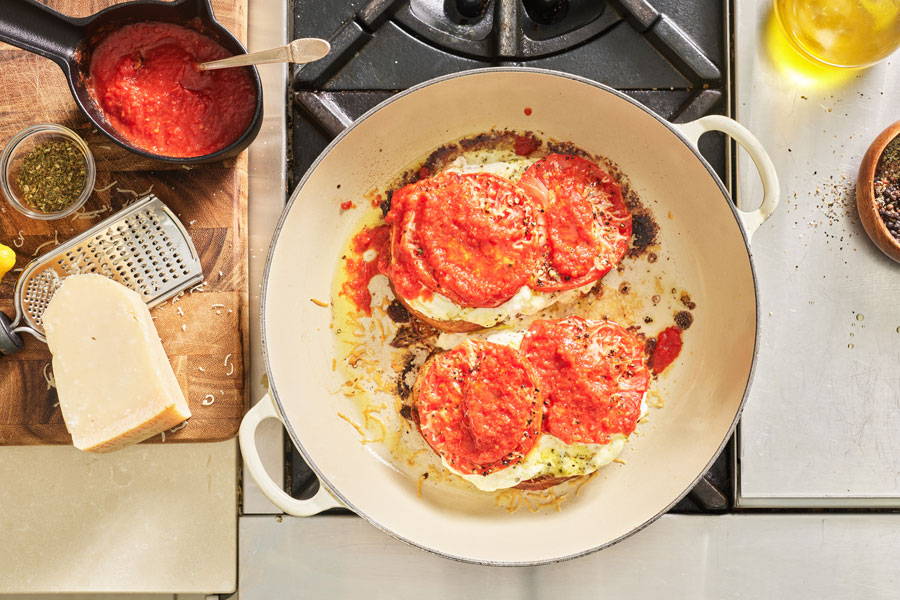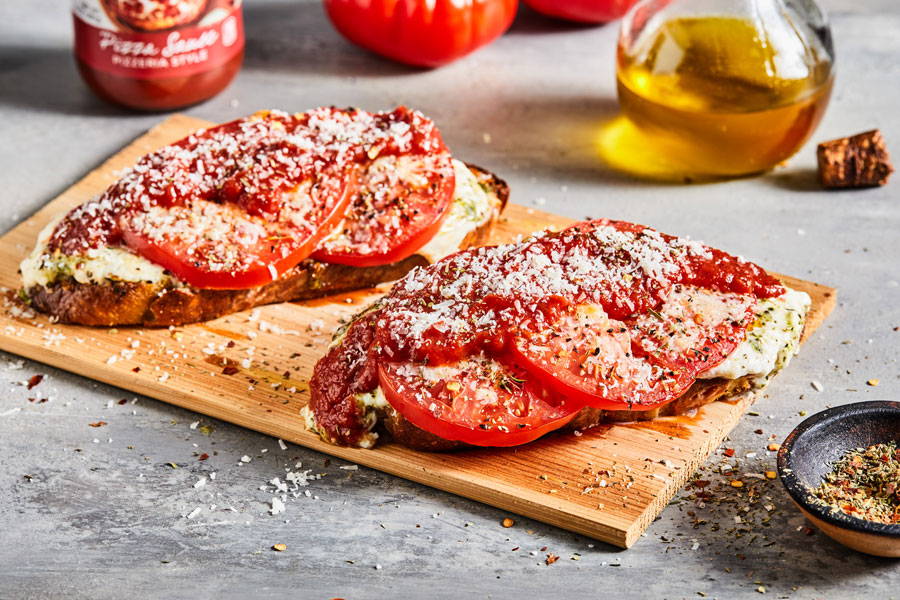 ---
The Best Bread For Pizza Toast

While most bread will work for pizza toast—from the standard slices of sandwich bread to sourdough—we love crusty Italian bread from the bakery. Whichever bread you choose, make sure it is firm enough and thick enough to hold up to your sauce and toppings. Toasting the bread well will help with this too.
The Best Toppings for Pizza Toast

Pizza toast is an invitation for creativity! This quick and easy pizza toast recipe is one that can be made from ingredients you already have on-hand. We suggest looting your pantry and refrigerator for pizza topping ideas: olives, sun-dried tomatoes, pepperoncini, roasted peppers, artichokes, dried oregano and more. Try cured meats like pepperoni, salami and ham. Shake things up and substitute the classic marinara sauce for a chunky bruschetta, herbaceous pesto or a flavored olive oil. Don't forget the fresh ingredients like tomatoes, herbs, red onion, peppers, etc.
Can I make pizza toast ahead?
Pizza toasts can be made ahead of time and frozen (see advice below). We don't recommend making pizza toasts and placing them in the refrigerator, as they will get soggy and won't cook up to the same crisp and golden goodness.
Can I freeze pizza toast?
Yes, you can freeze pizza toast. We suggest freezing the prepared pizza toasts individually in freezer bags. To bake, give frozen pizza toasts a chance to thaw a bit by placing them in the oven while it heats up (preheats). Once the oven reaches 375˚F, check the toasts. They should be warmed through. Allow the toasts to bake for another 5 minutes. They are done when the cheese is bubbling and golden brown.
Can you make pizza toast in a toaster oven?
To make pizza toast in a toaster oven, use the same temperature (375˚F), but check after 10 minutes. Cook time and temperature depends on what type of toast oven you have, so feel free to experiment a bit.
How long does it take to cook pizza toast in a toaster oven?
Because toaster ovens are smaller than the standard oven, the cook time might be faster. Check your pizza toast after 10 minutes. Once the cheese is melted and beginning to brown, you should be good to go.
Can I use bagels instead?
Pizza toast can be made with bagels, but may require more toasting time before topping. Also, watch out for that hole!
Can I use English muffins instead?
Yes, you can make pizza toast with English muffins. We recommend brushing the cut side with olive oil and pre-toasting until just golden before topping and baking.
What is Japanese pizza toast?
Japanese Pizza Toast is a form of pizza toast that is popular throughout Japan. Served in retro-style cafes called "kissas," Japanese Pizza Toast begins with a soft, squishy Japanese milk bread. This variation is topped with traditional pizza toppings—sauce, cheese, vegetables, etc.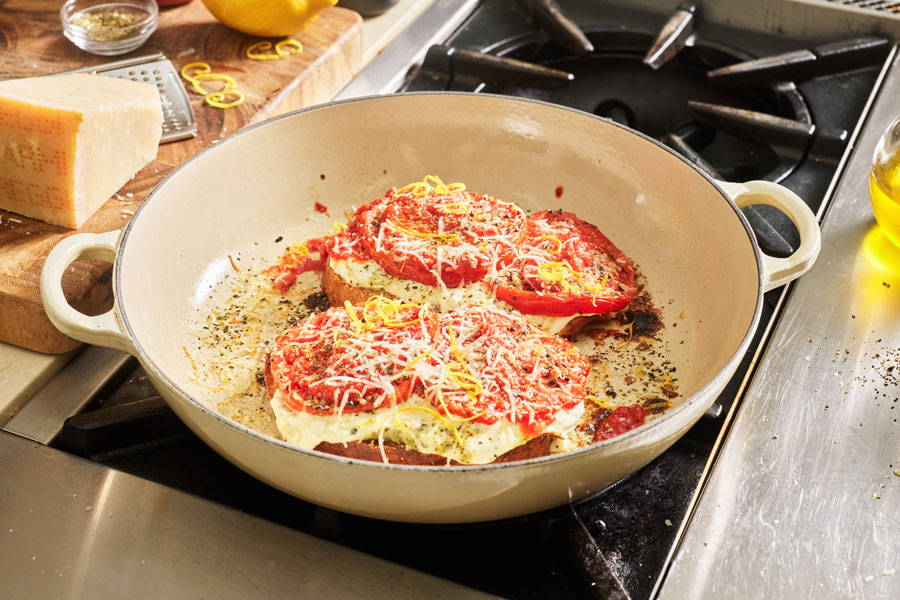 Easy and Delicious Pizza Toast

Ingredients
Preheat oven to 375℉.

In a mixing bowl, combine sliced tomatoes with 1 tablespoon of oil, lemon juice, salt and pepper.

Heat skillet on medium-high heat. Butter slices of bread on both sides. Toast each side until golden brown.

Place toasted bread on a baking sheet. Top each slice with burrata.

Mix pesto with remaining 1 tablespoon of olive oil, and then drizzle on top of burrata.

Arrange tomatoes on top. Finish with grated Parmigiano-Reggiano.

Bake for 12-15 minutes or until cheese begins to bubble.

Meanwhile, heat pizza sauce in a small pan until warmed through, about 5 minutes.

Remove toasted bread from the oven. Serve topped with warmed sauce and more shredded Parmigiano-Reggiano.
Keywords:
pizza toast, toaster pizza, pizza toaster oven, pizza toast recipe, how to make pizza with toast, easy pizza toast, quick and easy