Shrimp Fettuccine Alfredo

This is the only Shrimp Fettuccine Alfredo you need! Don't spend all evening in the kitchen creating a from-scratch seafood pasta. Done in under 30 minutes, this Shrimp Alfredo recipe is so simple that you can make it for you and your family any night of the week. You don't need an occasion to indulge—just some tasty DeLallo Egg Pasta, shrimp, hard Italian cheeses and a few more ingredients that you may already have on hand.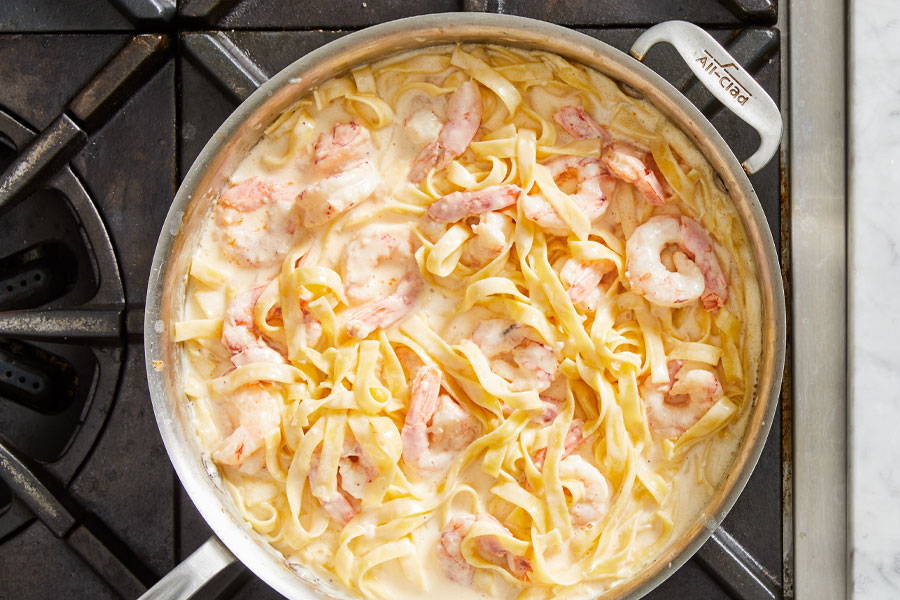 What Is Shrimp Fettuccine Alfredo?
Shrimp Fettuccine Alfredo is a classic pasta dish starring gloriously golden egg fettuccine pasta and juicy shrimp in a rich, creamy sauce of heavy cream and freshly grated Parmesan cheese. Shrimp Alfredo is a seafood pasta that shows up on the menu of nearly every Italian food restaurant. Made with simple and wholesome ingredients, this superstar pasta dish is done in under 30 minutes.
Why You'll Love This Shrimp Fettuccine Alfredo Recipe
This Shrimp Fettuccine Alfredo recipe is as easy to make as it is to love. Featuring only simple, fresh ingredients like heavy cream, freshly grated Parmesan cheese and shrimp, this seafood pasta recipe captures the heart of Italian cuisine. The only thing shorter than the ingredient list is the cooking instructions. This decadent Shrimp Alfredo is done in under 30 minutes.
The Ingredients You Will Need To Make Shrimp Fettuccine Alfredo
Fettuccine Egg Pasta: Egg pasta is a richer, heartier pasta than traditional semolina. These golden ribbons are the perfect pasta to hold up to the creamy sauce.
Butter: The butter is used to sauté the garlic: step 1 in creating the ultimate buttery, garlic-infused cream sauce.
Garlic: Use more or less garlic to your liking. Too much garlic will dominate the delicate seafood and cream flavors.
Shrimp: Choose large-sized shrimp that have been peeled and deveined shrimp. Shoot for a size of 17-20 shrimp per pound. Remove the tails for a more practical meal.
Heavy Cream: Use heavy cream or half-and-half if that's all you have on hand. This gives the creamy Alfredo sauce a rich, velvety texture.
Grated Cheese: The sauce combines freshly grated Parmesan cheese and Asiago. These hard Italian cheeses create an incredible combination of flavors: sharp, nutty and savory.
Sour Cream: Sour cream helps to bring the sauce together, adding a rich and ultra-creamy dimension to the final dish.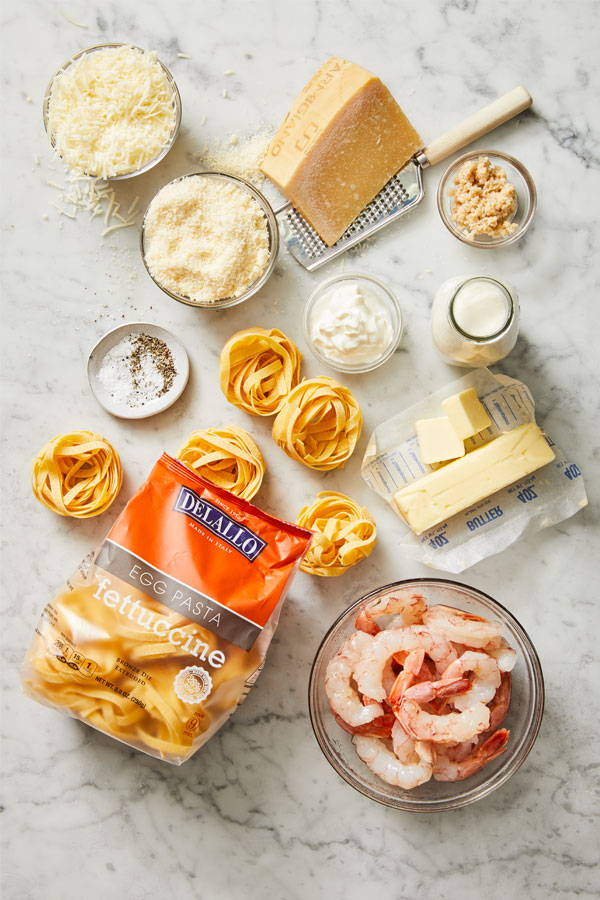 ---
How To Make Shrimp Fettuccine Alfredo
1. Cook the pasta.

Cook pasta according to instructions on the package. Reserve ½ cup of pasta cooking water before draining.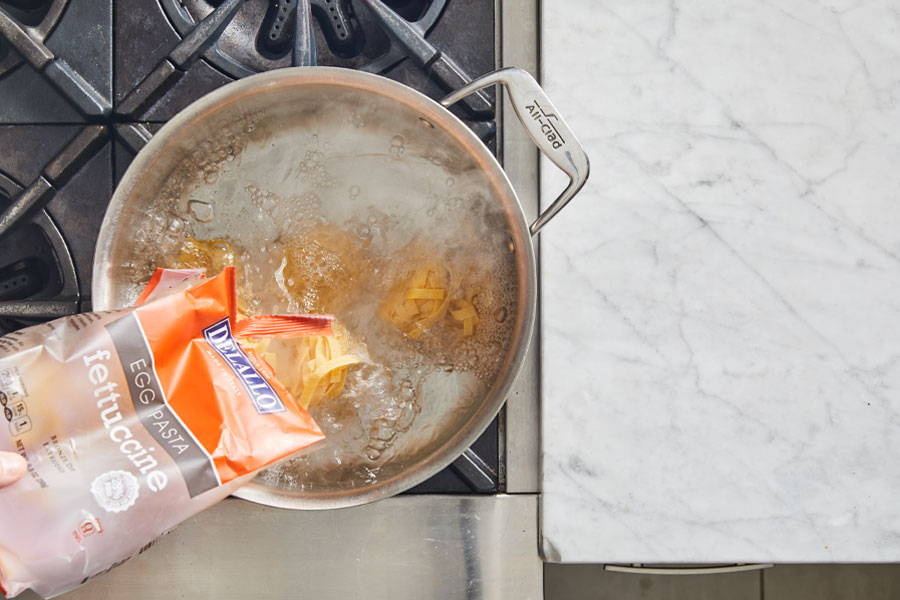 2. Sauté the garlic.

In a large skillet, melt the butter. Add in the garlic and sauté.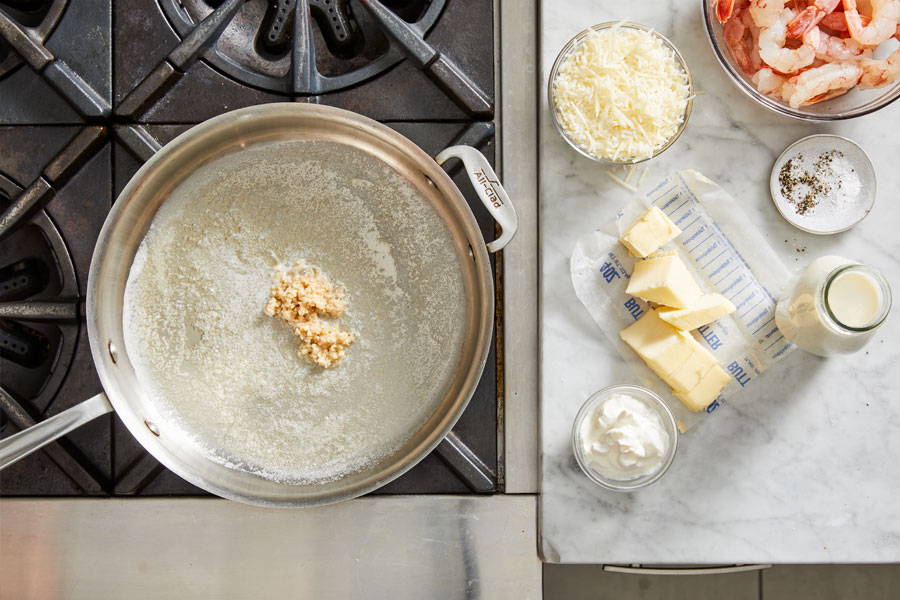 3. Sauté the shrimp.

Add the shrimp to the pan. Sauté the shrimp and cook until they become pink. Remove from heat and set aside.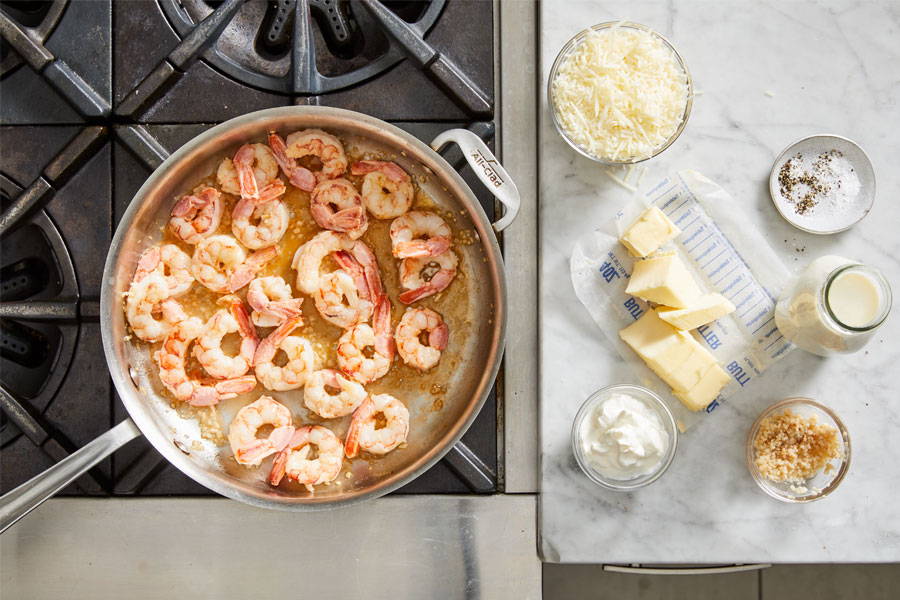 4. Create the sauce.

Heat butter and cream in a large saucepan. Add seasonings and cook for 1 minute. Remove the saucepan from the heat, then stir in cheeses and sour cream.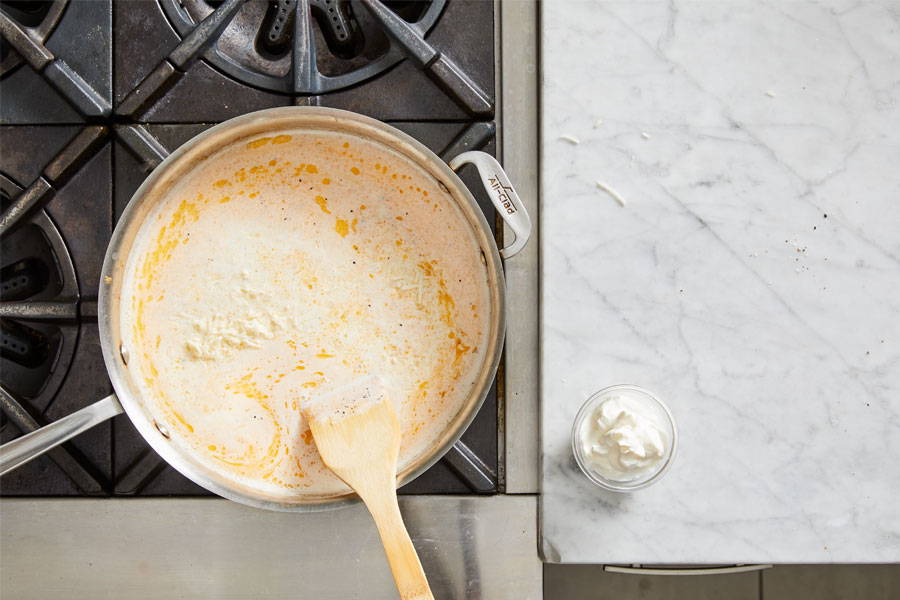 5. Finish the dish.

Add the cooked pasta and the shrimp. Toss together with the sauce. Use the pasta water to loosen up the sauce, if necessary. Serve!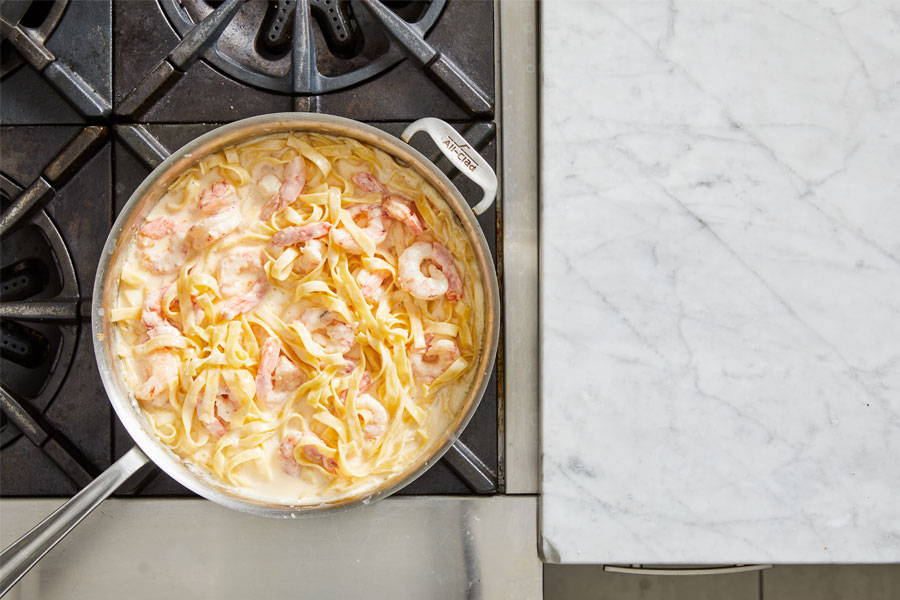 ---
What To Serve With Shrimp Fettuccine Alfredo
Serve Shrimp Fettuccine Alfredo with a steamed or roasted vegetable like broccoli, asparagus or shaved Brussels. You can also pair it up with a crisp side salad of leafy greens. As with all pasta, we recommend serving it with a starch like garlic toast, slices of crusty Italian bakery bread or breadsticks.
Don't Have Fettuccine? Here Are The Best Pasta Alternatives
The ideal noodle for Shrimp Alfredo is a long, flat pasta like Linguine, Pappardelle or Tagliatelle. Sauce clings best to these long strands.We recommend egg pasta for its heartier, richer flavor and texture. No matter what, be sure to serve your creamy sauces with a long cut of pasta.
While this Alfredo recipe is best when it is served and eaten fresh, you can store leftovers in an air-tight container in the refrigerator for up to 3 days.
To reheat, place pasta in a saucepan and heat slowly. Add in some cream as needed to loosen up the Alfredo sauce.
We do not recommend freezing Shrimp Alfredo. The texture of the shrimp can become rubbery and the cream sauce tends to separate upon defrosting and reheating.
Shrimp Fettuccine Alfredo: FAQ
How do I choose the right shrimp?

Choose shrimp that are large in size: 17-20 shrimp per pound is an ideal size. Be sure they are peeled and deveined. While we love using fresh shrimp, frozen shrimp is more readily available.
Can I use prawns instead of shrimp? What is the difference between the two?
To avoid overcooking the shrimp, sauté it until just pink and opaque. Overcooked shrimp will become rubbery and unappealing.
Can I add vegetables to shrimp fettuccine alfredo?
To add vegetables to this Shrimp Alfredo recipe, we recommend steaming or cooking them separately. You can add them to the final pasta but it might change the texture of the sauce. Vegetables usually contain a high water content.
What do I do if the butter and cream separate in the pan?
If the butter and cream separate, whisk. Once you add the cheeses, it should bring the sauce together. Just add a little bit at a time, allowing the cheese to melt into the sauce before adding more.
Do I undercook the Fettuccine or cook it to al dente?
To cook the pasta just right, continually check for doneness. Cooking pasta is not an exact science and relies on many factors. The key is not "undercooking" but cooking to an al dente texture. This is a cooked noodle, but with a slightly firm bite. Start checking your pasta for that desirable al dente texture at 2 minutes before the done time on the package.
How do I avoid clumps in the alfredo sauce?
Whisking while adding ingredients slowly should help best emulsify the sauce and avoid clumps.
What Is The Difference Between Shrimp Scampi And Shrimp Alfredo?
Shrimp Alfredo is a rich and creamy seafood pasta dish. The sauce is velvety smooth and flavored with cream and cheeses.
Shrimp Scampi features a simple sauce of wine, butter and garlic. This classic Italian shrimp recipe is typically served over a long cut of pasta or with crusty Italian bread.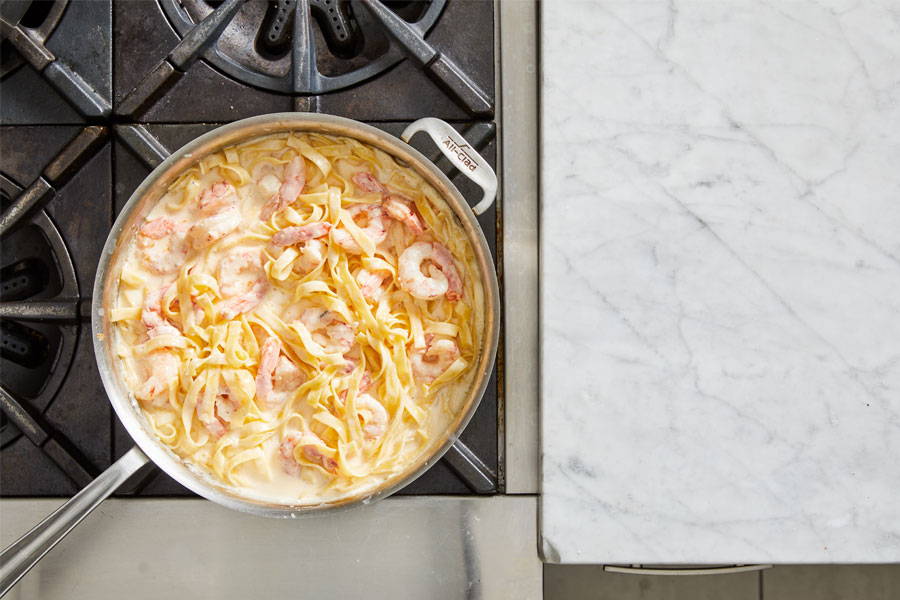 Shrimp Fettuccine Alfredo

Ingredients
½ cup softened butter, plus 2 tablespoons

1 pound shrimp, peeled and deveined

1 ½ cups heavy cream

½ teaspoon salt

¼ teaspoon pepper

1 cup freshly grated Asiago cheese

2 tablespoons sour cream
Bring 5 quarts of salted water to a boil in a large pot. Cook pasta according to package instructions. Drain, reserving 1/2 cup of the pasta water.

Meanwhile, melt 2 tablespoons of butter in a large skillet over medium-high heat. Add 2 teaspoons of garlic. Sauté until fragrant, about 1 minute.

Add shrimp and sauté until they begin to turn pink, about 2 minutes. Remove from heat and set aside.

To create the Alfredo sauce, heat ½ cup of butter and the cream in a large saucepan on low. Simmer for 2 minutes.

Whisk in the salt, pepper and remaining garlic. Cook for 1 minute. stirring continuously.

Remove from heat and whisk in cheeses and sour cream.

Add the cooked pasta and the shrimp to the saucepan. Gently toss with sauce to combine. If the sauce is too thick, use some reserved pasta water to thin it out. Serve immediately.
Pasta, seafood, lent and easter, shrimp fettuccine alfredo recipe, creamy pasta with shrimp
You don't have to spend all night in the kitchen to create an incredible from-scratch pasta sauce. The addition of shrimp to this easy Fettuccine Alfredo recipe makes it a hearty entrée made for indulging.