Charcuterie Boards for Two, A few or a Crowd
Entertainment Inspiration
Entertaining can be stressful. Aside from the invites, the guests, the time constraints and the décor, you've got food to worry about. What will I serve? How much should I prepare? What if they don't like it? We feel you. And we want to help by taking away some of that party-planning and hosting stress… when it comes to the food, anyhow.
We've got something that is sure to please any crowd—charcuterie. Picture it: artisanal cheeses, cured meats, briny olives, pickled peppers, crispy gourmet toasts… there is no limit to how much or how little you can serve. Whether you're looking for an opening act before the main meal, happy hour bites to serve with drinks, elegant eats for a holiday get-together or an impressive spread for a romantic night in, charcuterie has it all.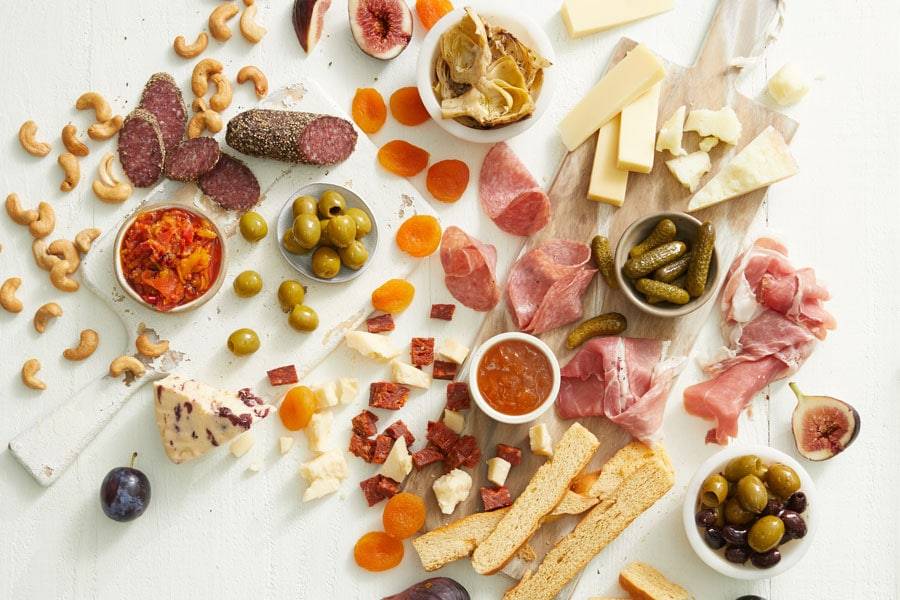 No matter the size of your party or the occasion, there are some basic principles to keep in mind when entertaining with charcuterie.
First, have fun. Let the bold colors and flavors do the work. Think of yourself as a curator, bringing together all of these incredible flavors and pairing them up to serve. That said, an elaborate presentation isn't necessary. Arrange items for a more natural feel using wood and slate boards. Keep it accessible and don't overcrowd. If things are too organized and "in their place," no one will want to disturb it.
Don't be too predictable. We recommend you mix it up to keep things interesting: classic and new items, sweet and salty, a contrast of textures, along with fresh fruits and veggies to brighten your spread.
Along with variety, if you need some pairing inspiration, try on a theme or season. Pairing up flavors can be as easy as selecting cheeses and meats from a specific region or country's cuisine. Think about the season. What's fresh and available right now and how can you include that in your spread?
So now that you've got a little guidance on what to include, let's talk about how much. When it comes to hosting, having enough to satisfy your guests is crucial. But no worries! We've outlined some helpful charcuterie board servings based on the number of guests you're serving—from two to a crowd—so you can take the guesswork (and stress!) out of preparation.