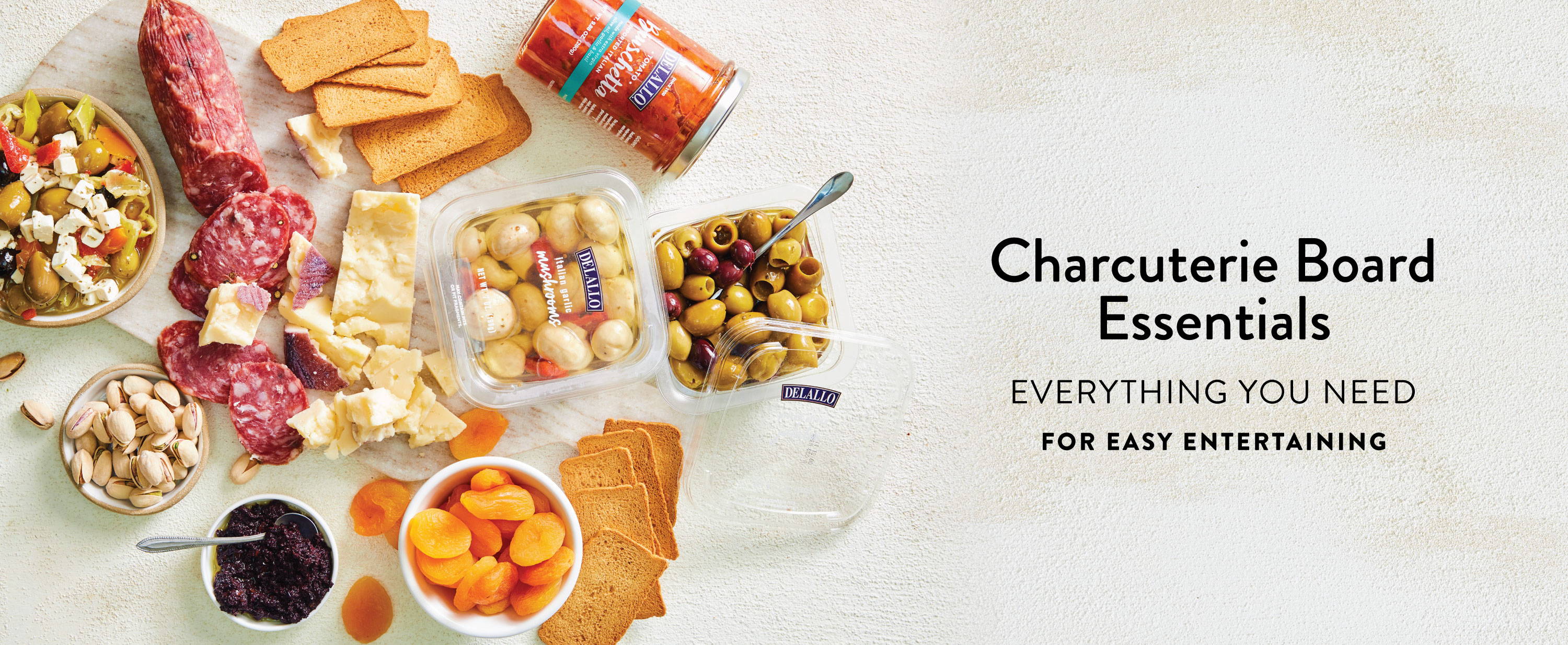 Shop Charcuterie Essentials
CREATE A STUNNING BOARD

Shop Charcuterie Essentials
CREATE A STUNNING BOARD
Top Sellers in Olives and Antipasti

Get Inspired

BUILDING THE PERFECT BOARD



Get Inspired BUILDING THE PERFECT BOARD

Top Sellers in Meat and Cheese

---
The Best Charcuterie For Any Occasion And Season (For One, Two, A Few, A Crowd, A Celebration, Entertainment, Or A Holiday)

Charcuterie is an easy and fun way to entertain—no matter the size of your crowd or the occasion. The fundamentals of charcuterie are cured meats, specialty cheeses, antipasti and colorful gourmet garnishes to brighten up your presentation. For larger crowds, choose more meat and cheese selections. When entertaining, if you're worried about the many palates of your guests, remember that there are so many flavor profiles to choose from—from robust pepperoni and tangy blue cheese to milder thinly sliced prosciutto and fresh mozzarella. We suggest mixing it up, so all of your guests will find something to love. Charcuterie is also perfect for all seasons—spring, summer, fall and winter.

We Have Everything You Need To Build The Perfect Charcuterie Board

As entertainment experts, DeLallo has everything you need to built the perfect charcuterie board. Not only do we offer a savory selection of cured meats, salumi and cheeses, but our vast line of gourmet complements is unmatched! We offer a vast variety of olives, stuffed olives and olive medleys. Along with our olives, we create prepared antipasto favorites, such as our famous Greek Feta Salad and Provolini Antipasti—easy upgrades for your charcuterie boards. In addition, we offer fruit jams, spreads, crispy gourmet crostini toasts and bruschettas—even a tangy-sweet balsamic glaze that can really take your fresh fruit and hard cheeses to a new level.
No Time? Let Us Prepare And Deliver An Unforgettable Charcuterie Board Spread For You!

Let DeLallo do the work. Our artfully curated Charcuterie Collections have everything you need to create a masterpiece at home without the trip to the store or trying to pick out individual items. You can also give the gift of charcuterie to your favorite people—an excellent idea for those hard-to-buy-for people on your holiday gift list.
DeLallo Charcuterie: FAQ

What is charcuterie?
Charcuterie is a French word that refers to the preparation and arrangement of cold, cooked meats. In modern culture, the word refers to more than just meats, but specialty cheeses, antipasti, olives and even fresh accompaniments. These small bites are often curated for complementary flavor profiles, as well as inspired themes such as "Italian" or "Greek." The art is in the arrangement, though, as charcuterie presentations are often made into masterpieces brimming with bold flavors, colors and a mix of edible garnishes. For many, the word charcuterie has become interchangeable with similar preparations: cheese boards, antipasto platters, etc.
How do you pronounce charcuterie?
Charcuterie is pronounced shar-coot-tery in English.
How do I make a charcuterie board?
For tips and tricks on creating a charcuterie board, check out our blog: How To Creat A Superstar Antipasto Spread.
How do I eat charcuterie?
Charcuterie is a self-serve, or grazing, presentation perfect for snacking and entertaining occasions.
What do I serve with charcuterie?
Depending on the occasion, charcuterie makes the perfect small bites to serve with wine, champagne, mixed drinks or beer. For a small get-together, consider serving charcuterie with fun handmade cocktails like brunch-time mimosas and Bloody Marys or citrusy summer beverages. For non-alcoholic drinks, try fruity sodas and sparkling waters. It is really up to you and your crowd.
Charcuterie Board vs. Cheese Board – What is the difference?
The two are mostly used interchangeably. The word charcuterie is a French tradition that refers to the presentation of cold, cooked meats. That said, charcuterie boards can be meat-centric, or focused on cured meats and salumi, but also include complementary items like soft cheeses, olives, fresh fruit, etc. Cheese boards, on the other hand, may be centered more on specialty cheeses—like goat cheese, Brie cheese, mozzarella cheese, etc.—with flavorful pairings to complement. Some cheese boards may not feature meat at all. Overall, both terms have come to mean something similar: the artful preparation of salumi, cheeses antipasti, olives, gourmet toasts, spreads and jams for superstar snacking and elegant entertaining. The attractive element of entertaining is its effortless yet eye-catching presentation.
Crudité vs. Charcuterie – What is the difference?
It's easy to get confused when words like these are used interchangeably to refer to similar styles of eating—mainly entertaining and snacking. Crudité refers to the fresh, chopped vegetables that can be served alone as an appetizer or alongside charcuterie and cheese board favorites. Charcuterie refers to the artful preparation of cured meats, or salumi. Two very different presentations!