We're excited to share this post from our friend Alexa from Fooduzzi with you!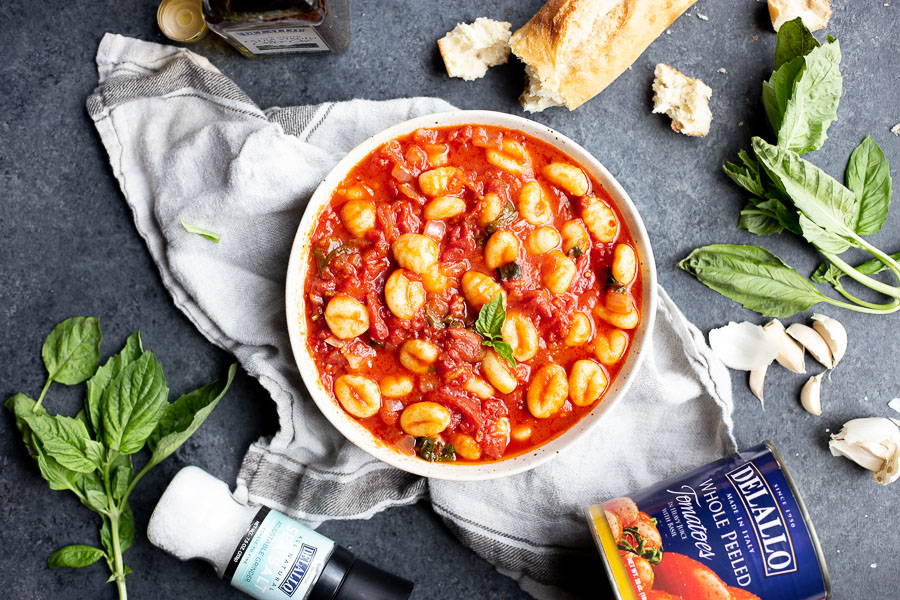 Hi, friends! Alexa here from Fooduzzi, the plant-based food blog.
I am beyond excited to be chatting with you today because I love DeLallo. And I know if you're reading this right now, you probably do too.
But, I mean, I really love DeLallo. I grew up in my American-Italian household just a hop, skip, and a jump away from DeLallo HQ, and no family dinner was ever complete without DeLallo pepperoncini, sauce, pasta, and/or olives.
I am a DeLallo girl through and through, and I am thrilled to be sharing this recipe for Easy Italian Marinara with you!
Having a good marinara recipe in your back pocket is always a good idea, and it's practically as simple to make as it is to pick up a jar of the premade stuff at the store. It's true!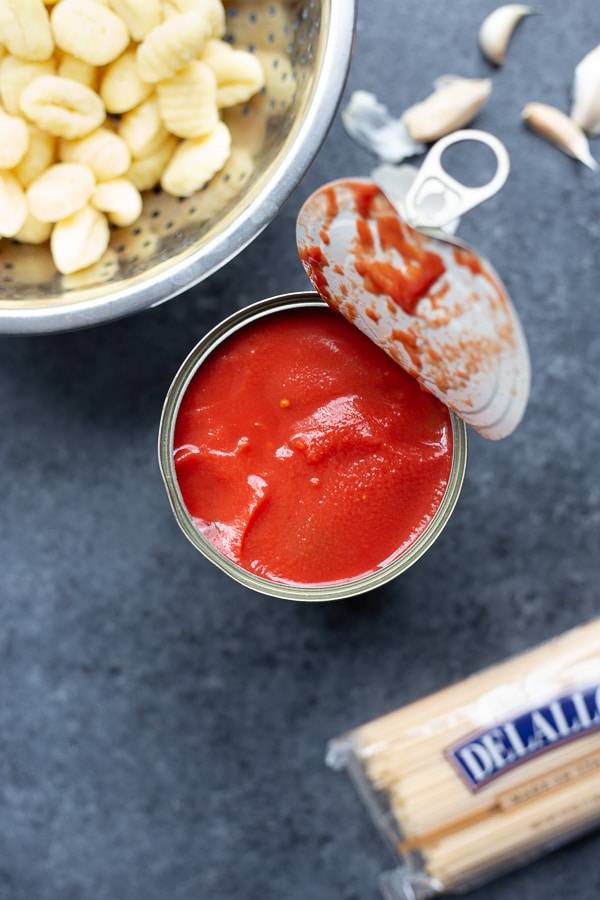 And it all starts with some tomatoes. DeLallo's Whole Peeled Tomatoes, to be exact! I adore using these tomatoes and crushing them myself (just with my hands) because:
It's seriously fun

I can control the amount of chunks I have in the final sauce
I like my marinara on the chunkier side, so I left quite a few chunks in my final sauce. If you like yours less chunky, just crush them a bit more. Easy peasy.
So let's throw together the sauce, shall we? We're going to pour a nice big glug of DeLallo Extra Virgin Olive Oil in a pan, let that heat up, then add some chopped onion and garlic.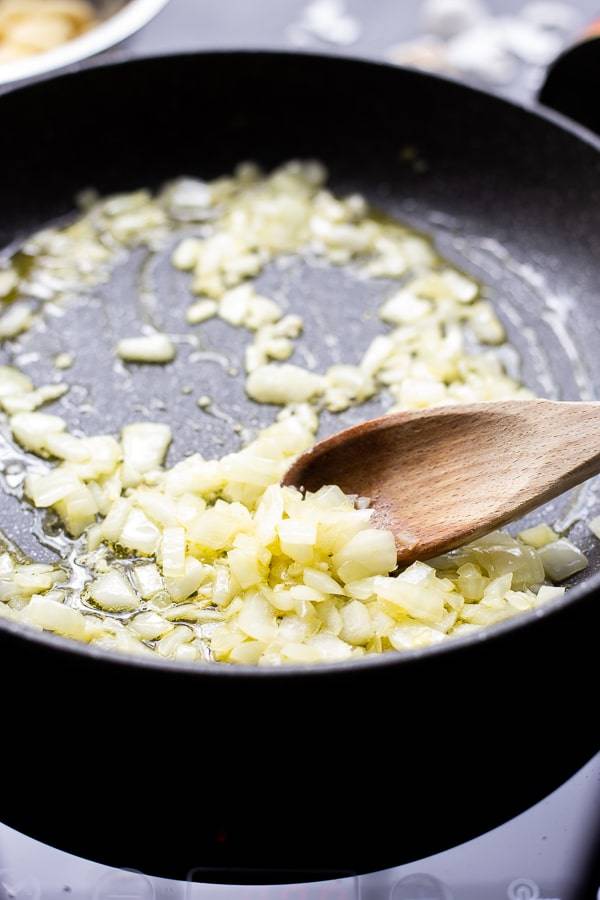 Side note: Your kitchen will instantly start smelling like an Italian trattoria. You're welcome.
Once your onions are tender, go ahead and add your crushed tomatoes and seasoning. I love a big ol' pinch of salt here along with a nice pinch of red pepper flakes. You can take your sauce into arrabbiata-territory real quick with a few extra shakes of your red pepper flake jar, but for a more traditional marinara, stick to a single pinch.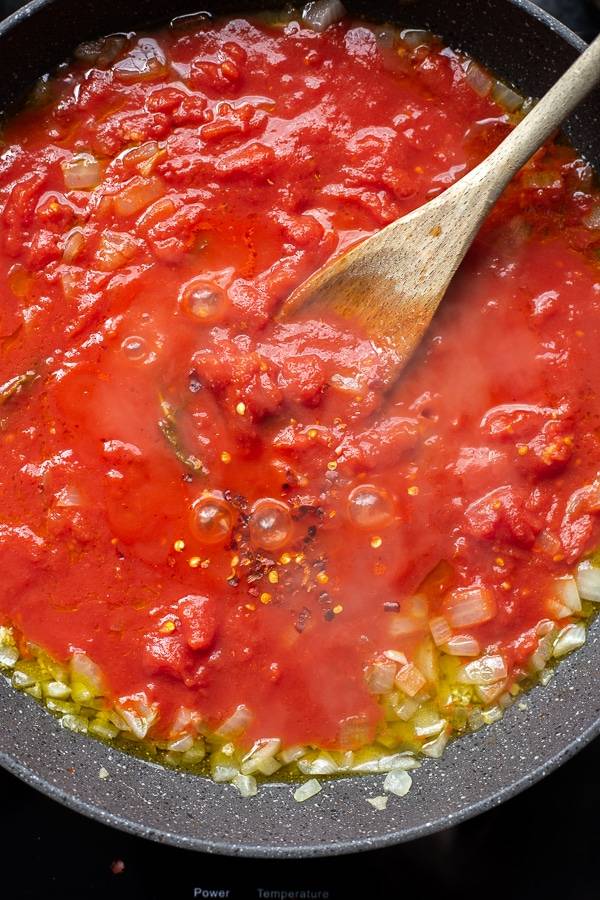 Then we'll cover our sauce and let it simmer for 15 minutes. This is when the magic happens, friends. All of the flavors will meld together and the mixture will come together into a beautiful, cohesive sauce.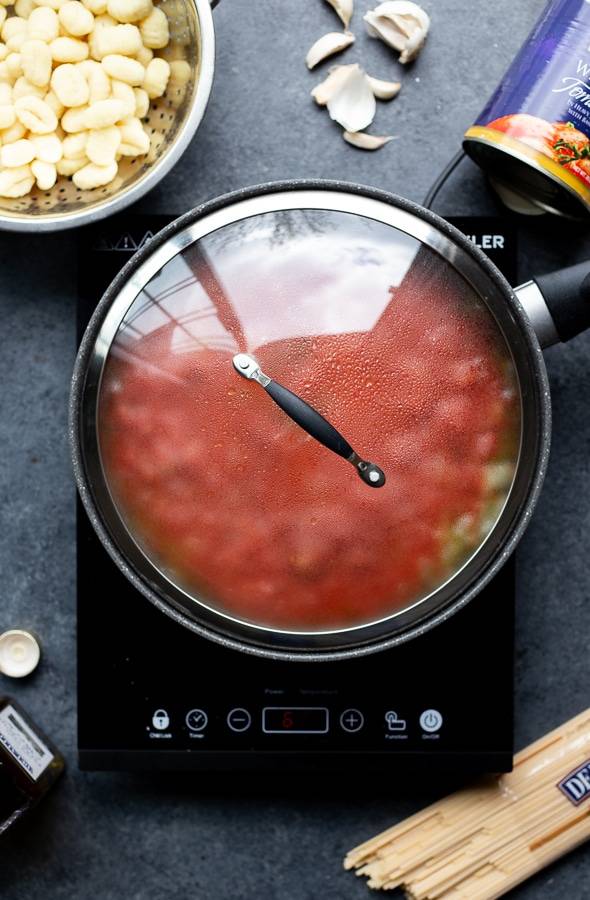 And would you believe that's it?! Seriously. That's how simple it is to make your own marinara sauce!
I like adding a few torn fresh basil leaves on top right before serving, especially during herb season in the summer. I'm convinced that there's no greater flavor enhancer than fresh herbs, and basil really brightens up this sauce.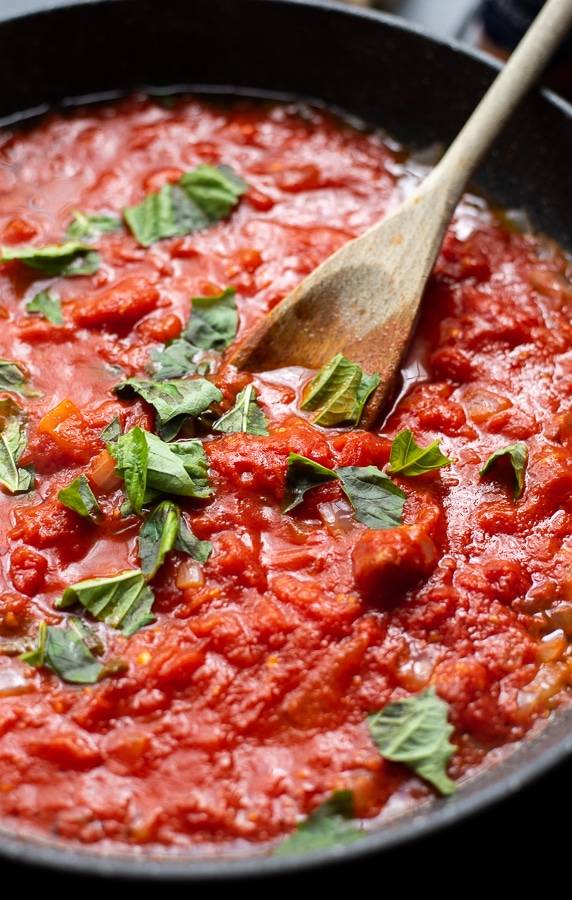 This step isn't totally necessary, but it also kind of is, you know? Take a nice hunk of bread and taste-test your sauce. You. Are. Welcome.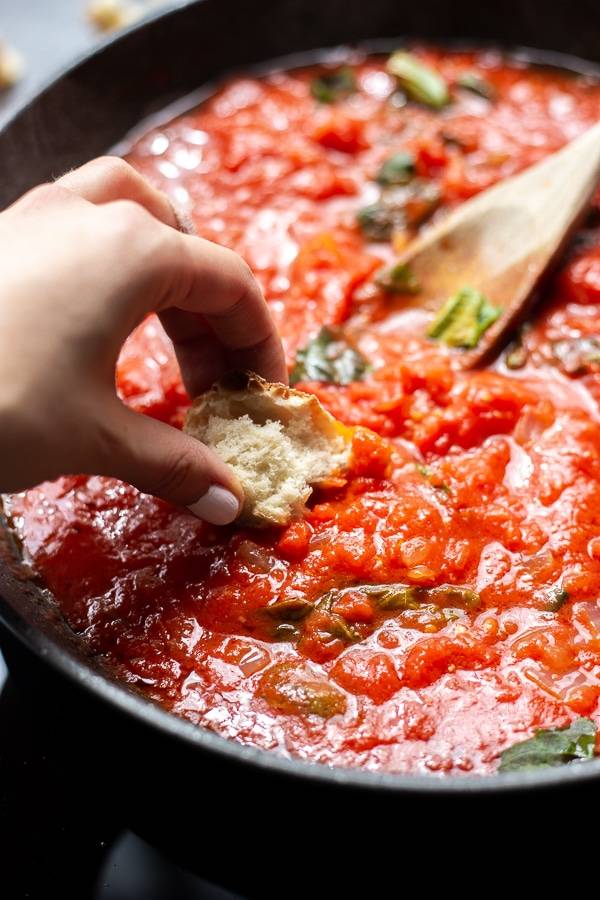 And that's that! We served our marinara over DeLallo's Potato Gnocchi, and it was pretty much the best idea ever. For someone who has said for years that she doesn't like gnocchi, this combo turned me into a lifelong fan. If you are looking for something a bit lighter, any kind of pasta would do (I recommend DeLallo's Organic Whole Wheat Spaghetti).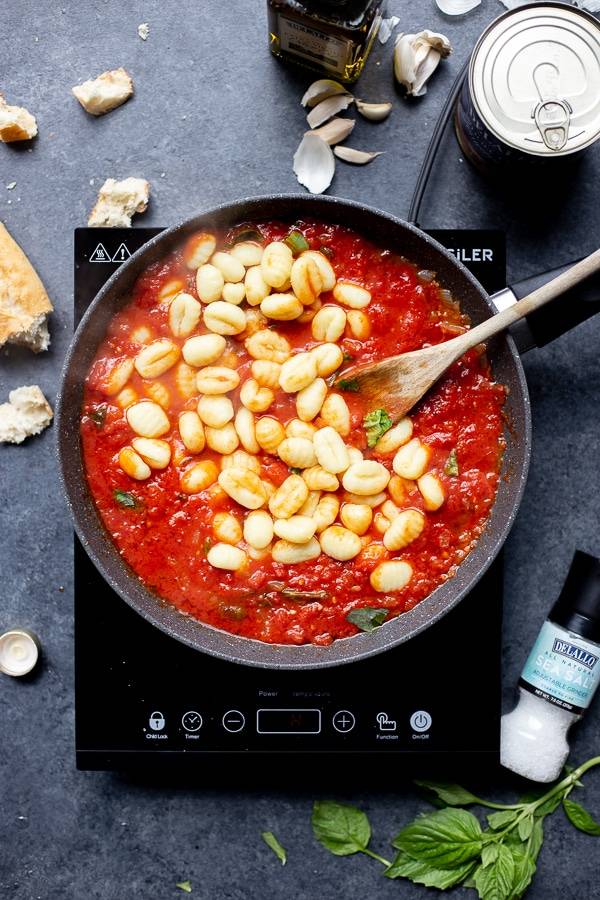 The next time you're hungry for a classic red sauce, I encourage you to try a homemade version. It comes together in a snap, and I promise you the flavor will impress. Enjoy!