The Best Sauce Recipes
The All-Inclusive Best Sauce Recipe Guide
In Italian cooking, it's all about the sauce.
True partners in deliciousness, pasta, and sauce go together like… well, pasta and sauce! How can your rigatoni or penne rigate truly shine dressed in a drab and uninteresting sauce? There's more to offer than the classic tomato marinara or meat sauce, you know? We're using this guide to give you the scoop and share some of our favorites in each category.
---
Butter and Oil Sauces
Butter and oil-based pasta sauces are some of the most simple, but flavorful sauces out there. These sauces feature just a few ingredients fresh herbs and take on more subtle flavors.
One of the most famous examples of an oil-based sauce is pesto. The classic recipe of pesto includes extra virgin olive oil, fresh basil, hard Italian cheese, pine nuts and garlic. But pesto can be made in several ways that include many fresh ingredients.
Traditionally, pesto is a raw or uncooked sauce that you stir into a bowl of hot pasta. Because cooking takes away from its flavor—just as it does fresh herbs—pesto is best served uncooked.

As for pairing up butter- and oil-based sauces with pasta keep in mind, they are typically lighter. Being lighter makes them perfect for matching up with long cuts like capellini and linguine.
Of course, there are some delicious exceptions. Take Potato Gnocchi with Sage Butter Sauce, for instance. What a way to savory those plump and pillow potato gnocchi.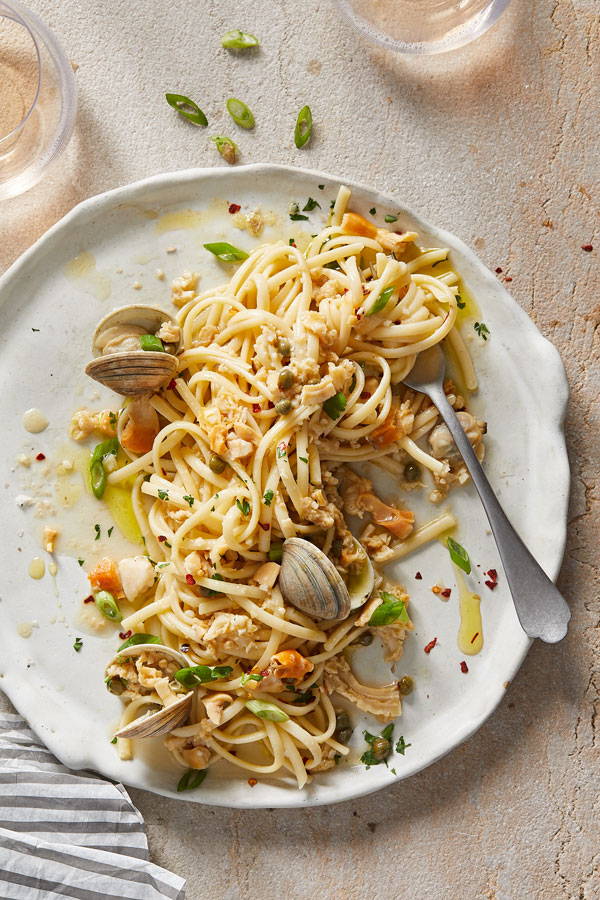 Recipe: Linguine with Clam Sauce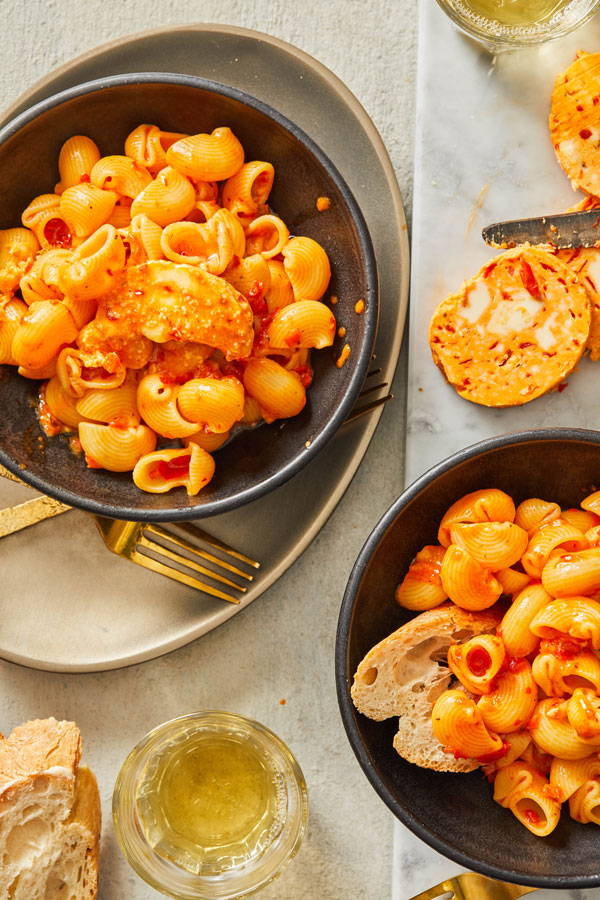 Recipe: Calabrian Parmesan Butter with Shellbows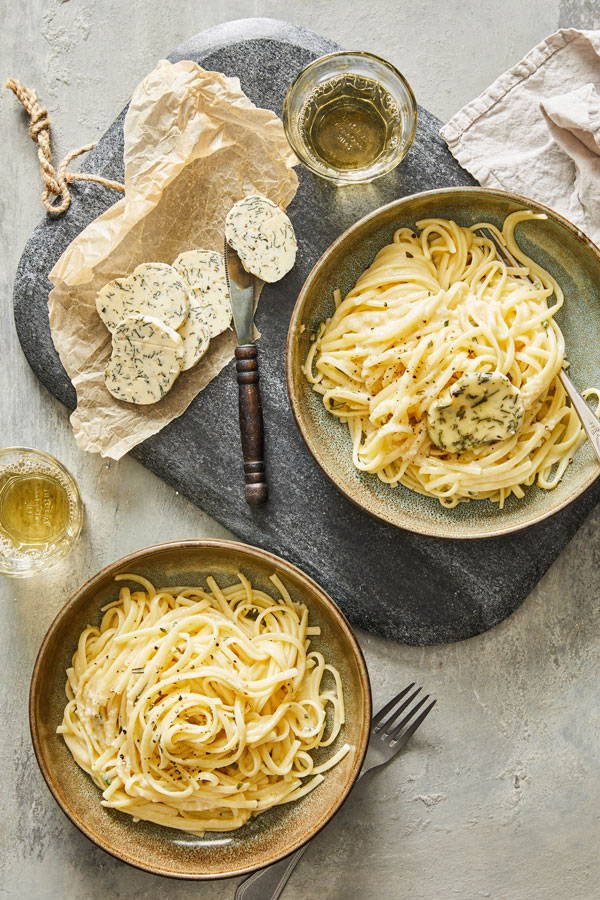 Recipe: Garlic & Herb Butter with Linguine
---
When you're craving something indulgent, nothing quite hits the spot like a creamy, cheesy pasta dish. These rich sauces can feature fresh cream, hard Italian cheeses with nutty, complex flavors, and melty cheeses like Fontina and mozzarella.
A classic white sauce used in Italian cooking is béchamel. This smooth white sauce isn't a cheese sauce, but a delicate and buttery cream sauce. This white sauce is at the heart of certain veggie-loaded lasagna recipes.
Looking for a white sauce lasagna? Check out our Wild Mushroom Lasagna. Looking for another classic baked pasta dish? Check out our Wine-Braised Beef Pasta Bake.

Though it isn't officially Italian, Alfredo sauce is a famous cheesy pasta masterpiece. Many consider alfredo a favorite in their pasta night lineup. Alfredo dishes are anything but boring, begging for veggies, savory meats, herbs… you name it. We like to think of creamy, cheesy Alfredo pasta as the grownup mac 'n cheese equivalent.
Some of our favorite cheesy pasta recipes include Cheese Tortellini with Creamy Butternut and Sage Sauces, a creamy ham & peas pasta. Another favorite is Orecchiette with Chicken and Goat Cheese Sage Sauce.

As a reminder, heavier sauces like these ago great with sturdier, sauce-hugging cuts of pasta. We recommend curvy, tubular, and scoopable concave shapes to pair up with your creamy pasta sauce. Examples of pasta that are ready for this includes shells, elbows, penne ziti, to name a few.

Wait! We can't forget the creamy tomato hybrid, Vodka Sauce. Sometimes known as "pink sauce," this modern creation uses vodka to unlock some incredible flavor compounds within the tomatoes. See, cooking is a science.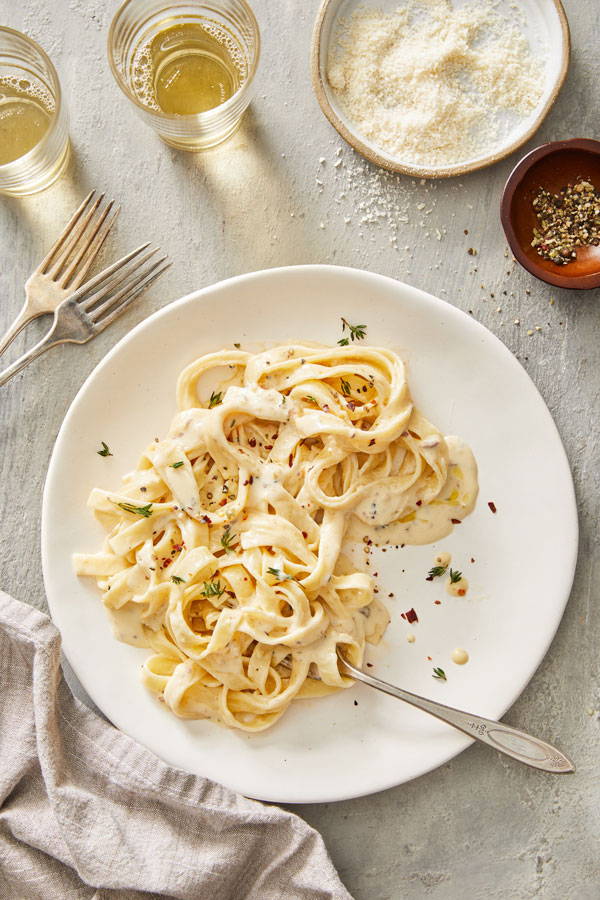 Recipe: Creamy Garlic Pasta with Mascarpone Cheese
Recipe: Spicy Calabrian Vodka Sauce
Recipe: Silky Tomato & Cream Pasta Sauce with Bucatini
---
The ultimate comfort food, hearty meat sauces like Bolognese, are made to be savored. We especially love cozying up with a big bowl of pasta during the colder winter months. If you have the time, it's worth every minute to create a from-scratch meat sauce. Check out our Braised Beef Ragù for some inspiration. Even if you're pressed for time, you can cook up an incredible Weeknight Bolognese Sauce.

Choose sturdy short cuts of pasta to partner up with thick and hearty meat sauces. Rigatoni is the traditional pasta shape we see with meat sauces. But don't underestimate Tortiglioni, Mezzi Rigatoni and Penne Rigate. All of these cuts of pasta are good choices too.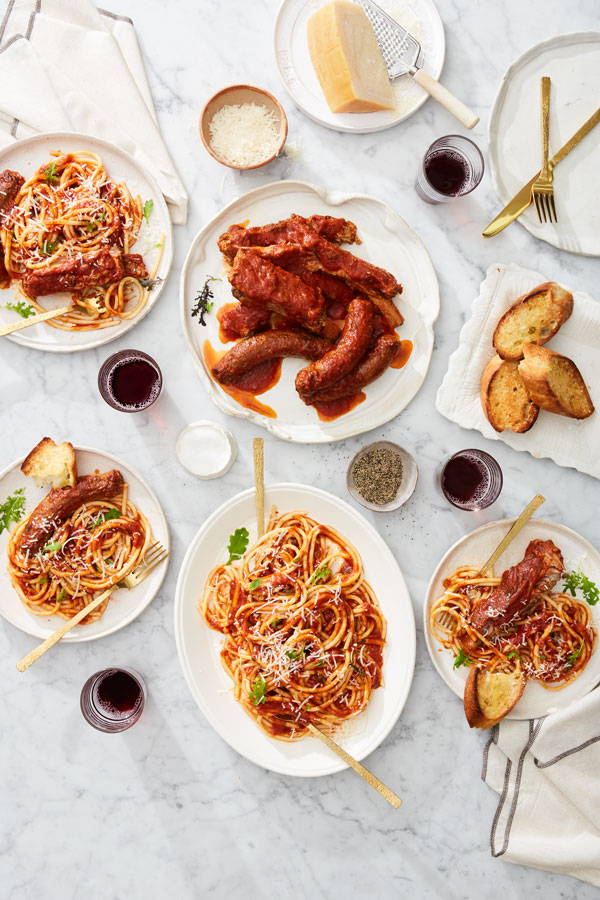 Recipe: Italian Sunday Sauce Recipe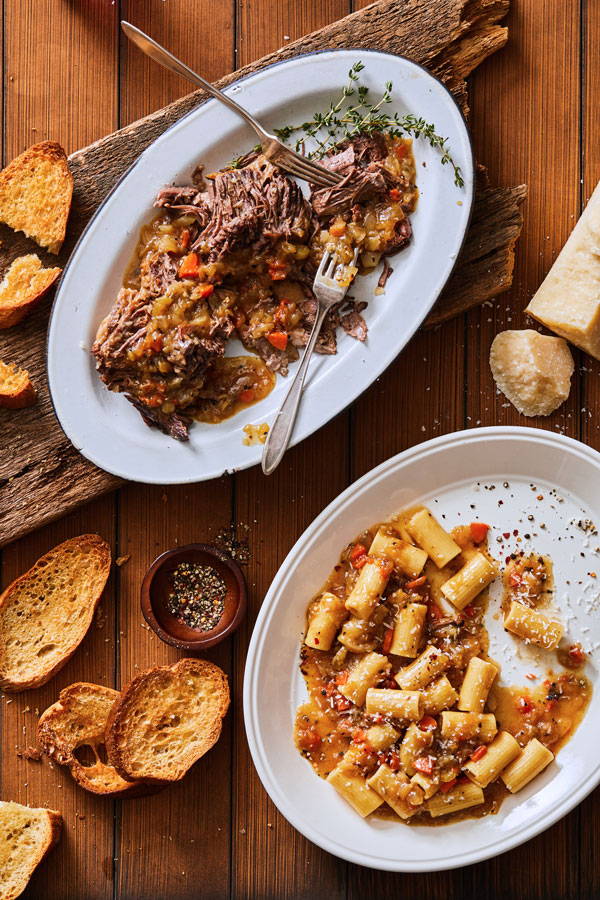 Recipe: Genovese Rigatoni Recipe
---
Some of the most iconic sauces are tomato-based. Just look at the classic plate of spaghetti and meatballs, holiday lasagna, cheesy stuffed ravioli, etc. Just because they're common doesn't mean they're uninteresting.
One of the most versatile sauce recipes to master is the 20-Minute Marinara. This Marinara recipes include just three ingredients. It is a tangy tomato sauce that has several uses besides just pasta. You can use it in breaded Parmesan-style recipes, meatloaves, a dipping sauce for breadsticks and breaded fried apps, etc.

Tomato sauces aren't just about nonna's slow-simmered Sunday Sauce, though. In the summertime, our favorite pasta sauces are ones that require no stovetop time at all. Just grab some fresh tomatoes from the garden and chopped herbs like our No-Cook Fresh Tomato Sauce recipe.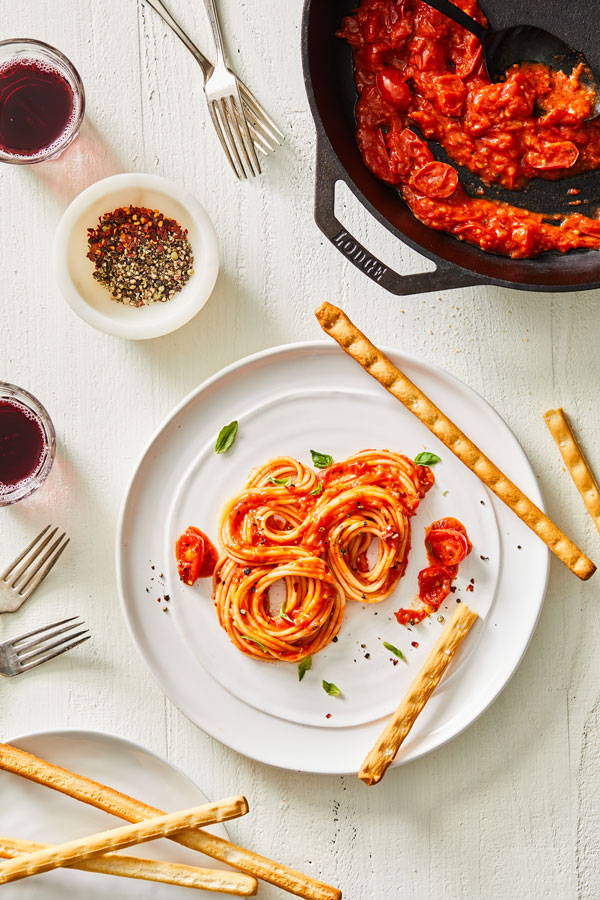 Recipe: Pasta Pomodoro Recipe
Recipe: Homemade Vodka Sauce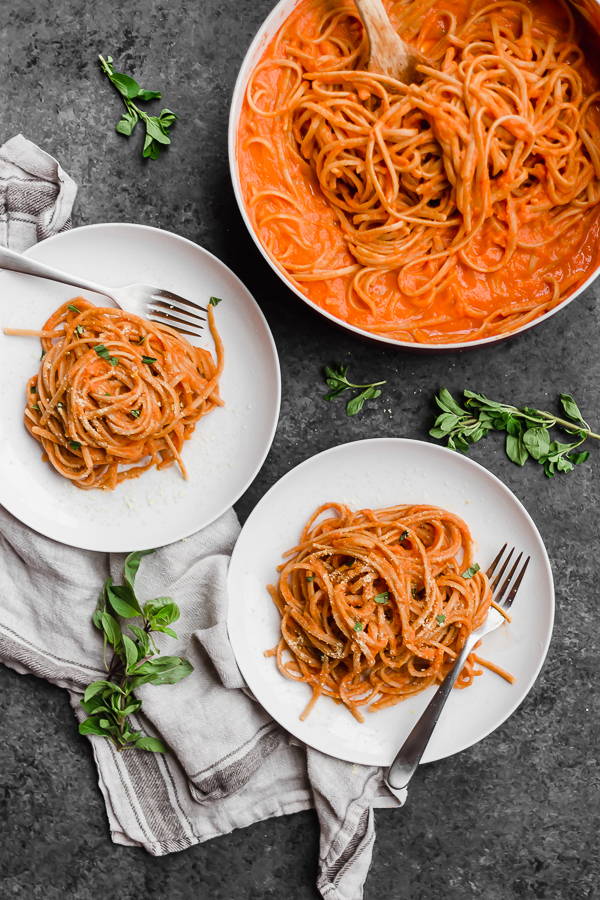 Recipe: Skinny Creamy San Marzano Tomato Sauce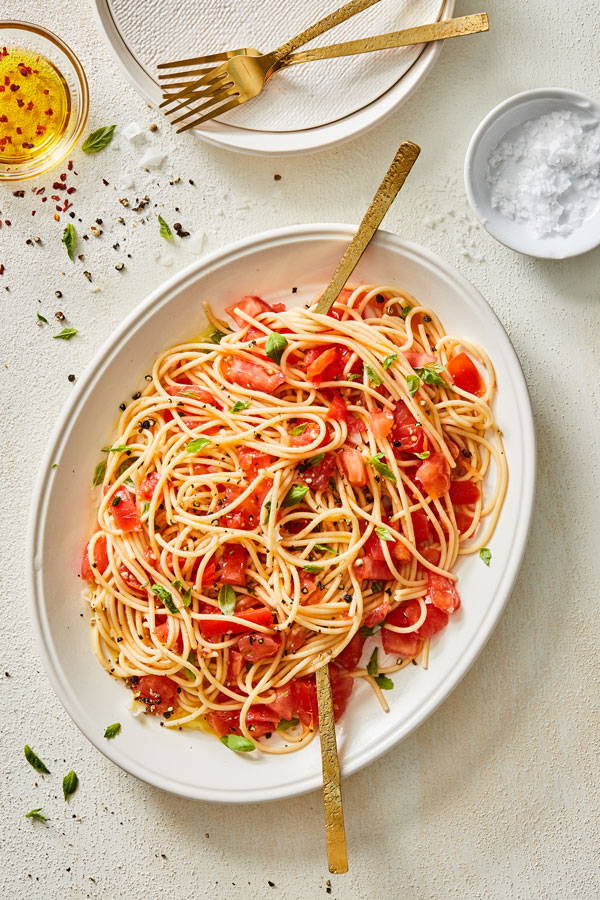 Recipe: No Cook Tomato Sauce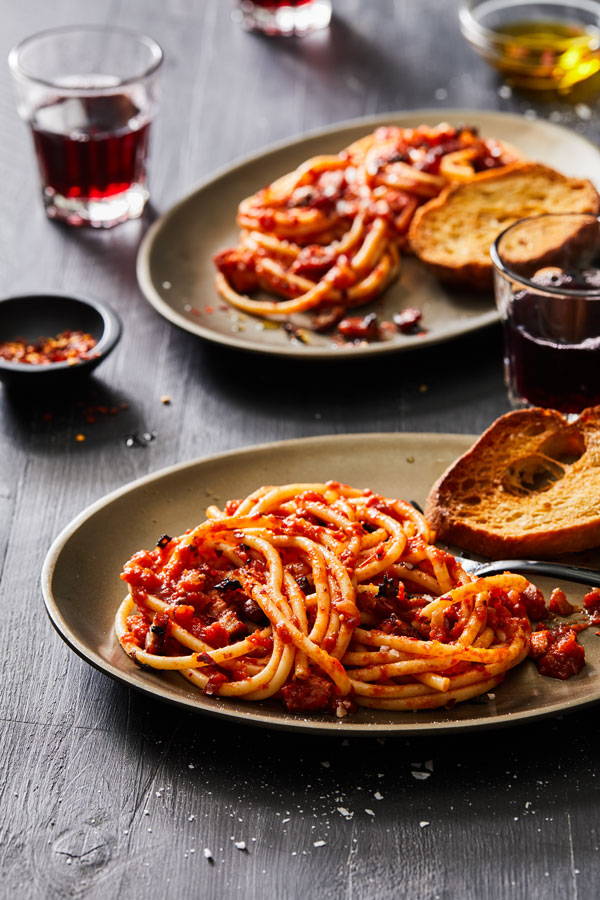 Recipe: Pasta Amatriciana Sauce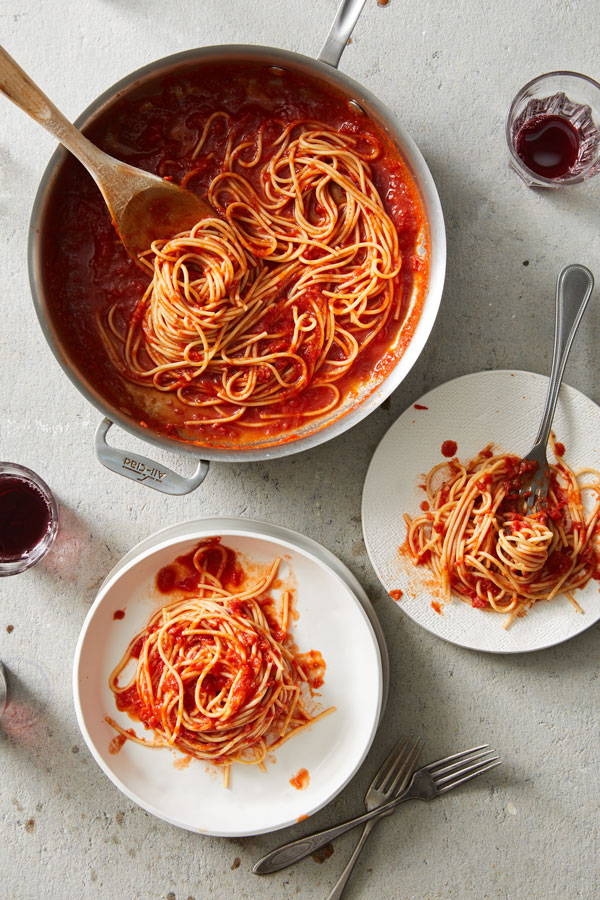 Recipe: Simple Marinara Sauce
---
Vegetable, Herb or Nut Sauces


Many of our favorite pasta recipes include veggies, olives, mushrooms, sun-dried tomatoes, and peppers. The possibilities are endless, and recipes can depend on what vegetables are in-season. Another factor can be what marinated Mediterranean goodies are available at your local deli's olive bar.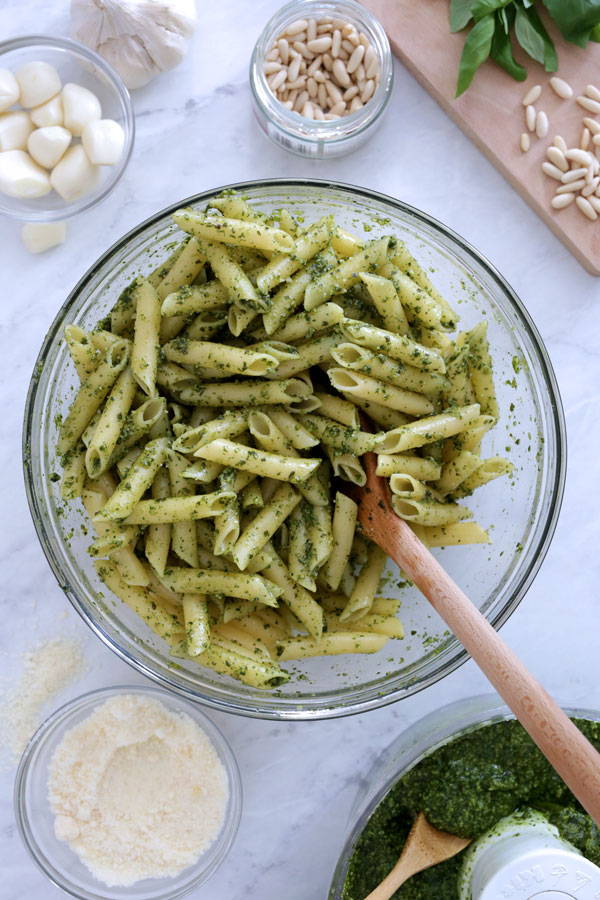 Recipe: Classic Homemade Pesto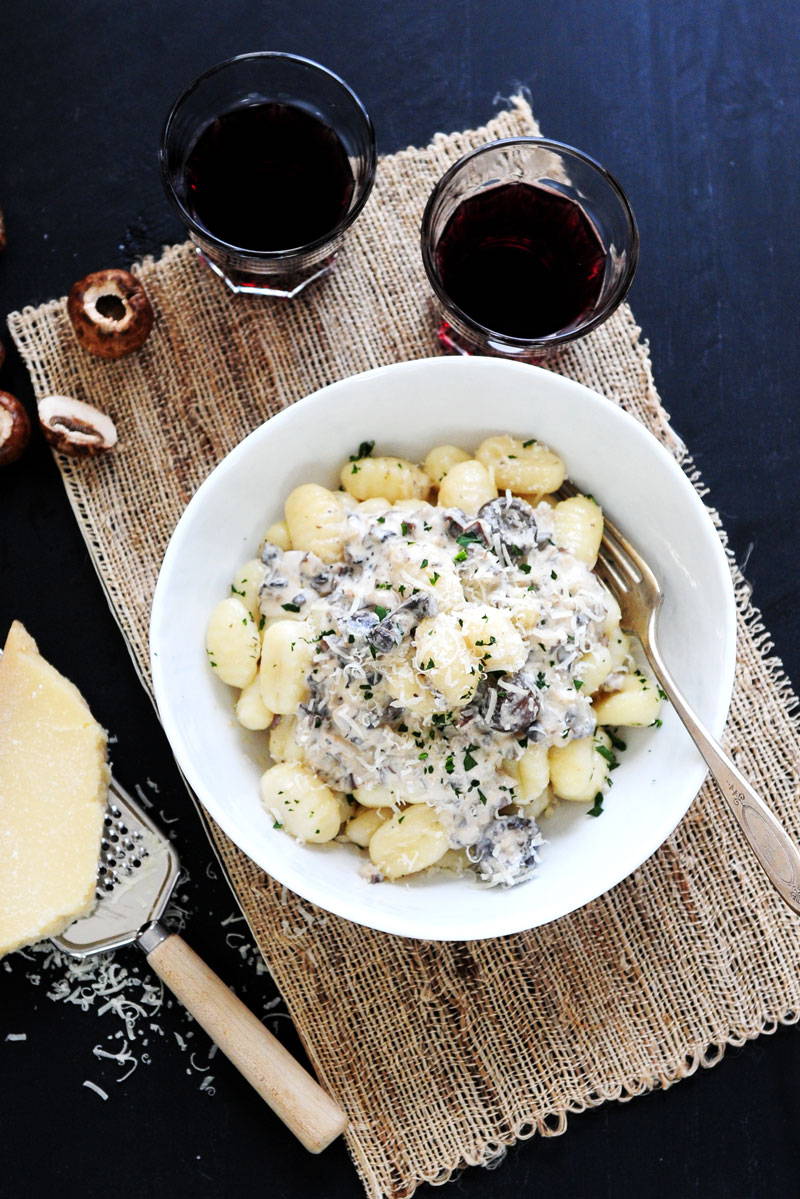 Recipe: Potato Gnocchi with Mushroom Sauce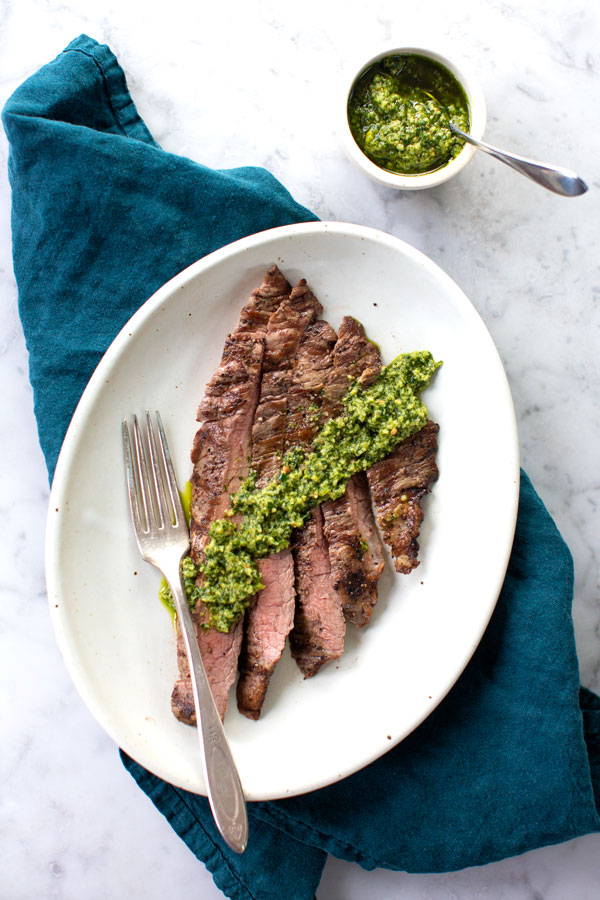 Recipe: Flank Steak with Italian Green Sauce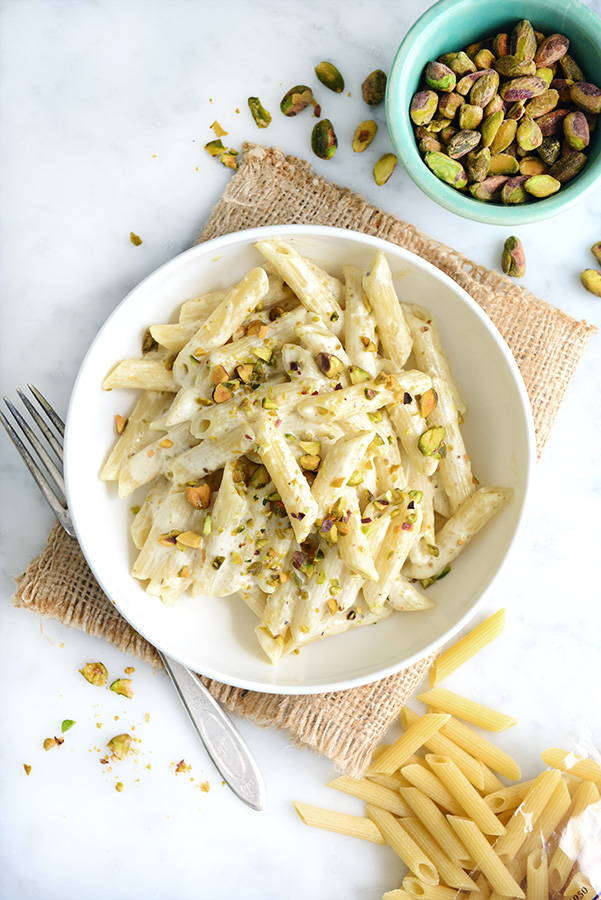 Recipe: Pasta with Pistachio Sauce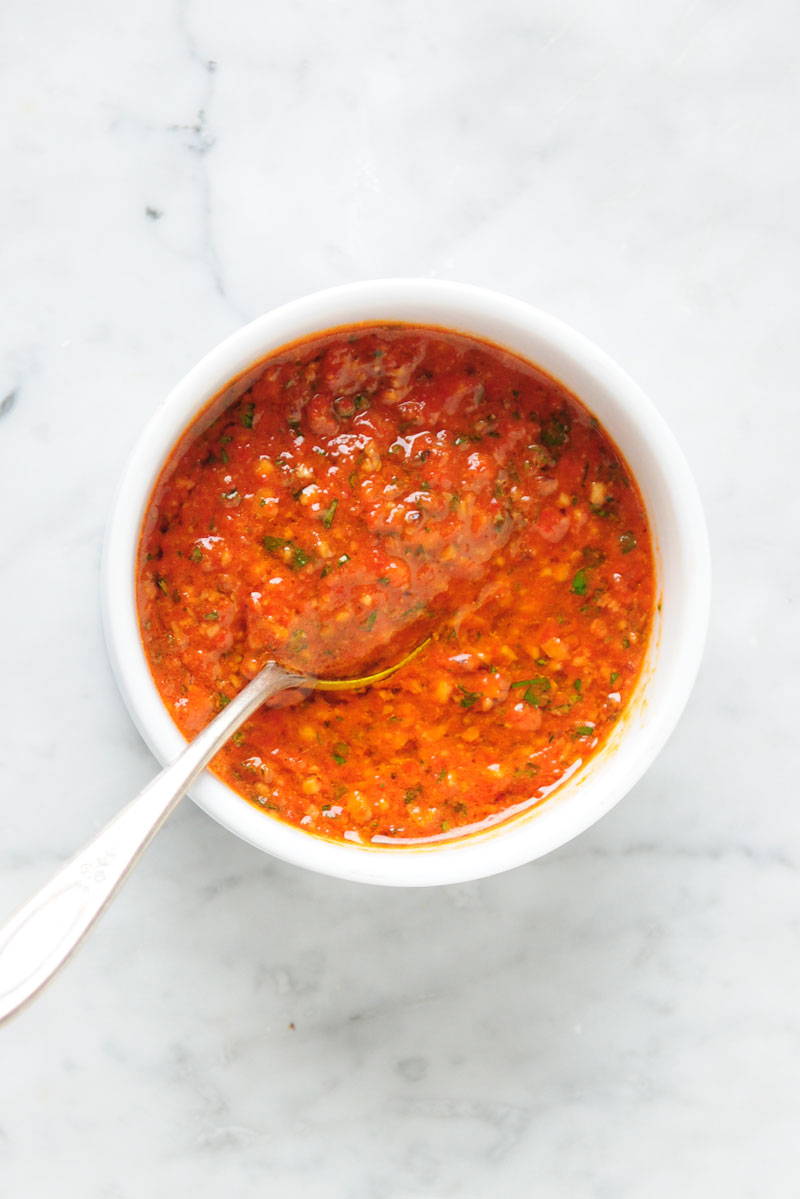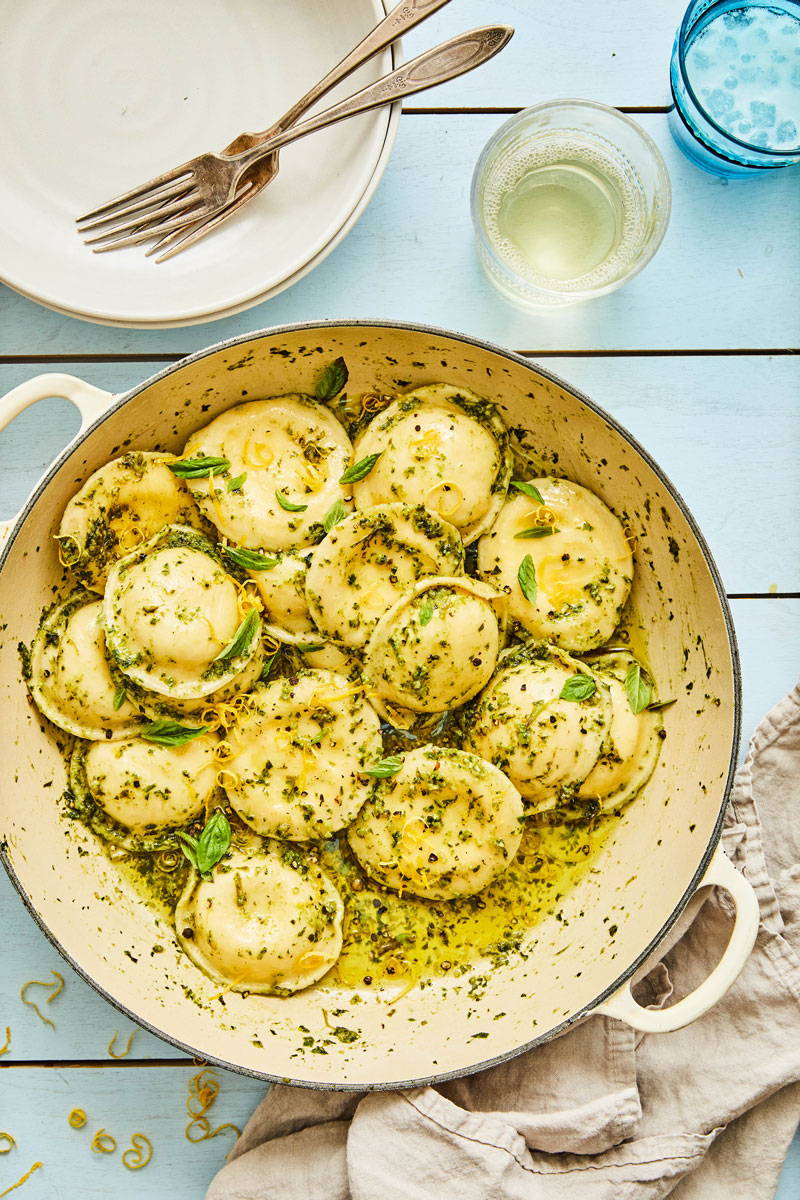 Recipe: Ravioli with Lemony Pesto Sauce
---
Favorite Olive Bar Finds for Pasta Dishes
Favorite Veggies for Pasta
Brussels sprouts

Cauliflower

Broccoli

Peppers

Asparagus

Squash

Zucchini

Mushrooms
Some vegetable sauce recipes are more like sautès with an olive oil base. Other vegetable sauces are smooth or creamy and may require the use of a food processor to create an unexpected sauce. Romesco Sauce, for instance, is an uncooked "raw" sauce. It features sweet and spicy red peppers pulsed to a colorful and flavorful pesto-like sauce.
We also love this Mushroom Carbonara. It has an earthy and unique take on the classic Italian carbonara sauce. Roasting veggies adds a whole new dimension to your pasta, giving an irresistible smoky-sweet flavor to your favorites.
Have you ever had our Roasted Vegetable Lasagna? It's a must for your recipe box.
Chunkier vegetable sauces pair up nicely with pasta shapes that can capture small and chopped ingredients. Scoopable shapes like orecchiette and twisted spiral shapes like Spirali and Cavatappi make excellent choices.