How To: Easy Homemade Pizza Crust
Step-By-Step Guide to Using Our Pizza Dough Kit
Make delicious pizza crust for your next homemade pizza night. Made in Italy, with type '00' Flour, our pizza dough mix is quick, easy to use and versatile. Just add water (yeast packet is included), then simply mix, knead, rise, shape and bake.
What's type 00 flour? you might wonder. It's a hard durum wheat finely ground and specially sifted to be superfine and powder-like. This is what gives authentic pizzeria-style pizza its flair. The fine grind and ideal gluten content of this superior flour is just why its key. From thinner crispy crusts to thicker, chewier crusts —all with that signature fresh-bread flavor.
What You Get
1 package of Type '00' Pizza Flour mix

1- Instant Yeast Packet
What You Need:
300ml warm water

Measuring Cup, Mixing Bowl, Fork
How much 1 Dough Kit Makes:
About 2- 10" traditional crust pizzas

About 4 – 10" thin Neapolitan-style pizzas

1 – 16" Thick Crust

1 – Detroit Style 9"x13"Pan Pizza
Homemade pizza dough made simple!
You can create that signature Neapolitan crisp and chewy crust in your own kitchen. There are no chefs necessary. You can bake up a superior pizza pie, no matter your level of kitchen expertise.
Homemade Pizza Cr­ust

Breadsticks

Garlic knots

Calzones

Stromboli

Focaccia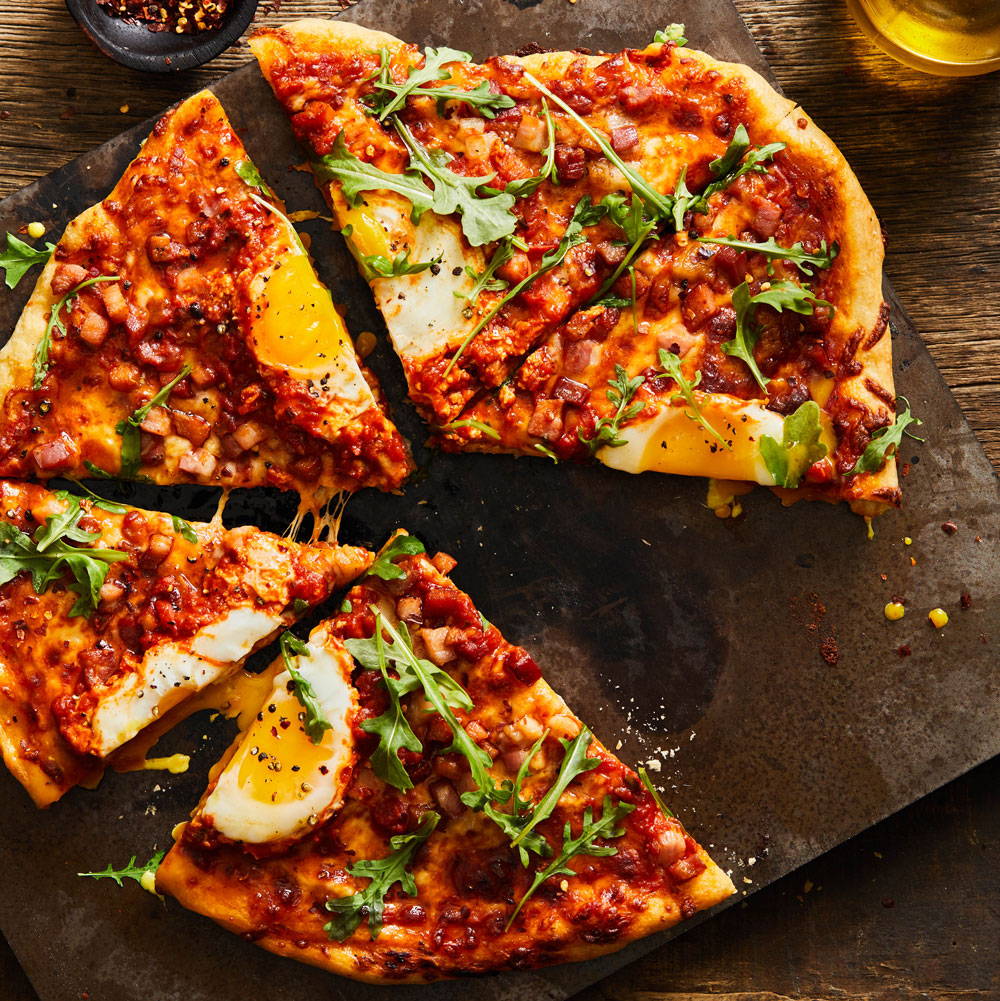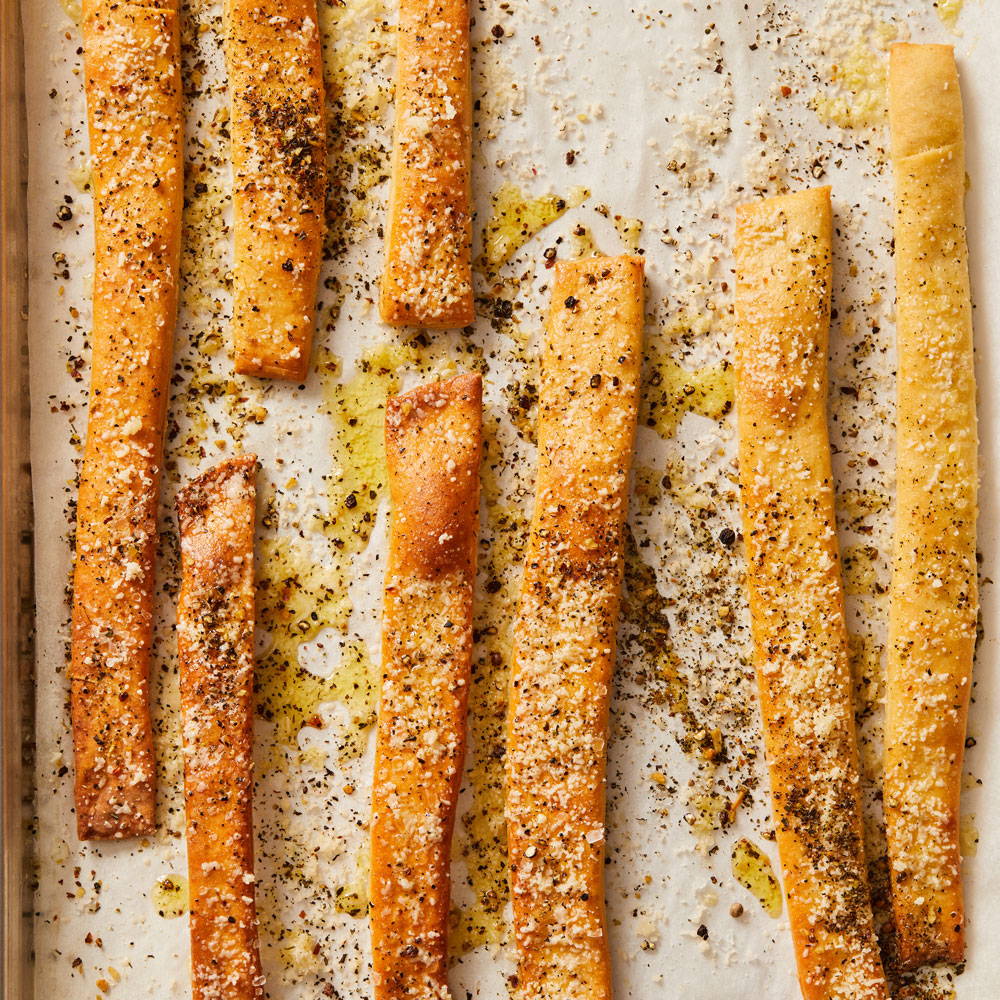 Pizza Dough Kit How-To
1) Pour flour and yeast packet contents into a large mixing bowl.
2) Add 1 1/4 cups of water. Add lukewarm water, not hot or cold, to the mixing bowl. Cold water will lengthen the rising time of your dough.
3) Use a fork: Incorporate ingredients in the bowl using a fork. Mix well.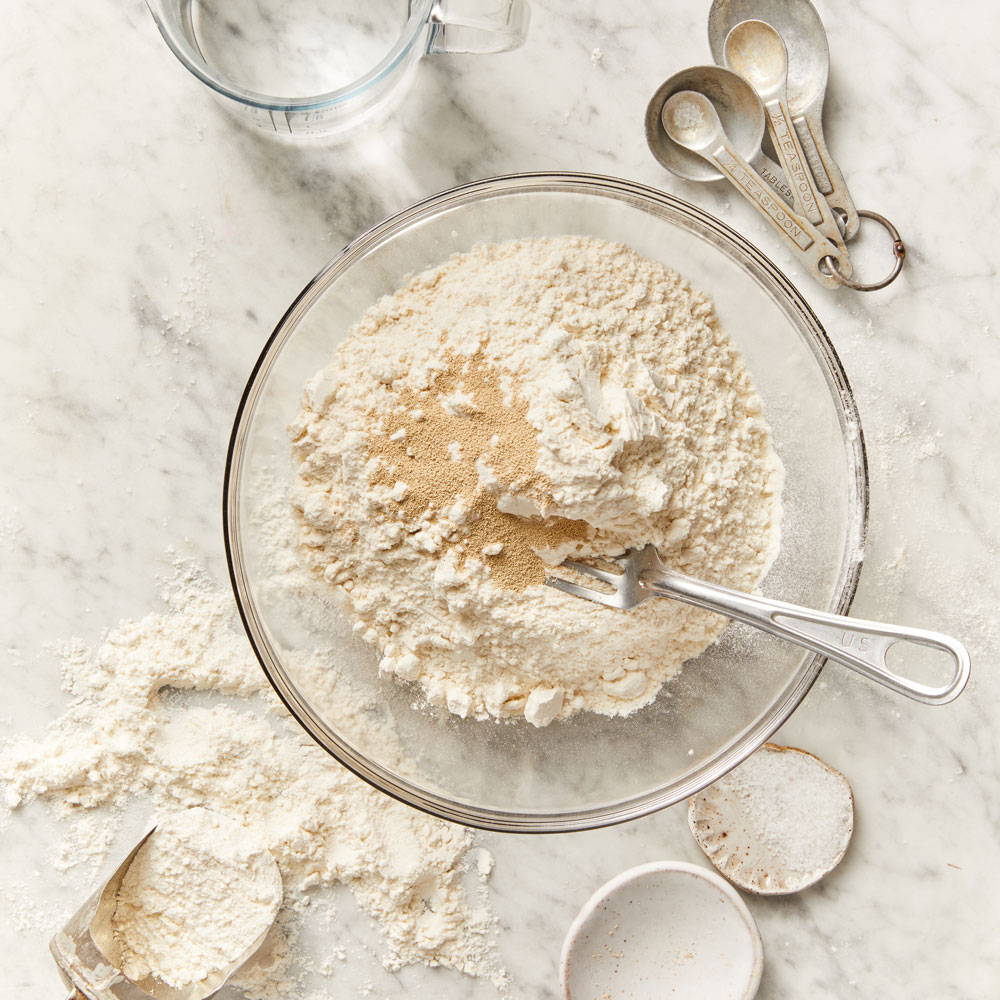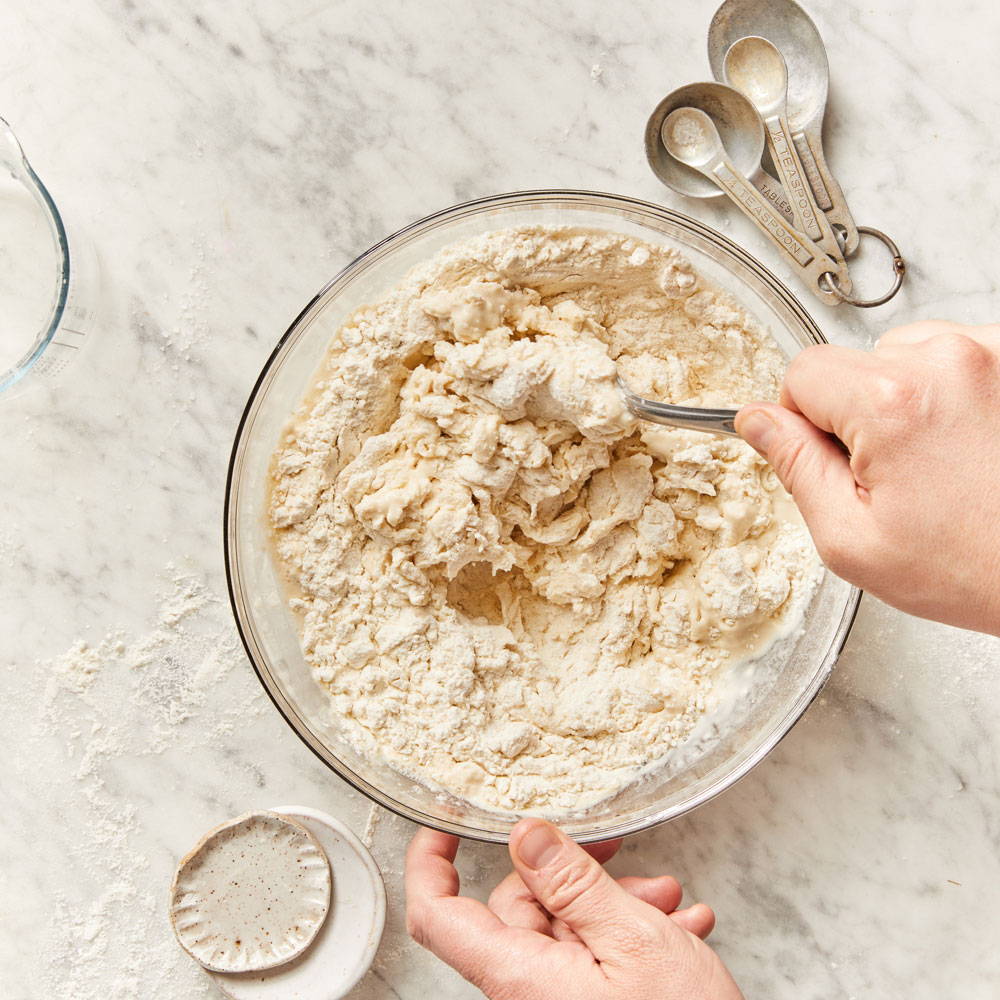 4) Dough beginnings: The resulting dough will be ragged in appearance, but resist adding more water or flour unless necessary. It should look loose, a little dry and not well formed at this point. Just be patient.
5) Begin to knead: In the bowl, begin to knead the dough with your hands. This process shouldn't take too long, a few minutes at most, until is comes together into a soft, smooth ball.
6) Transfer to a clean bowl: Place dough in a clean, lightly oiled bowl.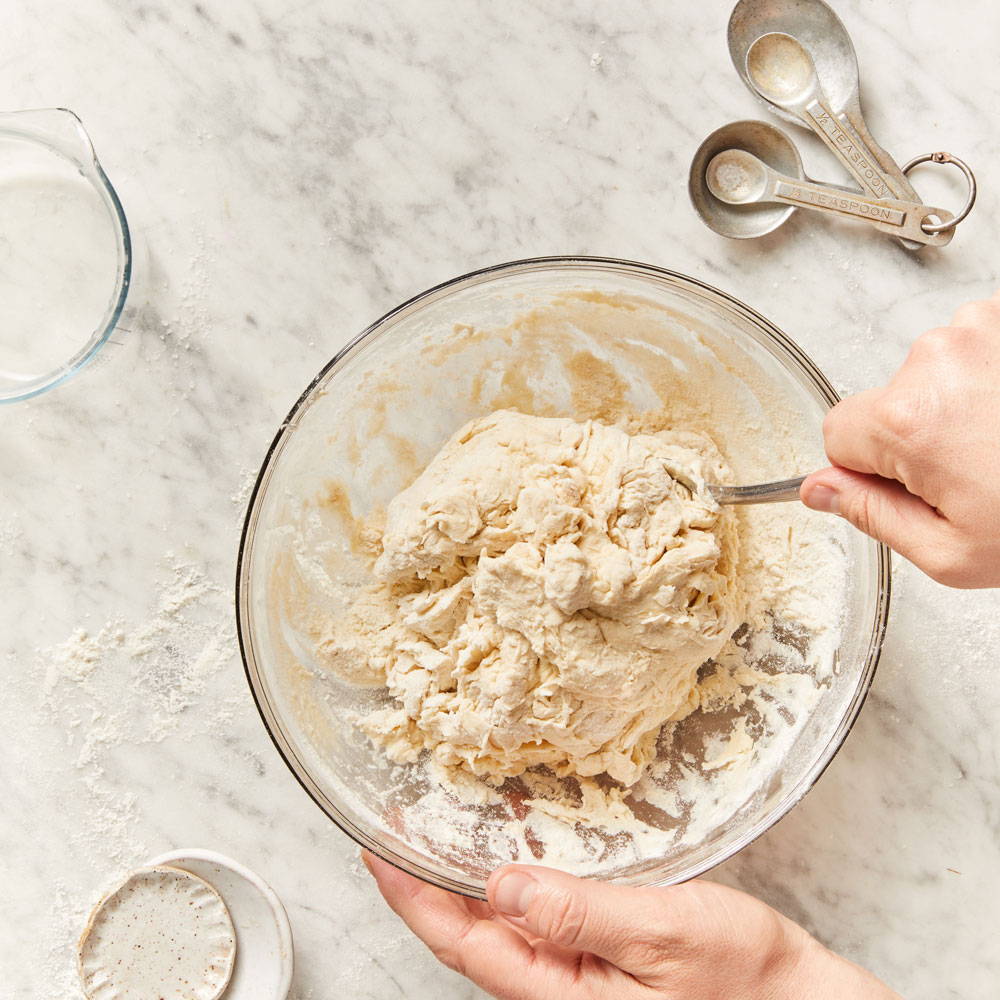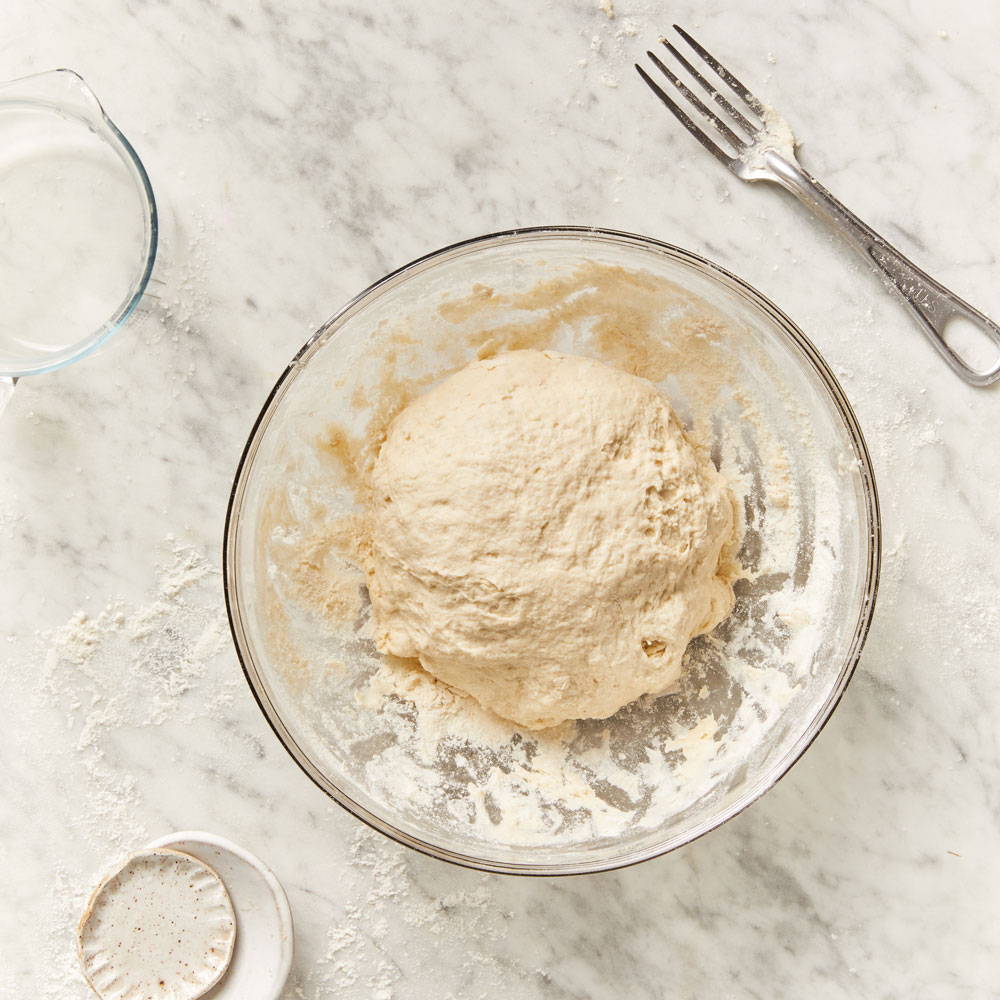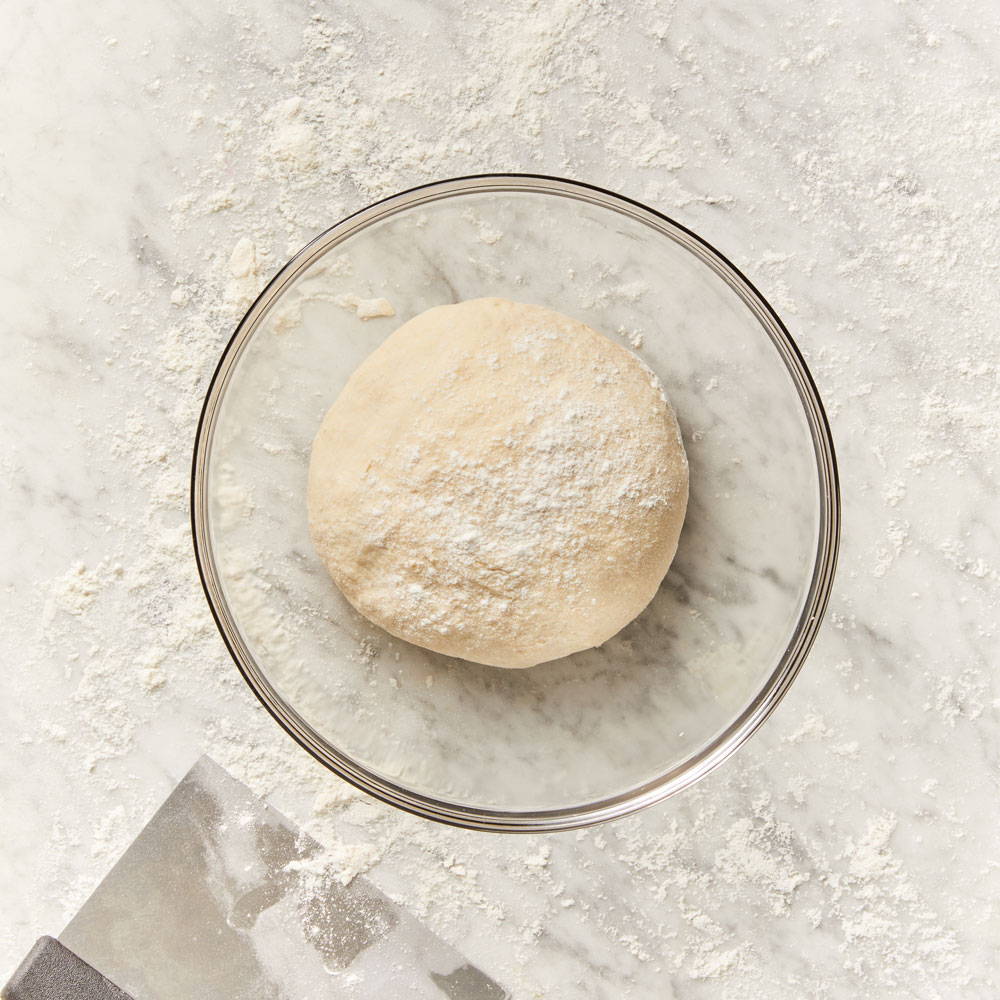 7) Ready to rise: Cover the bowl with plastic wrap, and then a dish towel. Allow dough to rise in a warm place (room temperature is fine) for 45 minutes. By this point, your dough should be doubled in size.
8) Ready to use: Your dough has now risen, full of nice air pockets… you're ready to make an amazing homemade pizza crust!
If dough hasn't doubled in 45 minutes, give it another 10. By this point, if your dough hasn't risen at all, something is wrong. Do not make the pizza.
9) Cut dough: Take dough out of the bowl and transfer to a lightly floured surface. Now you must decide how thin or thick and how large you'd like your pizzas to be. The DeLallo Pizza Dough Kit is perfect for 4 thin 10-inch pizza crusts or 2 thicker 10-inch pizza crusts.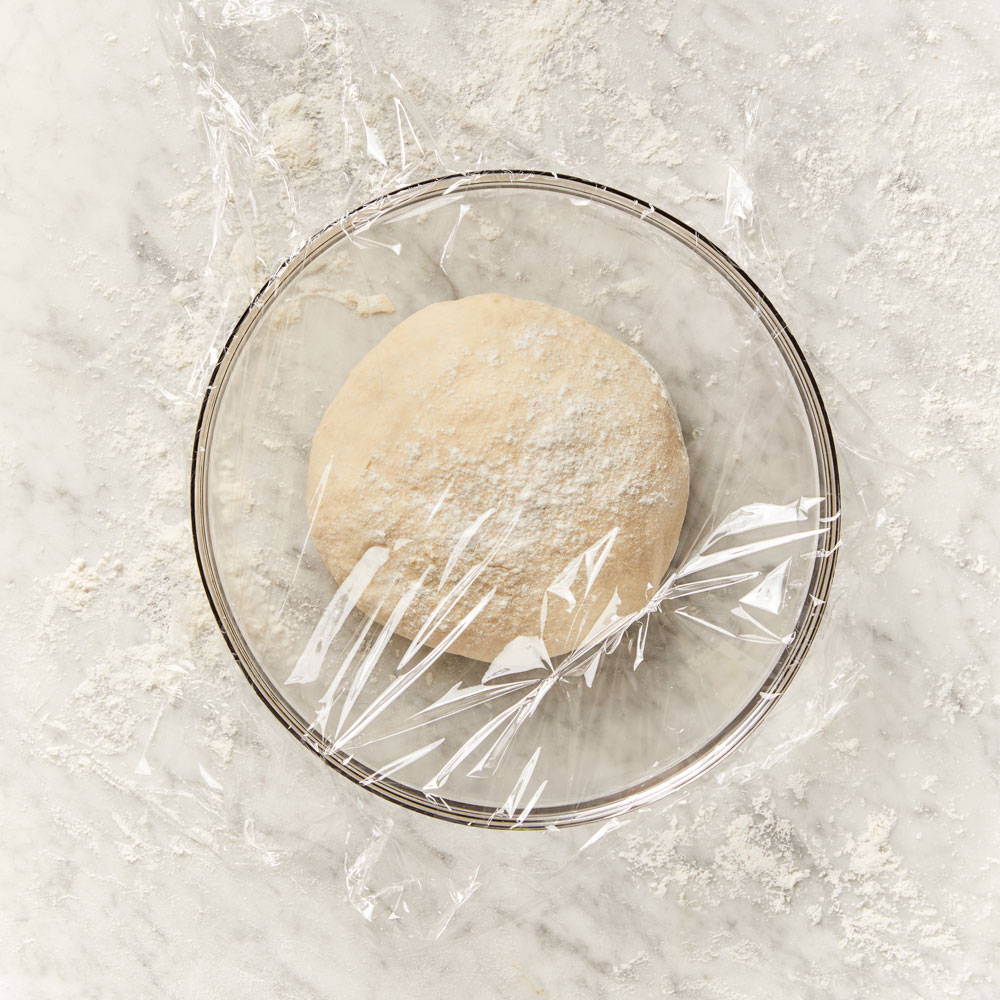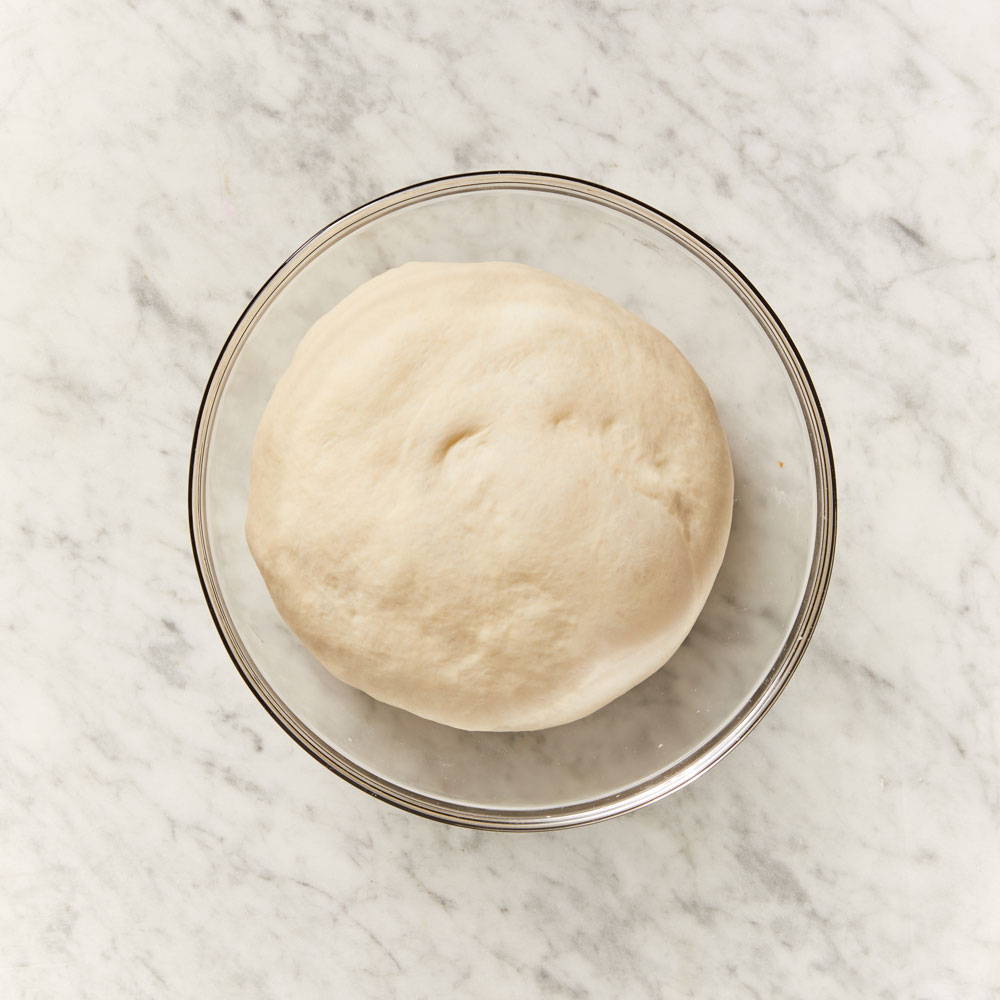 Saving Your Homemade Pizza Crust For Later
Note on refrigeration: What if you don't want to make all the pizza at once? Simply wrap up your individual dough balls in plastic wrap (tightly!), then into a plastic bag and refrigerate. Dough can be kept for up to 3 days in the refrigerator. In fact, it's preferred to allow dough to proof 24 hours to develop its flavor and texture.
Can I freeze my homemade pizza crust?
To use the refrigerated dough: Allow it to sit out for about 15-20 minutes at room temperature. This softens it enough to stretch.
Tips for Making Your Pizza
Form your pizza crust: Dust the dough ball with a little flour. Begin to shape the dough on the countertop by gently pushing down while stretching.
If the dough resists to stretching, let it rest for another 5-10 minutes to allow the gluten to relax, and then try again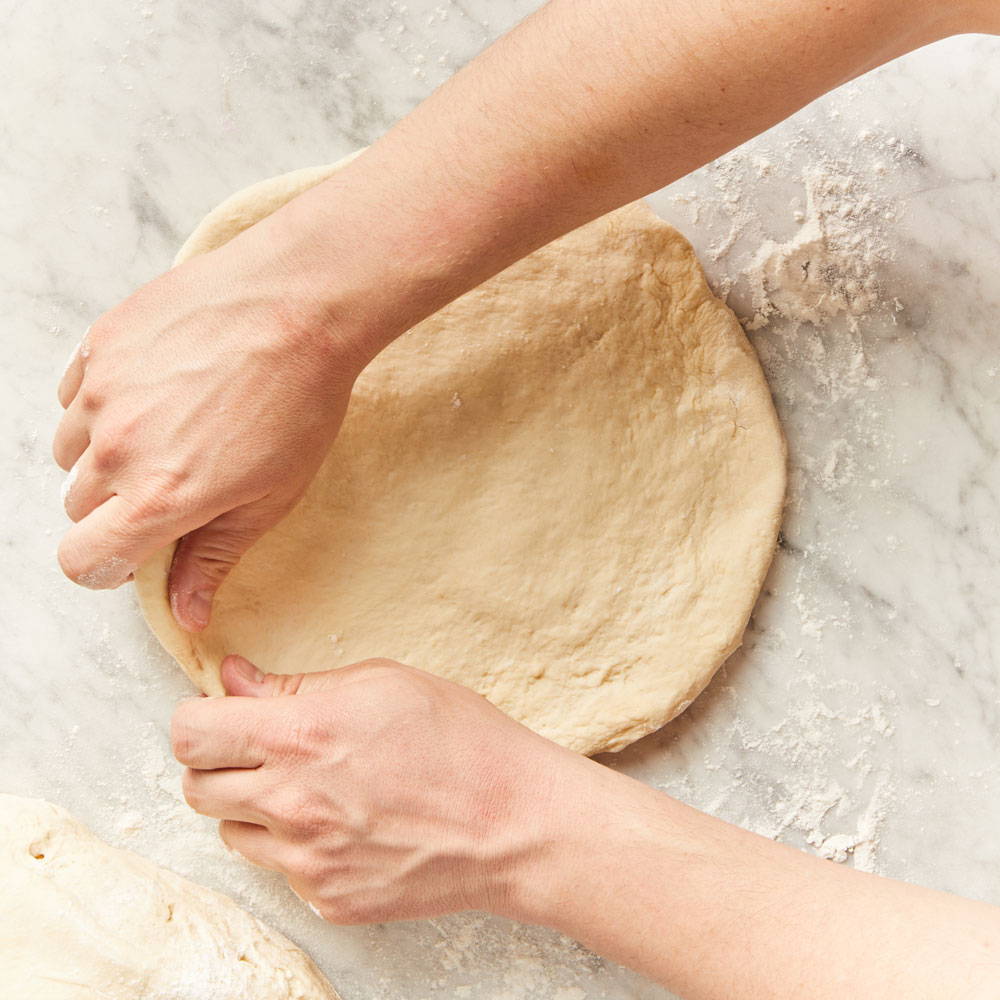 Stretch the dough: Once the shape starts to take form, pick up the dough and turn it in your hands, letting it fall and stretch gently. Continue to turn the dough.
Relying on gravity: Pick up the dough, allowing it to drop around your hands. Let gravity do some of the work. If you are really brave and you don't mind flour all over your kitchen, this is the moment to toss your dough!
With a rolling pin: We don't advise using a rolling pin, but we understand if shaping the dough by hand is not your strong point. It certainly gets you a nice thin crust quickly. Stretching dough by hand keeps the integrity of those desirable air pockets. Rolling pins knock the air out of your dough, resulting in an often thinner, flatter crust.
Create your shape: Choose a shape for your pizza—round, square, oblong—and stretch your dough to create a thicker outer crust, thinner in the middle. We love all shapes and sizes of pizza! The less perfect ones always are the best, they have a real homestyle rustic look.
Oblong and square pizzas tend to do well at parties, smaller less cumbersome pieces (both to cut and to eat). Traditional pizzas are great for a dinner night in with the family.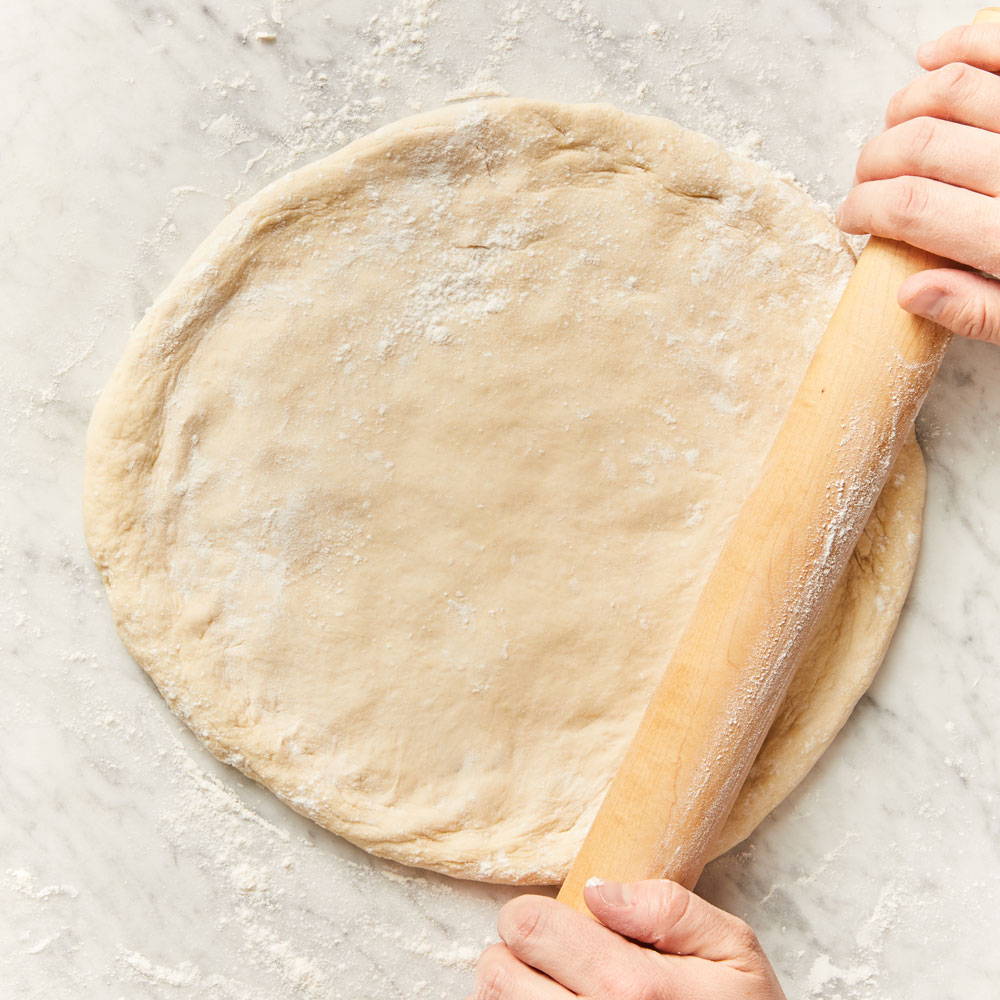 Top it off: Place your pizza pies on a pizza stone or a well-greased (or parchment lined) baking pan. Accent with your favorite toppings! Go crazy!
Baking: Bake in a preheated oven at 450˚F – 500˚F for 10 to 15 minutes or until crust is golden brown and toppings are cooked.
Recipe: Cacio e Pepe Pizza
Recipe: Pumpkin Pizza with Pancetta, Gruyère and Caramelized Onions
Recipe: Detroit-Style Pepperoni Pizza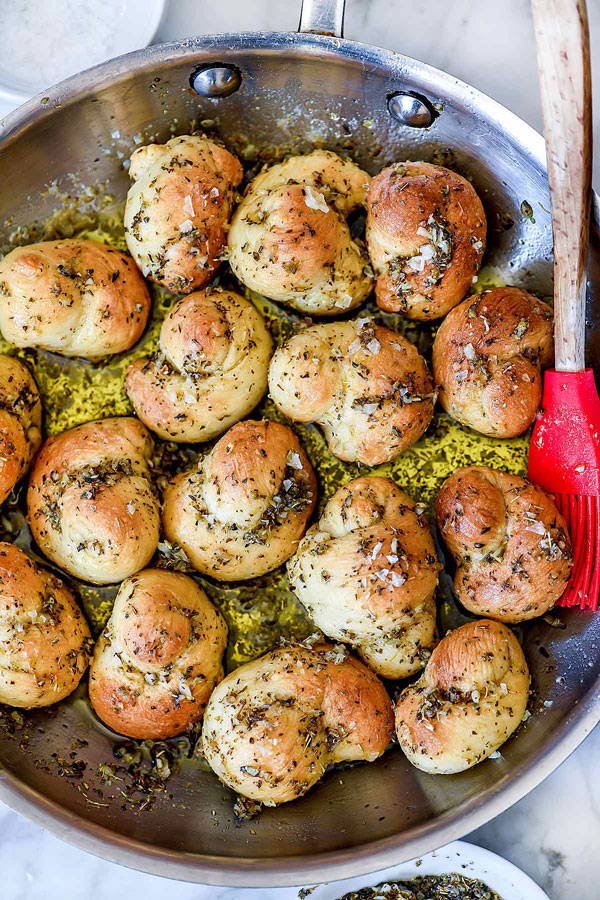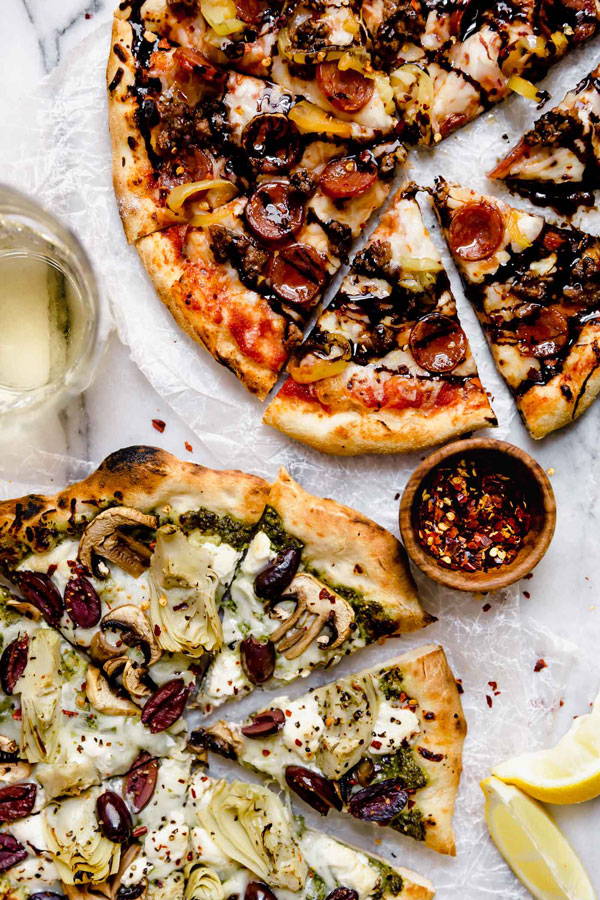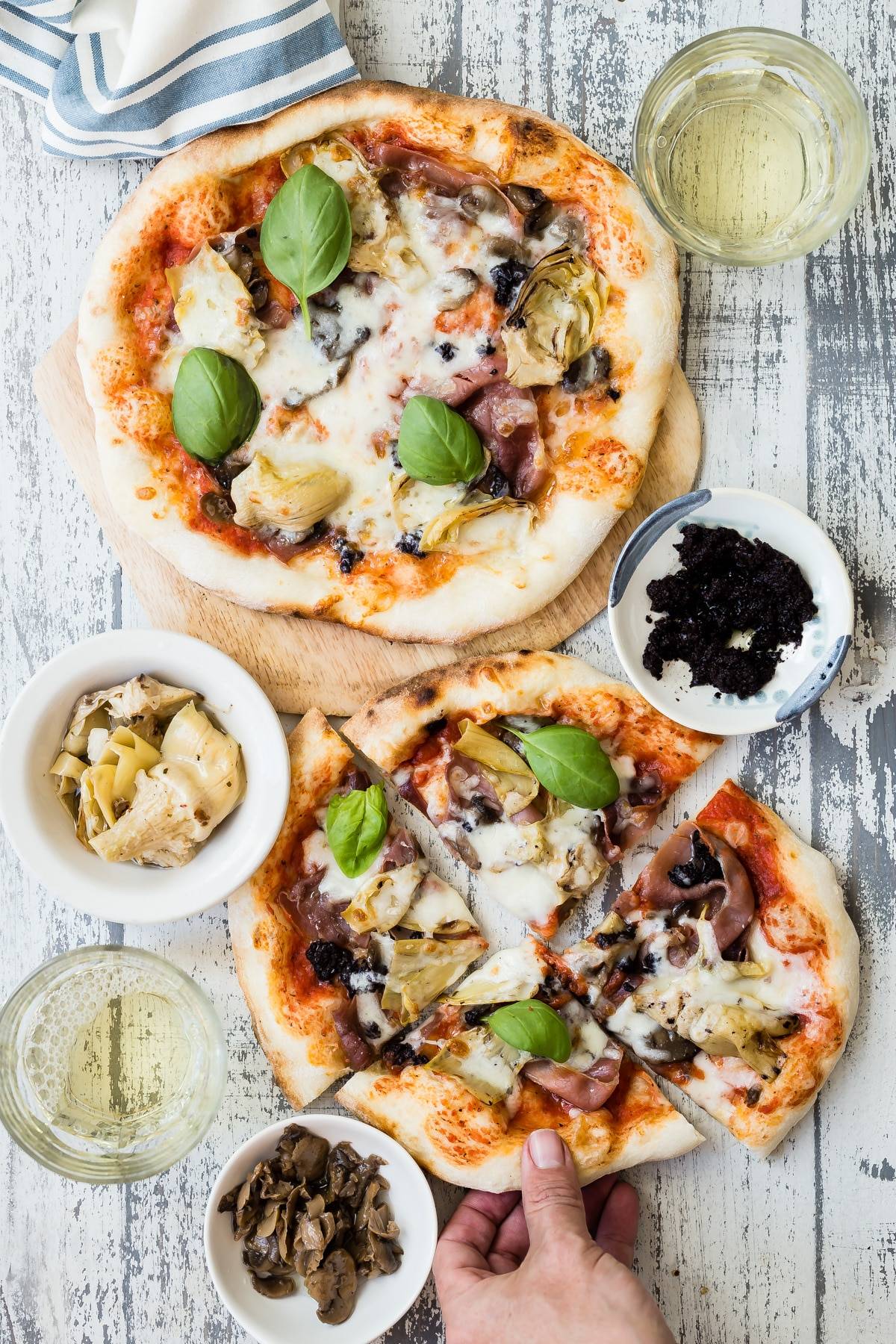 Recipe: His & Hers DIY Pizza Night
Recipe: Artichoke Prosciutto and Olive Pizza