How to Make Deviled Eggs
Whether you're headed to a picnic, dinner party, or brunch, deviled eggs are the perfect addition to any table. Not only does this bite-sized appetizer look beautiful on a plate, it's always a crowd-pleaser. Wondering how to make deviled eggs? We'll give you tips for making a classic recipe or a plate of hors d'oeuvres with Mediterranean flair.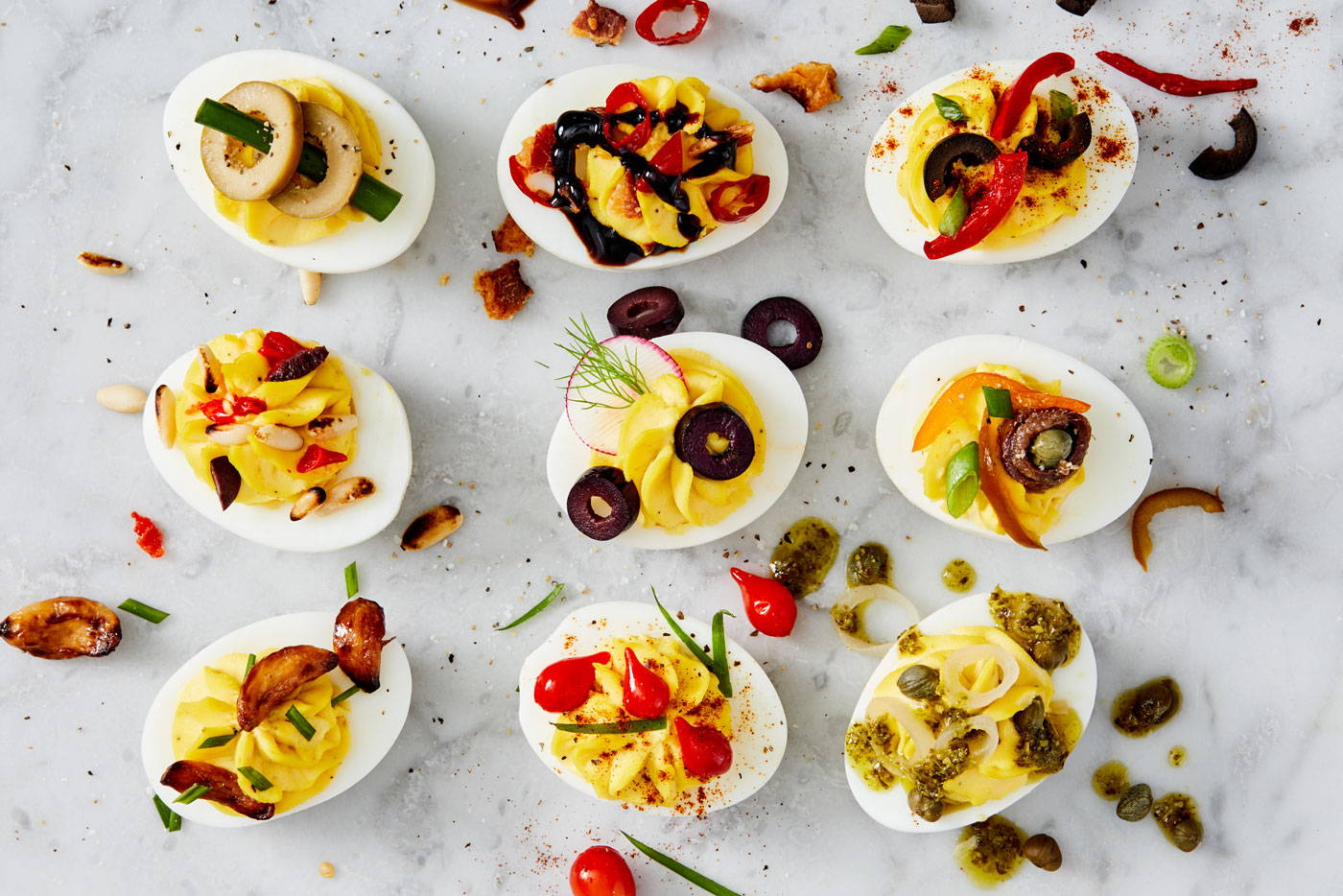 Recipe: Mediterranean Deviled Eggs
While treating your love to a delicious dinner at a restaurant is totally respectable, creating a delicious spread to be enjoyed in comfy sweats with a big bottle of your favorite wine is an equally lovely way to tell your partner how much you care (and might even win you some bonus points)!
To help inspire your date night in, we put together some of our most swoon-worthy recipes—from easy appetizers to impressive entrées.
How to Make Deviled Eggs From Scratch
Deviled eggs are actually a simple dish to make. So if you're intimidated, don't worry! These few tips and tricks will yield beautiful, delicious deviled eggs every time. Here are some tips for how to make deviled eggs:
---
Cook your hard boiled eggs to perfection. Boiling eggs seems like a no-brainer, but cooking properly them takes a little know-how. For starters, make sure you use a large enough pan. You want your eggs to sit in one layer so they cook evenly. Then cover them in cold water. Bring the water to a rolling boil and allow the eggs to cook for 30 seconds before removing them from heat. Cover the pan and allow the eggs to sit for 10 minutes.
Use a cold water bath.Carefully remove the eggs from the hot pan and place them in a cold water bath. This will stop the cooking and make it easier to remove the eggshells.
Make the filling. For classic deviled eggs, you want to keep it simple. Slice the eggs in half and carefully remove the egg yolks. Mash the yolks and then combine them with a dollop of mayonnaise (about ¼ cup), half a teaspoon of mustard, and a dash of vinegar.
It's all about presentation. Arrange the egg white halves on a platter. Then use a piping bag to neatly fill the egg white shells. Top each deviled egg with a dash of paprika and a sprinkle of sea salt.
How to Make Mediterranean Deviled Eggs
Once you master a classic deviled eggs recipe, it's fun to experiment with additional flavors. Our Mediterranean deviled eggs use a combination of savory and spicy ingredients to create a fun and unique appetizer that will impress your friends and family. Here's how to make them: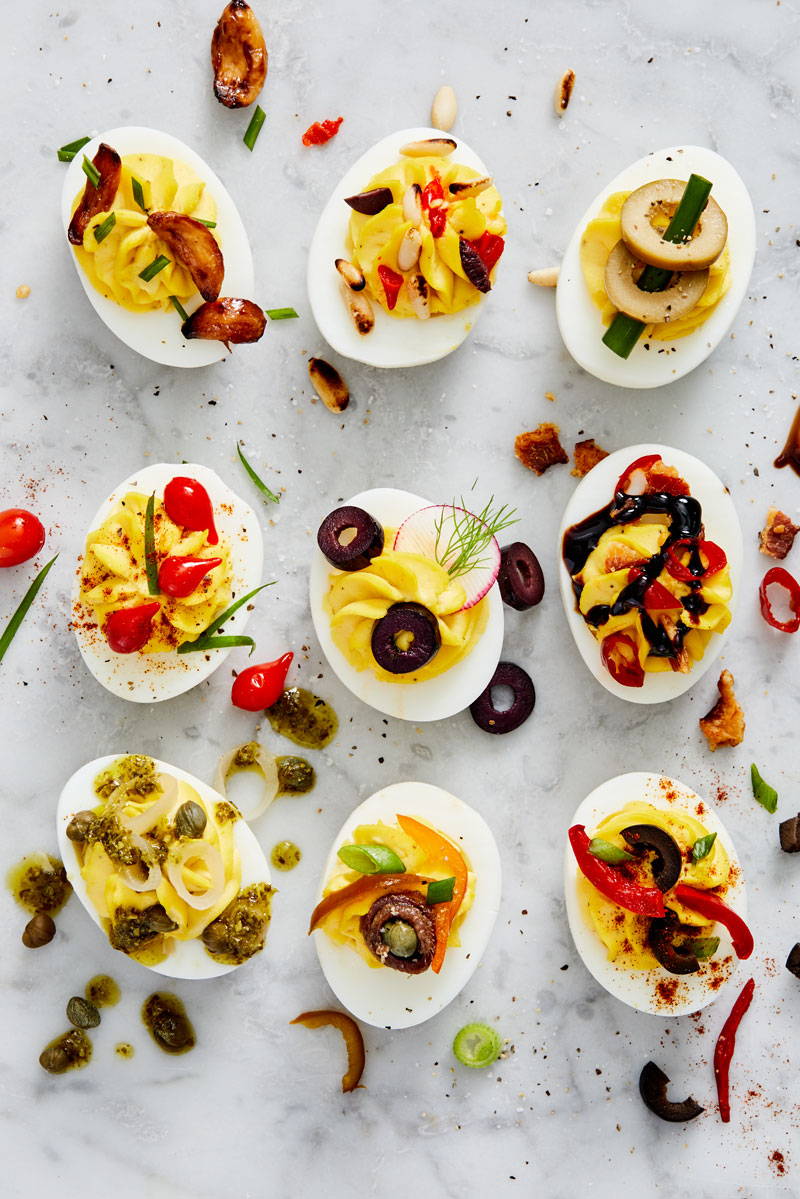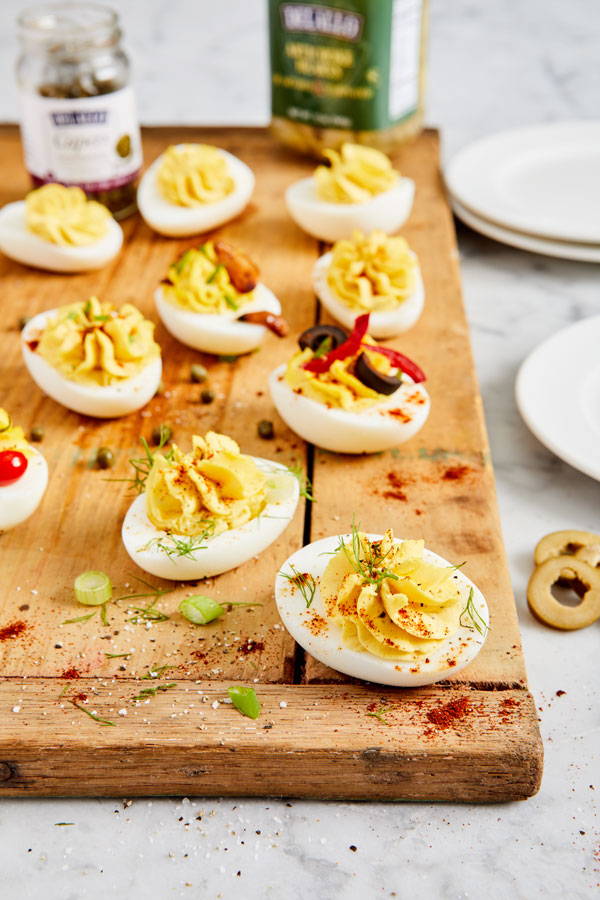 ---
Deviled Eggs:
6 large eggs, hard-boiled & peeled (see our tips above for help making hard boiled eggs!

1/4 cup mayonnaise

1 teaspoon DeLallo

White Wine Vinegar

1 teaspoon DeLallo Dijon mustard

Salt and pepper

Fresh minced parsley, for garnish
Tasty Mediterranean-inspired Toppings:
1. Start by gathering your ingredients.
2. Cut your hard boiled eggs in half and remove the yolks.
3. Add the yolks to a large bowl and mash them into a chalky paste.
4. Mix mayonnaise, mustard and vinegar with the mashed yolks to create a think filling.
5. Place the filling in a piping bag or use a plastic bag and snip off one corner.
6. Pipe the filling neatly into the hollow of each egg white half.
7. Sprinkle the filling with salt, pepper and fresh chopped parsley
8. Now for the fun part: Use the Mediterranean-inspired toppings to take your deviled eggs to the next level.