10 Delicious Linguine Recipes
Ready to add some linguine recipes to your pasta night lineup?
Not quite flat and not quite cylindrical, the shape of linguine noodles is more like an oval. If it helps to imagine: linguine is sort of like flattened spaghetti noodles. The word linguine translates as "little tongues," a name referring to it's not-quite-flat shape. And like most other long cuts of pasta, it shines in all sorts of dishes—from lighter oil-based pasta sauces to rich and creamy Alfredo-style sauces.
Linguine comes from the Northern Italian region of Liguria, an area famous for quite a few contributions to Italian cuisine. Along with linguine pasta, this coastal region is also known for its seafood dishes, fresh herbs, pine nuts, and of course, the beloved basil pesto. When these ingredients come together… that's when the magic happens! One of the most well-known, well-loved linguine recipes out there is Linguine with Clams (or Linguine with Clam Sauce)—a famous Ligurian pasta dish you've probably heard of. If clam sauce isn't your thing, you may like Linguine with Pesto, Linguine with Lemon Garlic Sauce or Shrimp Scampi with Linguine.
Check out some of our favorite linguine recipes and bookmark a few. There's no telling when you'll need a quick and easy pasta recipe to get you through the week.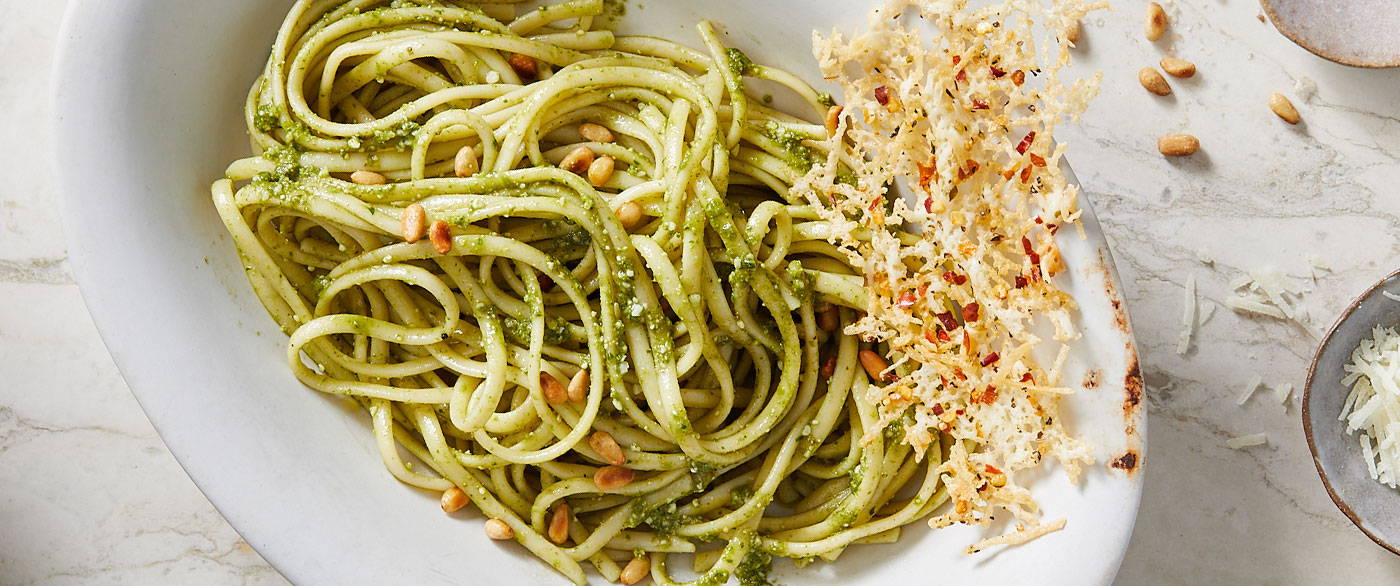 You don't need a lot of time in the kitchen or a mountain of ingredients to make a tasty Italian pasta dish. This linguine recipe calls is really just a simple sauce that calls for mostly pantry items, except for some fresh garlic and parsley. Canned clams are an excellent substitute when fresh clams aren't available.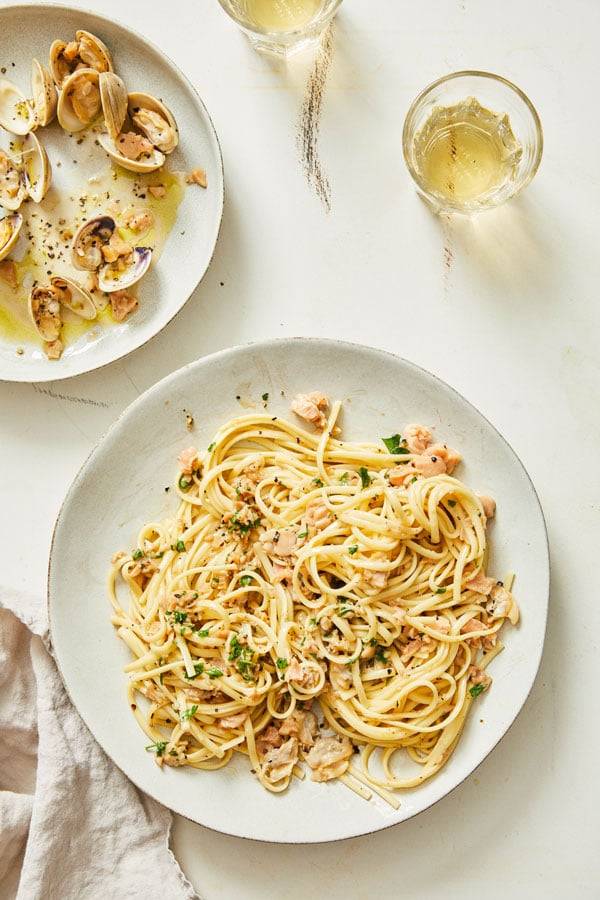 If you've never created an easy compound butter to have on hand, you're missing out! Just toss slices of this butter with hot pasta to create an instant herbaceous, buttery noodle dish. We love long linguine noodles paired up with simple sauces like this one.
Spice up your pasta night with a heart-healthy bowl of Organic Whole-Wheat Linguine. This linguine recipe tastes good and it's good for you—a win-win. Linguine gets tossed with crumbled zesty chicken sausage, extra virgin olive oil, crushed tomatoes, smoky roasted red peppers and garlic for a satisfying weeknight pasta recipe without the guilt.
We take this Northern Italian pasta dish of clams and linguine noodles and give it a Southern Italian twist with spicy sausage, garlic and crushed red pepper flakes. Whether you're searching for an impressive pasta dish to serve weekend guests, to make for a holiday get-together or to enjoy with your family on a weeknight, this linguine with a buttery white wine and caper sauce is one for the recipe box!
In this linguine recipe, two tomatoes are better than one. Fresh cherry tomatoes come together with our unbelievably sweet and vibrant Sun-Dried Tomato Simply Pesto™ Sauce and a complementary toss of briny capers, garlic, nutty Parmesan cheese and fresh basil. We love this one for the summer season—the perfect pasta recipe for our harvest of cherry tomatoes and basil leaves.
What's not to love about this shrimp-scampi-style linguine recipe? Super easy to prepare and full of flavor, this is one is sure to be a pasta night superstar. Serve it with a simple salad and a loaf of crusty Italian bread, and watch your family run to the table.