Organic Whole-Wheat Italian Pasta
At DeLallo, we take our passion for food seriously. It wasn't easy finding the perfect whole-wheat pasta for our brand, but we did it without blends or additives. With a semolina-like texture and a true toasty, nutty whole-wheat flavor, we've accomplished the impossible: a pasta that is just as healthy as it is delicious!
We're answering some of the most common questions we get about our DeLallo Whole-Wheat Pasta collection so that you can feel confident in your pursuit of whole-grain goodness.
Is eating whole-wheat pasta good for you?
One of the biggest differences between whole-wheat pasta and regular pasta that whole-wheat pasta is made with 100% whole wheat. This means that whole-wheat pasta contains all three parts of the wheat grain: the bran, the germ and the endosperm. Traditional "white" semolina pasta, on the other hand, is made with only the endosperm after a refining process.
Our Organic Whole-Wheat Pasta is born in the birthplace of pasta, Campagnia, Italy—just 50km south of Naples, at the beginning of the Amalfi Coast. We start with only the best hard durum wheat that Italy has to offer. From there, we expertly mill our whole grains for the ideal consistency—a texture similar to that of traditional pasta. This detailed milling process creates the perfect al dente bite, unlike many whole-wheat pastas that tend to overcook and become gritty.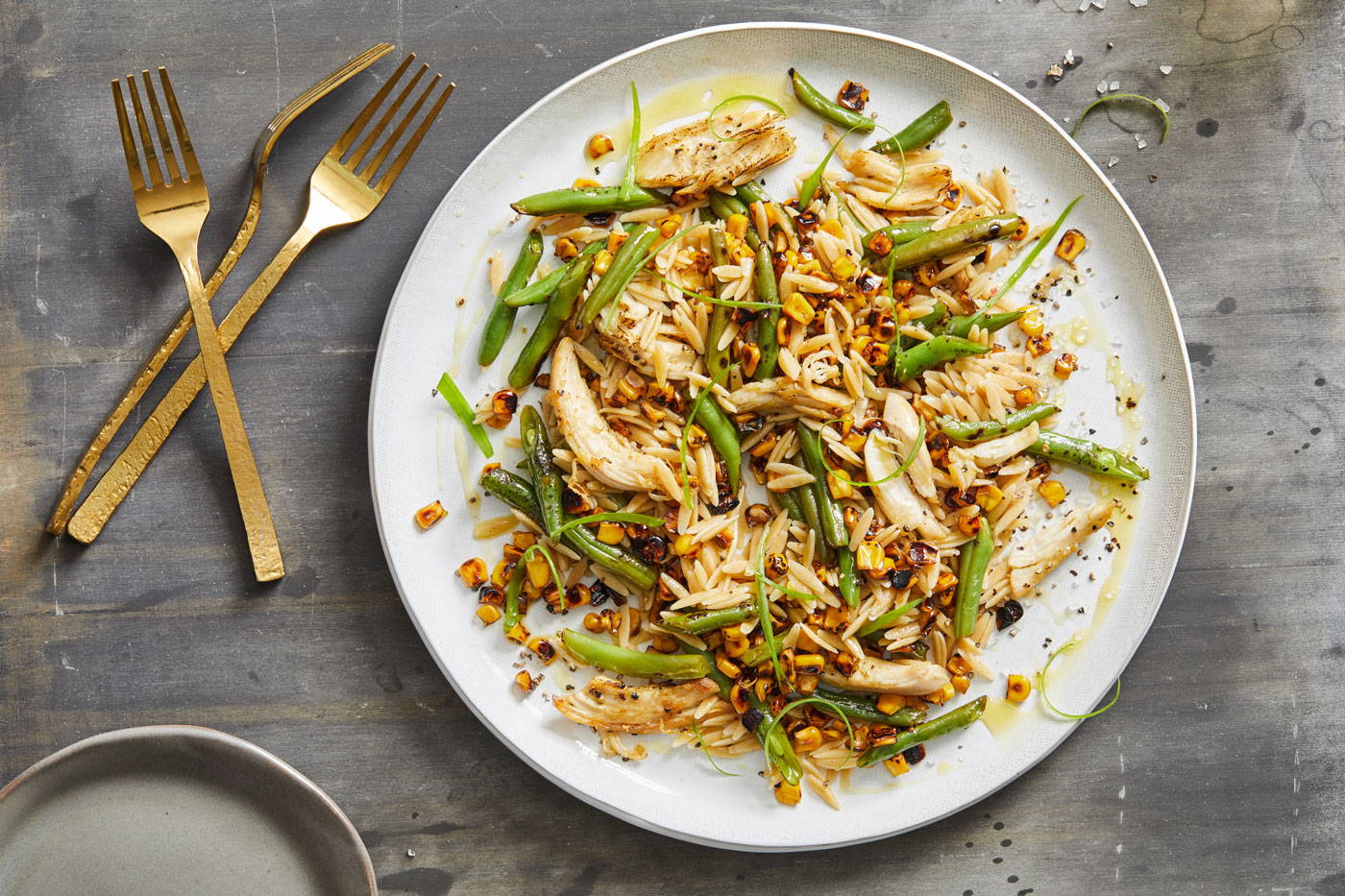 How do I know if I'm getting 100% whole wheat?
When trying to incorporate more whole-wheat products into your diet, make sure these products contain whole-wheat semolina and nothing else. Many pasta brands use other grains in addition to wheat, meaning the product isn't "100% whole-wheat" but a "whole-grain blend." Don't be fooled by brands that boast "whole-grain" status without checking out the ingredient list. If these products list other ingredients like additives, vitamins or minerals, or even other flours, without the words "whole-wheat" in front of them, then they are not 100% whole wheat.
At DeLallo, we believe in remaining true to our Italian food philosophy—just a few, simple, authentic ingredients make the best meals. That's why our Whole-Wheat Pasta is made with only one ingredient: whole-wheat semolina.
What are the benefits of eating whole wheat?
Whole grain foods like whole-wheat pasta have higher percentages of key nutrients like iron, dietary fiber, folate, magnesium, and vitamin A. They also reduce health risks like heart disease, type 2 diabetes, and strokes when regularly incorporated into one's diet.
Because DeLallo Whole-Wheat Pasta is 100% whole-wheat, you're getting the benefits of these whole grains in every bowl.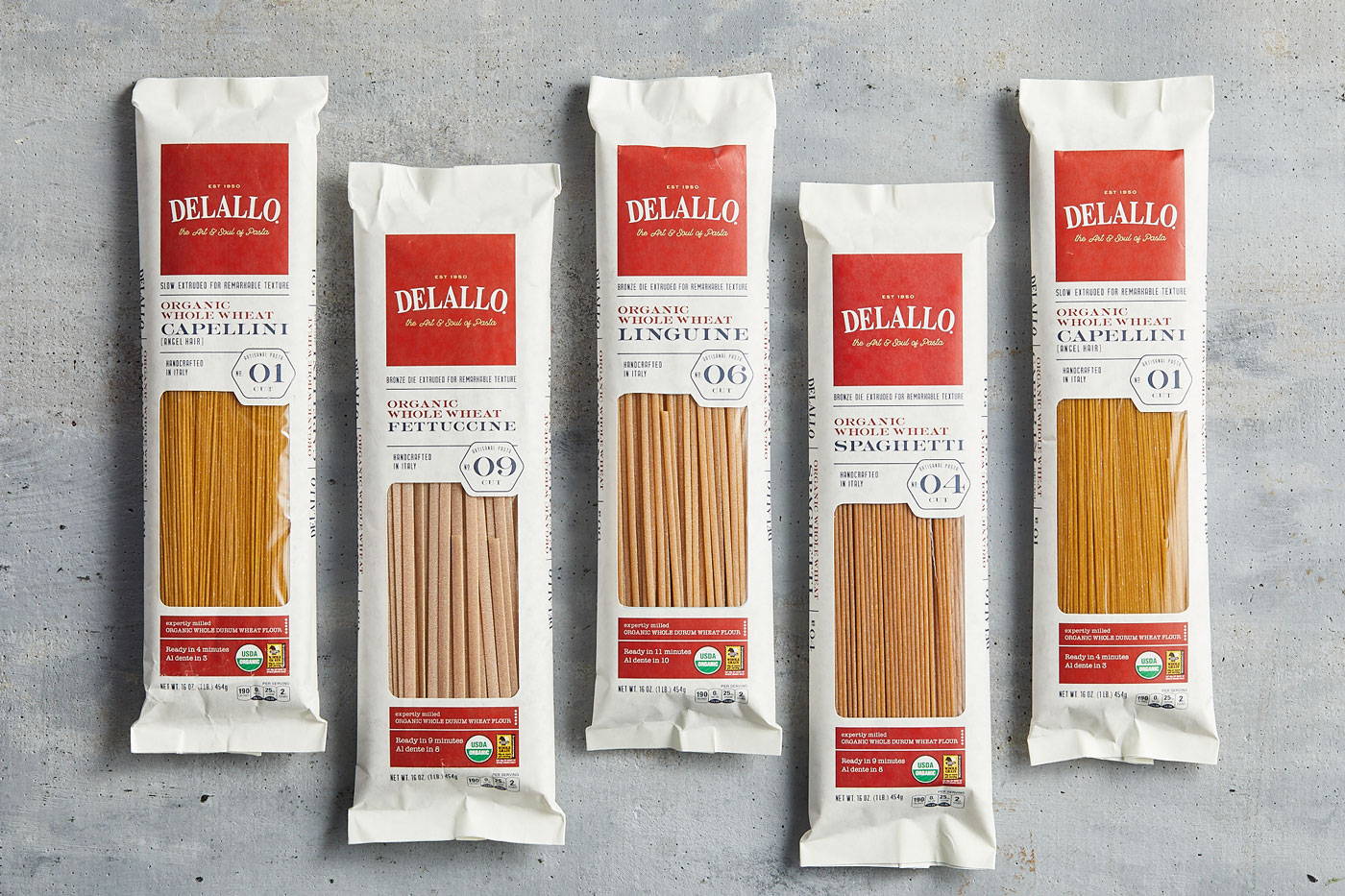 What makes DeLallo whole-wheat pasta different?
We know that choosing the perfect cut of pasta for your recipes is important. That's why we offer over 15 organic whole-wheat cuts for your dishes. From classic cuts like rigatoni and spaghetti to more unique and recipe-driven pasta shapes like orzo and radiatorre, we've got you covered. Your pursuit for whole-wheat pasta shouldn't be boring.
In addition, we use bronze plates to extrude our whole-wheat pasta. This traditional method of pasta-making gives each noodle a rougher surface to hug your sauces. The more popular method of pasta extrusion uses Teflon, or plastic, because it means a higher volume of production. This money-saving method results in a smooth, slick pasta that won't capture sauces. You'll taste and feel the difference in our whole-wheat pasta cuts.
How can I use whole-wheat Italian pasta from Italy?
Ah, the delicious million dollar question! If you're looking for recipes that use whole-wheat pasta, here are some options:
Recipe: Vegan Italian Pasta Salad
Recipe: Crunchy Vegetable Whole Wheat Pasta Salad with Spicy Ricotta Vinaigrette
Recipe: Skinny Creamy San Marzano Tomato Sauce
Recipe: Zucchini Parmesan Pasta
Recipe: Greek Mac and Cheese
Recipe: Asparagus Cacio E Pepe