Easy Italian Sardine Pasta (Pasta Con Le Sarde)

Sardine Pasta just may be the midweek supper meal you've been dreaming of. This pasta recipe captures Southern Italian cuisine with big bold flavors like garlic and fennel along with a seafood-lovin' flair. If you're looking for a classic Italian pasta dish to take pasta night to the next level, Sardine Pasta is it.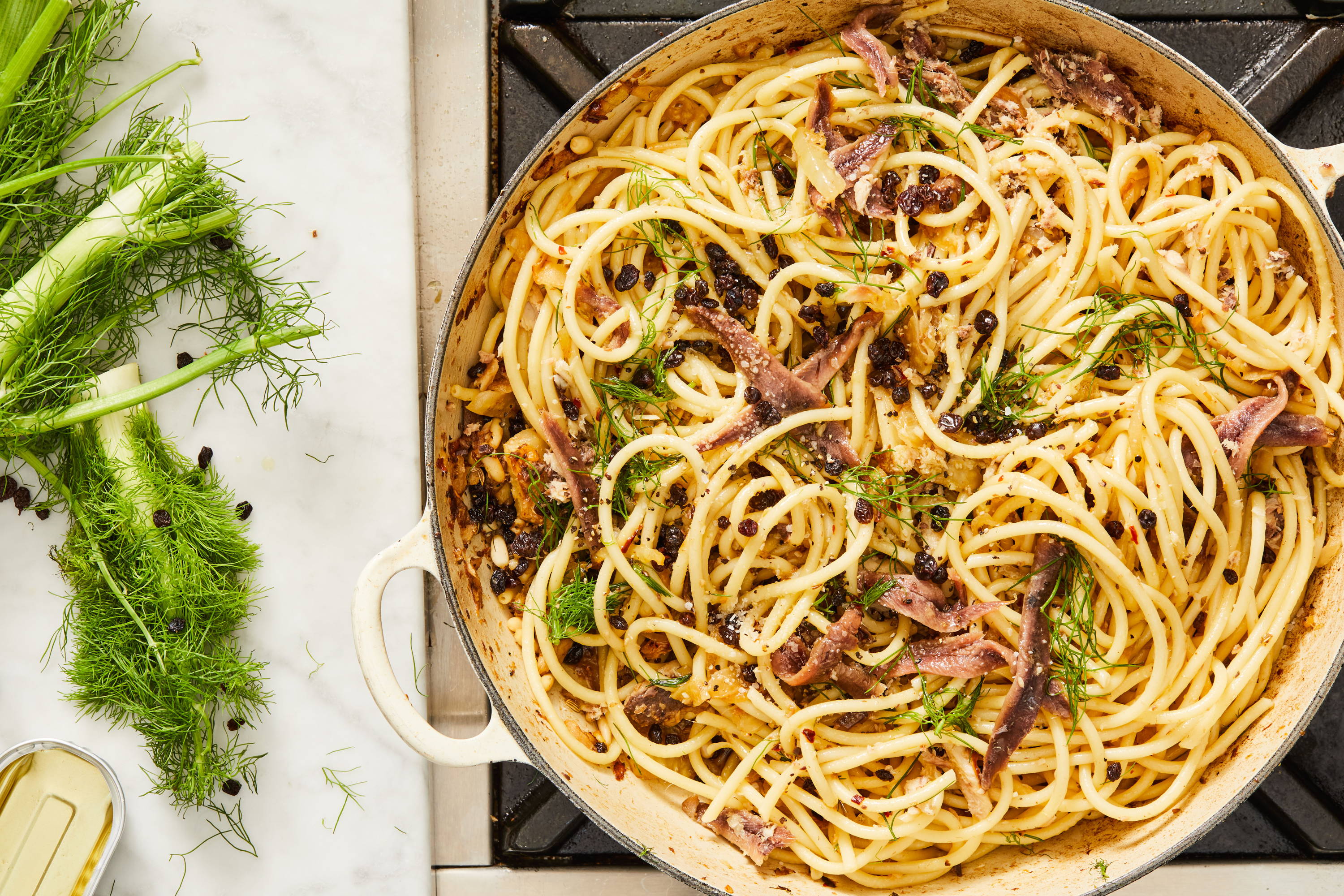 Sardines are small oily fish belonging to the same fish family as anchovies and herring. They are meaty and dense in texture with a pleasantly fishy flavor. Nutrient-rich and packed with flavor, these briny gems can be grilled, smoked or pickled when caught fresh. They are often sold cooked and packed in tins of olive oil to be eaten alone as a snack, or more likely as a flavorful ingredient that can be stored in your pantry until ready to use.
Why You'll Love Sardine Pasta (Pasta Con Le Sarde)

First, Sardine Pasta, or Pasta con le Sarde, is a classic Italian pasta dish that can be made from pantry ingredients that you probably already have on-hand. It is also a lighter, healthier dish—a true representation of the iconic Mediterranean Diet. Who doesn't love a good-tasting healthy pasta recipe? Sardine Pasta is a brilliant combination of not just flavors but textures, from crunchy pine nuts to chewy currants. Bucatini is the perfect pasta to capture the magic that is Sardine Pasta.
The Key Ingredients You Will Need To Make Sardine Pasta

Onion: Sautéed alongside the fennel, onions give the dish a smoky sweetness that only sautéed onions can.
Extra Virgin Olive Oil: We recommend using a high-quality olive oil, like our DeLallo Private Reserve Extra Virgin Olive Oil. For olive-oil-based sauces, this is especially crucial. A quality oil will complement your ingredients and strike a good balance. The olive oil should not stand out or overpower even the most delicate flavors.
Fennel Bulb: While wild fennel may be ideal, the cultivated fennel that you find in your local produce department will work well too. Wild fennel can be intense in its aroma and take a long time to cook down, but cultivated fennel boasts a bigger bulb with a more delicate flavor.
Garlic: As with all SIcilian and Southern Italian dishes, fresh garlic is a must. The robust kick of this fresh herb is the perfect match for the briny pungent fish starring in this iconic pasta dish.
Dry White Wine: There is a true science to using wine in sauces such as these. The alcohol in wine triggers the release of certain flavor molecules. Like magic, wine makes everything it touches taste better. Dry white wine is best with seafood, as it is crisp and clean and will not leave behind a flavor.
Flat-Fillet Anchovies: These briny fish are packed with flavor. And while the dish is called Sardine Pasta, there are often anchovies included in the authentic recipe. Adding anchovies definitely adds to the overall savory fish flavor of this pasta recipe.
Sardines: If possible, choose boneless, skinless sardines packed in olive oil. The better the quality of sardines, the better the flavor of your final dish. They should not be overly fishy, but have a clean flavor.
Dried Currants or Raisins: These bits of dried fruit are reconstituted with the flavors of their neighboring ingredients. They add a subtle burst of sweet fruity flavor and some desirable contrast in texture and flavor.
DeLallo Pignoli Pine Nuts: Like the currants, pine nuts add to the contrasting textures of the dish. An ingredient as simple as pine nuts can take your recipes to the next level. Pine nuts are irresistibly snappy with a slightly nutty flavor.
Fennel Seeds: Fennel seeds are super aromatic and add that sweet beloved flavor to the final dish.
Red Pepper Flakes: Red Pepper Flakes makes it easy to add the perfect amount of heat to your pasta. Some like a spicier pasta dish, others prefer just enough heat to add to the flavor complexity. It's up to you!
Bucatini Pasta: This thick, hollow spaghetti noodle is a great pasta shape for slick, oil-based sauces like Sardine Pasta. It is sturdy and ready to suck up the sauce like a straw.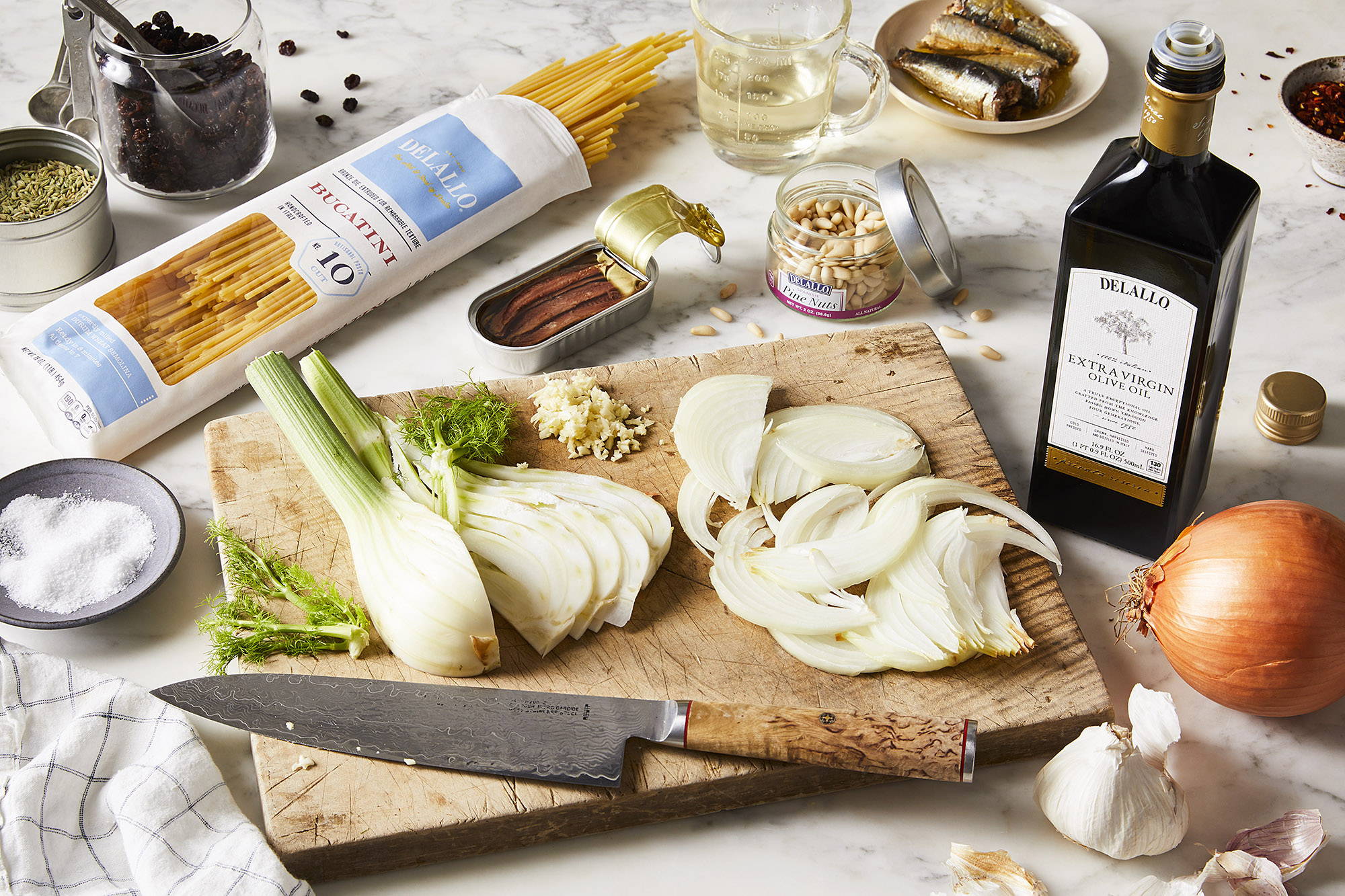 ---
How to Make Sardine Pasta

1. Cook the pasta.

Cook the pasta in a large pot of salty water, using the package instructions as a guide.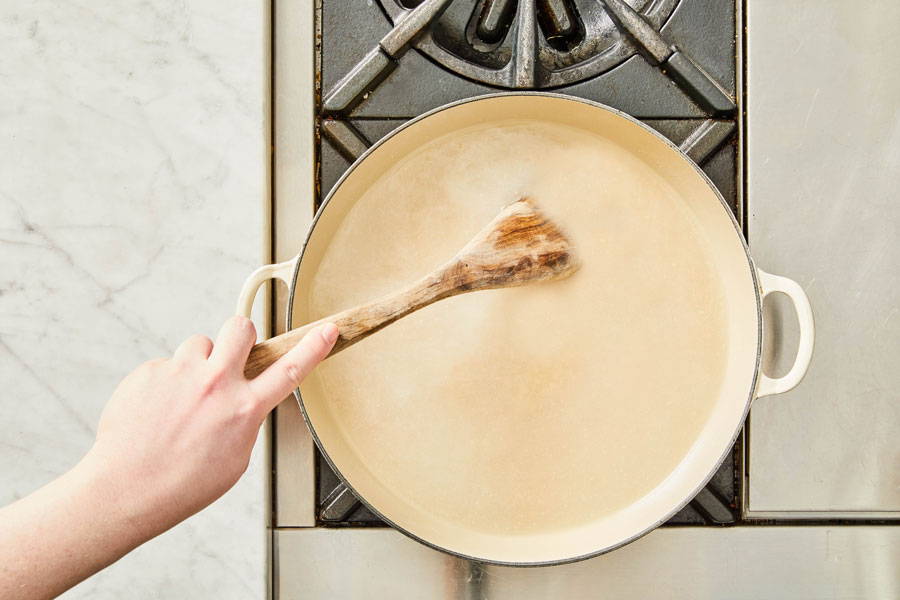 2. Create the sauce base.

Start with olive oil in a large saucepan. Introduce the onion and fennel first. Once softened, add the garlic, salt and pepper. Once cooked, add the wine and let the liquid reduce for 1 minute.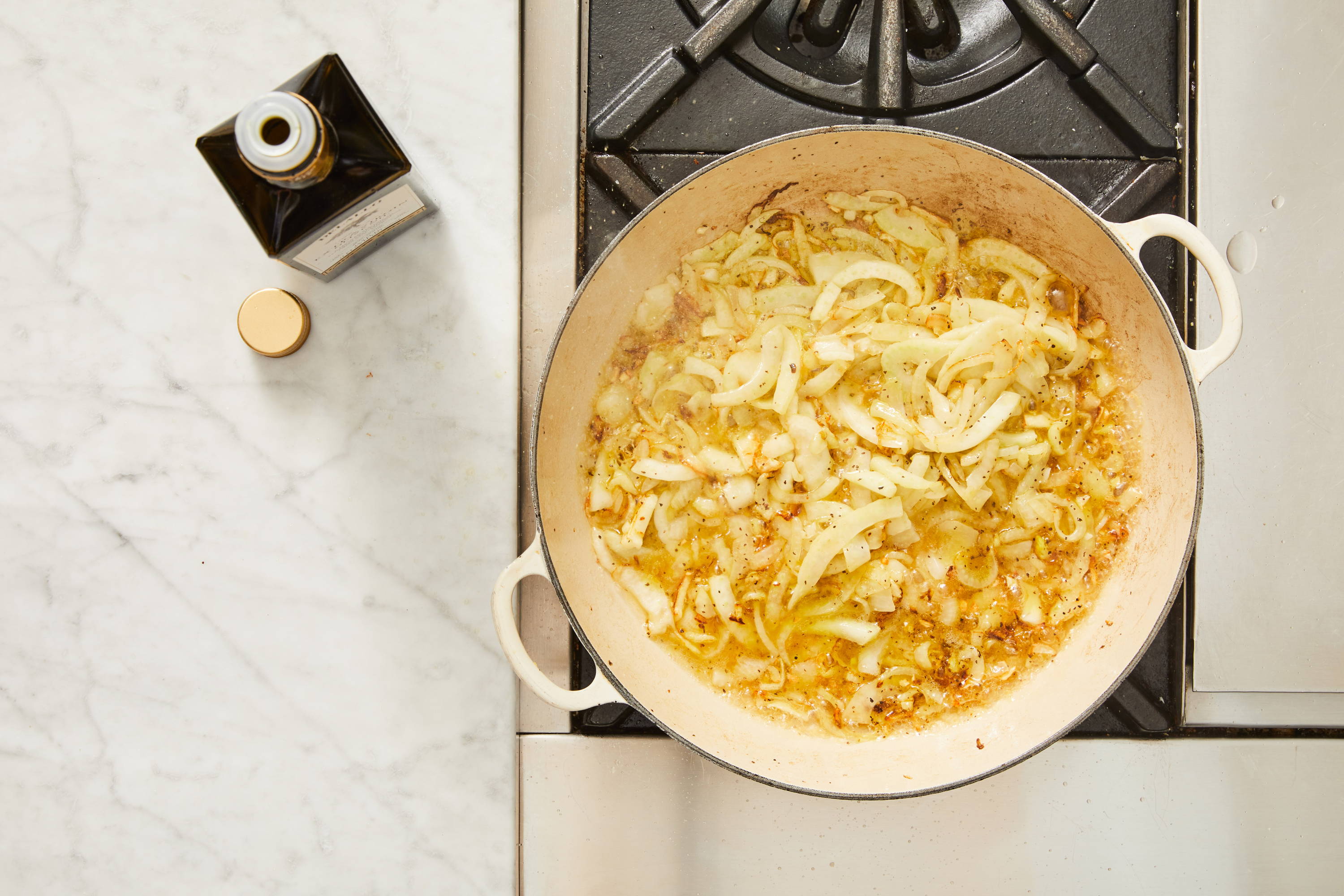 3. Add the sardines and anchovies.

Add the fish to the pan, breaking them apart with a wooden spoon. Cook until heated through.
4. Finish the sauce.

Add the rest of the ingredients and cook together. Stir often to prevent burning or sticking.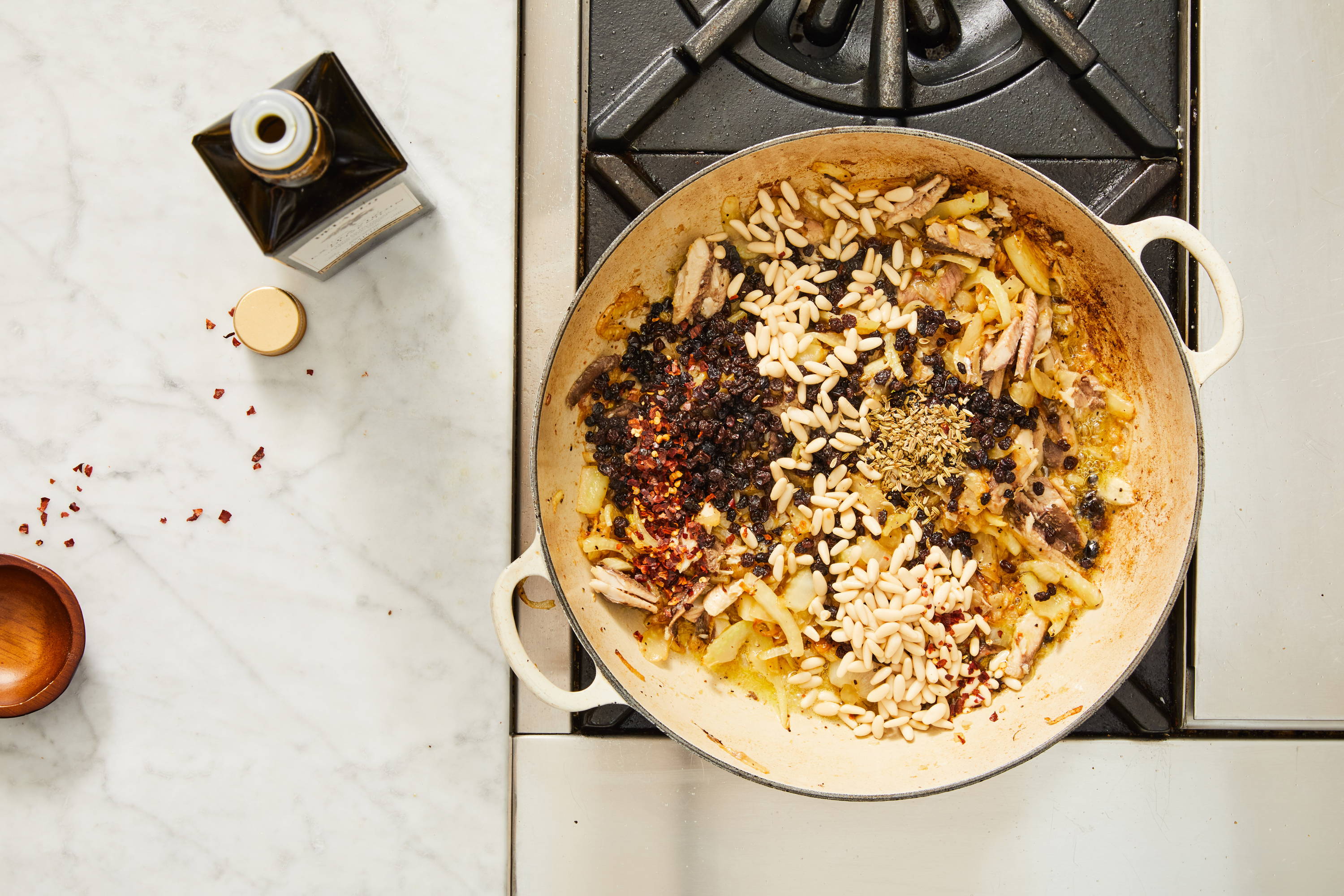 5. Add the cooked pasta.

Once the pasta is cooked through and hot, immediately add to the pan. Add the hot pasta water to help the sauce to come together. Cook for another 2 minutes to marry the flavors with the pasta.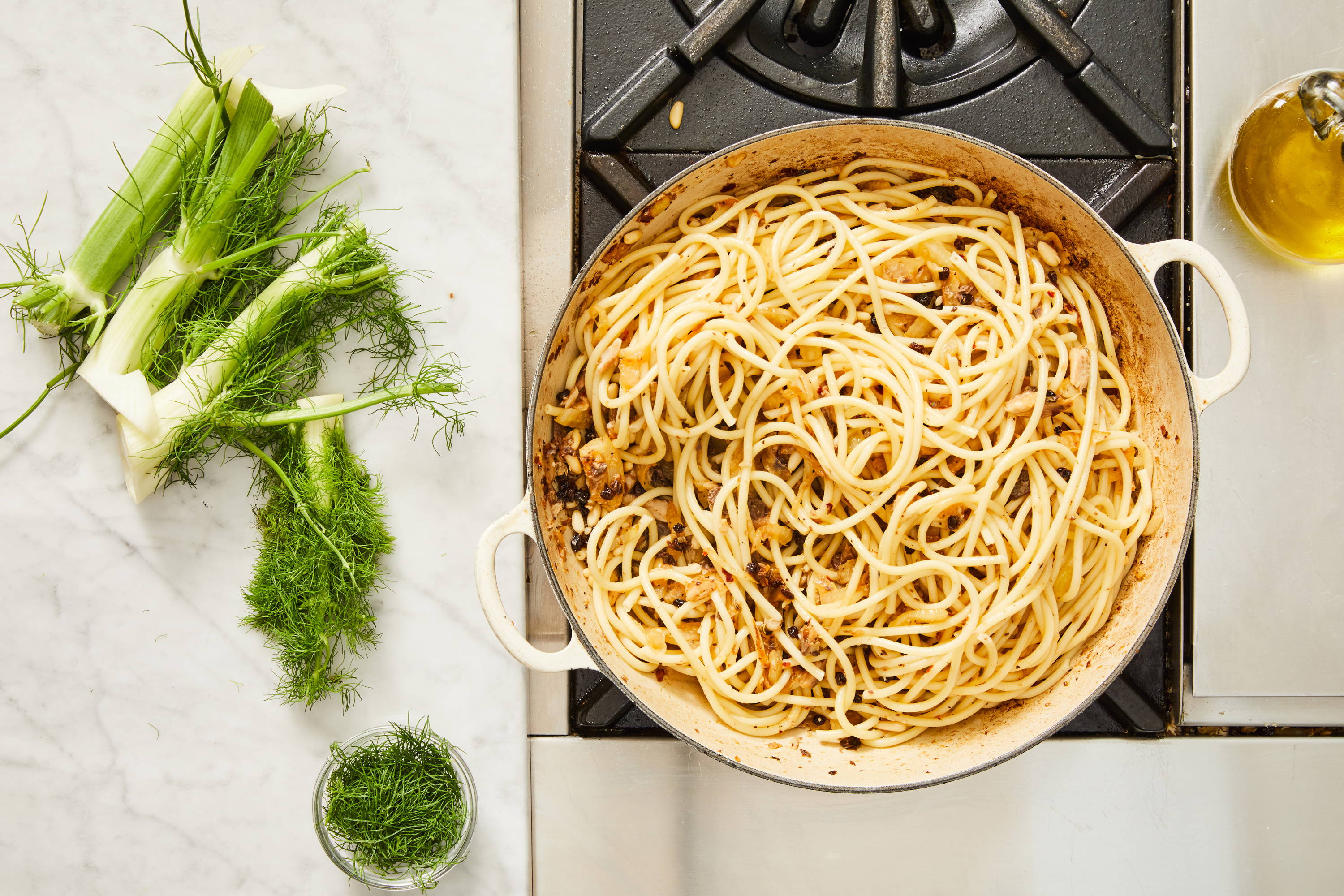 5. Serve.

Serve with a drizzle of olive oil and fresh chopped fennel fronds.
---
The Best Pasta Shapes For Sardine Pasta

Sardine Pasta is best with long cuts of pasta like Bucatini, Spaghetti, Capellini and even Fettuccine. Long cuts are best for oil-based pasta sauces as they have a lot of surface area for soaking up the sauce. The oil keeps the long noodles from sticking. You can use spaghetti or another long cut in your Sardine Pasta recipe, but we love the sturdy thick Bucatini for this one.
Top Sardine Pasta Serving And Storage Tips

Serve Sardine Pasta as an easy weekend lunch recipe or a lighter dinner. You can even serve it cold as a pasta salad.

For leftover pasta, be sure the pasta has cooled completely and then cover with plastic wrap or place in an airtight container. Store no longer than 24 hours in the refrigerator. Serve it cold as a pasta salad or warm it thoroughly before eating.
Should I use canned sardines in olive oil or canned sardines in water?

When shopping for canned sardines, choose the sardines packed in oil, not water. Water-packed sardines taste more diluted (water-logged) flavor and not the rich flavor of oil-packed sardines. Oil is best for preserving sardines and for locking in their fishy flavor. In addition to flavor benefits, oils are high in Omega-3s, which add to their overall health benefits.
Are canned sardines healthy for you?
Yes, canned sardines can be considered healthy. They are low in calories with zero carbohydrates, yet high in protein. They are loaded with omega-3s, B12 and selenium—along with other vitamins and minerals. These reasons make sardines good for inflammation, heart health and cognitive function. According to the FDA, sardines are low in mercury, making them safer for pregnant people and children.
Anchovies vs Sardines – What is the difference?
Both fish are herringlike and come from the same family of fish, but they have very different flavor profiles. Anchovies are more likely to be packed in salt, or salt cured, which gives them a rich umami flavor. Sardines are more fishy tasting, but a bit less pungent than anchovies. Both anchovies and sardines are loaded with nutrients.

Is sardine pasta (pasta con le sarde) Sicilian?
Yes, Sardine Pasta, also known as Pasta con le Sarde, is a traditional Sicilian dish. Sicilian and Southern Italian cuisine is best known for its seafood, bold and spicy flavors, as well as featuring many of the crops that grow here like hot peppers and fennel—to name a couple.
Can I add lemon to this recipe?
Yes, you can add lemon to this Sardine Pasta recipe. A final squeeze of fresh lemon is a great addition to this seafood pasta recipe.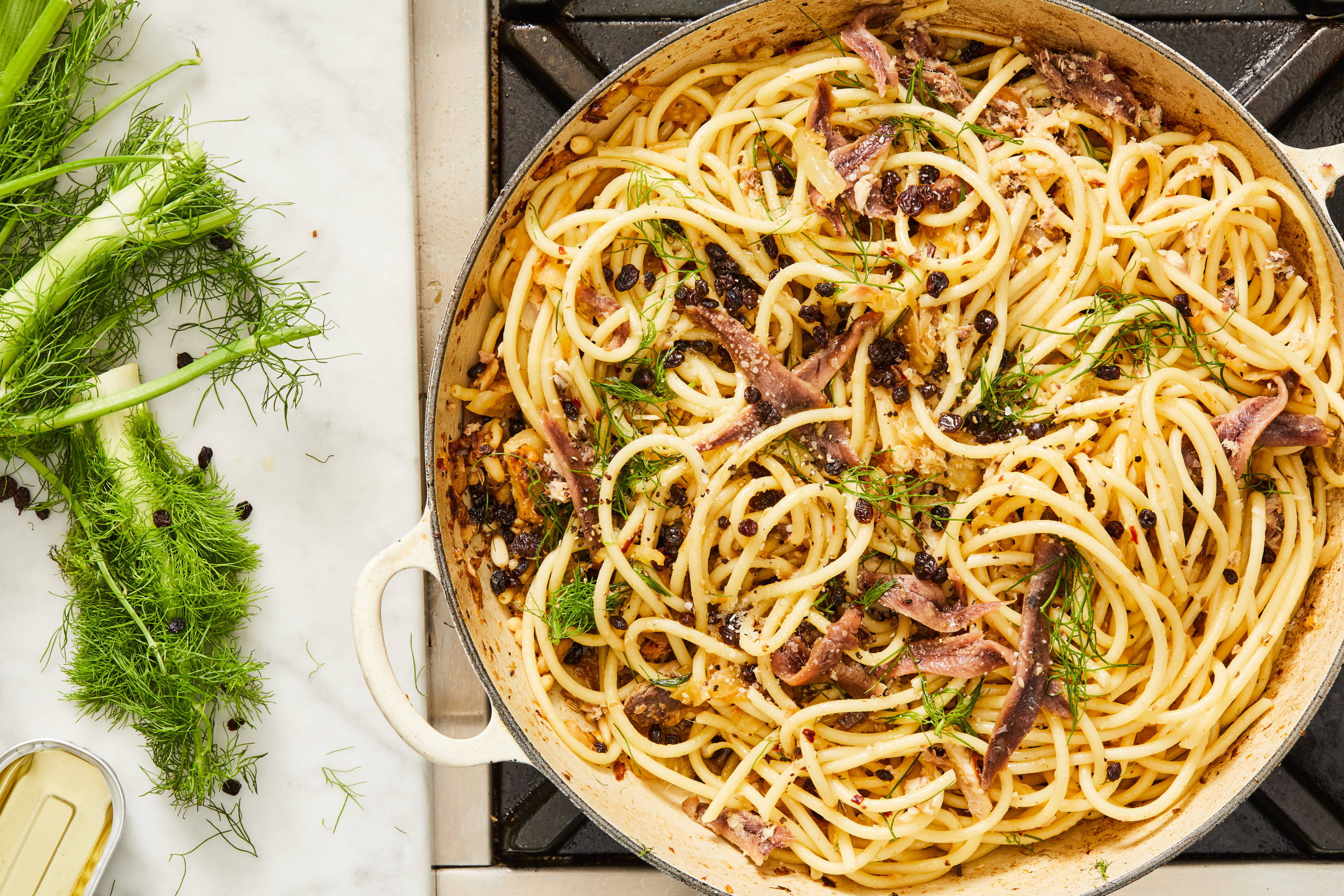 Easy Italian Sardine Pasta (Pasta Con Le Sarde)

Ingredients
1 small onion

1 fennel bulb, thinly sliced, reserve fronds

3 cloves garlic, minced

1/2 cup dry white wine

1 (2-ounce) can

DeLallo Flat-Fillet Anchovies

2 cans sardines

4 tablespoons dried currants or raisins

1 (2-ounce) jar

DeLallo Pignoli Pine Nuts

1 teaspoon fennel seeds, crushed

1 dash red pepper flakes, plus more to taste

1 (16-ounce) package

DeLallo Bucatini Pasta

Salt and pepper, plus more to taste
Bring a large pot of salted water to a boil. Cook pasta according to package instructions. Drain, reserving ½ cup hot pasta water.

In a large sauté pan, warm up the olive oil over medium heat, then sauté the onion and fennel. Cook for about 5 minutes, or until they are slightly softened. Add garlic, salt, and pepper.

Cook over medium heat until the onion and fennel are softened, about 5 more minutes, then add the wine and continue cooking for another minute. Add the anchovies and sardines, breaking them up with a wooden spoon. Once they are heated through, add the currants, pine nuts, fennel seeds, and pepper flakes. Turn the heat down to low and continue cooking, stirring often.

Add the drained pasta to the sardine mixture. Add the hot pasta water and cook for 2 minutes. Drizzle with olive oil, top with reserved chopped fennel fronds and serve.
sardine pasta, pasta with sardines, how to make sardines pasta, bucatini with sardines