All About DeLallo Avocado Oil
Made with fresh handpicked Chilean Hass Avocados, our avocado oil comes from the first cold press of the fruit, boasting a vibrant green hue and all the healthfulness of raw avocados. Its flavor is nutty, buttery, fruity and mildly sweet, just like a fresh avocado. DeLallo Avocado Oil is ultra-versatile with a high smoke point, perfect for drizzling, dressing, dipping, marinating and high-heat cooking.
All Natural.

No Trans Fat.

No Additives.

No Artificial Ingredients.

Non GMO.

Great High-Heat Cooking Oil.

Each bottle contains the oil of about 12 whole avocados.

Tastes like fresh cut avocados.

Grown and produced in Chile.

Loaded with healthy monosaturated fats and antioxidants.

Powerhouse of vitamins and minerals. Retains all the health benefits of raw, ripe avocado.

Extra Virgin: Made from the first cold press of the fruit.

Unrefined: No heat or chemicals used to extract the oil.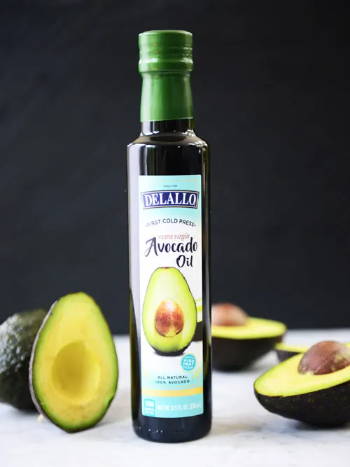 How To Use:
Drizzle on fresh tomatoes & garden veggies.

Create vinaigrettes and citrusy dressing for salads and cold pasta.

Brush on grilled and roasted meats.

Substitute avocado oil for butter or olive oil in everyday recipes.