Easter Menu: Springtime Entertaining
Seven Tips for Easy Easter Entertaining
Are you stressing about your Easter menu?
If you're entertaining on Easter weekend, or any day of the year, you know how important it is to plan ahead. From Easter dinner to cocktails to Easter desserts, details mean everything and keeping your guests satisfied is top priority. We're here to give you some tips on entertaining to help inspire your springtime gatherings and all of your hosting occasions.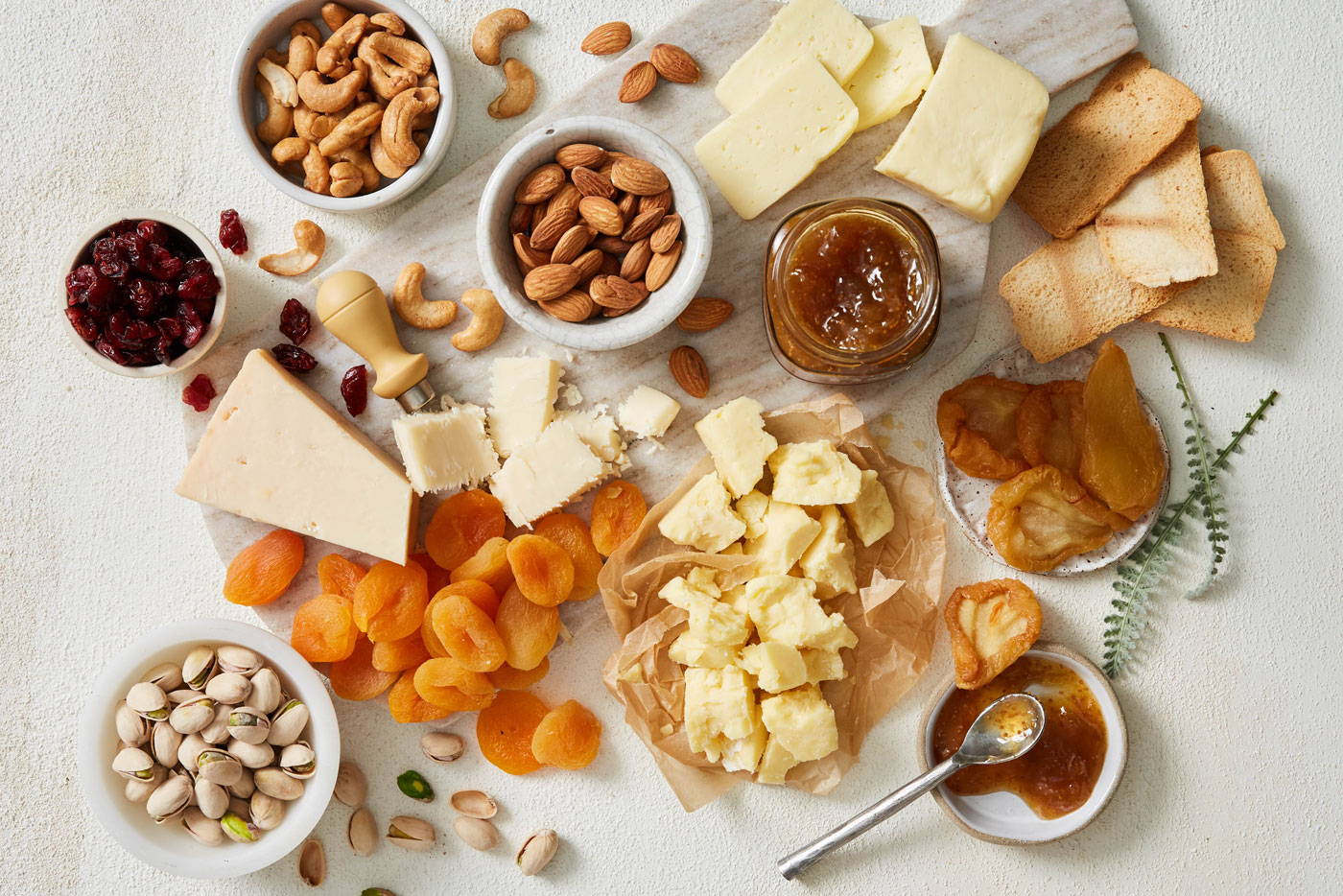 Shop: Cheese, Fruit & Nut Gift Box
1. Consider the Kids
If there will be kids in attendance, be sure to keep some kid-friendly options in mind: healthy snacks, drinks, even some entertaining for the little ones. Preparing for the excitable and unpredictable children in your family will help reduce any added stress.
2. Now...don't forget the adults!
It's easy to get caught up in all the foil-wrapped bunnies and fruity flavored jelly beans, but don't forget to offer up some adult goodies, too! Pregame the meal to come with some easy Mediterranean favorites: briny olives, sharp cheeses, crispy gourmet toasts and more!
3. Keep Decor Simple. There's not need to go all out when springtime offers up its own theme and color palette. A sweet fresh floral arrangement of spring flowers on the table, pastel linens, a small basket of those Easter eggs you made the night before… all of these things can add a nice touch to your Easter get-togethers.
4. Offer Appetizers. While you work your magic in the kitchen, offer up some tasty charcuterie and cheese board offerings to keep them entertained.
5. Accent with Easy Sides. Like all holidays, Easter is a time to be with friends and family-not holed up in the kitchen fussing with side dishes. That's why we recommend keeping it simple with your veggies. For instance, why go crazy with your asparagus with sauces and complex prep, when you can roast those tasty little spears with a simple recipe of olive oil, garlic, lemon, salt and pepper. Italians are all about simple accents and letting the true flavors shine through.
6. Don't Wait to Bake! Prepare your Easter cakes and pies the day before, instead of trying to be a super hero on the day of the big event. With less stress on the day before, chances are baking will go more smoothly and decorating your goodies will be easier.
7. Spend Less Time Searching for Easter Gifts! As the host, you don't have much time to spare! Instead of running around from store to store trying to find the perfect Easter basket and Easter gifts for your family, have them delivered! Shop online and choose something they ALL will love: tasty gourmet goodies. Gourmet food gift baskets are a great way to share the love of great food and give your favorite people some goodies for their own hosting and snacking occasions. Food gifts are thoughtful and sure to please even the pickiest gifts!