Looking for a fun new way to entertain this holiday season?
Deck the halls and your holiday table with Mediterranean-inspired centerpieces. These fun and festive creations are made with fresh cheeses, cured meats, olives, antipasti and fresh garnishes and ready to redefine holiday entertaining. With the grab-and-go offerings of your local deli, these stunning party apps are easy and fun to create. Looking for the perfect gift for someone who loves to host parties? We have the solution! Shop our Antipasti Gifts for Holiday Entertaining Collection.
---

What You Need: A selection of your favorite olives and antipasti, fresh cheeses, cured meats, spreads, dried fruits, nuts, fresh herbs and a couple starches.
Create Your Wreath:
First, decide on a size for your wreath. Begin by creating the foundation using assorted greens and fresh herbs. Arrange small bowls and plates in and around the greens. Decorate your wreath with meats and cheeses. Add in olives, antipasti, spreads and jams. Finish with dried fruits and nuts. Present your wreath with your favorite toasts or crackers. Click here to see what we used.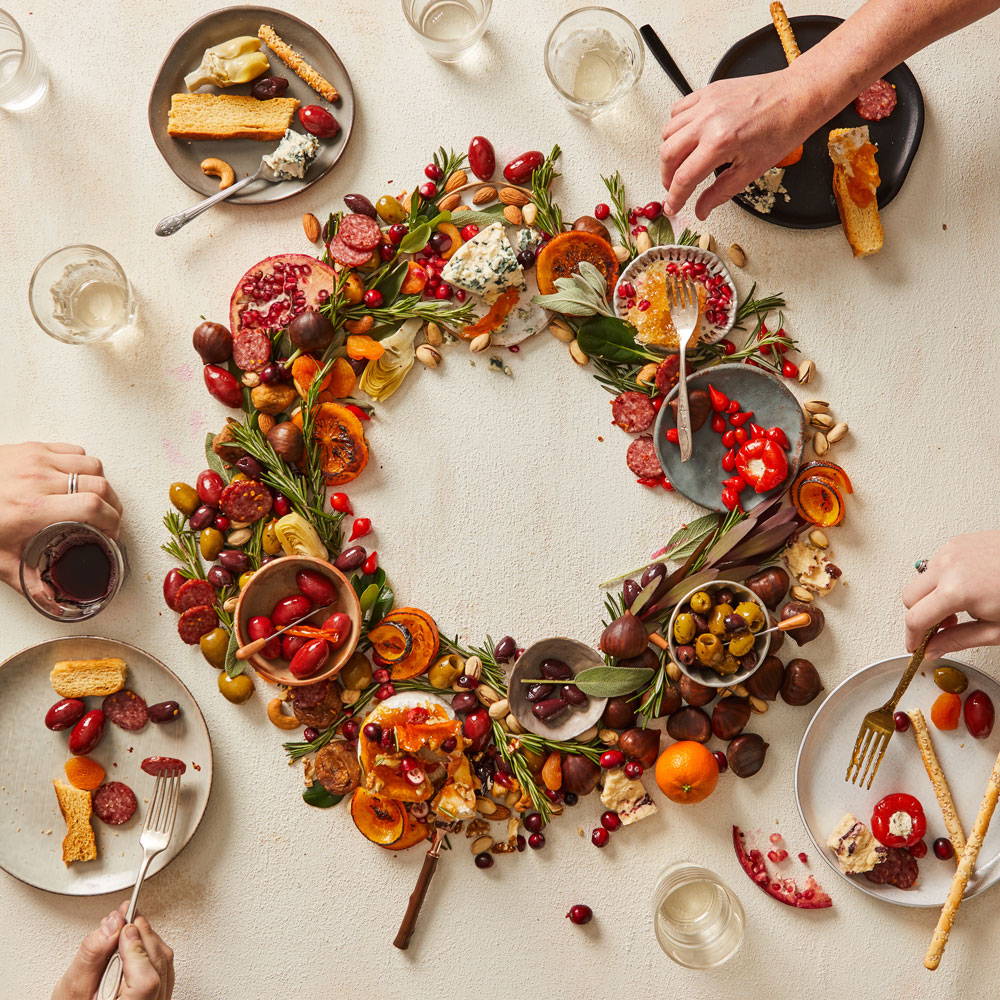 ---
---
Just when you thought holiday entertaining might fall flat, we show you how to take it to the next level: 3D, that is!
Materials needed: Your favorite olives & antipasti, styrofoam cone, aluminum foil and toothpicks.
Creating Your Tree:
Scoop up some favorites from the olive bar. We chose to stick to the red, green and white palette (Sweet & Tangy Pepper Drops, Green Pitted Olives and mini fresh mozzarella balls) with the tart and smoky addition of purple-hued Calamata Olives. Set it all off with pine-like sprigs of fresh rosemary and a cheese star.
---
Begin by arranging the rosemary sprigs as branches. Be creative! Keep in mind the size of your surface and your party. Fill in the tree with your favorite olives and antipasti. Try using festive colors to give it a real holiday feel. Enjoy with drinks and your favorite people.
We used Red Pepperazzi Peppers™, Lemon Feta Antipasti, Sun-Dried Tomatoes, Colossal Calamata Olives, Stuffed Grape Leaves, Marinated Artichokes, Garlic Stuffed Olives and Garlic Herb Stuffed Pepperazzi™.
These holiday party apps are true masterpieces, and they are as fun to eat as they are to create. Loaded with bold, bright and briny flavors, these olive trees are sure to be both eye-catching and delicious. Just don't forget the cocktails, wine and your favorite people.
---
Tips for Your Olive & Antipasto Christmas Trees
Choose your favorites and pair them up with complementary flavors. For example, spicy flavors work well with mild and creamy cheeses. (Need help? Check out our Guide on Pairing Flavors.)

Offer a little something for everyone. Be wary of super pungent and fiery flavors.

Keep color in mind. The more colorful, the better! Red and green, especially.

Be sure to drain or remove excess oil from Olives & Antipasti. No one likes soggy cheese!

Arrange cubed cheeses, sliced meats, olives and antipasti in a triangle, like a tree!

Cut meats and cheese into bite-sized pieces.

Serve up your tree with some crispy Crostini Toasts or gourmet crackers.