The Ultimate Guide - How To Make A Pasta Salad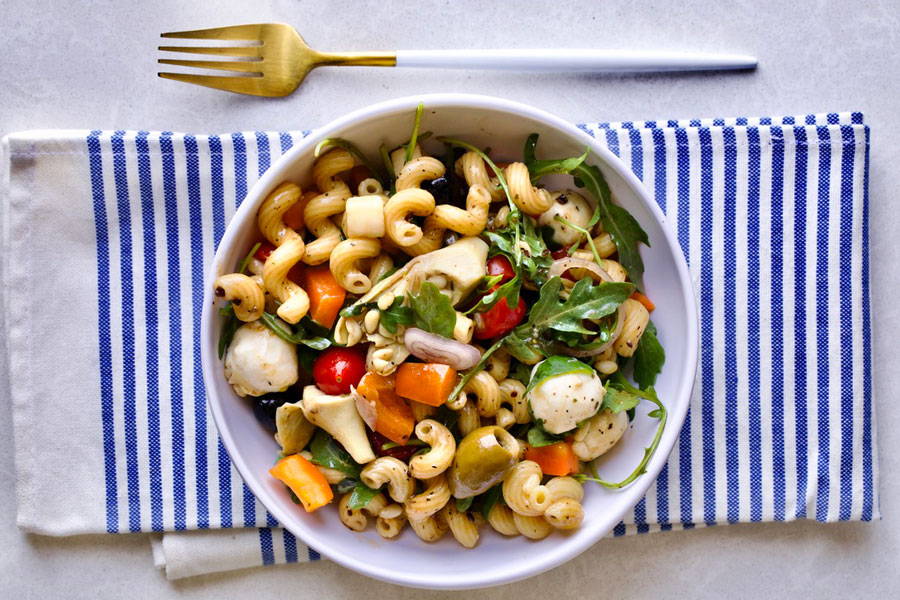 Looking for some tips and tricks for how to make a pasta salad? You're in luck! We've put together the best guide to take your pasta salad to the next level.
The Best Pasta Salad
Making a sensational pasta salad requires a bit more than just tossing pasta, add-ons, and dressing in one large bowl and calling it "good". After learning these simple tips and tricks you will be the next pasta salad expert! Trust us when we say, this is the BEST way to make pasta salad.
The great part about pasta salads is they can be made ahead of time and they store great in the fridge. They are also a versatile and customizable pasta dish. The sky's the limit as far as flavor combinations.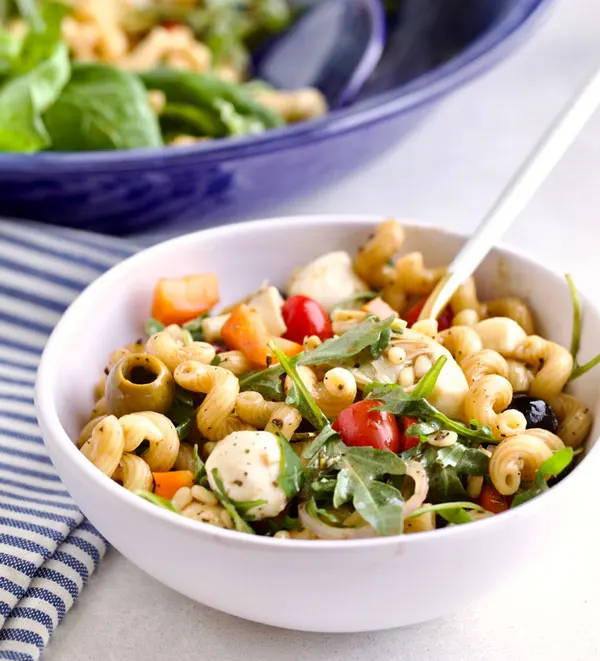 ---
Everything You'll Need For The Perfect Pasta Salad
These guidelines make enough pasta salad to serve as a main dish for about 6- 8 people or a side dish for about 12-16 people. If you are serving more than that you can easily double these amounts and adjust accordingly.
Making pasta salad is a fun and creative process that allows you to create your own meal based on your favorite ingredients and taste!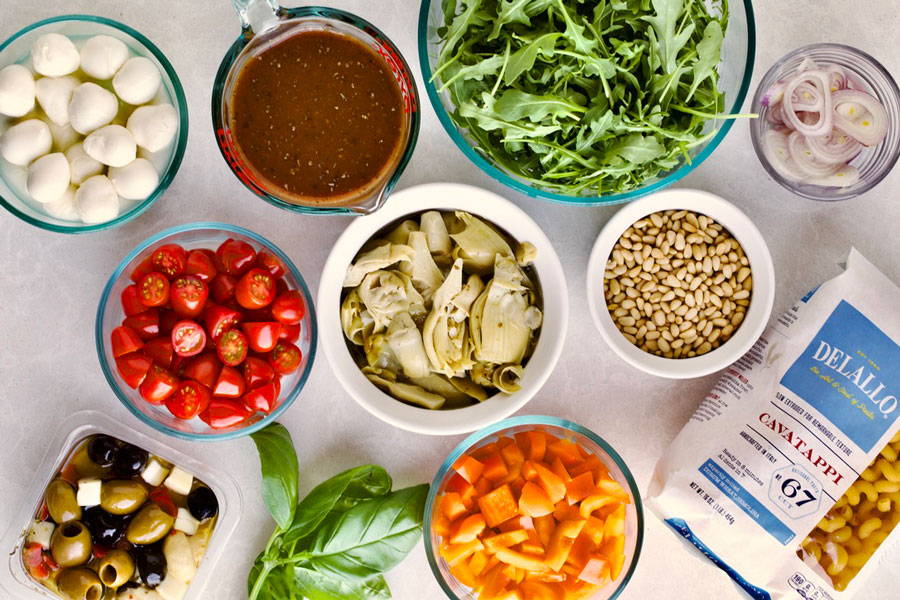 Pasta
Variety
Italian Semolina is traditionally the standard pasta used in pasta salad, but if you are looking to add in healthy grains, whole wheat pasta is the way to go. Gluten-free pasta is also great to use if you or your guests have aversions to gluten, or are scaling back your gluten intake. Unique pasta like tortellini or gnocchi are fun to use as well.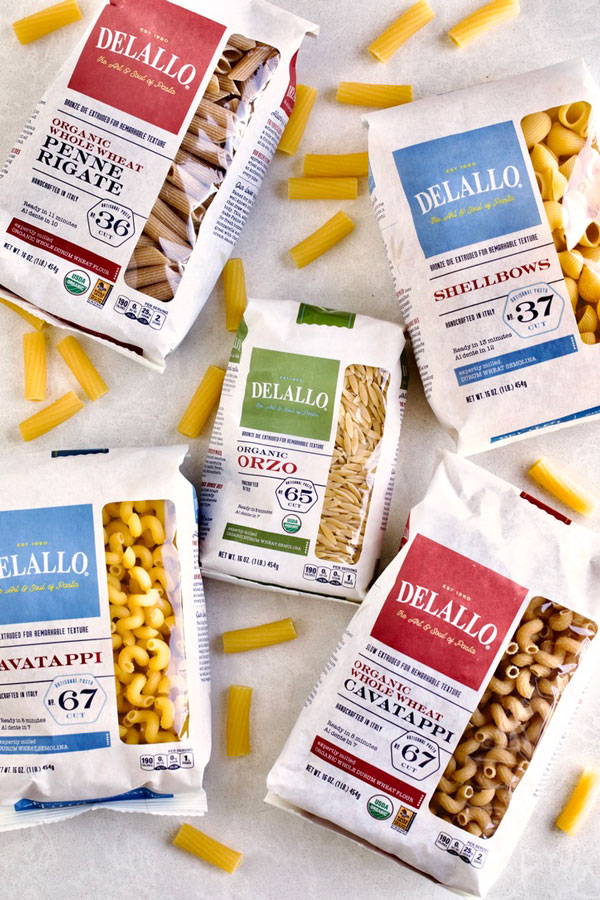 Shapes
Short pasta is best for pasta salad. We like to use short cut pasta for pasta salad. It captures and holds the other ingredients well. Pick one pound of small pasta of your choice. Feel free to mix it up and try new shapes and sizes.
Pasta shapes that work well in pasta salad: penne, shellbows, fusilli, tortellini, cavatappi, farfalle, orzo, mezze rigatoni, and small shells.
Cooking Pasta

Cook the pasta in 5 quarts of boiling water seasoned with 2 tablespoons of sea salt until a little past al-dente. Read this article for a complete guide on how to cook pasta perfectly.
Since we aren't adding pasta to a hot sauce to finish cooking we don't want it too al dente. So, cook it a minute or two longer than you would if you were making hot pasta.
It is also important not to overcook the pasta or it will turn mushy after marinating with the dressing for too long. Drain, but do not rinse the pasta.

Tip: Do not rinse the pasta for cold pasta salad. It will strip the starches and make the oily dressing slide off the pasta. Instead- toss with 1/2 cup (not more) of the dressing, combine in a large shallow bowl and let cool before tossing in the fresh ingredients.Coat just so the pasta doesn't stick together.

---
Dressing
There are an array of dressings for pasta salads. Anything from creamy mayo based to garlic and herb with olive oil, and herby pesto vinaigrette to classic Italian dressing. It all depends on preference and theme you are looking for in the final pasta dish. Keep in mind that the most important thing about any dressing is to strike a proper balance of salt, fat and acid.
Dressing Ratio

You'll need about 11/2 cups dressing for 1 pound of pasta used. Use ½ cup of the dressing to coat the pasta as soon as you drain it. Then add the remaining 1 cup of dressing to the assembled pasta salad and let rest in the refrigerator for at least 6 hours to marinate.
Homemade Dressing

It is important to make sure the dressing is emulsified, so the pasta absorbs the oil and acid (vinegar or lemon juice) evenly.
For oil based dressings:you can use a blender to emulsifythe ingredients and make sure the oil and vinegar or lemon juice is nicely combined.
If you are using fresh herbs: be sure to make the dressing at least a couple of hours ahead of time or the night before. This will allow the full flavor of the herbs to be infused with the other ingredients.

Tip: If making your own dressing you can reserve some of the juices, marinades, and brines from jarred ingredients to create dressing and add flavor.

EASY DRESSING RECIPES
---
Protein
Cut meat into bite sized pieces for easy eating.
Chicken breasts, grilled, sauteed or steamed and cut crosswise into thin bite-size strips

Breaded chicken tenders, cooked and cut into bites-sized pieces

Italian sausage,sauteed and sliced thin on a slight bias

Tofu, cut into squares

Canned beans, drained and rinsed

Meat alternatives

Cooked seafood: lobster, crab, shrimp

Canned tuna, drained

Cold cuts: ham, turkey

Italian cured salumi, sliced ¼ inch thick: salami, pepperoni, sopressata

Bacon, fried and crumbled (8 ounces)

Prosciutto (8 ounces), thinly sliced, cut into small- medium dice

Smoked salmon (8 ounces), thinly sliced, cut into small- medium dice
Cheese
Cubed, shredded or crumbled. Cheese is an essential for pasta salad! We recommend using a combination of 2 from the categories listed below.
Fresh Mozzarella

Fresh Mozzarella, cut into ½ inch cubes

Bocconcini cut in ½

Ciligene

Perloni
Mild Cheese Cut Into 1/2" Cubes

Cheddar

Swiss

Colby

Monterey Jack
Crumbled
Shredded
Asiago

Parmigiano Reggiana

Pecorino Romano
Vegetables
Cooked Vegetables

These can be boiled or blanched in the pasta water. Just add them to the pot during the last 3 minute of boiling. Drain and cool them with the pasta.
Broccoli or cauliflower, florets cut into bite-size pieces, stems peeled and cut into 1/4-inch thick coins

Asparagus, trimmed and cut into bite-size lengths

Carrots, peeled and cut into 1/4-inch coins

Shredded carrots

Green beans, trimmed and cut into bite-size lengths

Snow peas or sugar snap peas, strings removed

Zucchini, quartered lengthwise and sliced 1/4-inch thick
Canned Vegetables

Canned vegetables are big time savers! Mix and match as you please.
Artichoke hearts, drained and quartered

Canned beans, drained and rinsed: chickpea, cannellini, black, roman

Roasted red peppers, cut into strips

Sun-dried tomatoes packed in oil, cut into small dice

Giardiniera
Fresh Vegetables

Fresh veggies add a fresh element to pasta salad.
Bean sprouts

Celery, sliced 1/4-inch thick

Mushrooms, thinly sliced

Cucumbers, quartered lengthwise, cut into bite-size pieces and lightly salted

Fennel, trimmed, halved, cored and thinly sliced

Avocados, halved, pitted, peeled, and cut into bite-size pieces (add at last minute to prevent darkening)

Zucchini, halved lengthwise if small, quartered lengthwise if large, then thinly sliced

Cherry tomatoes, cut in half

Bell peppers, cored and cut into bite-size strips or cubes

Tomatoes, seeded and cut into medium dice and lightly salted

Red onions, thinly sliced

Frozen green peas, thawed
Ideas For Grilled or Broiled Veggies

If you have leftover grilled veggies, save them for pasta salad the next day!
Eggplant, cut into bite-size pieces after grilling

Fennel, trimmed, halved, core left intact, and cut into wedges; cut out the tough core

Large whole mushrooms; slice or quarter after grilling

Bell peppers, cored, seeded, and quartered; cut into bite-size pieces after grilling

Zucchini, cut on the diagonal into slices 1/2-inch thick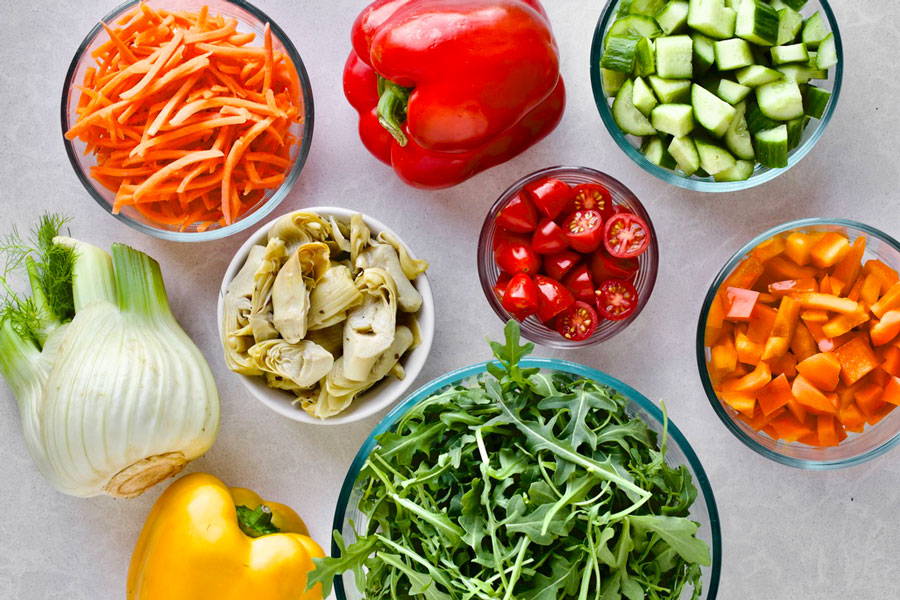 Unique Flavors
These flavors add a unique twist to your pasta salad dish.
Capers, drained (1/4 cup)

Olives, pitted and coarsely chopped: Kalamata, Castelvetrano, black

Pepperoncini, drained and thinly sliced

Pine nuts

Toasted sesame seeds (1/4 cup)

Sunflower seeds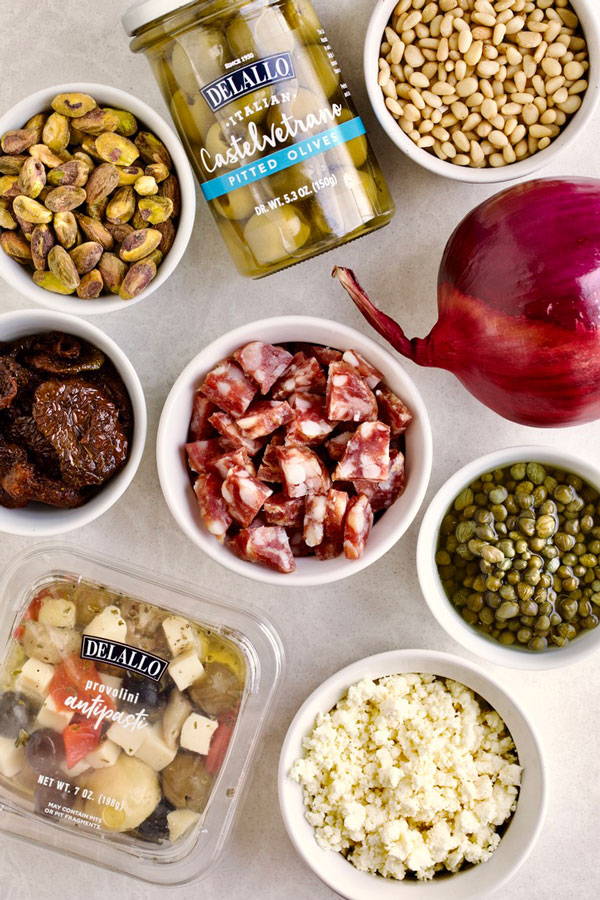 Add-Ons and Spices
Hints of herbs and citrus zest help brighten the pasta salad recipe and make it unique.
Cilantro

Parsley

Basil

Tarragon

Italian seasoning

Chives

Garlic

Shallots

Lemon, lime, or orange zest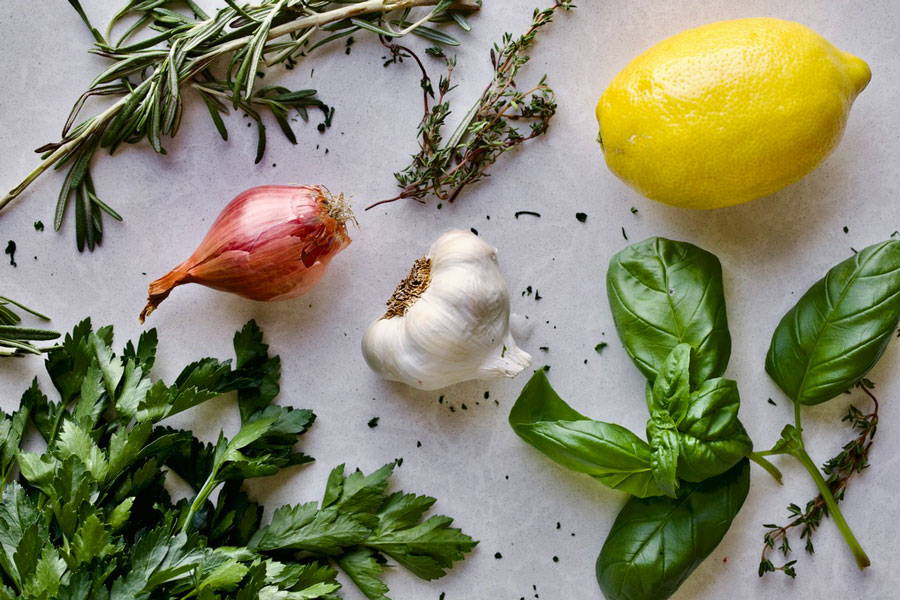 ---
The Best Way To Assemble A Pasta Salad
After lots of experimenting and research we've found the perfect formula for pasta salads that creates just the right ratios. This will produce approximately 8 cups of of finished pasta salad.
1 pound al dente

pasta

6 cups of

main ingredients

such as proteins and veggies

½ cup

unique flavors

(olives, strong/unique cheeses, spiced salami, onions, etc)

3 tablespoons

herbs

, 2 tablespoons zest.

1 ½ cups salad dressing
Assembly

Let's dig into the specifics of these elements that create your go to guide for making any variation of pasta salad!
Tip: Place all of your ingredients in a much larger bowl than you'll use for serving. Using large salad servers toss all of the ingredients together (you reserve a little of each to sprinkle on top). The longer you let it sit in the fridge the more flavorful the pasta salad will taste.
You can certainly eat it right away if you like, just realize it is better after about 6 hours. Store pasta salad in an airtight container in the fridge or cover well with saran wrap.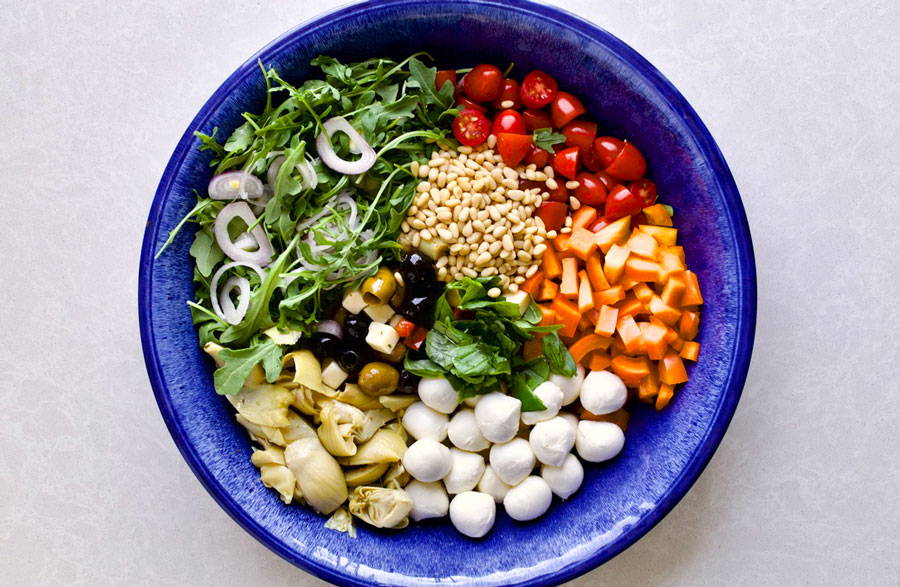 Steps For Final Assembly

Prepare the dressing and let it sit for flavors to marry. Skip if you are using store bought dressing.

Cook pasta until al dente and toss with some of the dressing. Let cool.

Prepare the veggies. Try to keep veggies about the same size or a little larger than the pasta variety you are using.

Prepare the proteins. Try to cut protein into bite sized pieces so it is easy to eat. We don't want to use a knife for pasta salad!

Prepare Cheeses. Cubes are fun for cheese or use round mozzarella balls for different shape and texture.

Prepare the unique flavors

Prepare the add-ons, herbs, and zest.

Toss the pasta with dressing and ingredients. Let it rest in the refrigerator for at least 6 hours, 24 hours is recommended.
---
Pasta Salad: FAQ
Can you cook pasta ahead of time?

Yes, ​​With a bit of oil, a Ziploc bag, some water, and your favorite pasta, you can cook noodles a day in advance and forget about them until a few minutes before serving. Here's how it works: ① Cook your noodles to al dente.
② Remove the noodles and don't forget to reserve some water for the sauce. ③ Toss the pasta in 1 to 2 tablespoons of olive oil. ④ Let it cool about 15 minutes and slide it into a plastic bag to store in the fridge.
Can you freeze pasta salad?



Yes, you can freeze pasta salad. All you have to do is move the stored container of pasta salad from the freezer to your refrigerator. Refrigerating it overnight may be enough to thaw your pasta salad for the following day. The flavors and texture will remain essentially unchanged.
How long does pasta salad last in the fridge?



When stored in an airtight container, pasta salad will stay fresh for 3-5 days. If some of the fresh ingredients go bad faster, it might only last 2 days, i.e. Deli/cured meats can lose their color after 2 days but will still be flavorful.
What goes with pasta salad?



Pasta salad makes a perfect main dish served with a side of bread. It also makes the perfect side dish to a variety of grilled meats, corn on the cob, or hamburgers and hot dogs.
How far in advance should you make a pasta salad?



The best part about pasta salad is it is best to make it in advance! Let it rest in the refrigerator for at least 6 hours, 24 hours is recommended. Letting it rest in the fridge allows the flavors to marry together.
How much pasta salad per person?



When serving pasta salad as a side dish, it's safe to guess that most people won't eat more than 3/4 cup of finished salad. If the pasta salad is the main meal the portion size will increase by double (generally).
---
Pasta Salad Recipe
All this talk on pasta salad makes us hungry for a fresh and delicious pasta salad recipe! Here is a new recipe to add to your list this spring and summer season. We hope you love it!
Classic Italiam Summer Pasta Salad
The flavors of this fresh and tasty pasta salad scream Italian summer days. Fresh tomatoes, tender mozzarella balls, basil, marinated olives and artichokes are a few of the classic Italian flavors you will find in this easy pasta salad recipe!
This is your next potluck-perfect pasta salad! Every cookout needs a great pasta salad, and this one is sure to hit the spot and please the crowd.

INGREDIENTS

INSTRUCTIONS

Bring a large pot of salted water to a boil. Prepare the pasta according to the package directions, or cook slightly more than al dente.

Drain pasta, do not rinse, and toss with ½ cup of the prepared dressing in a large shallow bowl. Let cool for at least 15 minutes until pasta reaches room temperature.

Meanwhile chop all the veggies and prepare the basil. Add the veggies, antipasti, mozzarella, pine nuts and basil to a large mixing bowl. Add pasta and the rest of the dressing and stir to combine. Season with extra pepper and a squeeze of lemon, if desired.

Let cool in the fridge covered for several hours before serving. Toss again before serving and enjoy!