The Best Italian Beef Sandwich

Our homemade Italian Beef Sandwich is straight out of your dreams. With just a few top-quality ingredients—including your favorite pepperoncini peppers—this slow-cooked Italian Beef recipe is a keeper. Easy to make ahead, this Italian Beef recipe is the perfect party food for game-day gatherings, holiday get-togethers, graduation parties… and you know, just an easy weeknight dinner sure to be loved by all.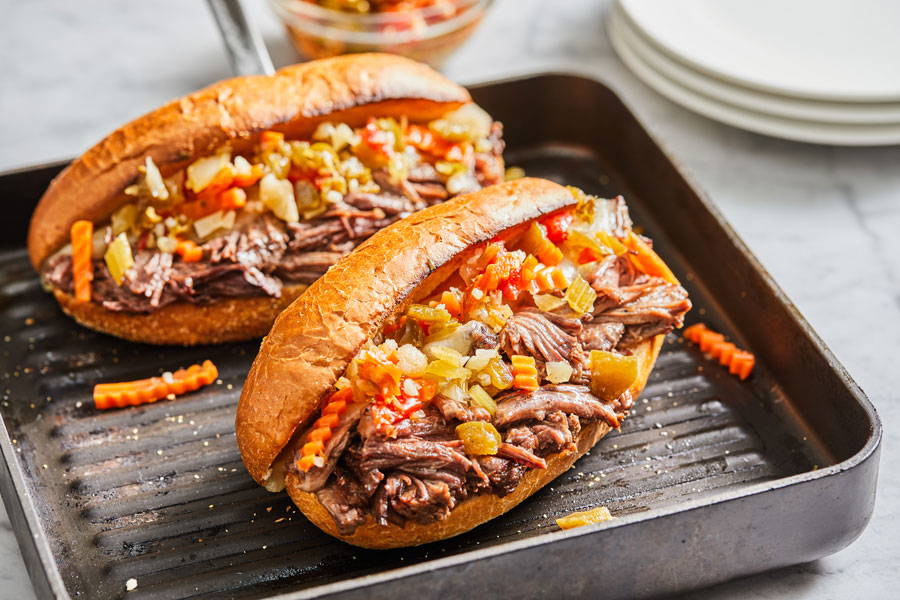 What is an Italian Beef Sandwich?

Italian Beef is chuck roast (the cut of meat used for pot roast) that is slowly cooked with savory Italian spices until it is soft and tender and easily shredded with a fork. To create the iconic sandwich, soft hoagie rolls are filled with this shredded meat, and then topped with sliced provolone and pickled peppers. Of course, there are many variations on this classic, so why not try a few?
The Ingredients You Will Need To Make An Italian Beef Sandwich

The Meat: Boneless chuck roast is the cut of choice. Due to its fantastic marbling, chuck roast cooks to that signature melt-in-your-mouth texture and rich beefy flavor you love. For this recipe, use a thick cut of boneless chuck, rather than one that is tied up.
Olive Oil: Choose an oil, like our Extra Light Olive Oil, for a higher smoke point when searing.
Seasonings: The seasoning is key. Use a blend of dried herbs and spices to include garlic, oregano, basil, onion powder, black pepper… many of which can be found in a packet of Italian dressing seasoning.
Beef Broth: Cooking the beef in broth will help keep it moist and get it to that ideal tenderness, so it can be easily shredded. Beef broth, in particular, adds depth to the meat's flavor.
Pepperoncini Peppers (brine too!): The whole jar of pepperoncini, including its spicy brine, gets cooked with the meat. It gives it a great flavor and the peppers are a topping to the final sandwich.
The Rolls: Italian hoagie rolls are the top choice for Italian Beef Sandwiches. Rolls are a must, as bread will become soggy and won't hold up to the juicy meat and toppings.
Cheese: Provolone cheese is the ultimate cheese for an Italian Beef Sandwich. It's creamy and melty with just enough sharpness to hold its own. Just one slice might not be enough!
Giardiniera: This colorful Chicago-style garnish is inspired by "The Windy City'' itself, the home of the Italian Beef Sandwich. Briny and tangy with a fiery kick, this colorful condiment of chopped pickled vegetables features cauliflower, celery, carrots and sweet red bell peppers. It really takes Italian Beef to another level with its crisp texture and irresistible tangy vinegary bite.

Italian Beef vs. Roast Beef vs. French Dip

So just what are the differences between these popular beef sandwiches?
Italian Beef is a well-marbled cut of beef (ideally chuck roast) that is slowly cooked in a rich broth of Italian-inspired herbs and spices. Once it is melt-in-your-mouth tender, the beef is thinly sliced and piled high in a bun with its juices. Though there are many ways to dress it, the popular way to serve an Italian Beef Sandwich is topped with provolone cheese and pickled vegetables.
Roast Beef is typically a leaner cut of beef than used in Italian Beef. It's sliced thinly and served on a bun, then topped with everything from cheese to pickles and barbecue sauce. A Roast Beef Sandwich can also refer to the cold deli sandwich.
French Dip, or Beef Dip, is a hot beef sandwich of thinly sliced beef layered in a French baguette roll. Often topped with melted Swiss cheese and onions, this iconic sandwich is served with a cup of beef broth for dipping. Though it is called "French Dip," the sandwich is an American creation named after the style of bread.
---
How to Make and Assemble an Italian Beef Sandwich in 5 Steps

1. Sear the beef.

First, prep the beef with a spice rub. On the stovetop in a Dutch oven, sear the beef in olive oil. The oil is important because you want to choose one with a high smoke point that can stand up to high-heat searing. This is why we chose Extra Light Olive Oil. Overall, searing helps to develop the flavor and seal in the meat's juices. Be sure to brown evenly on all sides using two forks to rotate.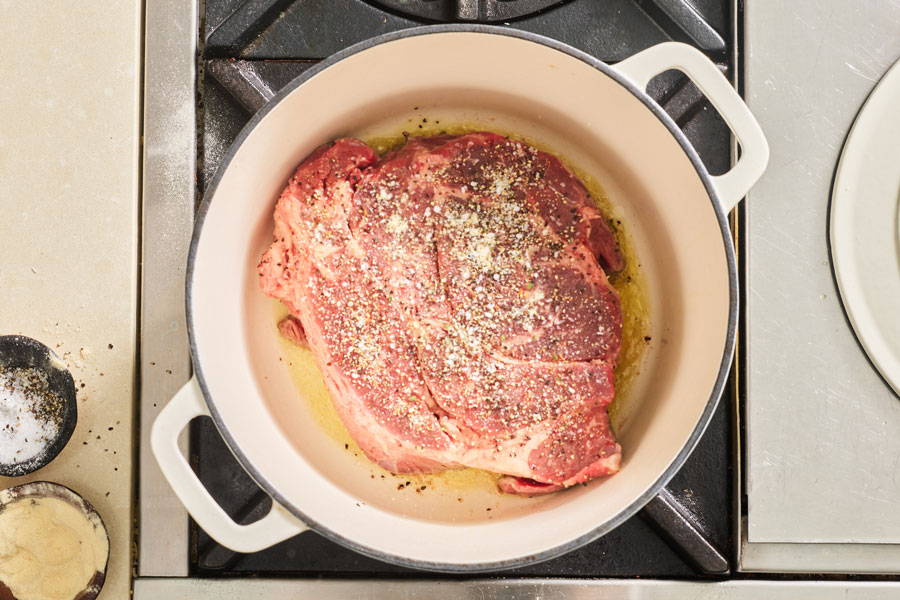 2. Cook the beef.

Slowly cook the beef in the oven with a rich broth of beef stock, Italian-inspired spices and a jar of pepperoncini peppers. This is the crucial step that will create a fall-apart texture and signature rich beefy flavor.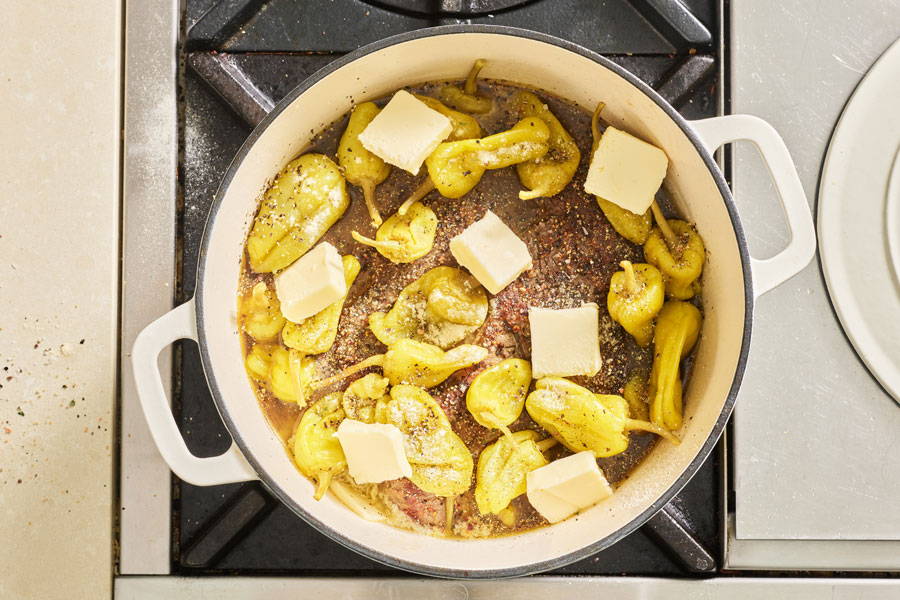 3. Shred the beef.

After you remove the beef from the oven, give it time to rest before shredding it. We recommend removing the beef from the Dutch oven to shred it on a cutting board. After it's shredded, return the beef to the juice for an extra chance at absorbing flavor and moisture.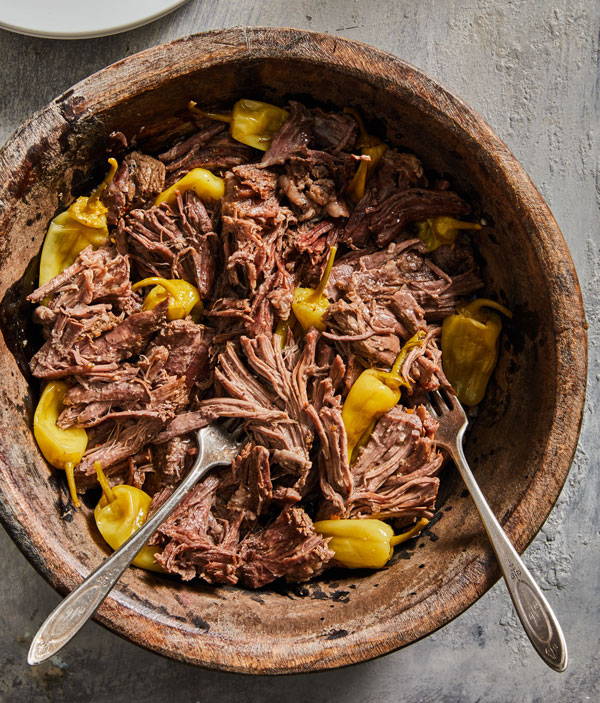 4. Toast the buns.

While the beef is resting, prep the buns. Split them in half and toast them in the oven cut-side up on a large baking sheet. Bake until they become toasty and golden brown, about 5-7 minutes. This step helps your sandwiches resist falling apart from sogginess.
5. Assemble the sandwich.

Now it's time to complete the masterpiece! Using tongs or a fork, pile the shredded beef onto the bottom side of each hoagie bun. Top with the pepperoncini as desired. Next, arrange the provolone cheese on top. Finish with a scoop of crisp and colorful giardiniera.
---
Traditional Toppings For An Italian Beef Sandwich

There are many variations on the Italian Beef Sandwich, even in its birthplace of Chicago. While the most common Italian Beef Sandwich topping is a tangy and colorful giardiniera of pickled vegetables, there are so many more. Don't be afraid to get a little creative. You can load up your Italian Beef Sandwiches or offer a toppings bar for your guests with a number of different options.
Genoa Salami or Capicola:

Bring on the meat and add a layer of savory Salami or the Italian dry-cured pork known as Capicola.

Olives:

Olive lovers will dig the bright and briny addition.

Tomatoes:

Ripe tomato slices give some fresh flavor to your beef.

Red Onion:

Top with thinly sliced red onion, but not so much as to overwhelm the flavor.

Iceberg Lettuce:

Give your sandwich a fresh crunch.

Red Wine Vinegar: Add some zing with a drizzle.
What To Eat With An Italian Beef Sandwich

Italian Beef Sandwich: FAQ

What bread is best for an Italian Beef Sandwich?
The bread is an important part of this extraordinary sandwich. Why? Because the Italian Beef is so juicy and delicious, it requires a good foundation. Bread will become soggy, so it should be avoided. The ideal choice here is the Italian hoagie bun. We recommend toasting the buns before loading them up.
What city is known for Italian Beef sandwiches?
Chicago is known as the birthplace of the Italian Beef Sandwich. In the early 1900s, Italian immigrants took some of the tougher cuts of beef and slowly cooked them in a savory broth seasoned with herbs and spices. Once the meat became tender, it was thinly sliced (against the grain) and served atop slices of crusty Italian bread.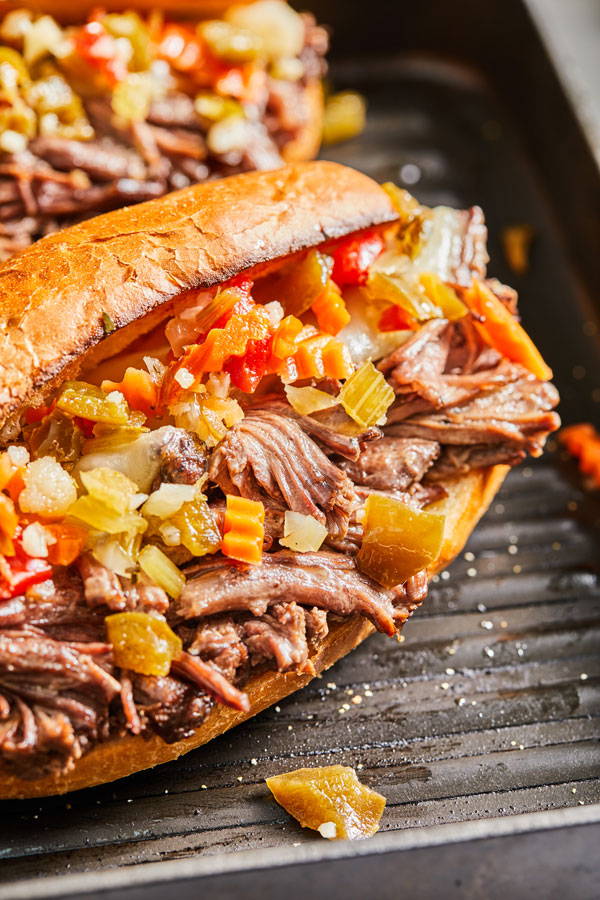 The Best Italian Beef Sandwich


Ingredients
Preheat the oven to 350˚F.

On the stovetop, heat a large Dutch oven (or other oven-safe pot with a lid) on a high setting.

In the meantime, mix 1 tablespoon of dressing seasoning with ½ tablespoon of onion powder in a small bowl. Evenly rub the mixture onto the roast.

Add the olive oil to the pot. Once it is hot, sear the roast until browned, about 4 minutes on each side.

Remove from the heat. Add the beef broth and the pepperoncini peppers with brine. Sprinkle roast with remaining 1 tablespoon of dressing seasoning and ½ tablespoon of onion powder. Add butter on top of the roast.

Cover and cook for 3 hours or until the meat reaches an internal temperature of 202˚F and shreds easily with a fork.

Remove Dutch oven from the heat and allow to rest for 15 minutes.

Shred the beef with a fork.

To serve, split the hoagie buns. To toast the buns, bake them cut side up on a baking sheet at 350˚F for 5 to 7 minutes. Pile on the shredded meat and top with provolone, pepperoncini peppers and a generous scoop of giardiniera.
Recipe by: DeLallo
Keywords:
Italian beef sandwich, pepperoncini beef sandwich, mississippi pot roast sandwich, best italian beef sandwich recipe